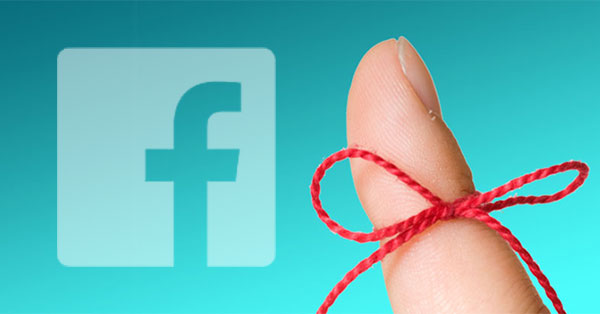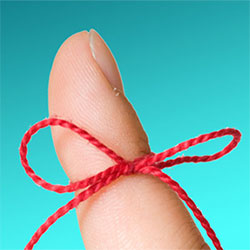 I love when Facebook launches a new feature!
I like seeing how Facebook tries to improve the service. And I'm usually OK with the results.
Heck, I'm one of the few Facebook marketers who embraced the news feed algorithm!
One of Facebook's newest features is called Save -- and it's getting mixed reviews.
Here's what Mari Smith said about the new tool:
Wow, so exciting!! Buh-bye endless screenshots on my iPhone & posts shared to 'me only' on my wall that I never return to. LOL!
>> Click to Tweet
According to Ravi Shukle:
As a tab hoarder I think after a while I will end up having hundreds of saved posts here. But could be a good way for your content to last a little longer if users are saving your posts.
>> Click to Tweet
Here are some thoughts from EdgeRank Checker:
We believe that this new feature will be most impactful for brands that tend to post many links. We expect brands that post many links to receive a high volume of saves, as many people may want to read the link at a later date and time. Re-injecting the links into the news feed automatically should provide additional exposure later on.
>> Click to Tweet
As usual, there's plenty of noise. But can Facebook's new Save feature make your bad Facebook posts more successful?
>> Click to Tweet <<
Can Facebook's New "Save" Feature SAVE Your Crappy Posts?
Facebook officials tested Save for a long time before finally releasing the feature to the public.
It basically lets you save the links, pages, places, movies, books, events, TV shows and music that you view on your desktop & mobile device.
On a computer, the Save option for links appears on the news feed... access it by clicking the dropdown arrow to the right of the post: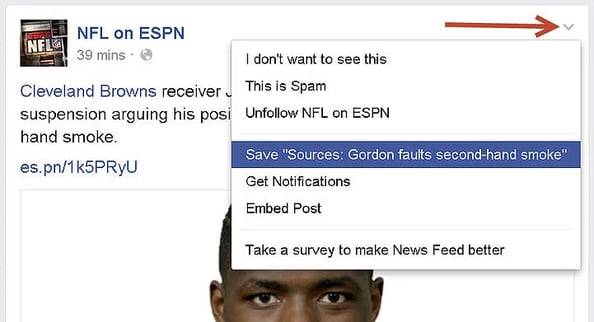 Click save & you'll have the article to read later.
And Save works similarly on a mobile device: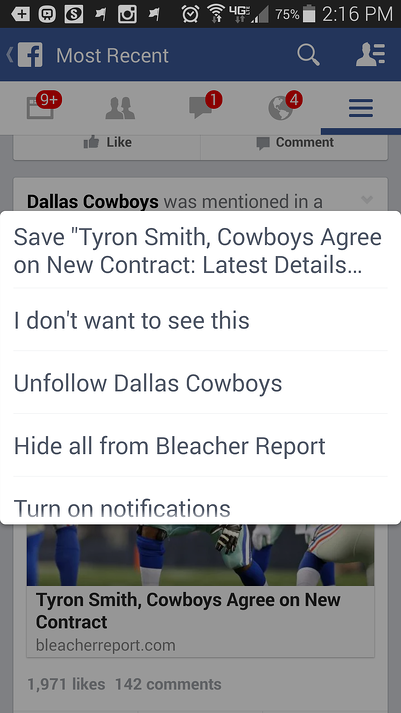 Once saved on a computer, your items can be accessed on the left sidebar: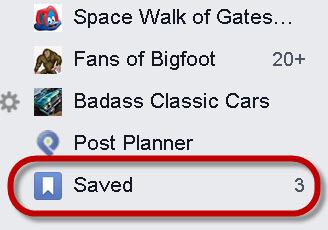 On your mobile device, click the settings icon on the upper right to access your saved items: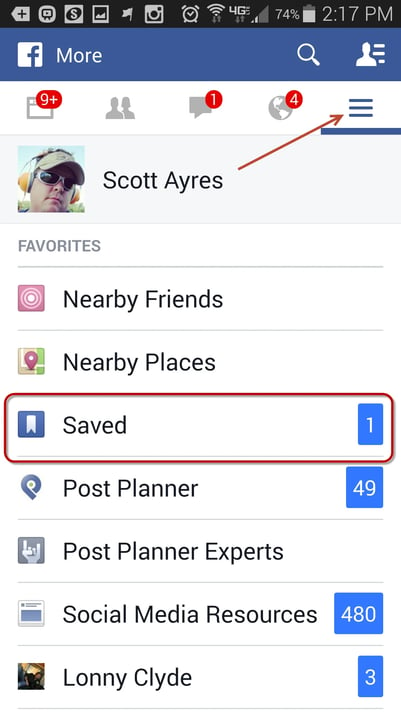 This cool page contains everything you've saved on Facebook: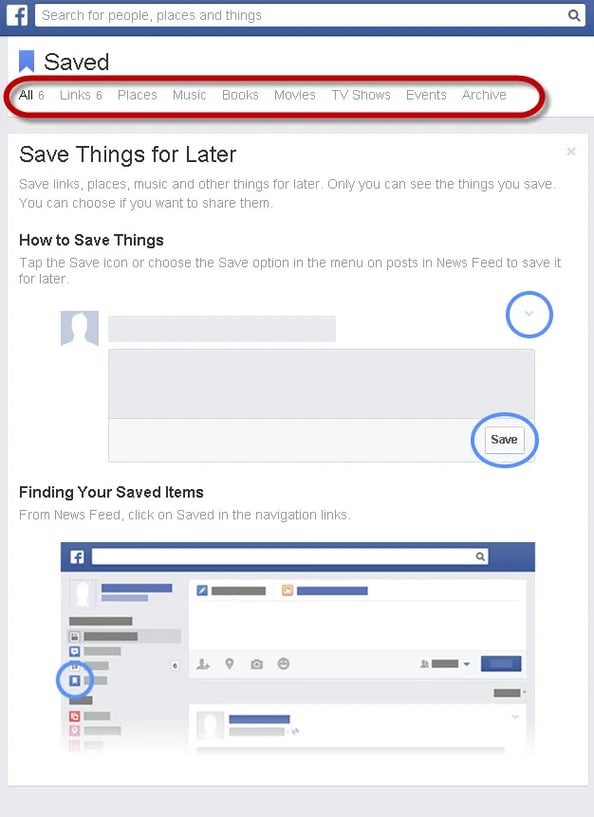 You can view a helpful tutorial when you first access Save.
Also, notice that different types of posts are sorted under tabs:
All
Links
Places
Music
Books
TV Shows
Events
Archive
You'll see this when you exit the tutorial: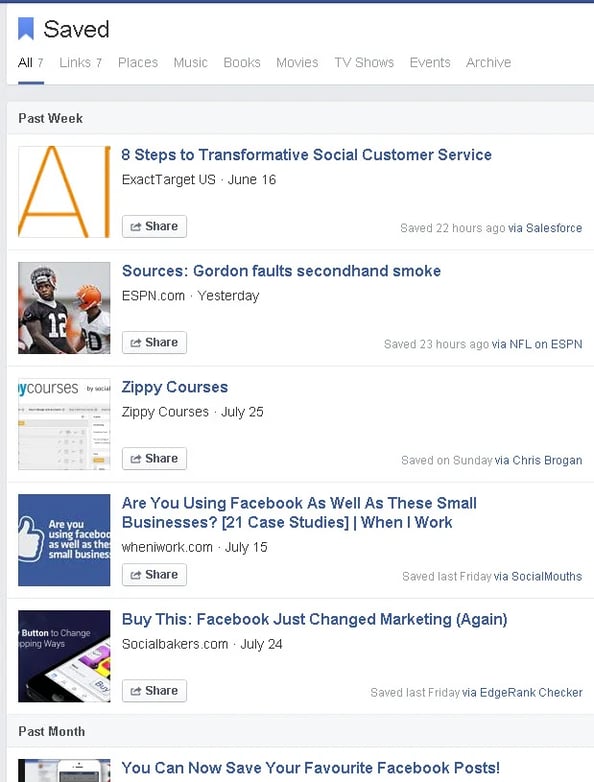 Save looks like this on a mobile device:
Click the desired link & you'll be taken to the website. You'll also see the source that shared the link on Facebook.
And here's what happens when you click a tab where nothing is saved:

Along with saving from the news feed, you can also save a page or place directly from the Timeline: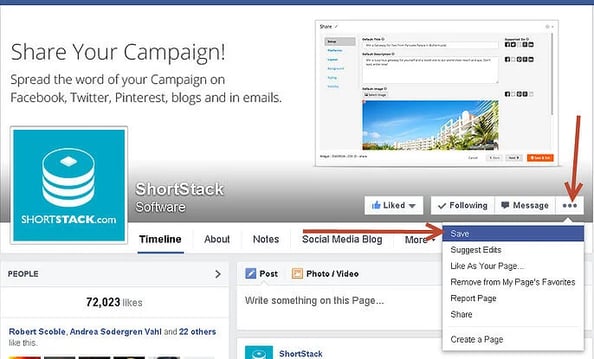 Or you can save a page from the news feed by hovering over the name: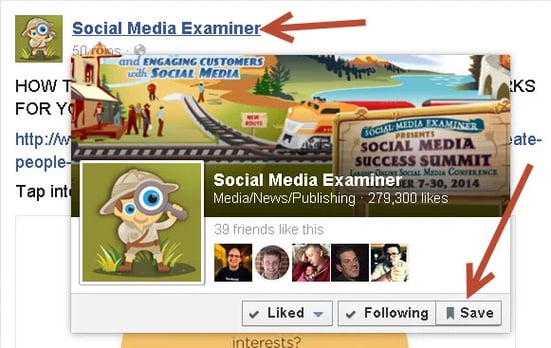 Since there's no "Pages" tab, any pages you save are filed under "Links" -- which seems kinda silly.
You might save a page that's also a place -- a local business with an address & active check-in feature. Saving a page that's a place looks like this: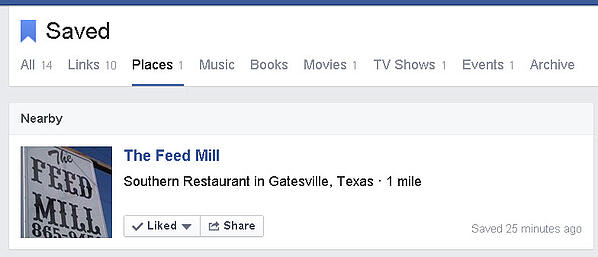 Saved TV shows & music appear similarly under the respective tabs: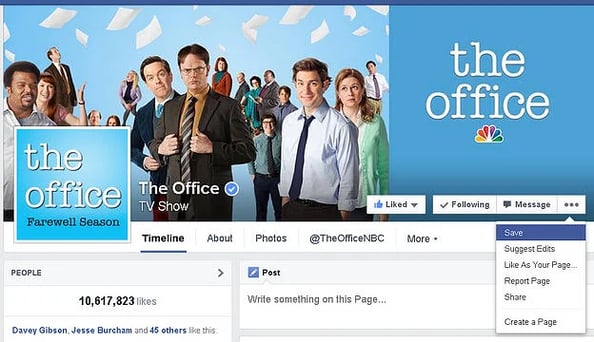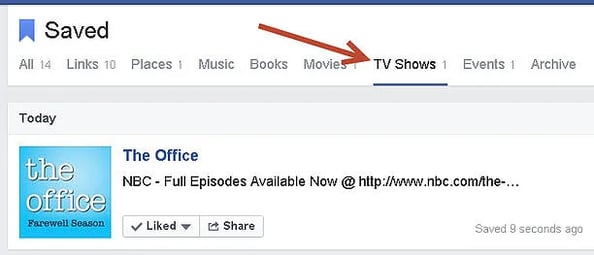 And all videos are saved as links -- even music videos: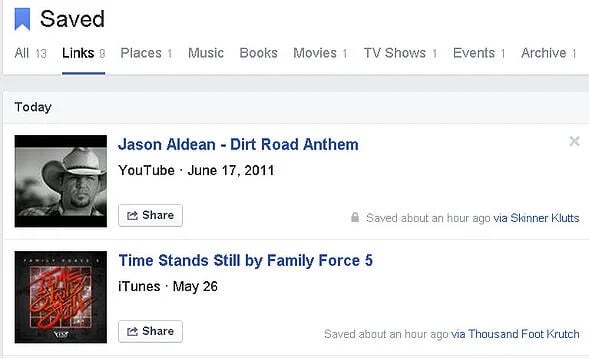 Mostly only music pages are stored under the "Music" tab.
But check out how prominent the Save button is for places, movies, TV & music: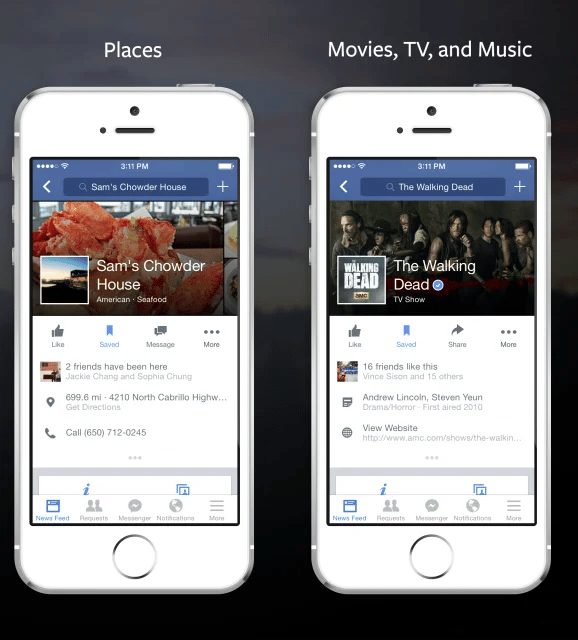 Will Facebook's "Save" Feature Save Your Page?
Many marketers are excited about Save, and are encouraging people to file away links to enjoy later.
Here's what Facebook said about Save:
We'll sometimes show you reminders of your saved items in News Feed. For example, we might show you links to articles you saved.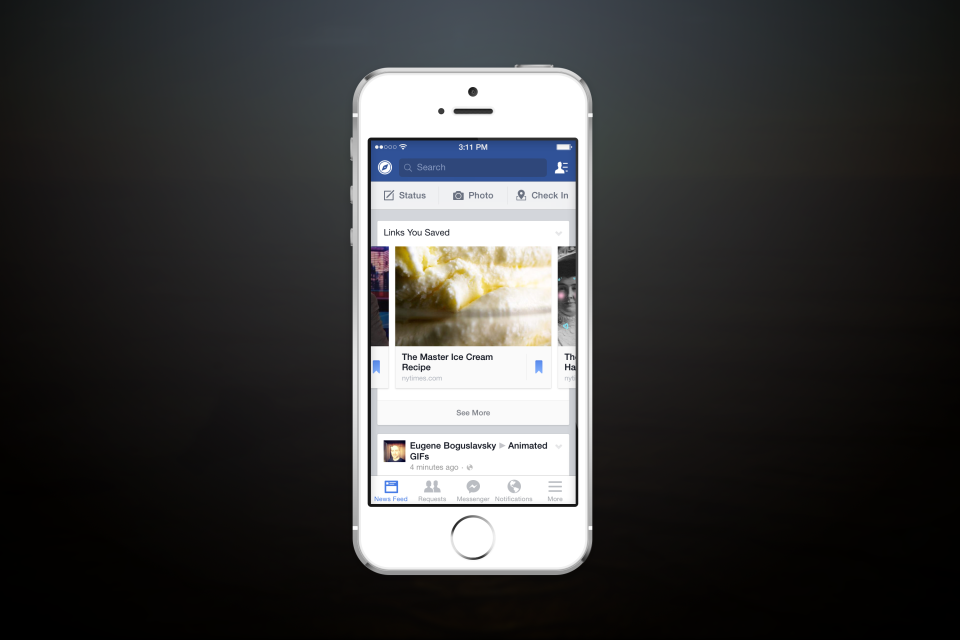 But these reminders only show the link, not the source that shared the original post.
Some people speculate that this could increase the life of your poor performing Facebook posts & prompt fan engagement down the road when users return to view saved links.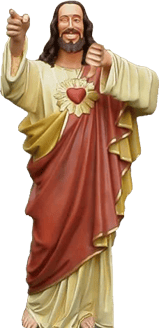 I disagree.
Save will do nothing to boost engagement on your posts. The Save feature for links simply stores links so users can easily return to read stuff they saved on the fly.
In the end, I think the new Save feature will confuse Facebook users.
Clicking "Like" is essentially the same as saving an item. Saving a link is too time consuming for the average Facebook user.
So Save may be valuable for those who spend more than 10 hours a day on Facebook, but casual users with jobs & kids will probably never use this feature.
Save is another cool feature that'll never gain traction in the mainstream.
Like Interest Lists, it's a great tool that most people will never know exists.
>> Click to Tweet <<
What do you think? Have you saved any items on Facebook?