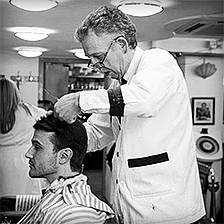 Do you run a small local business?
You know that marketing on Facebook is the way to go, right?
In this post, I provide some great examples of businesses in the hair & beauty industry using Facebook pages to connect with new customers.
I quickly noticed 5 things these pages all had in common as I researched the article:
Compelling cover images
Storytelling
Great contests
Consistent posts
Viral photos
If you don't own a salon, don't worry, these tips apply to pretty much any small business.
Plus, these Facebook pages are really fun to look at.
5 Facebook Marketing Basics I Learned From Beauty Salons
1. Compelling Cover Images
The best Facebook marketers make cover images a top priority.
This is one of your first opportunities to make an good impression on new fans.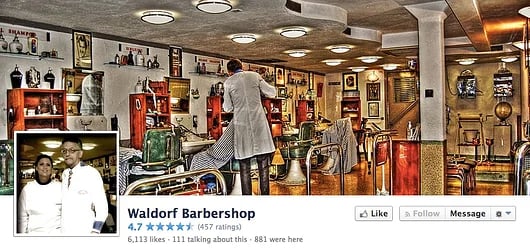 The Waldorf Barbershop is a vintage barber shop in Dublin. Customers are invited to step back in time to not only receive a great haircut but a special experience, too.
This cover image instantly tells me the kind of experience I will have at the Waldorf.
I love that the owners are featured in the profile photo so you instantly know who you're dealing with. There is an immediate human connection.
Use your cover image to tell fans exactly what your company offers. Tell them what they can expect if they Like your page -- and do it in about 3 seconds.
>> Click to Tweet <<
2. Storytelling
Facts tell & stories sell.
I heard that at a BNI training event. And it's so true!
As a consumer, I'm more likely to connect with your business if you tell stories I can connect with.
>> Build Trust
As you can see, veteran Waldorf hairstylist Liam keeps a steady hand:
And check out all those Likes & shares.
Posts like these help humanize the company, tell me about Liam & reassure me that The Waldorf is the place to go if I want a vintage cut.
>> Give Back
A trip to London takes us to The Lounge in Soho.
This salon uses storytelling really well. Emma had her beautiful long hair cut off for charity.
So the business made a donation & shared a link to the charity in their post.
Think about how your business can help those in need. It's good karma & your fans will appreciate you for it.
>> Click to Tweet <<
>> Meet the Team
Introducing your team is a great way to build relationships between stylists & customers.
The folks at Reba Hair and Beauty excel at that. A different staff member is featured on their Facebook page each week.
Take it a step further by hosting discussions between staffers & fans.
3. Great Contests
Changes to Facebook's news feed algorithm are making it harder to get customers to engage with your page.
>> Click to Tweet <<
But everyone loves a good contest -- as long as you offer a relevant prize that will attract the right audience.
Timeline contests work great, but as Facebook cracks down on Like-bait, you may need to get creative with what you ask people to do.
Here's a Timeline contest from Reba Hair and Beauty:
The call-to-action is really simple, the graphic is strong & the prize is something contestants would like to win.
And check out all those Likes, comments & shares! This post wasn't even promoted.
4. Consistent Posting
Posting consistently on your Facebook page is essential. If you don't update your page, fans will get bored & your competition will be happy to help!
>> Click to Tweet <<
Maria Conneely of Platinum Hairdressing posts regularly on her page. Every day there are at least 2 posts with examples of her work, what she's been up to & loads of before-and-after shots.
Here are some ideas for cool stuff to post on Facebook:
How to
Tip of the Day
Before & After
5. Share Viral Photos
Knowing what works can be very powerful when you're managing a Facebook page.
As a business owner, it's likely you're short on time.
Post Planner has a cool new feature called Viral Photos. For this blog post, I added several salon Facebook pages to the app.
I was pleased with what I found when I searched for the most shared photos from each page. Here's my favorite:
What made this photo so popular?
It's human & tells a story from a happy customer.
Key Takeaways
Here are some key takeaways from this post:
Use a compelling cover image that tells fans what you do
Tell stories that build trust, showcase your work & provide an experience
Run great contests with prizes relevant to your fans
Post consistently
Share viral photos
What did you learn from this article that will help you be a better page manager?
I learned that it's all about being human, having fun & connecting with YOUR fans.