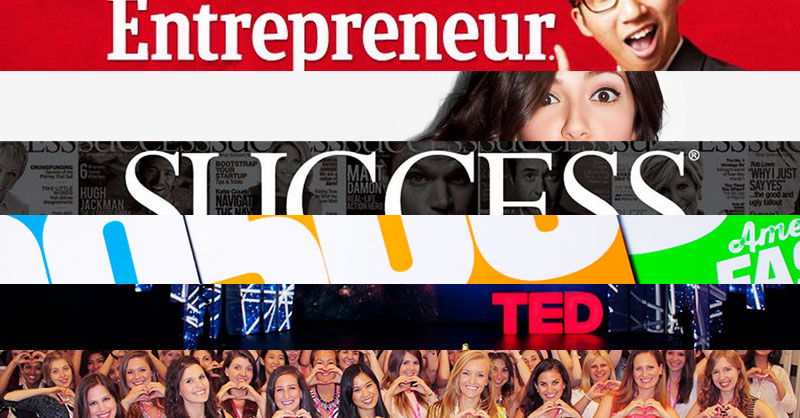 If you've ever started a business, you know that being an entrepreneur is more than just a 9-to-5 job.
In fact, sometimes it's downright grueling.
And since you probably waste time on Facebook when you should be running your company, today I'll show you 27 Facebook pages that will actually make you a better entrepreneur. :)
No more sports, music, celebrities & TV!!!
Instead, it's time to check out pages like:
Startup Weekend
Marie Forleo
Fortune
Lifehacker
Fast Company
Harvard Business Review
These 27 Facebook pages for entrepreneurs can tell you everything you need to know about surviving as a business owner in an economy that's constantly changing.
So go ahead.... all you have to do is click Like!
27 Must-Follow Facebook Pages For Entrepreneurs Who Want to Crush It
1. Entrepreneur
Every entrepreneur has to Like this page. After all, it's named after you.
2. Fast Company
Fast Company has lifestyle & amazing how-to tips for business & life.
3. Young Entrepreneur
Tons of actionable advice for every small business owner.
4. Harvard Business Review
A nitty-gritty page filled with tips about strategy & the latest trends.
5. SUCCESS Magazine
Success offers great advice about personal achievement & business.
6. Inc.
Inc. is filled with information that can help you grow your company.
7. Copyblogger
Your writing skills will improve if you read & follow every word.
Editor's note: For more info about the Copyblogger decision to leave Facebook... read this.
8. TED
TED talks are great ways to get inspired.
9. Lifehack
From travel tips to bathroom hacks, this page has it all.
10. Lifehacker
More do-it-yourself lifehacks about productivity, coding & everything you need to survive a changing society.
11. Startup Weekend
Tips for getting by in business.
12. eWomenNetwork
An inspiring page about women in business.
13. Women 2.0
Are you a woman who wants to take over the business world? This page is for you.
14. Under30CEO
News, advice & trends for young entrepreneurs.
15. HerCampus.com
A page aimed at ambitious women who are still in college.
16. Ali Brown
Ali's posts are personal, inspiring & actionable.
17. Marie Forleo
Improve your business & personal life with help from Marie.
18. Entrepreneuress Academy
Melanie will help you create the lifestyle you deserve.
19. Gary Vaynerchuk
No BS or sugarcoating, this guy tells it like it is.
20. Social Media Examiner
An awesome place for daily social media tips.
21. UnMarketing
Learn what NOT to do when marketing your business.
22. Boom Social with Kim Garst
Kim has the latest news & trends about Facebook.
23. Fortune
Fortune keeps you updated about goings-on in the business world.
24. American Express OPEN
Lots of topics related to business & entrepreneurship.
25. Entrepreneurial Insights
Filled with tips for starting & growing your business.
26. Post Planner
Why Post Planner? Because of great content like this! :)
27. Your Recommendation Here
Weird... this list seems to missing something.
Oh yeah, now I remember -- YOUR favorite page for entrepreneurs!!!
Please post it in the comments below. :)