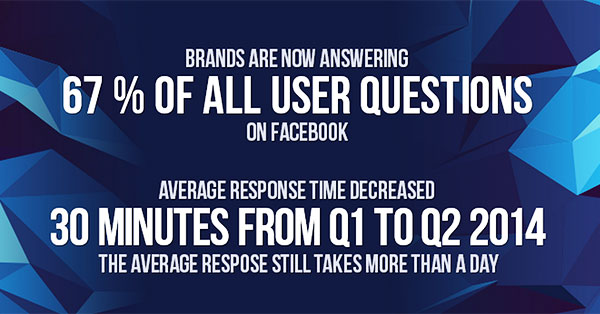 The results are in -- and Facebook is tops for mixing social media and business.
Especially for customer service!
Socialbakers analyzed more than 54K Facebook pages... and the numbers didn't surprise me. The firm reviewed about 1.5 million questions that were asked of brands on Facebook in the 2nd quarter of 2014.
About 500,000 of those questions went unanswered, but the overall response rate in the 2nd quarter jumped compared to the first 3 months of 2014.
Some of Facebook's most sophisticated brands responded to questions from fans within 30 minutes -- raising the bar for any business trying to woo new customers on the largest social media website in the world.
On average, companies needed about a day to respond to questions on Facebook.
Industries that were asked the most questions included:
Telecom (430,987 questions)
Electronics (159,142 questions)
Retail (150,430)

Airlines, telecom & retail establishments had the highest response rates on Facebook.
>> Click to Tweet <<
And these 3 industries had the fastest Facebook response times:
Telecom (13 hours 25 minutes)
Airline (18 hours 39 minutes)
E-commerce (21 hours 52 minutes)

Socialbakers also determined that only about 2 out of 10 of the largest brands on Facebook (more than 500K fans) deserved to be called "socially devoted".
>> Click to Tweet <<
And I'm shocked that 87 percent of the brands surveyed didn't let customers post comments on their walls. Were these companies trying to stop spam or didn't they WANT people posting questions on their Facebook pages?
The full infographic has lots of other juicy Facebook statistics:
Facebook #1 for Mixing Social Media and Business