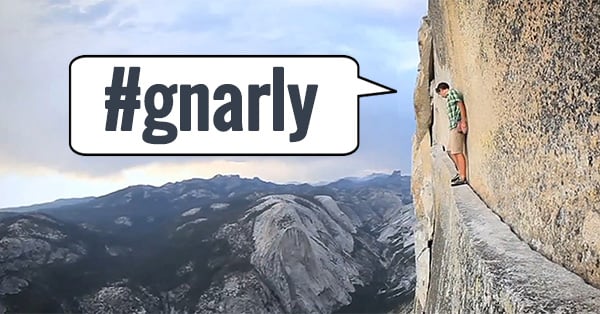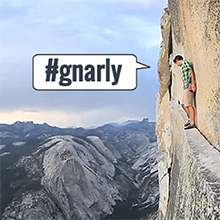 Heard of Twitter chats?
It's when a group of Twitter users get together to discuss a specific topic or niche.
A hashtag is assigned to the chat, like:
#BlogChat
#SEOChat
#MillennialChat
#NostalgiaChat
And participants follow the hashtag to follow the chat.
It's like having a discussion over coffee with 20 people at a time. But better, because the conversation moves quickly & coffee at home is free. Score!
If you don't know where to start, use ChatSalad to find Twitter chats in your industry.
Here are a few basic rules:
Don't Spam

Obey Rule #1

Be Friendly & Responsive
In this post, I'll give you 5 reasons why participating in a Twitter chats is one of the best things you can do on social media.
5 Gnarliest Benefits of Twitter Chats (WHY Aren't You Using Them??)
1. Get Exposure!
If you're new to Twitter, chats are a great way to get your name out there.
Chats provide easy opportunities to introduce yourself!
>> Click to Tweet <<
The more chats you attend, the more comfortable you'll become with the group.
hello : ) #yogachat

— zina eva (@zinaeva) November 7, 2014
2. Share Your Expertise
In a Twitter chat, everyone has a voice. You're always able to share your thoughts & ideas.
This lets you gain credibility & trust in your industry.
#winechat The label can sell the first bottle, the #wine inside has to sell all the others.

— Todd Trzaskos (@vtwinemedia) November 6, 2014
3. Grow Your Twitter Following
When you're active in Twitter chats & building your community, others who want to learn from you will follow you on Twitter.
And who doesn't want more followers, right?
You can also use chats to find the best people to follow on Twitter -- folks who may follow you back once you get noticed in a few chats.
4. Learn From Others
There's no better place to mingle with bigwigs in your industry than a Twitter chat.
>> Click to Tweet <<
Twitter chats are great places to converse with people who you may not speak with every day.
And you'll learn a lot from these chats:
tips about ways to improve your business
travel tips
latest news breaking in your industry
Should you use a pen name? http://t.co/mZtgM4DdiH #author #writechat #IndieAuthors #cr4u — Tianna Holley (@holley_tianna) November 9, 2014
5. Brand Your Business
You can start your own Twitter chat once you've developed a following in your industry.
>> Click to Tweet <<
Hosting a weekly Twitter chat can bring amazing exposure to your business. Twitter chats also make it easy to engage with followers, which strengthens relationships with current & future customers.
Check out the engagement on Expedia's Twitter chat:
A9 - Fave ski memory: Snowplowing straight down black diamond runs. I had no fear. Now I do :) #expediachat

— Trip Styler (@TripStyler) November 5, 2014
Key Takeaways
Let's review again how Twitter chats can help you.
Get Exposure!

Share Your Expertise

Grow Your Twitter Following

Learn From Others

Brand Your Business
And never forget the first 2 rules of a Twitter chat!
What about you? What are your favorite Twitter chats?