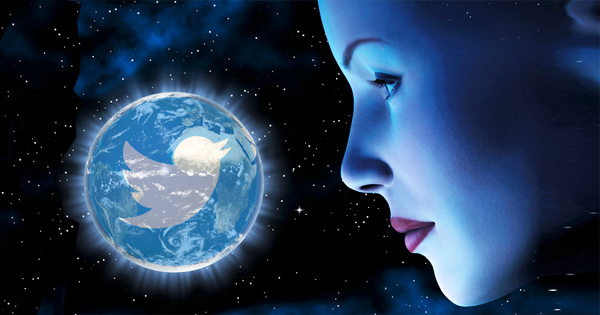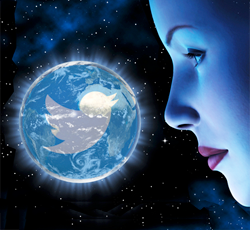 People often ask me what my favorite feature on Twitter is.
My response is always the same: Lists!
When they ask me why, my answer is always too long for a single conversation.
That's why I decided to write this blog post!
Today I'm going to talk about 10 ways I use Lists to magnify my presence on Twitter.
People are often surprised that despite following over 120,000 people on Twitter, I'm constantly engaging, replying & responding to people's tweets.
My secret?
You guessed it! Twitter Lists!
10 Brilliant Ways to Use Twitter Lists to *Always Be Engaging*
Before I get into how to use Lists, I'll show you how to create them.
(info taken from Using Twitter lists -- an article in the Twitter Help Center)
To create a List:
Visit your Lists page via the gear icon drop-down menu or by clicking Lists on your profile page
Click Create List
Name the List & provide a description
Designate the List as Public or Private
Save the List
To add or remove people from your Lists:
Use the person icon drop-down menu on somebody's profile
Choose add or remove from Lists
Choose the List you would like to add the person to or uncheck the List the person was already a member of
The Twitter Help Center also has info about:
seeing Lists you're a member of
viewing tweets from a List
subscribing to a List
editing or deleting a List
sharing a List URL
Now that you see how easy it is to build a Twitter List, these 10 tips will help you use them effectively.
1. List influencers
Interacting with influencers in your industry is key to the success of your marketing initiatives.
>> Click to Tweet <<
And Twitter Lists provide great ways to keep track of important players.
Check out this article for a crash course in finding influential people to add to your list:
Listing influencers helps block out the noise that distracts from you seeing important tweets from them -- and interacting with them at the most opportune times.
2. List news makers
Not in the mood to engage?
Maybe you just want to follow the latest news in your industry.
You can do this by adding important news organizations to Twitter Lists, and regularly reviewing them -- especially when news breaks in your niche.
>> Click to Tweet <<
Robert Scoble's "Tech News Brands" Twitter List has nearly 9,000 subscribers: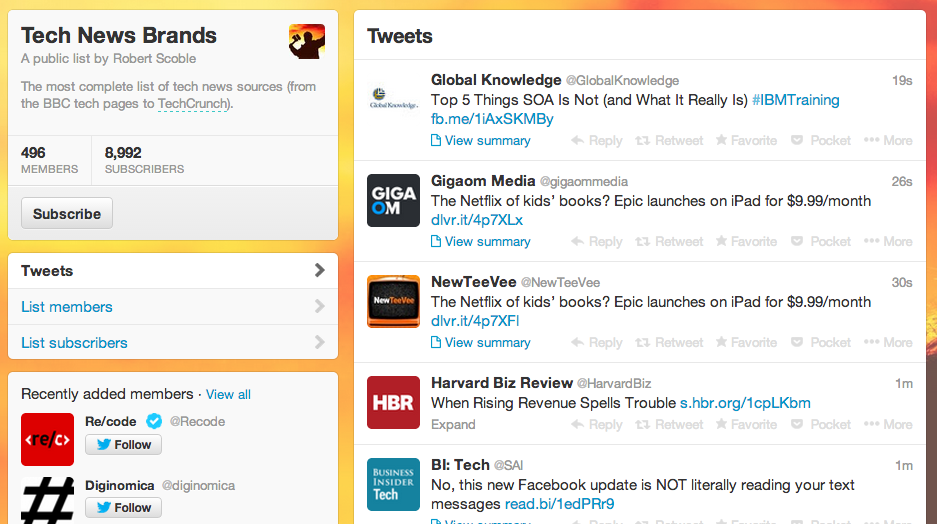 3. List people who Re-tweet you
If you have followers who share your tweets a lot, then put them in a Twitter List.
>> Click to Tweet <<
Don't name the List "retweeters" or something equally vague. Instead give it a name that doesn't give away the reason you started the list to begin with.
I call mine "Super-sidekicks".
With this list, I engage with Twitter followers & share their articles & tweets that I find useful. This creates a win-win by encouraging them to share more of my stuff.
4. List people you chat with
List people you engage with a lot on Twitter.
These folks often respond to your tweets -- adding their thoughts & opinions to the discussion.
For me, they're key for maintaining a strong Twitter presence -- and I usually learn a lot from them.
But I always expect a spirited debate.
5. List your co-workers
Twitter Lists are awesome for following tweets from your co-workers.
>> Click to Tweet <<
They makes it easy to keep up with everyone on your team. And often your colleagues will follow your List too.
In this example, Gary Vaynerchuk shows us how it's done: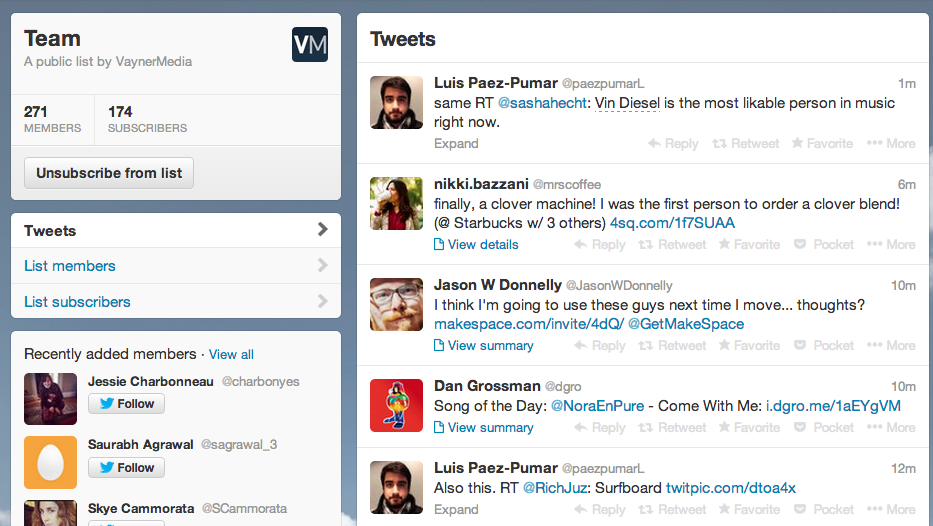 6. List your competitors
You should always watch what your competitors are tweeting if you really want to crush it on Twitter.
>> Click to Tweet <<
This doesn't mean you need to follow them.
Instead, put your competitors on a Twitter List & make the List private.
>> Click to Tweet <<
For fun, give it a cool name like "Runners-Up". :)
7. List yourself
For some reason, a lot of people don't add themselves to their own Twitter Lists.
Why should they?
Well, one good reason is that by listing yourself on your Twitter List, you ensure that your tweets get shown to the people who subscribe to the List -- which helps you gain exposure.
Adding my Twitter account to my "Social Media" List worked great: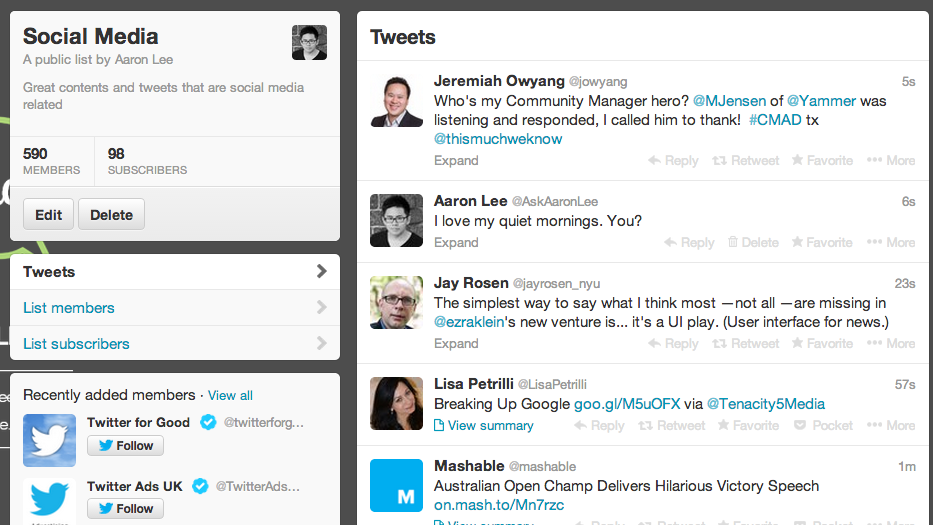 8. List people from events
If you're going to an event or attended one in the past -- add the people associated with the event to a Twitter List.
>> Click to Tweet <<
This lets you continue building relationships with these contacts after the event is over -- making it easy to communicate with them in the future.
9. List people from Twitter chats
If you participate in Twitter chats -- you know just how fast-paced these discussions can get.
Twitter chats are filled with amazing people who are heavily engaged.
So put them in a List -- adding users, moderators & guests from the discussion.
Vincent Orleck does well with this List: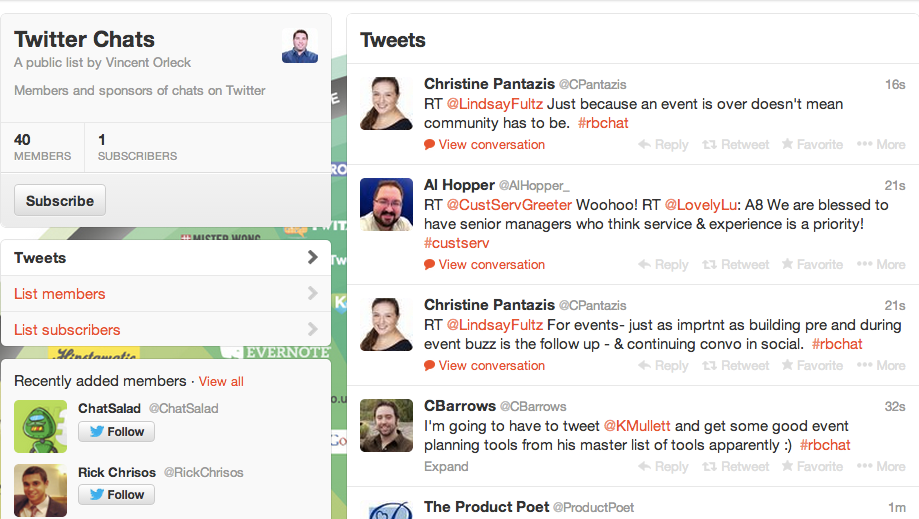 10. Upload your List to Flipboard
I left the best tip for last.
As mentioned above, Twitter Lists let you group Twitter users based on particular interests.
You can then upload those Lists to Flipboard -- which lets you follow tweets along with Flipboard conversations.
>> Click to Tweet <<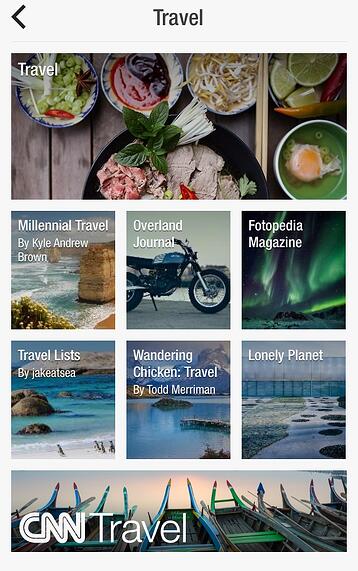 Have anything to add?
How else have you used Twitter lists to help your social media marketing efforts?
Please share your tips in the comments section below.