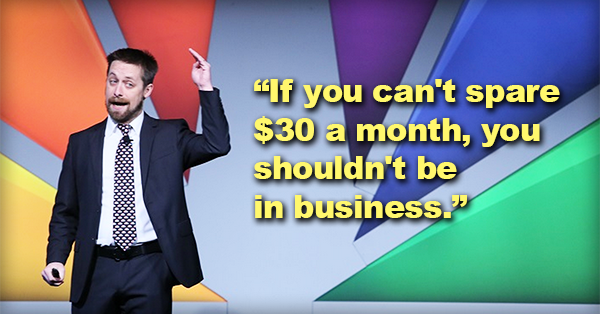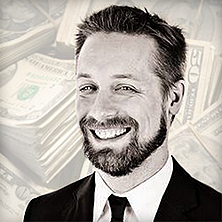 In June, I conducted a 30-day experiment based on this claim from Brian Carter:
If you can't spare $30 a month, you shouldn't be in business.
Carter was referring to companies that can't afford Facebook ads, which can expose your business page to thousands of potential customers.
If you can't afford some very modest ad spend, Carter said, then you shouldn't be in business at all.
>> Click to Tweet <<
Then he broke down the costs for reaching 1,000 people on different advertising platforms.
At just 25 cents per thousand people reached -- Facebook was the cheapest by far!
And at this rate, I could spend a buck to reach 4,000 people a day.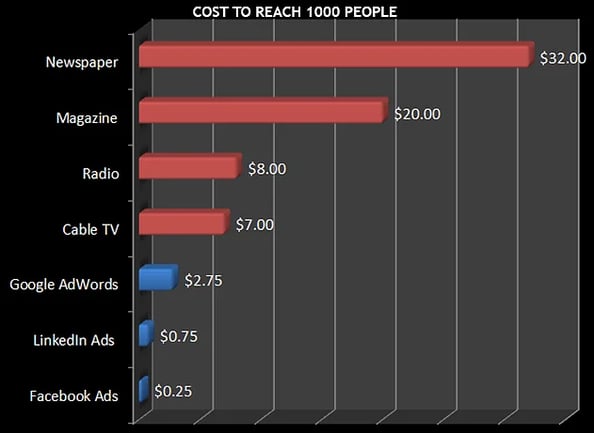 So I accepted Carter's challenge.
Could I spend $30 for kick-ass results?!
Let's see...
How to Get More Likes on Facebook for Just $1 per Day
For this study, I used a Page Like ad for my bounce house business.
I often use my business as an example because Facebook ads on a page like Post Planner's -- with 62,000 fans -- aren't relevant to small businesses like yours & mine that are trying to get more Likes on Facebook.
You need real-world advice, and as a small business owner -- I'm right there in the trenches!
>> Click to Tweet <<
I used the Facebook Ads Manager to create my ad and I targeted men & women in my zip code who had not already Liked my page: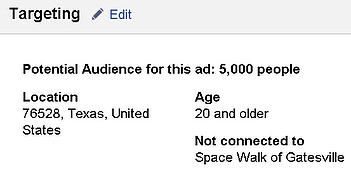 I used 4 ad creatives (images) to see which performed better.
In hindsight, I should have picked just one creative so every potential fan saw the same image -- oh well.
The ad ran from June 10 to July 10 and resulted in 56 new Likes for my business page.
I reached about 2,100 people.
Not quite the 4,000 people Carter said I could reach... but not bad.

In 30 days, I spent $29.91 for 56 new Likes -- that's about 53 cents a Like.
I was happy with these results.
After all, that's 56 more people who could be exposed to my company.
Remember: if just one person rents a bounce house, I pay for this 30-day experiment & then some.
Plus, now I can boost my Facebook posts to reach the friends of all these new fans.
Images
As you view results from my study, it might be useful to see the ad creatives that brought in the new Likes.

Here are the ads starting with the one that received the most Likes:
#2 brought in 26 Likes

#1 brought in 19 Likes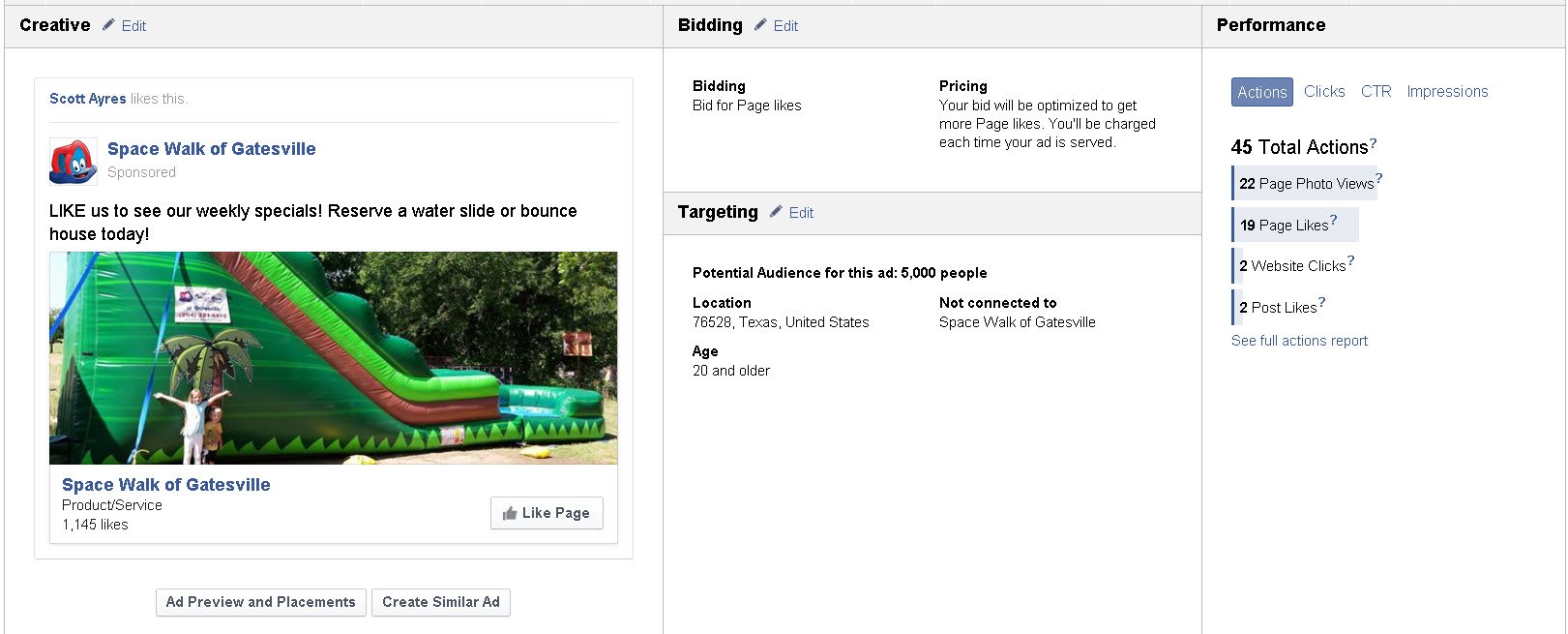 #4 brought in 6 Likes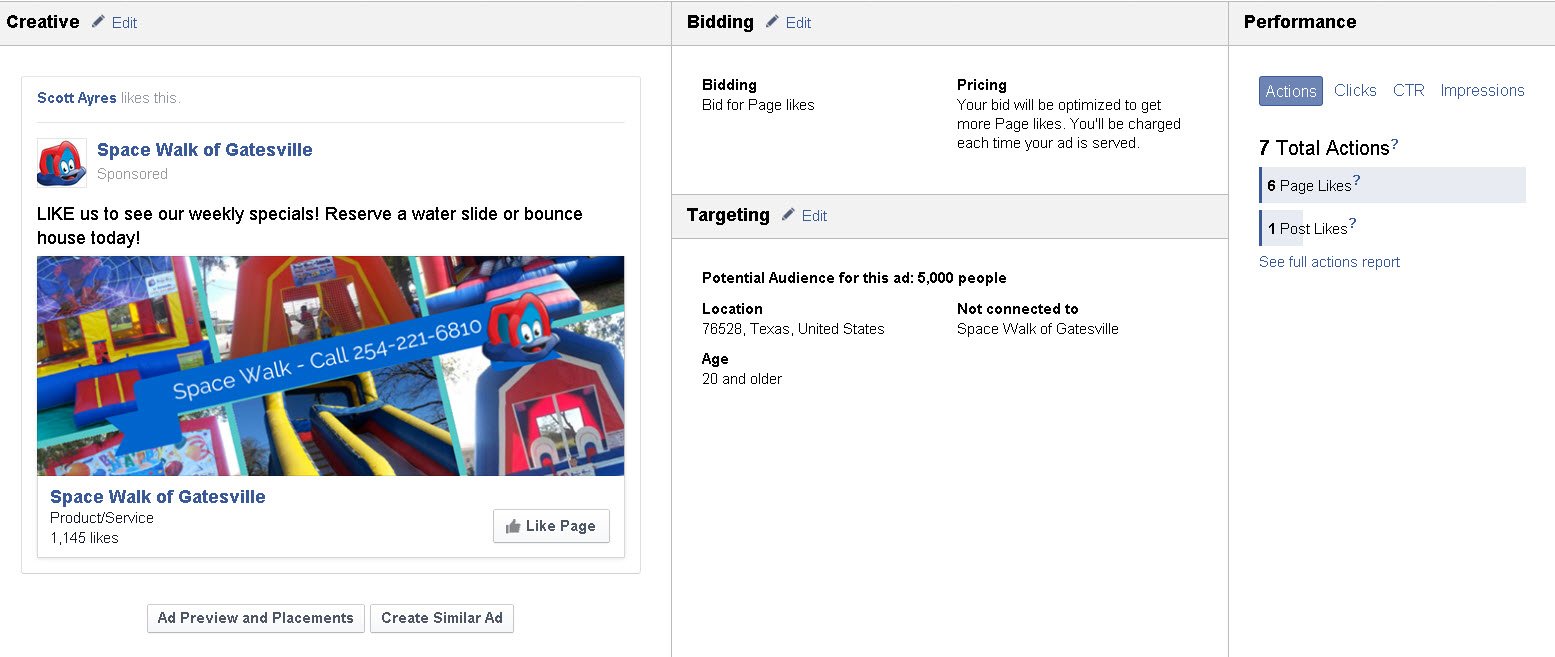 #3 brought in 5 Likes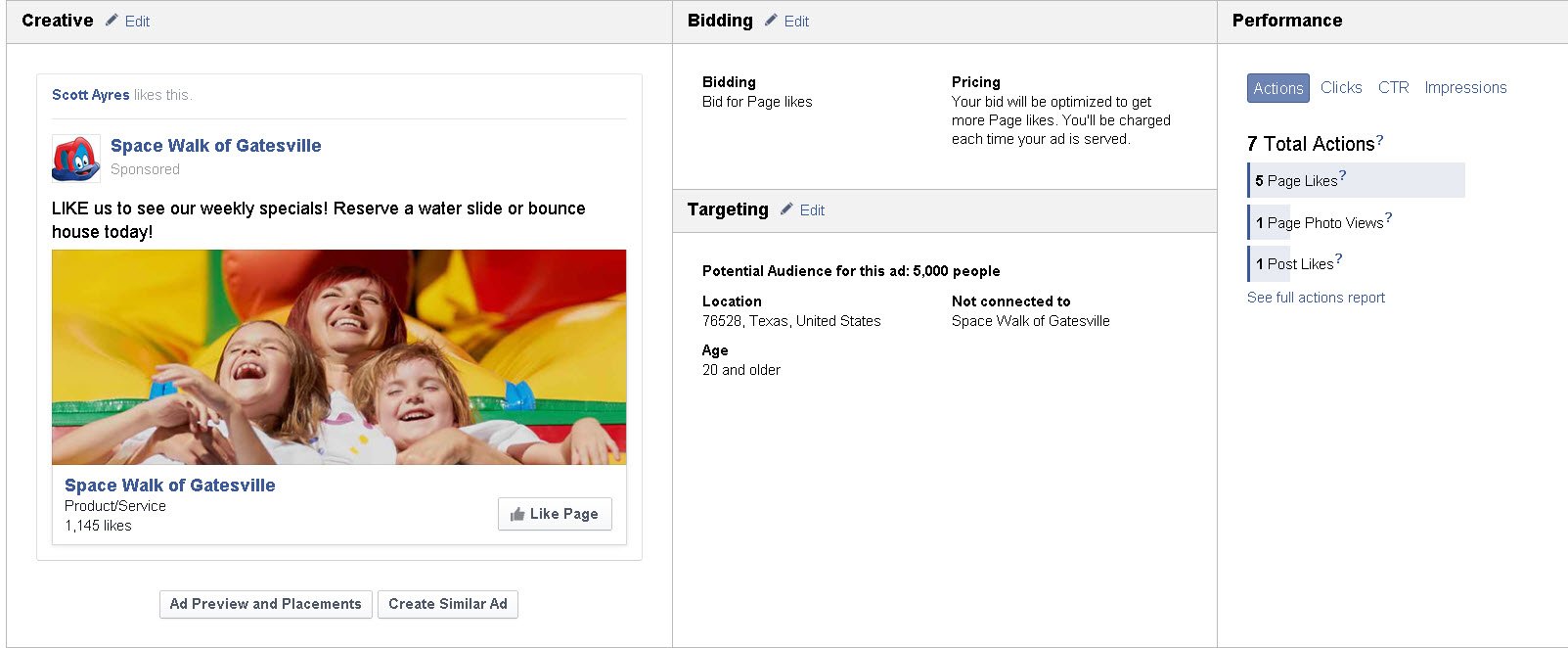 The image with kids playing & the image that showed the slides were more appealing than the images with a phone number or with the mom.
This information will come in handy next time I place an ad.
Here are some stats that show where the ads were seen:

Almost all the Likes came from mobile devices... WOW!
Since moms make up my primary customer base, I wrongly assumed the most clicks would come from home computers.
The impression stats correspond with click numbers -- and were highest on mobile devices.
This means that my posts & ads must be optimized for mobile users.
Page Like Ads ARE Well Worth the Money
Page Like ads result in new Likes!... there's just no doubt about it!
>> Click to Tweet <<
I got 56 new fans & exposed my business to nearly 2,100 local people.
Even if some didn't Like my page, more people in my area know about my brand.
And next time they see the ad, they might click Like!