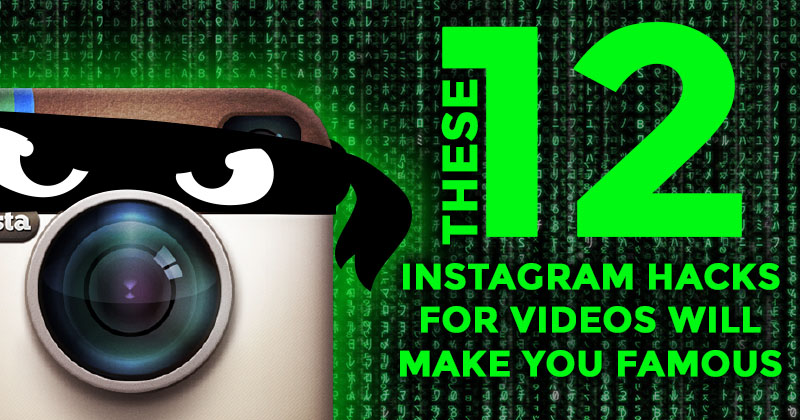 Are you ready for your 15 mins of fame?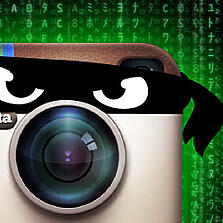 What if I told you that you only need 15 seconds!
Yup, that's right -- try these Instagram hacks, and you can get your message spreading like homemade jam.
Here' how:
Instagram lets you share 15-sec video clips!
That means you just need to learn how to create amazing content in less than 15 seconds?
How do you do that? Read this post to start!
The 12 tips below will show you how rock star brands are crushing it using Instagram video... and how you can too!
>> Click To Tweet <<
These 12 Video Hacks Will Show You How to Be Famous on Instagram
Before we dive in to reveal these 12 Instagram video hacks, let's first take a look at how to upload your work.
Here's the step-by-step process: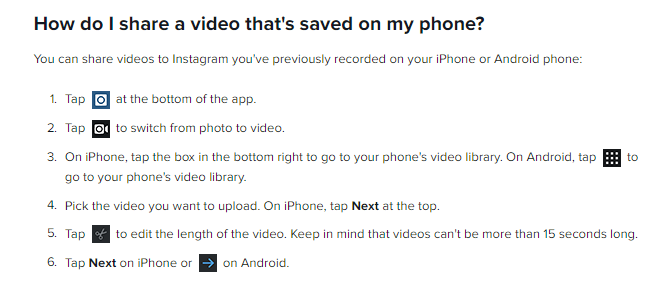 Right now, Instagram doesn't allow users to upload video directly via desktop. You CAN, however, use our first Instagram hack to your advantage.
With only 15 secs to grab the viewer's attention, you want to make sure your videos deliver maximum impact right from the get-go.
To help you out, here are some video creation tips to give you the winning edge!
>> Click To Tweet <<
1. Pre-edit your videos via computer
Instagram allows you to upload videos that weren't taken with your phone or tablet's camera. That presents a golden opportunity for your brand to stand out from the competition.
My first Instagram hack is to edit the footage using your PC or Mac, then export it to your phone or tablet for upload to Instagram.
You get more flexibility than editing via apps, and this hack also provides better control of the content.
2. Create a call to action in the video
With only 15 secs to work your magic, every word or motion counts. To ensure your brand gets the most from each clip, be sure to include a call to action (CTA) in the video.
Most people put the CTA in the comments, but since your fans are directly engaged with your video, that's when you have their full attention.
Instagram hack #2 is to include your CTA in the video clip, not just in the comments.
Here are some CTA examples you can try:
For instant alerts about videos, follow us at @ ...

Find out more at www...

Join the party at www...

Save 20% by using code ...

Use # tag ... to win!

Don't forget to comment below!
3. Make sure you have rights to the content -- don't be dumb!
You've probably seen Instagram pages sharing viral videos taken from YouTube.
THIS IS CRUCIAL: Instagram will disable accounts that rely on content not owned or created by that user. Here is the Instagram policy:
Don't share photos or videos that aren't yours.This includes other people's posts, and/or things that you have copied or collected from the Internet. Accounts that solely consist of only this type of content may be disabled at any time.Please make sure that all content you've posted and will post in the future doesn't violate or infringe the rights of others.
Instagram hack #3 is to play it safe with content. A call from a lawyer can ruin your day. True story.
4. Deliver an impact with instructional videos
Instagram hack #4 is to turn your expertise into a learning experience.
15 secs isn't a whole lot of time, but it is time enough to get the essence of your lesson across. You can then use text in the comments to provide detailed instructions.
5. Use call-to-action videos to steer your viewers in the right direction
If you are online to promote a business, Instagram hack #5 is to always ask yourself one question:
"What's the point?"
THAT POINT is your CTA. What do you want viewers to do, think, or feel? And how can you provide a way for them to act on that desire in a way that is part of your business strategy?
6. Get the focus where you want it with product videos
Instagram hack #6 is to make your products the heroes. For example, notice how Dr. Pepper makes sure all eyes stay glued to the cans.
When you add video to words you increase the recall potential of the experience. I'll wager you take special notice of the next can of Dr. Pepper you see!
7. Foster face-to-face communication by using personal videos
You say you want to know HOW TO BE FAMOUS ON INSTAGRAM? Every business needs a face -- so, if that face is yours, get it out there! Instagram hack #7 is to make it personal.
Notice how Jamie Oliver begins with his face covered... then reveals it. The effect is to make the experience more memorable.
You don't have to play peek-a-boo with your viewers, but you do want to make an impression. Get creative!
8. Give your audience a look at something private and special
Instagram hack for videos #8 is to take your audience backstage. Give them an insider's look at something special about your business.
Ben & Jerry's has something in common with Post Planner: We both "eat the dog food."
Show your customers you practice what you preach. They will love you for it!
BONUS - BONUS - BONUS
Now that you've some content ideas for your next Instagram video, here's a bonus to help you with an edge: These 4 Apps help give you that "WOW!" factor.
9. Make an impact with time-lapse videos
Time-lapse videos offer your business the chance to capture and turn long video clips into bite-sized pieces of content. Instagram hack #9 is way cool.
10. Showcase your work with collage videos
You've seen picture collages, but did you know you can do the same with video? This can be a great way to showcase different aspects of a video all in one frame, making it perfect for Instagram hack #10.
11. Share content from other channels or fans
This allows your business to feature content from your fans or other business channels. Choose the video you want to share, and the app adds a watermark image to your video when you load it to your profile.
That lets your fans know the original account the video has been shared from.
By the way, "Royalty Free" does NOT MEAN "Free to use." Check it out.
Instagram hack #11 makes it easy for you to play by the rules and stay out of Instagram purgatory.
12. Keep them coming back for more with slide show videos
Sometimes one image just isn't enough. Flipagram is Instagram hack #12. It allows you to share multiple photos in video slideshow format. Don't forget to add your own music and titles.
The bottom line for how to get famous on Instagram
You want your fans to engage with your content.
Right?
Making wise use of video is one of the top ways to gain their attention. Trust me.

Let's make it a baker's dozen with Instagram hack #13 -- a word of encouragement: Practice really does make perfect. If you will commit to employing the tactics I've described... if you keep trying and don't give up... you WILL be successful!
Make use of these Instagram hacks, then share a link to your work in the comments below. I can't wait to see what you come up with!
____________________
RECOMMENDED ARTICLES: