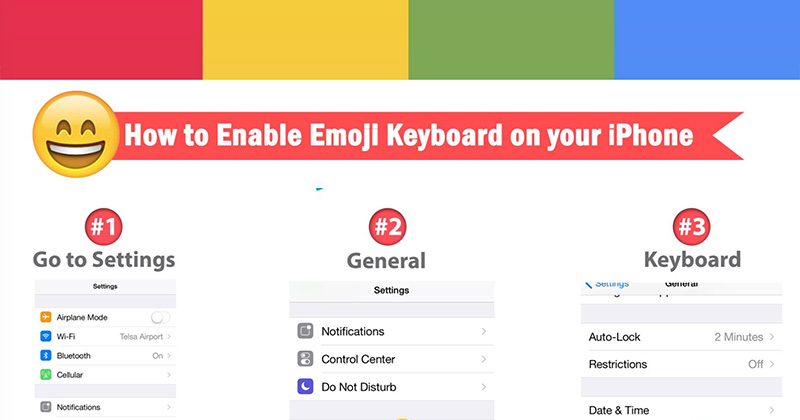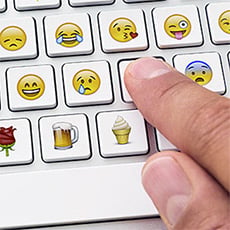 Can you guess what the 2014 Global Language Monitor "Word of the Year" was?
It wasn't word at all. It was this symbol:

Warms your heart, right? :)
Yep, that little "Word of the Year" up there is the Heart emoji.
Emojis are symbols used to convey feelings (like emoticons or smileys). The term comes from Japanese and means "picture letter".
How do you use emojis on social media to get more engagement on Instagram, Facebook and the rest?
Good question! That's exactly what I'll cover in this post. :)
>> Click to Tweet <<
How to Use Emojis to Get More Likes & Comments on Instagram
You probably already know that I LOOOOOVE Instagram for business. In fact, I used it to grow my own retail earnings by 40%!
Since then, I've been talking about and teaching Instagram everywhere I go. I can't say enough about it.

Instagram rocks!
And Instagram is perfect for emojis! But that doesn't mean it's the only place you should use them.
In fact, you can use emojis just about anywhere -- from your blog & business cards to your company t-shirts!
You name it and emojis can help make it stand out!
But emojis are especially useful in these 3 locations:
1. Your bio
Use emojis to highlight keywords and guide visitors from section to section
2. Your Call to Actions (CTA)
Use emojis to tell readers to click a link, fill out a form, or engage with the CTA
3. Your comments
Use emojis to make your comments stand out and get noticed
>> Click to Tweet <<
More reasons to use emojis
Emojis will also help you get more likes, comments & shares on Instagram!
Remember: eyeballs go to color first -- and visuals are processed 60k times faster than text! Colored emojis attract the readers eye when viewing your content.
Not only that, but emojis are universally recognized & accepted.
Use them and you speak an international language that attracts readers worldwide.
Here's a fun fact: Did you know that 70% of internet users outside the USA have an Instagram account?
Well guess what??... Instagrammers LOVE emojis!

My favorite emojis -- and how to get 100s more for FREE!
I don't have room to list a ton of emojis here. :(
Instead, I'll show you 5 of my favorite emojis in 4 different categories -- then I'll tell you how I use them in my work to boost Instagram engagement.
YOUR SUCCESS, though, will come when you apply emojis to YOUR WORK in the ways that work best for you.
I've also put together a FREE download to help expand your knowledge of emojis. It will also give you information about a video resource to help you dig deeper.
Here's the FREE download:
>> CLICK HERE to download FREE Emoji Handbook <<
Ok, now let's talk about some specific emojis!
1. People emojis

There's nothing like a smile to lighten up the mood and give visitors an instant reason to feel comfortable with your page, post, or presentation. When all is said and done, we like people who like us. This Grinning Face emoji says "I like you!"

If smiles make us happy, tears draw concern. The Crying Face emoji shows that you are human and you have a heart. It can draw others to want to know why you are sad and how they can help you feel better.
Are you introducing a topic that really gets your goat? Are you passionate about something and you want to express displeasure with an opposing view or event? Get out your Angry Face and let em' have it!

Give them this Baby emoji and you've got their hearts. Whether announcing the birth of a child, an idea, or a new project, babies bring gentleness and promise to every situation.

Few symbols are as universally recognized as this one. You love it when someone gives you a thumbs up... so why not pass a Thumbs Up emoji on to your readers?
2. Nature emojis

Show me a cute puppy face and you've got my heart thumping. Dogs portray friendship, honesty, and commitment. When you want to portray loyalty... get out the Dog Face.

There's no way I could get by with highlighting the Dog Face, then leave out the Cat Face. They are symbols of independence, assurance, and joy. Cats bring on the good times.

Are you ready for vacation? Are you speaking to retired folks -- or those who want to be retired? Get out the Palm Tree emoji. White sands, gentle waves, relaxation... you got it. Use it!

If the Palm Tree emoji signifies relaxation, the Cactus emoji gets you out to the desert and in a mood of exploration. Head them off at the pass, or bring on the spirit of the Wild West with this emoji.

Herbs speak of health and healing. They bring on a sense of calmness and nature. Whether you are talking about herbal teas or gardening, the Herb emoji can help set the tone.
3. Objects emojis

You've got mail! There are probably times when you wish you received less of it (email), but the truth is you'd miss your mail if none came at all. The Postbox emoji says "Read this." It can draw attention to your "Contact Me" link or any other "Read me" or "Mail me" CTA.

Similar to the Postbox emoji, but invoking a different response, the Package emoji moves the reader to open it. Got a surprise to share? Use the Package emoji.

Draw eyeballs to your appointment scheduling link or remind readers not to miss an important date. The Calendar emoji is a perfect way to do either (and more).

I love this one! Are you trying to show your readers how something they are doing now is causing them to lose money fast? Get more bang from the message by using the Money With Wings emoji.

Draw attention to a lesson or tool with the Artist Palette emoji. It speaks of experimentation, introspection, and creativity.
4. Places emojis

Dorothy got it right, "There is no place like home." The House With Garden emoji tells your visitor it's okay to relax and feel safe. Welcome home!

Isn't this one cute? I love the heart over the chapel. Whether you're speaking to newlyweds, oldie-goldies, or anyone who has a heart for marriage, the Wedding emoji will surely evoke memories... and maybe even a tear.

A new day is dawning and uncharted adventures await. This lovely emoji elicits joy, determination, and hope. Do you want to bring hope to your reader? Use the Sunrise Over Mountains emoji.

Are you transporting your readers from one place to another? Here comes the Oncoming Taxi emoji to get them there.

Do you want to get them from here to there REALLY FAST? Try the Rocket emoji. It says, "Buckle up and hold on -- we're launching this ship!"
But wait... there's more! :)
There are literally hundreds of emojis for each of these categories -- and thousands of ways to use them.
My aim here is to get you interested enough to want to know more!
I've personally seen the massive boost in engagement that emojis brought to my Instagram posts -- and I KNOW they can do the same for you.
To get started (or to keep going) -- just download this FREE handbook to discover more than 800 additional emojis. You'll get the emojis, their names, and additional info to help your work grow!
>> CLICK HERE to download FREE Emoji Handbook <<
I've also recorded a video for you that will go even deeper into the wonderful world of emojis. Get it and find out emoji secrets like this:
Where to position emojis – and why
How to use emojis to draw attention to your CTA
How to use emojis via your smartphone -- whether Android or Apple
How to set up your CTA link so it can be tracked and measured
How to make words stand out with special effects
The best emojis for getting people to take action
How to use emojis in your geo-tag
Tips on fitting emojis to your post and graphics
Why you should seek the perfect emoji to fit your business and message
Here's the vid:
>> CLICK HERE to Watch My Video on Emojis <<
Who doesn't love emojis? They can build visitor engagement and make you stand out from the crowd. Emojis make online work more fun!
So, GO HAVE SOME FUN!
And PLEASE let me know you enjoyed this post by hopping on over to The Instagram Expert (after you get the Handbook). Leave a comment to let me know which emoji you like best.
Let's party!