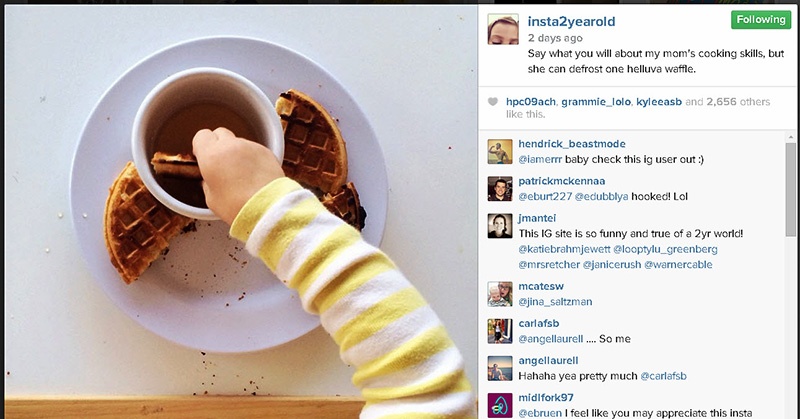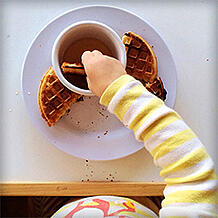 Kids are awesome!
I have 3 myself -- and I could post on Instagram all day about their weird & wonderful antics.
But I've never thought to create an Instagram account for my kids.
Ilana Wiles did just that -- and we can learn a lot from her @insta2yearold account about what it takes to get famous on Instagram.
It all started the day her daughter shot an accidental selfie with mom's smartphone.
Ilanna is actually a popular mom blogger who already had a large Instagram following when she created the new account. And @insta2yearold got tens of thousands of followers in a month.
(Yes, it helps when The Huffington Post & Today Show report about your account)
Watching the account grow, I couldn't help but ask myself:
Why create an Instagram account for a 2-year-old?
Wiles answered this question & many more when she explained the origin & evolution of the new account.
2-Yr-Old Shows How to Get Famous on Instagram (the Kid's Got Skillz!)
>> Click to Tweet <<
First, here's the accidental selfie that started it all: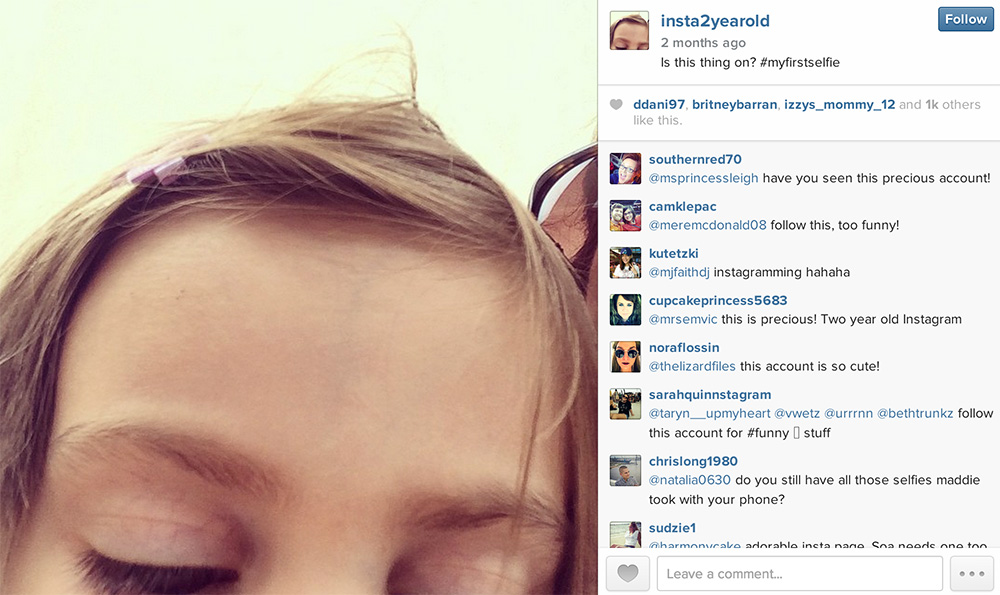 And a star is born!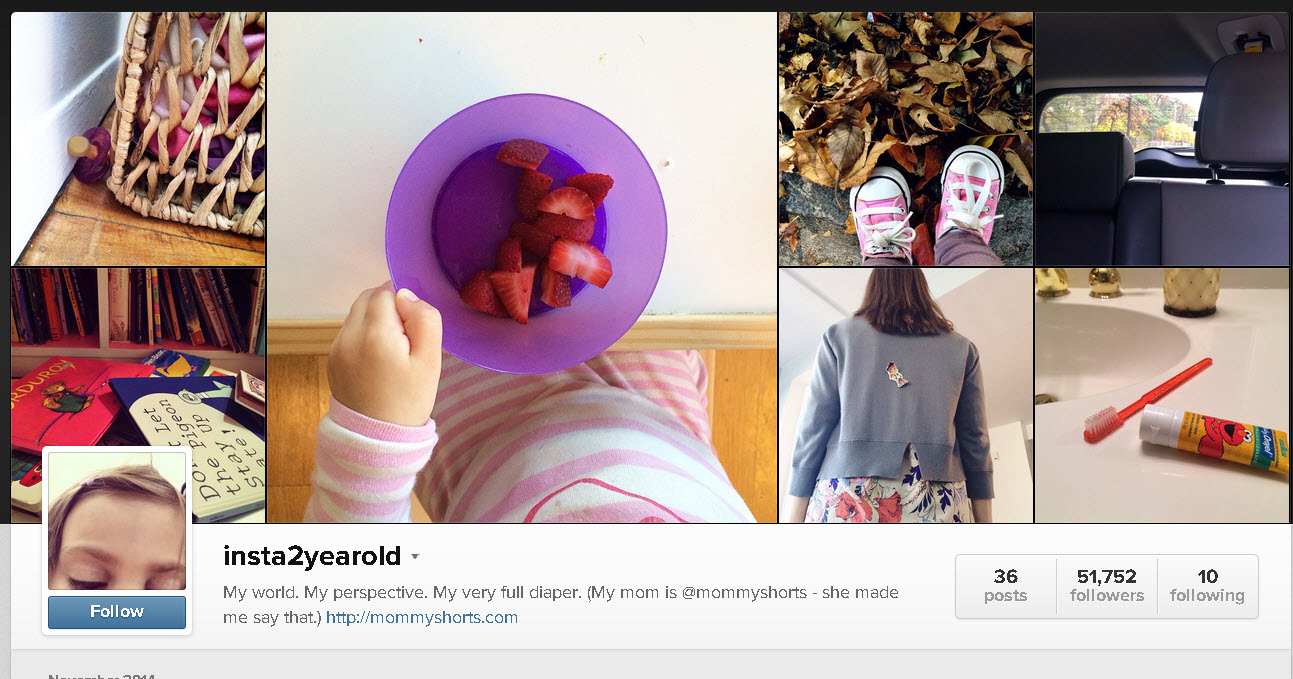 Ilana wrote this about the origin of @insta2yearold:
It all started when Harlow took an accidental selfie over the summer.

I thought it would make a funny one-off on my regular account when my friend (the awesomely funny blogger Nicole Leigh Shaw) suggested doing "Toddlers on Instagram". She thought it would be funny to do a series of motion-blurred photos like a Toddler Instagram feed. I loved the idea and she told me to run with it.

Originally, I was going to create a fake feed of several instagramming toddlers, similar to what I did with Toddlers on Facebook a few years ago. While I was trying to figure out how to make identical Instagram graphics, I realized— DUH! It would be so much easier to create an actual account for a toddler!

Sometimes, I really am not that bright.

Anyway, @insta2yearold was born.
Though it might seem like this clever tyke has her own unlimited data plan, it's actually mom pulling all the strings.
The goal is to create photos & captions from the perspective of a 2-year-old.
Gems like this one are everywhere on the page: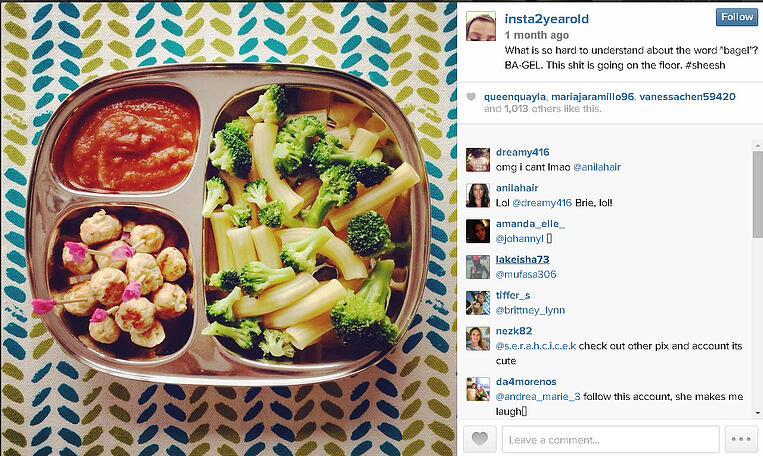 Ilana said she posted on @insta2yearold for a month before spilling the beans about the funny Instagram account.
Instead of blurry photos, I liked the idea that @insta2yearold was actually pretty adept with a mobile phone. She posts the kind of shots you always see on Instagram— pics of her shoes, pics of her food, pics of 'what she's doing right now'— with all the appropriate hashtags of course.
And she's not afraid to break her own rules in the quest for humorous, heart-warming pics:
Originally, I was thinking only one of her hands could be in a shot -- you have to imagine the other hand is actually holding the phone.

I broke that rule this weekend. She was playing in my tampons, that was actually happening...I snapped a couple of pictures and one of them was so perfect, but it had both of her hands in it. I thought, 'OK, maybe she's wearing a GoPro for this.'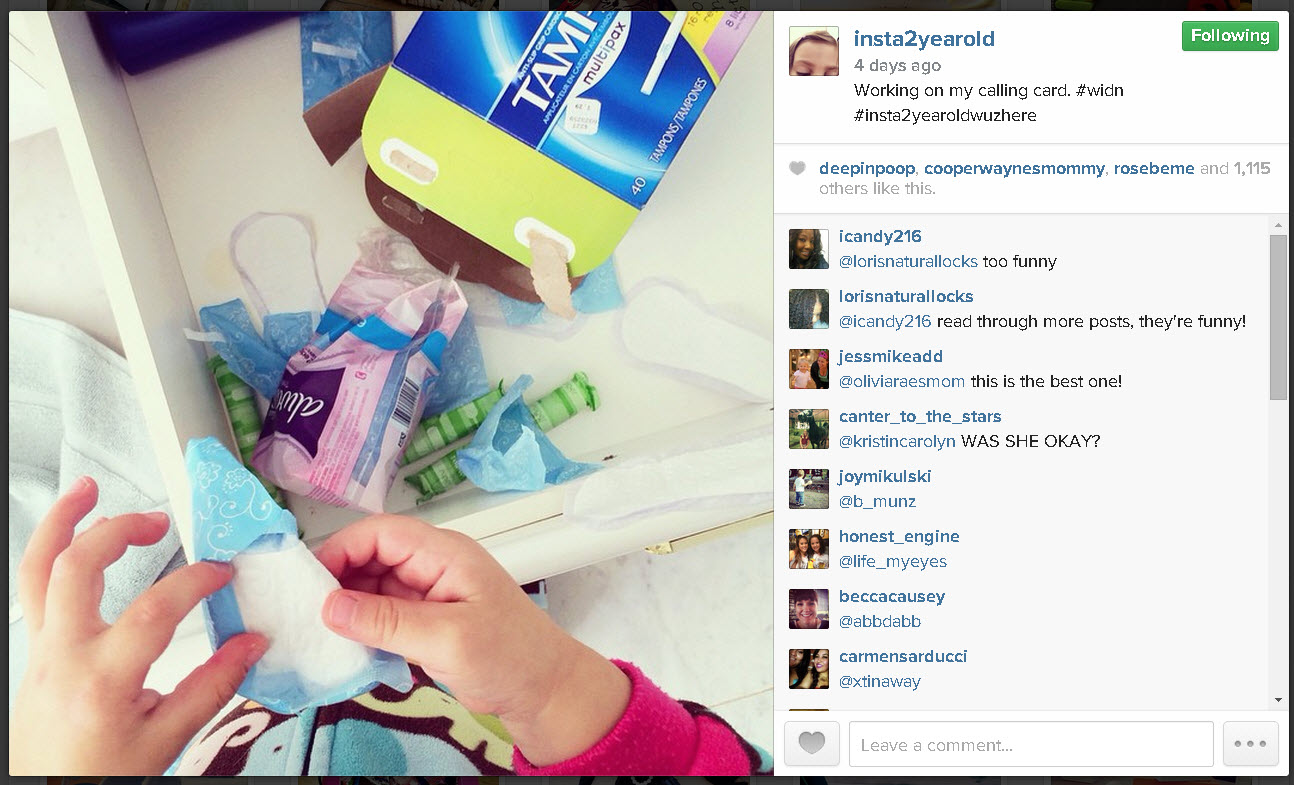 The photos are creative & edgy -- which totally works on Instagram!
Even the most clever social media marketers have something to learn from @insta2yearold.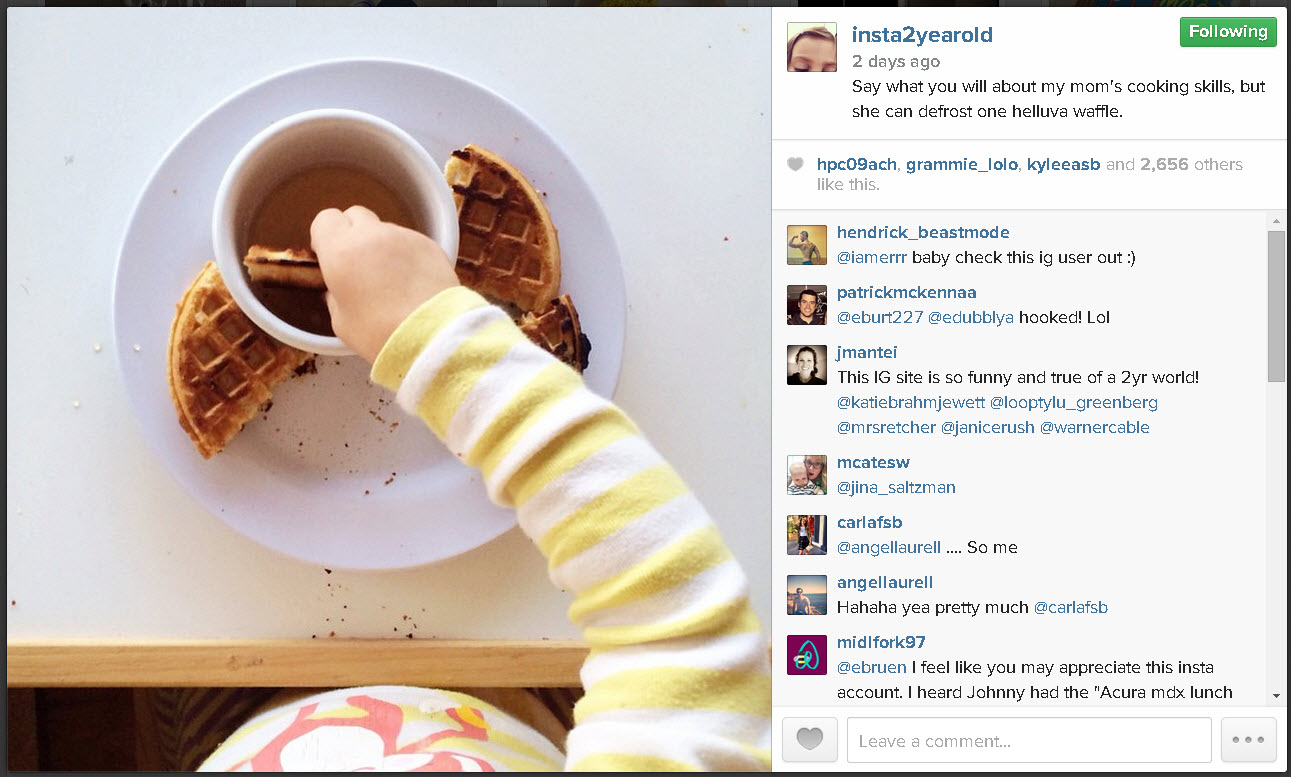 There are timely images -- like this pic from Halloween: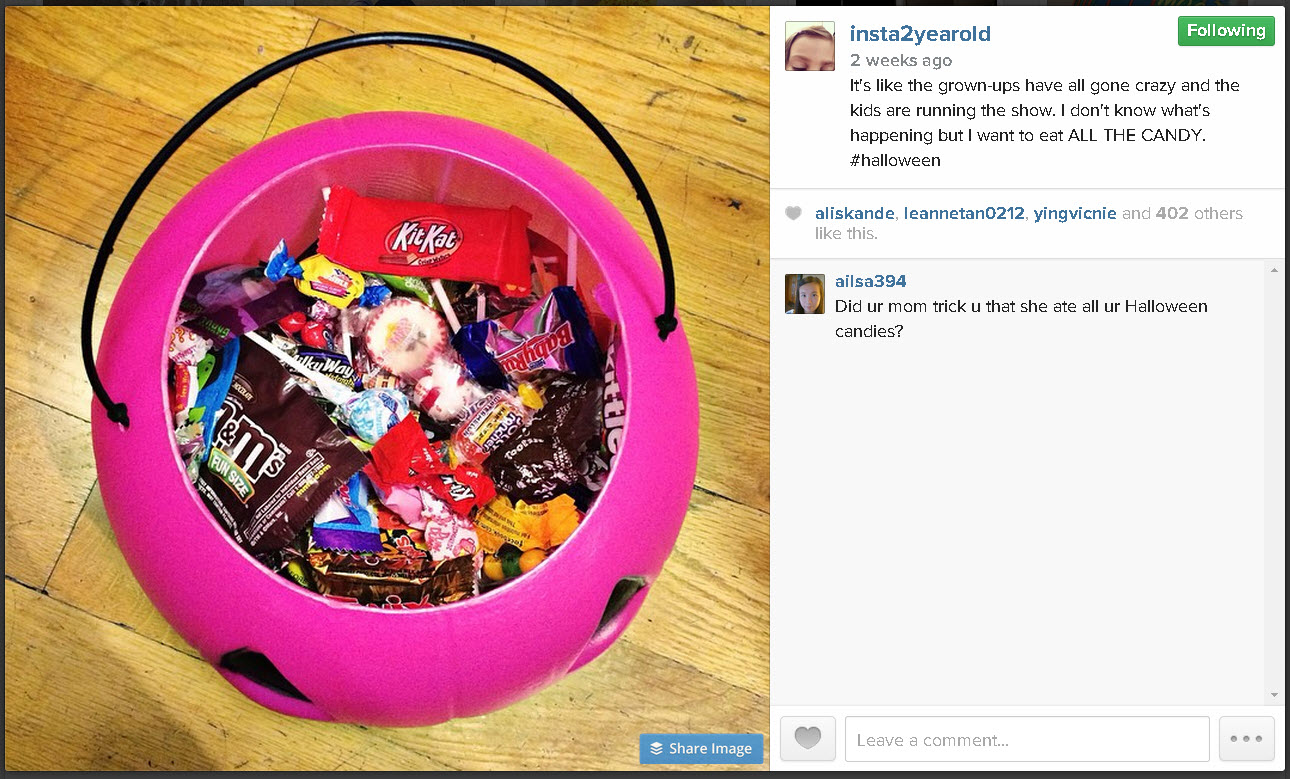 And I love when @insta2yearold takes good-natured shots at her parents.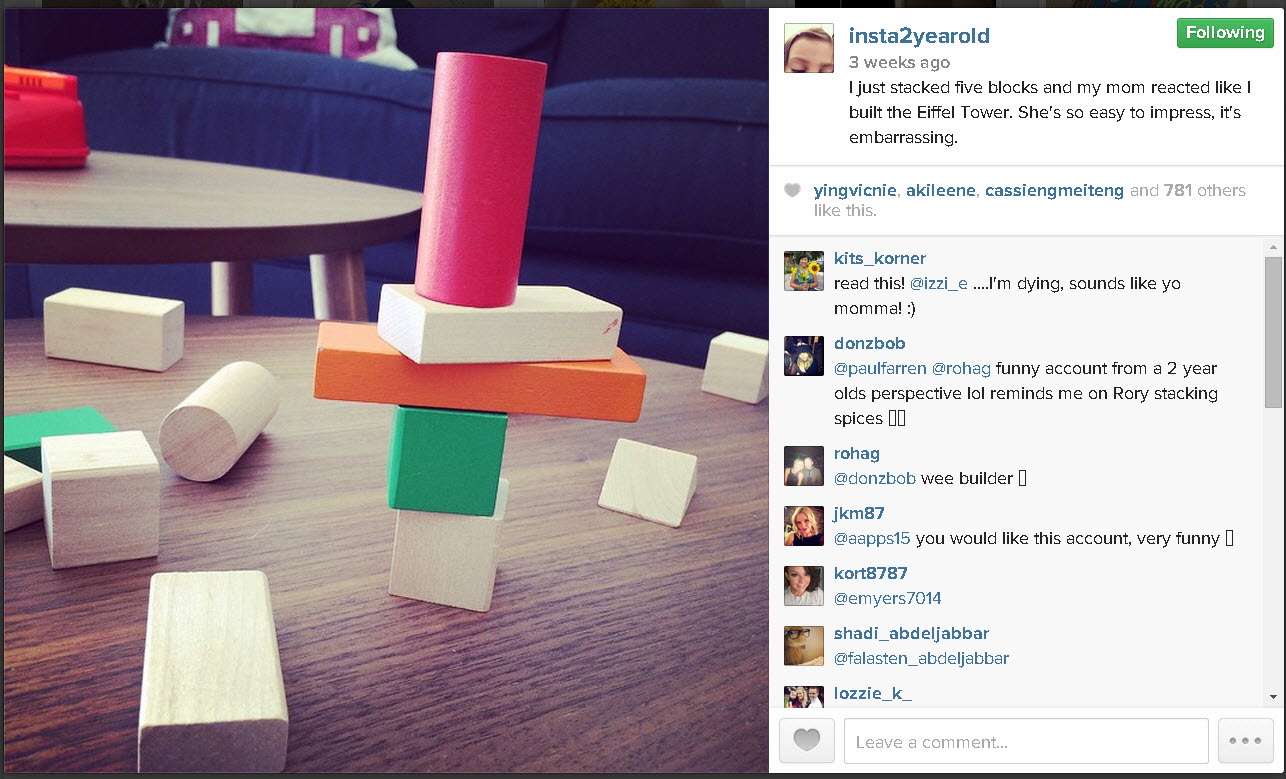 For most families, this next one makes perfect sense!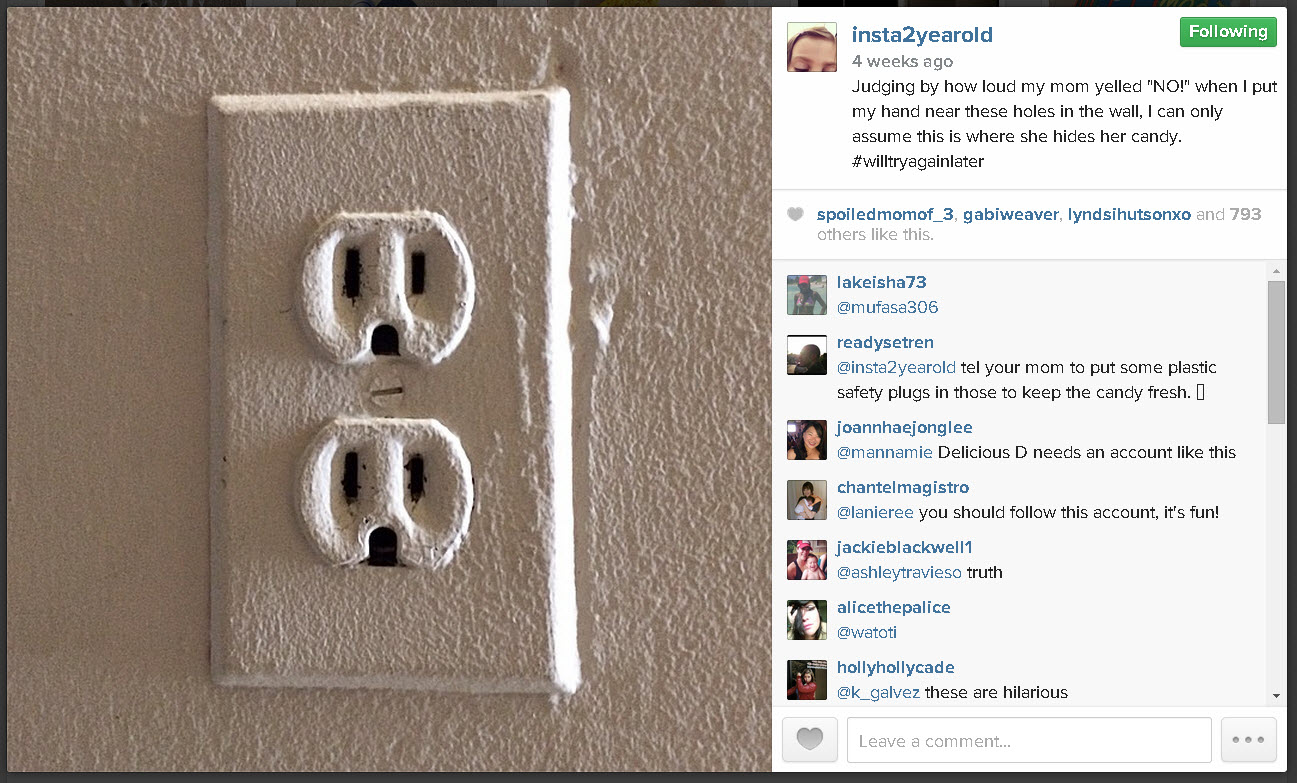 And all parents wonder what kids think about at bed time, right?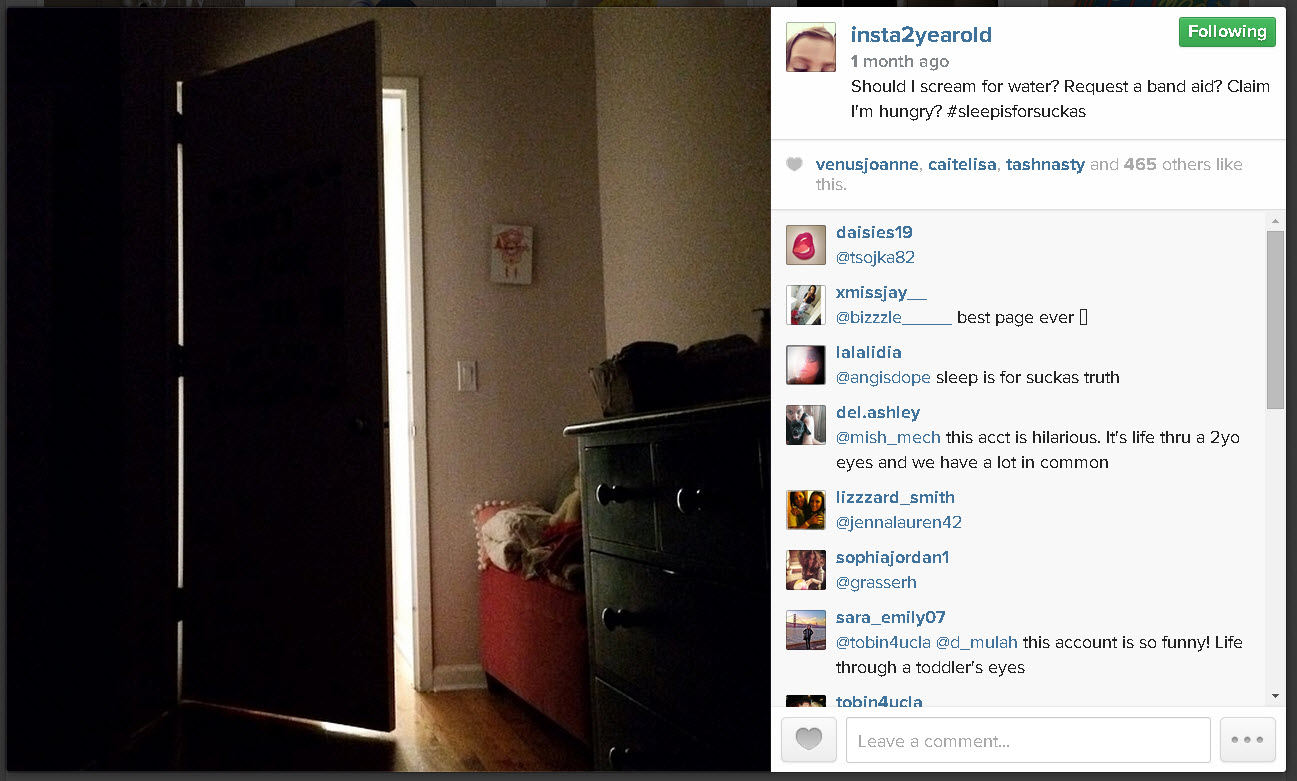 Here's @insta2yearold's 2nd post (and one of her best):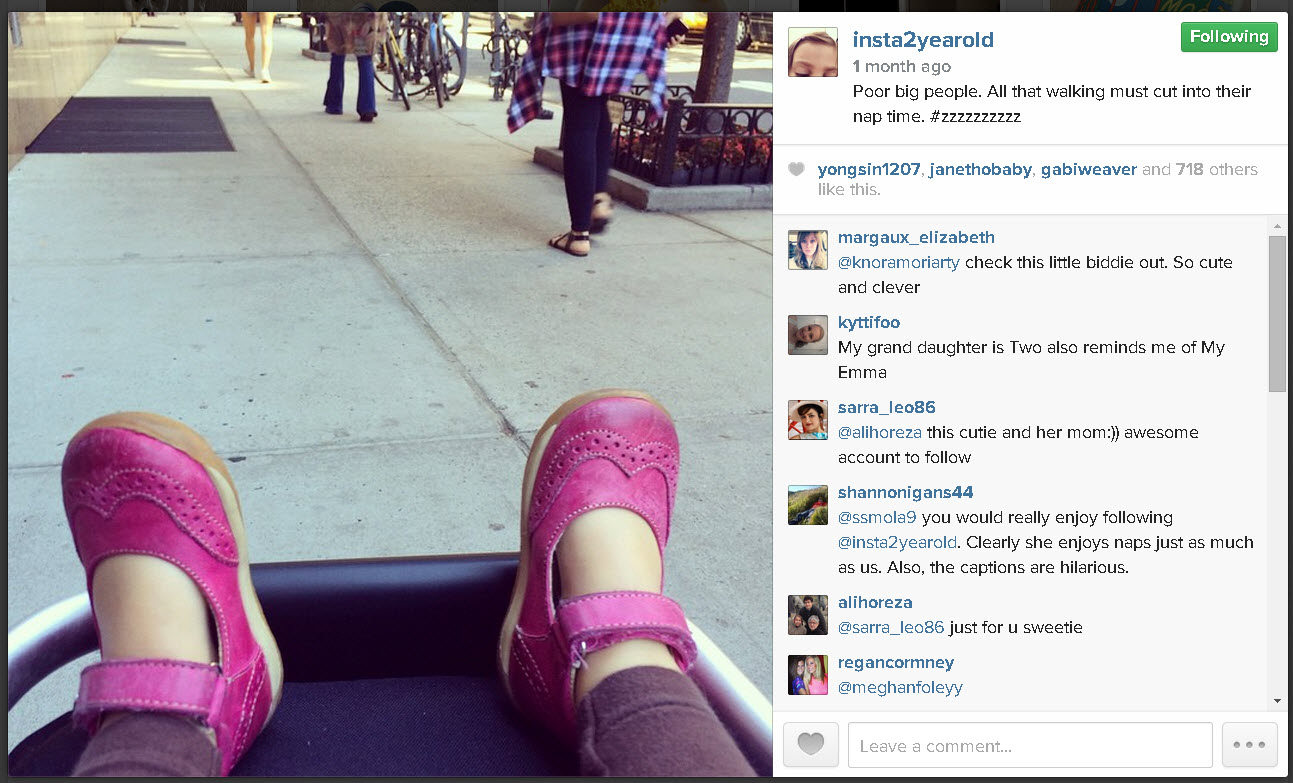 Creativity Rewarded on Instagram
Instagram's top users know that the app's most popular posts are creative images with witty, well-written captions.
Here are some of the best of those top users:
Follow the lead of these accounts & your following will get bigger in no time!
But don't get discouraged if it doesn't happen instantly.
You're not likely to match @insta2yearold's overnight success -- but with some patience, creativity & a little luck, your Instagram following is bound to grow.