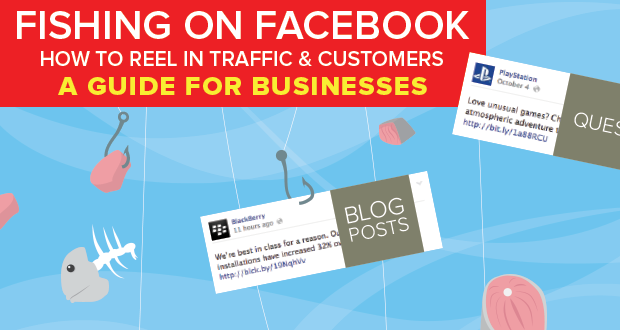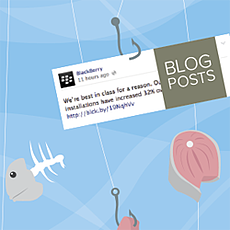 Do you run a business?
Then you probably have one question about Facebook:
How can I use Facebook to get more customers?
What you really mean is:
"How can I use Facebook to drive traffic to my website... so I can turn them into customers?"
My answer:
First chum the waters. Then add baited hooks.
To understand what I mean, check out the infographic below -- and then read the article below that.
In a nutshell, it's all about getting clicks!
How to Use Facebook to Drive Traffic to Your Website... and Get MORE Customers

Share this Image On Your Site!
Takeaways
The takeaway of this infographic is simple:
If you have a business page on Facebook, then you need to be posting engaging content.
You need to be posting those funny photos, those enticing questions, those tempting fill-in-the-blanks.
Why?
Because it gets your fans clicking!
And every time a fan clicks on one of your posts -- whether those clicks come in the form of Likes, comments, photo views or shares -- that fan is sending a signal to Facebook.
They're saying:
Hey Facebook, I'm interested in this content!... I'm interested in the page that posted this content. So please... SHOW ME MORE!
The result is Facebook does exactly that. Facebook shows more of your posts to that fan.
And then -- if you're a savvy business -- you include plenty of links back to your website in those posts.
You drop in the baited hooks!
Because let's be honest here. We're not on Facebook for the mere pleasures of idle conversation.
As businesses, we're on Facebook to make more money, to get more customers & to grow our enterprise.
Get Started!
If you agree & want to take the next step -- if you want to use Facebook to make more money, get more customers & grow your business -- then you should start by identifying your 2 main content types:
Engaging posts (chum)
Links to your website (baited hooks)
Let me break these down for you.
1. Engaging posts (chum)
In a nutshell, engaging posts come in 3 forms:
text updates (questions, fill-in-the-blanks, etc.)
photos (memes, caption contests, etc.)
3rd-party links
We've written a ton about what makes a great text update. Here are some resources for you:
And obviously, feel free to use our Status Ideas Engine!
We've also written about the power of great photos -- and ways to find them. Read more here:
Sharing 3rd-party links is an art form unto itself. And we highly recommend you sharing them. Here are some great resources about finding & sharing awesome 3rd-party links:
I'm also pleased to announce that with Post Planner's new Sharebar feature, sharing 3rd-party links is practically the same as sharing links to your website.
Why?
Because the Sharebar allows you to display your Logo, Like button, Follow button & a Call-to-Action text ad above any webpage you share.
Watch this video to learn more about the Sharebar:
Here's an example of the Sharebar in action!
So there you have it!
Text updates, photos & 3rd-party links. These are your chum. Share them to get clicks from fans.
And remember: clicks can come in many forms:
Likes
comments
shares
photo views
comment views
link clicks
video plays
But they're all clicks -- and they all signal the same thing to Facebook: that your fans want to see more of your posts.
Once your fans start sending these signals to Facebook, it's time to drop in the baited hooks!
2. Links to your website (baited hooks)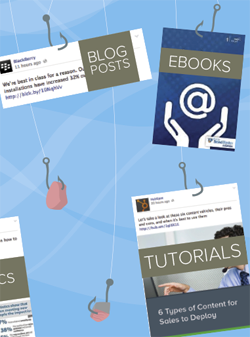 Links to your website can come in many forms. For example:
blogposts (like this one)
infographics (like this one)
ebooks
tutorials
landing pages for products
promotional videos
etc.
In my opinion, links to your blogposts are the best links to share.
Why?
Because links to your blogposts don't come across as salesy -- and thus tend to get more clicks.
Most of the time, your blogposts are there to teach & entertain your fans.
They're giving, not taking. They're offering, not asking.
But the beauty of a blogpost is that it lives on your blog, which lives on your website -- where YOU get to decide what kinds of calls-to-action (CTA's) your visitors see.
For example on our blog, we have 2 main CTA's:
"Install our app!" -- 2 widgets in the right sidebar
"Subscribe to our Newsletter!" -- 1 sidebar widget, 1 lightbox popup
If we successfully get a visitor to complete either of these actions, then we're happy -- because we've added them to the top of our sales funnel & put them on the path to becoming a paying customer.
Why we do what we do
In fact, I'll go a step further here.
I'll go a step further & just admit that achieving these outcomes -- a visitor either (1) installing our free app or (2) signing up for our newsletter -- is the main reason we even have a blog in the first place!
It's the main reason we write blogposts.
We write blogposts so we can:
share them on social media
share them in our newsletter
get them to show up in search results
This is all for the purpose of getting people to visit our blog -- and then install our app or subscribe to our newsletter
It's really that simple. :)
And I'd recommend your business do something similar.
But it all starts with chumming the waters. So break out the chum!