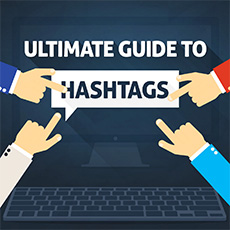 Hashtags are a crucial part of social media marketing.
But you have to use them the right way!
Luckily, our friends at QuickSprout have put together a comprehensive infographic breaking down the do's and don'ts of hashtags on 4 social networks:
Twitter
Instagram
Facebook
Google+
So let's dive in!
Oh... and if you make the hashtag sign with your fingers while reading this, I'll reach out of the screen and slap you.
Fair warning. :)
Here's How to Use Hashtags on Twitter, Facebook, Instagram AND Google+
First off, what exactly is a hashtag?
Here's how Wikipedia describes it:
A hashtag is a word or an unspaced phrase prefixed with the hash character (or number sign), #, to form a label. It is a type of metadata tag. Words or phrases in messages on microblogging and social networking services such as Facebook, Google+, Instagram, or Twitter may be tagged by entering # before them, either as they appear in a sentence, e.g., "New artists announced for #SXSW2014 Music Festival" or appended to it. A hashtag allows grouping of similarly tagged messages, and also allows an electronic search to return all messages that contain it.
When I was a kid the hashtag symbol was called the "number symbol" or "pound sign" on my phone.
And technically, it's still there on your phone! :)

Today on social media we call them hashtags (no, not hashbrowns Pam Moore!)
They basically help people search for and find content based on a keyword or phrase.
How to Use Hashtags on Twitter
Twitter is what started the hashtag craze.
In fact, Chris Messina personally invented them with this tweet:
how do you feel about using # (pound) for groups. As in #barcamp [msg]?

— Chris Messina ✁_____ (@chrismessina) August 23, 2007
Go to Twitter and you'll see hashtags on most tweets -- especially from businesses.
And for good reason. Tweets with a hashtag get double the engagement vs. tweets without them.
Which is reason enough to give them a try!... But remember to limit them to 2 per tweet.
Some other key stats about hashtags on Twitter:
Using more than 2 hashtags drops engagement by 17%
Tweets with 1-2 hashtags have 21% more engagement
Users are 55% more likely to retweet when there is at least 1 hashtag included
25% of tweets without hashtags do get retweeted
But 40% of tweets with hashtags get retweeted
Math rules!
How to Use Hashtags on Instagram
Instagram is a completely different animal than Twitter when it comes to hashtags.
On Instagram, hashtags are king! -- and savvy Instagram users use them A LOT.
In fact, posts with 11+ hashtags get the highest engagement on Instagram, according to Quicksprout.
11 hashtags!!!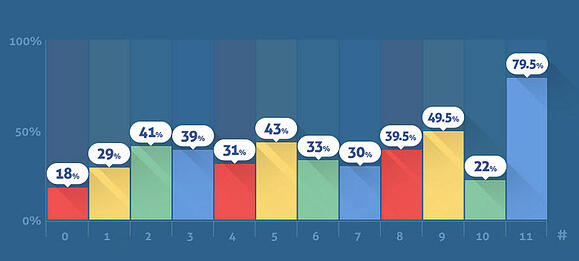 Let's break down this colorful chart:
0 Hashtags -- 18% interaction per 1k followers
1 Hashtag -- 29% interaction per 1k followers
2 Hashtags -- 41% interaction per 1k followers
3 Hashtags -- 39% interaction per 1k followers
4 Hashtags -- 31% interaction per 1k followers
5 Hashtags -- 43% interaction per 1k followers
6 Hashtags -- 33% interaction per 1k followers
7 Hashtags -- 30% interaction per 1k followers
8 Hashtags -- 39.5% interaction per 1k followers
9 Hashtags -- 49.5% interaction per 1k followers
10 Hashtags -- 22% interaction per 1k followers
11 Hashtags -- 79.5% interaction per 1k followers
The jump in interaction from 10-11 hashtags is tough to explain -- but very interesting.
Bottom line: people love to follow hashtags on Instagram -- so use them!
How to Use Hashtags on Facebook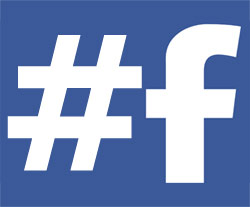 Using hashtags on Facebook is fairly new -- and honestly they're not as effective as on Twitter or Instagram.
Here's a breakdown:
1-2 Hashtags -- 593 average interactions per post
3-5 Hashtags -- 416 average interactions per post
6-10 Hashtags -- 307 average interactions per post
10+ Hashtags -- 188 average interactions per post
In my opinion, hashtags on Facebook tend to look forced and unnatural.
Plus, users aren't searching hashtags on Facebook -- so they're more of a novelty item for most people #hahahalookatmeusingthiscrazylonghashtagbrb
My advice is to be careful how you use hashtags on Facebook -- and follow the hashtag advice of these 13 Facebook Experts.
How to Use Hashtags on Google+
Yes people still use Google+ !
It's not totally dead... yet.
The interesting thing about Google+ is they add hashtags for you -- even when you don't add any.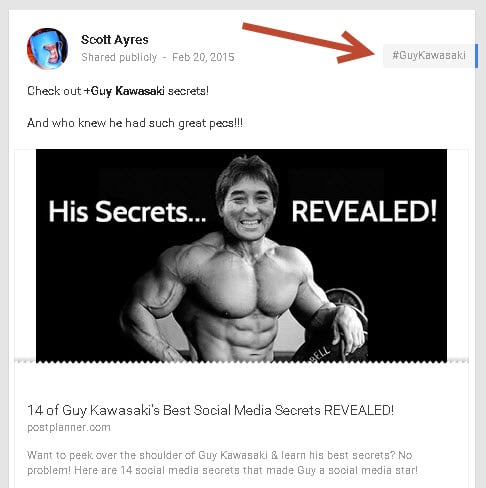 You can edit the hashtags and add your own, but Google+ obviously thinks they're pretty important.
In fact, G+ hashtags now can be found doing a simple Google search!
You can also add hashtags in the comments of posts -- and those can be discovered via search as well.
Conclusion
Hashtags are here to stay! So use them.
They're a great way to increase your overall social media traffic.
No, I can't guarantee they'll always make all your posts get more engagement -- but if you follow this cheat sheet, you'll be much better off than before!
And while you're at it, grab your copy of our free ebook below. It'll teach you how to become a visual marketing wizard on all your social sites.
You'll be able to create lots of engaging new content to practice those hashtags on!