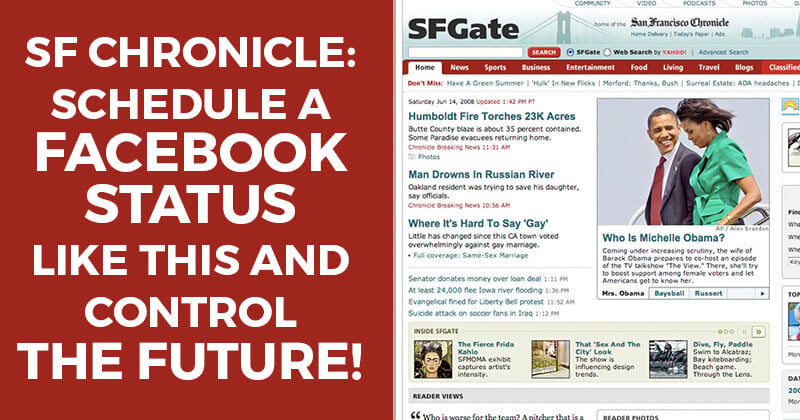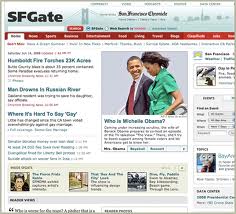 Great article about us in the San Francisco Chronicle today! Click here to read it on their site. Or read the article below:
San Francisco (PRWEB) May 16, 2011
A social media app called Post Planner provides businesses a new way to stay connected with their Facebook fans. Users of the app can schedule posts days, weeks, even years in advance.
"I'm using it to give advice to my son 20 years from now," said Frank May, of Chattanooga, Tenn.
May also uses the app on the fan page of his business, The Pool Place.
San Francisco-based Go West Social developed Post Planner together with French partner, Julie Cros.
"We're helping people organize the future on Facebook," Go West Social founder Joshua Parkinson said.
Using Post Planner on your Facebook profile is free. And more than 1,000 people have downloaded the application.
But Parkinson said they designed the app for small businesses to use on their Facebook fan pages, which costs $5 per month.
Businesses in more than 10 countries have subscribed since the app debuted in March.
With Post Planner, small business owners stay in touch with their customers without having to log in every day.
"People running small businesses are too busy with day-to-day operations to keep up on Facebook. They don't have time to update their fan page every day," Parkinson said. "But that doesn't mean they shouldn't."
"Consistency is key. Fans will only interact with you if they think you're around and listening," Parkinson explained. "You can signal you're around by posting consistently with Post Planner."
Parkinson encourages his clients to set aside time in staff meetings to brainstorm Facebook posts. With Post Planner, they can schedule Facebook posts for the next month in one session.
"You can plan out 20 new conversations over the next month and schedule them all today," Parkinson said. "Then you can just sit back, react and respond."
The app is especially handy for marketers who rely heavily on Facebook for delivering messages, he said.
"You can get your whole marketing team using Post Planner," Parkinson said. "Then sit down for an hour a week to brainstorm and plan."
The application displays future posts in chronological order, so users can scroll down the page and see everything they've scheduled. There is even a feature for those who may not know what to post.
"One big problem I've seen is small businesses don't know what to write on their walls," Parkinson said. "They don't know what kinds of questions to ask their fans."
Post Planner's "Suggestions" feature fixes this.
"If you don't know what to write, just click our light bulb icon. A 'Posting for Dummies' guide will pop up with over 40 proven post ideas," Parkinson said. "It's like having an encyclopedia of Facebook best practices at your fingertips."
The "Suggestions" feature also tells users what not to post, he added.
"If all you're doing is pushing out information and not asking questions, then no one is going to interact with you," Parkinson said. "If you're fans don't interact with you, your fan numbers won't grow."
More than half of the suggested posts are questions.
"Fans love to answer questions, so we give our users tons of question ideas to choose from," Parkinson said.
Still, he insisted that businesses must also communicate spontaneously with their Facebook fans.
"We're not trying to replace spontaneous posts," Parkinson said. "We recommend posting spontaneously as often as you can. But if you're having trouble posting consistently, then Post Planner can help."
Hertz Car Sales uses Post Planner at stores throughout the West.
"We had some great features added to our Facebook page a few months back. But the problem was we didn't know what to do with the page once it was all suped up," said Mark Neumann, director of Internet marketing at Overland West, Inc., the largest Hertz licensee in North America. "With Post Planner, we not only know what to write, but we can plan out the next couple weeks in advance, so we don't have to worry about producing content every day."
David G. Butterfield, a state representative in Utah, said he uses Post Planner to connect with voters.
"I use it to keep my page relevant and top of mind," Butterfield said. "Post Planner makes it easy to keep a Facebook presence with my audience and still carry on with all the other things I have to do."
Learn more about Post Planner at www.PostPlanner.com.