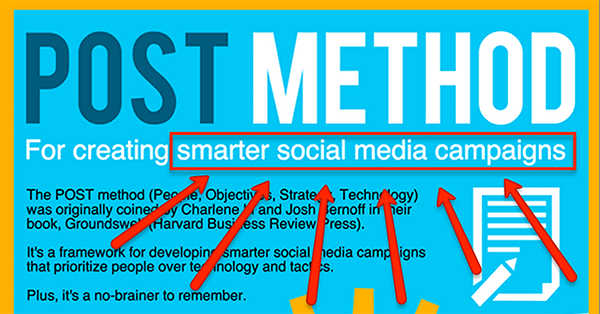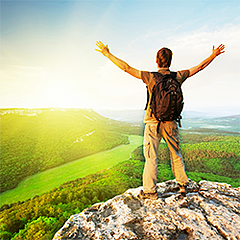 Ever heard of the "POST" method for social media campaigns?
Here's what the acronym stands for:
People
Objectives
Strategy
Technology
Charlene Li & Josh Bernoff first introduced the POST method in their book "Groundswell".
In the book, they showed the POST method to be a proven way to create successful social media campaigns.
Basically, POST method is the Briggs & Stratton for a successful social strategy.
And people are its top priority!
The Secret to Successful Social Media Campaigns = POST Method
1. People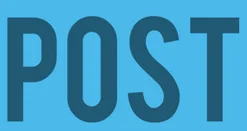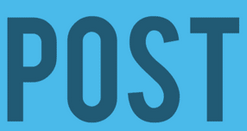 You can't get anywhere with social media if you don't understand your audience -- your people.
>> Click to Tweet <<
No one will Like, retweet, or repin your content if you haven't answered the only question that really matters:
What's in it for me?
If you're trying to boost your Facebook engagement, you have to know the answers to these 2 key questions:
Where do your current supporters hang out?
What stories are they passionate about?
2. Objectives
Clear objectives help you determine if your campaign is a success.
Long-term success in social media requires lots of trial & error.
>> Click to Tweet <<
The POST method helps you discover what you're doing right & wrong.
Here are some key questions to consider:
What are you trying to achieve?
Can it be measured?
3. Strategy
Your strategy is more than just a plan. It's a plan that hopefully helps you achieve your objectives.
Strategy is about a value exchange.
Make sure you have an answer for this:
What are you offering your community in exchange for their emails, money, time, influence & attention?
Whether it's a meaningful pledge, or a sweepstakes -- write down exactly how you will offer enough value to encourage fans to help you achieve your objective.
>> Click to Tweet <<
4. Technology
Once you understand your people, objectives & strategy, you can confidently select the tools & tactics you'll use for your campaign.
For example, if your strategy is to engage millennials on Instagram, crowdsourcing content around a hashtag would be a smart tactic.
>> Click to Tweet <<
How to Master the POST Method to Create Viable Social Media Campaigns