Let me guess...
You're hearing from Facebook marketing experts that you should NOT use boosted posts on your fan page.
It's a waste of money, they claim.
For example, Dennis Yu says this about boosted posts:
I was at a conference where the keynote speaker droned on about how we should all be boosting posts. I'd call her a quack for this tip.
And Jon Loomer says this:
Please, do not use that button!
Dennis and Jon are experts when it comes to Facebook advertising, no doubt -- but are boosted posts really that bad?
Nope!
Here's why:
How I Spent $20 on Boosted Posts and Generated $2,400 in Sales
I recently started a bounce-house business after joking about it for years.
I use the business to experiment with Facebook ads -- and my results so far have been fantastic!
Marketing on Facebook is definitely keeping us busy.
Since starting the business in October, I've spent roughly $50 a month on Facebook ads -- to get Likes and, yes, boost posts.
I boost at least one post a week.
For example, recently I boosted a post to announce the arrival of the Wahoo water slide: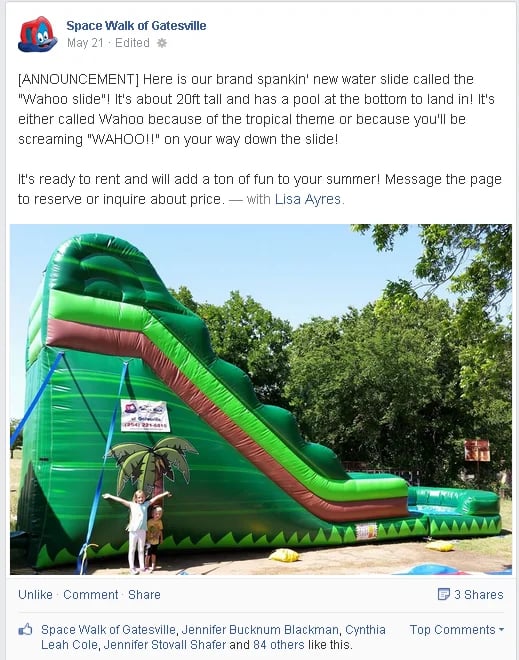 Thanks to the "Boost Post" button, this was by far the most popular post on my page.
By the Numbers
These were the results of boosting the post: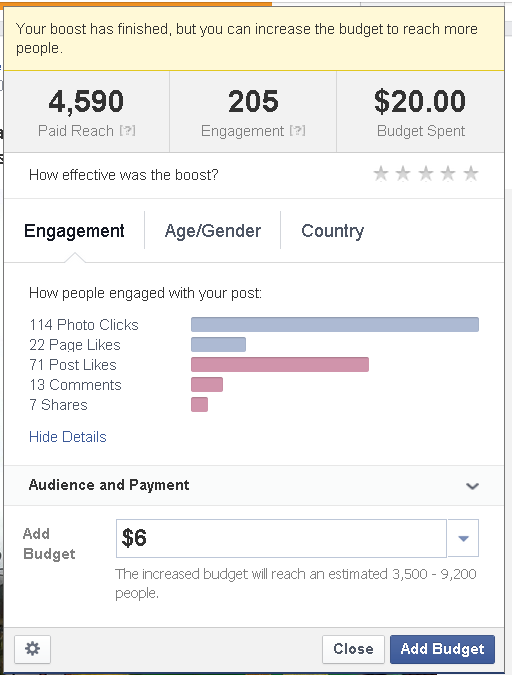 For $20, I reached nearly 4,600 people -- with a page that had fewer than 1,000 Likes!
Boosting the post brought in 71 Likes for the post -- and 22 new page Likes.
These page Likes alone were worth the cost of boosting.
I boosted the post to "Fans and Friends of fans" because I wanted to be certain those who already Liked my page saw the post.
This is something all page owners should budget for.
Sometimes you need to make sure your fans see a special post -- and boosting can help.
>> Click to Tweet <<
The post reached about 5,232 people -- and most people saw the post because I paid to boost it:

These were great results for my page.
Before I boosted this post, the average organic reach on the page was about 67 people.
The average organic reach after boosting the post?
A whopping 203!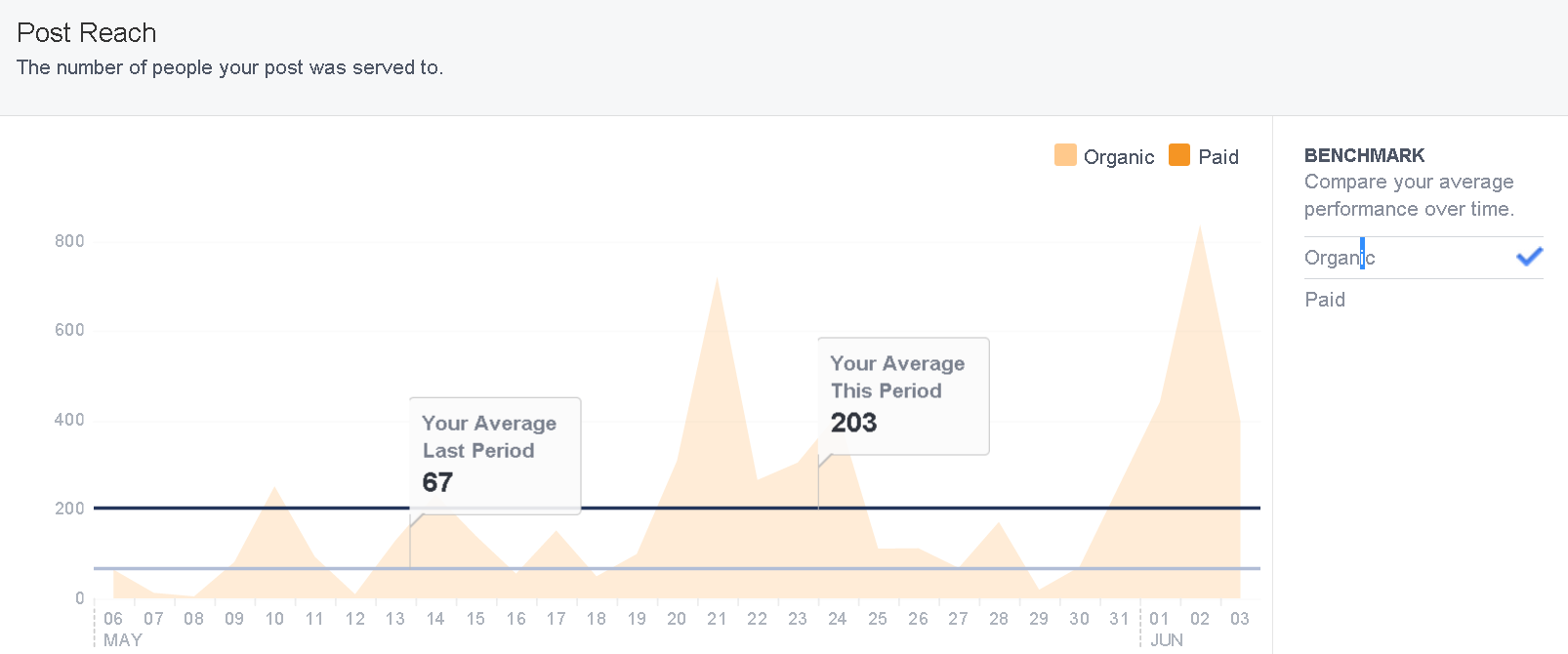 Boosting the post increased organic reach for the next few posts that followed. And this is one of the best reasons to boost a post.
I also found that mostly women engaged with the post: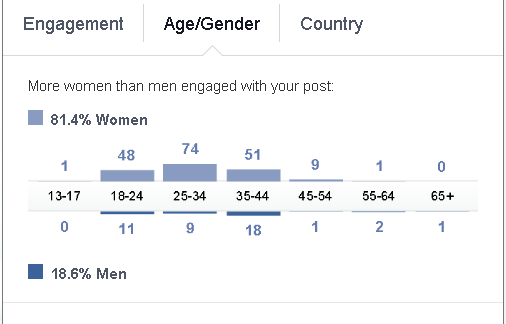 We know that engagement spiked after we boosted this post -- but did all that Facebook engagement result in any sales?
Sales from a Boosted Post
Yes!
My inbox filled and my phone started ringing. I had 20 inquiries within 48 hours of boosting the post.
Two weeks later, the slide had been reserved 8 times -- at $300 a pop!

Result: paying $20 to boost the post brought in about $2,400 in sales.
Not too shabby.
Some will say that I won't know for sure whether all the rentals came from the boosted post.
I disagree.
All 8 reservations came from people seeing the Facebook post -- there was no other advertising.
And I could easily end up with 20 reservations over the next 4 months.
Conclusion: When to Boost a Post
Boosted posts work well for small & local business owners.
>> Click to Tweet <<
On my business page I try to spend about $10 per week boosting posts. I spend about $30 per month on page Like ads, running an ad for just $1 a day.
I agree with this statement from Brian Carter:
If you can't spend $30 per month ($1 per day on Facebook ads), you shouldn't be in business.
Today, you can target people with your boosted posts based on their interests, locations and other demographics.
Here I provide a how-to guide for creating a boosted post:
Do you use the "Boost Post" button on your page?
Yes or no, I'd love to hear why.