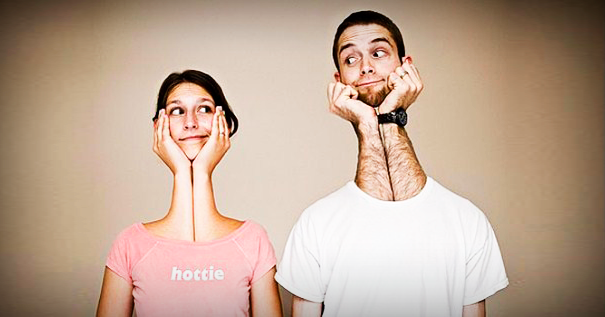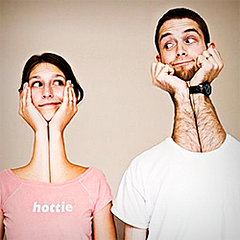 Do you think about the gender ratio of your fans when posting to your Facebook page?
Or do you just post what's most appealing to you?
If you're not paying attention to the gender of fans, you could be blowing it with your posts -- and even damaging your page.
For example, if your company is all male, you will probably end up posting things that appeal to you & your male colleagues.
But what if the majority of your fans are female?!
In this post, I'll show you how to use your Facebook Insights to find 3 key gender ratios on your page -- then I'll show you how gender ratios vary across the main social networks.
Why the Gender Ratio of Your Facebook Fans is So Important
The reason I got to thinking about this is because of an infographic I ran across from Internet Service Providers.
In the graphic (shown below), they show stats about the gender ratios of the 6 largest social media sites.
Some of the stats will surprise you -- others won't. Personally, they got me wondering about the gender ratio of our fans on the Post Planner page -- and whether we need to adjust our posting strategy to better fit that ratio.
So I jumped into our Insights to see what I could find out.
Using Insights to learn about Gender Ratio
The first thing I wanted to know was the general ratio of male to female fans on our page.
So I went to our Insights & clicked the "People" tab to get the breakdown under "Your Fans":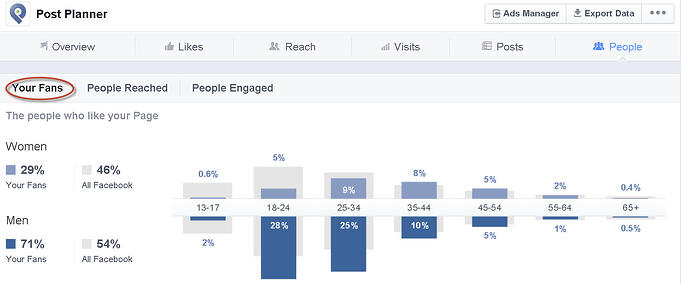 This data tells me a couple important things about our fans:
29% of fans are Women
71% of fans are Men
Men ages 18-24 are the largest segment, followed closely by Men 25-34
53% of fans are Men between the ages of 18-34
I also noticed that apparently 46% of Facebook users worldwide are women, and 54% are men -- another great stat to keep in mind (and one that opposes exactly the Facebook gender ratio in the US, as we'll see below).
Now just because 71% of Post Planner fans are men doesn't mean that men are the ones being reached or engaged by the page. So let's look at those stats.
Let's first look at the Reach:

Hold on a second!!!
Notice that our posts reached 45% Women and 52% Men -- a stark contrast to the overall breakdown of 29% vs 71% above.
Also notice that the age group of Men reached shifted to primarily 25-44 year olds.
Interesting.
But let's go one level deeper & see which gender have engaged with the page the most:

The results of those engaged with posts is similar to those reached -- with 52% being Men and 47% being Women.
However the ages of the men has shifted a bit & is almost even amongst Men 18-44-- who account for 41% of all fans engaging with posts on our page.
What Do These Results Tell Me?
By looking at these results I can come to the following conclusions:
Even though Men make up 71% of fans, they only account for half of engagement
Likewise, Women only make up 29% of fans but also account for half of engagement
A whopping 56% of fans engaging with posts are between the ages of 25-44 -- with 30% of those being 25-34
The page doesn't really appeal to the 55+ segment
The next step is deciding what to do with these numbers.
My interpretation is we should be fairly gender neutral in the verbiage of our posts -- since the gender ratio is close to half & half in terms of fan engagement.
A few times on the page I've posted about NFL or College football -- and the results were not that great.
Now I know why.
I can also conclude that we should talk more about things that appeal to the 25-44 year old crowd.
The fact that this age group is the largest engaged segment isn't surprising based on our niche -- and based on the fact that Josh and I are both 38 years old & tend to post things that appeal to our age group.
We should also avoid targeting the older demographic -- as posts directed towards them will not appeal to most of our Fans -- and we'd be wasting a post & hurting our rankings in the news feed.
Hopefully through this little exercise you can see that by digging deeper into your page Insights, you can discover data that might change your viewpoint on your fans.
Originally I saw that 71% of fans were Men -- and I just assumed that Reach & Engagement would be the same.
But I was dead wrong!
So make sure you also dig in to see who's being reached & engaged on your page -- so you can determine the best Facebook posting strategy for your page.
The Social Media Battle of Sexes!
Now I want to look at this infographic & share some data from it.
According to the graphic, 71% of Women and 62% of Men in the United States are using social networking sites.
This totals about 130 million users in the US!
Here is the breakdown of the usage of the different social sites in the US:
Twitter:
16% of online adults are on Twitter
62% of users are Female
Facebook:
67% of online adults are on Facebook -- WOW!!!
58% of users are Female
62% of sharing on Facebook is done by women
Women have 8% more friends than men
As a side note, the Insights from the Post Planner page do not provide a breakdown of US only fans -- which would be helpful.
Pinterest:
15% of online adults are on Pinterest
70% of users are Female -- no surprise there!
Google+ :
10% of online adults are on Google+
64% of users are Male -- we finally won something!
Only 25% of those with a Google+ account actually use it
LinkedIn:
20% of online adults are on LinkedIn
54% of users are Male
Only 10% of users are on the paid version of the site
YouTube:
280 million active YouTube accounts (I don't know if this is just in the US or not)
54% of the user base is Male
About 25% of men watch a YouTube video each day
Looking at these numbers, it's safe to say that if your product is targeted toward Men, you may have better luck on Google+, YouTube & LinkedIn. While a product aimed at Women might do better on Facebook, Twitter & Pinterest.
But remember these are US numbers only -- stats in other countries might be different.
Enjoy the infographic: