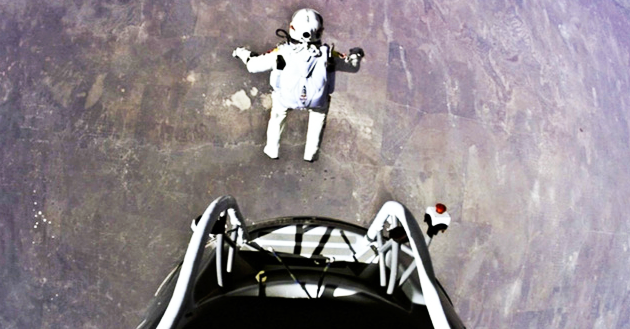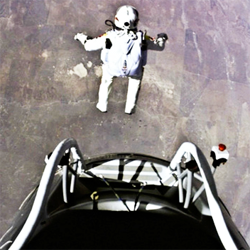 With its News Feed getting crowded, Facebook has announced that changes are on the way for its News Feed algorithm.
The so-called EdgeRank algorithm has become much more complex.
Posts on your page were originally put through a simple algorithm based on 3 factors:
Affinity
Weight
Time Decay
Here's what Facebook officials wrote recently about the new algorithm:
The system uses over a thousand different factors, such as how frequently content from a certain Page is reported as low quality (e.g., hiding a Page post), how complete the Page profile is, and whether the fan base for a particular Page overlaps with the fan base of other known high quality Pages.
This means that it will be harder to get your posts in front of fans who have Liked your page -- which makes sense seeing as people have Liked more pages & are making more friends.
As Facebook says:
On a given day, when someone visits News Feed, there are an average of 1,500 possible stories we can show.
Fair enough. But then Facebook dropped the bomb with this announcement:
Competition for each News Feed story is increasing. Because the content in News Feed is always changing, and we're seeing more people sharing more content, Pages will likely see changes in distribution. For many Pages, this includes a decline in organic reach. We expect this trend to continue as the competition for each story remains strong and we focus on quality.
Wait... What did they just say?
Organic Reach May Plummet if Facebook Pages Don't Follow this Advice!
Basically, as people connect to more & more people & pages, the number of News Feed updates increases dramatically. I can attest to this as I've Liked over 4,000 pages, and can't possibly see every post.
The average friend count has jumped from 75 (a few years ago) to more than 130 now -- and the average Facebook user has Liked 80 pages. And these numbers may be low as my findings are much higher.
But if the statistics represent the average -- this means each person is connected with at least 210 pages & people.
If each of them posts 4x per day, that equals 840 posts for you to consume in a 24-hour period.
It's not possible to digest 840 pieces of content each day -- unless you never leave Facebook!
So the algorithm (even though everyone complains about it) helps more than it hurts.
Facebook Was Built for People, not Businesses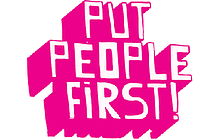 Businesses & marketers tend to forget that Facebook was built to connect to other people -- namely family & friends.
It was never meant to be a hub for you to peddle your junk.
Businesses were allowed to open pages once marketers realized how fast Facebook was growing & saw an opportunity to take advantage of this audience.
But businesses have never gained prominence on Facebook -- nor should they. And I say this as a business owner!
If all users saw in their News Feed were posts & ads from businesses, they'd quickly leave Facebook & do something else.
People just aren't going to choose seeing your company's posts over seeing pictures of somebody's grandkids -- the posts with the kids are way more personal & important than whatever you're selling.
As a page owner, you should embrace this -- griping about it doesn't do you any good.
I actually want the News Feed to feel more personal for myself & the users that follow my pages. That way visitors are likely to visit more often.
Make sense?
More personal posts in the news feed mean users log in more often -- more business posts in the news feed means users log in less -- which means you may make less money.
How Do I Get My Business Posts in the News Feed?
That's the 20 million dollar question.
And honestly, it's much harder today than it was 2-3 years ago.
But that's ok. Harder means fewer people will try -- which leaves more opportunity for those who persevere to succeed.
Here's what Facebook said:
As the dynamic nature of News Feed continues to follow people's patterns of sharing, Page owners should continue using the most effective strategy to reach the right people: a combination of engaging Page posts and advertising to promote your message more broadly. Advertising lets Pages reach the fans they already have and find new customers as well. The fans you have matter. In addition to being some of the most loyal customers, fans also make the advertising on Facebook even more effective.
Summary:
Post better content
Buy ads
Pretty simple really -- and it makes perfect sense. Why page owners expect to get a free ride marketing their business on Facebook baffles me.
Does your local radio station or newspaper or TV station let you run ads (Facebook posts) for free? Nope. So why do so many view Facebook differently? They shouldn't.
Yes, it's a "free" social media site. But it's also a marketing platform for your business.
So here's my take on how you do the above 2 items effectively:
1. Post Better Content
On the Post Planner fan page, we typically post the following on a daily basis:
2 text updates (either asking a question or fill-in-the-blank)
1 photo (lighthearted to make people laugh, share & comment)
3 blog posts (1 newly published post, if possible, and 2 evergreen posts — which are older posts that are still valuable & relevant)
You may want to post more or less -- it all depends on your page.
For our page (with more than 45K fans), this method works pretty well. The reason we post so much is we're hoping to be viewed favorably by Facebook's News Feed algorithm.
Posts from our page won't show up if fans aren't engaging with our content.
So when we post a funny image & you comment on it, you're more likely to see our next post -- and hopefully click a link to visit our website.
Typically, if all you post are promotional items related to your business, you're going to see a decline in engagement. At some point you will run out of things to say or just post too many sales-type posts.
That's why mixing in lighthearted content helps keep your page's reach high. I'm not necessarily recommending posting a ton of memes every day -- although that does work for some pages.
But mix it up!
Post things that get people talking so they'll see more of your posts.
If you are struggling for ideas for what to post, check out this post:
I cover in detail the 5 types of posts that keep every successful page buzzing with engagement:
Caption this photo
Quotes
Fill-in-the-blank
Timely & comical photos
Questions
You'll need to visit the post to find out why these 5 types of posts are so important to the life of your page -- especially with the new changes affecting Reach!
2. Buy Ads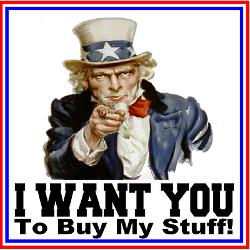 As a business owner, part of your budget should be devoted to running ads -- whether in your local newspaper, on TV, radio or the Internet.
Just starting a business & expecting people to show up will surely lead to failure.
So be prepared to invest money in Facebook ads when it comes to managing your fan page.
Ads help you:
Gain new fans
Keep existing fans engaged
Direct users to your website
Just to clarify, this advice is meant for small business pages with fewer than 1,000 Likes.
If you're a larger business, you likely need to dive deeper into analytics & maybe pay someone to manage your ads, as you probably have a larger budget than a local craft store.
But "boosting" posts will suit the typical small business fine. If you need proof of this, check out my results with Boosted Posts.
Facebook says in their latest update that if you want your posts seen more by more fans, you need to pay for positioning in the News Feed.
Luckily, boosting a post is simple.
At the bottom of each post on your Timeline, you'll see a "Boost Post" link -- click it or hover on it as seen below: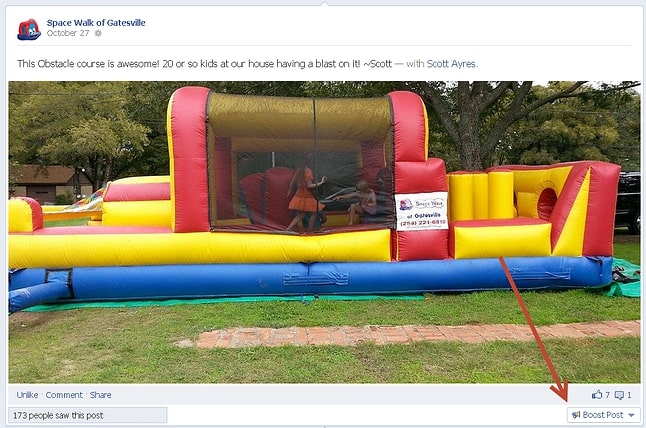 Click "Boost Post" and you'll see this: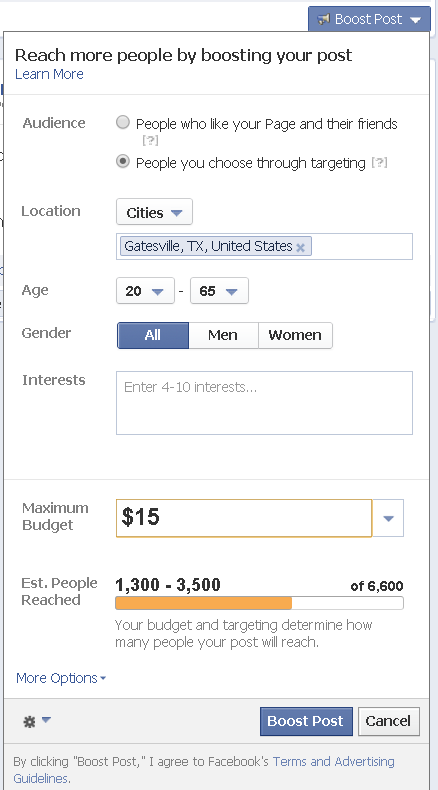 Yes, there are quite a few options here. You can choose to target:
existing fans & their friends
specific demographics
I typically choose my town as the target — and then pick the age & gender.
Then choose a budget for the ad, depending on what you're willing to spend. Then click "Boost Post" and you're done.
This creates a "Sponsored Story" in the news feed of people you targeted — which looks natural & non-intrusive to most people.
And that's it!
A quick & effective way to get eyeballs on your posts.
I don't recommend boosting posts that are frivolous in nature -- such as a meme. Only boost posts that could lead to sales or leads -- an ad, coupon, contest or a link to your website.
Too Simple?
Perhaps this advice seems more simple than you expected.
But it has worked for me -- and I'm certain it will work for your business too.
If you post better content & buy ads to boost your posts, you should see a higher Reach & better engagement on your content.