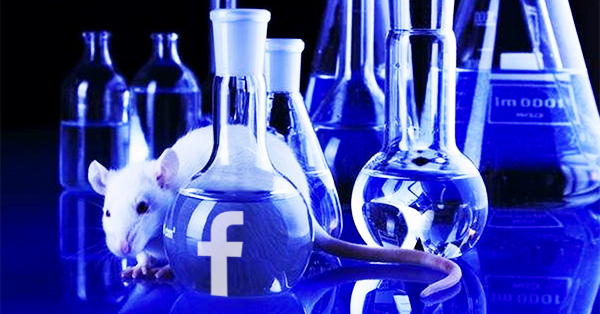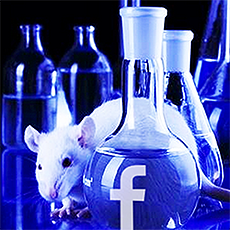 You have to experiment if you want to take your Facebook page to the next level.
Following all the Facebook best practices just won't cut it.
Instead of copying everyone else, here are 8 ways to buck conventional norms & really get important data for your Facebook marketing strategy.
If you're new to Facebook marketing, don't worry -- this advice is easy to follow.
But these tips will work wonders for the most seasoned social media marketer too.
8 Advanced Facebook Marketing Strategies for Serious Pros
1. Segment Time for Different Content
The trick here is to post different types of content throughout the day.
Then take note of what works at what time.
For example, post a news link in the morning so your fans can catch up on what's happening in the world.
Then publish something more light-hearted in the afternoon -- like a meme, fun question or a quote.
Then do the reverse the next day & compare the results.
2. Experiment With New Content
Do you post enough variety on your Facebook page?
Would you like to test some new content but don't know where to begin?
Post Planner's new viral photo finder can help. The tool quickly locates the most popular & shared photos on any Facebook page.
I used the viral photo finder to find this post:
The trick here is to try posting stuff you've never tried before -- maybe stuff you've never even thought to try before.
See how it works. Gauge the reaction & then try something new.
Think of each post as an experiment! And let Facebook tally the results.
3. Post the Right Content on the Weekend
Maybe people don't want to read your blog posts on the weekend.
At least that's what recent research from BuzzSumo says.
So try posting other stuff.
Instead of posting articles, mix it up on the weekend with more engaging posts like questions, quotes & photos.
>> Click to Tweet <<
But again -- treat these posts as scientific experiments.
4. Post at Different Times of Day
So many social media experts think they know the #1 best time to post.
Guess what?
They don't.
That's because it's different for every page & fanbase.
The only way to find out is to run experiments.
Ie. try posting at off-peak hours when there isn't as much competition for eyeballs.
>> Click to Tweet <<
It worked for one of my Facebook pages.
We got strong engagement on content we posted after 10pm.
5. Test Post Frequency
You've also heard lots of advice about how many times you should post each day.
Just remember, there isn't a one-size-fits-all solution for every page. The only way to find out what works best on your page is to experiment.
We post 6-8 times a day at Post Planner!
So it all depends on how engaged your fans are with your content.
Here's a recent post from Post Planner that got more than 4,000 shares:
Guess what?
The posts that we posted 2 hours before & 2 hours after this post also got huge engagement.
So don't believe the hype when experts tell you to post only twice per day!
Test it out for yourself!
6. Be Personal
The Facebook pages I remember best are ones that engage with me on a personal level.
They showcase the personal side of their business.
Try communicating with your Facebook fans on a personal level. Discuss a new product launch by showing your team working hard behind the scenes.
Facebook is a social network, so be social.
Here's a great Mother's Day example from Creative Market: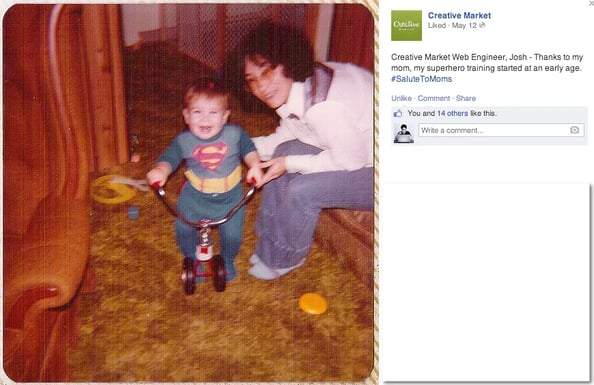 7. Highlight Current Events
Are there events in the news that may interest your fans?
If so, you can craft your posts around those events.
For example, if a big game is coming up & your page focuses on recipes, share recipe ideas before the game.
If you run a fashion page, ask for opinions from your fans about what celebrities wore to a newsworthy event like the Academy Awards.
The possibilities are endless.
Pool Supply World posted this on Star Wars Day: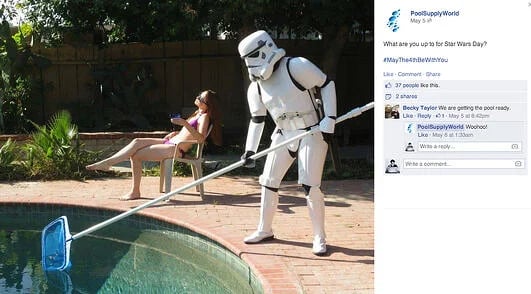 8. Crowdsource Decisions
Are you launching a new product or service soon?
Why not let your fans weigh in with their feedback?
>> Click to Tweet <<
Let them help you make decisions like:
picking a new book cover

deciding on a title or headline

choosing a new logo
This is a great way to get fans to engage with your page.
Check out how my friend Chris Reimer crowdsourced his book cover: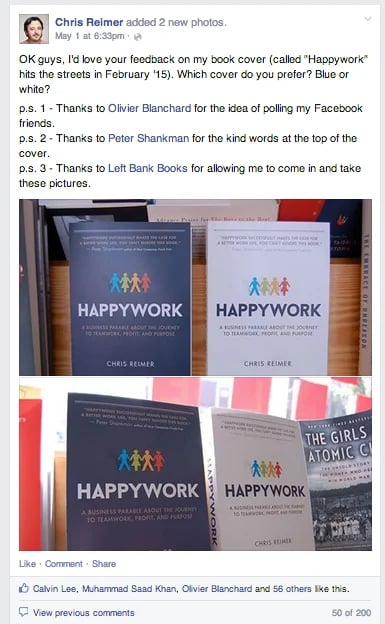 Wrap Up
Use these advanced Facebook marketing strategies to take your page to the next level.
The tricks could help you attract more followers & stay engaged with your fans.
Now it's your turn...
Have you tried these tips? Is there any advice you'd like to add?