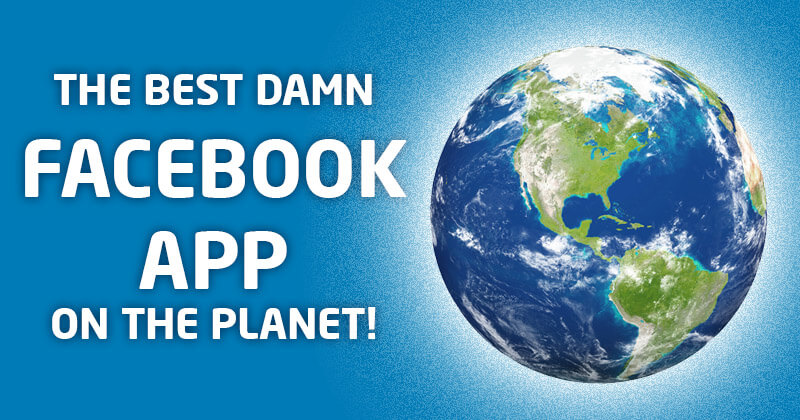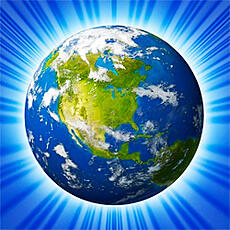 What makes an app awesome?
I'd say 3 things:
Easy to Access

Easy to Use
Constantly Improving
Guess what? This is exactly what you get with Post Planner!
Ok, maybe I'm being a bit "Brag-a-doshish" here -- but oh well.
I don't have any hand in the design or development of Post Planner -- so when new features come out, I learn about them just like other users.
And I get just as excited about them too!
So today I want to take few minutes of your time & show you some new features that I think are totally KICK ASS.
Once you see these, I'm sure you'll agree that Post Planner is definitely:
THE BEST DAMN FACEBOOK APP ON THE PLANET!
Easy to Access
There are tons of apps that let you schedule posts on Facebook -- and they're all great.
But all of them -- except Post Planner -- require you to login to a separate site to access & use the app.
I don't know about you but I have way too many login names & passwords to remember already -- and I don't need another one to schedule out my posts.
That's why I've always been a user & fan of Post Planner -- because you can access it right inside of Facebook!
No username to remember. No password to remember. No website to bookmark.
No hassle.
Once the app is installed it shows up in your "Favorites" in the left sidebar of Facebook: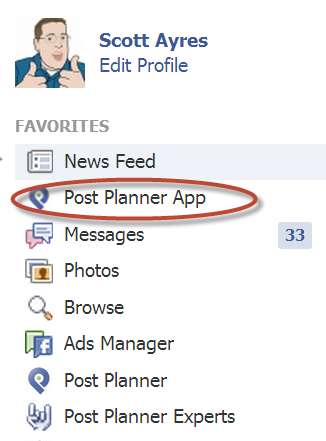 Easy to Use
Just like I don't have time to remember another login, I also don't have time to learn a completely different interface to create & schedule my Facebook posts.
Again, Post Planner wins hands down on this!
That's because the publisher in the app looks & works exactly like Facebook's publisher.
Except it works much better because it has added features like Bulk posting, Blog syndication, Post Queueing, Post Targeting, etc. -- all features I'll discuss below.
Anyway here's how the Post Planner publisher looks: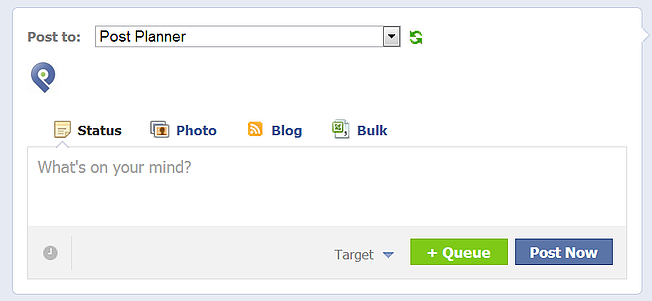 As you can see, the "Status" & "Photo" selections & the "What's on your mind?" in the status box -- these look, feel & operate just like they do in Facebook.
Let me show you:
Now the difference you'll see compared to scheduling posts with Facebook's scheduler -- beyond not being able to schedule group & profile posts (which you can do in Post Planner!) -- is that Post Planner's date/time selector is much quicker & easier to use.
Let me show you the difference:
Hopefully you can see from these 2 videos that Post Planner is super easy to use.
Constantly Improving
Whenever an app -- web or mobile -- stops updating & improving, user loyalty & satisfaction begin to drop.
This is another area where Post Planner exceeds expectations over & over again.
And unlike many app companies out there, Post Planner doesn't hold big press conferences & webinars to brag about new features.
Instead, the dev team just works continuously on new ideas and then quietly pushes them out to users.
Boy do I wish Facebook would work this way! :)
Anyway, I'd like to highlight a few awesome new improvements to the Post Planner app:
Blog Auto-posting or Syndication
IMPORTANT UPDATE - Sept. 24, 2015: This post is now outdated as this feature is no longer supported in Post Planner.
If you want to set up your blog -- or anyone else's blog -- to automatically post new blogposts to your page, you can easily do this with Post Planner!
All you have to do is:
Select the page to post to

Click on "Blog"
Paste in the blog's RSS feed
Click "Add Blog"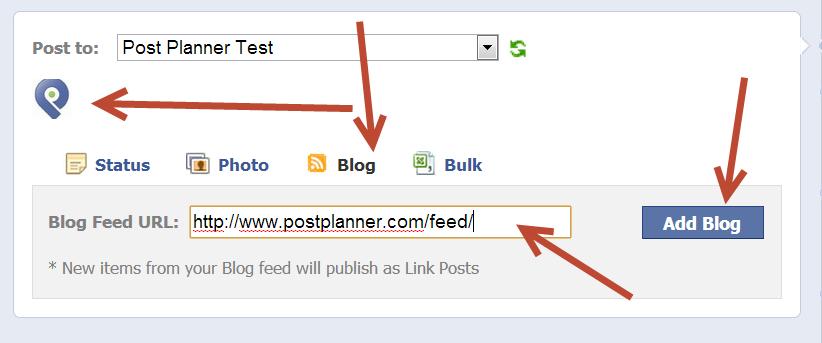 Then whenever a new blog post is published, Post Planner will automatically post the new article to your page.
Bulk Upload
Instead of having to schedule each post manually in Post Planner, you now can just add your posts to an Excel spreadsheet & upload the file in the Post Planner publisher.
Once you upload, the posts will be auto-scheduled for the times you added in your spreadsheet.
Here's how it's done:
Choose the page to post to

Select "Bulk"
Click "Choose File"
Select the Spreadsheet you want to use
Click "Upload"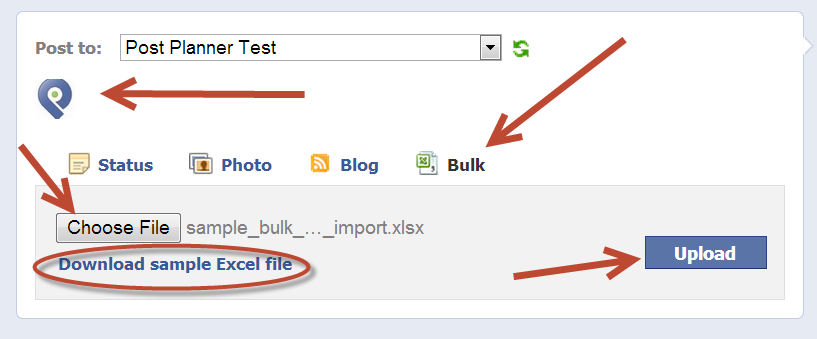 The great thing is Post Planner provides you a "sample" file to work from -- so you can easily format your posts correctly!
Once you upload your file, you'll see your posts scheduled like this: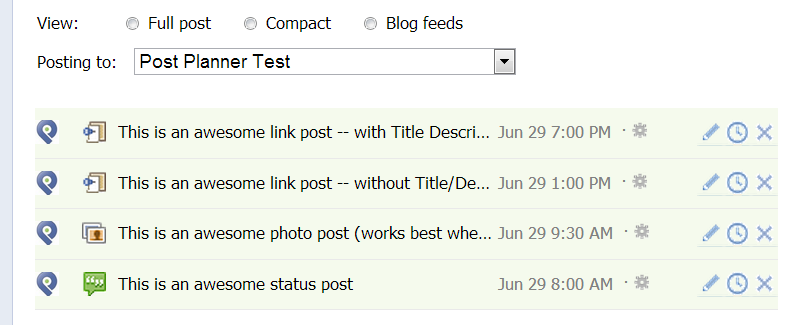 Status Ideas Engine
One of the keys to running a successful & thriving Facebook page is posting great updates.
But these can be hard to come up with when you're pressed for time & trying to run your business.
Post Planner makes this super easy with its Status Ideas Engine -- which is constantly being updated.
Open the Status Ideas Engine and you'll be given several topic-related options -- and then within those topics an unlimited array of ideas to post to your page.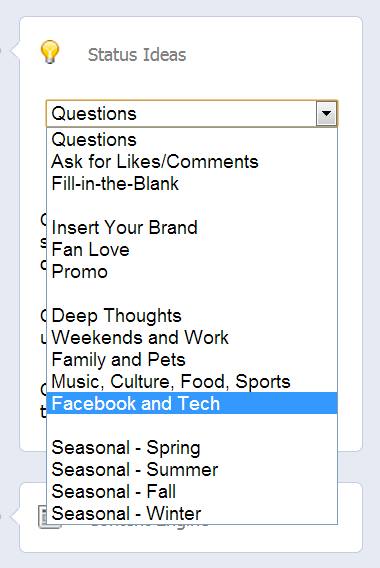 *For a more detailed look at how to leverage the Status Ideas Engine go HERE.
Content Engine
To me Post Planner's Content Engine -- together with the Status Ideas Engine -- is where Post Planner destroys all of the competition!
No other app in the market -- including HootSuite, Buffer or any other app -- offers a Trending Content solution like Post Planner's.
What is "Trending Content"?
It might be easier to show you in a quick video -- but basically Post Planner has created an easy alternative to the hassle of finding relevant niche-specific content for your pages.
Here's a video of Trending Content in action:
Source Engine
Also inside the Post Planner app is something called the "Source Engine".
Here's how Post Planner describes it on their features page:
Discover NEW Content Sources — discover awesome blogs & experts in your niche — the ones you should have discovered 6 months ago — by searching the sources of other Post Planner users.
So basically the Source Engine does 2 things:
Lets you add your own content folders/sources to a universal library -- accessible to all Post Planner premium users

Lets you search & add content folders created by other Post Planner users
Here's how it works:
I Could Go On... and On... and On...
But I'll stop here -- even though I still haven't mentioned
Post Insights -- accessing them for ALL of your Pages in one place!
These along with ALL the reasons above are why I honestly think Post Planner is THE BEST DAMN FACEBOOK APP ON THE PLANET!
And I'm pretty sure you will too once you try it out.