Looking for the best Instagram scheduler?
This comparison guide reviews the 5 best Instagram posting apps. We'll tell you which tool is best for you based on your needs.
—
Ever followed a business that posts REALLY great content to their Instagram 3 times a day and thought…
"How do they find the time to do that?"
Don't worry.
We've all been there.
But in case you're wondering if they have superpowers or if they never sleep, the answer is no.
They just use an Instagram scheduling tool!
Using an Instagram scheduler is the best way for you to post content like a PRO.
(And get more followers and likes quickly.)
This guide will compare the top 5 Instagram scheduling tools.
Let's get into it.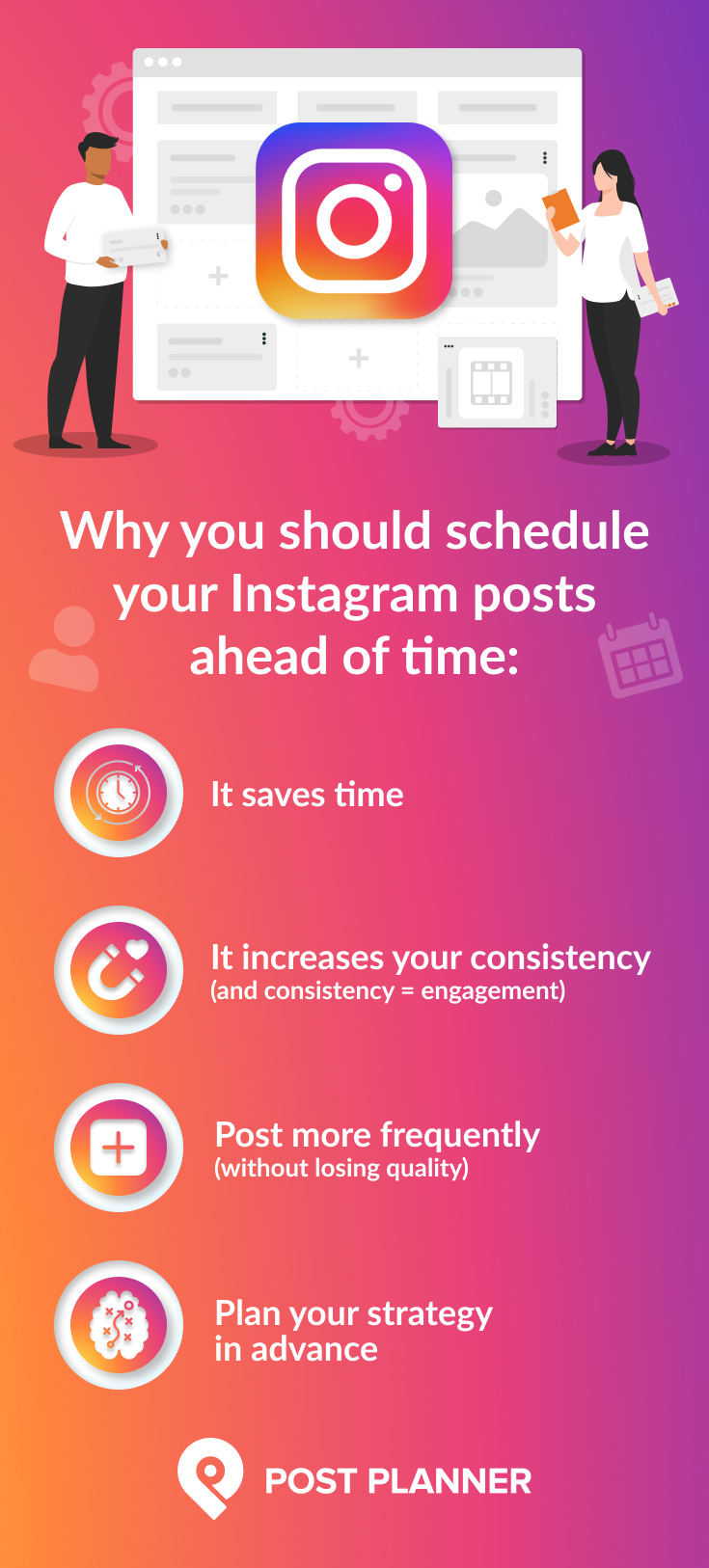 5 Best Instagram scheduling tools to post like a PRO
Feel free to skip to the section you're most interested in! 😉
Table of contents:
What is an Instagram scheduler?
Instagram schedulers are apps that post for you on Instagram.
They allow you to pre-schedule your Instagram posts and then forget about them.
In other words, the tool does all the hard work for you.
It'll automagically post your content at the scheduled time without any more input from you.
If that sounds awesome, it's because it is.
Want to know WHY?
Why should I schedule my Instagram posts?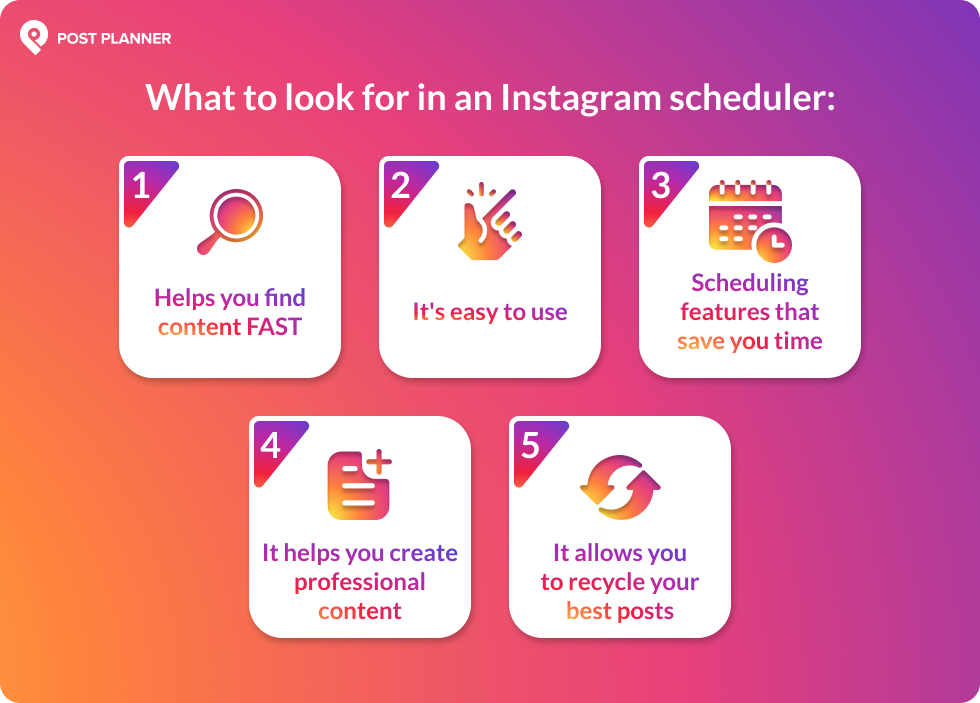 Are you...
Not convinced that scheduling your Instagram posts is valuable?

Not sure if it's worth spending money to get a scheduling tool for Instagram?
The answer is YES!
It's worth it!
And here are 4 BIG reasons why:
Save time
Probably the biggest reason to schedule your Instagram posts is the time it'll save you.
Think about how much time your social media strategy currently takes you.
Make sure to factor in the following:
Looking for content

Editing content for your followers
Creating new content
Interacting with comments on your posts
Posting your content (and getting distracted by something on your feed, which takes another 20 minutes)
Considering all that, you're probably spending HOURS daily on your social media content strategy.
A good Instagram scheduling tool with content discovery features can shave that time to 15 minutes daily (or less!).
So you can use all that extra time to do things that'll help your business grow even more!
Consistency is key
Did you know there IS a correct time to post on Instagram?
You're probably missing out on critical engagement if you aren't hitting that perfect posting time!
A scheduler allows you to automatically post your content at the SAME time every day, meaning you'll never miss out on those likes and comments again!
The more consistently you post, the more likely you are to get more impressions and followers.
And an Instagram scheduler is the best way to accomplish that.
Post more frequently
Most people don't realize that you're not using Instagram to its full potential if you're not posting once daily at a MINIMUM!
Ideally, you should post 2 or 3 times daily (if you can keep the quality high).
Keeping your content in front of your audience increases engagement and doesn't give your audience a chance to forget about you.
An Instagram scheduler allows you to post more frequently by putting your discovered and owned content on a schedule.
It's as close to "set it and forget it" as you'll find!
Plan your posts in advance
Tell me if this sounds familiar:
You know your audience is active around 3:00 PM (or whenever your ideal posting time is), so you're looking for something great to post at 2:55.
You haven't found anything excellent by 3:00, so you just pick something that's OK and move on with it.
An Instagram scheduler does away with this problem permanently...
Because it lets you plan your entire MONTH of content simultaneously!
You can strategize and optimize your content strategy because you'll have TIME to think about it instead of being pressured.
What to look for in an Instagram scheduler
By now, an Instagram app that posts for you sounds nice, right?
The only problem is that there are SO many on the market.
It can feel impossible to pick the best one without trying them all.

Fortunately, there are some must-haves that you should look for whenever you're considering a tool.
Let's look at 5 features you NEED to look for in an Instagram scheduler.
If it doesn't have these features, save your time and look somewhere else!
✔️ Helps you find content
One of the most significant time-saving features that some Instagram schedulers offer is the ability to discover high-quality content.
Since this is one of the most time-consuming parts of social media, it should also be one of your priorities when looking for an Instagram scheduling tool.
Ideally, your scheduler should help you source the highest quality content across the web.
It should also help you find varied content types and content sources to keep your Instagram posts exciting and fresh.
✔️ Ease of use
Secondly, your Instagram scheduler should be easy to use.

If it isn't, you probably just won't use it.
Fortunately, there are plenty of tools out there that are super straightforward to use.
The best way to find this out for yourself is to do a free trial.
But you can also get an idea by reading reviews of the tools online.
Think of the following:
The simplicity of the User Interface

How easy it is to learn new tools

How quickly it allows you to do your everyday tasks
✔️ Quick scheduling features
Scheduling your Instagram posts is a fantastic time-saver.
So you want to find a tool to schedule posts QUICKLY.
In other words, you want to find a tool that saves you time instead of taking up more.
For many tools, scheduling will be a drag-and-drop style process or a simple button to click on any content you want to schedule.
Before deciding on a tool, ensure the scheduling features make the process quick and easy.
✔️ Content creation features
Nobody wants to follow an Instagram account that only reposts content from other creators.
That's why you need to take time to create your content occasionally.
However, you shouldn't have to make your Instagram content on a slow and complicated program.
Instead, you should look for an Instagram scheduler that provides you with advanced content creation features.
For example, you should be able to:
Quickly add stylized text

Add images (and have access to a database of stock images)

Change colors, alignment, and other stylistic elements
✔️ Allows you to recycle content
Recycling content means that you get 2 posts for the price of 1.
In other words, you can use the same high-performing post twice without doing anything.
The best Instagram scheduling tools should allow you to add your best posts to a recycled posts list, which should automatically recycle posts at the appropriate time.
Recycling content takes your IG game one step further by mixing in reposts of old material to harvest more likes, comments, and followers.
Now, let's review our top 5 Instagram scheduling tools that offer you the best features for the best prices.
Best overall Instagram scheduler: Post Planner
The best Instagram scheduler for most people is Post Planner.
It provides all the essential features you need without breaking the bank.
It does so by hyper-focusing on social media planning and scheduling instead of trying to be an all-in-one tool.
If you're curious about how much Post Planner has to offer your business, sign up for the 7-day free trial and follow along as we look at this easy-to-use tool.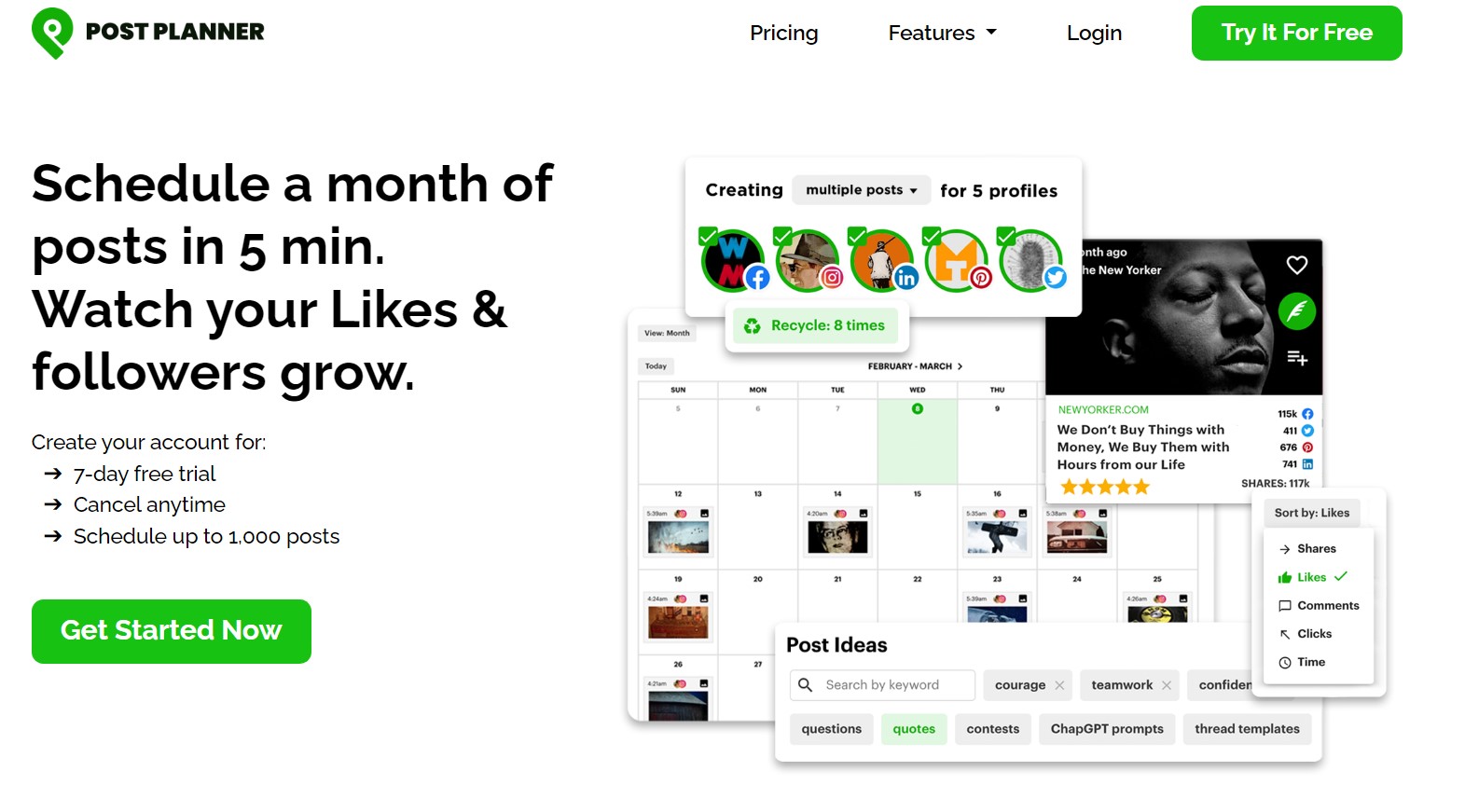 Pros
Some of the biggest pros of using Post Planner are:
Extreme time savings in finding and scheduling content

Low cost for smaller businesses

Advanced content discovery tools

Easy scheduling

Content creation tools
We feel like this tool is the best all-rounder for most people because it allows you to scour the internet for niche-specific content in a matter of minutes.
You can quickly scan the highest-value Facebook pages, Instagram posts, Tweets, and Reddit threads to find content that fits your audience perfectly.
As a result, most Post Planner users rapidly find themselves saving HOURS on social media work.
Cons
If you're a user that leans heavily into analytics, you may find Post Planner lacking for those specific needs.
While Post Planner does allow you to look at how many likes and comments your previous posts have gotten, it doesn't do in-depth social analytics like some other tools do.
In addition, Post Planner isn't a social listening tool. If that's your main goal, you may be better served by a tool like Zoho Social, which we'll discuss below.
Key features
Post Planner is built around 3 key features:
Content discovery

Scheduling posts for slots on your calendar
Post Planner offers many other features, but its core functionality is supported by these 3.
Building a queue plan allows you to tell Post Planner what types of content are allowed to post at which times.
You can then connect your content buckets to posting slots, giving you control over what posts and when.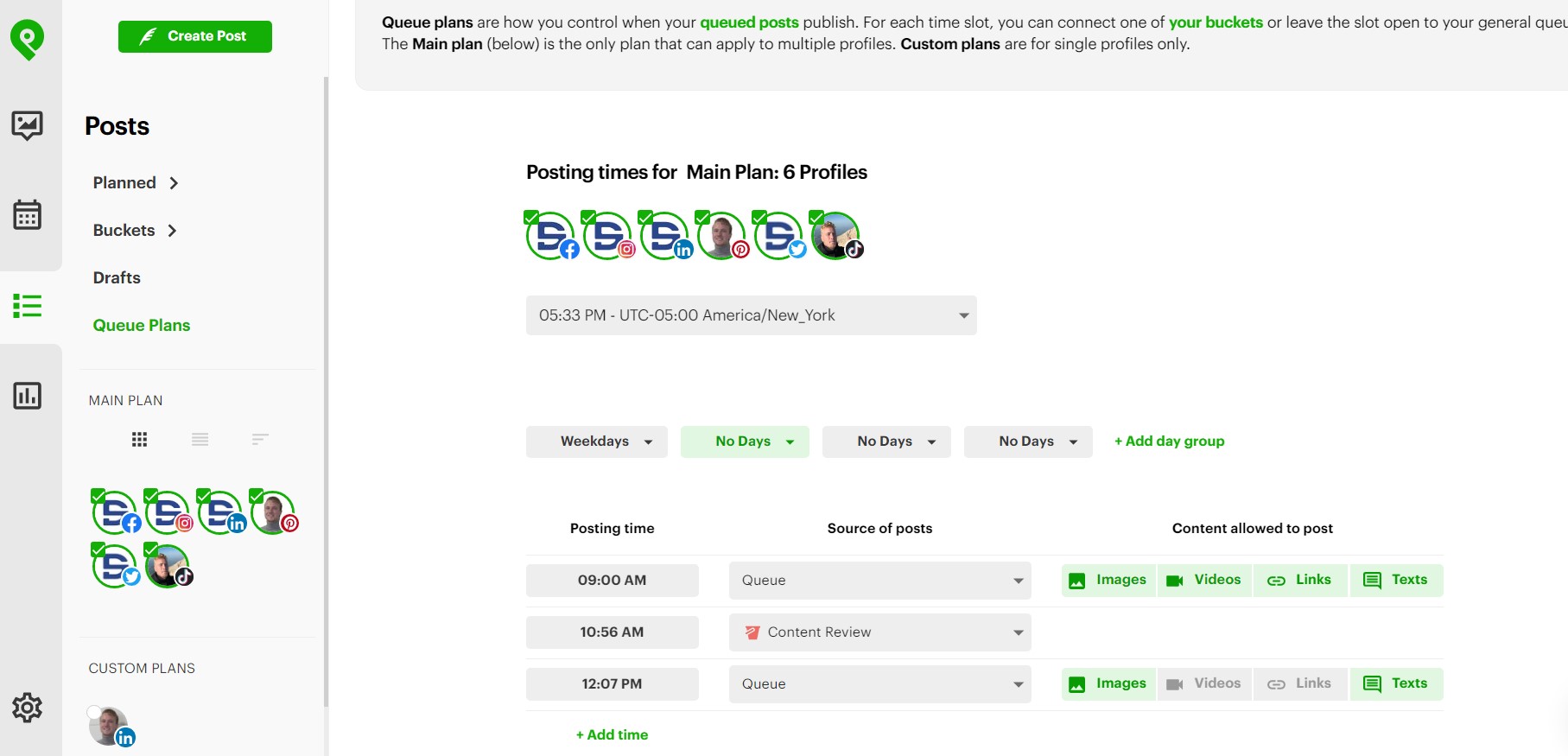 The Content discovery tab is where you go to fill your content buckets.
You can search for pre-made content streams on nearly any topic.
Alternatively, you can make streams by adding the most relevant pages from across the web.
You can do all this in just a few seconds and a few clicks.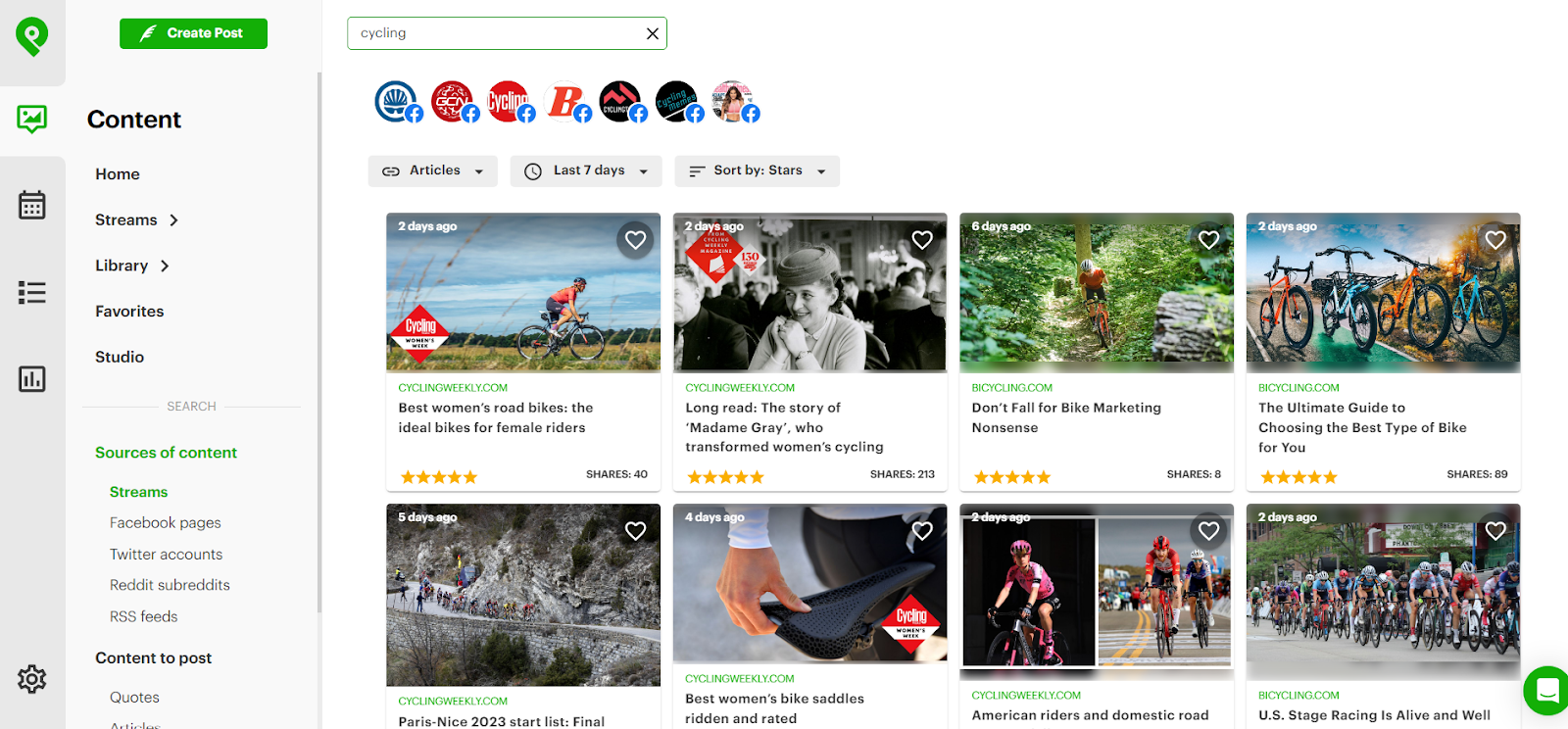 When you've selected a few pieces of content you want to share, click "Create Posts," and you'll go to a page that allows you to quickly schedule your content and add it to your content buckets.
For example, in the picture below, we selected 3 posts and the bucket "Content Review" posts to 2 profiles.
That means that after editing this post, it'll add 6 posts to your content schedule!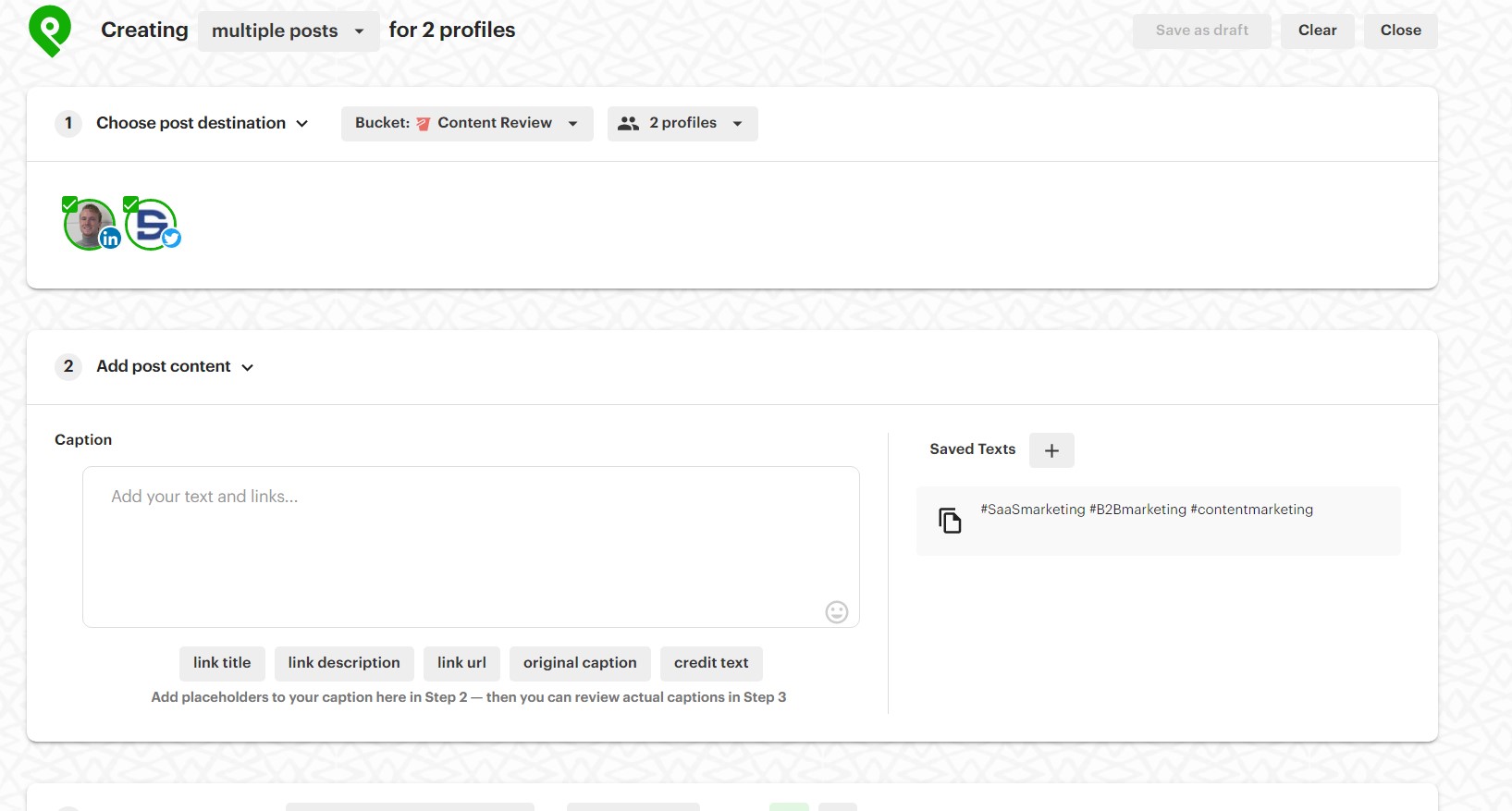 Following this method with these critical features, you can schedule DOZENS of high-quality posts in just a few minutes.
Pricing
Post Planner starts at just $3/month for a single social account.
However, most users with multiple channels will want to upgrade to the Growth account, which starts at just $27/month.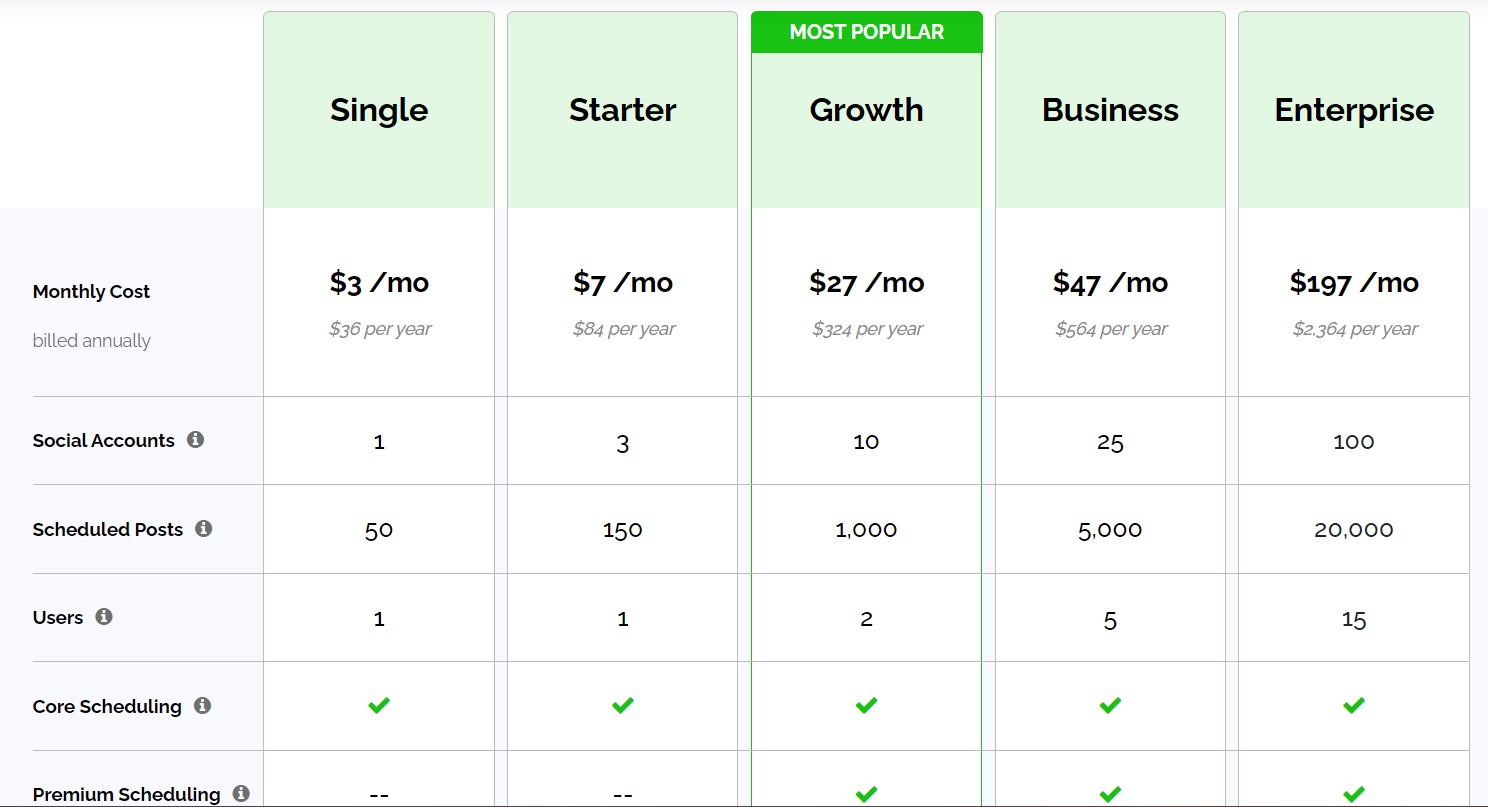 Post Planner is one of the most reasonably priced tools on the market —especially considering the amount of functionality you get for the price.
Reviews
What do Post Planner users have to say about the tool?
Post Planner has helped many users improve the content they post to their social media channels while still saving them time.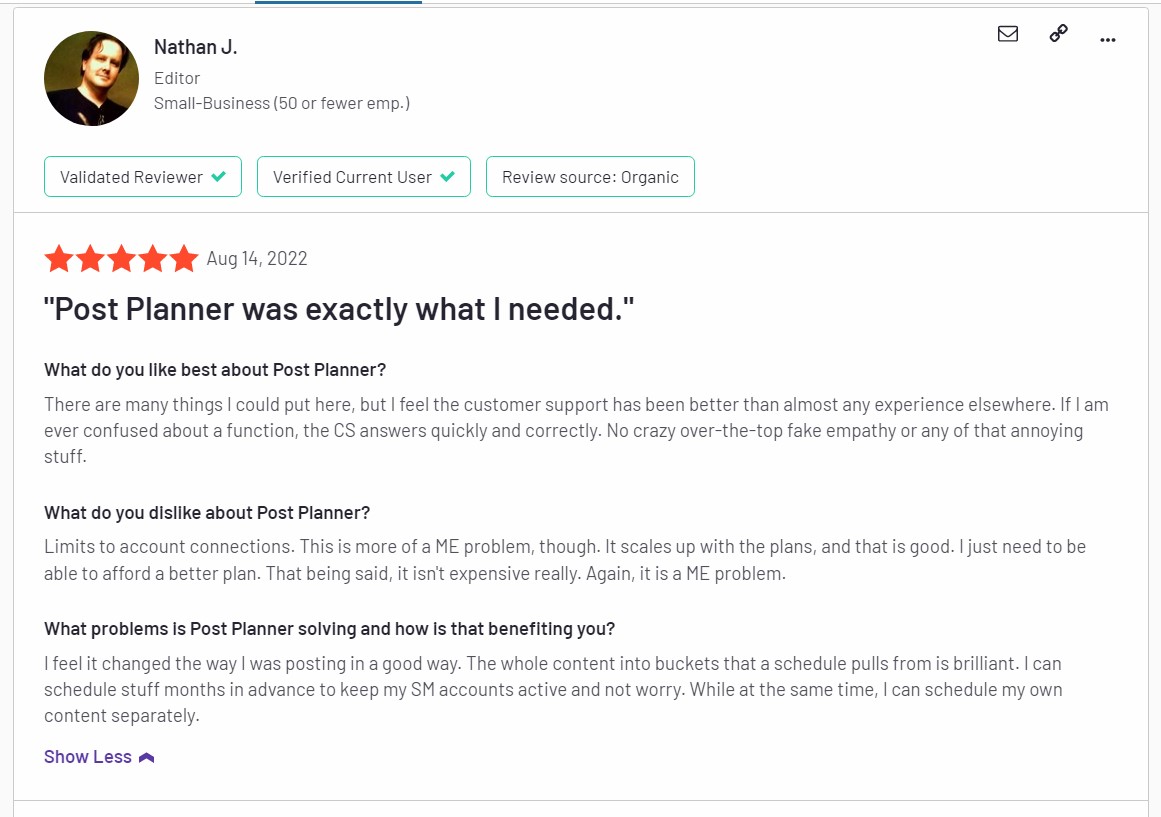 In addition, Nathan J. says, "I feel the customer support has been better than almost any experience elsewhere."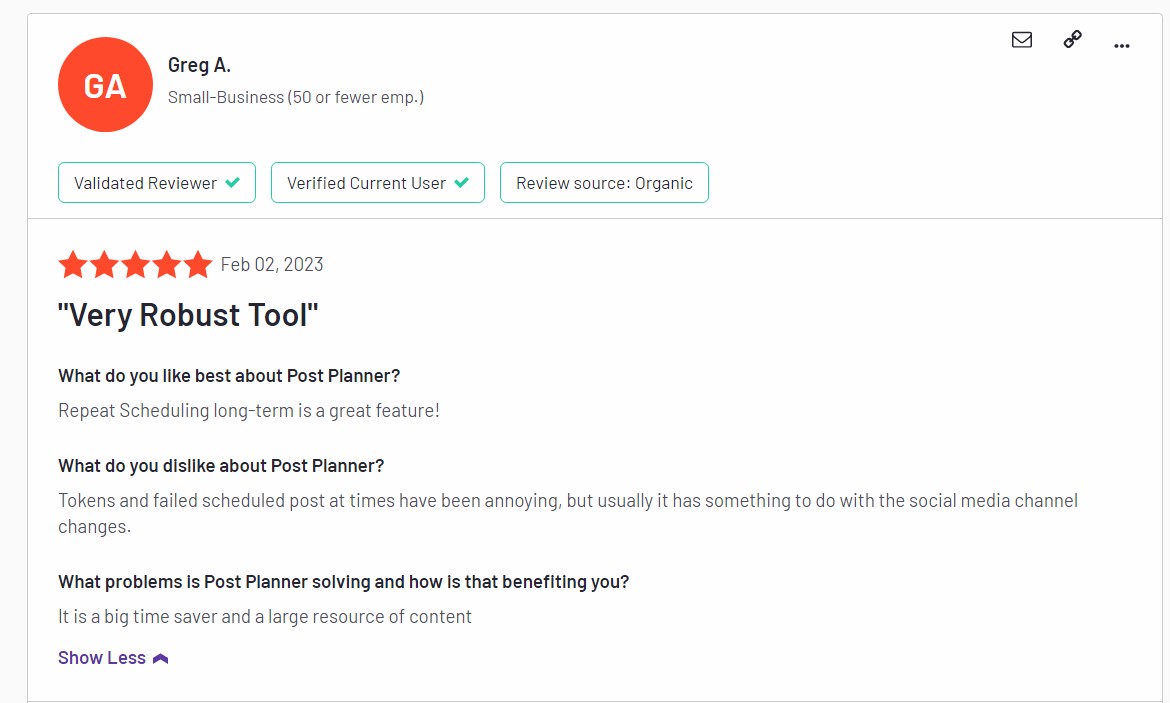 Others regularly comment on how big of a time-saver Post Planner is for them, giving them access to large amounts of content without needing much time to schedule it.
Best for analytics: SocialPilot
For users who are heavily interested in the analytics side of things, SocialPilot could be a great option.
SocialPilot is a social media program that aims to be an all-in-one tool to cover uses from marketing to engagement.
This popular tool has some great features, so let's take a deeper look.
Pros
As mentioned previously, one of the most significant advantages of using SocialPilot is the analytics features it offers.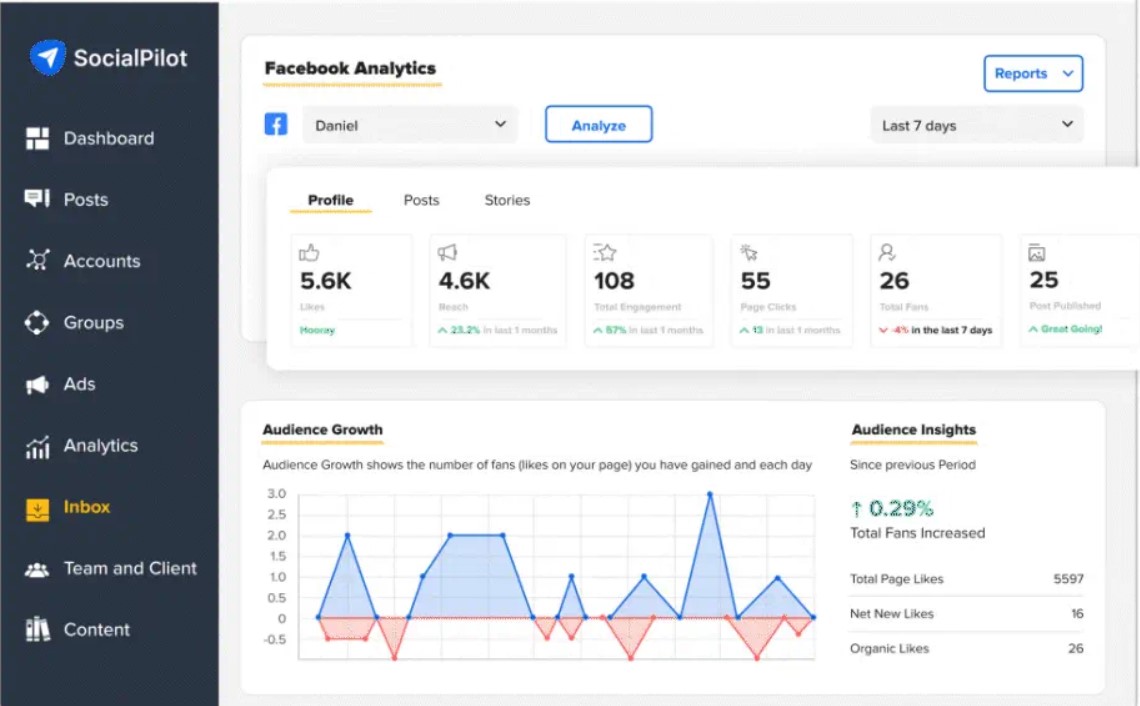 Analytics gives you a deeper understanding of your social media performance, so having these data points can be extremely helpful.
For example, you can see in the photo above that SocialPilot shows you a breakdown of your:
Audience growth

Likes

Reach

Engagement

Clicks
Another pro to using SocialPilot is that it offers a broad range of useful features (which, unfortunately, comes at a cost).
Cons
Speaking of cost, one of the most significant drawbacks of SocialPilot is that it can get expensive.
This could be a serious issue for smaller businesses trying to improve their social media presence.
Another potential drawback for some users is the need for more social listening features.
Even though social listening isn't necessary to schedule posts successfully, it can help understand how posts are being received.
Finally, the content curation tool isn't quite as streamlined or convenient as in other tools.
Which might make it harder to find the right content for your audience.
Key features
When it comes to key features that help you successfully schedule Instagram posts, SocialPilot offers:
Social media calendar

Content curation

Scheduling

Analytics
The social media calendar allows you to see your entire social media plan from a bird's eye view, including the ability to make edits to your schedule.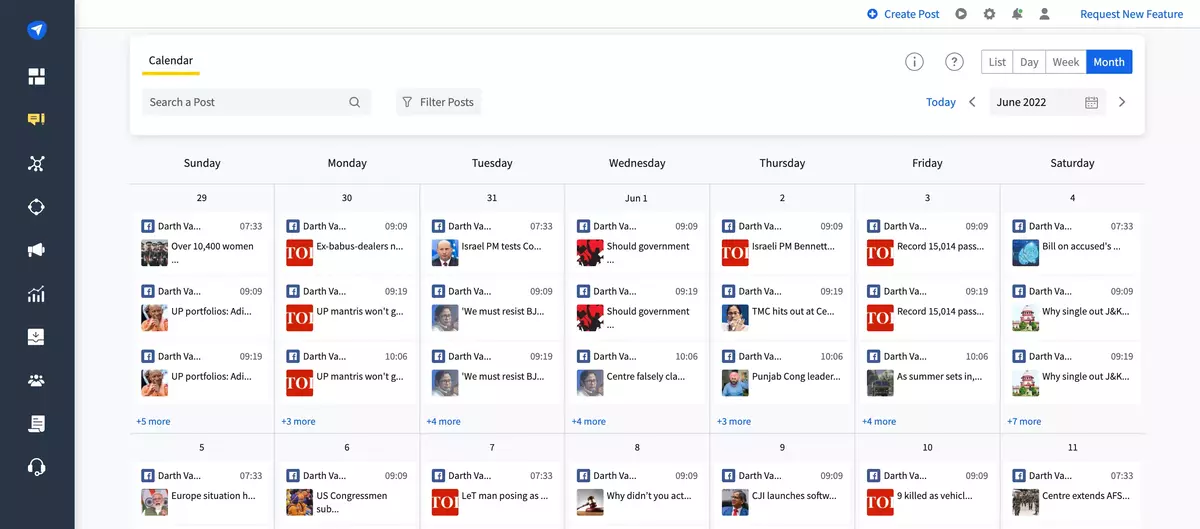 Content curation works similarly to the same feature from other tools. The tool finds excellent content from across the web and allows you to schedule it quickly.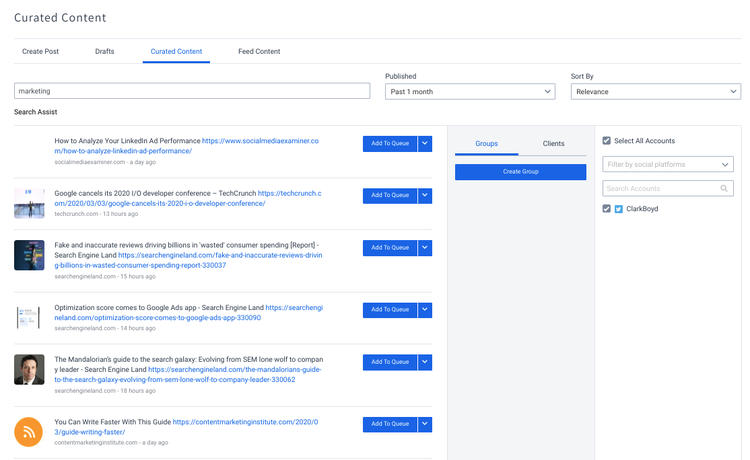 Finally, analytics allows you to judge how well your content is received by showing you the engagement numbers from your recent posts.
Pricing
SocialPilot comes in at a more expensive price tag than Post Planner, starting at $25.50/month for 10 social media accounts and 1 user. However, their most popular plan includes 30 social media accounts and 6 users for $85/mo.
The good news is that each plan has the same access to the key features mentioned above.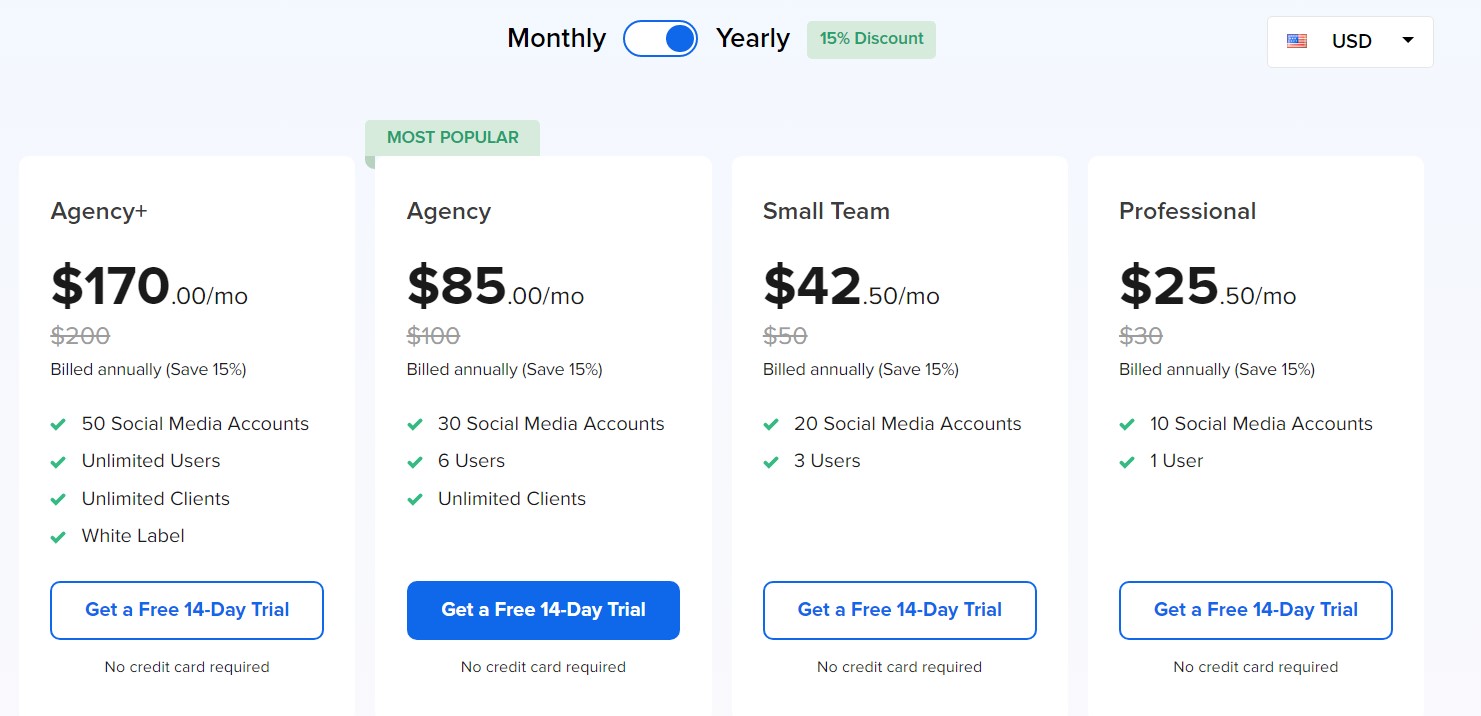 Reviews
Finally, let's look at some real customer reviews of SocialPilot.
Some features that reviews mention are:
Analytics

Ease of use

A broad range of tools to fulfill many different needs.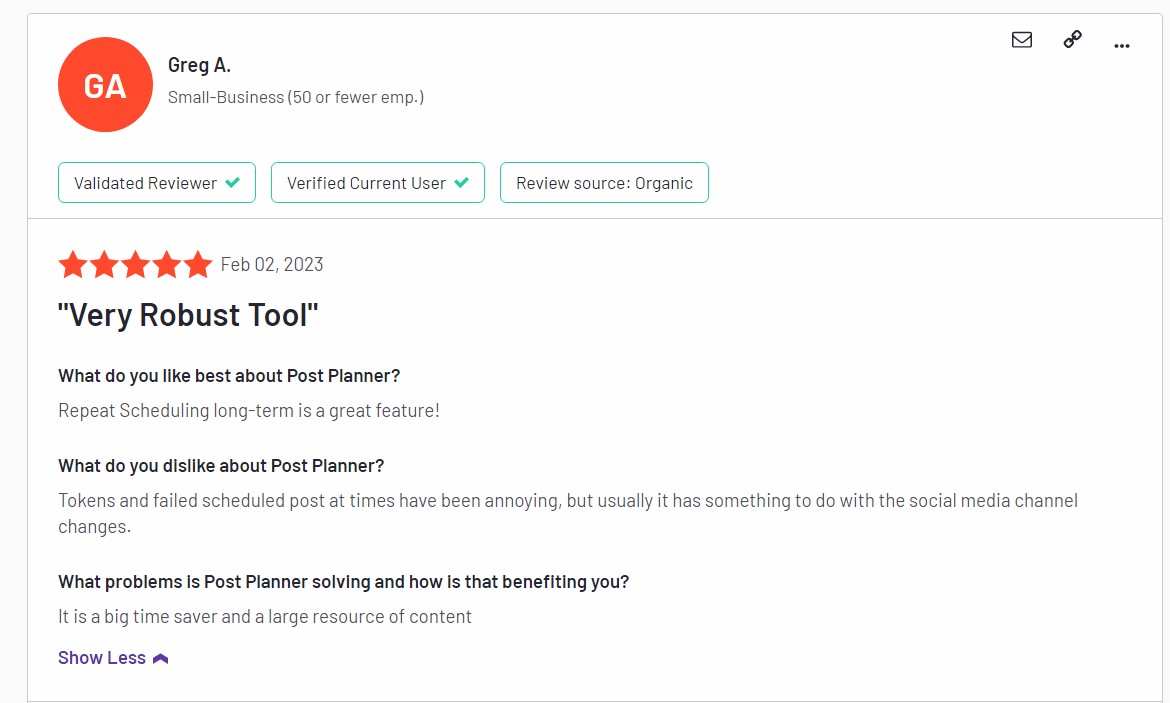 For example, Adele mentioned that analytics tool is one of the things that sold her on using SocialPilot for her business.
On the downside, she was disappointed that the analytics were limited to only a certain period. In other words, Social Pilot doesn't store your analytics data for as long as some people might want.
Best for integrations: Hootsuite
Hootsuite is another popular Instagram scheduler that many people use for its variety of features and its integrations.
This tool is designed to help its customers save time by scheduling their posts in advance and giving them content ideas to keep their audience engaged.
If you love integrations, Hootsuite is probably for you. It has integrations with more than 150 apps that can help you save even more time on your workflow.
Let's take a deeper look at Hootsuite and who might benefit most from it!
Pros
One of the pros of using Hootsuite is that it's easy to learn how to use.
The navigation system is simple and quick, making it suitable for users just starting in social media planning.
One of my favorite features that Hootsuite offers is the post recommendations in their posting calendar.
The tool recommends time slots to add a post to your schedule to optimize engagement.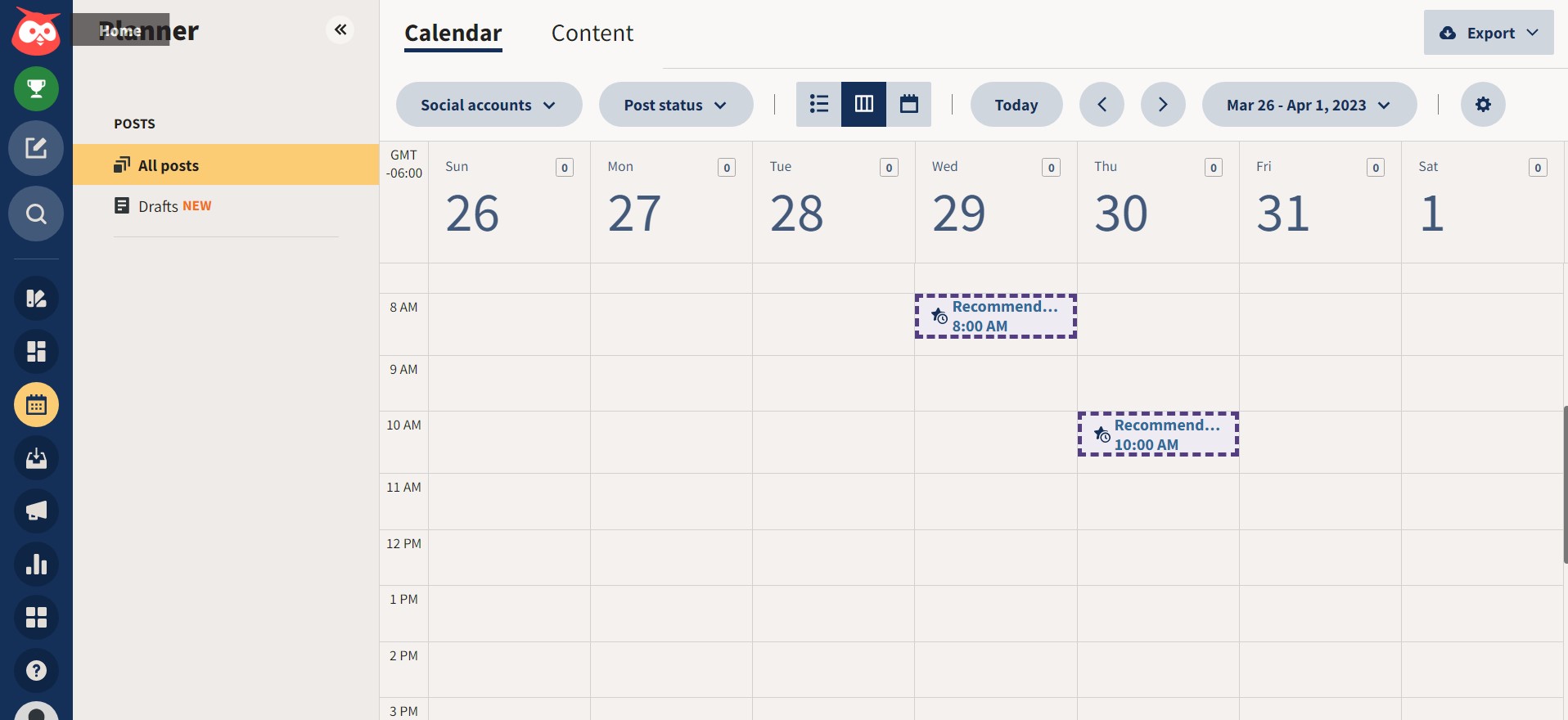 Finally, Hootsuite's integrations are a huge plus. They allow you to use other apps (many of which you may already be using) in conjunction with Hootsuite, effectively boosting its power.
Cons
The biggest downside of Hootsuite is cost. Its smallest plan is still $99/month, meaning it might simply be outside of many smaller businesses' budgets. When I started my first business, $99/month would have been too much for us.
For those smaller businesses, it can be hard to switch to another tool once you get used to your first social media tool. That means many companies might never be able to switch to Hootsuite effectively.
Another major con is the lack of a content discovery tool. Instead, Hootsuite offers an Inspiration tool, which gives you ideas for your own content but doesn't give you content to use in your plan.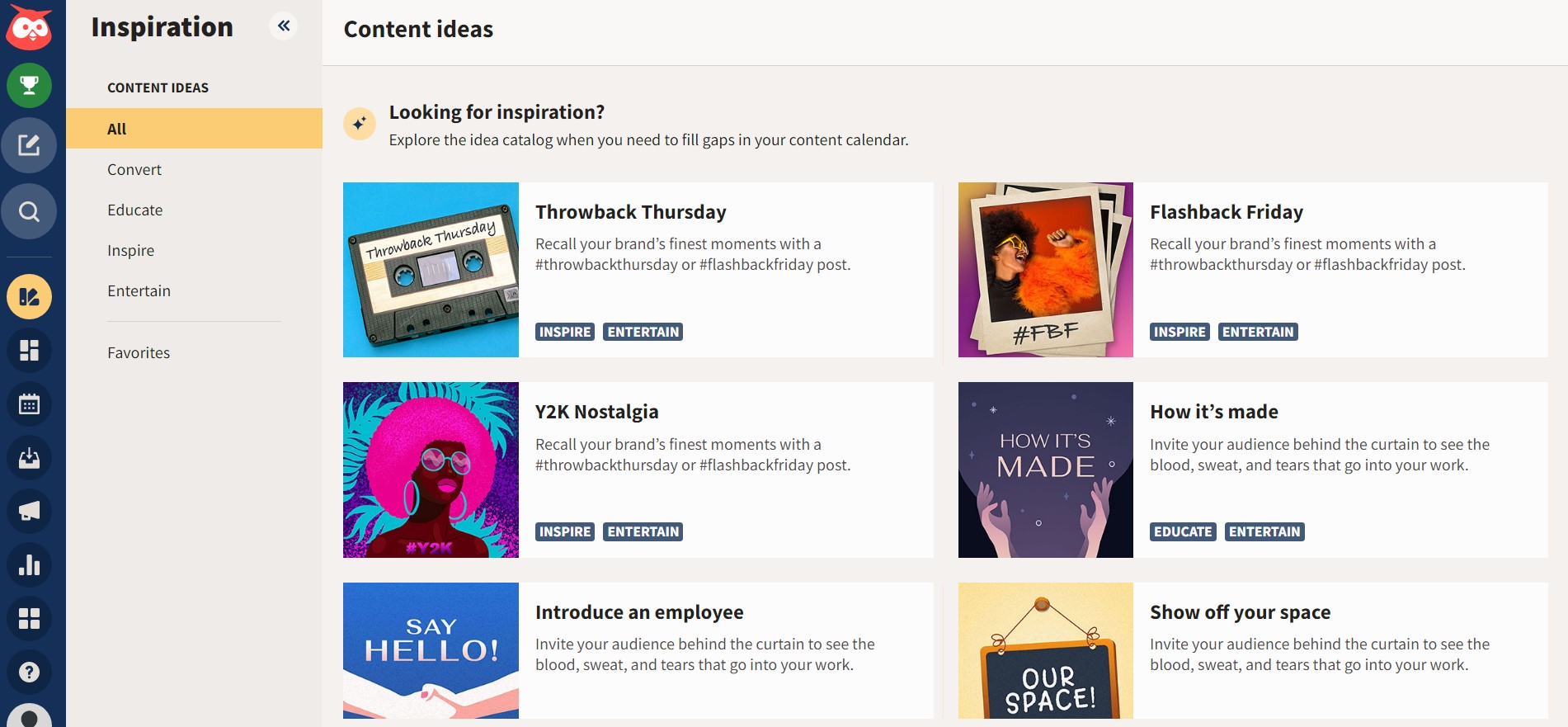 Key features
The core of Hootsuite's tool revolves around:
Content inspiration

Content planning

Content streams
The content inspiration tool, as shown above, gives you ideas and prompts to create engaging content for your Instagram followers.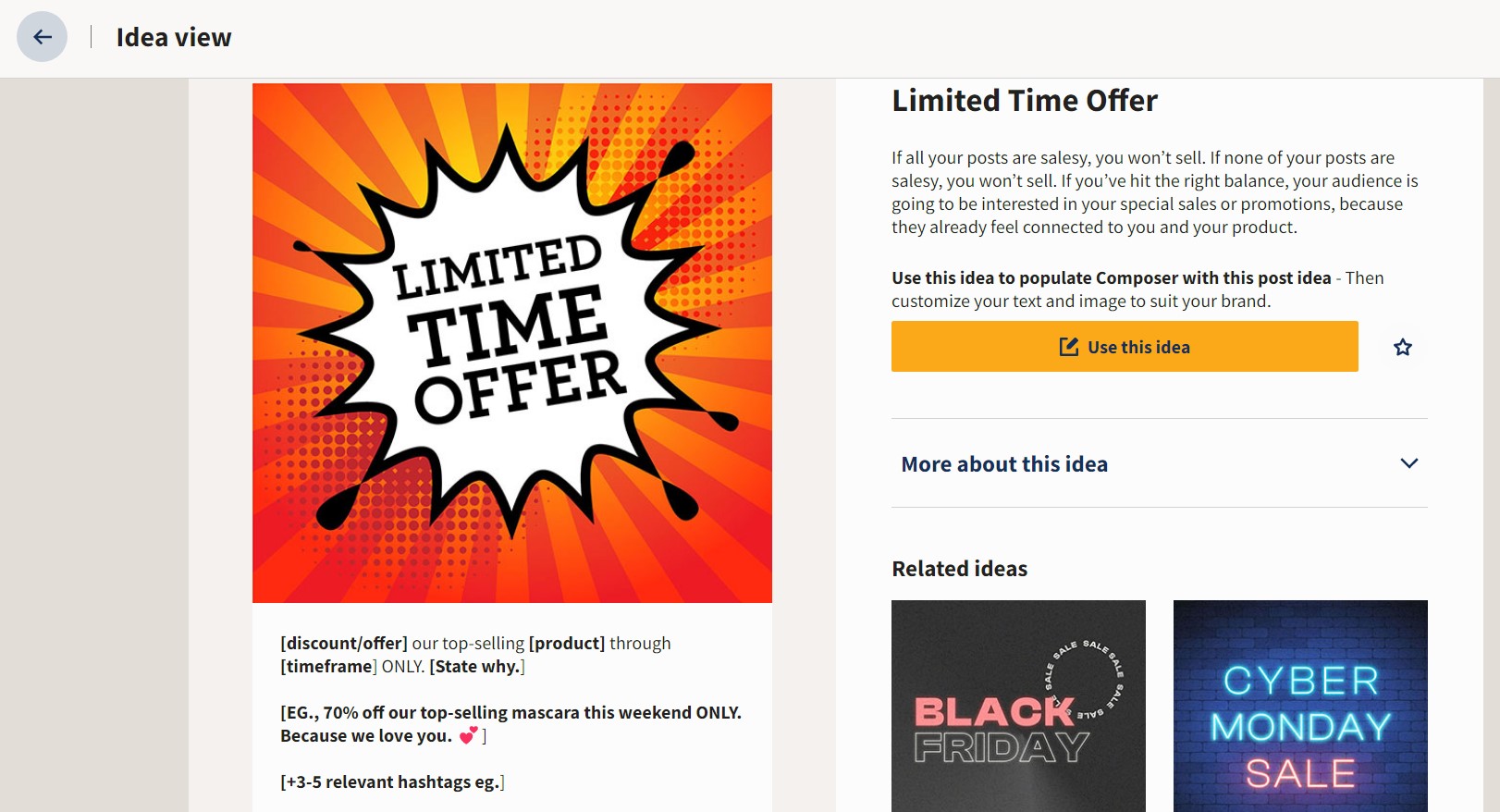 When you've made a piece of content, you can schedule it quickly from within the inspiration tab.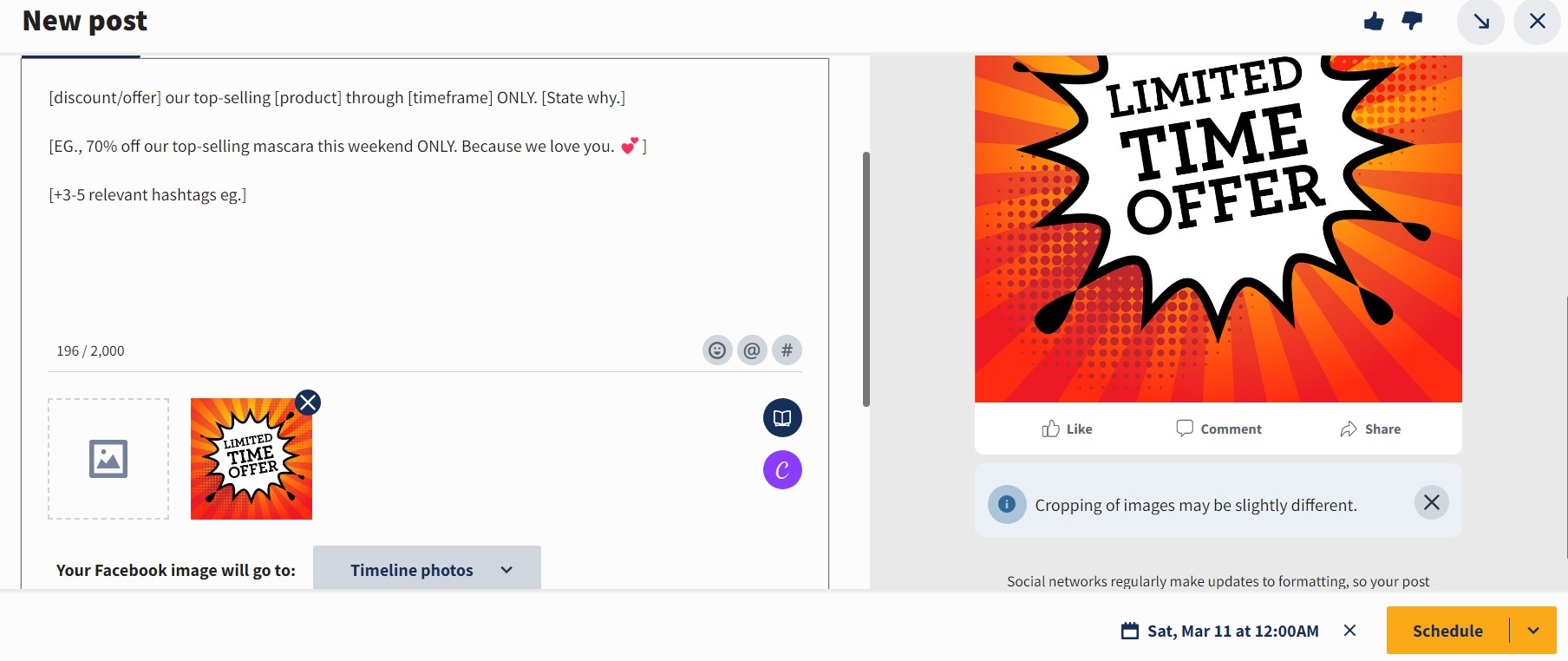 After scheduling, Hootsuite will add it to your content planner, where you manage your upcoming posts.
The content planner works as a drag-and-drop tool, making it straightforward to adjust your schedule on the fly.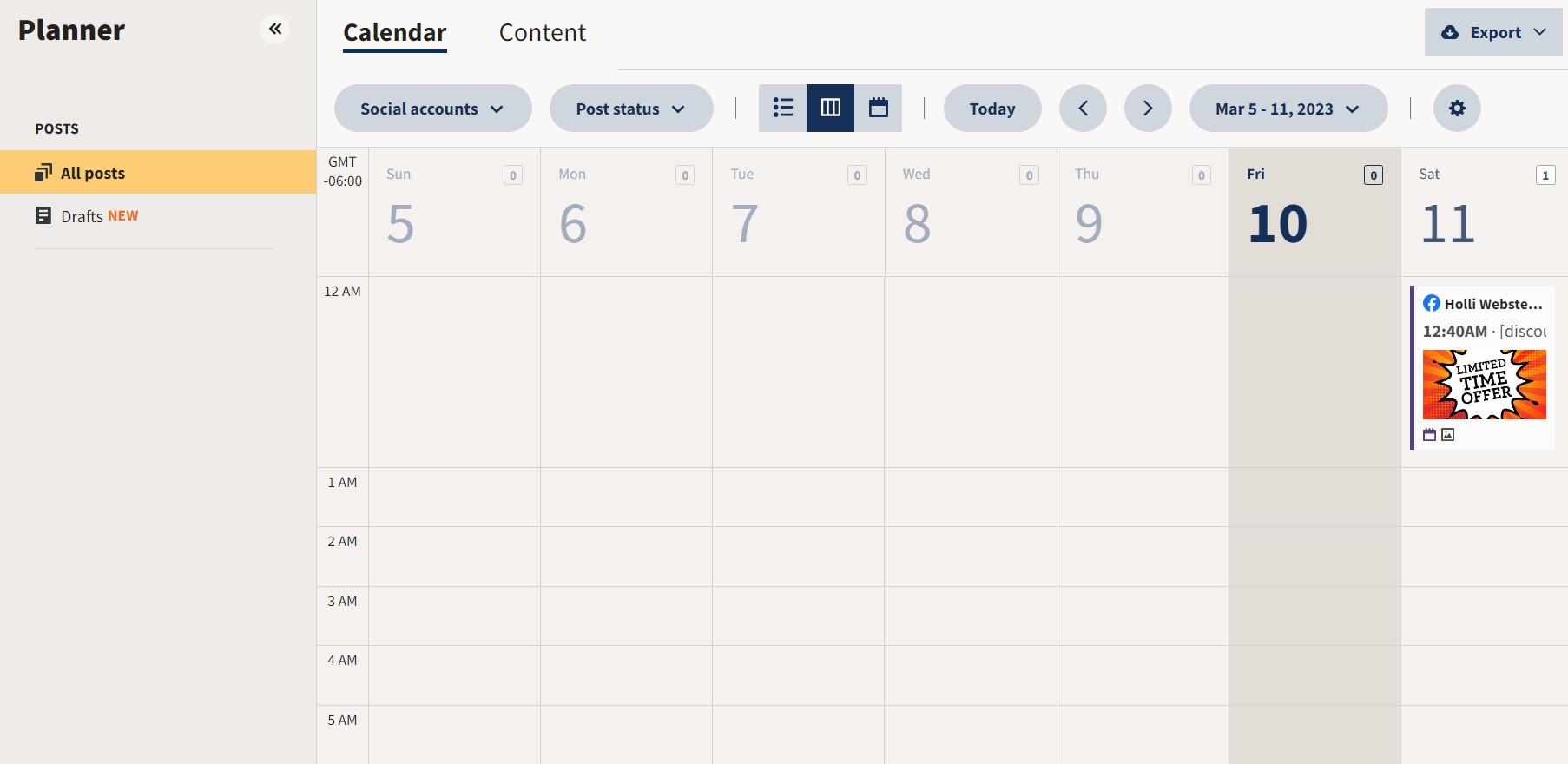 Finally, the content streams feature shows you all of the pages you're managing, allowing you to see recent and scheduled posts.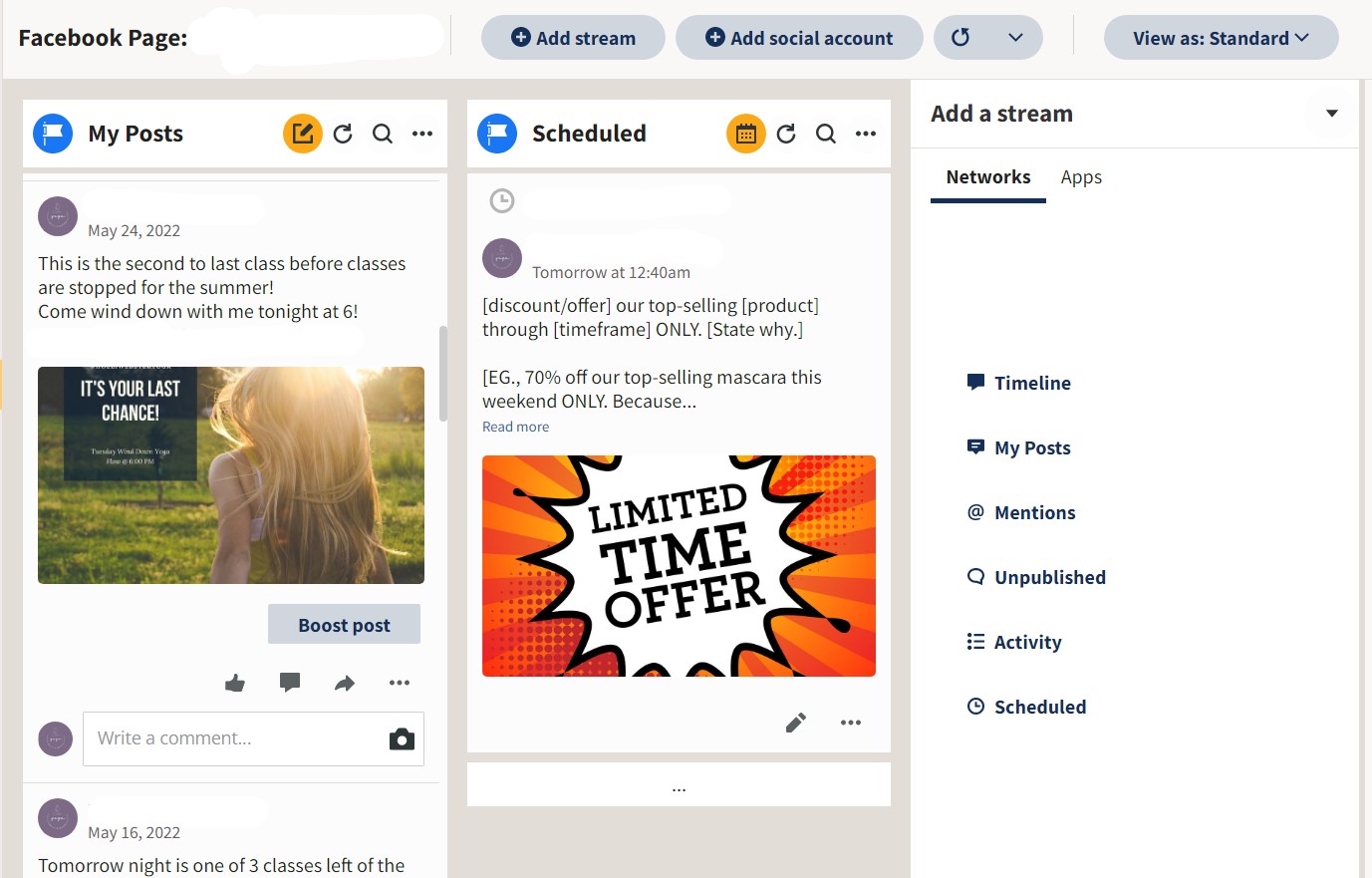 Hootsuite offers other great features like analytics, but those support these key content planning features.
Pricing
As mentioned in the cons section, Hootsuite is expensive — especially if you run a smaller business.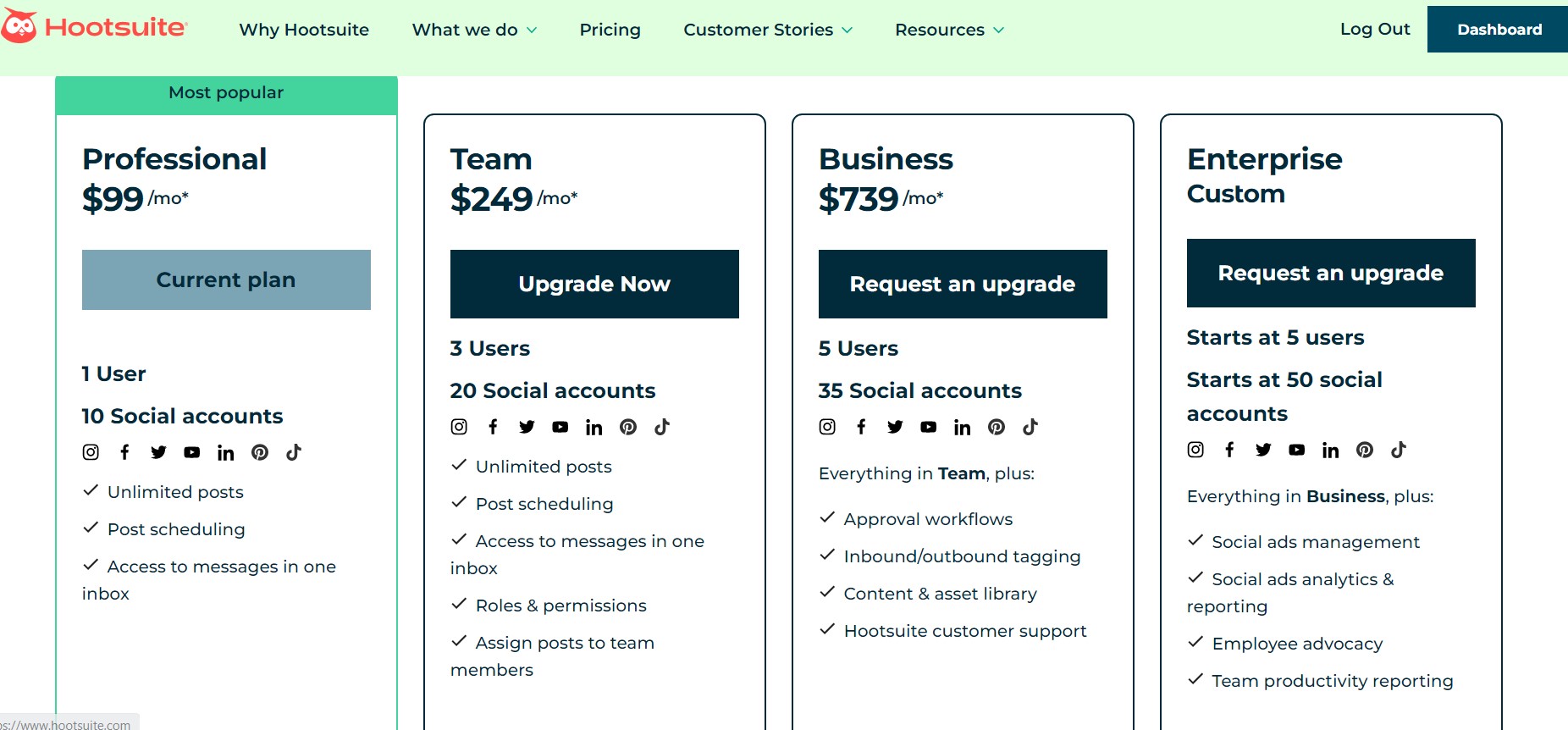 Its smallest plan starts at $99/month for 10 social accounts, and prices more than double from there.
Hootsuite is a great tool, but the price may simply be out of reach for many businesses.
Reviews
What do real Hootsuite users have to say about using the tool?
The most common thing mentioned by users who love the tool is its ability to help them manage multiple social media accounts from one place. This saves them time and the frustration of logging into multiple accounts daily.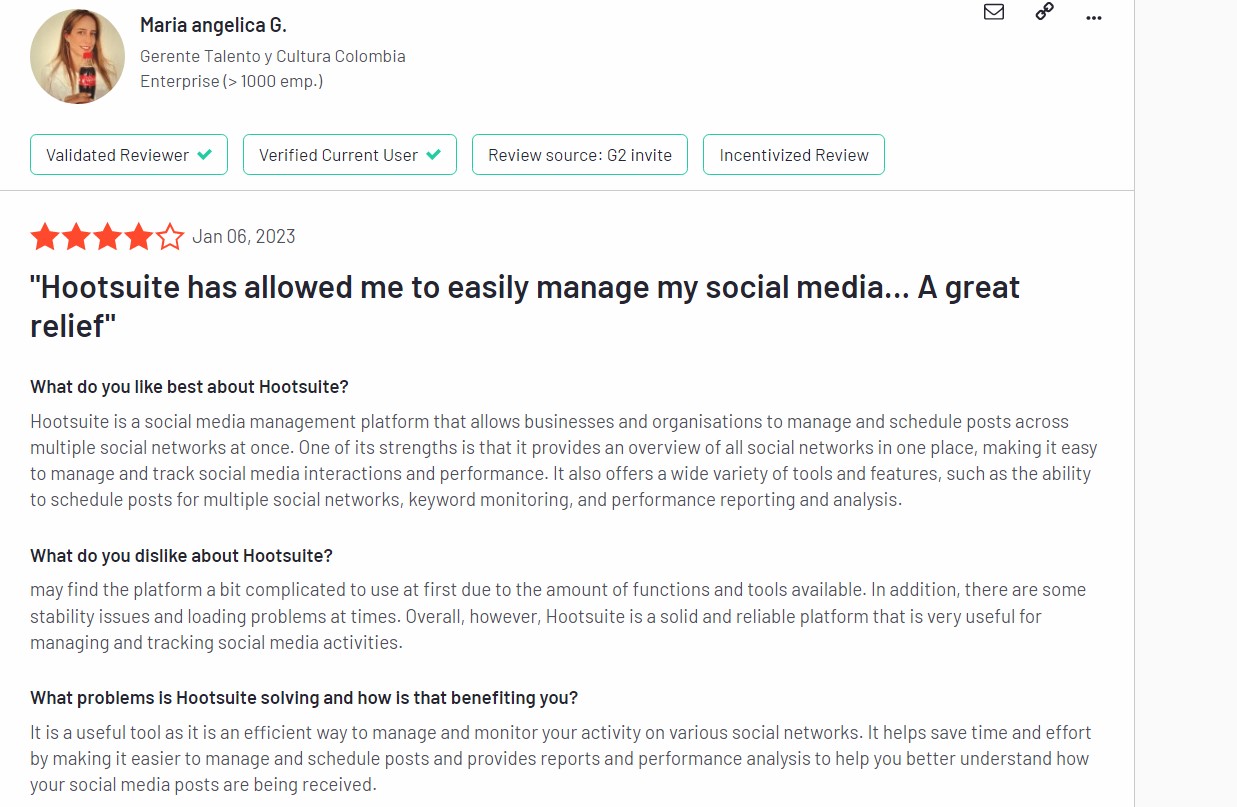 On the other hand, some users reported difficulty connecting accounts and issues with stability occasionally.
Best for social listening: Zoho Social
Zoho Social, unlike the other tools on this list, is oriented as a social listening tool. It's designed to help users understand what their customers are saying about their business so they can react to it better.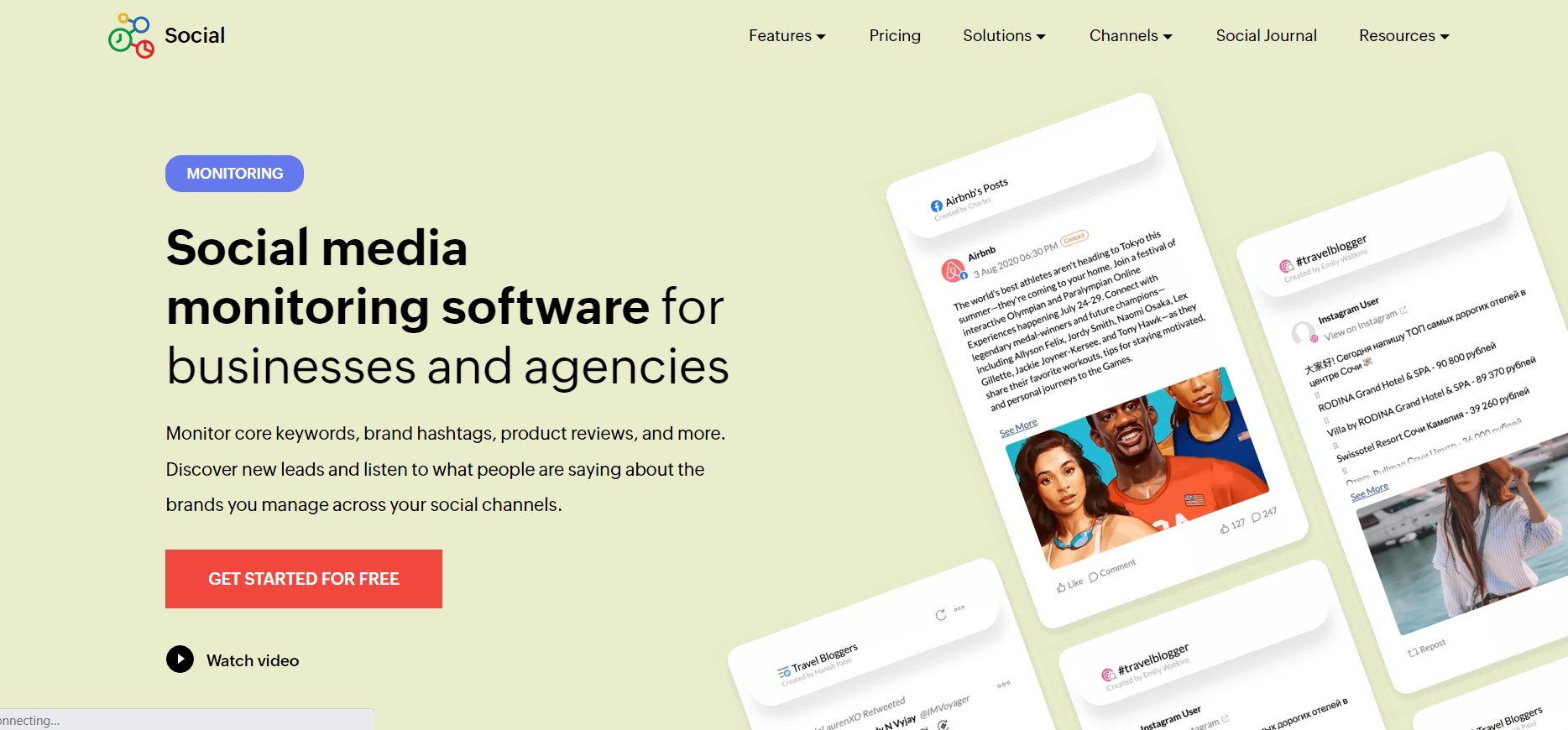 However, Zoho also offers scheduling features that allow you to control exactly when your content will publish.
Let's take a deeper look!
Pros
The biggest advantage of Zoho Social is that it gives you more insight into your audience than the other tools on this list.
In other words, using this tool can help you truly understand what your audience thinks about your business by helping you follow their online posts.
Zoho accomplishes this by allowing you to monitor keywords, hashtags, and reviews for your business.
In addition to the social listening tools, Zoho is also a competent social media manager and scheduler.
Cons
One of the biggest drawbacks of Zoho Social is the content curation tool, which is more limited and difficult to use than some of the other tools on this list.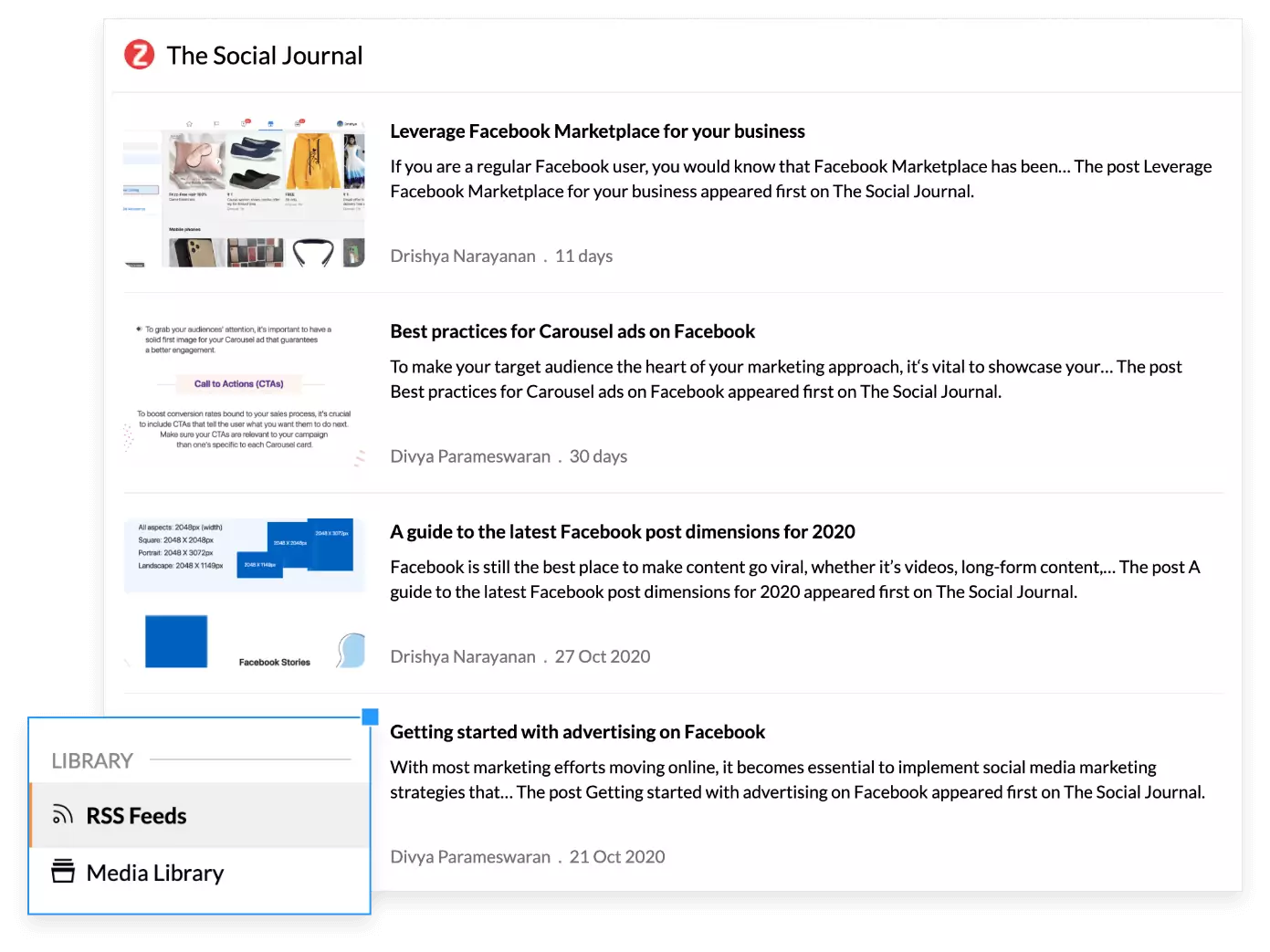 Since one of the core needs of an Instagram scheduler is finding content around the web, this can be a big drawback.
Another con is that not all Zoho's plans offer access to all of their social media channels. For example, the smallest plan doesn't allow you to manage a YouTube account.
Key features
It should be evident by now that the key features offered by Zoho revolve around social listening and publishing.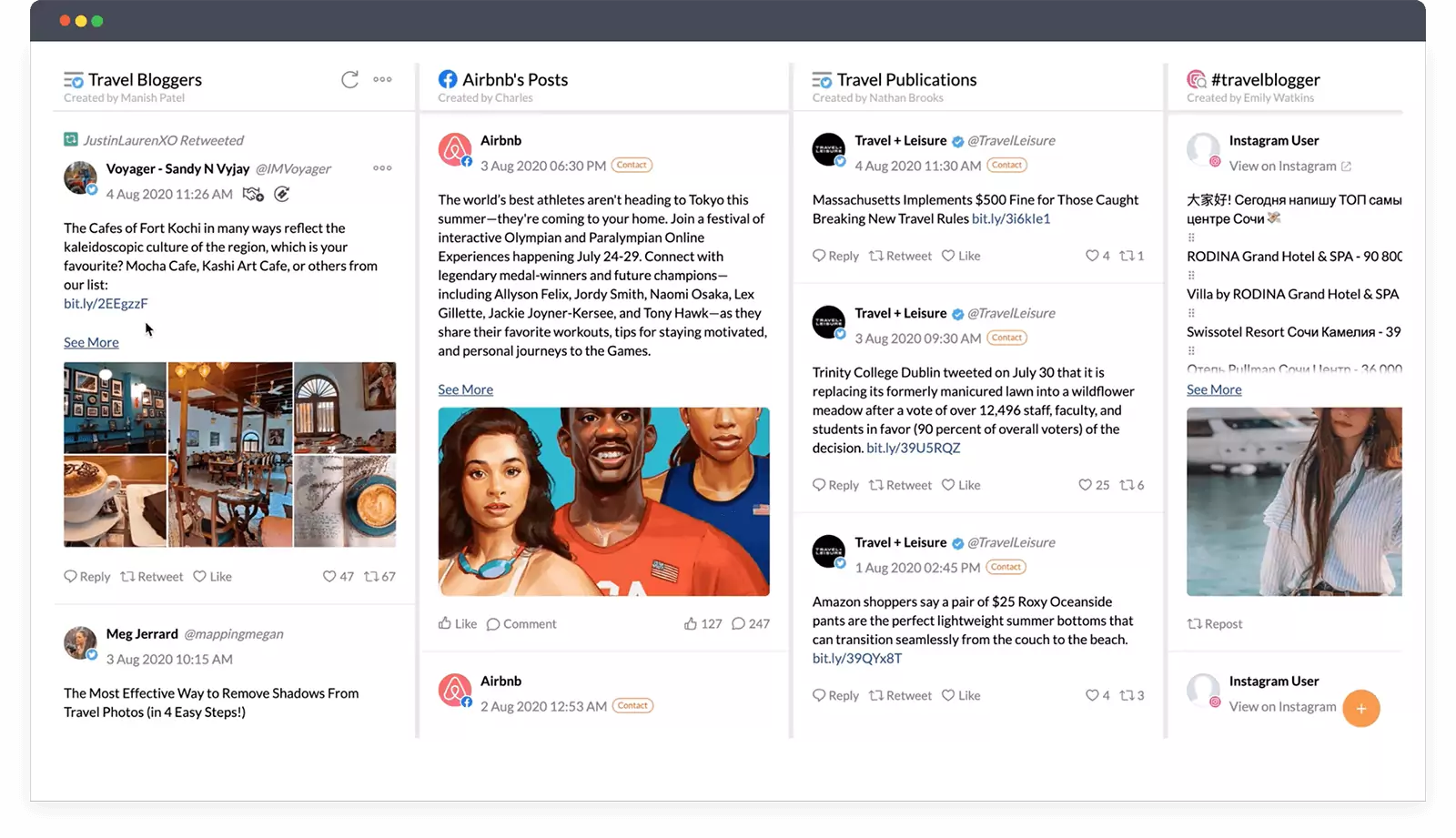 The social listening tools make it easy for you to set up a dashboard where you can monitor the most critical keywords and hashtags related to your business.
Monitoring these social mentions gives you key insights into how your audience receives your product or your recent social media campaigns.
Once the social listening tools have given you a direction, you can use the publishing tools to chart a course.
One unique feature of Zoho's scheduling platform is SmartQ Slots, which are recommended posting times according to Zoho's audience monitoring.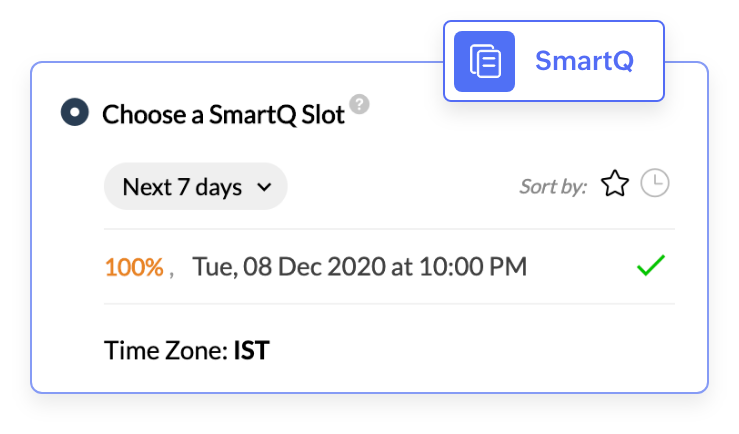 When scheduling a post, you can choose a SmartQ slot, meaning that Zoho will automatically post the content when it thinks it's best.
That can be a big timesaver and also might improve your engagement.
Pricing
Zoho has reasonable prices, making it another good option for new businesses.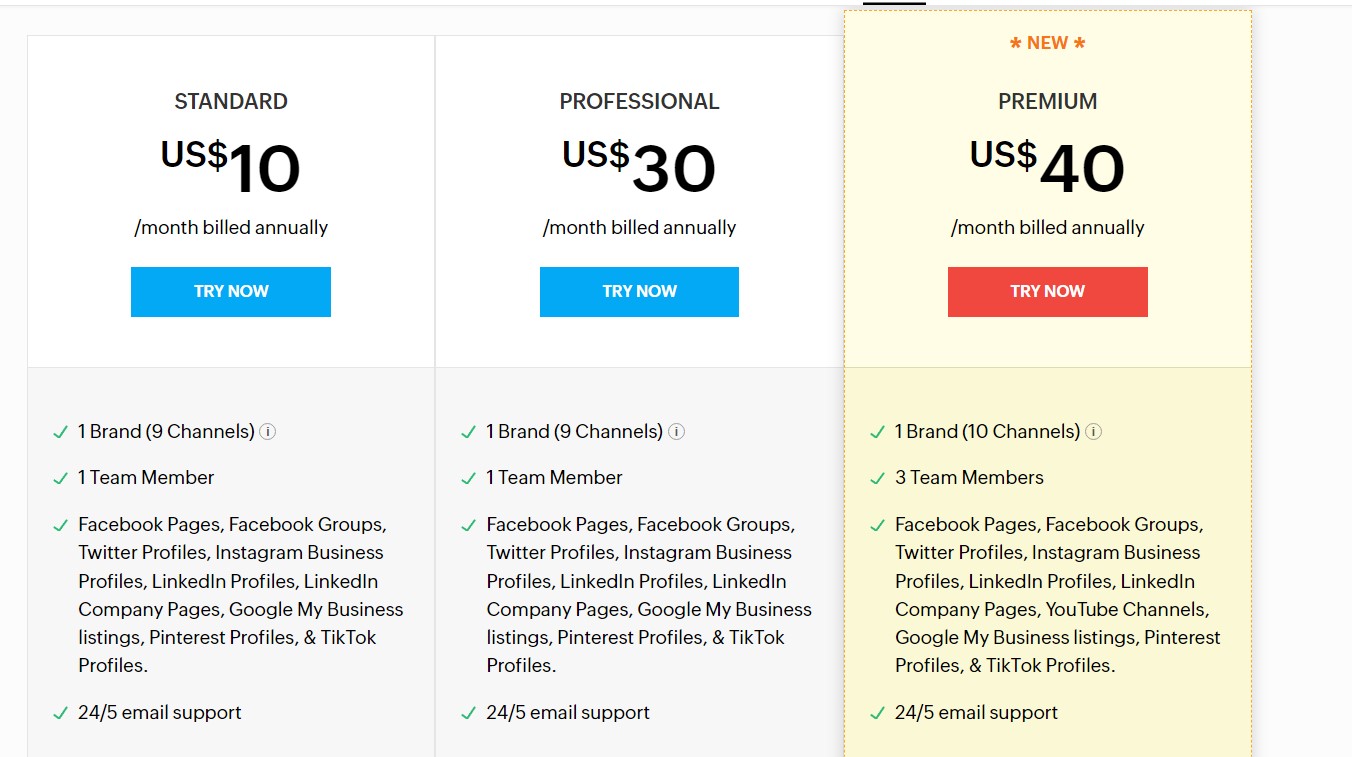 Its smallest plan starts at just $10/month and allows you to connect 9 channels.
If you need more than that, you can upgrade to the $30/month or $30/month plans, which add support for different channels.
Reviews
Zoho generally gets positive reviews, with the most frequent positive comments talking about its convenience and ease of use. Users remark that Zoho makes it easier for them to grow their audience.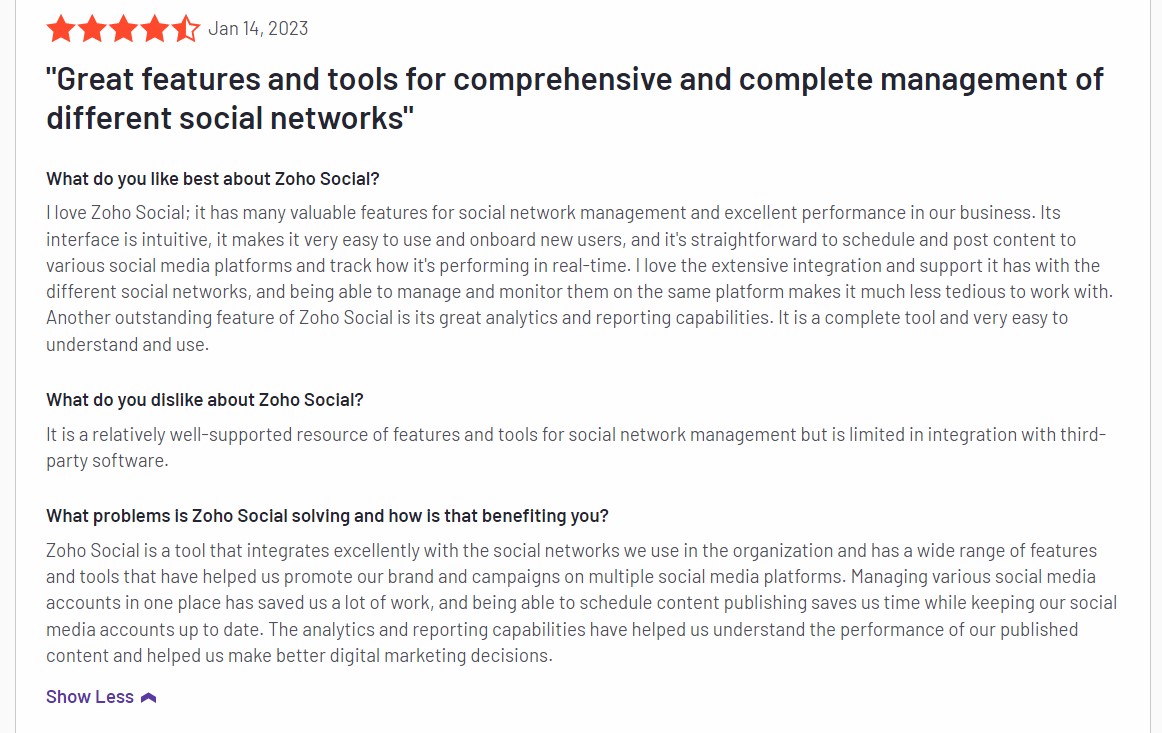 On the negative side, some users have mentioned that Zoho doesn't support all the channels they're targeting, and the lack of integrations can be frustrating.
Best for content creation: Later
Social media is about getting the right content in front of your audience. Sometimes, you can't find the right content — you must make it yourself.
Regarding content creation, Later stands out. While still offering powerful scheduling tools, it also gives you great tools to find, create, and edit new content for your followers.
Pros
As mentioned above, one of the biggest pros of using later is the content creator tools.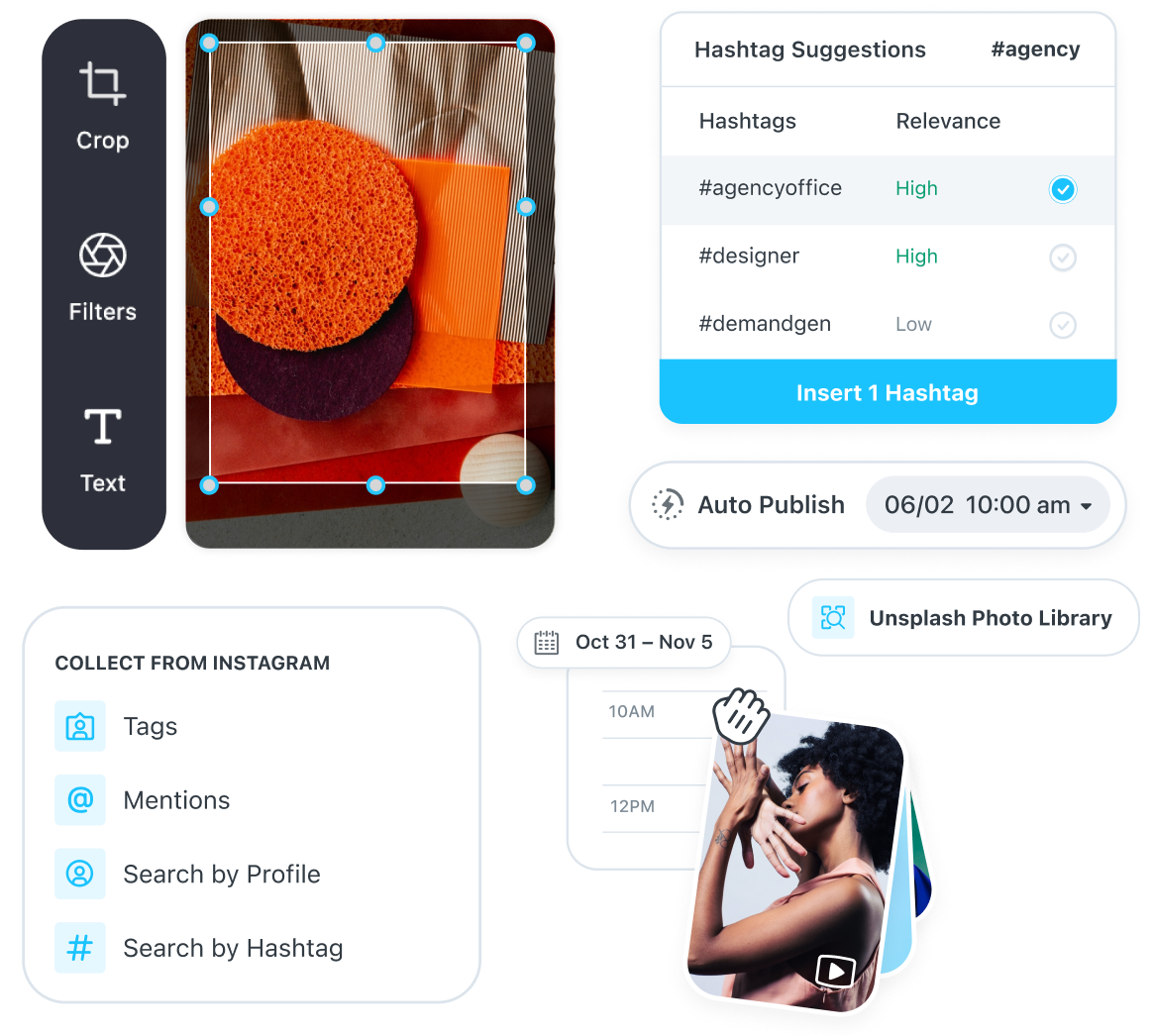 While several of the other tools on this list allow you to create content, Later blends content discovery and creation to allow you greater control over how your content looks.
There are also unique features like the hashtag recommender that may help you get more engagement.
In addition, Later's content scheduler works as a super easy drag-and-drop format that makes it easy to learn and use.
Cons
What about drawbacks?
Unfortunately, Later's smaller plans offer limited access to some of their best tools. For example, their smallest plan only allows you to look at analytics from the last 30 days.
It also only allows up to 30 posts to be scheduled per profile, which could severely limit the amount of time you save if you want to schedule posts a month or more in advance.
Additionally, I feel like Later's content discovery tools are limited compared to some of the other tools on this list. While you can discover content on Later, it's more focused on creating content than discovering it.
Key features
Later's scheduling tool stands out as one of the easiest to use on this list. It offers auto publishing and lets you know the best time to post for your audience.
Along with its publishing features, Later offers standout supporting features like hashtag suggestions and a visual Instagram planner.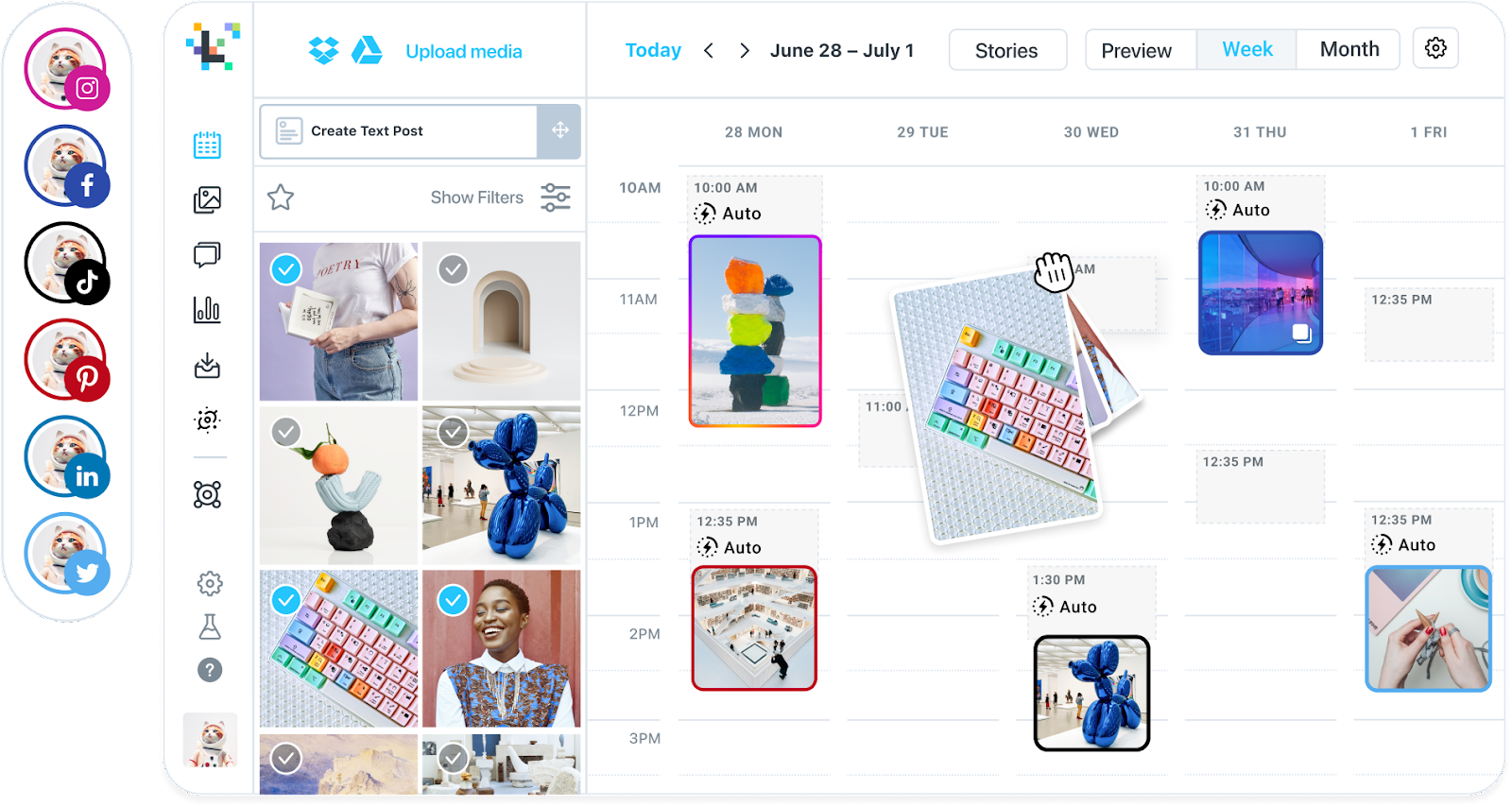 One unique feature that Later offers is their linkin.bio tool. It turns your Instagram page into a fully-customizable link, driving more people to your website.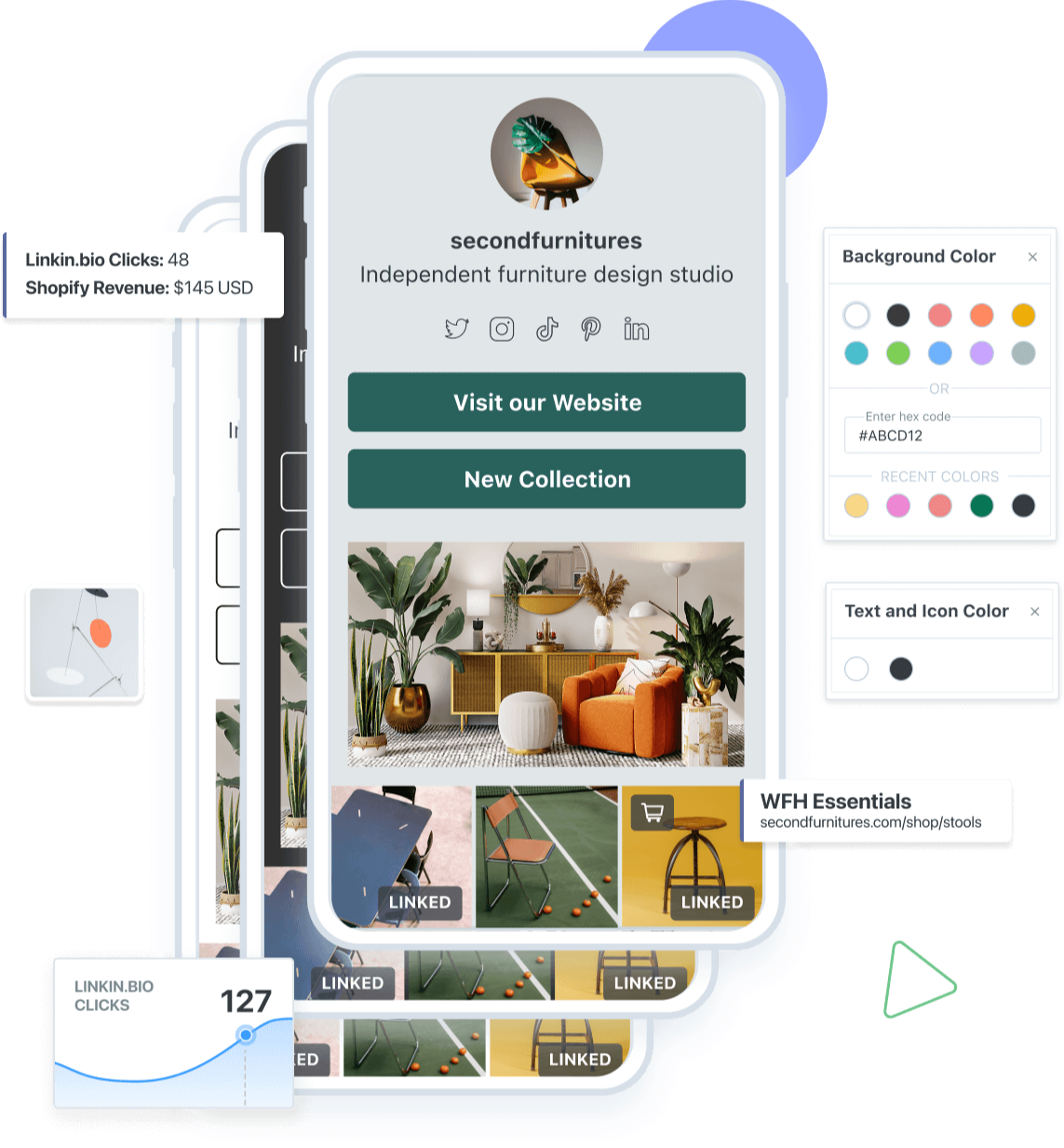 Of course, everyone can put a link in their bio, but they don't look nearly as attractive as those created with Later, which helps you stand out from competitors.
Pricing
Later offers reasonable prices for different levels of social media planning.
The smallest plan gives you access to one set of social media profiles and starts at only $15/month.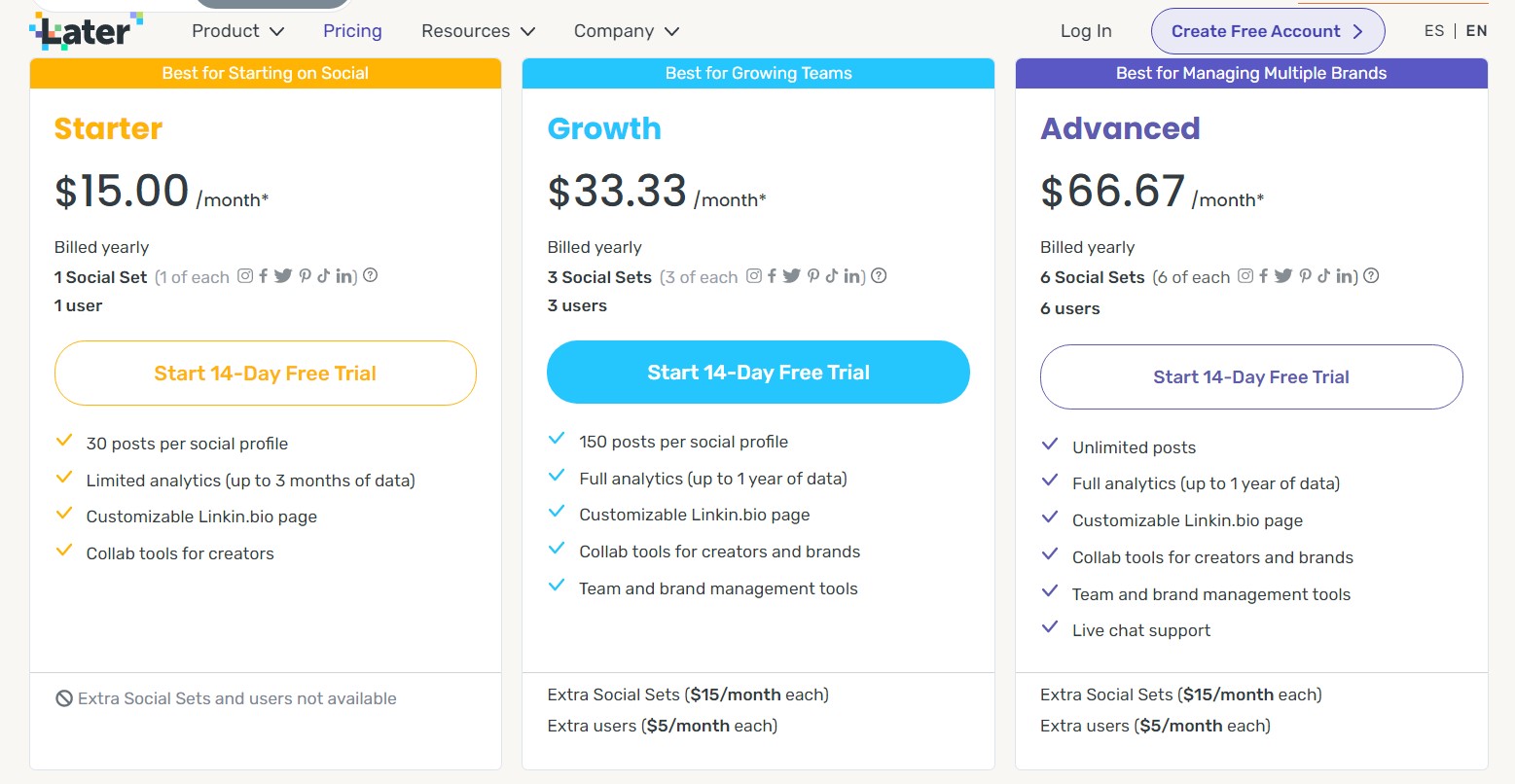 If you manage multiple sets of social accounts, you can upgrade to the next levels, which gives you access to more analytics, more scheduled posts, and more support.
Reviews
Later gets positive reviews from its users.
Many reviewers mention the convenience of being able to schedule content ahead of time, which increases their presence on Instagram.
Overall, users appreciate the ease of use and the engagement-boosting effects of scheduling Instagram posts in advance.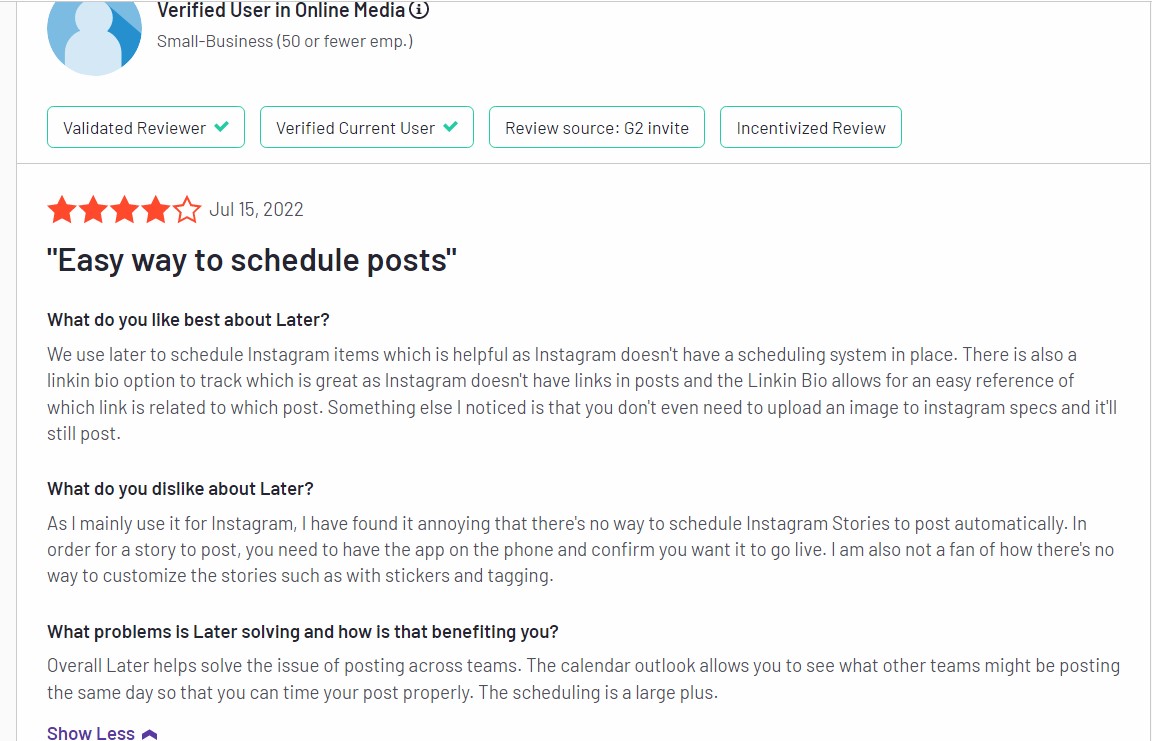 Some negative comments refer to lack of customer support, the cost-effectiveness of adding more social media accounts, and lack of support for posting stories automatically.
Frequently asked questions
Before we wrap up, let's answer some of the most common questions people usually have about Instagram scheduling tools.
Is there a scheduler for Instagram?
YES! Some tools allow you to schedule your Instagram in advance (and they'll post automatically at the scheduled time!).
Refer to our list above to find the best tool for you.
Is there a free Instagram scheduler?
While some tools may help you schedule posts for free, we don't recommend them for long-term use. You get what you pay for, and you'll get way better features by subscribing to a tool like Post Planner for $3/month.
How do I automate my IG posts?
Automate your Instagram posts by using an Instagram scheduler like those mentioned above. Use a tool that helps you find content and add it to a calendar to be posted automatically at the time of your choosing!
Ready to start scheduling Instagram posts?
Scheduling your Instagram posts in advance is one of the most potent ways to get more engagement, but choosing the right tool can be challenging!
If you start with the 5 tools listed above, we can almost guarantee that you'll find something that works for you and your business to:
Improve engagement

Get more followers

Improve the quality of your content
What other strategies have you used to level up your Instagram game?
Let us know in the comments below!