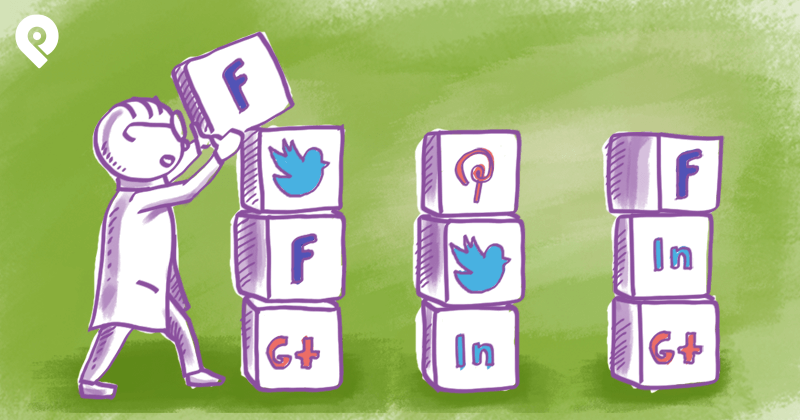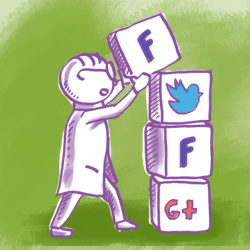 Here's the bad news:
Building a social media marketing plan is HARD.
Does that mean it's not worth the investment for your business?
Absolutely not.
You just need to develop a social media content plan that works for your brand!
How?
Follow the steps in this guide!
How to Create a Social Media Content Plan: 8 Tips for Success
Now the good news:
The right social media plan CAN grow your business!
I wrote this blog post to show you how to create such a plan.
I'll cover the following topics:
What is a social media plan?
A social media plan is the overarching strategy marketers create to map out social media success.
It includes using: best practices, the right platforms, various other strategies, and a thought-out content calendar.
But what makes them so CRUCIAL?
Many companies create social media accounts — and GIVE UP when they don't see immediate results.
And some — maintain a social presence — even when it's not accomplishing anything.
In both cases, the missing piece is a tactical social media plan.
Planning your social media can help you do the following 5 things:
1. See where you currently are
The first goal of a social media plan is to assess your current social media success.
You can do that by asking yourself these questions:
How do you stack up to your competitors on social media?

How engaged are your followers?

Are your social media accounts driving traffic to your website?
These questions force you to identify your strengths and weaknesses.
2. Determine where you WANT to go
Your social media plan can give you a CLEAR destination.
Your plan should include a list of goals and objectives to envision your future social media success.
Neglecting to identify your goals?
That's a recipe for failure.
Distinguishing goals is the cornerstone to making effective content decisions.
Think about it:
If your only goal is something generic — such as just trying to get "better"...
How do you know when your social media is doing "better"?
And how do you know what "better" even means?
The truth is: You ALWAYS need direction.
Otherwise, you'll end up running your social media like a chicken with its head cut off.
3. Map out how to get there
Think of your social media plan as a roadmap.
Your social media plan will give you directions to get from Point A (where you are now) to Point B (where your goals are).
In other words, your plan will give you a clear, step-by-step process toward success.
The 2 most CRUCIAL elements of your plan?
A content strategy AND a calendar.
Without these tools, your social media plan will flounder.
4. See how much progress you're making
A strong social media plan will tell you exactly how to measure your success.
In other words, your social media plan will include valuable KPIs (key performance indicators).
These KPIs should measure the results of your social media strategies.
For example:
Let's say you want to increase CTR as your primary goal.
To measure success, analyze the percentage of impressions that get clicks.
If the percentage drops, you know your social media plan needs tweaking.
Figure out which KPIs mean the most to you — and keep track of them periodically.
5. Be more efficient & effective
Building an effective strategy for social media takes time.
But it's time well spent!
In a nutshell, a social media plan helps you:
Maintain consistent posting schedules across all your social channels

Avoid last-minute rushing to find content to share

Stop missing out on trending topics due to poor planning
Not to mention:
All of these things reduce stress, cut down on your time commitment, and improve the quality of your social presence!
7 pre-steps to prepare for your social media content plan
Using social media without laying down a strong foundation puts you on the fast track to failure.
These 7 preliminary steps will keep your social media plan effective and sustainable.
1. Set measurable social media marketing goals
At the onset, decide EXACTLY what you're hoping to get out of social media.
What do you want to see from your social media presence in 6 months?
Here are some examples of common goals and objectives:
More conversions

Build connections with potential customers

Establish industry authority

Raise brand awareness
Knowing how to set worthwhile social media goals is important!
Everything else you do will be working toward the goals you set.
A key component of setting social media goals is making sure that they're measurable.
For example, "I want more DMs" is a measurable goal.
If you receive 50 DMs instead of 30, you succeeded.
On the other hand, "I'd like people to enjoy visiting my page more" isn't a goal that's easy to measure.
2. Study your competition
Of course, you want to outperform your competition!
That doesn't mean you can't learn from them.
Figure out your social media weaknesses and identify your competitors' strengths.
Then ask yourself these questions about your competition:
What kind of content do they post?

When do they post?

How much engagement do they get?

Who is their primary audience?
Understanding your competition's strategy will help you differentiate from them.
3. Audit your social media channels
Don't panic!
We're not talking about getting called by the IRS.
We're mean evaluating your current social media presence (and making adjustments).
A thorough social media audit entails the following:
Evaluating which social media channels you're already on

Assessing whether that social media channel is accomplishing its purpose

Determining which you should keep and which you should abandon

Deciding which (if any) you should add
But how do you decide which channels to keep and which to ditch?
Start by asking these 3 questions: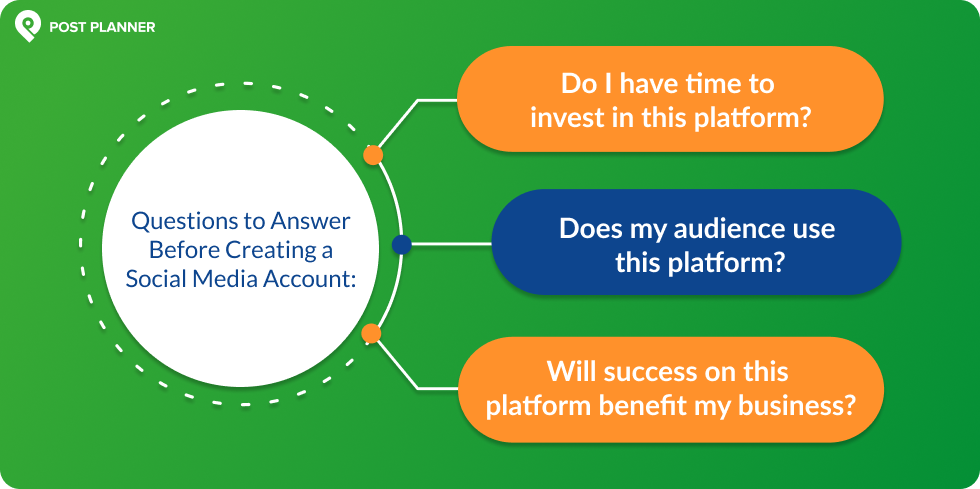 Is my audience on a given channel?
If your target audience is 65+ year-olds, don't focus all your effort on Twitter.
Why?
That age group doesn't use Twitter much.
If your target audience is US teens, Youtube and Instagram are excellent choices.
Those platforms are INCREDIBLY popular with that demographic.
Research your market online and by examining your competitors' pages.
Do I have time to invest in this channel?
Stagnant social media leaves a bad impression of your brand.
The easiest way to avoid this problem?
Don't take on more social platforms than you can handle!
Honestly assess how much time you can spend planning social media content.
Then, focus on the channels that are the MOST likely to give you a return on your time.
Can I tie success on this channel back to actual business objectives?
Social media can support several business objectives.
The key is to understand how to choose efforts that benefit your business.
In other words, some social media "wins" don't contribute to your business's success.
For example, Pinterest might get your website a lot of traffic, but LinkedIn might bring in the highest amount of qualified leads.
Evaluate each social channel and determine the ones with the highest and lowest ROI.
Focus on the high ROI channels and less on the low ROI ones.
4. Begin keyword research
Certain mistakes nearly guarantee that a website won't succeed.
Failing to research keywords is one of those mistakes.
Without the right keywords, your pages won't attract much organic traffic.
Using a tool like Mangools or Ahrefs can help you target the right keywords.
You can also identify the keywords your competitors are targeting.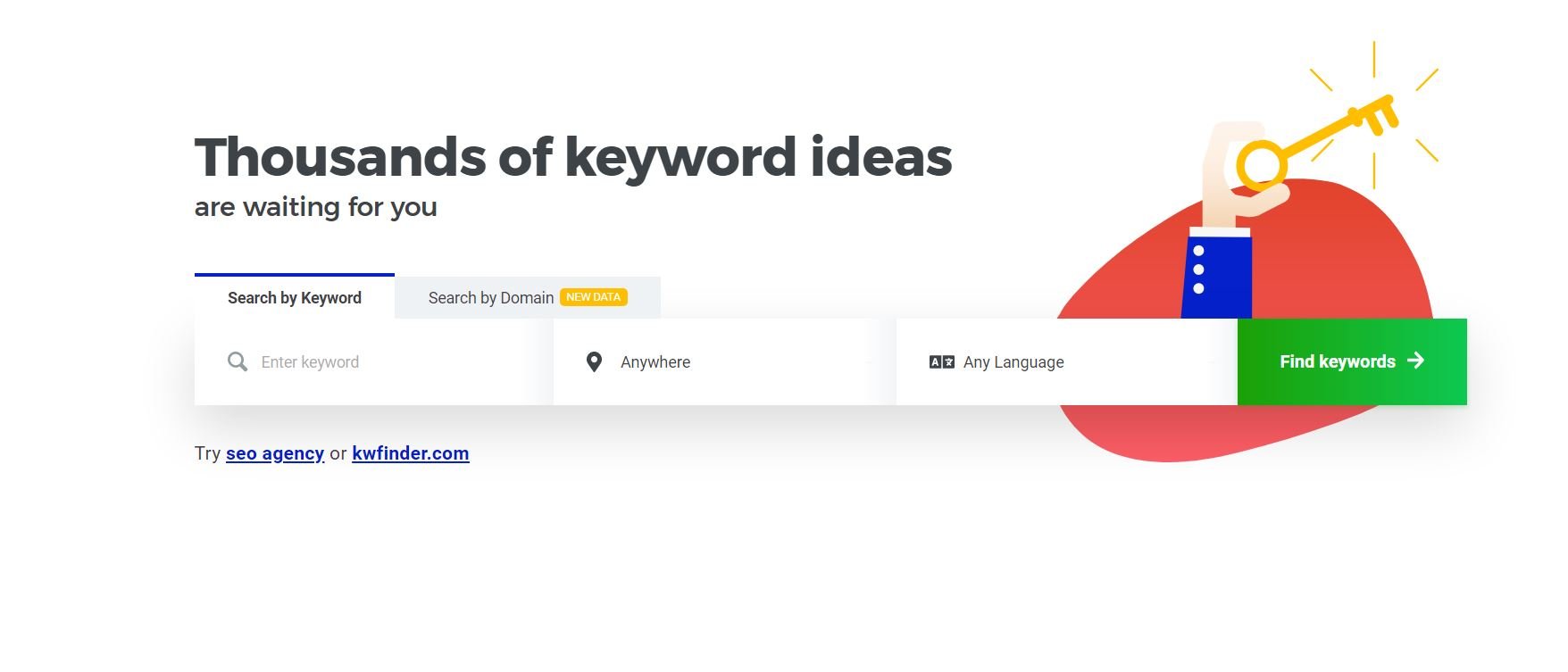 Using 2 or 3 keywords that directly apply to your business should be enough.
That will help your rank while keeping you from getting tagged as a bot.
5. Optimize your social channels
Optimize your pages by fully completing your profiles.
These steps are easily (and frequently) overlooked:
Are your bio sections filled out?

Have you included links back to your site?

Are attractive cover photos and profile pictures in place?
This is simple stuff worth checking on before proceeding.
Damaging oversights can be fixed quickly.
As you complete your profile, place your target keywords in your bios and descriptions.
6. Develop a plan for creating visual content
Social media specialists aren't always skilled designers or videographers.
And if you're working with a small team (or solo)...
You might be struggling to create the visual content your social media plan requires.
Here are some of the common problems you may run into when creating visual content:
Difficulties shooting videos
Making videos can be daunting.
Ever want to make something look PERFECT, then end up not making anything at all?
Here's what you should do instead:
Shoot video with your phone!
You probably won't win any Oscars.
But most smartphones can shoot video that works well for social media marketing!
Present an engaging message in a clever way.
Then, people won't care if you didn't use a studio-quality camera.
No designer on the team
You don't have to be a pro designer to make AWESOME video content.
Graphic design tools like Canva and Info.gram make it simple (and fun)!
These options are PERFECT for non-designers needing to create visuals quickly.
Post Planner's Canva integration makes it EASY to create pictures for your social media content plan.
You don't even have to leave the app to do it!

Need a more powerful image editor, but can't afford Photoshop?
Try GIMP!
It's a FREE, open-source image editor that does it ALL.
Just be ready to spend some time learning the software.
You might feel like you need a whole team dedicated to visual content.
But fancier isn't always better.
So don't waste time worrying about making the PERFECT image.
Use these simple tools, post, and then move on!
7. Build a simple social media content strategy
Do you struggle to find content you can share on social media?
Save time and use what you've already created!
Consider repurposing this type of content:
Blog posts

Landing pages

Website pages

News announcements

Videos

Photos

Customer Testimonials
8 tips to create a successful Social Media Content Plan
Tips #1. Don't (only) talk about yourself
Want to lose friends fast?
Easy.
Talk about yourself all the time!
The same principle is true for brands.
No one wants to follow an account that ONLY shares its own content.
We're talking about SOCIAL media here, after all.
Avoid this trap by building content curation into your plan:
Put together a list of 2 dozen blogs and news sources related to your industry (or create a content stream on Post Planner).

Mix curated content into your content calendar.

Follow the 5:3:2 rule for social media. Out of every 10 posts, 5 should be curated from other sources, 3 should be your own created content, and 2 should be fun messages.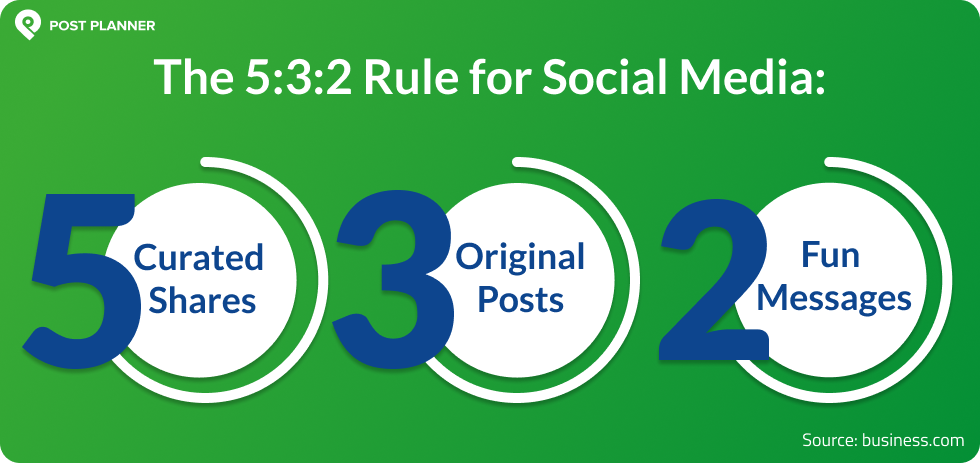 Tip #2. Think about native social video
Video is WILDLY popular on social media.
YouTube alone has over 2 BILLION users.
Video is also quickly growing on Facebook — especially for marketers.
Even Twitter allows you to shoot video (up to 30 seconds long) within its mobile app on iOS and Android.
These platforms boost users who upload video directly onto their pages (rather than sharing an external link).
Tip #3. Establish your posting schedule
Everyone wants to know the best times to publish on social media.
The answer?
It depends.
Different studies show varying results.
Most importantly, it depends on YOUR target audience.
We recommend tackling this issue with a 2-pronged approach:
Use data from industry studies as a starting point

Use your social media account data to draw your own conclusions
Tip #4. Find the best time to post on Facebook
Here's how you can figure out the best time to post on your Facebook page:
Visit your Facebook page.

Then, click into Insights and find the Posts tab in the left-hand navigation.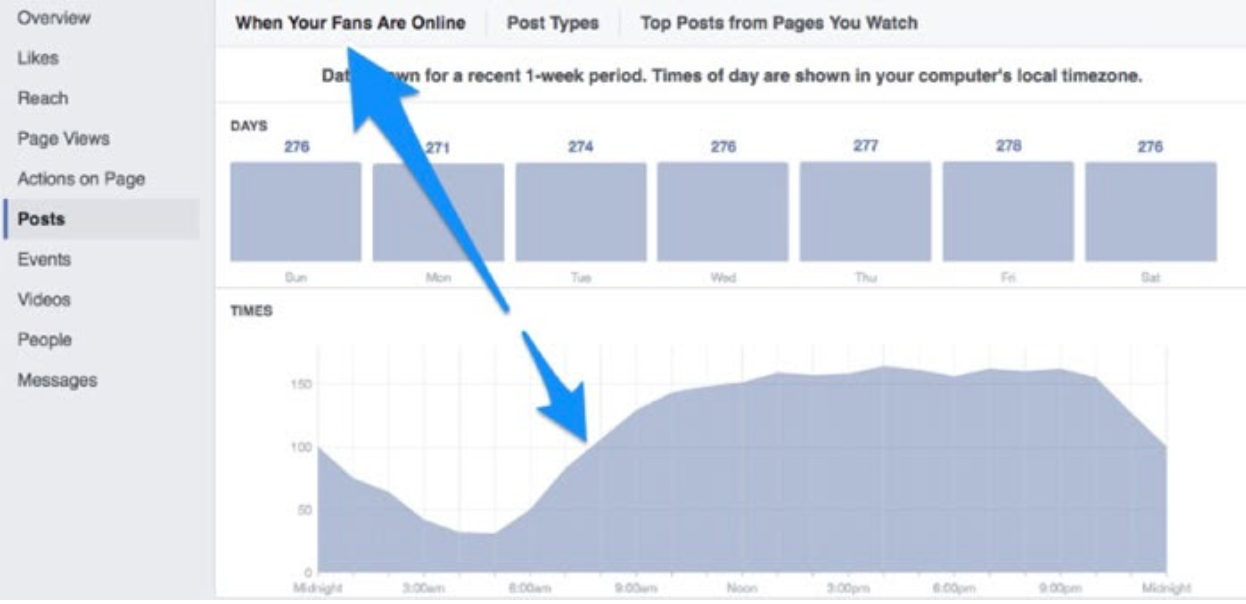 That data tells you when your fans engaged most with your posts.
To gain deeper insights, click the Post Types tab.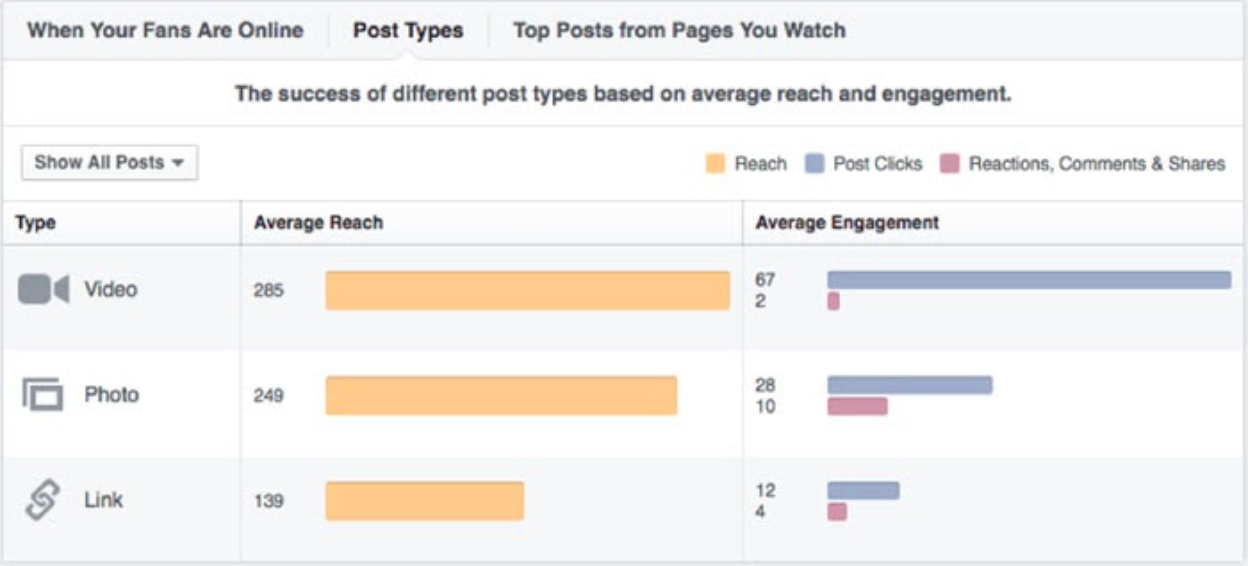 This will show you how much reach engagement you received on videos, photos, and link posts.
You can also keep track of your engagement in your Post Planner dashboard.
Tip #5. Find the best times to post on Twitter, Instagram, LinkedIn and Pinterest
Your Twitter followers may be on a different schedule than your Facebook fans.
You can track your Tweets' engagement using Post Planner.
A/B test the best time to Tweet for YOUR audience by scheduling Tweets at various times.
Track your results!
Then do the same for the other BIG 3 networks: Instagram, LinkedIn and Pinterest.
Tip #6. Find the best frequency for posting on each network
In addition to knowing when to post, you should also know how OFTEN to post.
Here's how:
Log into each network and find the Analytics tab.

Compare the number of posts to the number of impressions you see each day.

Take note of what appears to perform best.

Adjust your posting frequency accordingly.
There isn't an exact answer to when or how often to post.
Experiment until you find what works for YOU!
Tip #7. Build your social media calendar
If you work on a team, it's essential to keep everyone on the same page.
Everyone involved in content planning should have easy access to the content calendar.
Post Planner is a fantastic tool for keeping everyone in the loop. Using the content calendar feature helps you:
Save time by planning.

Maintain a consistent flow of content across your social media accounts.

Ensure that social media messages are appropriately timed throughout each day

.

Keep your team updated and in sync.
Tip #8. Establish which metrics you'll monitor for success
Your goals need to be measurable.
But knowing which metrics to monitor is KEY to understanding how well you're doing.
In order to get a data-driven look at your social media progress, look at these 4 areas.
Follower growth
The more followers, the better.
Pay attention to the following:
Your total number of followers

How quickly you're gaining followers

If interactions are increasing along with follower growth
If your follower base isn't growing how you'd like, try these 6 tactics:
CURATE — Share valuable content and show you're a reliable source for quality info.

ENGAGE — Put yourself out there and reply to comments or join discussions!

CTA — Include social media follow and share buttons on your blog and website.

BE CONSISTENT — Stagnant social accounts repel new followers.

TRY GROUPS — Join or start a group and focus on building an engaging community.

OFFER VALUE — Social media will not hide a lack of quality products and services.
Referral traffic
Referral traffic is normally the end goal of a social media plan.
Before you can create conversions, you typically need to drive traffic back to your site.
The easiest way to measure referral traffic from your social media pages is through Google Analytics.
It's easy to do:
Log into your account

Click Acquisition

Choose Social

Then click Network Referrals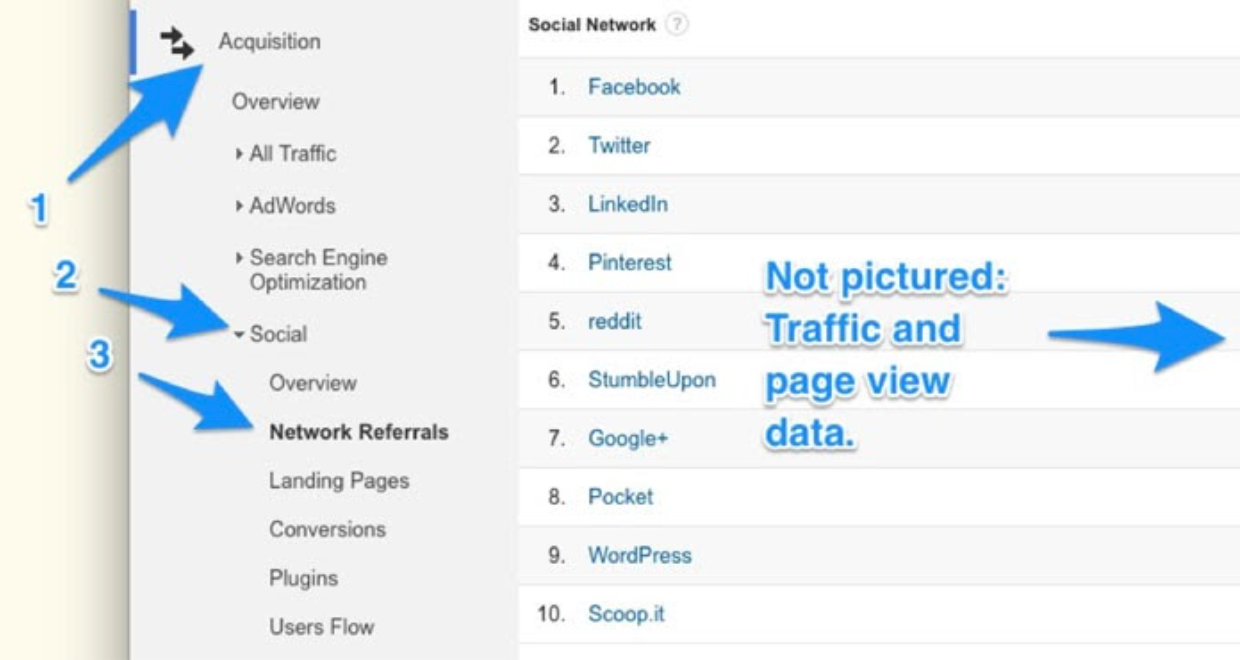 Conversions
Driving conversions from social media traffic isn't necessarily easy.
But you can do hard things!
Try these strategies to drive conversions:
Run a contest on social linking to a dedicated landing page to capture entries.
Write social media copy that teases a benefit for clicking your link.
Make clever use of Facebook's cover photo CTA buttons.
Run ads and promote posts to promote traffic and conversions.
Engagement
Social media offers opportunities EVERY day to make connections with your audience.
The direct monetary value of all those likes, comments, and shares can sometimes be challenging to measure.
But they DO show positive sentiment toward your company.
Plus, they create a positive feedback loop.
In other words, the more engagement you get, the MORE engagement you get.
That positively reinforces your brand, and that's ALWAYS a win.
How to use Post Planner to automate your social media plan
Create a social media plan more efficiently by using Post Planner!
Here's how.
Step 1. Create a posting calendar
Post Planner makes it easy to decide when you're going to post.
Figure out your ideal posting times for each type of content.
Then you can create posting slots for that type.
Posting slots are customizable by day, time, and content type.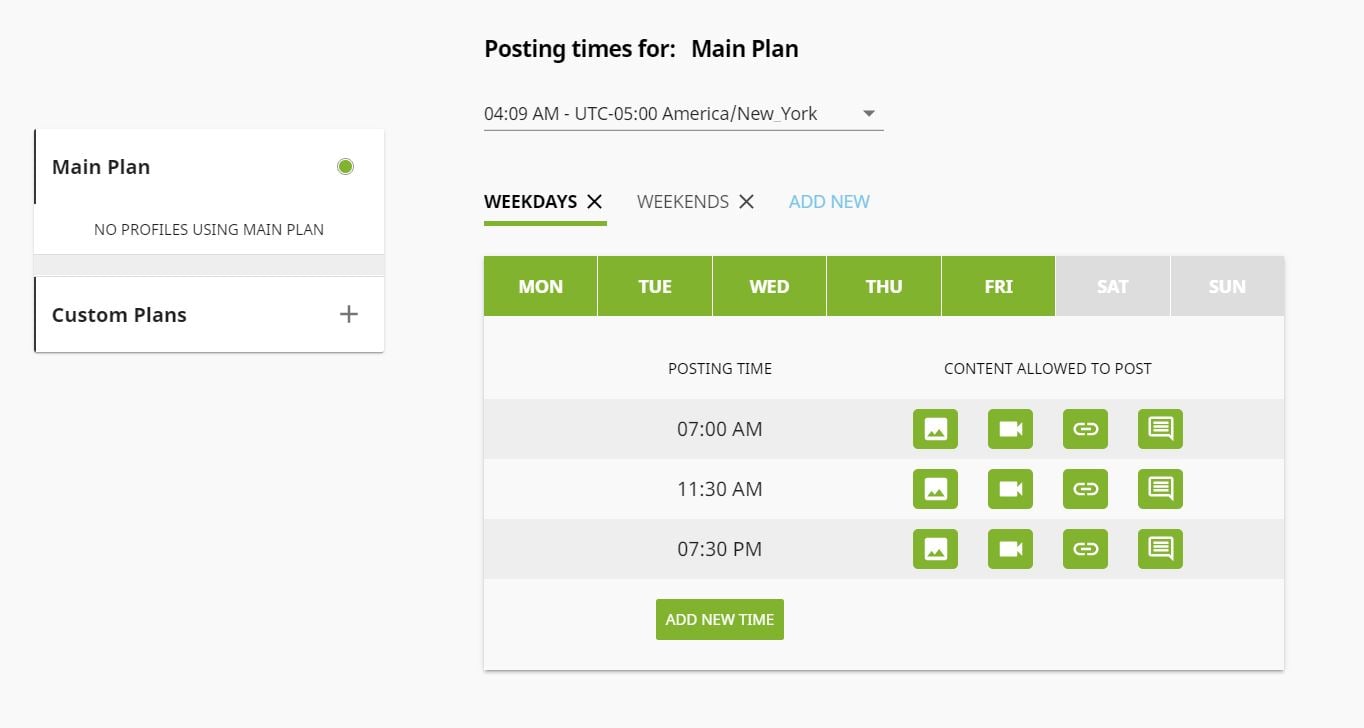 Your calendar will automatically update to reflect your posting slots as you create them.
Your calendar will also populate with your scheduled content.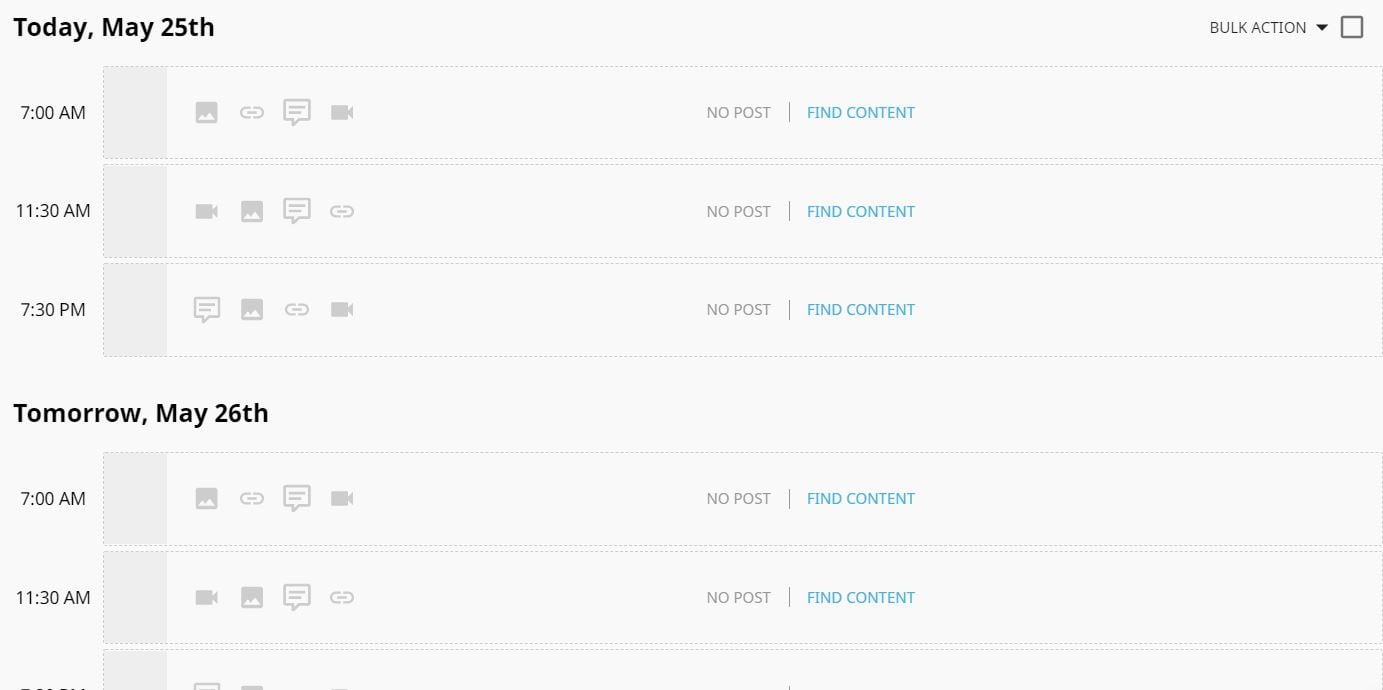 Step 2. Find curated content
Post Planner's content stream is an INCREDIBLE time saver.
Post Planner will find THOUSANDS of content pieces for you across categories.
The content stream captures every media type, including:
Videos

Images

Articles

Gifs
Find a creator you really like?
Set up a stream of content so you can constantly access what they're creating!

Step 3. Schedule content
When you find something you want to post on your social media, just click "Create Post."

On the next screen, you can write a comment about the content you're posting.
Then, click "Add to Plan."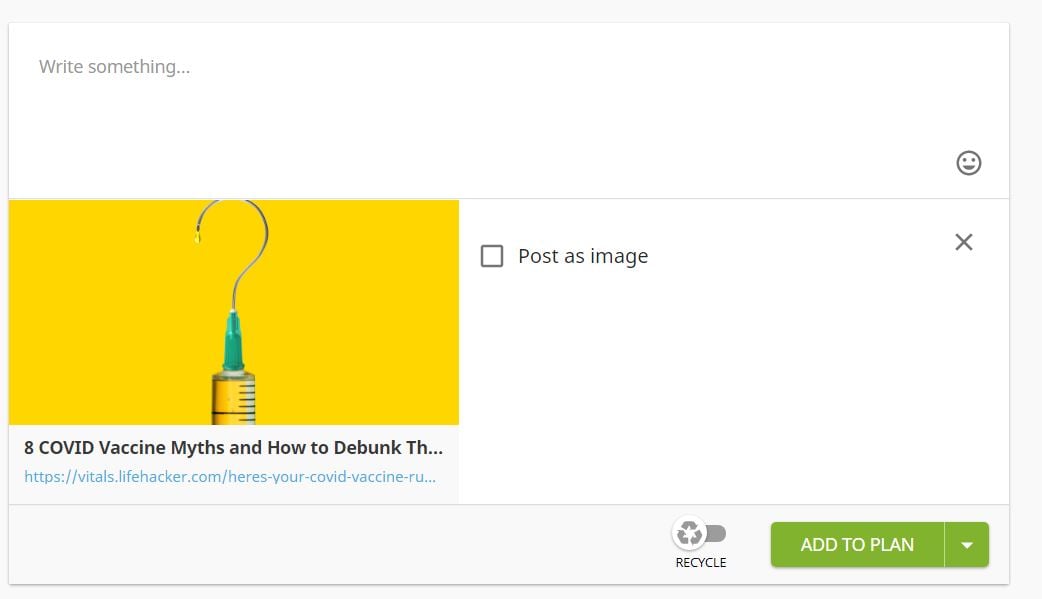 Step 4. Recycle evergreen content
Part of creating a sustainable content plan is recycling evergreen content.
Post Planner makes content recycling extremely easy.
All you have to do is click "Recycle" before you post something.
It will save the content to post again later.
You can even set it up to repeat at regular intervals.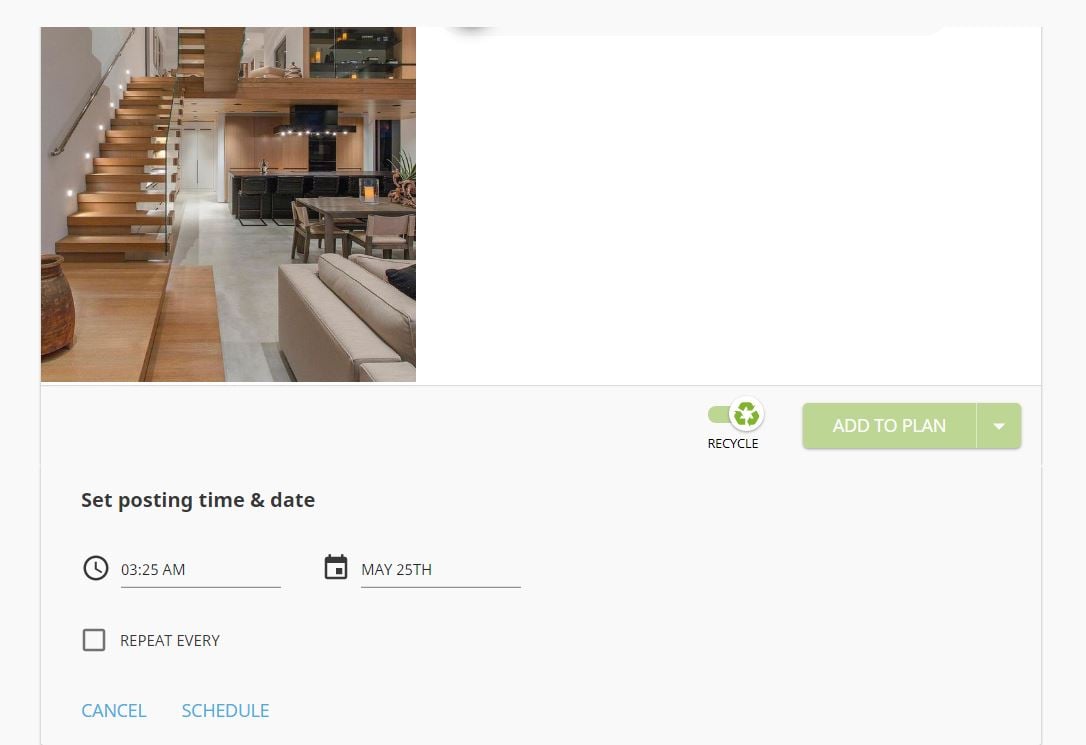 For example, if you have a repeating monthly event, you could set the content to repeat on the first of each month.
You can make tweaks before it posts each month when necessary.
Step 5. Evaluate your posts' success
We've emphasized the importance of metrics in this post.
Post Planner makes data analysis straightforward.
After you post content, you can measure how successful it was by looking at likes, comments, and shares.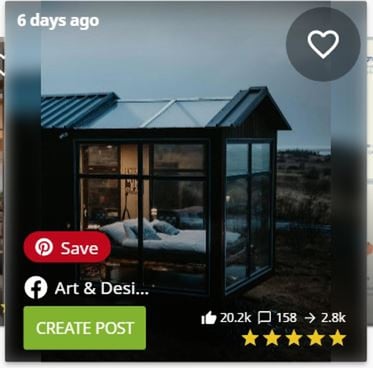 Study the content that got the most engagement.
Then you can fine-tune your social media content plan to keep the engagement going.
Wash, rinse, repeat Just repeat the 5 steps above for your whole calendar.
It's that easy!
You can easily get a couple of weeks of content scheduled for all of your social media accounts in less than an hour.
Using Post Planner's content finder and scheduling features makes your content plan easy, sustainable, and productive.
Conclusion
The tips offered in this post will help you create a social media plan that WORKS for you!
Remember, social media success doesn't happen overnight.
But the long-term benefits for your business are well worth the time spent!
Are you ready to rock on social media? Sign up for a Post Planner account today!