Want to get better marketing results from LinkedIn?
YES? You need to do 2 things:
Consistently publish a steady stream of high-quality content.

Consistently engage and virtually network with your audience.
Notice the common theme? It's CONSISTENCY.
This is true whether you're a business owner, content marketer, recruiter, networker, sales professional, or job seeker.
In this post, we'll look at 9 of the best LinkedIn tools to help you do everything from responding to messages to automating your posting schedule.
These tools will CONSISTENTLY save you time, improve your content, and improve your engagement.
Let's get started!
9 Best LinkedIn tools to help you profit from your profile
This guide is about 4,000 words long! So feel free to skip to the part you're most interested in:

What is a LinkedIn tool?
A LinkedIn tool is a software or feature that helps you optimize your presence and activities on LinkedIn.
In other words, LinkedIn tools give you capabilities that you can use to increase your effectiveness on LinkedIn.
Most people use LinkedIn tools to save time, improve their content, and expand their reach.
Some of the more popular LinkedIn tools are:
Automation tools

Scheduling apps

Analytics dashboards

Design tools
With these powerful tools at your disposal, it's MUCH easier to use LinkedIn to get ahead in your market.
What you should look for in a LinkedIn tool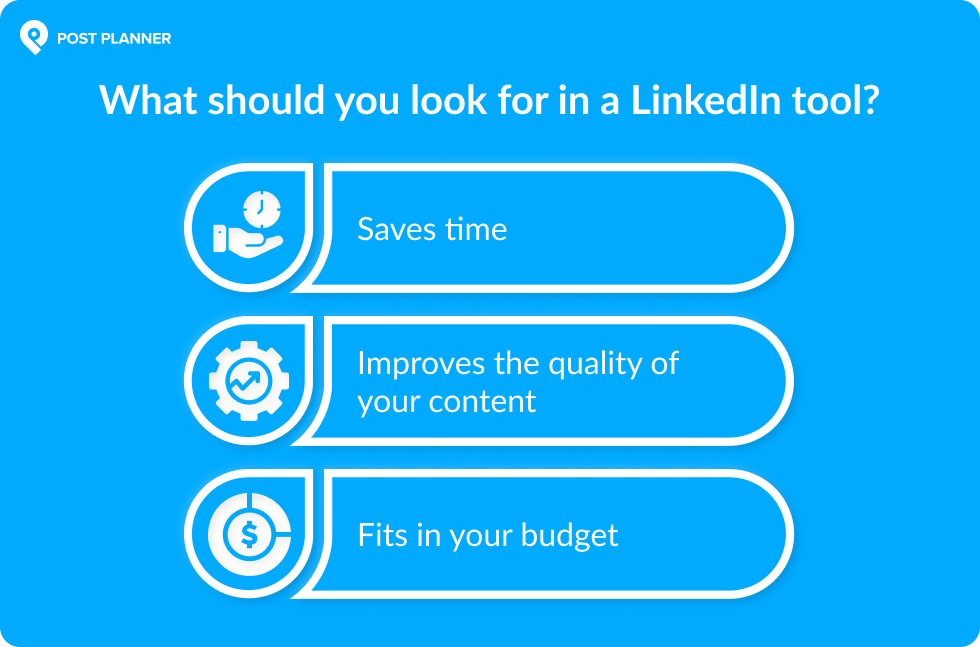 Before you even think about investing time and money into a tool, you should think about what features align with your NEEDS.
This might include:
Customization abilities to match your business

Features to better engage with your audience

Features that help you create better content

Features to create better designs
In addition to YOUR specific needs, there are some specifics you should ALWAYS look for in a LinkedIn tool.
Let's look at 3 significant concerns when looking for a LinkedIn tool.
Does it save me time?
The best LinkedIn tools are designed to save you time, streamline your workflow, and make your professional life more manageable.
Because the more time your SAVE, the more time you have to focus on other crucial areas of your business.
In other words, time is money. So if you try a tool and it doesn't save you time, then the ROI (return on investment) probably isn't worth it.
Does it improve the quality of my content?
Consistency is key to succeeding on LinkedIn.
But if you're not consistently posting QUALITY content, your efforts will be for nothing.
So look for tools that will help you create better content.
What does "better content" even mean?
It means:
Does your content align with what your audience wants?
Is your content (written & visual) designed to be easily consumed?
Does your content have an aesthetic that matches your brand's goals?
Tools can help you accomplish this by:
Helping you curate better content

Giving you ideas for content

Helping you research high-quality content so you can imitate it
The bottom line is your LinkedIn tools should help you create content that attracts, interests, and engages your target audience.
Does it fit my budget?
There's a good chance if you're reading this — you're operating on a budget.
There are tools loaded with features (that you may never even need) that cost THOUSANDS of dollars per month.
You (probably) don't need to be spending that much on LinkedIn tools.
Here's the good news: There are plenty of low-cost or even free options on our list that provide TONS of value.
So take a look below and see what fits your budget!
Best tool for content discovery and scheduling: Post Planner
Looking for a LinkedIn post scheduler that'll help you streamline your content strategy?
Look no further than Post Planner!
Post Planner's Content Streams make it a breeze to curate engaging content from all around the web.
Which you can then schedule, put in a queue, and be recycled for MORE engagement in the future!
Post Planner will save you hours each week with its intuitive interface that's easy to learn and use.
Pros
Very budget friendly

Easy content curation saves tons of time

Design posts without needing a separate tool

Advanced content scheduling and planning features
Cons
Lack of deep analytics

No messaging features
Features
Post Planner is an invaluable tool for any social media marketer. It offers several features that can help streamline the process of content curation.
Content Streams can be found or created easily, allowing you to see posts from the best sources on the web automatically.
Post Planner can help you find the best possible content for your brand.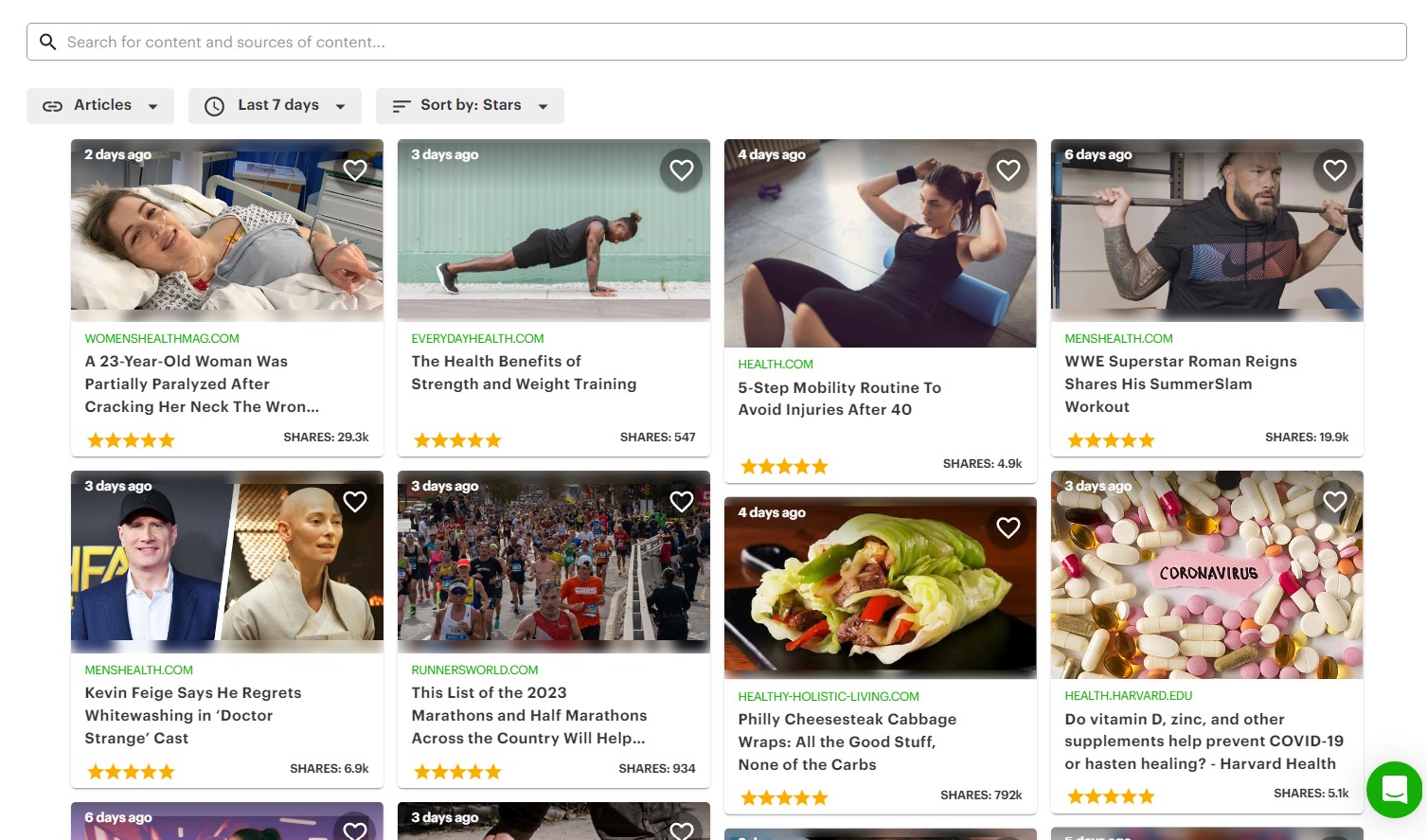 Additionally, scheduling posts to publish automatically allows you to strategically plan updates across different social networks, creating a cross-platform presence.
If desired, this will enable you to unify your LinkedIn content with other social channels.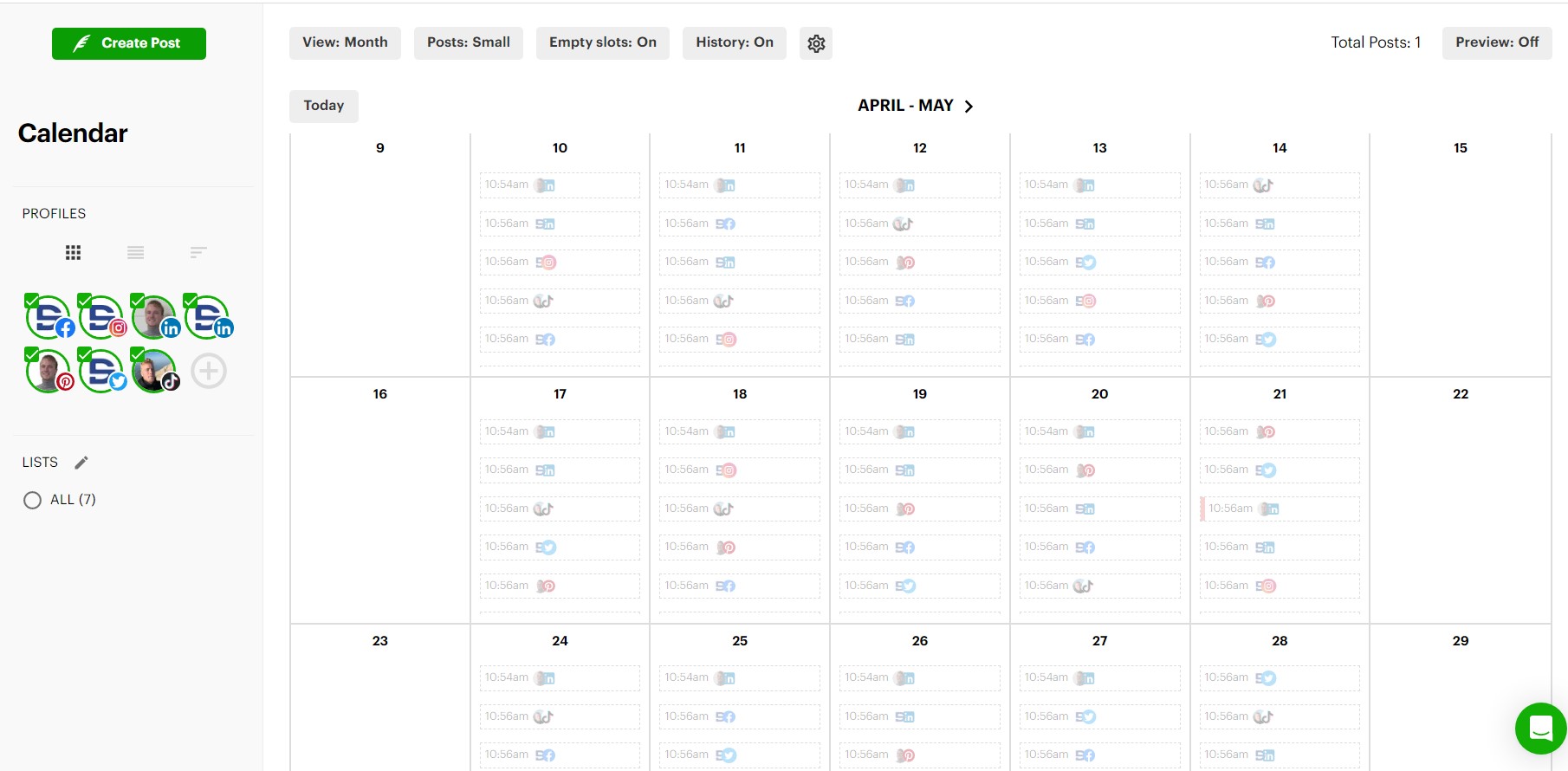 Using Content Streams and the content calendar tools together can help you schedule weeks' content in just a few minutes!
Reviews
Post Planner has received glowing reviews from satisfied customers, who praise the platform for saving them precious time.
Additionally, users have commended the excellent customer support and intuitive interface.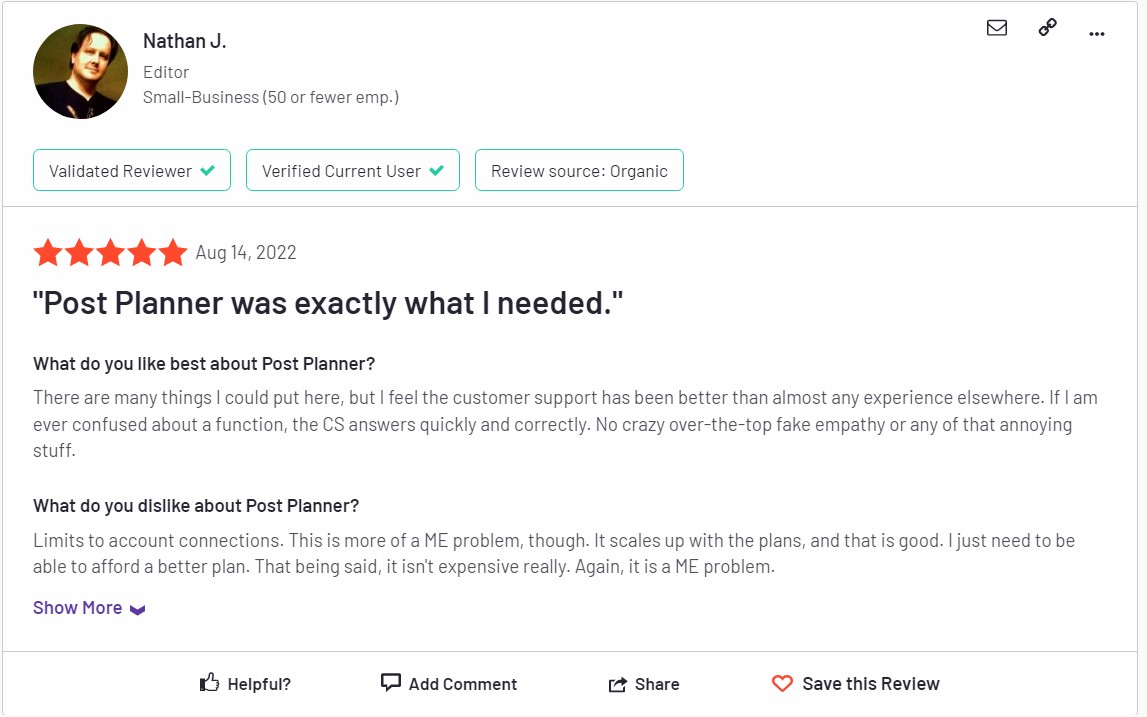 However, some have noted a slight learning curve for beginners and minor issues with the UI. Despite these criticisms, Post Planner remains a top choice for those seeking a powerful and efficient social media management tool.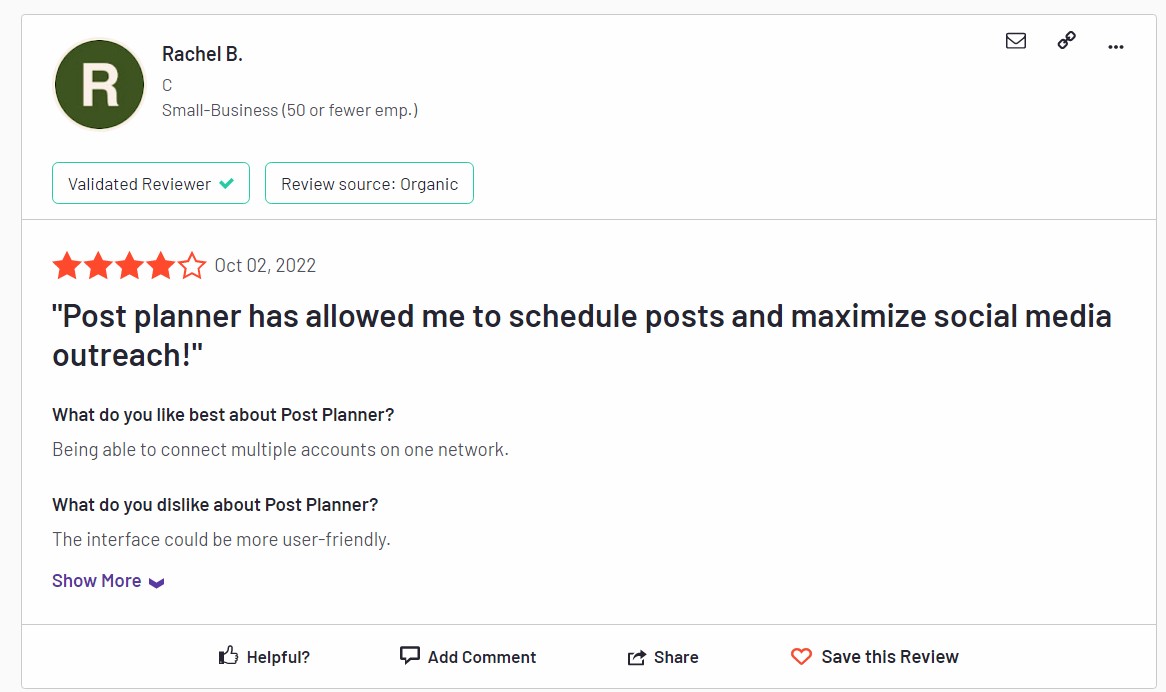 Pricing
For as low as $3 a month, you can schedule your content and curate posts from around the web for one social media channel.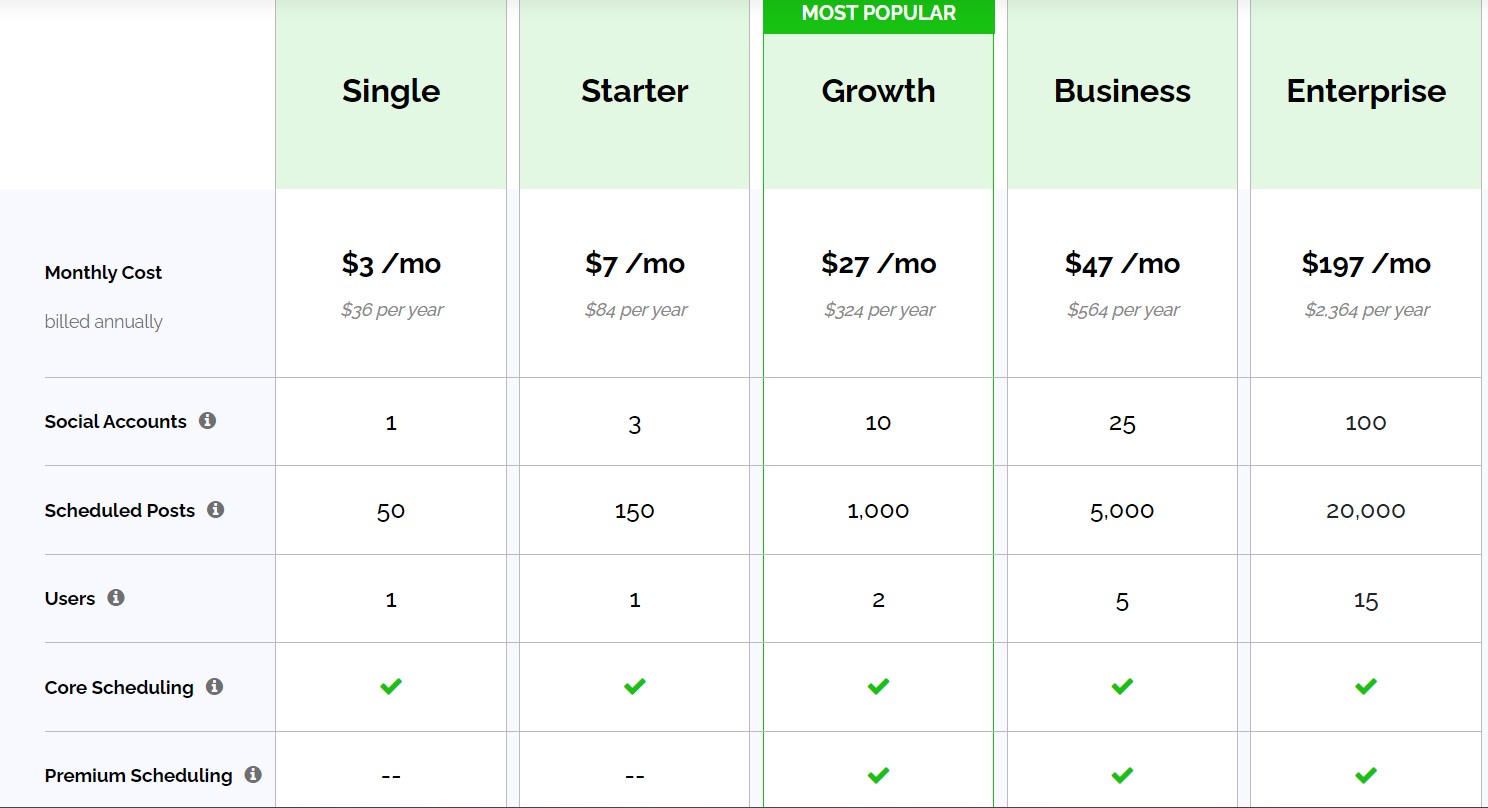 However, if you want to take your social media game to the next level, you'll want to upgrade to the $27/month plan. This includes 10 social accounts and up to 1,000 scheduled posts per month!
Best LinkedIn CRM: LeadDelta
As LinkedIn has grown and developed, it's moved from just a networking platform. Many businesses now use LinkedIn to interact with their leads, prospects, and customers as well.
If you're looking for a customer relationship management (CRM) tool for LinkedIn, LeadDelta should be near the top of your list.
LeadDelta isn't just a place to manage your customer relationships — you can manage your entire LinkedIn network from one dashboard.
Pros
Easily manage and organize your growing LinkedIn network

Bulk actions without needing to open LinkedIn

Robust tools to help you manage contacts and relationships more efficiently

Use a Chrome Extension to manage contacts directly from

LinkedIn

They stay away from enabling automation that can get you banned
Cons
LeadDelta shines most with contact management, so we recommend pairing it with content tools like Post Planner

It's not the cheapest tool for beginners, but it beats managing your LinkedIn contacts in a spreadsheet.
The core of LeadDelta is the Network Manager, which allows you to manage all your LinkedIn connections from a single, simple dashboard.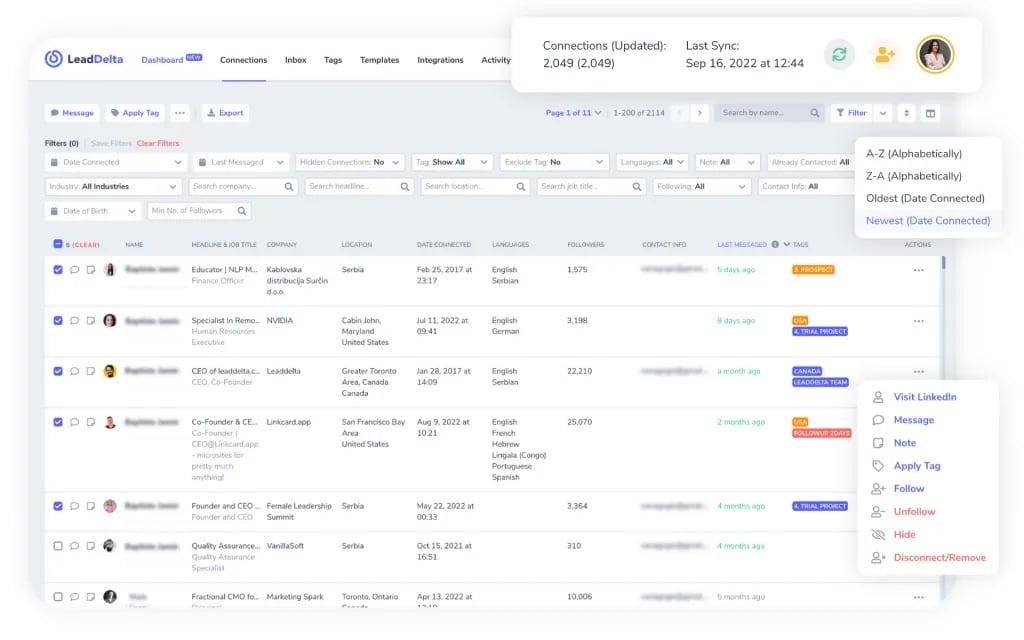 Managing your contacts with LeadDelta gives you more control over interacting with them. You can:
Add tags to group contacts together

Bulk follow/unfollow

Message directly from LeadDelta

Filter contacts
LeadDelta also allows you to manage your LinkedIn conversations using a more robust messaging platform.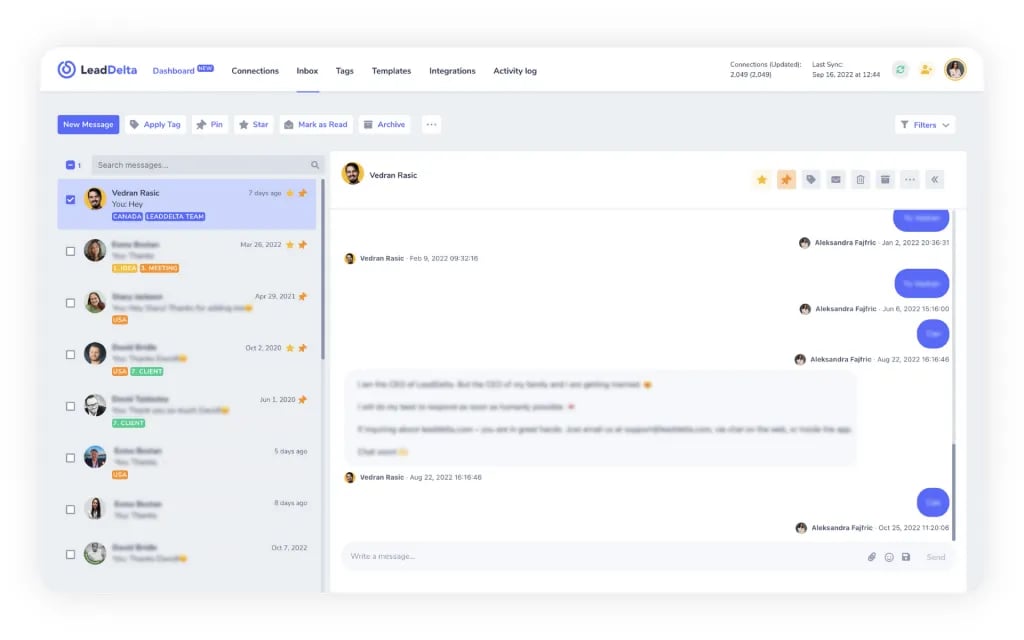 You can pin, star, tag, and filter messages using the Smart Inbox for easier management.
Reviews
LeadDelta gets positive reviews, with many commenting on how much it adds to their LinkedIn toolkit. Some of the most frequent positive comments are about the messaging system and the ability to sort connections into easy-to-manage groups.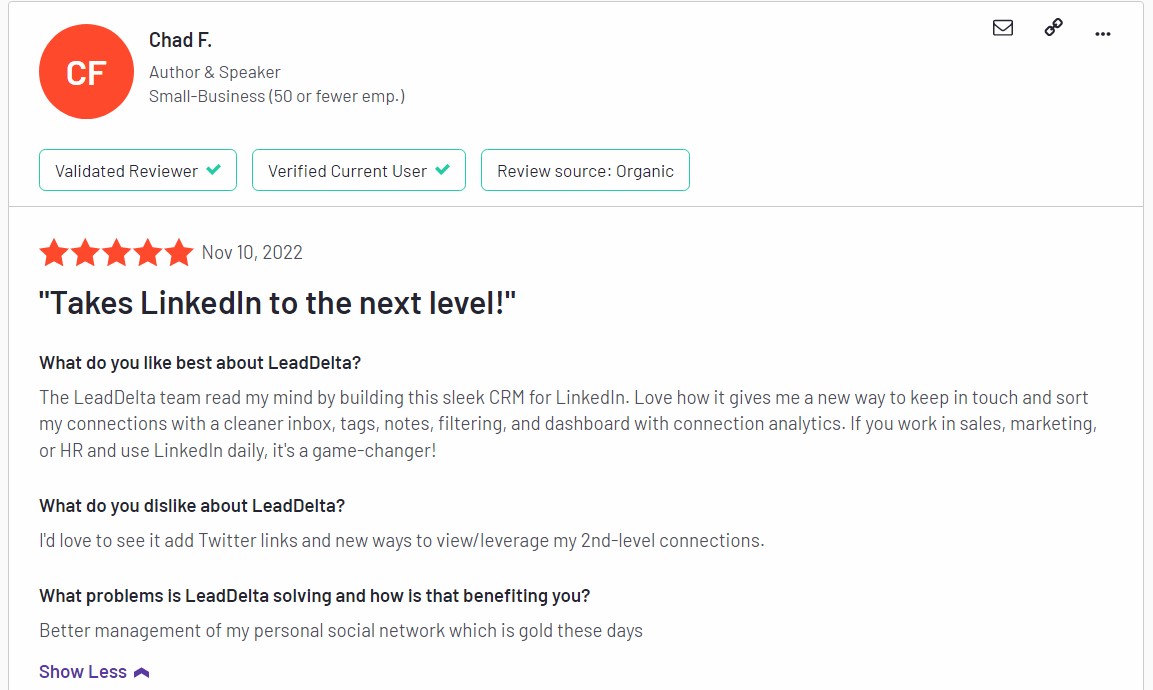 While few, there are some negative reviews. Most of these mention a missing feature that those users would like to see. However, even the reviews with negative comments still highly recommend LeadDelta.
Pricing
LeadDelta starts at $22/month paid annually or $34/month paid monthly. They also offer a 10-day free trial with no credit card required, so you can decide if it's the tool for your business.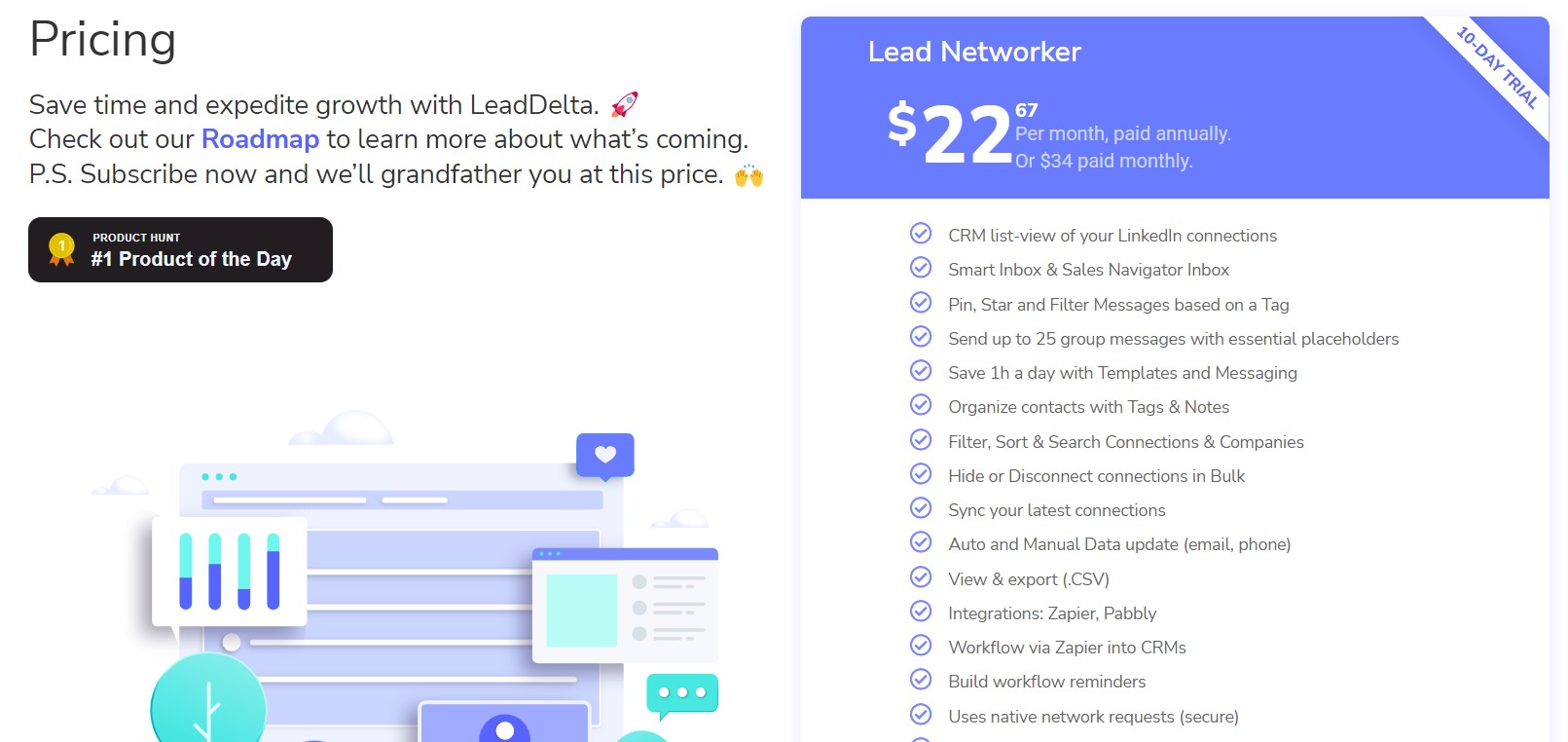 This plan includes ALL of LeadDelta's tools, so you don't have to upgrade if you want access to their best features.
Best LinkedIn tool for post design: Canva
LinkedIn says adding images to LinkedIn page posts results in a 2x higher engagement rate.
That means you NEED to find a way to add high-quality images to your LinkedIn posts.
Canva is the go-to online graphic design app for millions of Linkedin users due to its ease of use and high-quality tools.
With Canva, you can quickly design custom graphics using a combination of templates and your own creativity.
Pros
The free plan includes a good set of features

Templates are easy to use and customize

A huge library of media is available

You can use Canva for all your content needs — it's not just for LinkedIn
Cons
You still need an eye for design if you customize anything (even though Canva makes it as easy as possible).

Many of the best designs are reserved for pro members

There are no branding features on the free account
Features
Canva offers simple templates that you can easily customize to create graphics for your next LinkedIn post.
Canva offers premium features and paid images, but there are enough free design elements for most people to keep their social media content fresh.
The main advantage of Canva is that it dramatically improves your ability to create great images to accompany your posts, enhancing your LinkedIn marketing capabilities.
It won't help you write or develop content, but it's full of ideas for creative visuals and other time-saving tools, including the following:
Collages

Automatic size formatting for different social channels

Stock photos

Color palette suggestions

Drag-and-drop design elements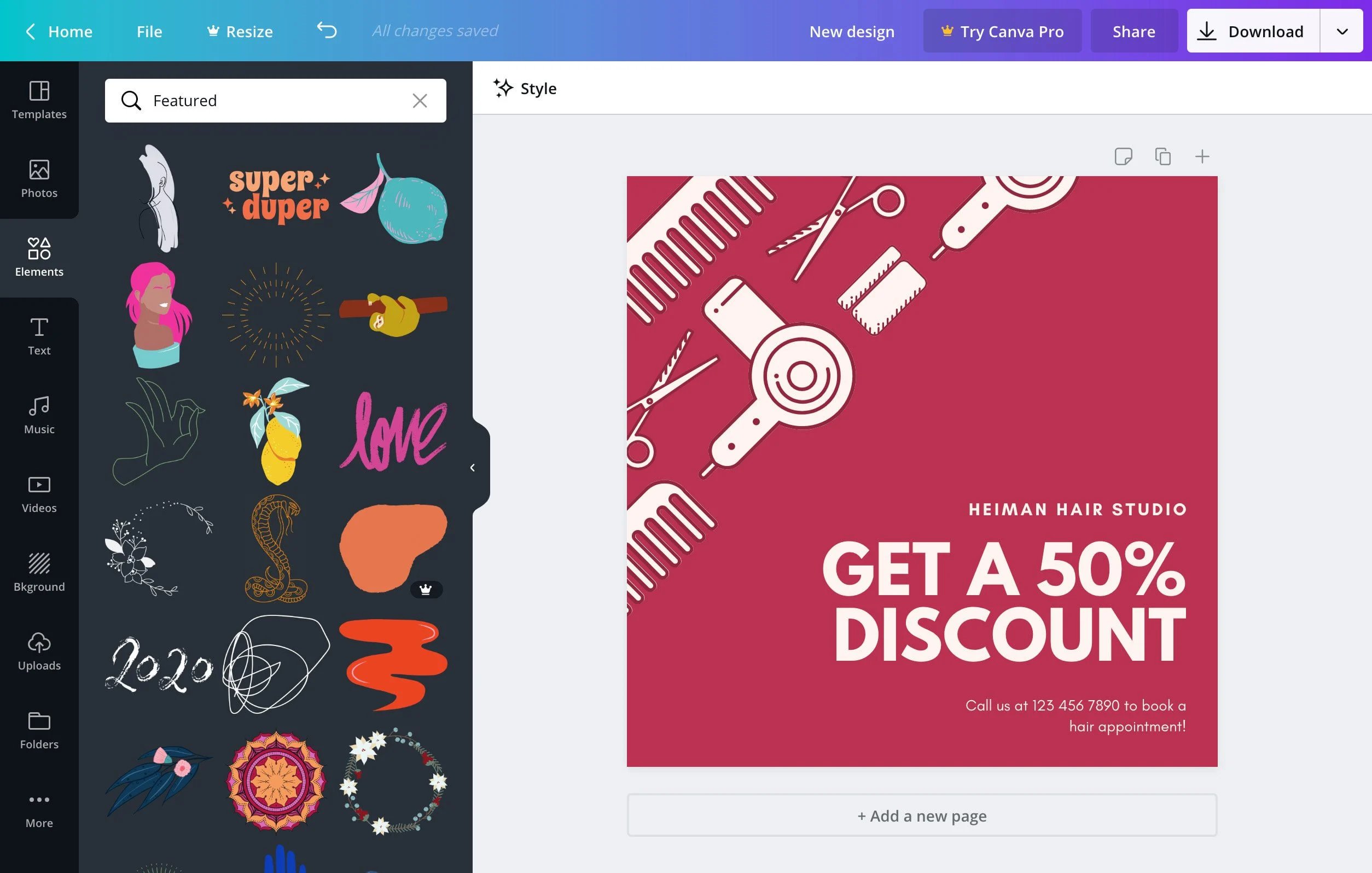 Canva is your one-stop shop for creating stunning visuals.
Reviews
Canva gets almost entirely positive reviews, and many of the positive comments remark on these aspects of the tool:
Ease of use

Wide variety of applications (flyers, posters, social posts, etc.)

Time-saving features like templates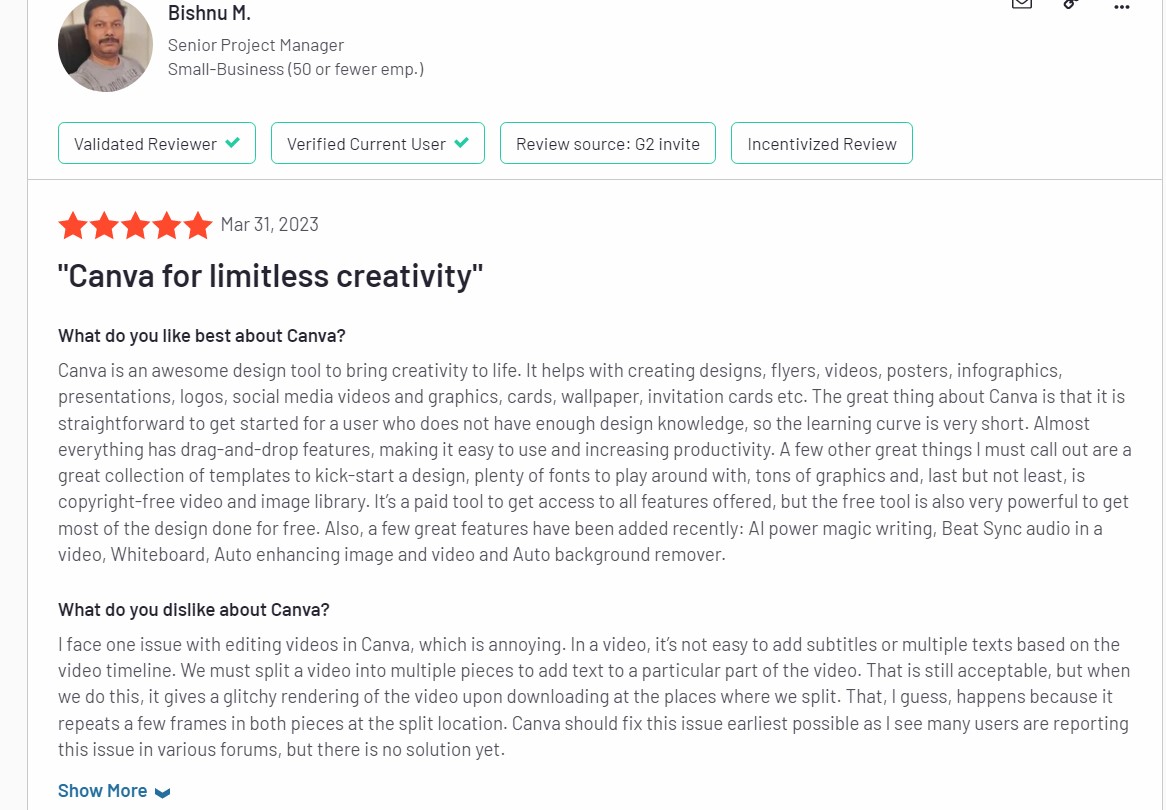 Negative comments generally revolve around Canva's limited video editing features or complaints about some of the better templates and images being reserved for the paid version.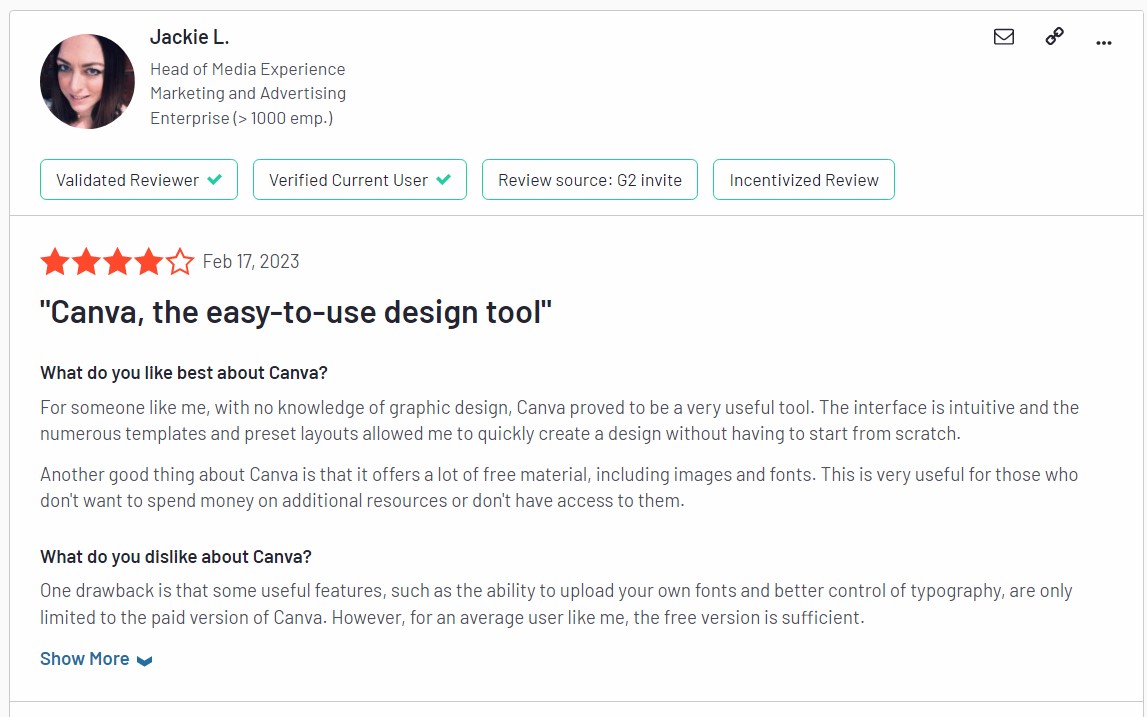 Pricing
As already mentioned, Canva offers a great free plan to satisfy many users' needs.
However, if you want full access to all the platform's content, you must upgrade to the paid plan for $119.99/year or $12.99/month.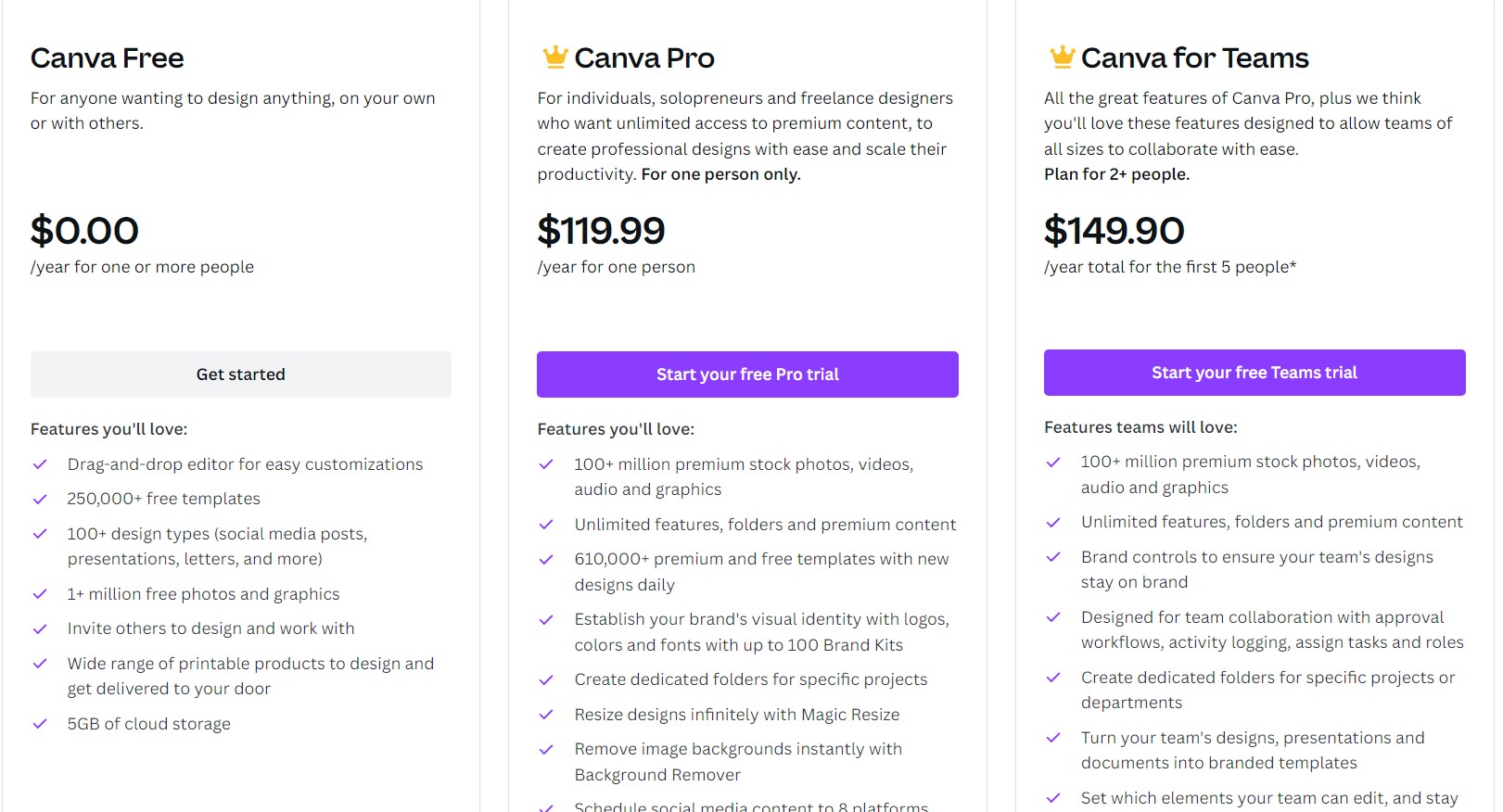 I recommend starting with the free version. If it doesn't have everything you need, you can upgrade. The chances are you can make do without the upgrade.
Best for content research: Buzzsumo
Buzzsumo is a tool that allows users to research every aspect of their content plan to make it as high-impact as possible.
It's also valuable for competitor research, social listening, and identifying influencers to partner with you.
In other words, it's a complete system for researching your content, then taking that research and using it to improve your social media content plan.
Pros
Access Buzzsumo's library of more than 5 billion articles

Quickly identify what LinkedIn content has worked best with audiences similar to yours

Analyze historical data to help you identify content trends

Find influencers to promote your brand

Social listening features help you learn what people are saying about your brand
Cons
Quite expensive (might be cost-restrictive for smaller businesses)

No content scheduling features, meaning you'll have to pay more money to add an additional tool to your repertoire

The cheapest plan doesn't include some key features
Features
One of the best features that all of Buzzsumo's plans include is the content ideas generator.
The content ideas generator accesses Buzzsumo's colossal content library to suggest content ideas for you, including:
Subheadings

Keywords

Engagement data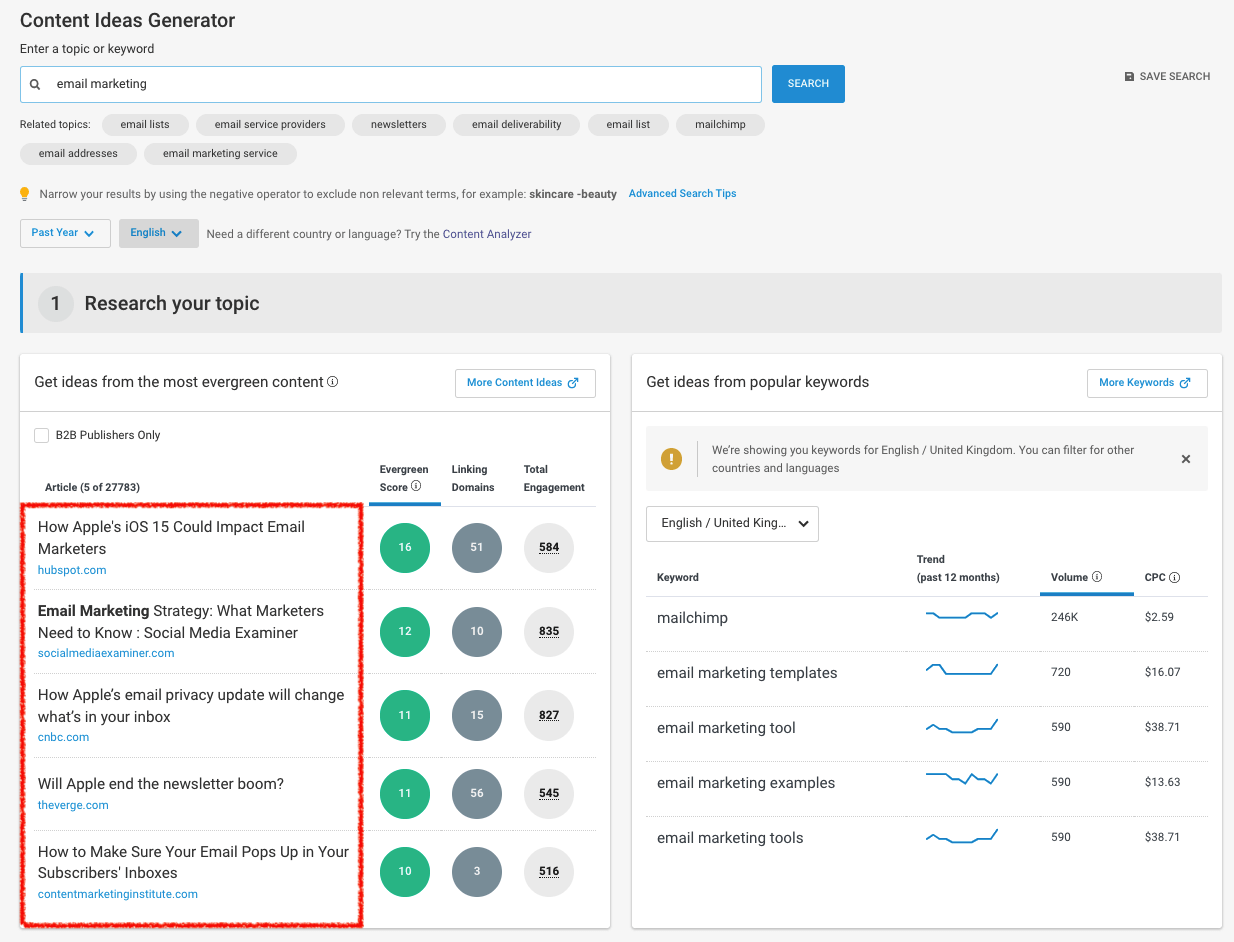 You can use this tool to breeze through the content creation ideation phase, saving you tons of time.
The higher-paying plans also include the content analyzer, which helps you understand precisely how well certain pieces of content perform.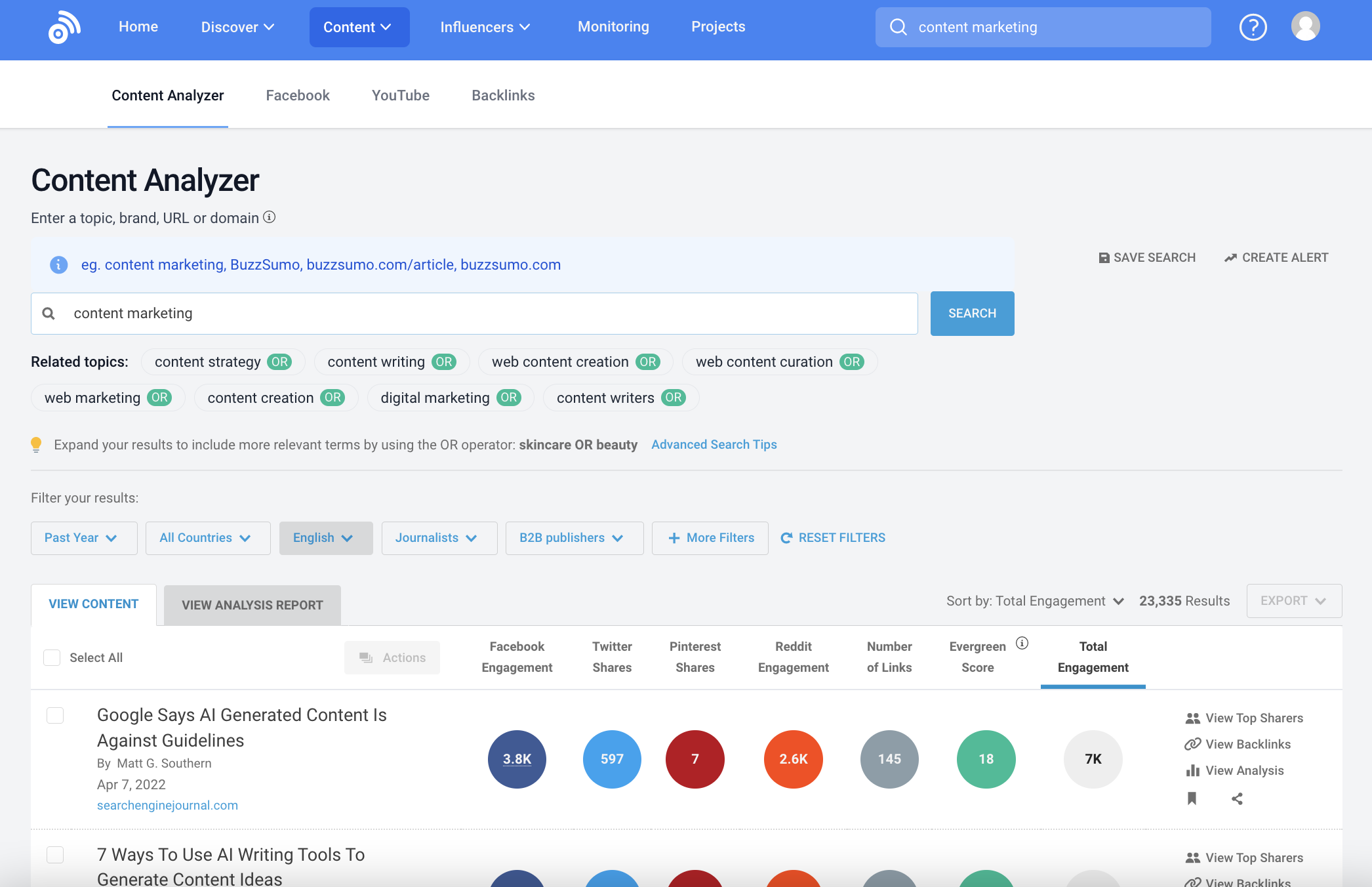 You can then take that information to help you write the best content possible for your audience.
Reviews
Buzzsumo gets excellent reviews. The most frequently mentioned features are the content suggestions generator and the content analyzer, which helped people save time and improve their content.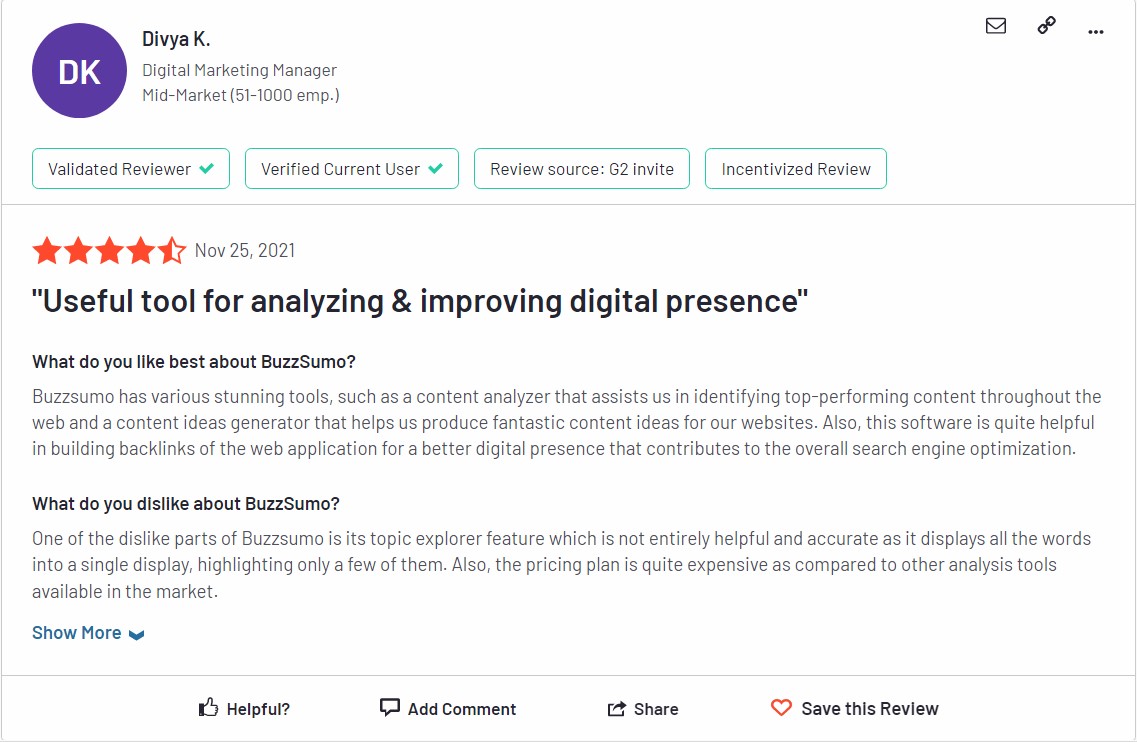 The negative comments typically mention the price or the UI. Some users report that the UI is too busy for their taste, with so many tools that it can be challenging to find exactly what you're looking for.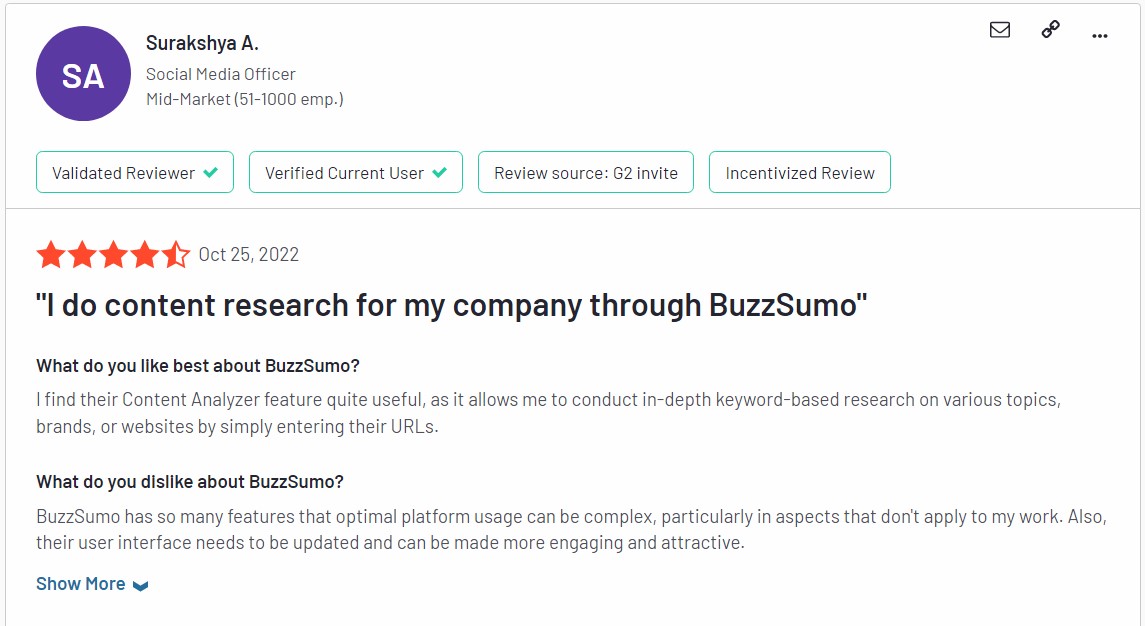 Pricing
Buzzsumo is expensive. There's no other way to put it.
You'll have to cough up $119/month to get their most basic plan. The sad part is that the smallest plan doesn't include access to their best feature — the content analyzer.
You'll have to go up to the $249/month plan for that feature.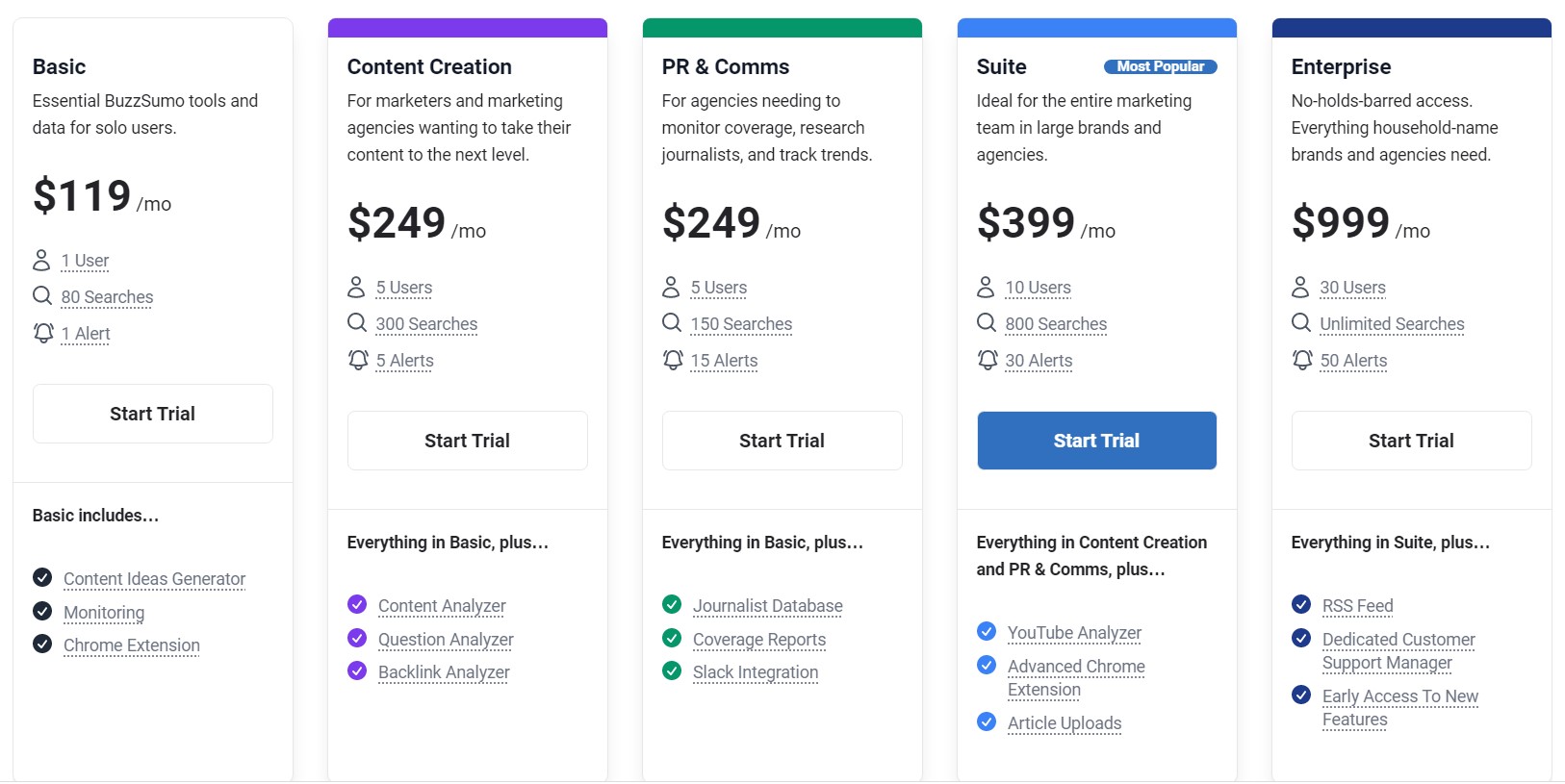 You can upgrade to even larger plans if you need more users or more comprehensive features.
Best tool for AI writing: Jasper
Have you ever wished someone else would write your LinkedIn content for you?
Well, that day may finally be here.
Jasper is a tool that'll help you write your LinkedIn (and other) content with the help of artificial intelligence, meaning you can save a ton of time on writing.
Before we dive into this tool, let me offer a disclaimer. You should NEVER trust an AI tool to write a complete article or post.
Even though AI technology has come a long way, it still should be fact-checked and edited. You can use Jasper to help you create a rough draft or outline, then go through and ensure it's up to snuff.
Pros
Save time writing

Use artificial intelligence to develop multiple outlines based on a key phrase.

Jasper is applicable in various scenarios, including your blog, social media, and copywriting.
Cons
Not the cheapest tool

It doesn't do anything you CAN'T do without it — it's essentially only a time saver.
Features
Jasper essentially does one thing: Helps you write content with AI. However, it offers some key features that make it as easy as possible.
One of those features is templates. Jasper has premade templates depending on what you're writing.
You can simply select the template that most closely relates to your writing, then tell Jasper what you want it to write about!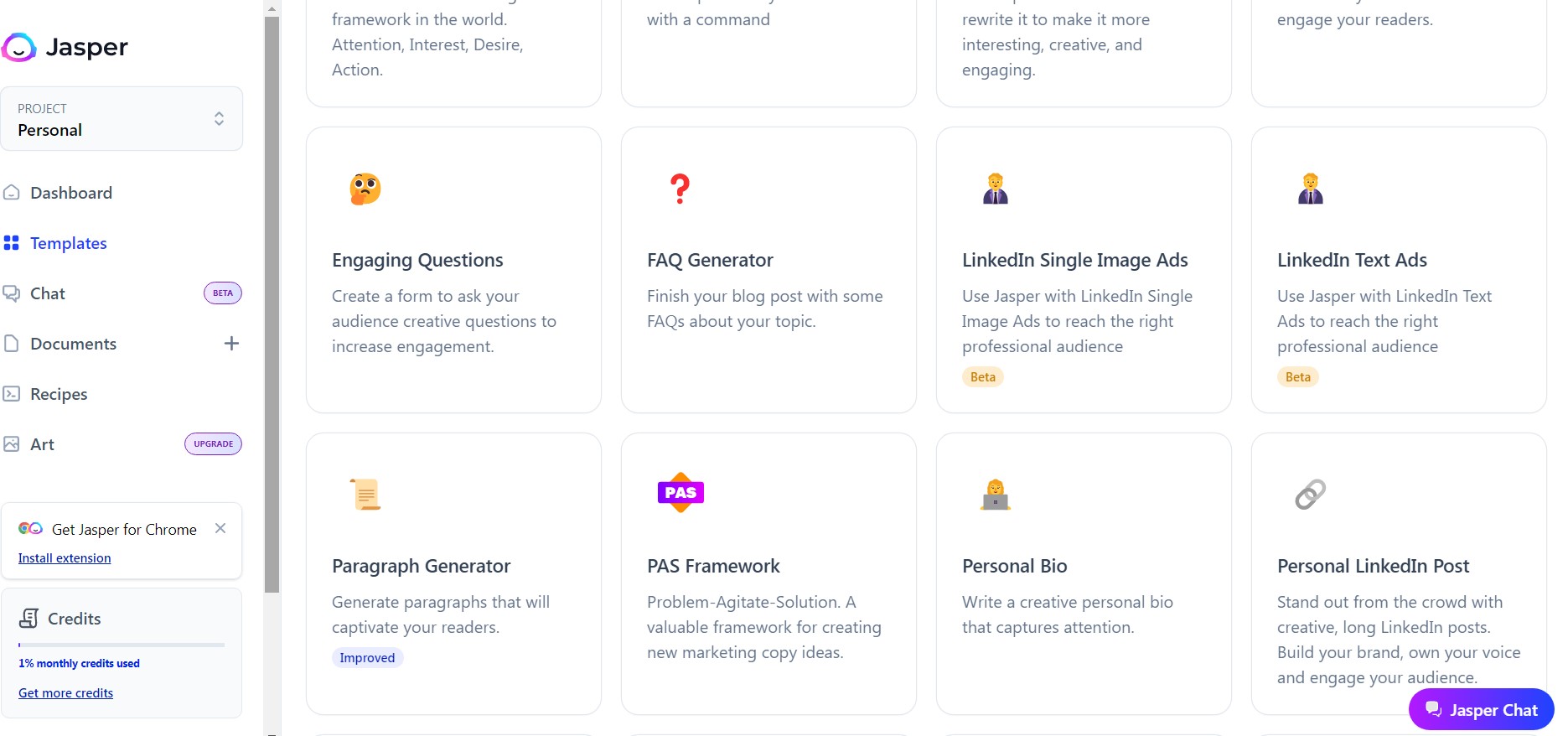 When you input a command, you can use the built-in text editor to modify the text before you export it to your blog or LinkedIn.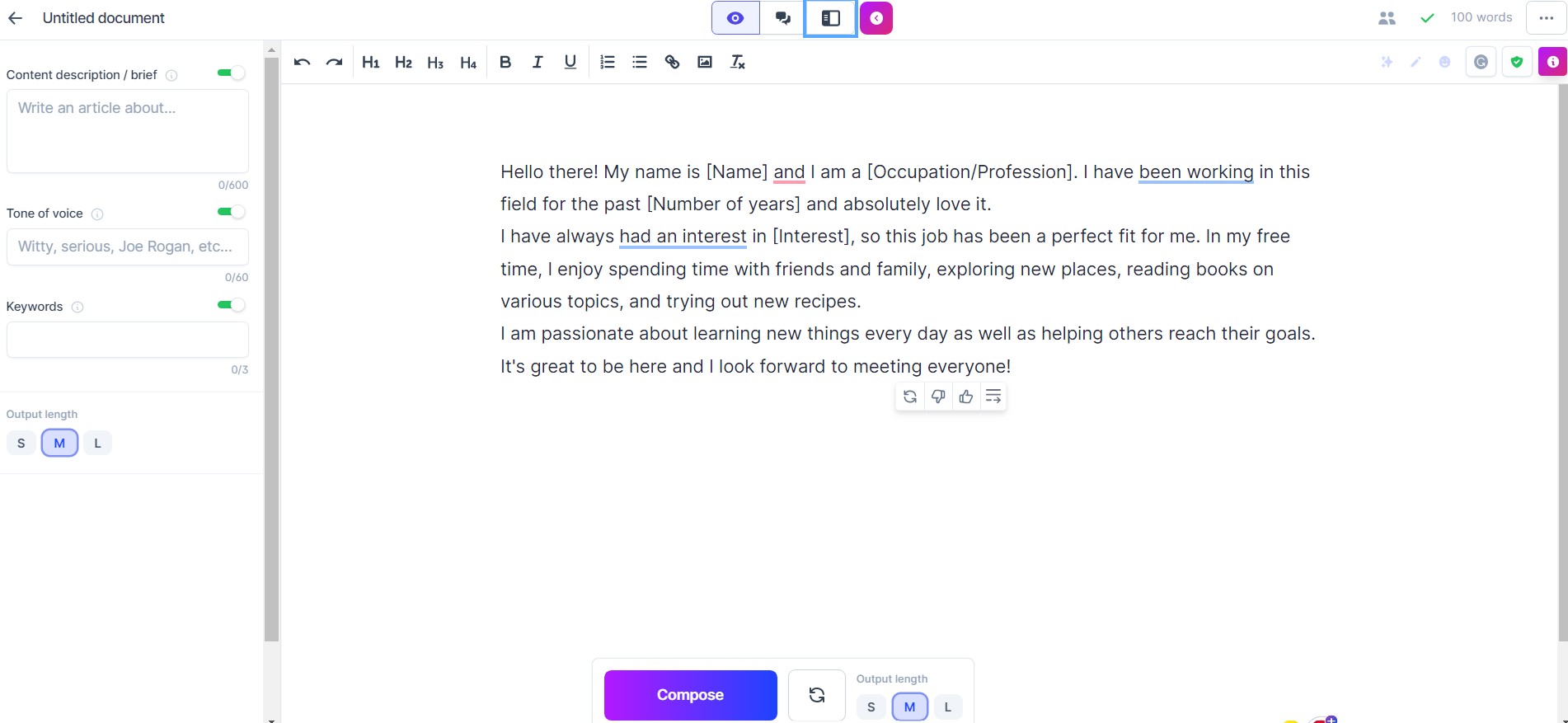 Reviews
Jasper gets excellent reviews, with many people mentioning how much it improves the productivity of their writing process. The most frequent positive comments relate to saving time and generating high-quality content.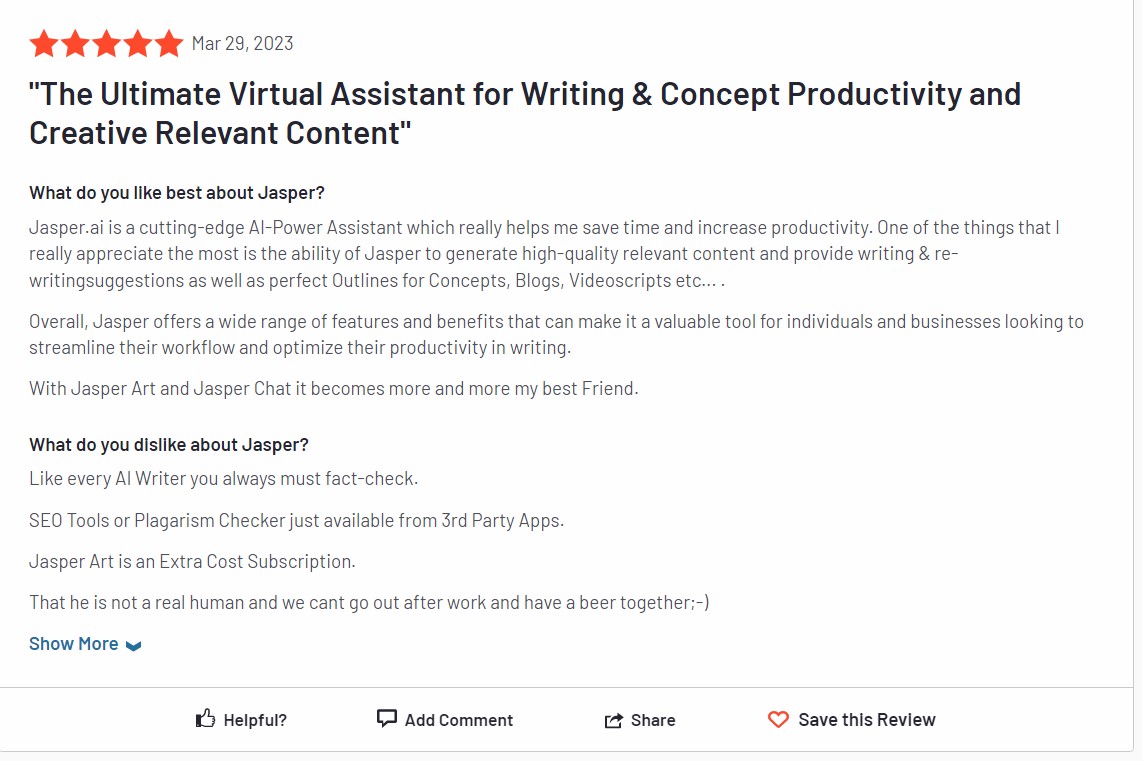 Negative comments are rare, but the most frequent complaint is that the content can occasionally be repetitive, so editing is always necessary.
Pricing
Jasper starts at $24/month, paid annually, which includes 20 thousand words per month and one user.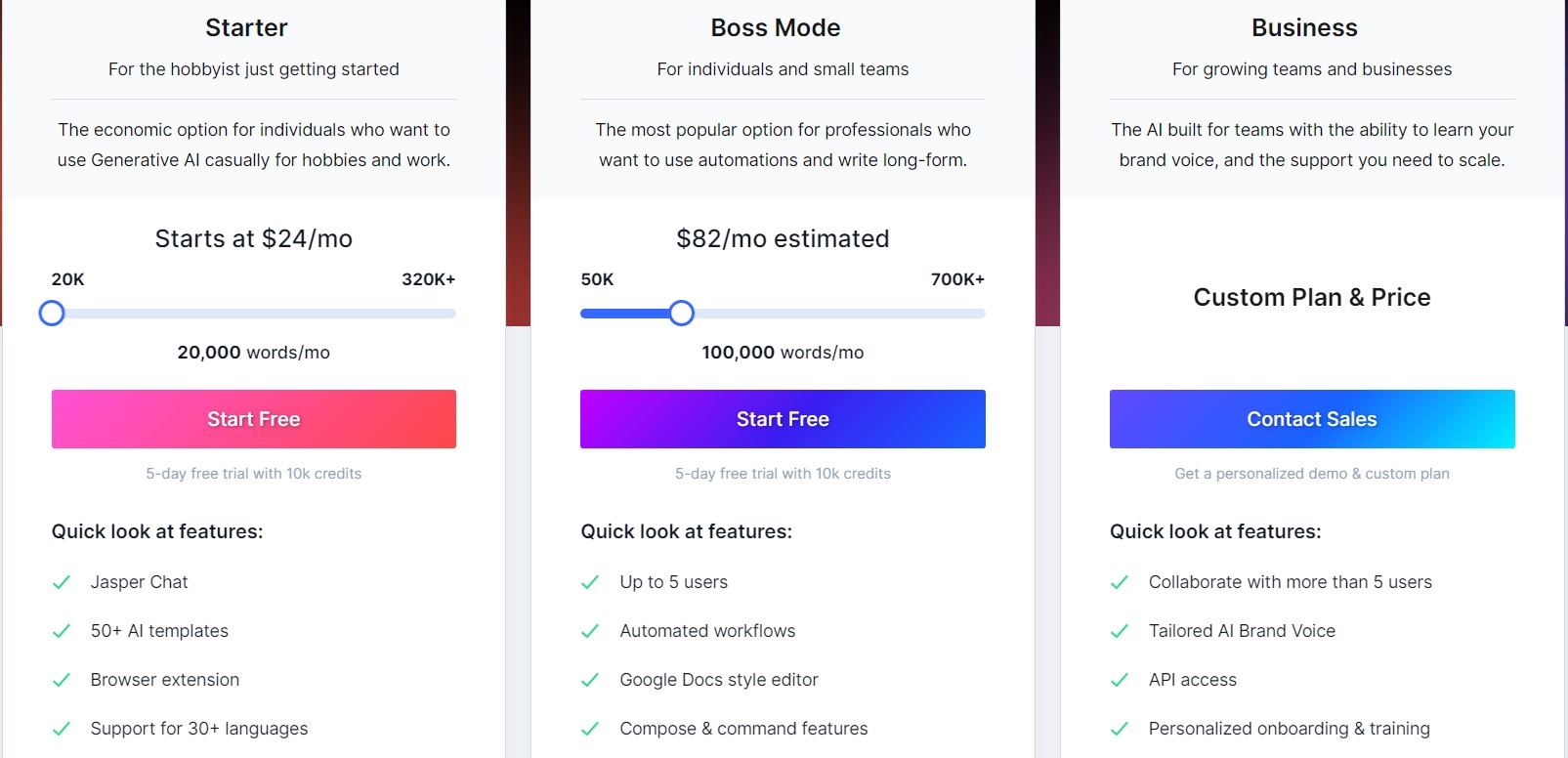 If you want tools like automated workflows, an improved word editor, and more users, you can upgrade to more extensive plans, including more words.
Best tool for LinkedIn analytics: Databox
Databox is one of the most popular data visualization and analytics software on the market.
It quickly and easily links to your LinkedIn account to pull your desired data into a beautiful analytics dashboard. You can even combine your LinkedIn data with other data sources to create custom dashboards and visualize your data more effectively.
Pros
Easy to setup and use with drag-and-drop dashboard creation

Powerful analytics make using LinkedIn even better for your business growth

Link multiple data sources to the same analytics dashboard

Great free plan

Easy reporting for working with clients
Cons
Very expensive if the free plan isn't enough for you

Some of the better features like unbranded reporting aren't available until you're spending more than $130/month on this tool
Features
Databox isn't just a social media analytics tool. It's designed for pulling data from ALL your sources into comprehensive dashboards where you can see it all.
HOWEVER, it works amazingly well as a LinkedIn analytics dashboard. All you have to do is connect your LinkedIn Company Pages account, and Databox will start automatically pulling data.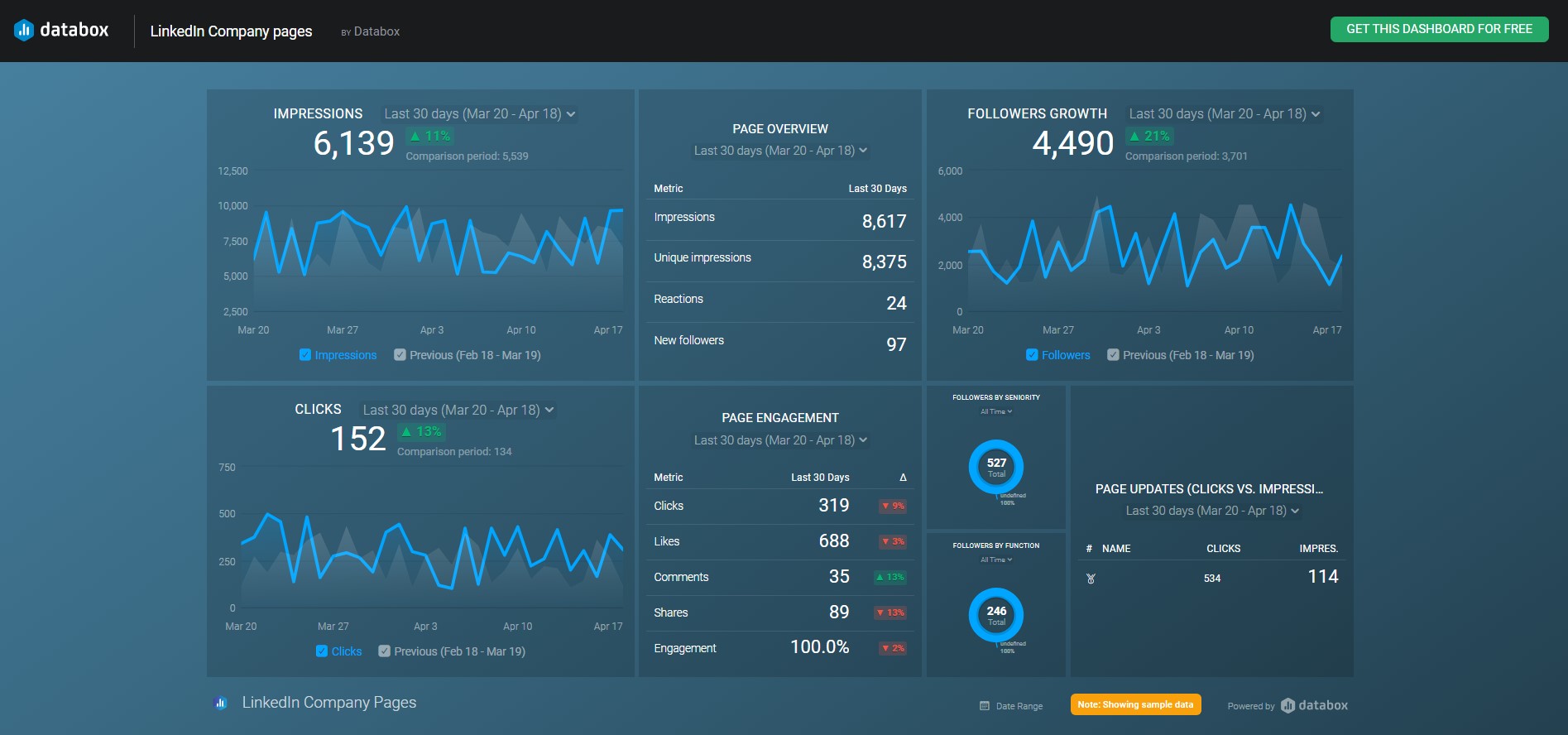 You can create your own custom dashboard by dragging and dropping the different fields until you're happy with how it looks.
If you just use Databox with LinkedIn and a couple of other social channels, you should be able to get away with just using the free version. However, if you want to work with more than 3 social media accounts or report for clients, you'll need to upgrade.
Reviews
Databox gets amazing reviews. People consistently talk about the intuitiveness of the platform and the ease of use. Many also mention how powerful the reporting features are for working with clients.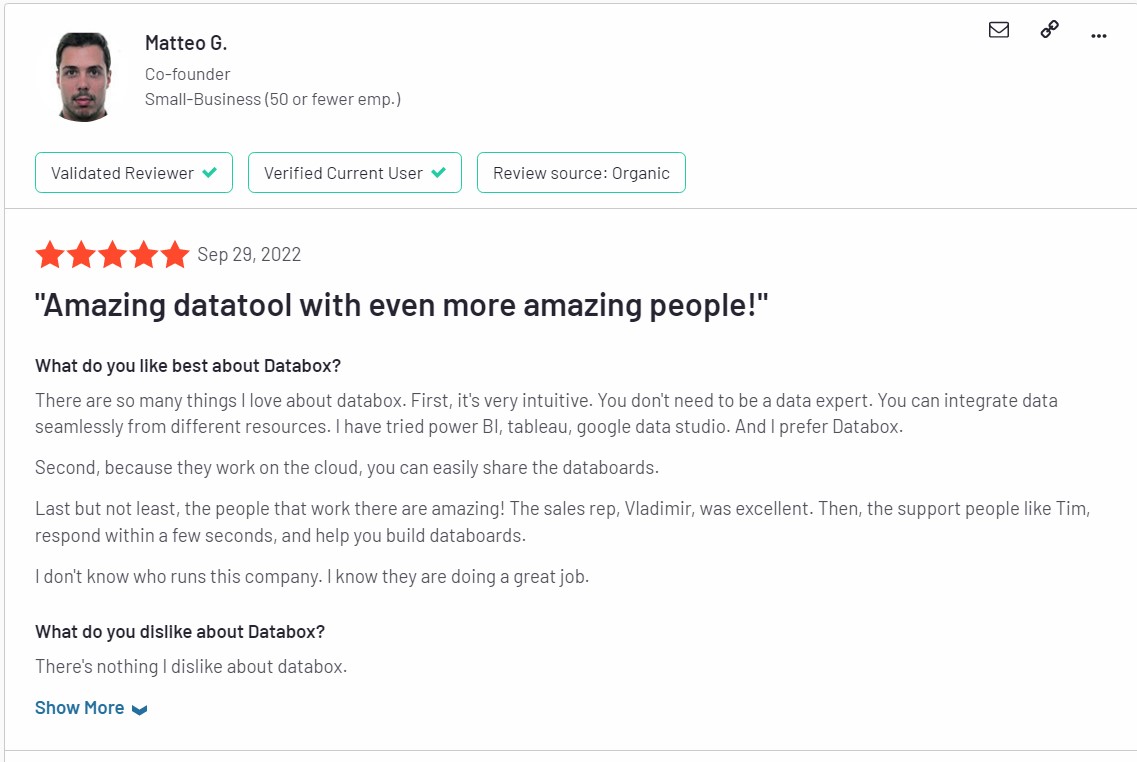 Those who mentioned negative aspects of the tool tend to mention some restrictions related to the overall flexibility of the program. In other words, some metrics were missing, or the platform felt too restrictive because of the grid-style layout of the dashboards.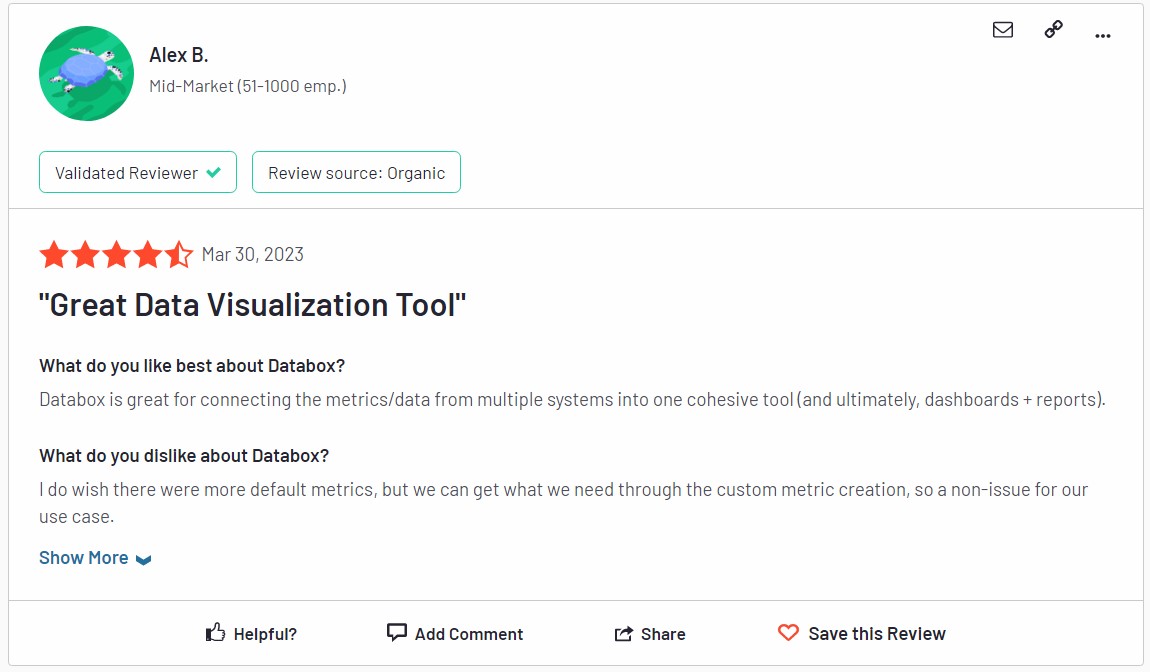 Pricing
Databox has a great free plan. It gives you 60+ integrations and 3 data source connections. That means you could combine your Facebook, Instagram, and LinkedIn data into a massive social media dashboard without paying a penny.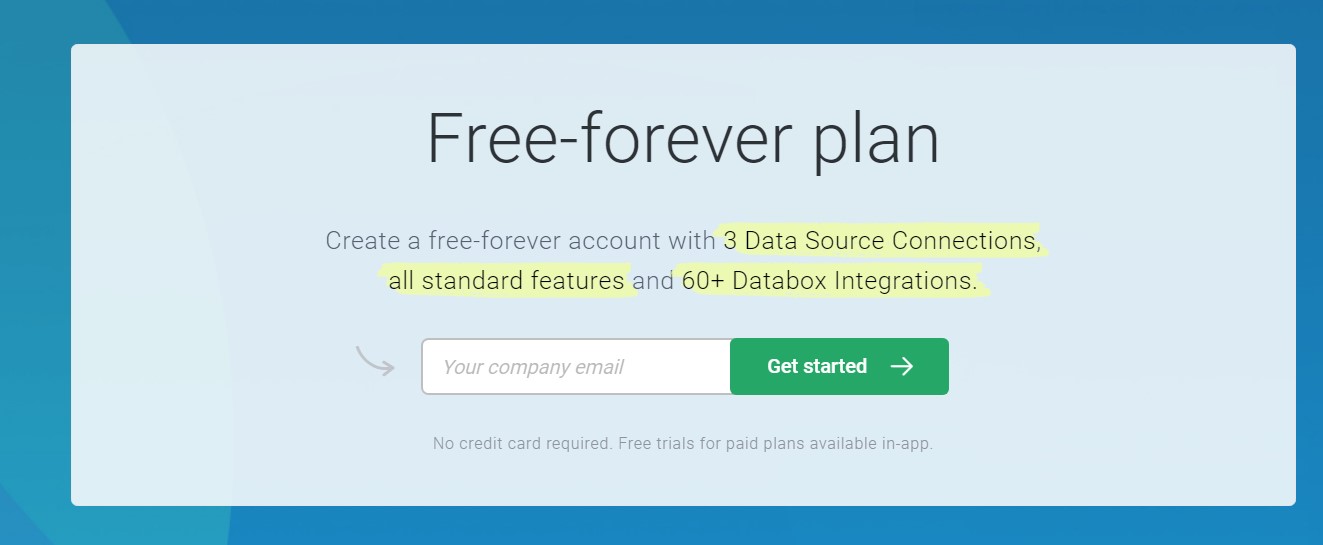 However, things can get expensive if you need more connections than that. For the starter plan, which only includes basic reporting, Databox costs $72/month for 4 data source connections.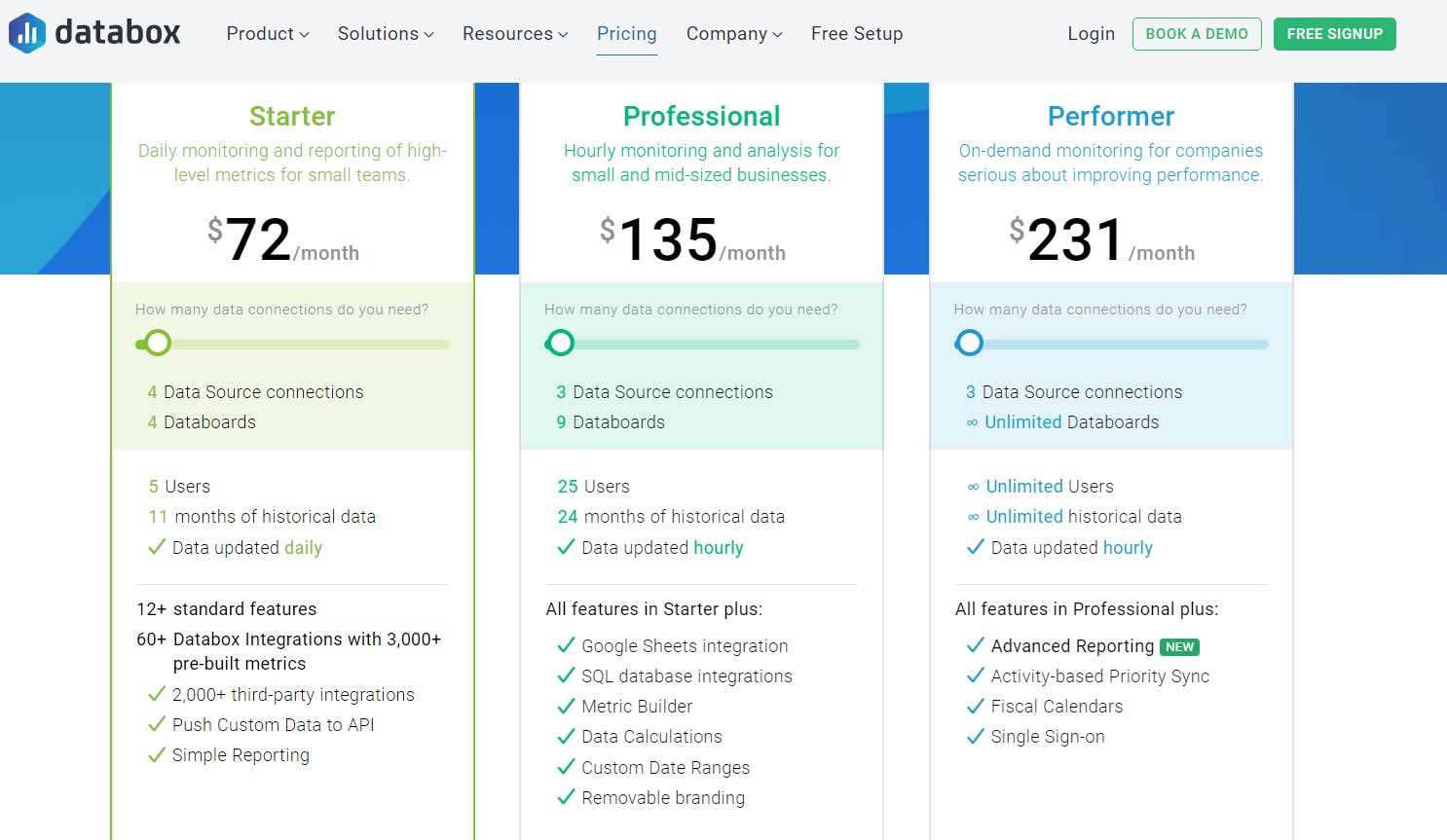 If you need more in-depth reporting features, custom date ranges, or Google Sheets integrations (among other advanced tools), you'll need to expect to pay $135/month at a minimum.
Best free LinkedIn tool: LinkedIn Analytics
Have you ever wondered how your LinkedIn posts perform?
LinkedIn Analytics is the perfect free tool to get you started on analyzing your posts' performance and your audience itself.
LinkedIn Analytics isn't the most in-depth tool on this list, but it's free and still provides precious data, so don't write it off yet!
Pros
FREE!

Good data that'll help you understand your content's performance

Get a better understanding of your audience

Easy to use
Cons
This tool does only one thing: helps you look at LinkedIn analytics. Don't expect it to help you do anything else.

It's a free tool, so uses are limited.

It's hard to list many cons about a tool that provides you with analytics for free.
Features
LinkedIn Analytics is a free tool that provides insights into your:
Account activity

Post views and impressions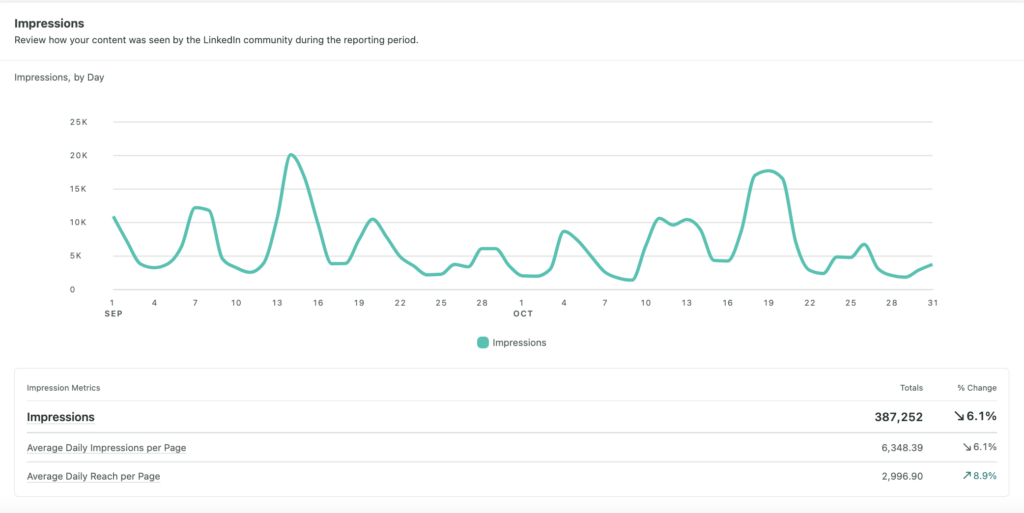 Follower demographics

Engagement levels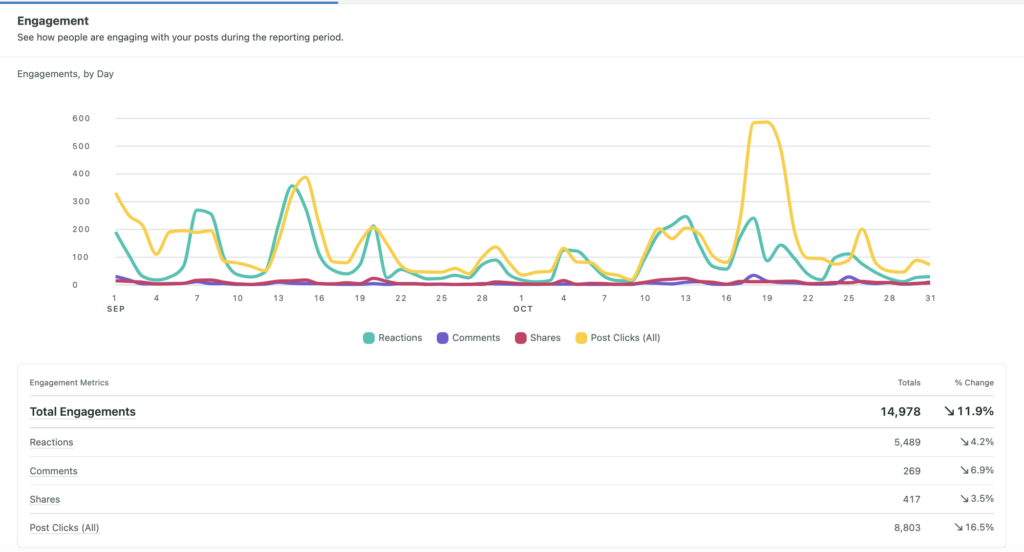 Not only does this information help you understand your audience better, but it also allows you to adjust your content strategy for maximum impact.
Whether you're a seasoned pro or just starting out on LinkedIn, Analytics is a must-have tool for any professional looking to make the most of their online presence.
Reviews
Since LinkedIn Analytics is a free, built-in part of using a LinkedIn company profile, it doesn't have its own reviews.
Pricing
LinkedIn Analytics is FREE, but it will only appear if you have a LinkedIn company profile. It won't appear on a standard LinkedIn page.
Best LinkedIn outreach tool: Expandi
Have you ever manually sent out dozens of LinkedIn messages with little to no response?
Expandi makes that a thing of the past by automating your LinkedIn outreach.
We should be clear that using automated messaging isn't strictly allowed by LinkedIn's prohibited software agreement, but using a high-quality tool like Expandi makes it possible by imitating human behavior.
Pros
Save WHO KNOWS how much time on LinkedIn messaging campaigns.

Expandi imitates human messaging behavior, meaning people are less likely to ignore you.

You have total control over your messages, and you can personalize them as much as you want.

Powerful outreach tools go far beyond simple message sending.
Cons
Very expensive for smaller companies

Automating LinkedIn messages is technically against LinkedIn's agreement, meaning your account can't get in trouble (although this is highly unlikely with Expandi).
Features
This tool has revolutionized the game of LinkedIn outreach by providing features such as automated messaging, smart targeting, and detailed analytics to improve your outreach strategy.
One key feature that enhances the messages you send is Smart Sequences, which allow you to determine what sequence of messages someone receives from you. For example, you might choose for someone to get a message:
After they visit your profile for the first time

After they like or comment on a post

If they endorse one of your skills on LinkedIn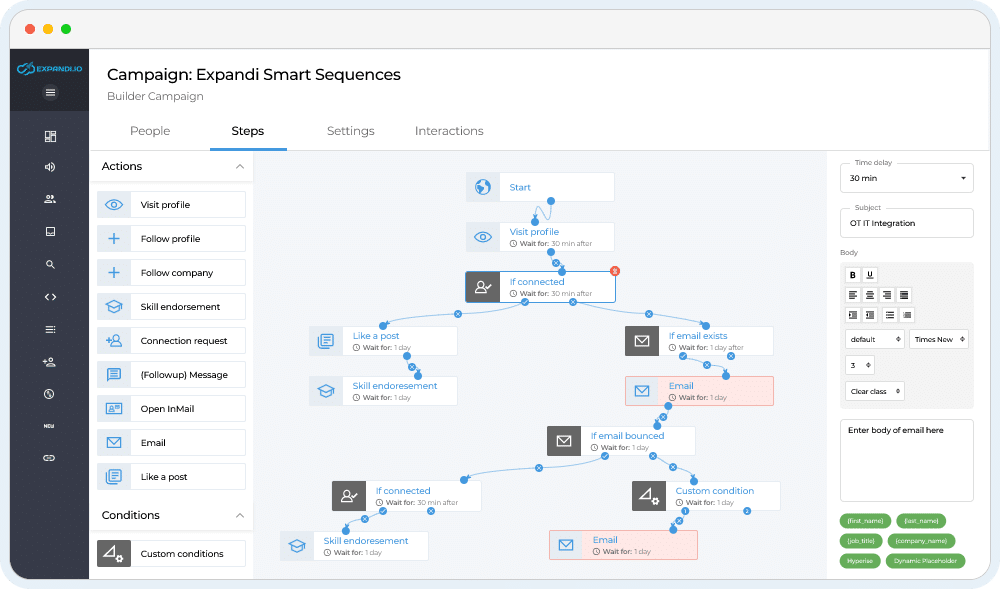 With a user-friendly interface, it's also easy to navigate and customize to fit your specific needs.
Reviews
Expandi gets great reviews from its users. Most of the reviews mention how much time they save by automating LinkedIn outreach. Many people also mention the ease of use and the ability to expand their LinkedIn outreach through automation.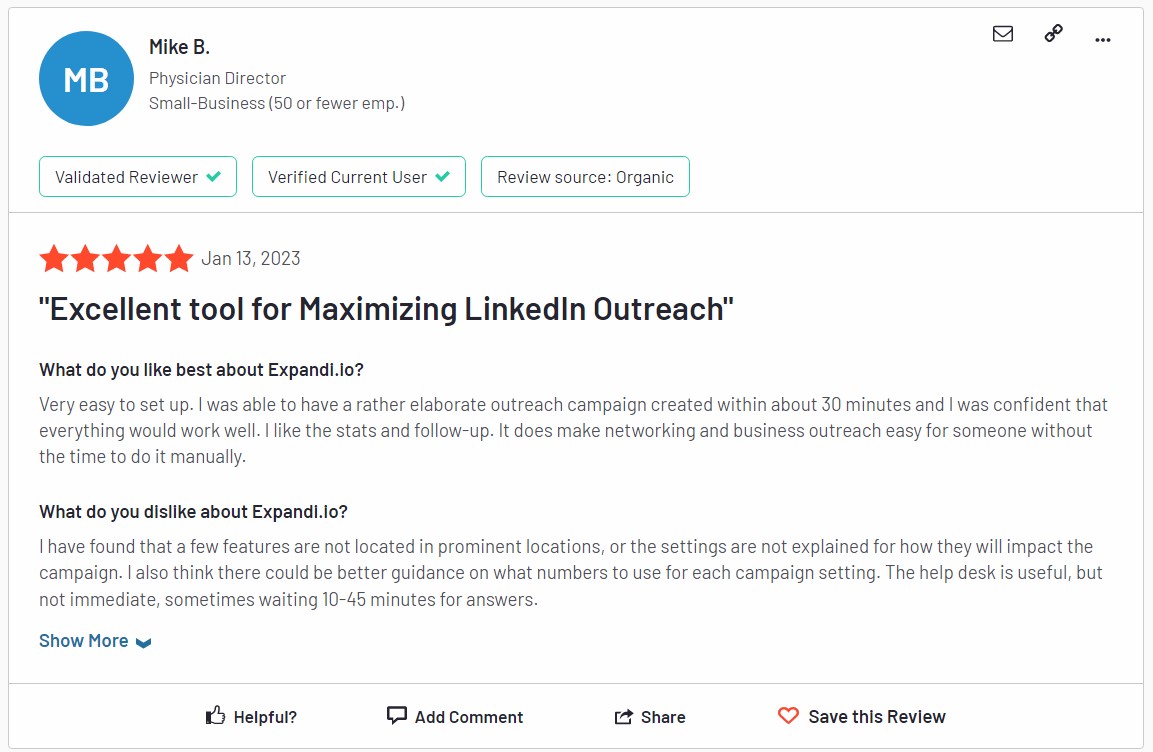 There were a couple reviews from people who said the platform didn't function properly for them. However, given the number of 5-star reviews, it's hard to know if these lower reviews are due to user error or actual problems with the tool.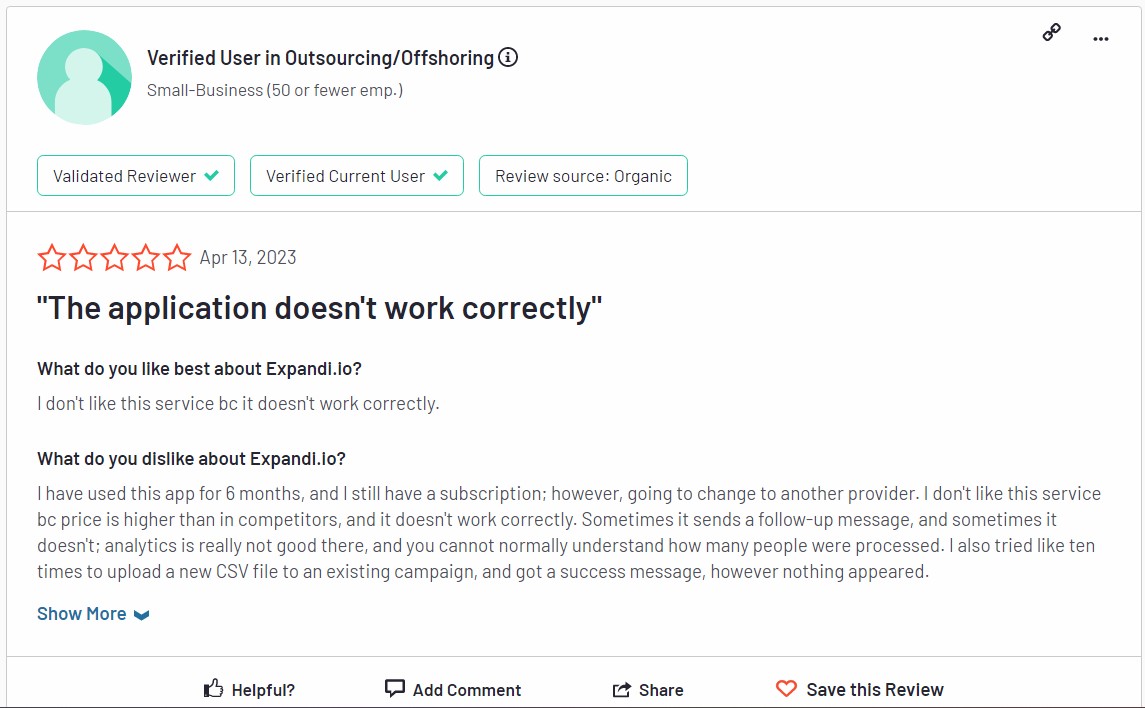 Pricing
Expandi has a very easy pricing system. You simply pay $99/month per seat.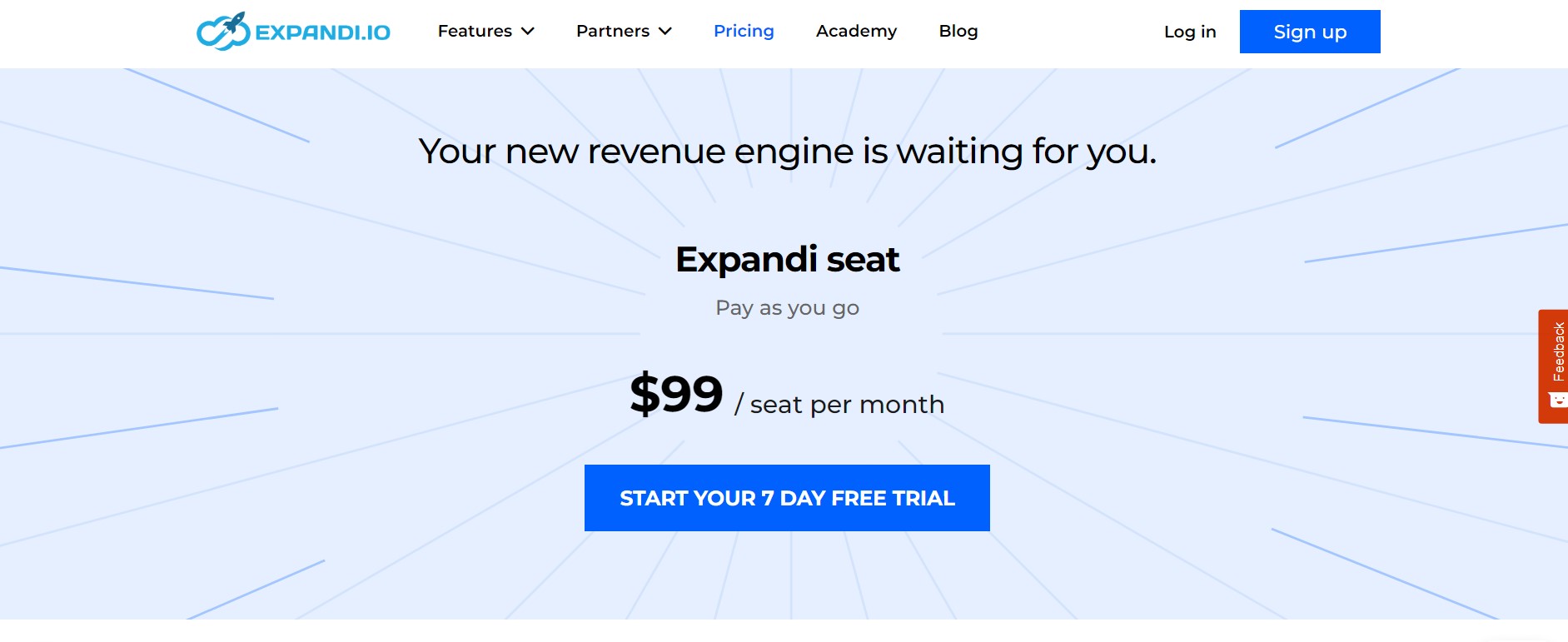 For smaller businesses, this pricing may be out of reach. Fortunately, the benefits of automation are more noticeable with larger businesses, so we recommend this tool to businesses with enough LinkedIn connections to warrant the automation.
Best LinkedIn tool for social selling: LinkedIn Sales Navigator
LinkedIn Sales Navigator is the ultimate tool for social selling on LinkedIn.
It is designed to help sales professionals identify leads and develop relationships with prospects and customers. It accomplishes this by personalizing lead recommendations and giving you the tools to track new leads and potential customers.
Pros
Find personalized lead recommendations

Integration with CRMs makes managing leads much easier

Simple to use and incredibly beneficial for selling on LinkedIn
Cons
Expensive, so it's only worth it if you're making sales on LinkedIn

Limited to a very specific purpose, so it won't help your entire

LinkedIn strategy
Features
LinkedIn Sales Navigator offers features that enable salespeople to identify and target the right leads, engage with decision-makers, and stay up-to-date with the latest insights in their industry.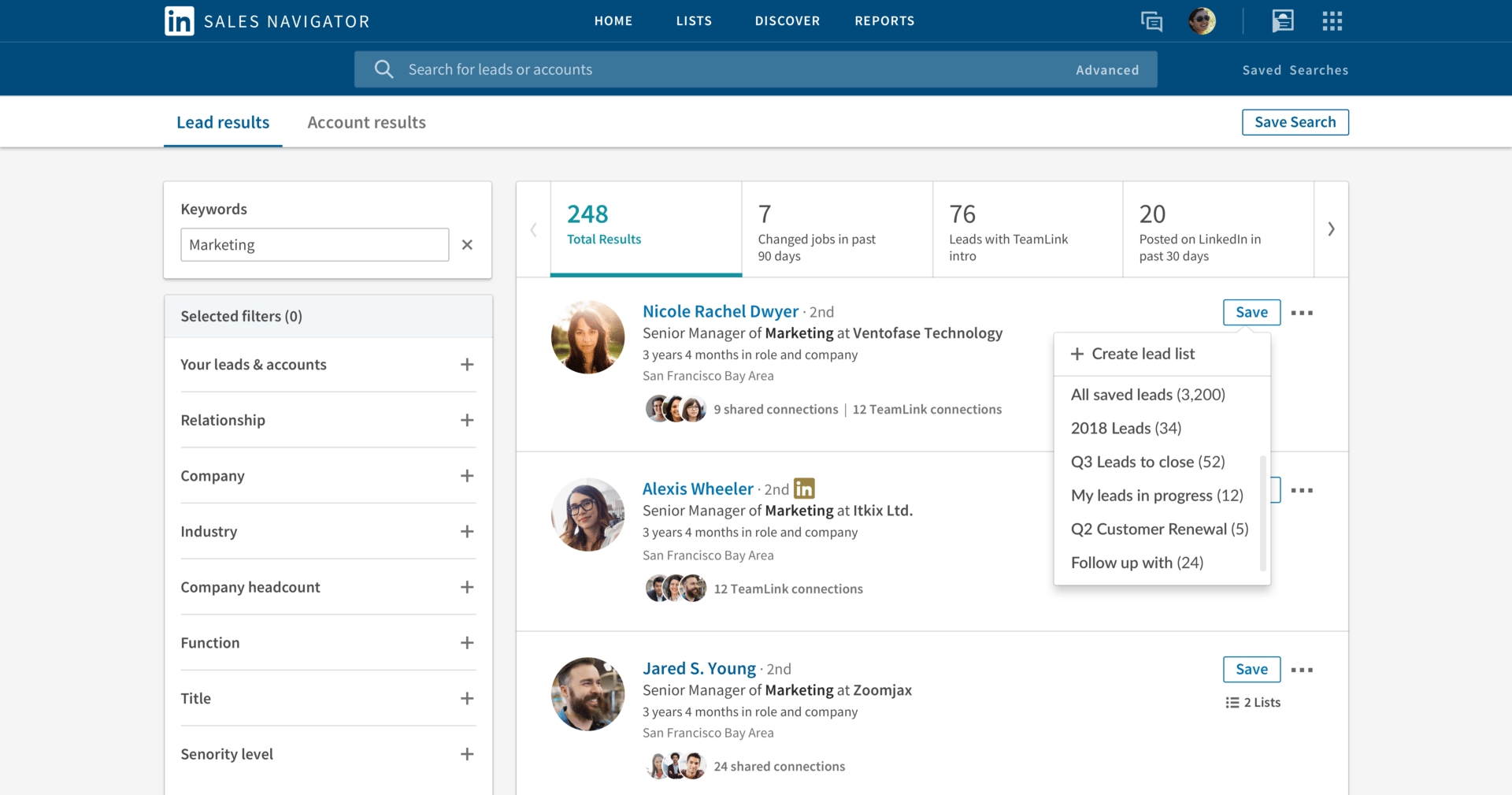 From advanced lead and account search to personalized lead recommendations, LinkedIn Sales Navigator provides the tools that salespeople need to effectively and efficiently sell on LinkedIn.
The main benefit of LinkedIn Sales Navigator is the ability to search for better leads and prospects using these tools. Most people who use LinkedIn for social selling will benefit from using this tool.
Reviews
LinkedIn Sales Navigator is the most popular tool for social selling on LinkedIn, so there are plenty of reviews. Almost all of them are positive, meaning nearly everyone who uses this tool benefits from it.
Most of the positive reviews mention the ease of finding new prospects and customers through search functions and analytics tools.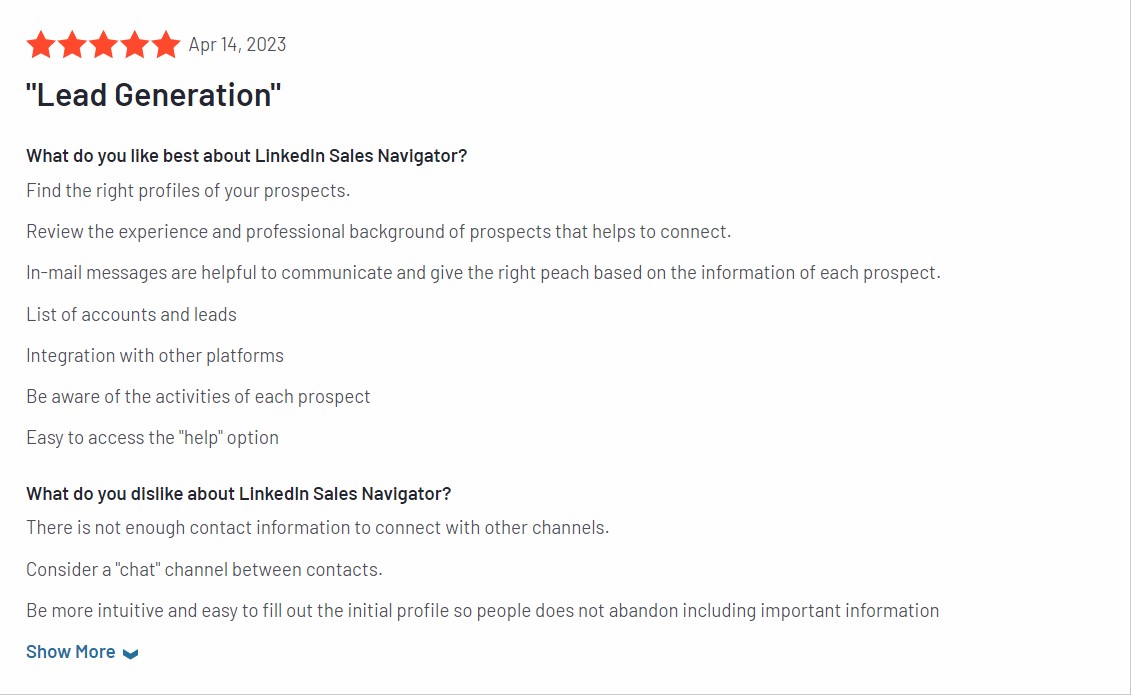 Complaints normally center around small missing features or the price being too high for some people to stomach.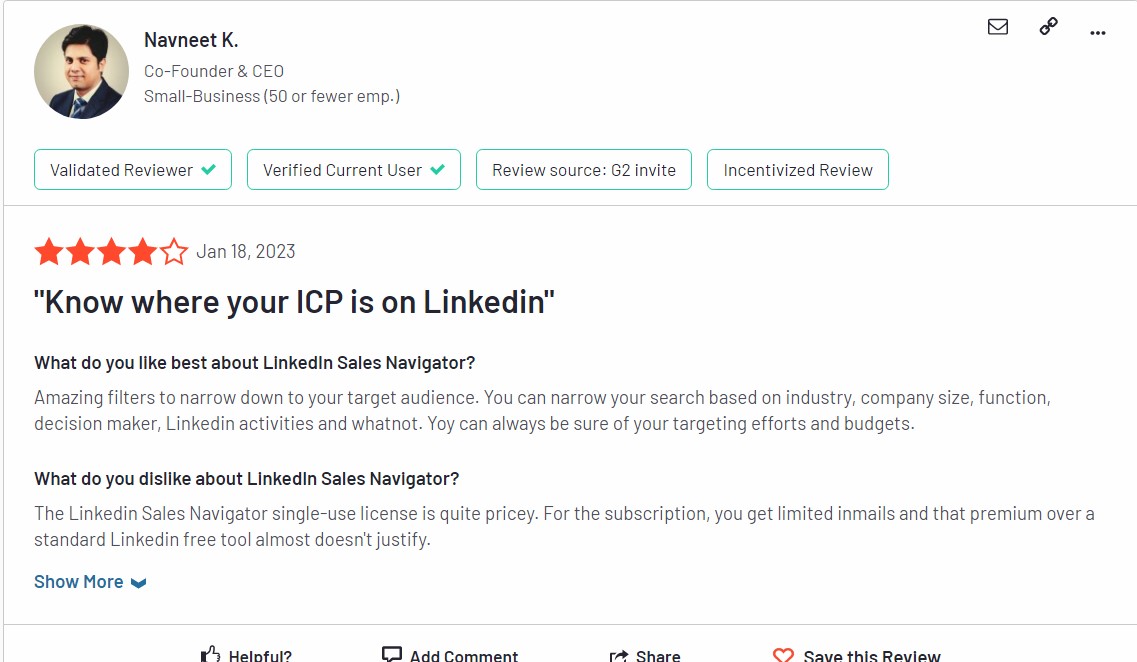 Pricing
If you want the basic version of LinkedIn Sales Navigator (which is probably what most people will need), it'll cost you $79.99/month, billed annually.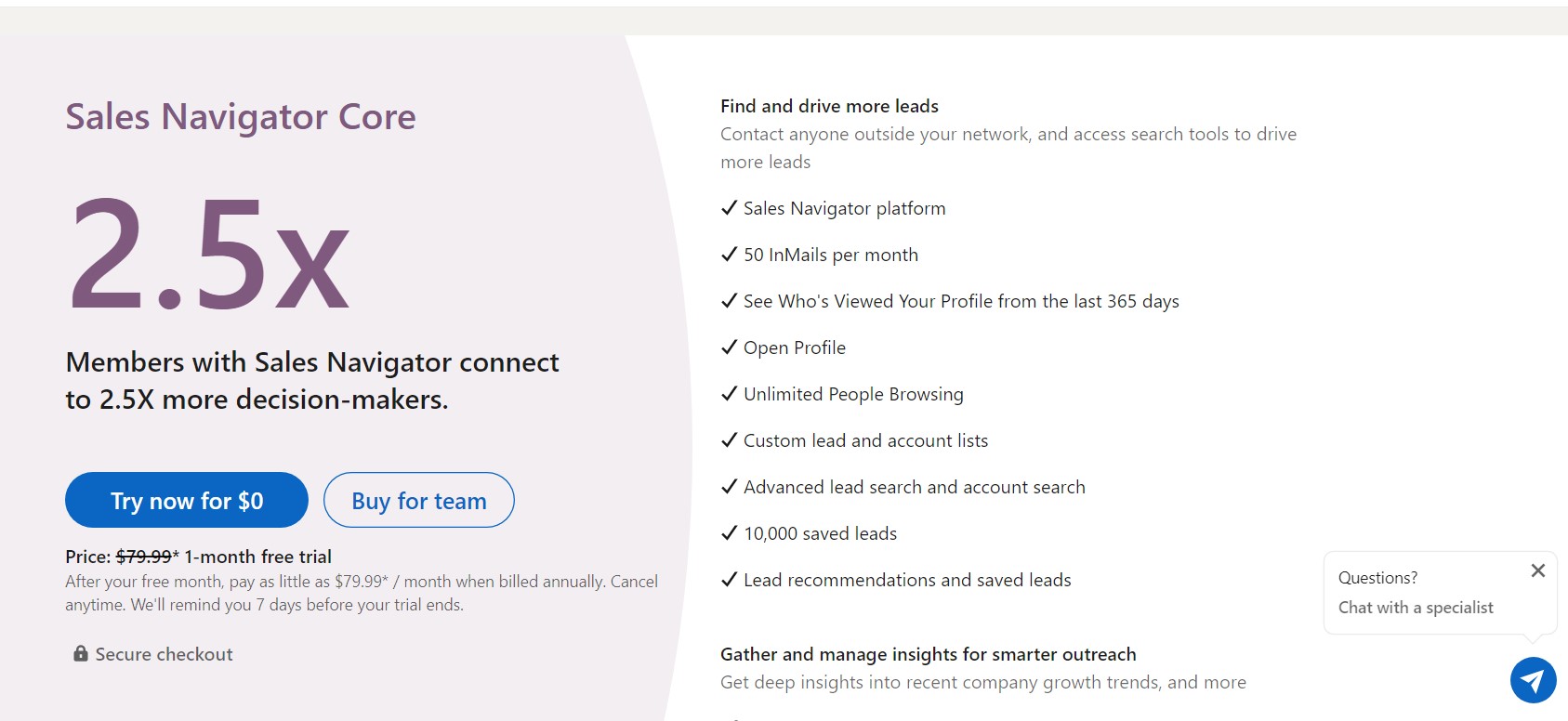 The Advanced plan is $131.25/month, billed annually.
While LinkedIn Sales Navigator is an extremely valuable tool, some businesses might feel like these prices are just too high to justify — especially if LinkedIn isn't one of your primary selling channels.
Frequently asked questions
What is the best LinkedIn automation tool?
It depends on what you're trying to automate!
For automating content discovery and scheduling, we recommend Post Planner.
For automating outreach, we recommend Expandi.
For automating your writing process, we recommend Jasper.ai.
What tools does LinkedIn have?
The basic version of LinkedIn has very few tools, but you can get access to LinkedIn Analytics for free with a LinkedIn company page.
If you're willing to pay for third-party tools, the options are almost endless! Start with the tools mentioned above and see what works for your business.
Ready to grow your LinkedIn?
Having the right LinkedIn tool can help you better manage your contacts, improve engagement on your posts, and make more sales.
If you've been on the hunt for a good LinkedIn tool that checks all these boxes, start with this list of 9. You won't be disappointed!
What other LinkedIn tools have you used to improve engagement? Let us know in the comments below — we would love to hear about them!