What is the best LinkedIn scheduler?
This guide ranks the top 7 LinkedIn scheduling tools based on features (and your unique needs).
—
Want to save TIME posting on LinkedIn?
Let's face it: keeping up on your LinkedIn posting is a pain!
It's hard to find content, write posts, AND remember to post at the right time.
It's even harder to do it consistently.
And it's even HARDER to improve your content and engagement over time.
This article may fix all of those problems for you.
Learning to use a LinkedIn scheduler could be the game-changer that allows you to get on top of your LinkedIn content strategy.
Not to mention the fact that it could save you dozens of HOURS every month.
Let's see how our 7 best LinkedIn schedulers can help your business grow.
7 Best LinkedIn Scheduler Tools (Ranked by Features)
Feel free to skip to the part in this guide that you're most interested in: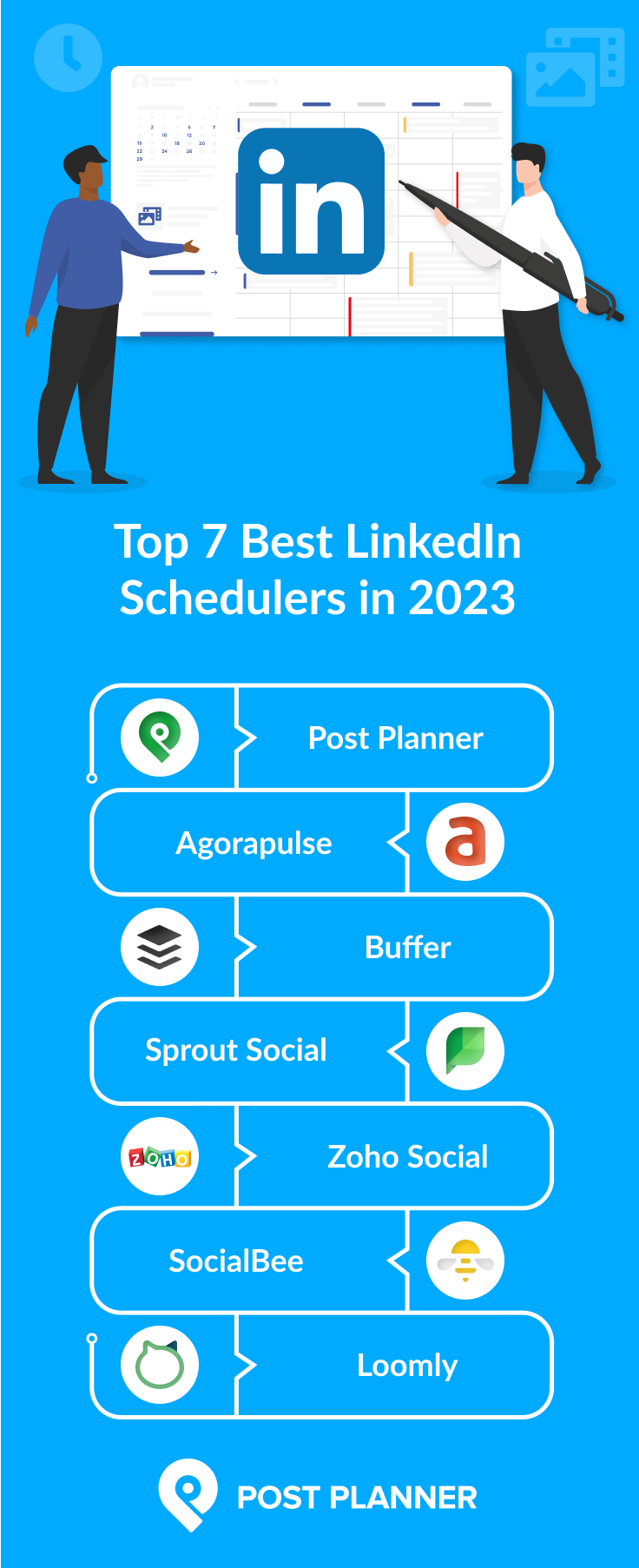 What is a LinkedIn scheduler?
A LinkedIn scheduler is a tool that allows you to set your posting schedule ahead of time.
(And then forget about it!)
In other words, a LinkedIn scheduling tool will automatically post your content for you at the time you choose.
LinkedIn scheduling tools save you time by streamlining the posting process.
And they improve your content strategy by allowing you to carefully plan every post ahead of time.
What to look for in a LinkedIn scheduler
There are tons of social media scheduling tools out there.
Most of them claim to be the one that DESERVES your money.
But how can you know which ones are worth your time and which aren't?
There are a few key features you should look for in any LinkedIn scheduler.
Ultimately, you have to decide which features are the most important to your business.
For example:
If you have a lot of time but not a lot of money, you might prioritize budget over time-saving features.
In other words, how you prioritize these features is up to YOU.
But these 3 features of LinkedIn schedulers should definitely be on your mind!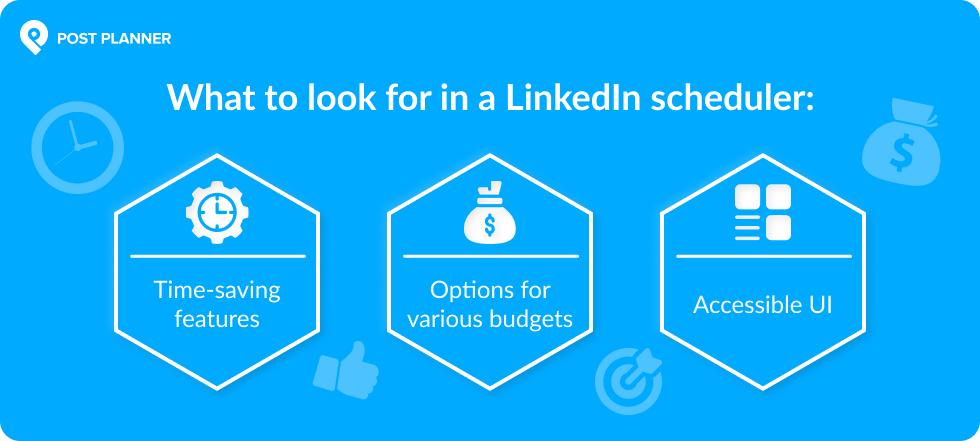 Time-saving features
Time-saving features can include a bunch of different tools.
Content discovery tools to save you time looking for curated content
Content inspiration to help you generate your own content
Messaging features that allow you to respond to messages across all your channels from one place
Design features
In other words, you should be looking for a variety of tools that'll save you TIME.
The more time you save, the more time you'll have to dedicate to other areas of your business!
Budget options
Your business probably doesn't have a million-dollar social media budget. You might not even have a $50 social media budget.
That's OK!
You should still be able to find a tool that works for you!
However, when looking for a tool, make sure to prioritize one that can grow with your business.
For example:
If it's got a great free plan, but the next size up is $300/month, that might not be the best option for your 1 employee business with a limited budget!
Accessible UI
Finally, you should look for a tool that has a UI (User Interface) that you can understand.
Because if you don't ENJOY using your LinkedIn planning tool, you probably won't use it.
And if you don't use it, your LinkedIn won't get any better!
What does "accessible" mean?
That depends on what you're most comfortable with.
The best way to figure out if a UI is accessible to you and your level of technical skill is to try out a free trial (whenever available).
1. Best for content curation: Post Planner
Post Planner is a social media scheduler that really shines when it comes to curating content from around the web.
Using Post Planner's Content Streams, customers are able to save hours every week on their content strategies.
Post Planner also makes it easy to schedule those posts, design visual content, and come up with new content ideas.
Pros
The best content curation available
Easy to learn and use
Save tons of time with the content ideas tool
Extremely budget friendly
Post and schedule optimized content across other social media
Cons
Analytics are limited compared to other tools on this list
No messaging features to manage DMs
Features
Post Planner's Content Streams allow you to find the best content from around the web in mere seconds.
Just search for the niche you're interested in and select one of the pre-made Content Streams.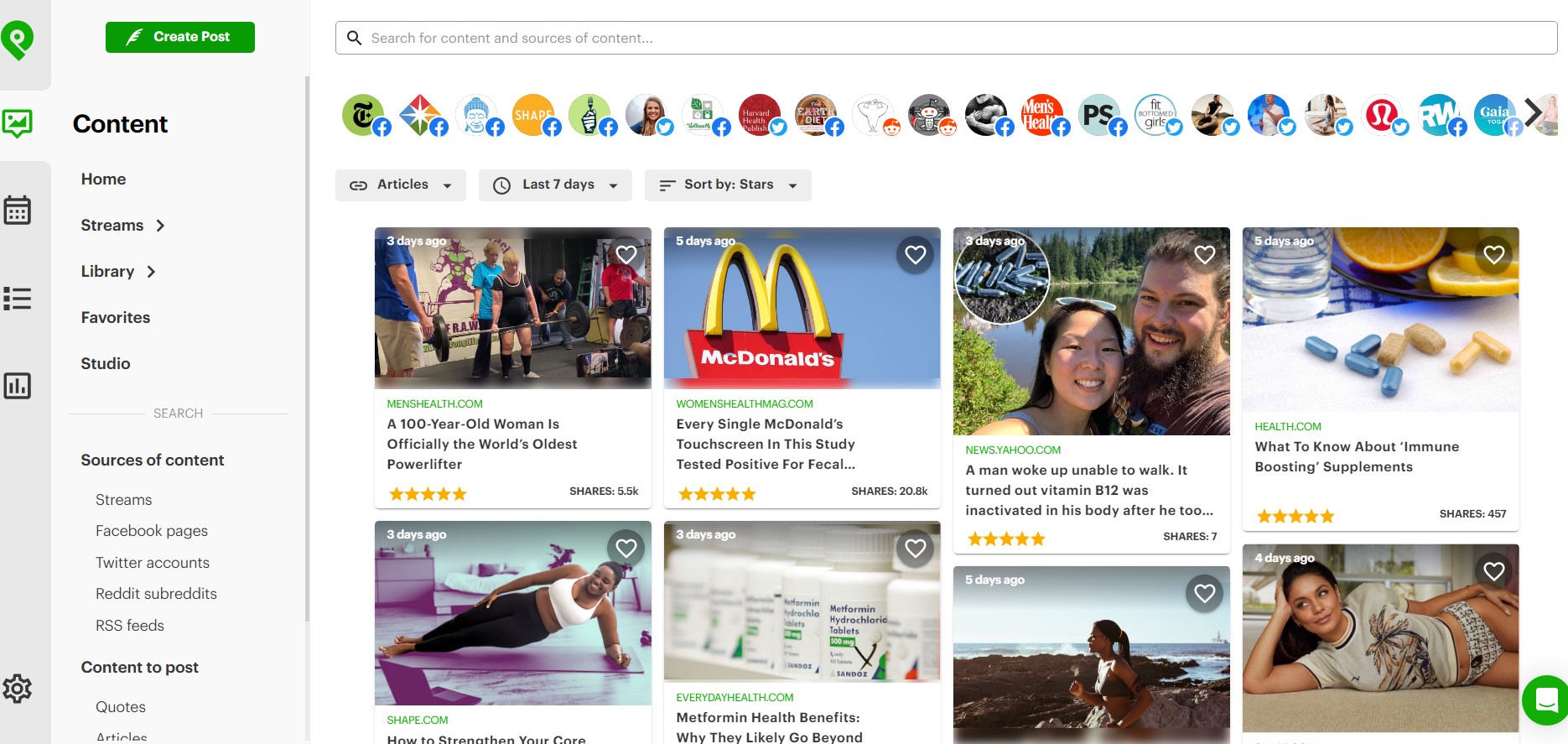 If there are no pre-made Content Streams, you can quickly make your own and save it for future use.
One of the best time-saving features offered by Post Planner is the bulk scheduler.
If you select multiple posts on the Content Stream, you can create many posts at the same time.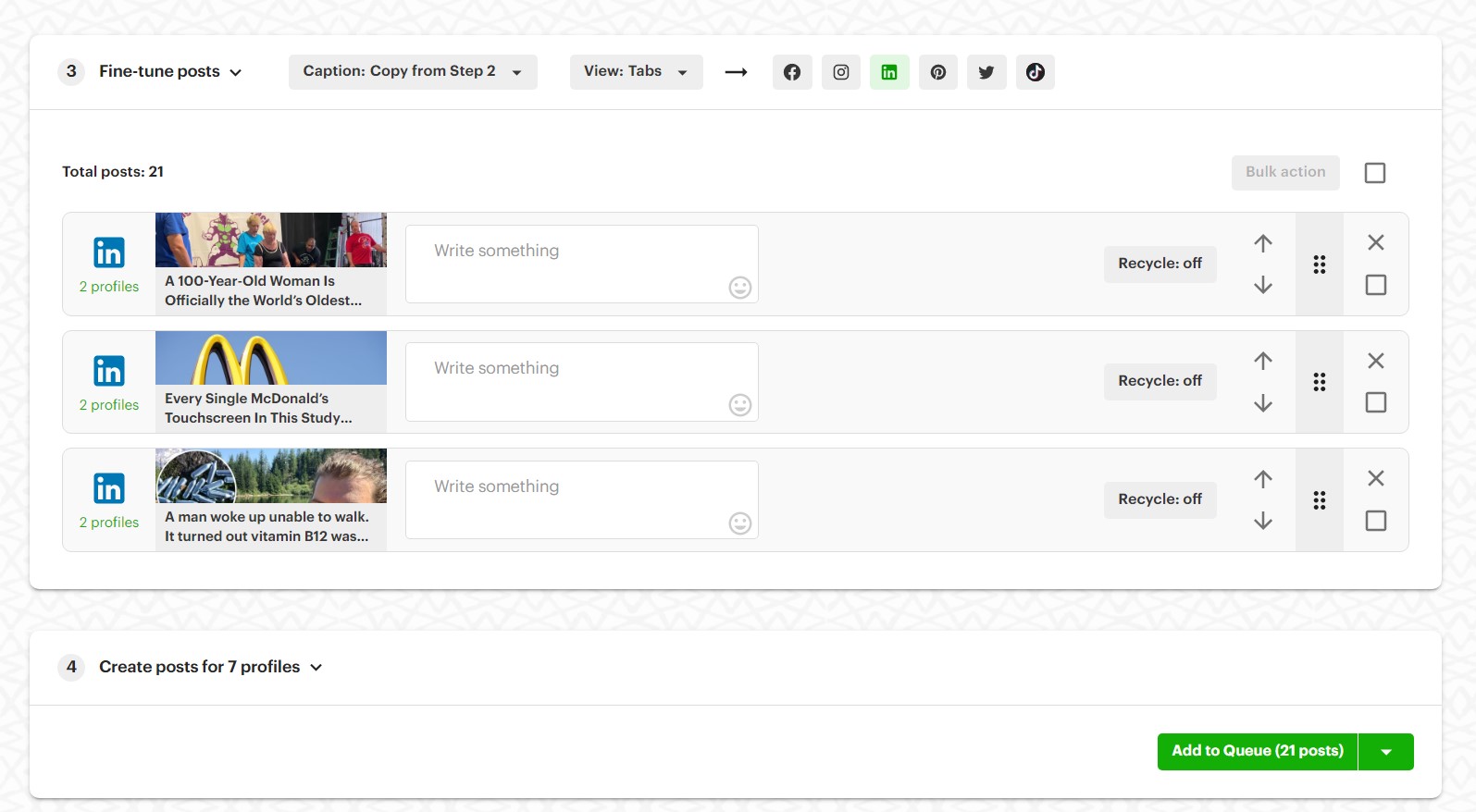 In the picture above, I'm creating 3 posts each for 7 channels, which means I'll create 21 posts at the same time when I click "Add to Queue."
Pricing
Post Planner starts at just $3/month for 1 channel.
That includes the basic scheduling features and content discovery, but it doesn't include access to some of the more advanced features.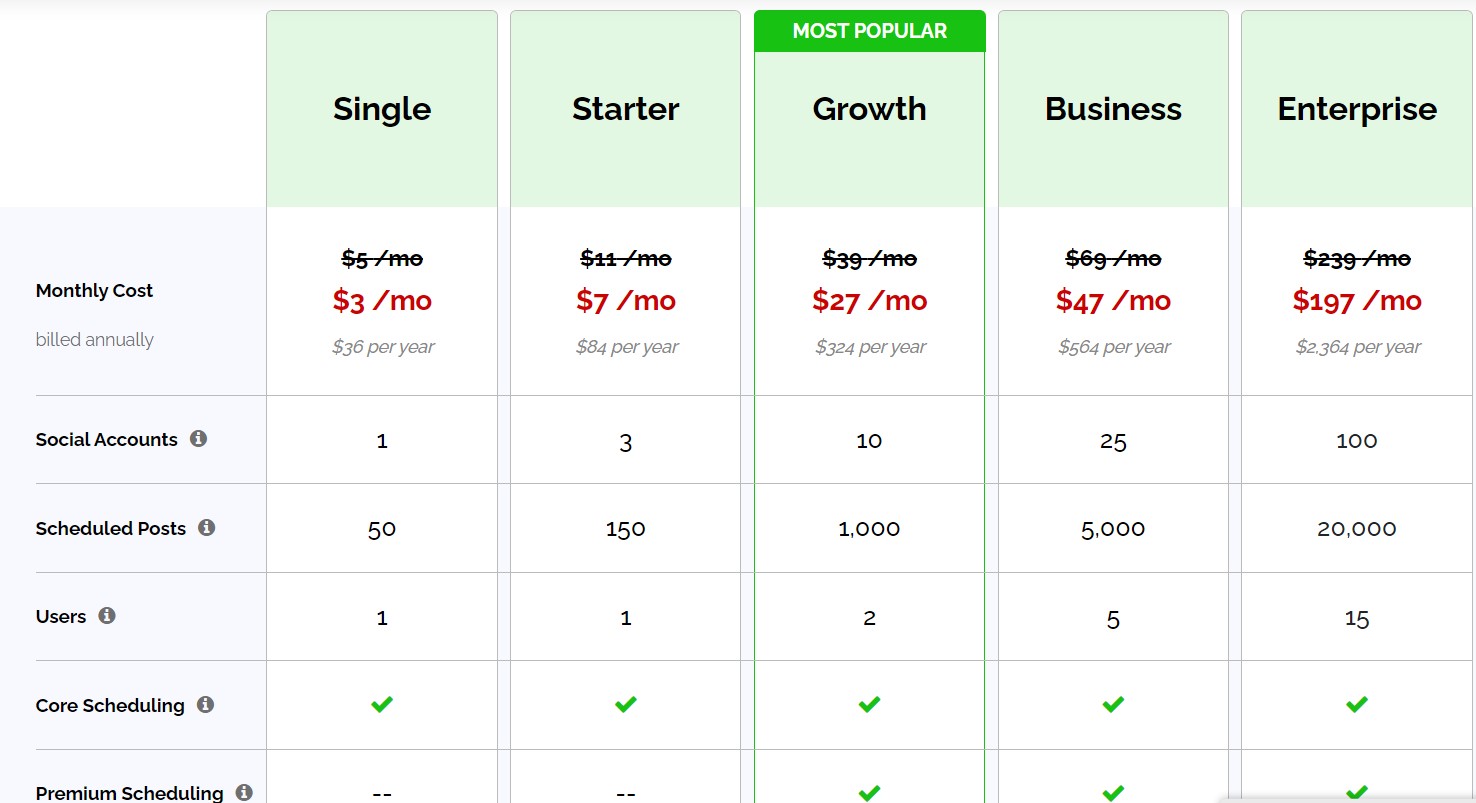 If you want all of Post Planner's features, you'll need to upgrade to the $27/month plan, which includes 10 social accounts and up to 1,000 scheduled posts.
Reviews
Post Planner gets great reviews for its ability to save customers so much time. Other positive comments mention customer support and ease of use.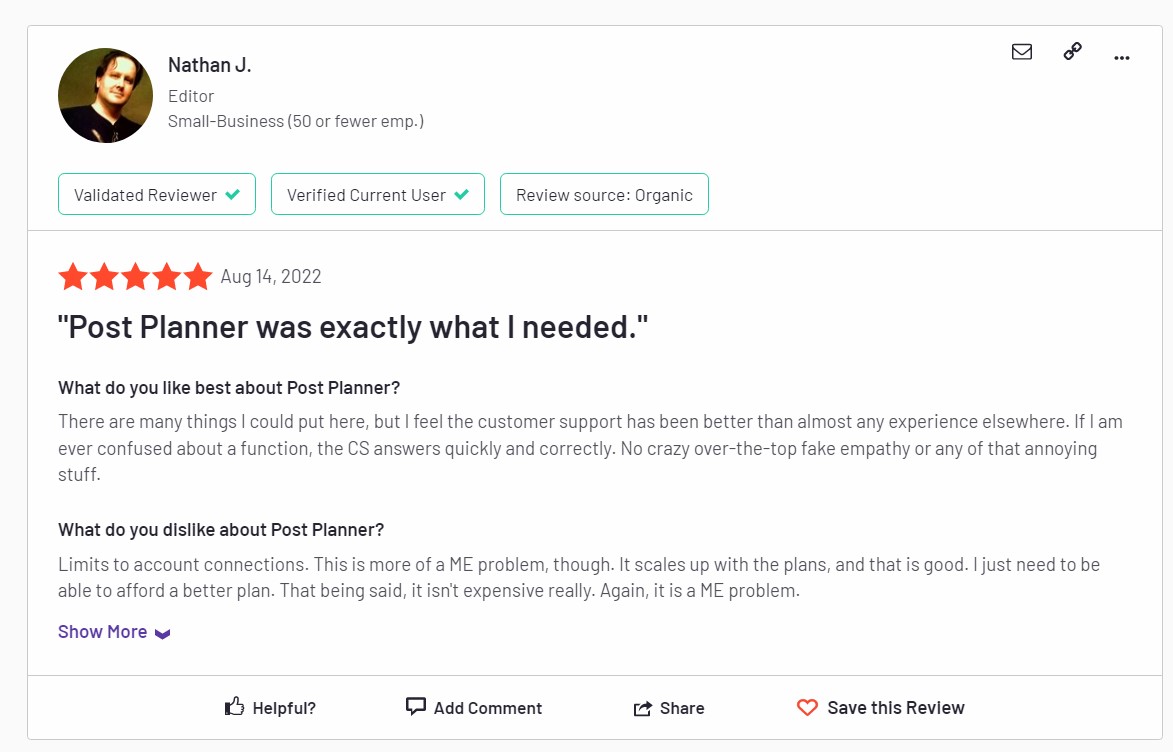 Negative comments mention a bit of a learning curve for some people, as well as some other small difficulties with the UI (which has been improved as you can see in our screenshots 😃).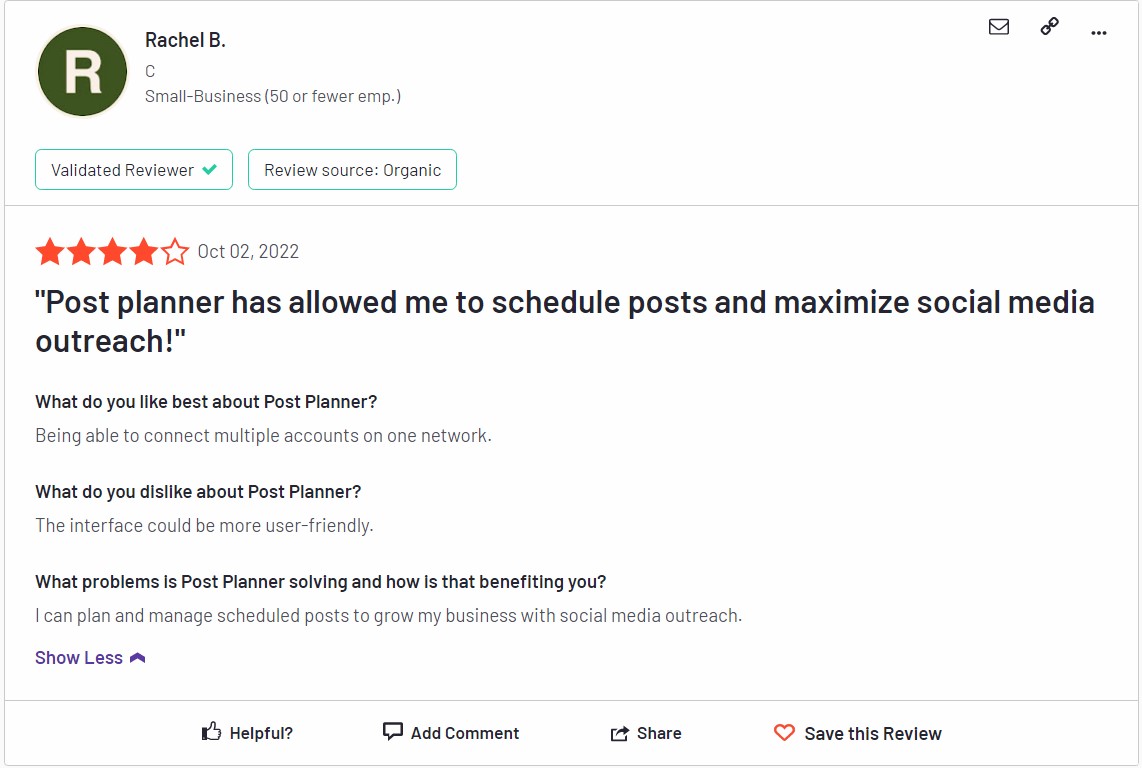 2. Best for teams: Agorapulse
Agorapulse is a social media scheduler targeted toward teams.
It helps social media marketing teams collaborate on content to meet their goals, improve their content, and get more followers on LinkedIn.
But teamwork isn't the only area where Agorapulse shines. Let's look at why Agorapulse may be the right tool for your business.
Pros
Easy post-scheduling across multiple social channels
Optimization suggestions to make sure you get the most out of each post
Real-time team collaboration on content
High-quality analytics to help you improve your strategy over time
Mobile app allows you to publish even on the go
Cons
No content discovery features
Price is steep compared to some other tools on this list
Features
The main features of Agorapulse are focused on helping you and your team create better content and schedule it to your channels.
Agorapulse's team features include tools that allow you to assign tasks to different members of your team. They'll get a notification letting them know that they need to accomplish something, helping your team work better together.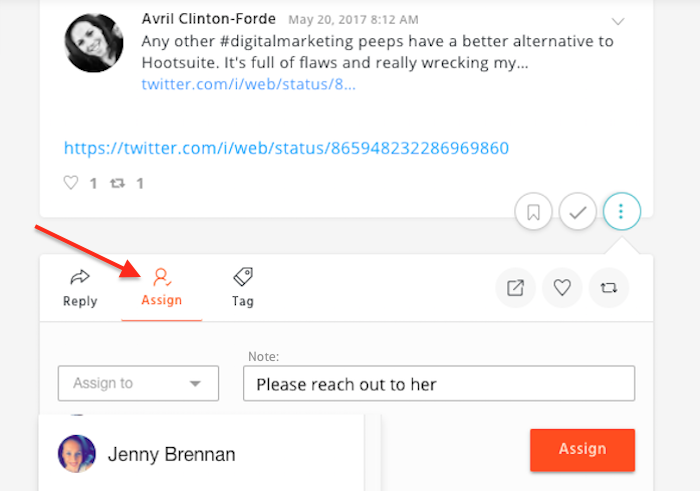 You can also easily share content resources with the entire team, helping everyone stay on the same page.
When you're done working with your team to create content, you can schedule your content to post automatically at a selected time.
There are also other great features like:
Social media messaging manager, allowing you to manage all your messages from one place
Analytics that show important information about your audience and your content's performance
Social listening allows you to see what people are saying about your brand and take action right from Agorapulse's platform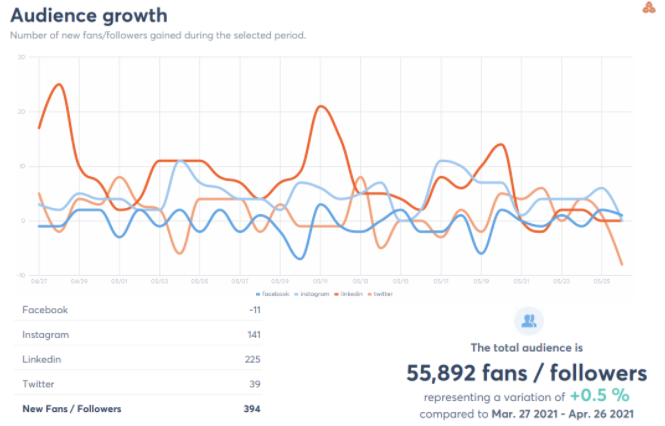 Pricing
You can manage 10 social profiles with Agorapulse for $49/month. However, that doesn't include the team or social listening features mentioned above. To get those features, you must upgrade to the $79/month plan.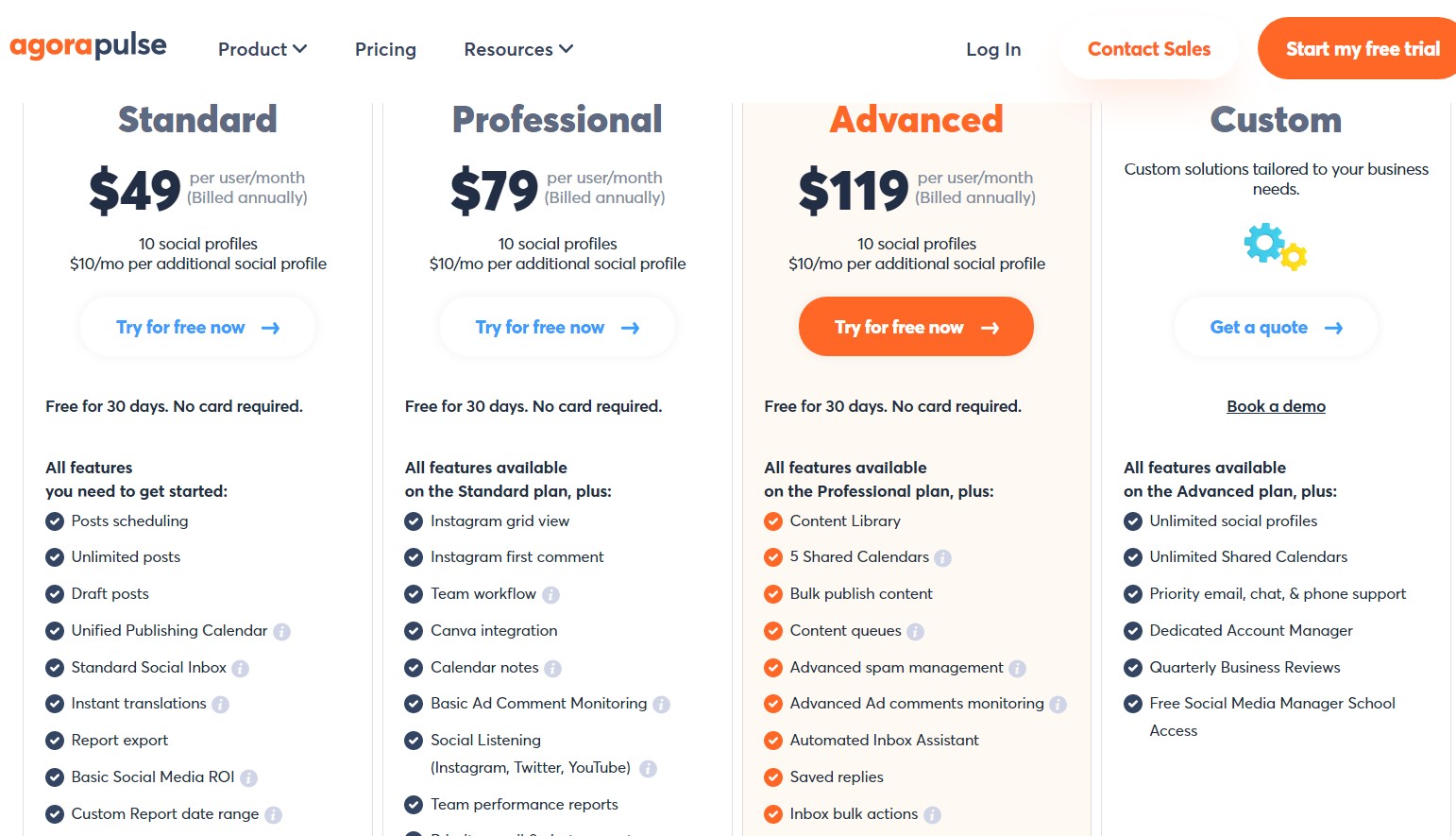 Reviews
Agorapulse gets high reviews. Some of the most frequent positive comments mention the ability to coordinate a team, customer service, and scheduling features.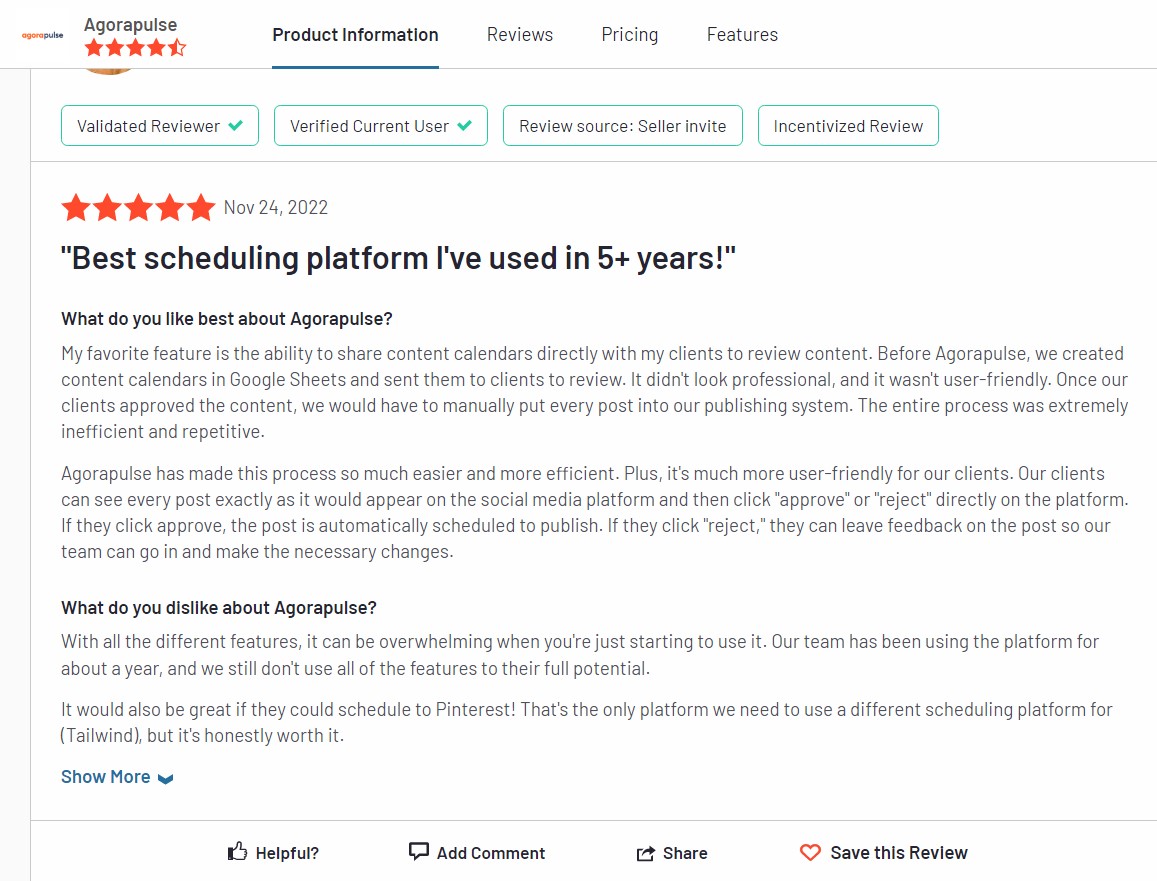 Negative comments are scarce, but some complaints have to do with the price or small issues that people run into while using the platform.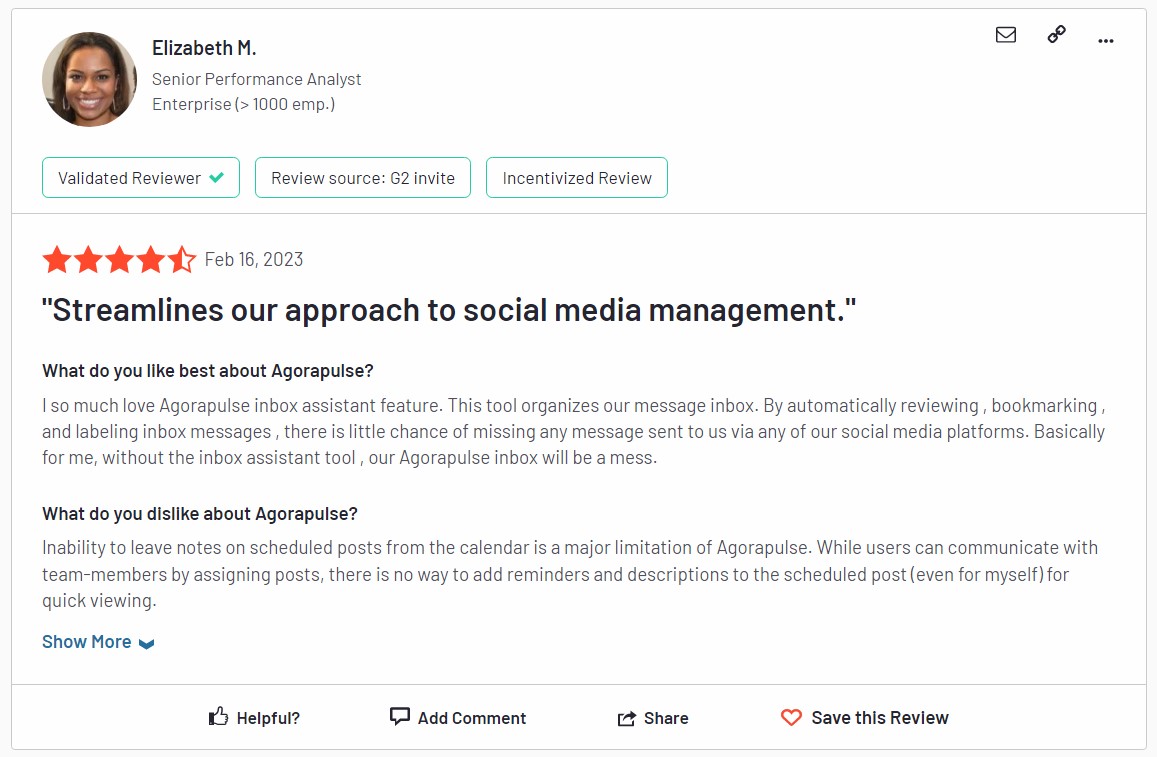 3. Best for AI assistance: Buffer
Buffer is designed to boost audience engagement on LinkedIn by providing AI-assisted post-scheduling and analytics of each post's performance.
Buffer was created with ease of use in mind. It can be utilized to schedule posts across many different platforms at the same time, while the AI assistant can help to fine-tune posts and boost audience engagement.
Pros
Simultaneous post-scheduling across multiple platforms
Official partnership with LinkedIn provides ease of functionality
Amazing free plan for up to 3 channels
AI assistance (provided with free plan) helps with efficiency and post-optimization
Cons
Free plan does not include analytics (you have to upgrade to get those features)
Content must be sourced from other platforms as there is no content discovery tool
Features
Buffer's analytics make it easy for you to quickly discover who your posts are reaching, and the social media engagement tool simplifies the process of staying connected to your audience.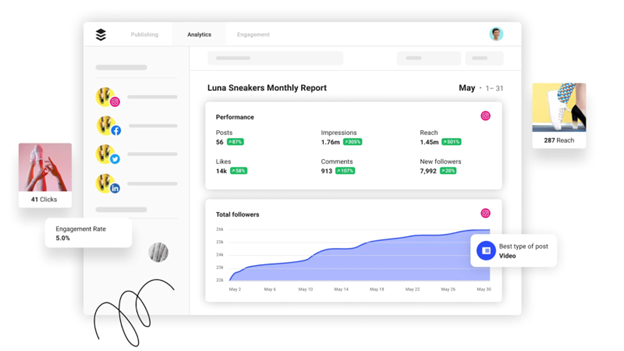 A key feature of Buffer is its AI assistant. The AI assistant can quickly generate posts from short prompts or convert posts from one platform to another. It also provides suggestions for how you can expand the reach of your posts.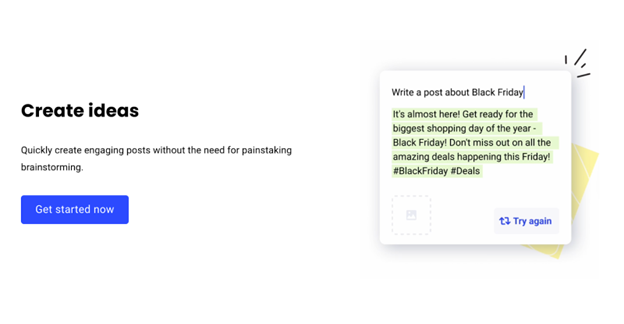 Buffer also makes it easy to create a custom landing page in minutes that you can include in the bio of your chosen social media platform.
Pricing
With Buffer, you can utilize the AI assistant, the landing page builder, and planning and publishing tools for up to 3 channels absolutely free. To unlock the engagement tools and analytic reports, you'll need to pay $6/month per channel.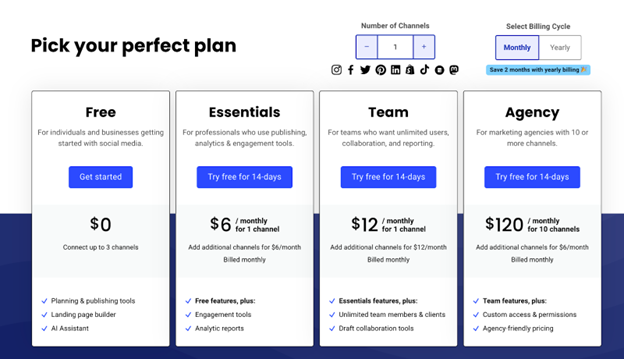 Reviews
Buffer receives great reviews. Customers often speak highly of how they can easily schedule and manage posts across multiple platforms.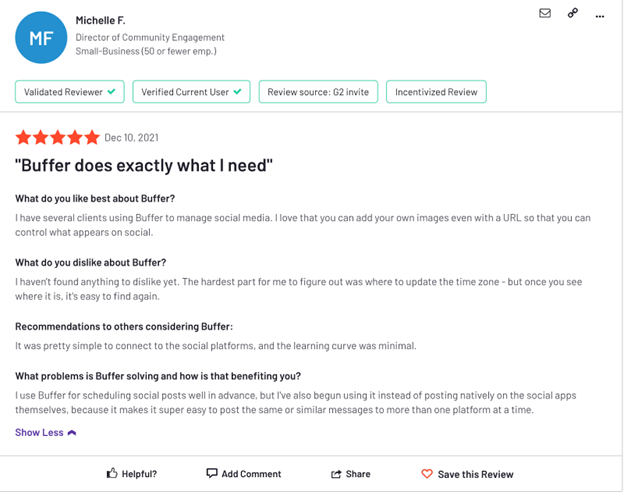 Though there are not many negative reviews. But there have occasionally been complaints about the UI or the fact that the analytical tools are premium features.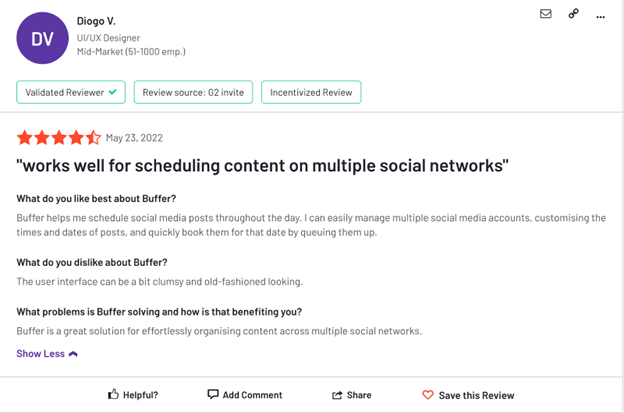 4. Best for social listening: Sprout Social
Sprout Social is a social media tool aimed at helping businesses plan their social media content.
To do that, it provides great social listening tools to help its customers understand what their audiences are saying about them.
Sprout Social isn't just a social listening tool. It also equips its users with scheduling tools, analytics, and a platform designed to be used with a social marketing team.
Pros
Variety of tools (from publishing and scheduling to analytics and social listening)
Training and educational materials to help you master social media strategy
Multimedia library helps you create professional content
Social listening tools allow you to understand how your marketing is being received, giving you the information you need to improve
Cons
Expensive plans are probably only suitable for larger businesses
Multimedia library isn't as comprehensive as a true content discovery tool
Steeper learning curve than other tools on this list
Features
Sprout Social aims to be an all-in-one platform for social media marketing, so it provides a wide range of tools.
One of the features that really sets Sprout Social apart is social listening. You can use Sprout Social to see what your customers (or potential customers) are saying about your business.
But that's not where social listening ends. You can filter exactly what keywords and hashtags you want to focus on. You can also look at detailed analytics that shows you exactly how your audience feels in a few key graphs.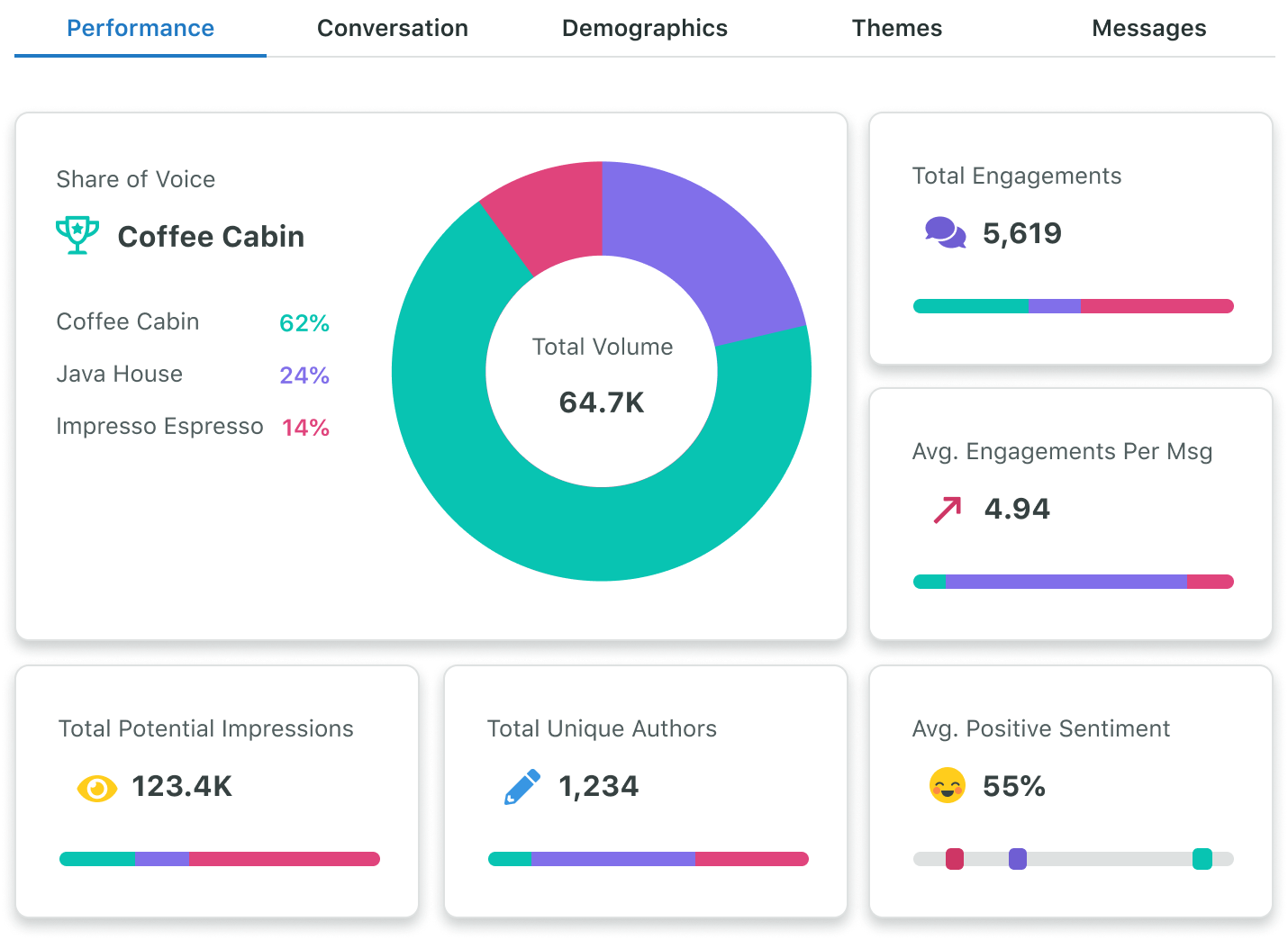 Pricing
Unfortunately, Sprout Social's pricing structure is much higher than any other tool on this list.
The cheapest plan is $249/month, which only includes 5 social profiles.
If you want unlimited social profiles, you'll need to cough up $399/month and an additional $299 per extra user.
Reviews
Sprout Social generally gets positive reviews. Many positive comments mention the ease of scheduling posts and listening to audience sentiment — especially for those who are managing multiple clients' social channels.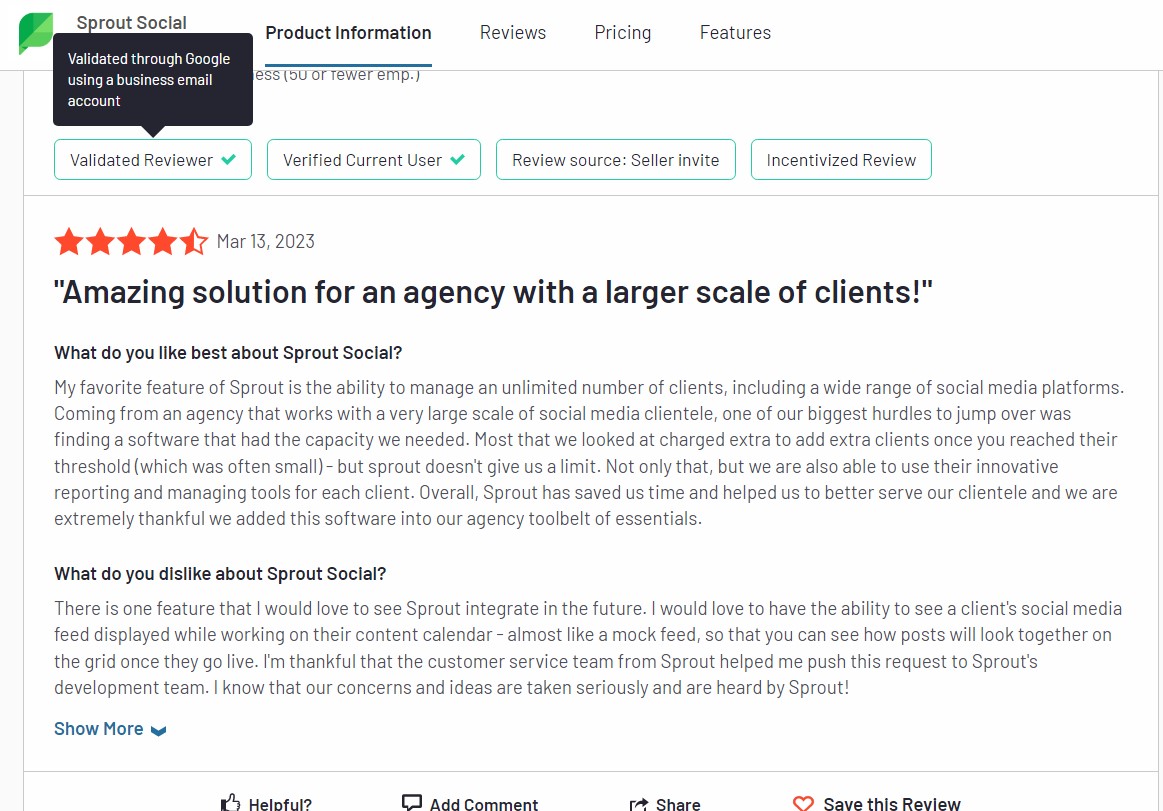 The majority of the negative comments focus on:
The steeper learning curve
Some occasional failed posting times
The lack of ability to tag people/businesses on LinkedIn when creating a post through Sprout Social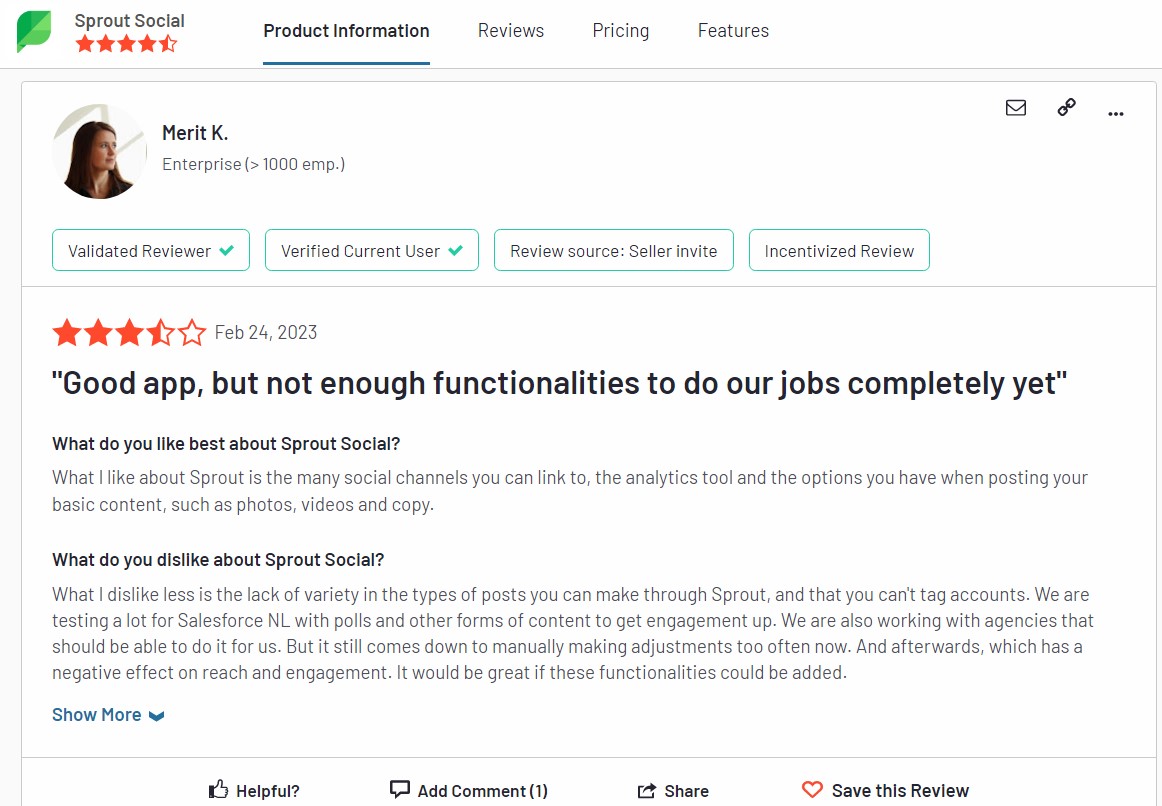 5. Best for analytics: Zoho Social
Zoho Social is a full social media management platform that enables you to plan and schedule content, monitor social feedback, and record analytics.
If you're interested in getting the most in-depth analytics without breaking the bank for a bigger tool like Sprout Social, Zoho is a great tool for you.
Pros
In-depth analytics and reporting tools
Variety of social management features
Recommended posting times to help you make the most of every post
Easy scheduling and helpful visual calendar
Mobile app
Cons
Analytics aren't available for the smaller plans
Content discovery tool is limited to RSS feeds
Features
Analytics is where Zoho really shines. LinkedIn has its own dedicated panel of engagement analytics. That means you'll get analytics related to that channel in particular instead of generic social analytics.
LinkedIn analytics include:
Followers by job function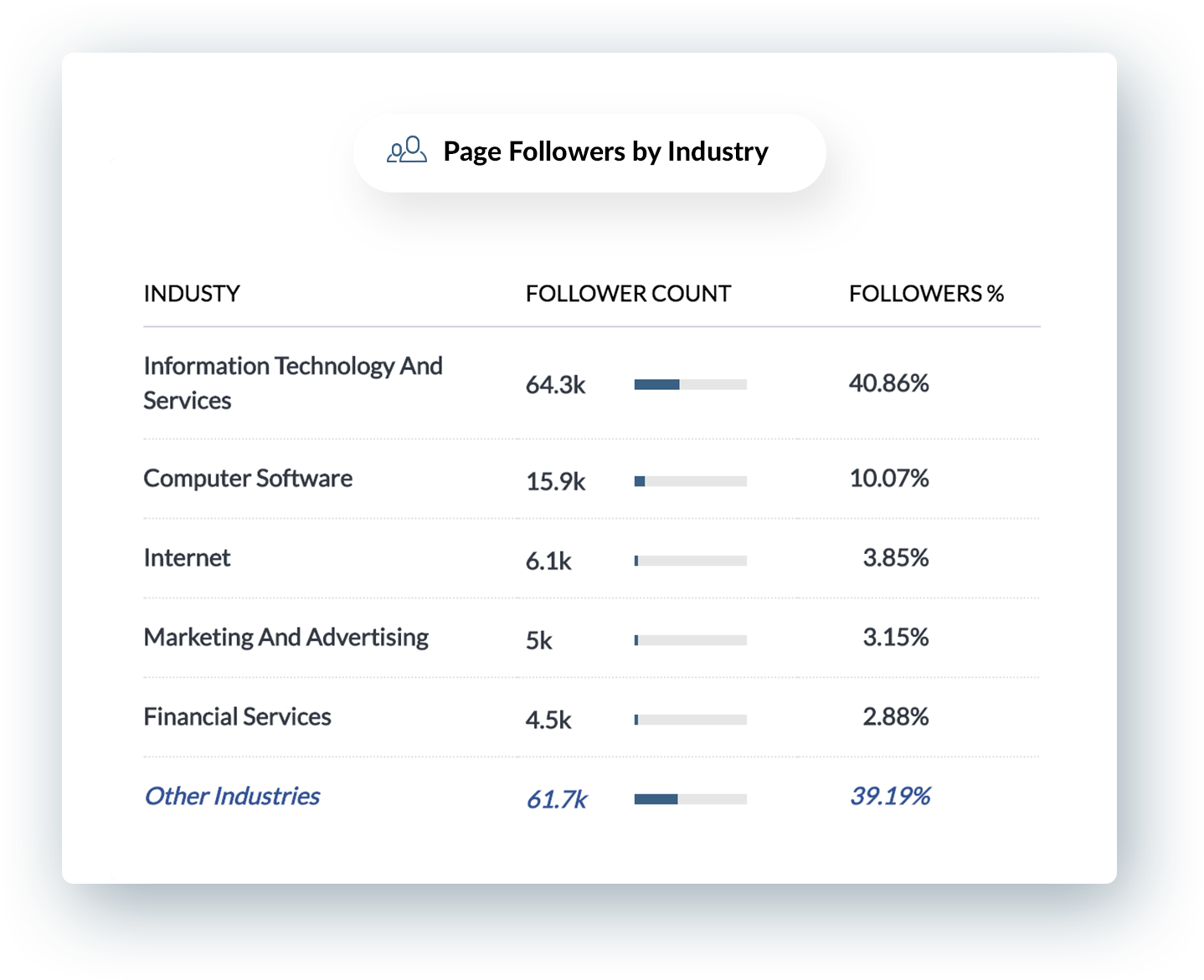 Page views and clicks over time
Engagement by post type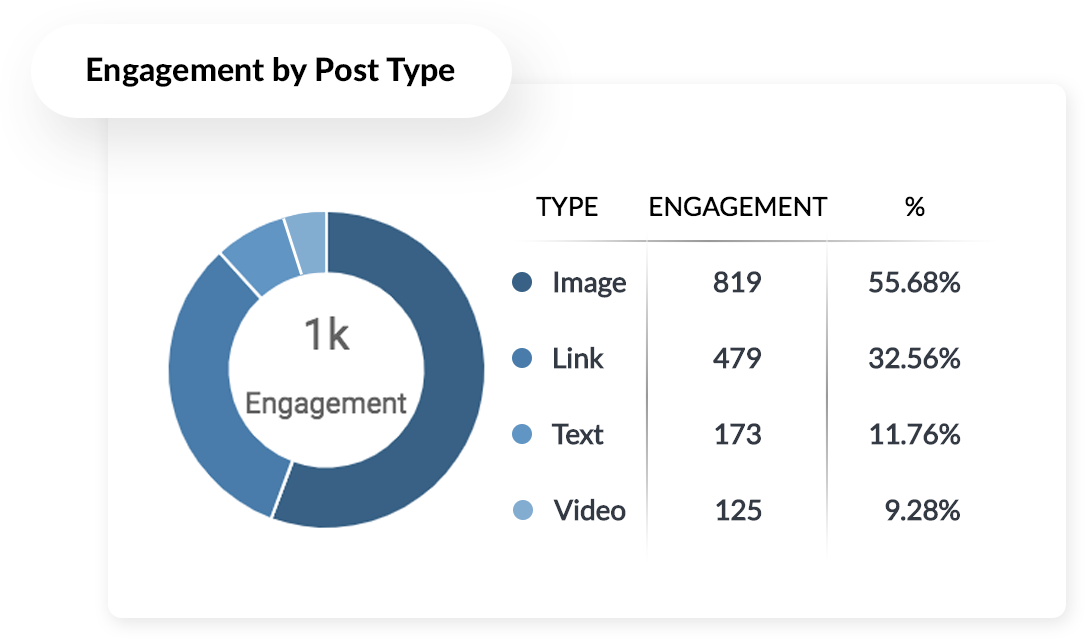 One of my favorite scheduling features offered by Zoho is the SmartQ posting slots. Zoho recommends posting times when it thinks engagement is going to be highest.
Using those posting slots allows you to promote your LinkedIn content even better.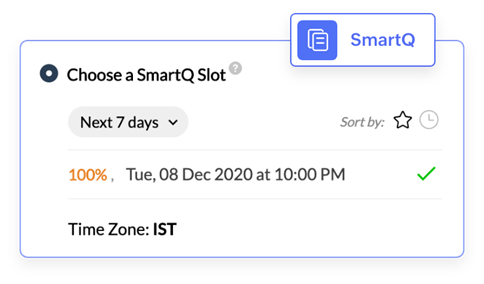 Pricing
My least favorite thing about Zoho is the pricing model. Unlike most of the other tools on this list, Zoho reserves its best features for its highest paying customers. You can get a plan for $10/month, but you won't get features like the most detailed analytics and SmartQ.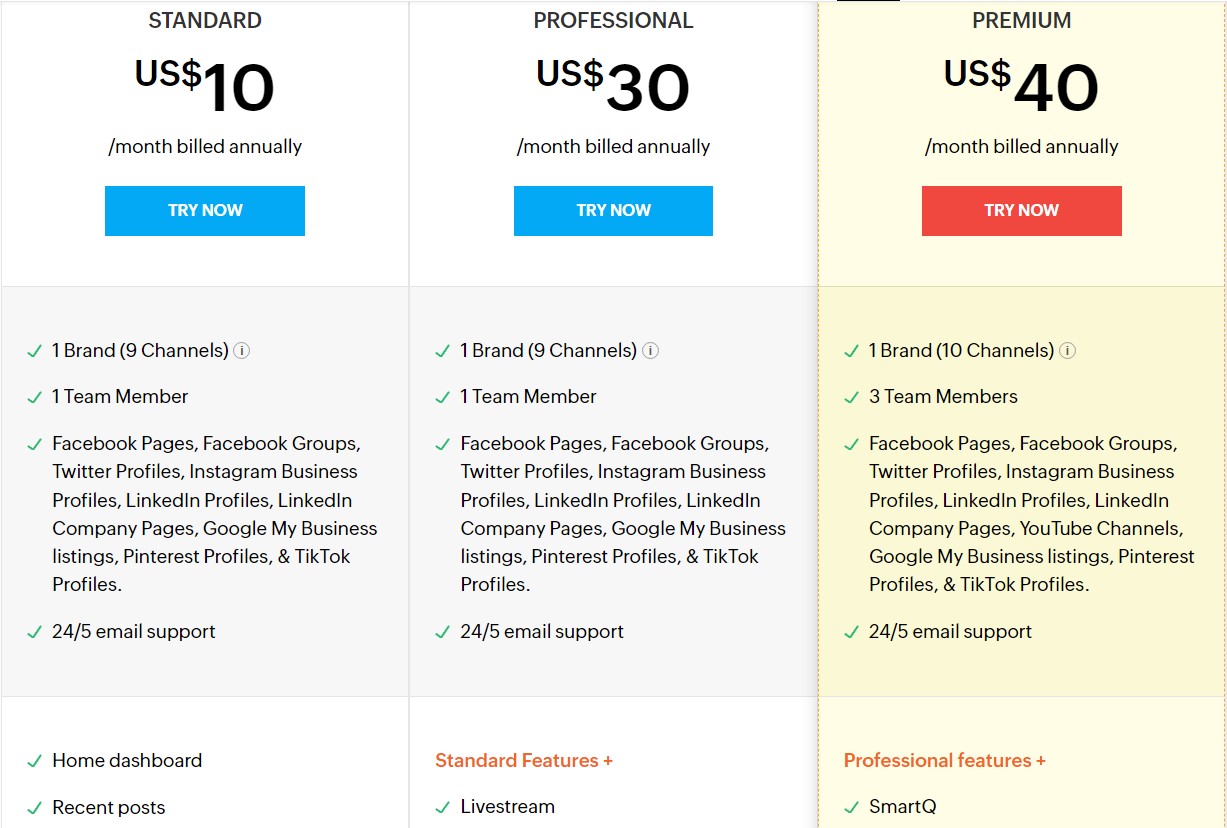 If you want the best analytics that Zoho offers, you'll need to upgrade to the $40/month plan. You also need the $40 plan if you want SmartQ.
Reviews
Zoho's reviews are generally positive. Many of the positive comments talk about the convenience of posting to multiple social media channels at the same time.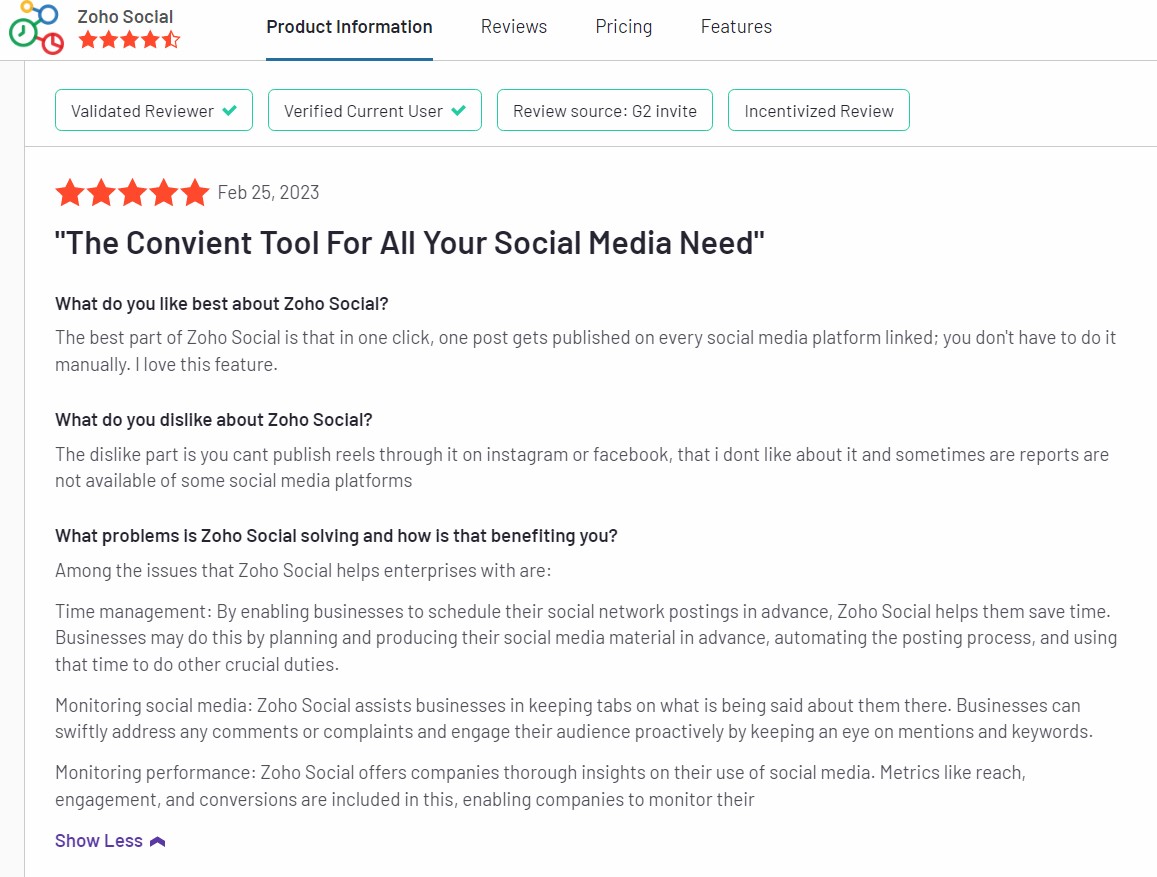 Negative comments often refer to the price being difficult for smaller businesses to manage. Some reviews also lament the lack of a free plan for businesses that don't yet have a social media budget.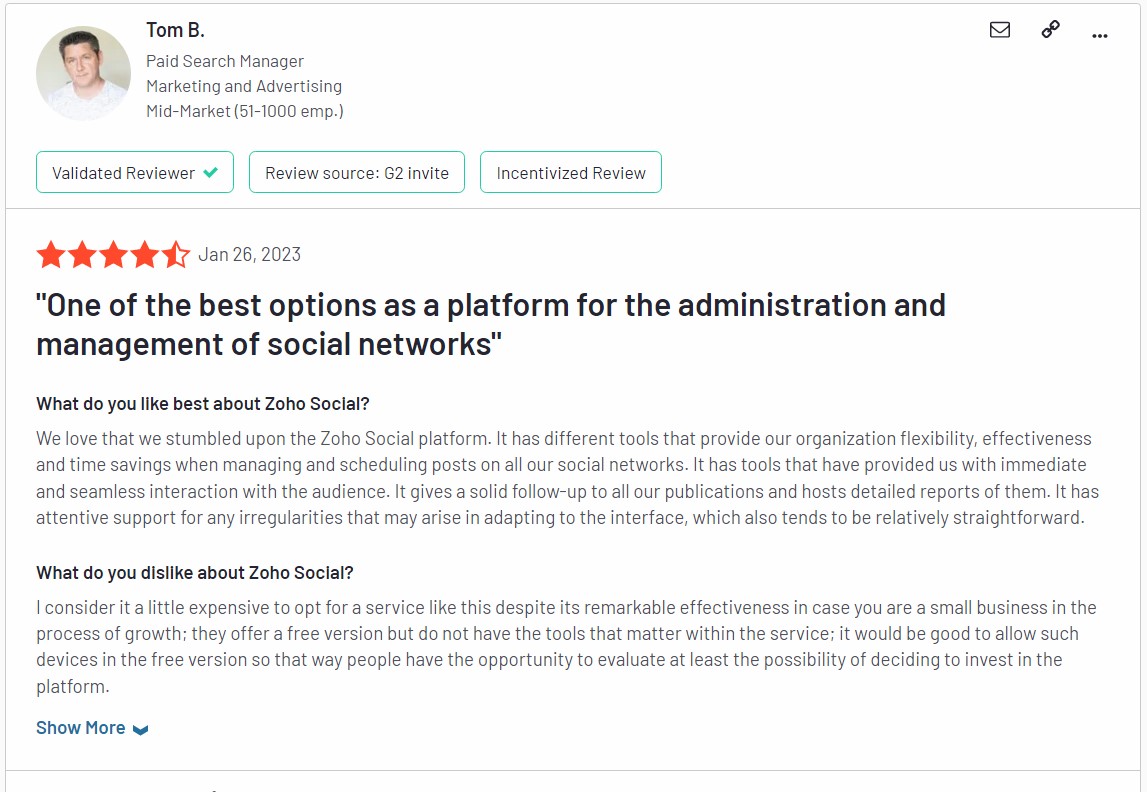 6. SocialBee
SocialBee is a social media all-rounder that aims to reduce the amount of time you spend managing your social media presence.
To do so, it offers a variety of tools like content writing with AI, scheduling, ads management, and analytics.
Pros
A variety of tools means you can manage several aspects of your social media presence from the same place
AI content generator helps save time on writing
Includes a tool to help you quickly turn your blog posts into social media posts
Strong analytics features help you improve your content and strategy
Cons
Content discovery is limited to a browser extension and integrations with other tools
Smallest plan only includes limited analytics
Features
SocialBee's core functionality is designed around helping you create and schedule content.
The AI assistant helps you generate optimized captions and posts for each social media channel.
One of the interesting features offered by SocialBee is the Content Categories tool. Splitting your content up into categories allows SocialBee to distribute content across your calendar so it doesn't get repetitive.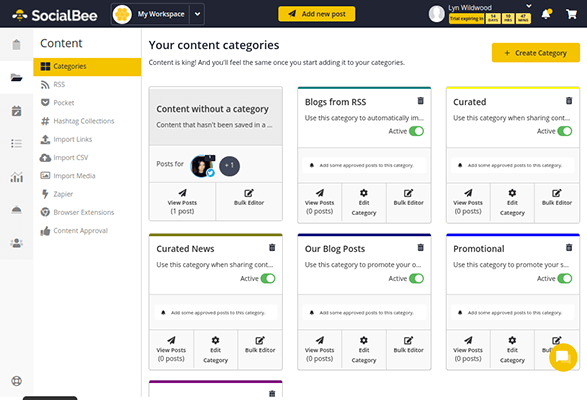 The posting calendar makes it easy to see what you have planned. You can easily change your posting schedule by editing it from this calendar.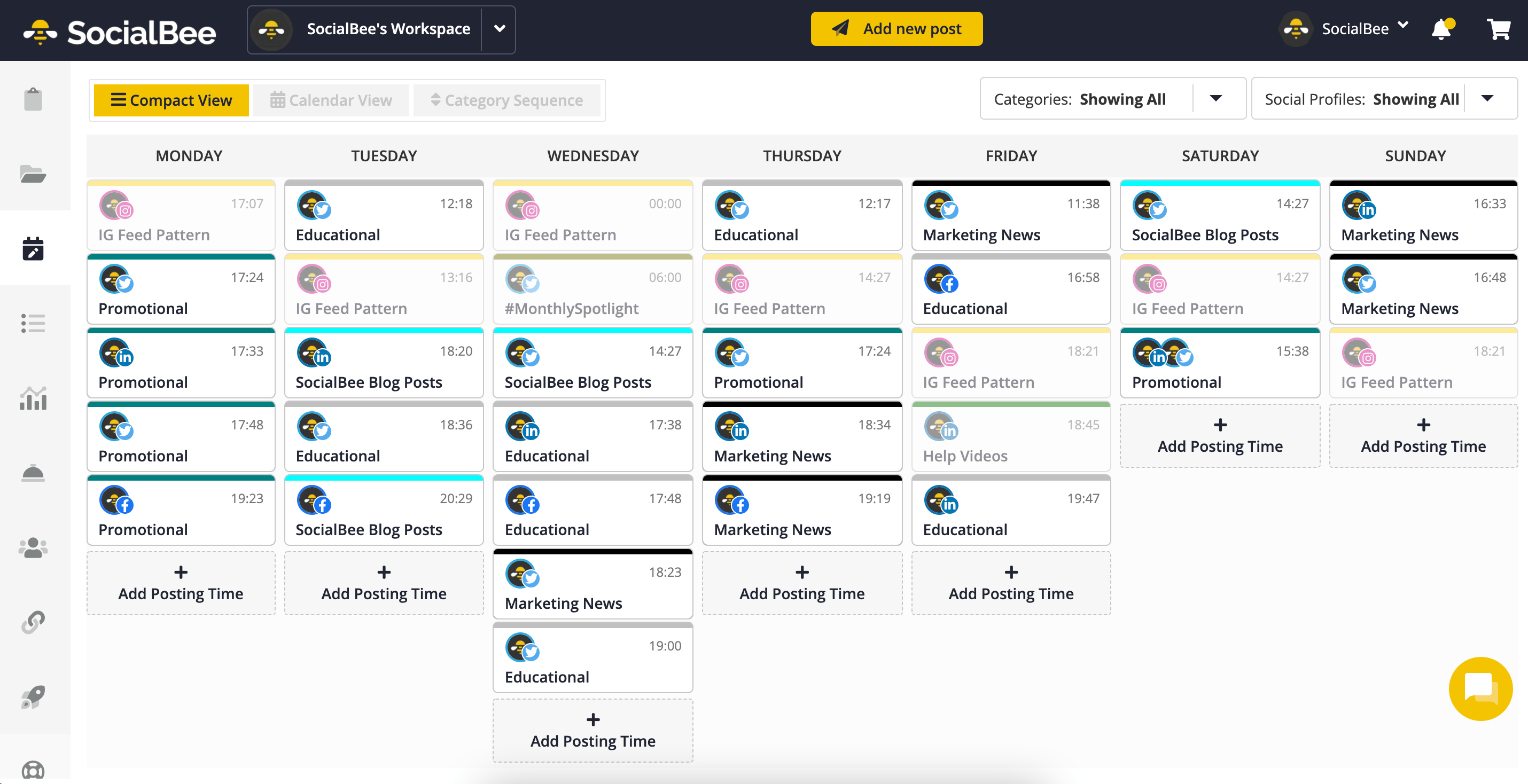 Pricing
SocialBee pricing starts at $19/month for 5 social accounts and 1 user.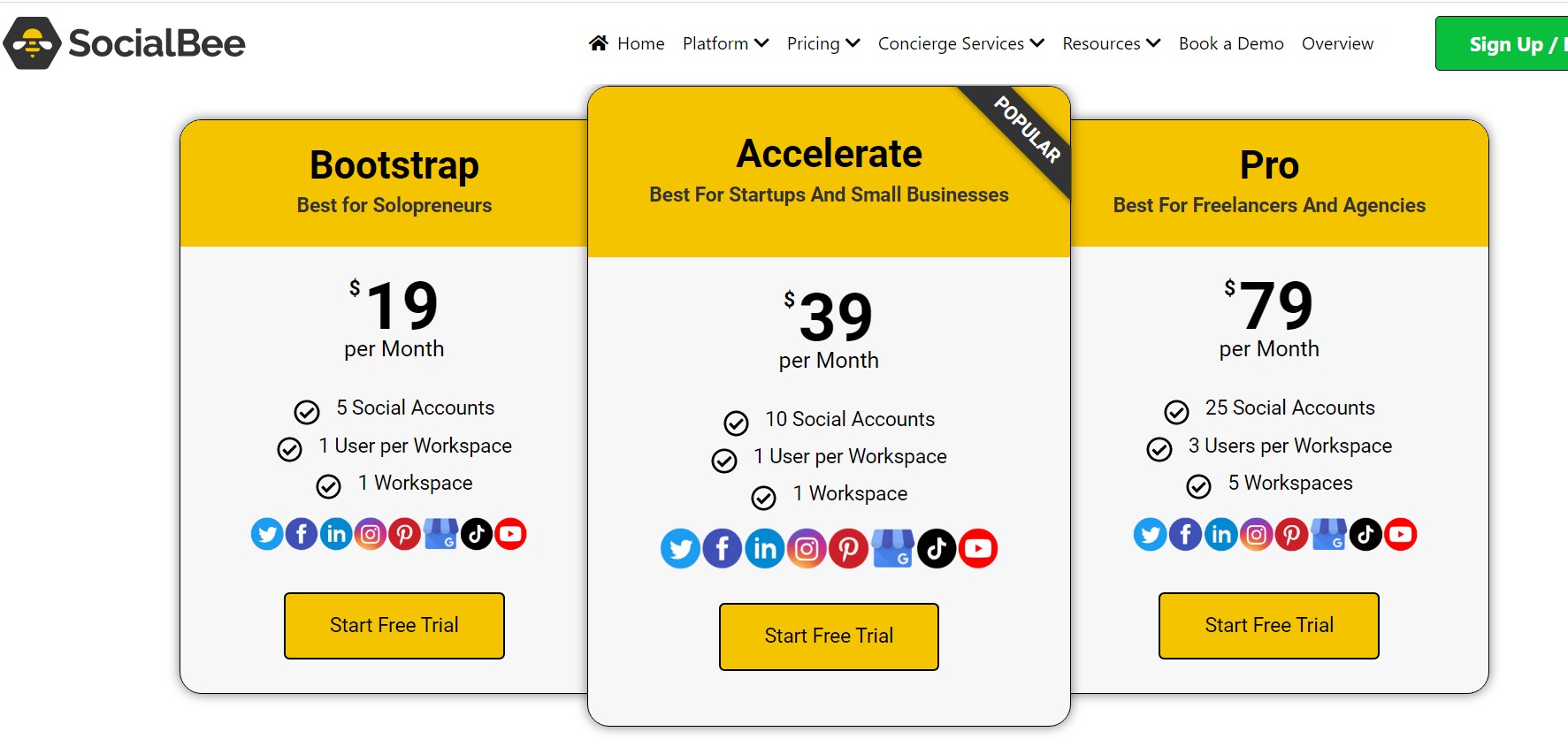 If you need to manage more social channels, you can upgrade to the $39/month or $79/month plan.
The only downside of SocialBee pricing is that you get some limited features on the lower plans. I would love to see access to full analytics on the cheapest plan.
Reviews
SocialBee gets fantastic reviews. The most common positive remarks are about the simplicity, the time-saving features, and the great customer service.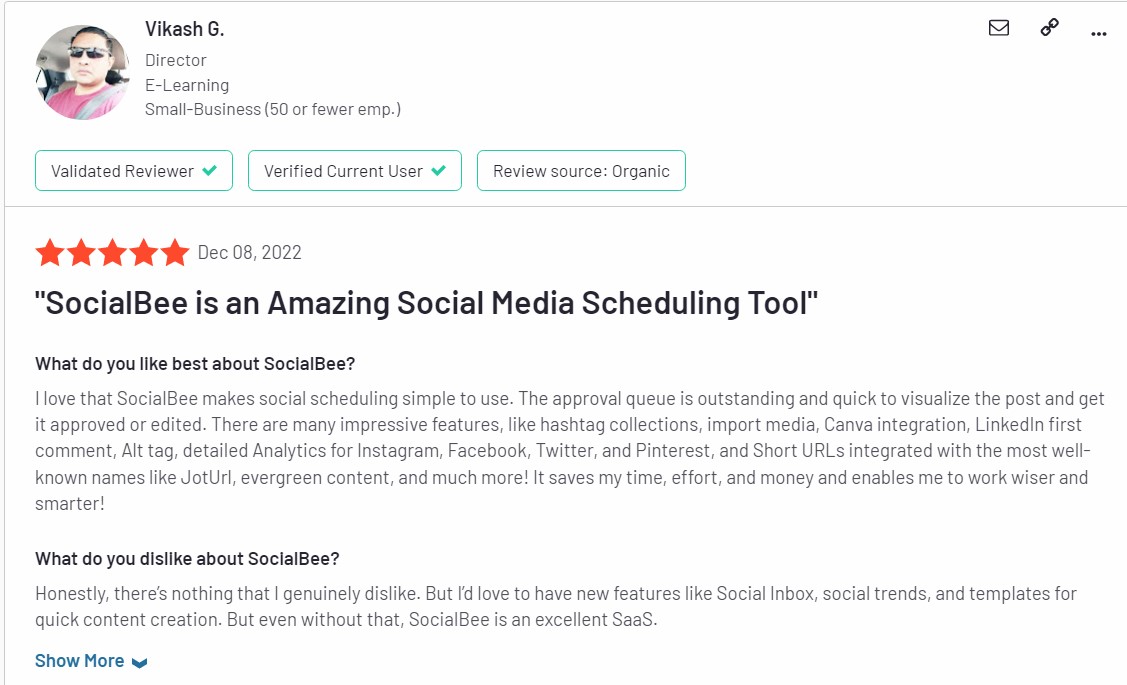 Some negative comments mentioned small issues with the UI, lack of certain LinkedIn analytics, or a steeper learning curve than similar tools.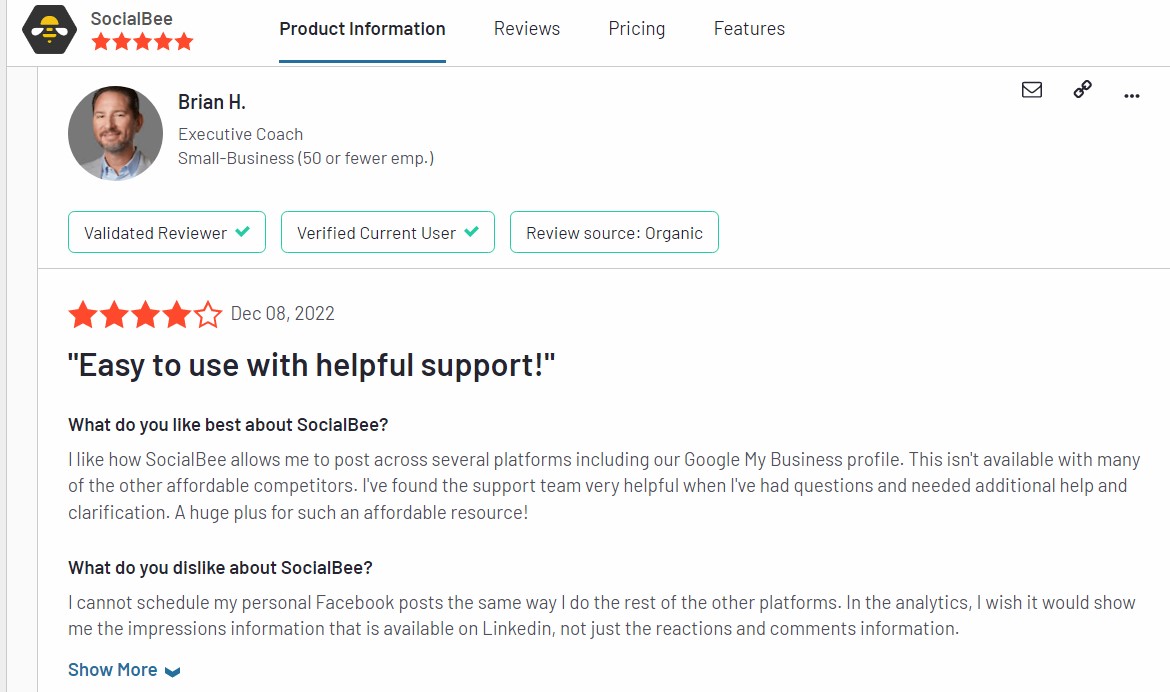 7. Loomly
Our last tool is Loomly, which is one of the simplest tools on this list.
Even though it is simple in design, it still has the power to help you manage all your social channels in one place.
Loomly is focused on finding great content ideas and scheduling them to post to your social media channels automatically. It also incorporates team features to help your content creation go even quicker.
Pros
Content discovery and inspiration tool saves you time coming up with content
Team notifications help you work together and stay on top of everything
Recommendations on optimizing posts, helping you maximize engagement on every platform
Manage your messages across your social channels, saving time
Cons
Advanced analytics are reserved for the more expensive plans
Content discovery tool is somewhat limited compared to Post Planner
Support for some channels is limited
Features
Loomly's content calendar uses a very clean interface that's easy to understand. From the calendar, you can explore content ideas, create a new post, or adjust your current posting schedule.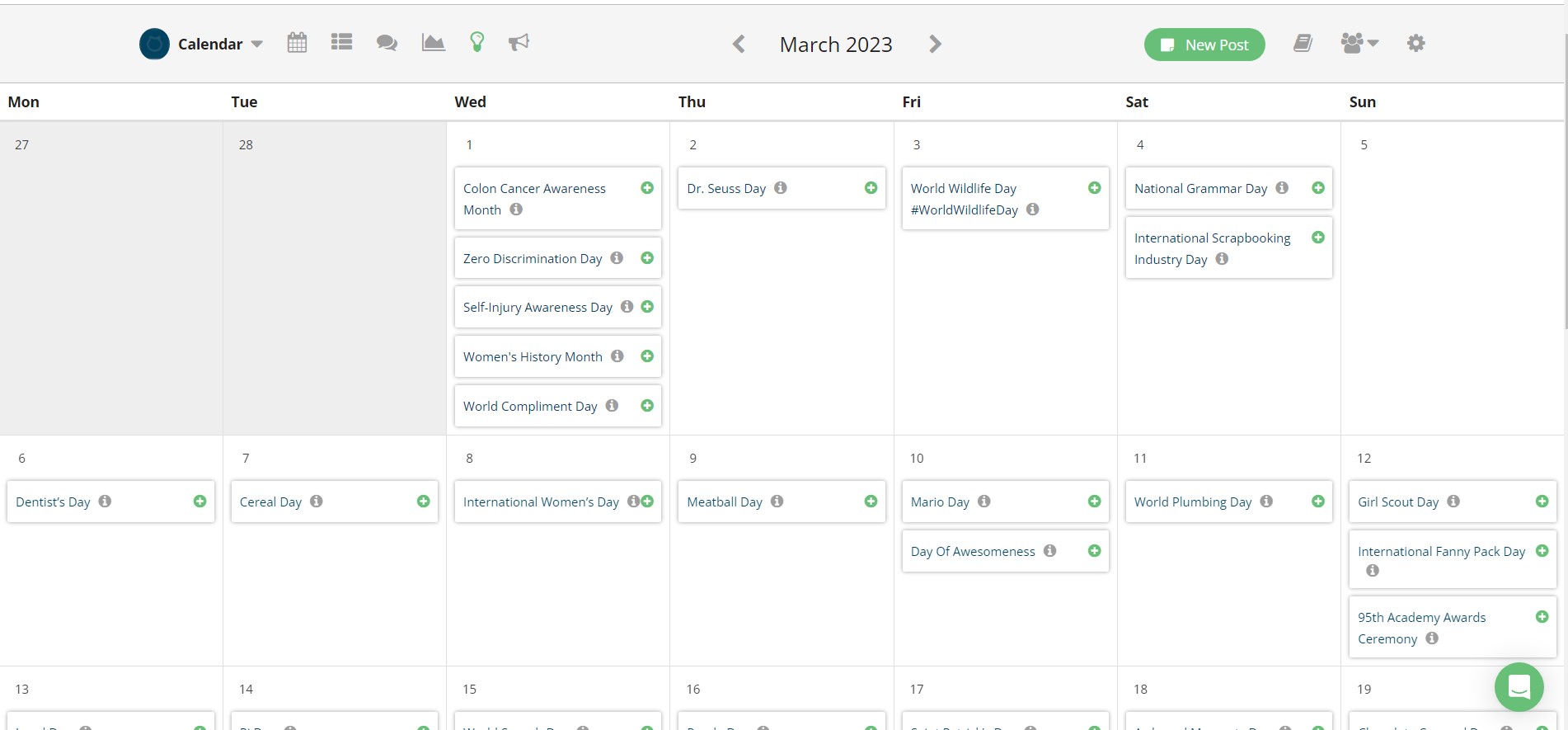 Post ideas are Loomly's way of helping you get over writer's block. Loomly gives you inspiration on what to post.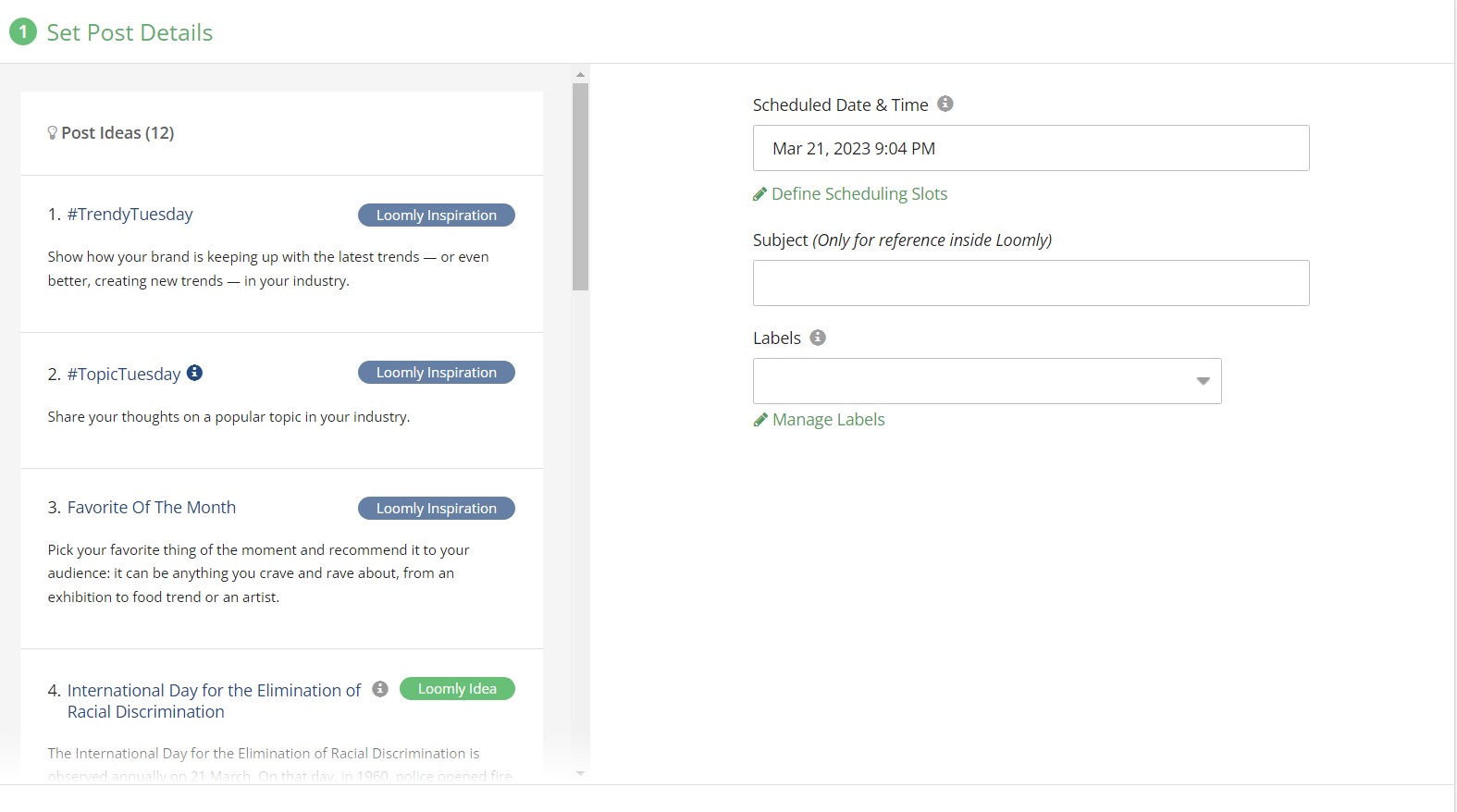 Any content you create on Loomly will be added to a content library, allowing you to quickly create new content and refresh old posts.
Pricing
Loomly starts at $26/month for 10 social accounts and 2 users. That plan doesn't include advanced analytics.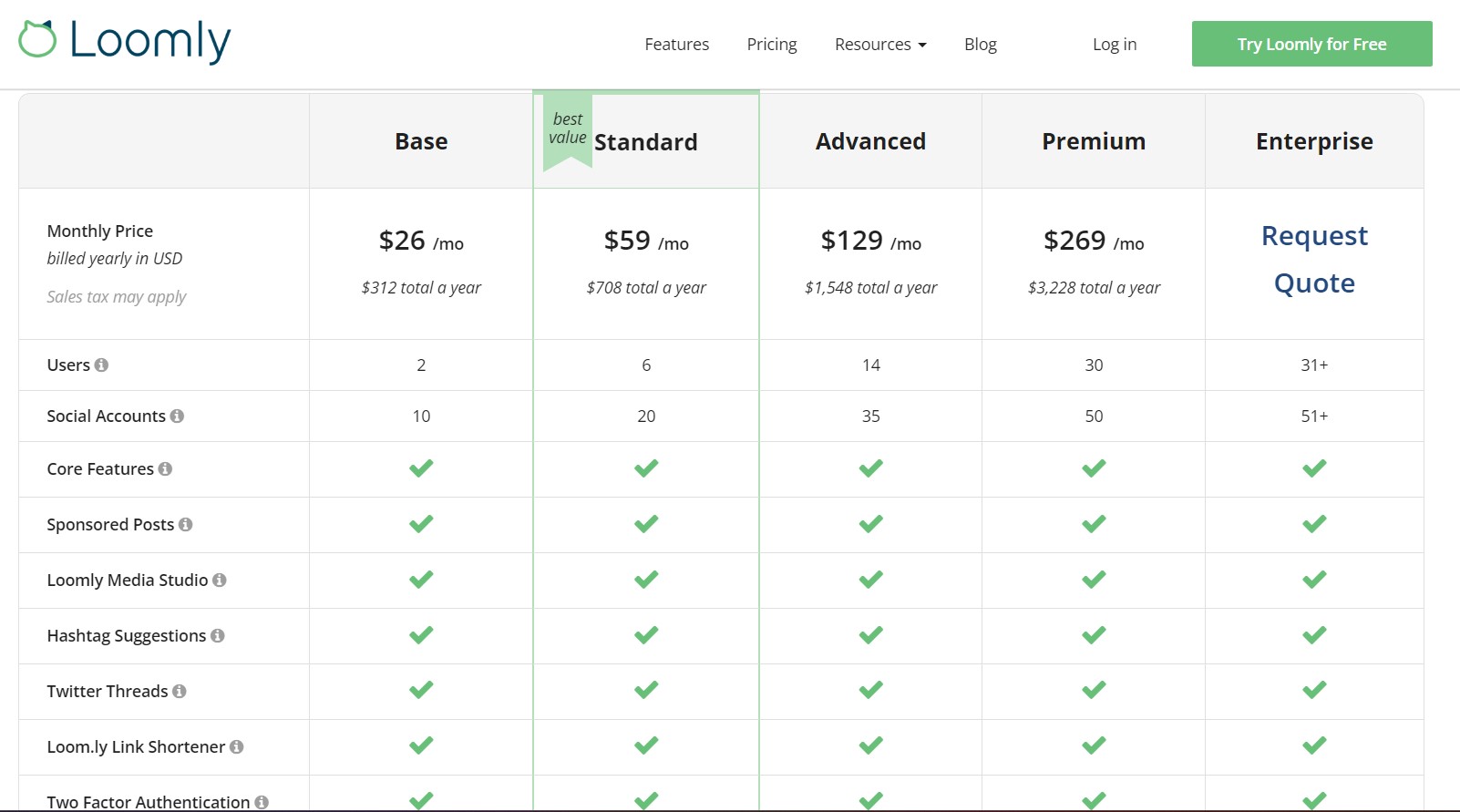 If you want advanced analytics, Slack and teams integrations, and other advanced features, you'll need to upgrade to at least the $50/month plan.
Reviews
Loomly gets positive reviews for its time-saving features, ease of use, and the ability to easily manage all your social media channels from the same place.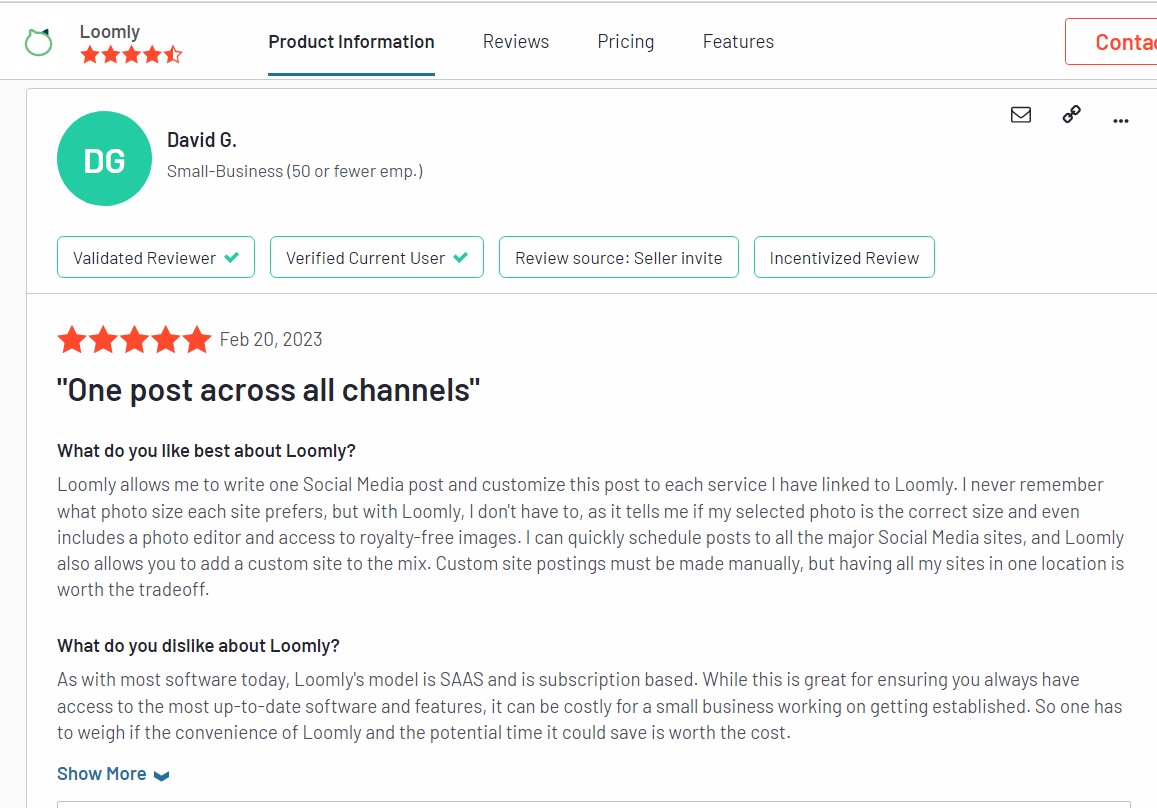 Negative comments mention the platform occasionally slowing down as well as poor integration with certain channels like TikTok.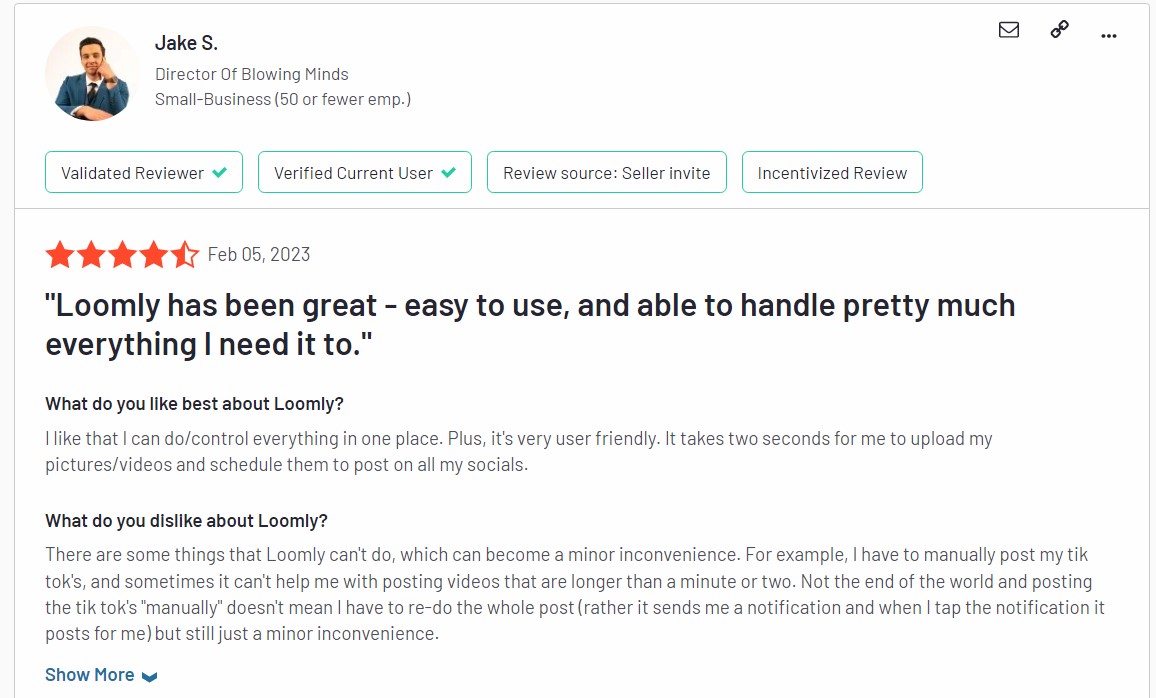 FAQ
What is the cheapest LinkedIn scheduling tool?
Of the tools mentioned here, the cheapest paid option is Post Planner's $3/month plan. However, the free version of Buffer is a great option if it offers everything you need.
Can you auto-schedule LinkedIn posts?
YES! You just need to use ANY of the schedulers mentioned in this post and you'll be scheduling LinkedIn content to automatically post in just a few minutes.
How do I schedule content on LinkedIn for free?
You can schedule posts directly from your LinkedIn page for free. However, the posting feature within LinkedIn is limited, so we highly recommend taking a look at some of the tools mentioned above.
Start scheduling LinkedIn posts TODAY
Finding content and posting it on LinkedIn (while still maintaining your other channels) is a huge time suck.
By using ANY of the tools mentioned in this article, you'll be able to start saving a ton of time on your LinkedIn content strategy.
Just try them out and see which one works best for you!
What other tools have helped you get more engagement on LinkedIn?
Let us know in the comments!