Looking for the best Facebook scheduler app to save you time and money?
This guide compares the top 5 Facebook scheduling tools on the market.
—
Tired of spending HOURS every week finding content and posting on Facebook?
YES?
We've curated a list of the 5 best Facebook scheduling tools on the market.
By the time you're finished with this guide, you'll know which one is best for you.
We'll compare:
Pros
Cons
Features
Pricing
Reviews
Let's get started!
5 Best Facebook scheduler apps (comparison guide)
Feel free to skip to the section in this guide that you're most interested in:
What is a Facebook scheduler app?
A Facebook scheduler app is a software tool that allows you to plan and schedule your Facebook posts.
Some Facebook scheduler tools are web apps that you access from your computer, others are mobile apps, and some are BOTH.
But why should YOU invest in a Facebook scheduler?
How does a Facebook scheduler help you get more Likes?
There are about 2 BILLION users on Facebook every single day.
As a business, your job is to get content in front of them.
So they notice you (and buy from you).
Scheduling Facebook posts in advance is critical for:
Posting on time

Maintaining consistency

Getting more engagement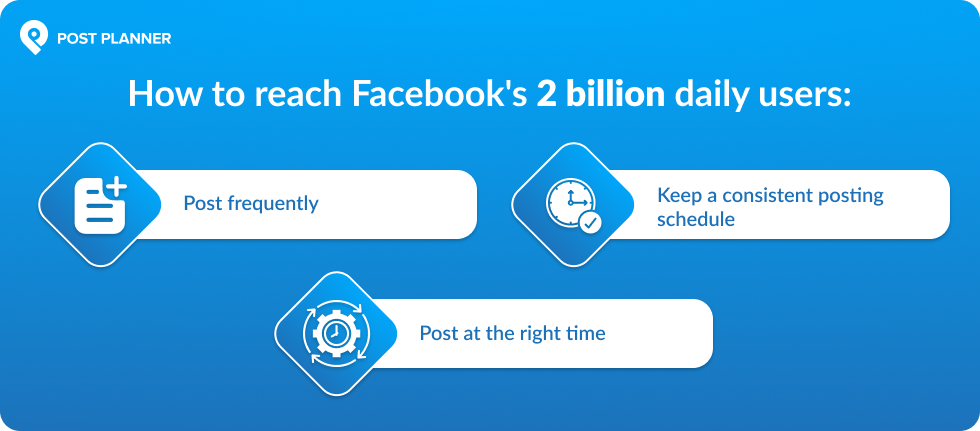 The best way to do that is to use a Facebook scheduling app.

The best apps to schedule Facebook posts help you find, edit, and create content to share at the best times.
But even more importantly, they allow you to schedule posts in advance, which they'll automatically post for you at a pre-selected time.
In other words, they allow you to construct your ENTIRE Facebook content strategy ahead of time.
So you can focus on other things with your extra free time.
What is the best Facebook scheduling app? Post Planner!
Post Planner is among the best Facebook post scheduling tools for value and effectiveness.
We've positioned Post Planner at the top of our list because everyone — no matter the industry or niche — can use it effectively.
No matter what your budget is, Post Planner will offer something valuable.
If you'd like to follow along as we look at some features, sign up for Post Planner's free 7-day trial.
Posting calendar
The magic of any Facebook scheduling tool happens in the calendar.
The calendar is where Post Planner shows you:
What posts are scheduled

When posts are scheduled

Any open slots you have that still need to be filled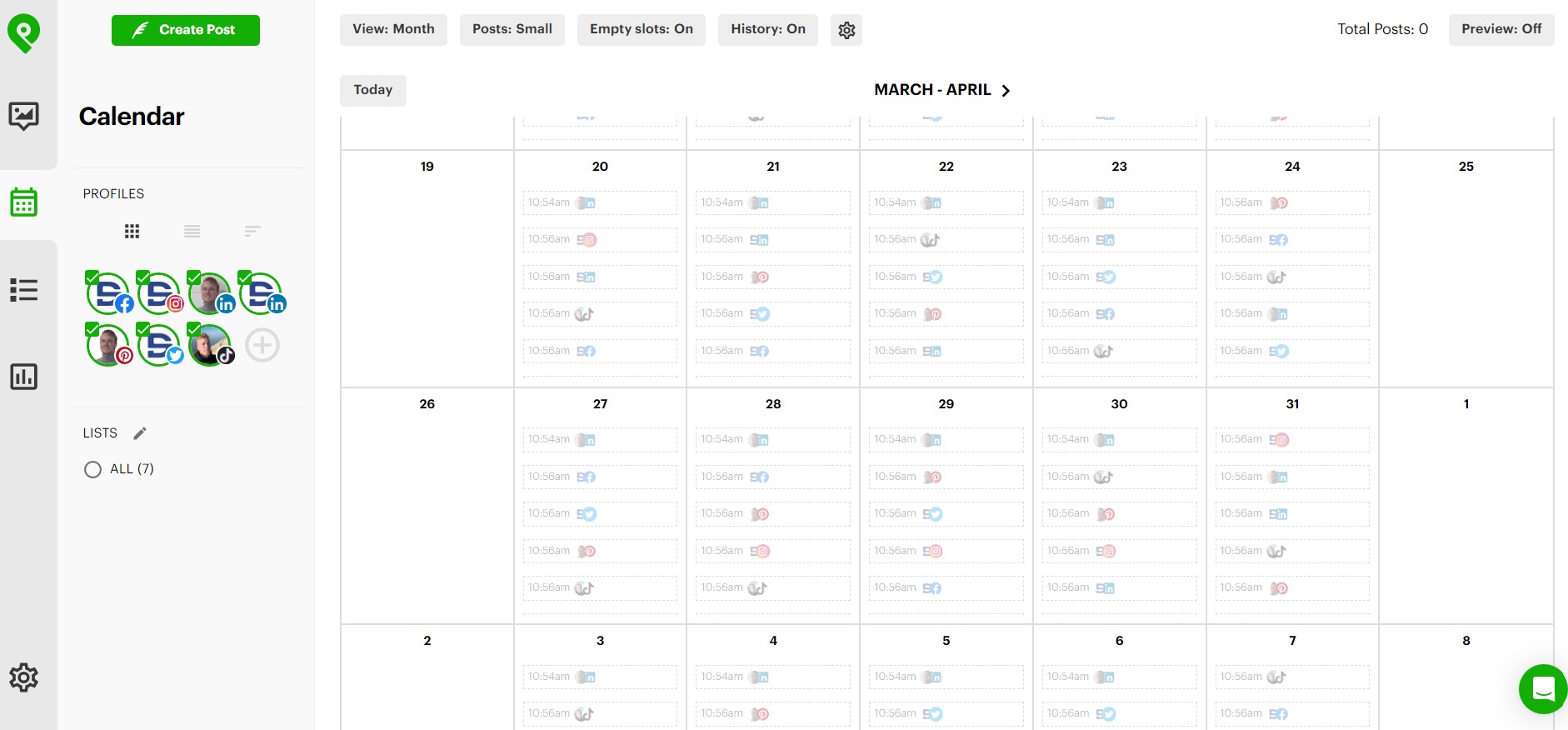 In addition, it allows you to quickly rearrange posts to change your content plan on the fly.
This is also the best place to get a bird's eye view of your content calendar, allowing you to fine-tune your focus to maximize engagement.
Discover the best content
Your posting calendar will only be helpful if you have content to put on it.
That's where Post Planner's content discovery tool comes in.
Using the Content tab, you can quickly find hundreds of posts about almost any topic.
Just type in the topic you're targeting and see what Content Streams come up.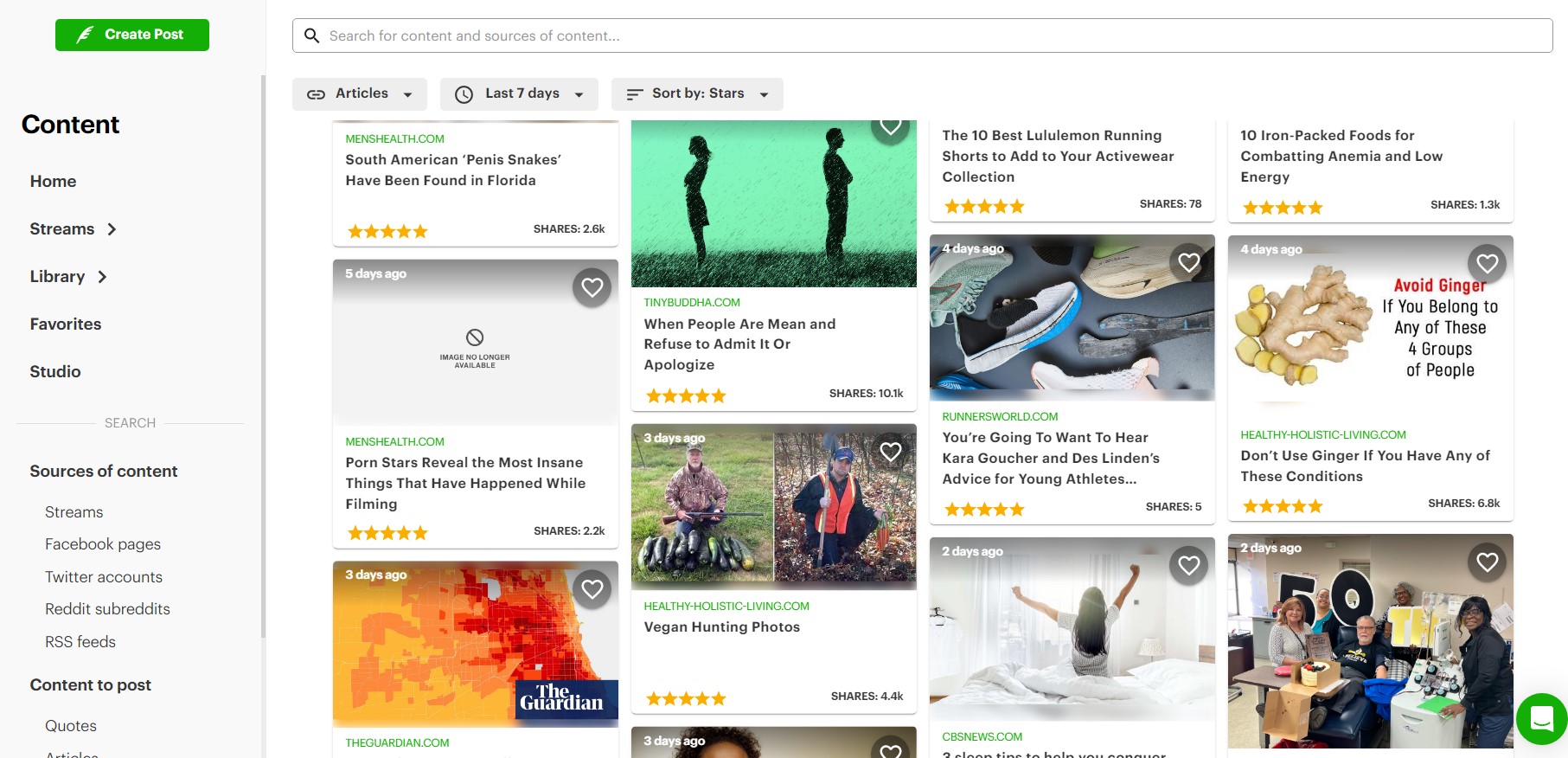 If you don't find what you want, you can create content streams by gathering your favorite Facebook pages and other social media accounts.
Then... BOOM!
In just a few minutes, you get quick access to the best content on the web.
Edit and schedule posts quickly
When you find the content you like, you can quickly add it to your content calendar by clicking the + symbol on that post.
Then you can edit the content before posting it.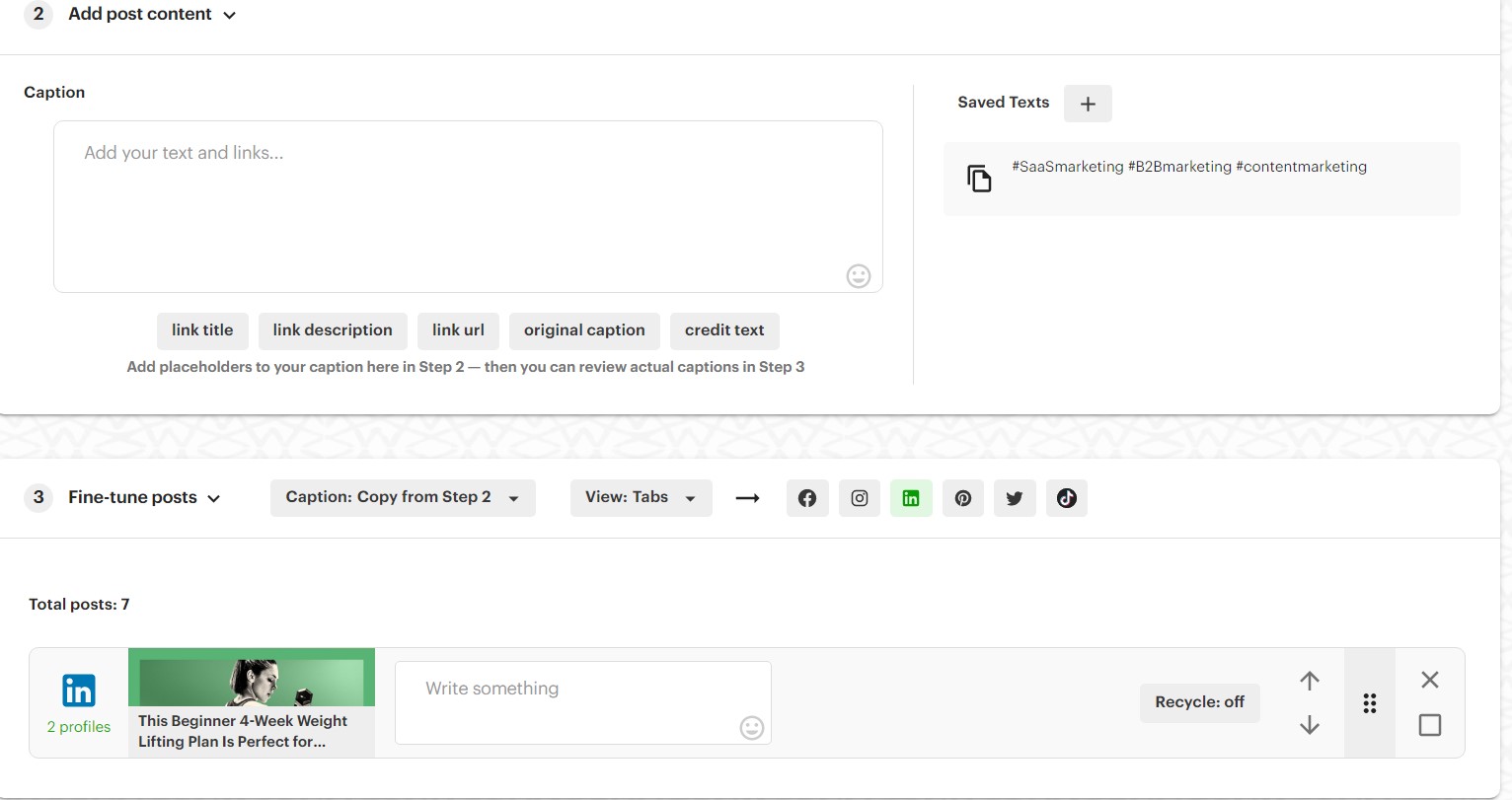 You can modify the post by:
Adding a caption

Choosing to recycle the content (more on that below)

Choosing which "content buckets" to put it in, which helps you group content and post each content type at the right time
When you're done, just click "Add to queue."
That's it!
You can even select multiple posts and do this same process simultaneously.
Create unique content
You don't want to use curated content all the time.
Your followers also want to see some of the content that you create.
So if you want to make professional-looking content in a matter of moments, use Post Planner's Studio tool in the Content tab.
The studio gives you access to high-quality content creation tools that make looking like a content pro easy.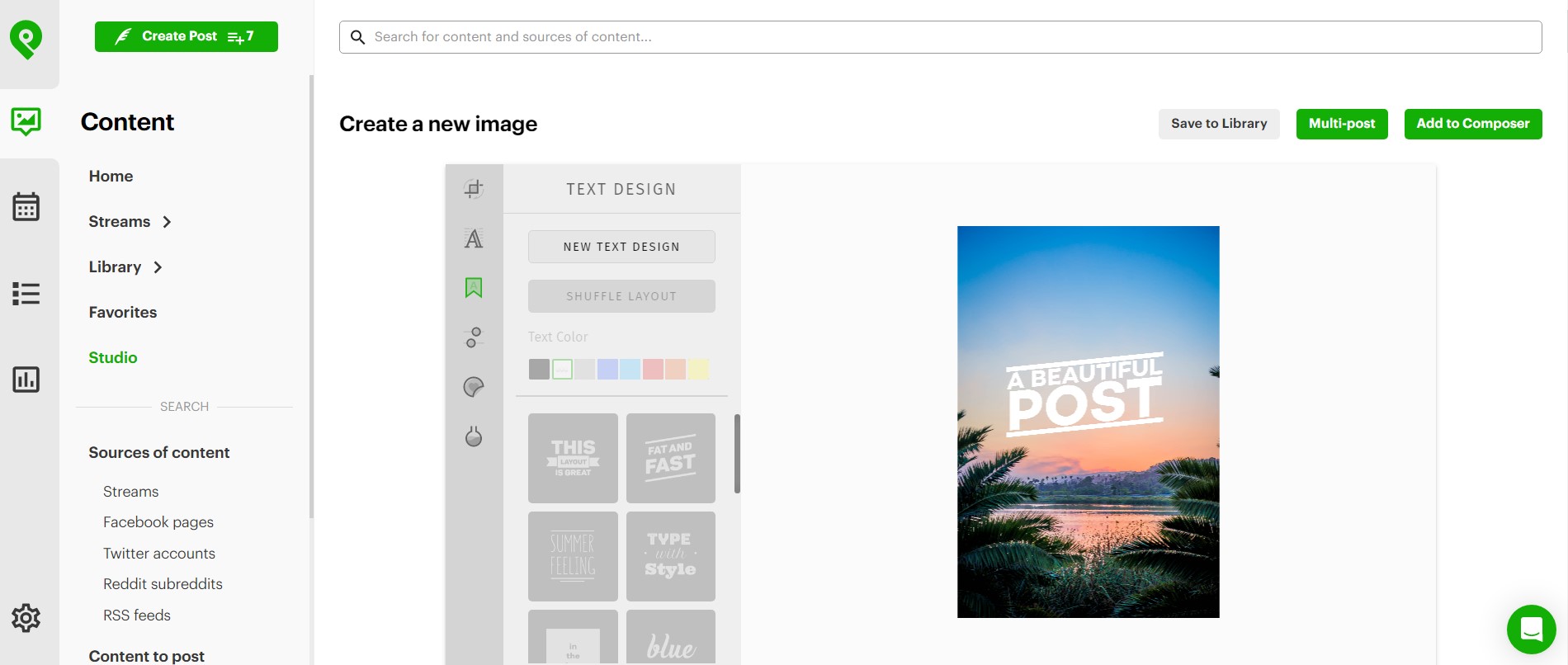 In addition, you also get free access to hundreds of stock photos to make your owned content look even better.
Recycle your best posts
Have you ever made a post that got a ton of engagement and though:
"Now, how do I recreate that?"
One of the best ways to recreate that engagement is just to try posting the same content again!
Not right away, of course, but after some time has passed.
Recycling is great for several reasons:
It allows you to use content that is already proven to work with your audience.

It saves you time (lots of it!)

It helps you fill out your content calendar when you haven't created or discovered much good content recently.
To recycle posts on Post Planner, all you have to do is click the "Recycle" button when creating the post.
Post Planner does all the hard work of adding it again to your posting calendar at the right time.

Monitor engagement
The last Post Planner tool we'll look at is the analytics feature.
This tool lets you quickly review your old posts to see which ones got the most engagement.
Knowing which posts get more engagement helps you do a few things:
Recreate similar posts

Know what topics resonate with your audience

Identify the best posting times for your audience

Know which posts you should recycle (and which you should throw away)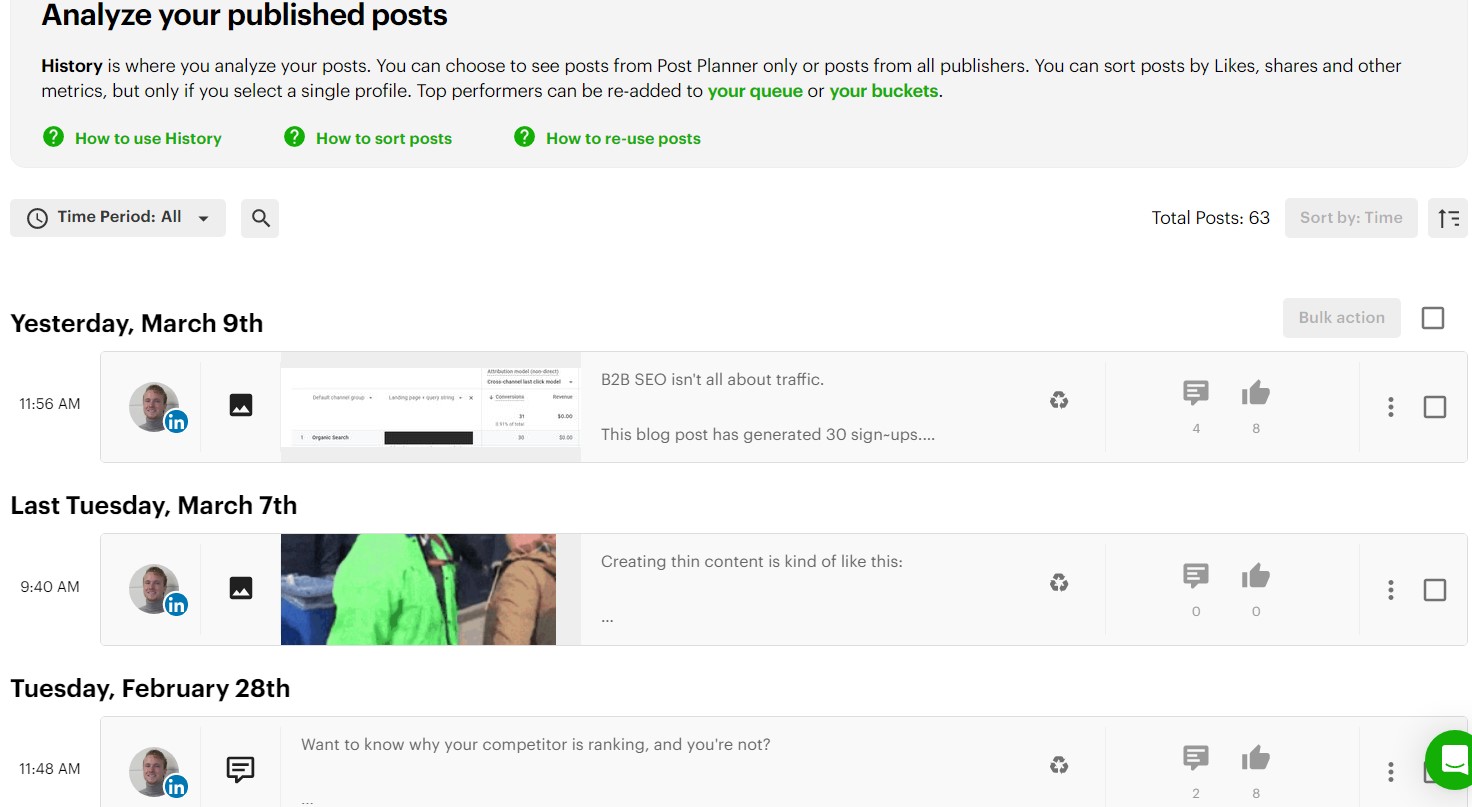 To access these analytics, go to your "History" tab and see how well your recent posts have performed. If one piece performed very well, you could easily recycle it from this page.
Pros
One of the best things about using Post Planner is the quantity AND quality of the tools it offers.
Using Post Planner gives you easy-to-use content discovery and social media planning tools.
For many people, the most significant advantage of using Post Planner is the time savings.
You can easily save a dozen or more hours per week by using Post Planner for all of your social media planning.
Even better, Post Planner's price isn't going to break the bank — even if you have a small budget because you're just getting started.
Cons
Like all the other tools on our list, Post Planner has drawbacks.

In particular, some users have commented that Post Planner's interface can take some time to get used to.
Post Planner may not be for you if you're a business heavily focused on social listening.
This tool focuses more on finding content and scheduling the best posts in advance to save time.
Pricing
Post Planner starts at just $3/month for the smallest plan, which allows you to manage 1 social media account and schedule up to 50 posts at a time.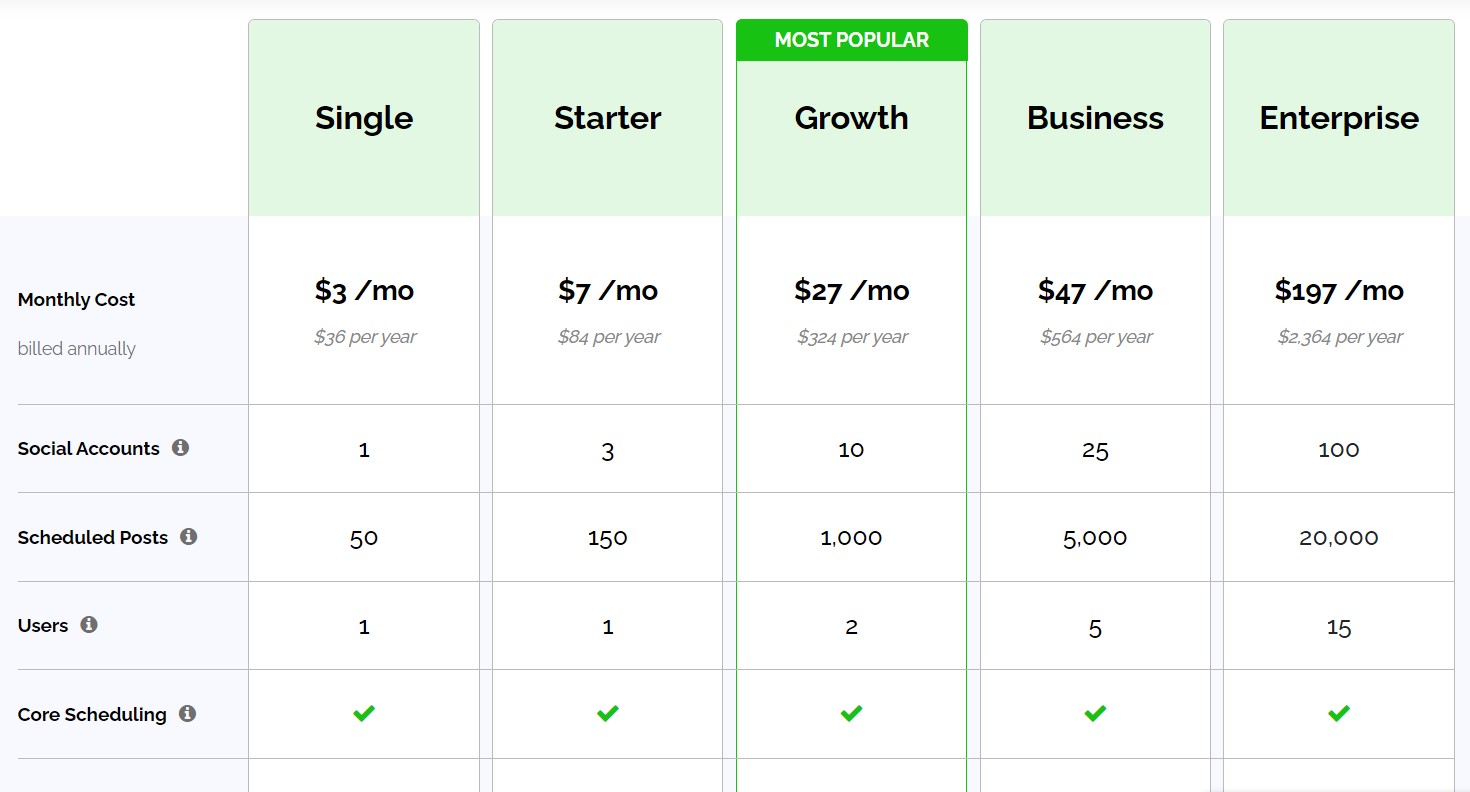 Most businesses choose the Growth plan, which allows 10 accounts and up to 1000 scheduled posts!
In other words, you could schedule out MONTHS of content in advance, meaning you could forget about finding content for that time.
Reviews
Post Planner reviewers consistently comment that the tool saves them tons of time finding content and posting it to their different channels.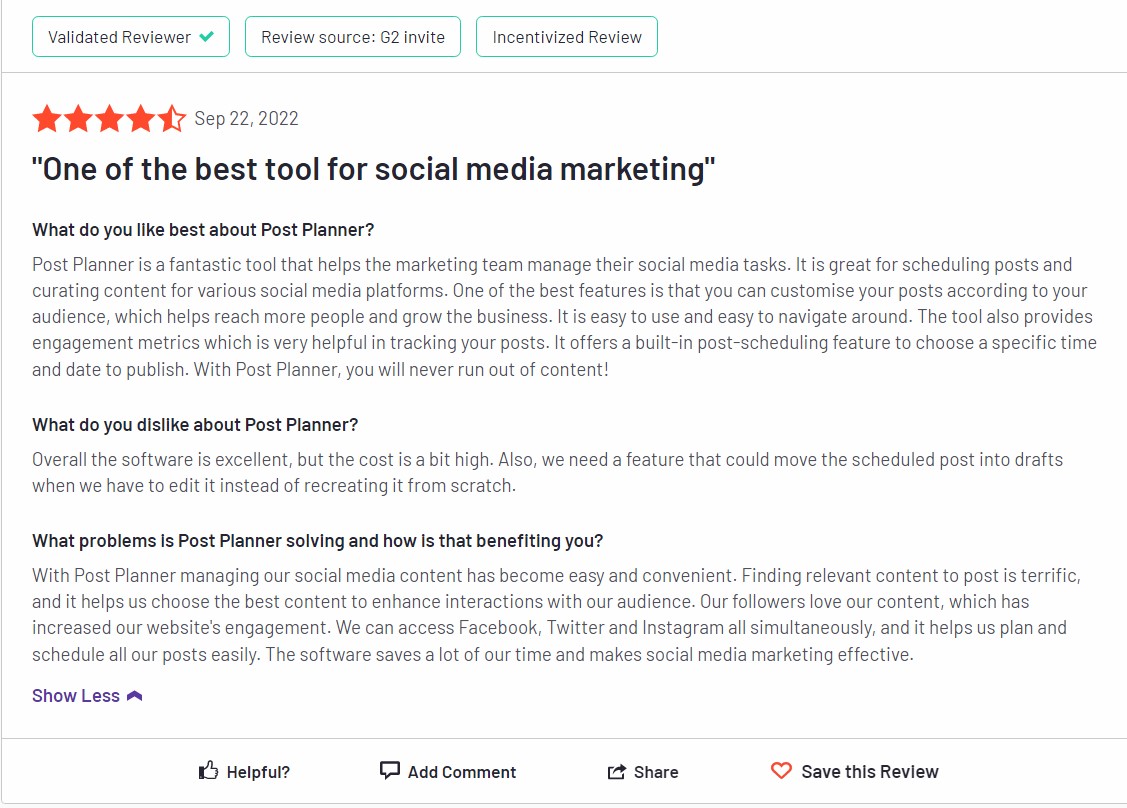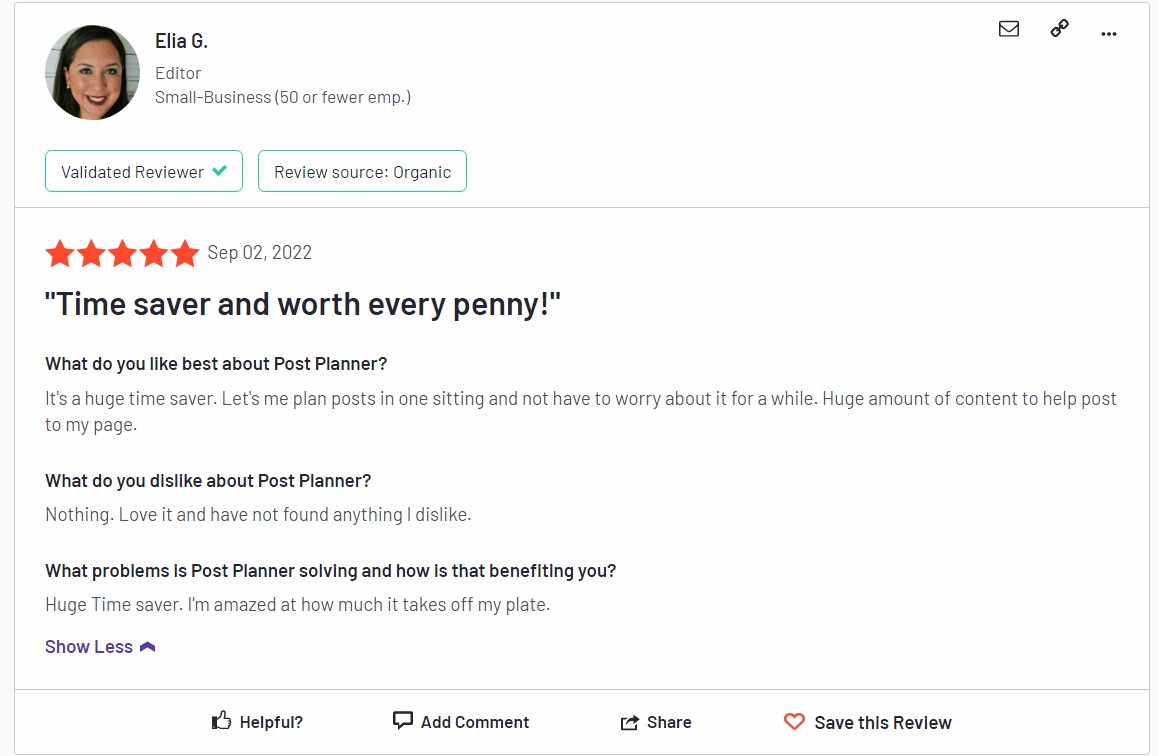 On the negative side, some reviewers have commented that changes to social media platforms have sometimes caused their scheduled posts to fail. In other words, communication between Post Planner and Facebook breaks down, and one of the scheduled posts doesn't post.
Later
Later is a social media scheduler that promises to make life easier for content creators in a few key ways:
Sourcing posts from around the web for inspiration

High-quality tools for content creation

Easy scheduling for maximum time savings
Later meets a different need than the other Facebook schedulers on this list because it focuses more on content creation than on content curation.
Pros
The major advantage of using Later is that it's focused on content creators. In other words, their tools work better for those who are looking to post unique content for their followers instead of reposting high-quality content from around the web.
Because it's focused on content creators, Later offers some unique features specifically for creators.
The suggested hashtags feature is unique to Later, making it easy to add engaging captions to the content you post.
Cons
Later's free plan is almost useless, so you really have to pay for a plan if you want to get anything out of this tool.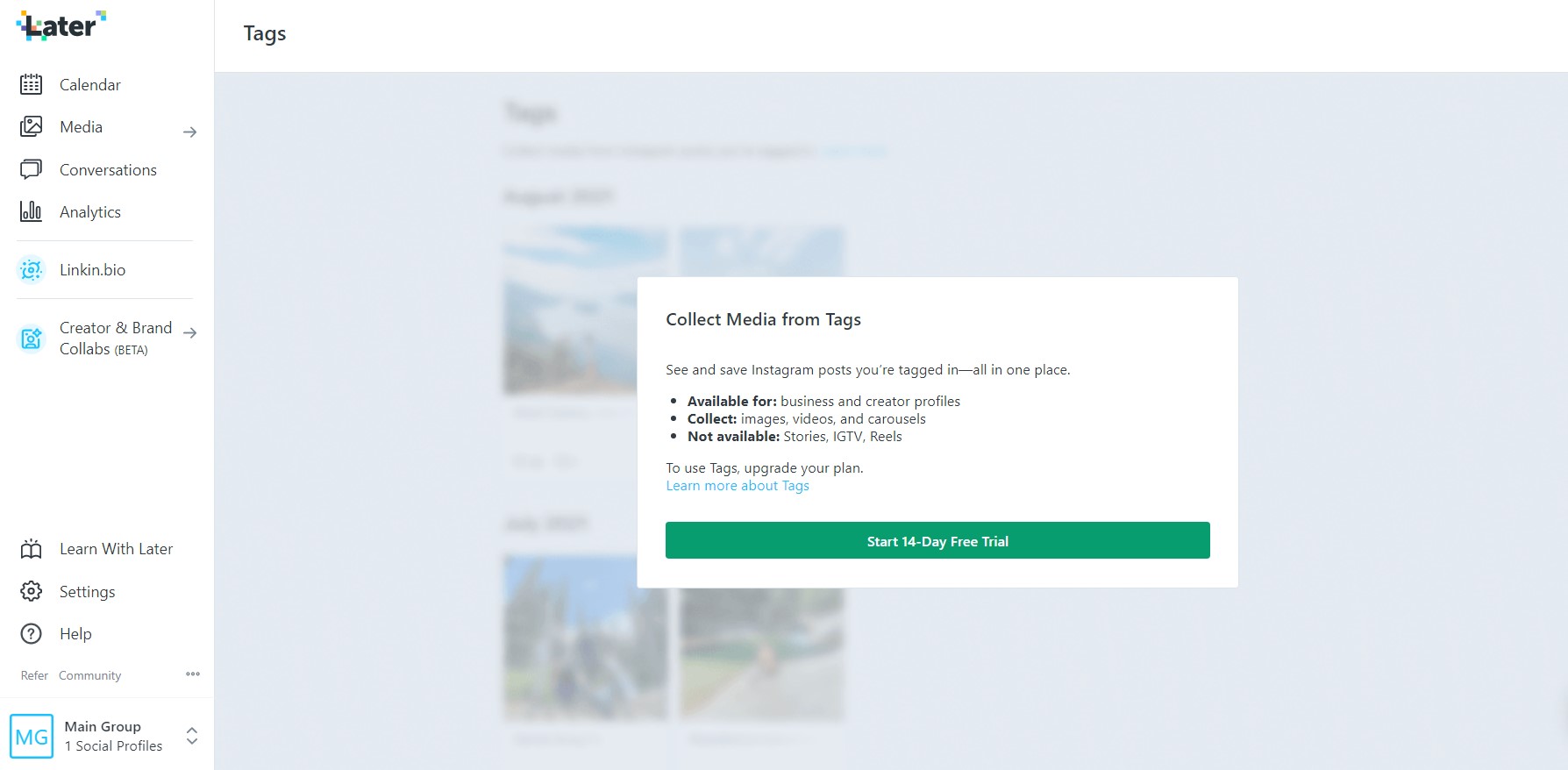 However, Later's smallest plans also offer limited scheduling capabilities. With that plan, you can only schedule up to 30 posts at a time.
Finally, content curation is not Later's strong suit. Instead of allowing you to find great content from a variety of sources, Later is more focused on helping you discover what other people are saying about your business.
If you're looking to post a high volume of great curated content, Later probably isn't for you.
Key features
Later's scheduling works differently from every other tool on this list. Using Later, you'll create a media library containing the different pictures, videos, etc. that you want to post.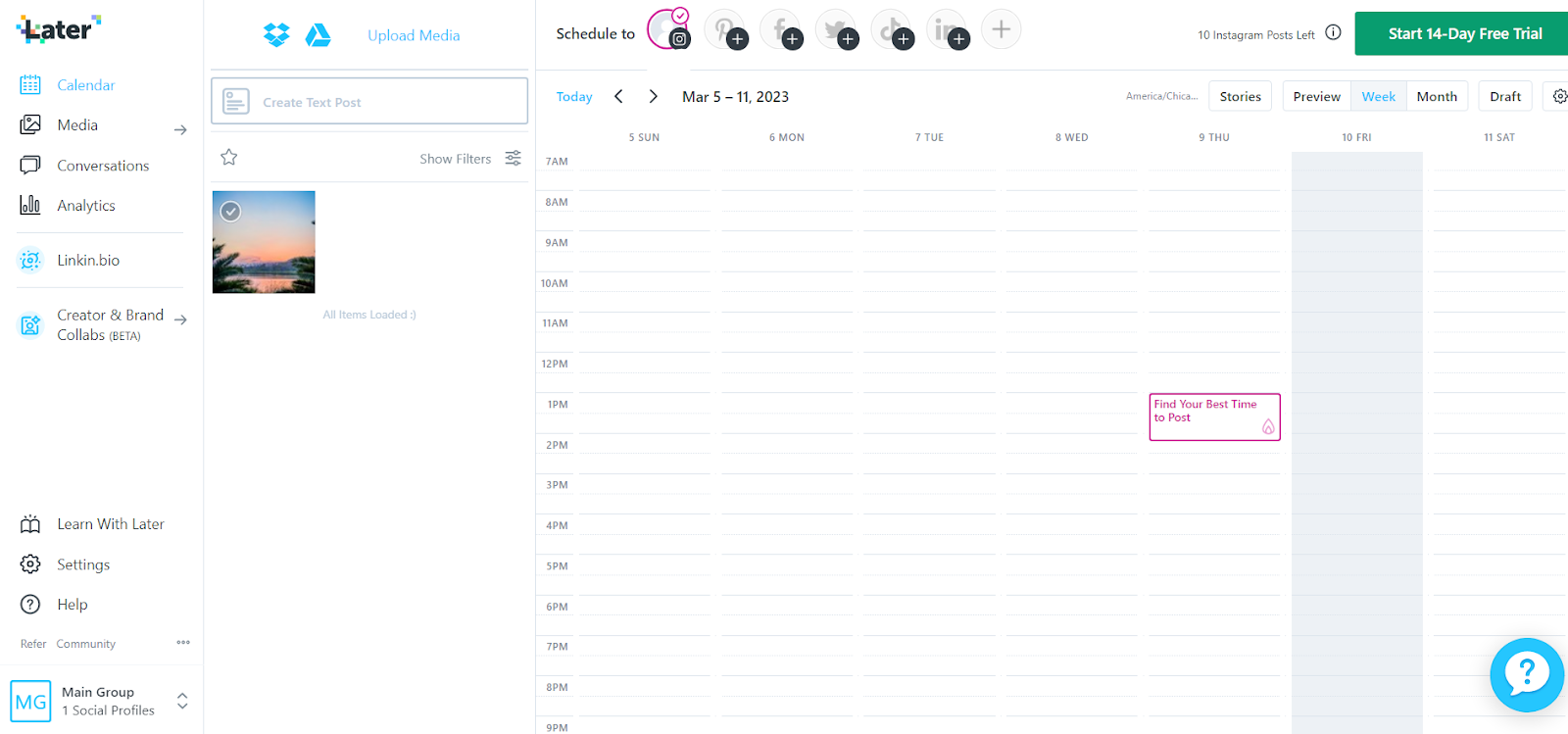 Then, you just drag and drop those onto your calendar to add them to your schedule. Later will prompt you to create a caption and make some edits.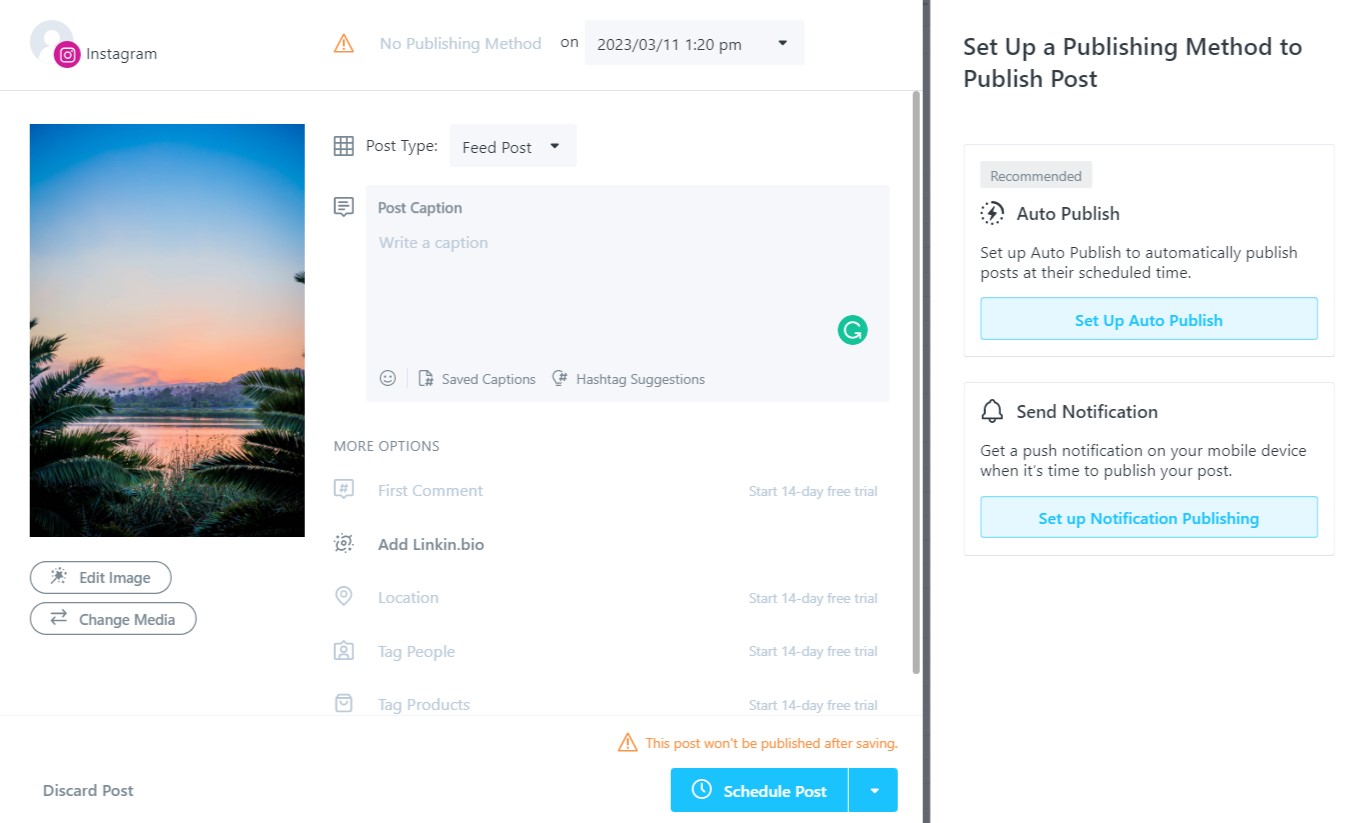 Additionally, Later offers some unique features:
The linkin.bio tool allows you to turn your Instagram bio into a beautiful link to your website, helping you stand out from others on the platform.

Valuable social listening tools

Critical analytics for understanding your audience
Pricing
Later's smallest plan starts at $15/month paid yearly, but it only includes 1 set of social media accounts.
The larger plans offer more depth, but they escalate quickly in cost.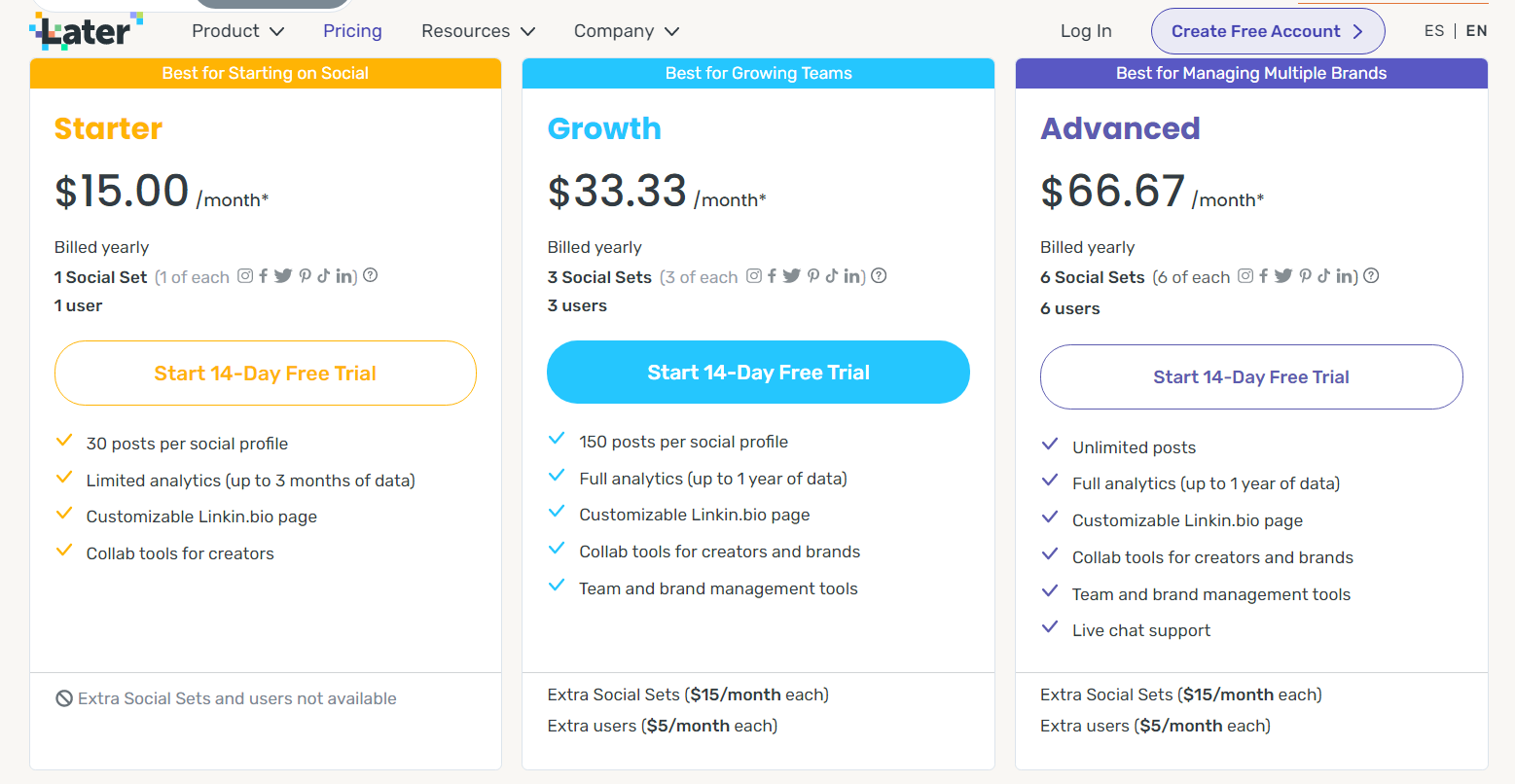 That being said, Later offers reasonable prices for anyone — whether you're a beginner or an experienced social media manager.
Reviews
Later gets generally positive reviews from its users, many of whom comment on the convenience and time-saving features.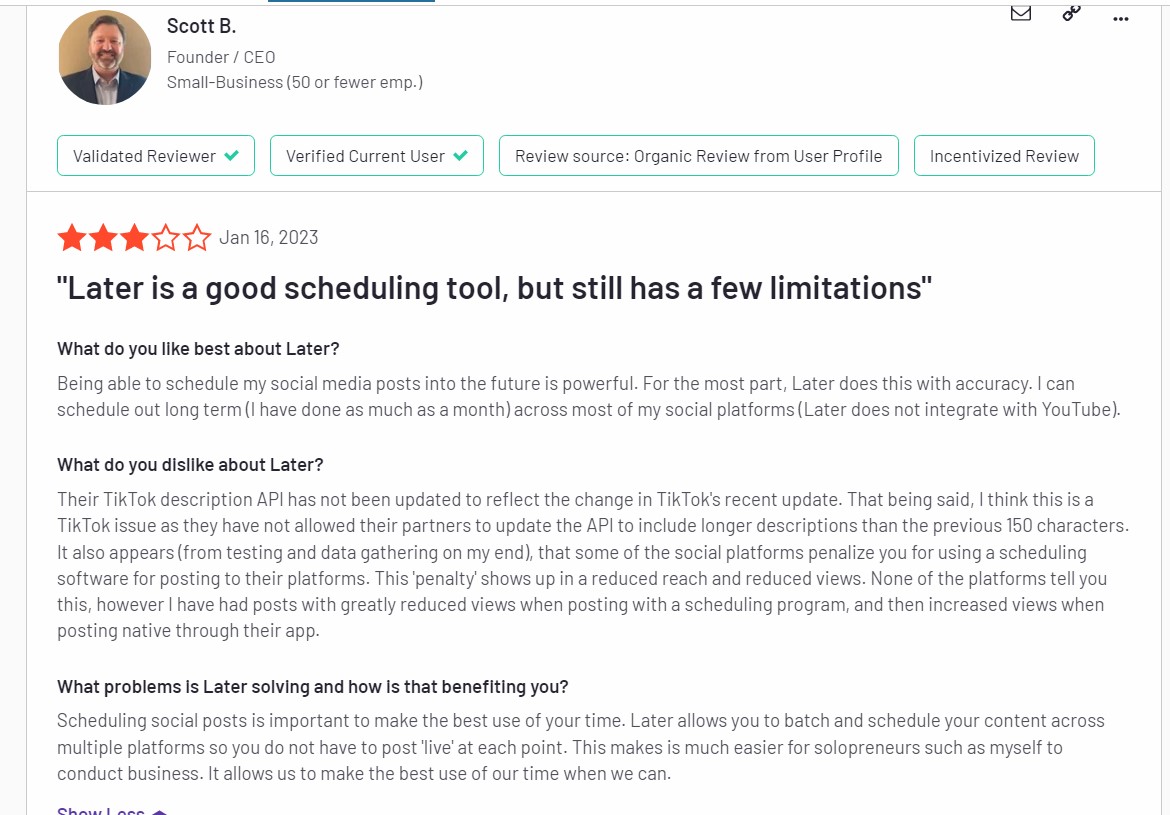 Some users have expressed concerns with compatibility issues as some social media platforms are continuing to update their APIs.
Others have commented that the cost is great, but the limited analytics can hamper a truly deep understanding of your audience.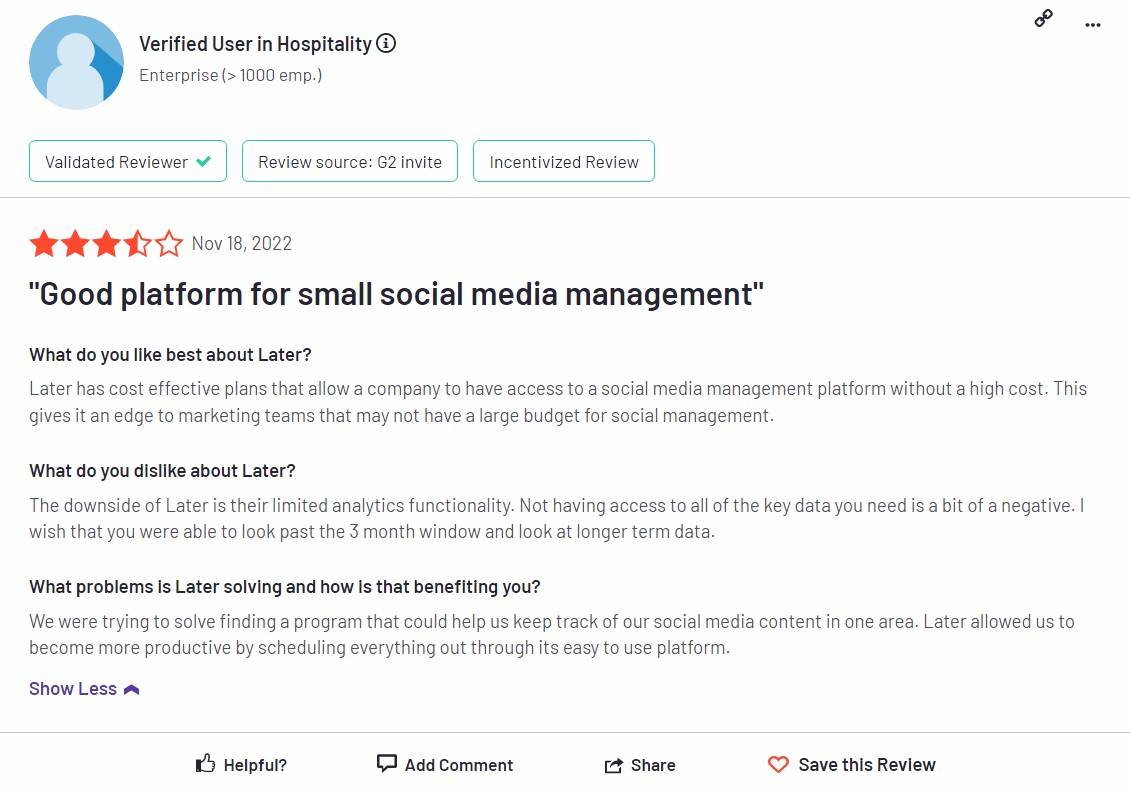 Loomly
Loomly is a social media management platform that helps users develop content ideas and make compelling posts on all social media channels.
One of the unique features of Loomly is that it gives suggestions when it thinks you're making a mistake with your content. That means this could be a good tool for people still trying to learn the fundamentals of social media posting.
Pros
Loomly is laser-focused on content scheduling. That means 2 things:
It's easy to use and effective for content scheduling

It doesn't offer many other features
If you're interested in using a tool that focuses primarily on scheduling instead of analytics, listening, or content discovery (although Loomly does offer some of those features as well)...
Loomly could be for you.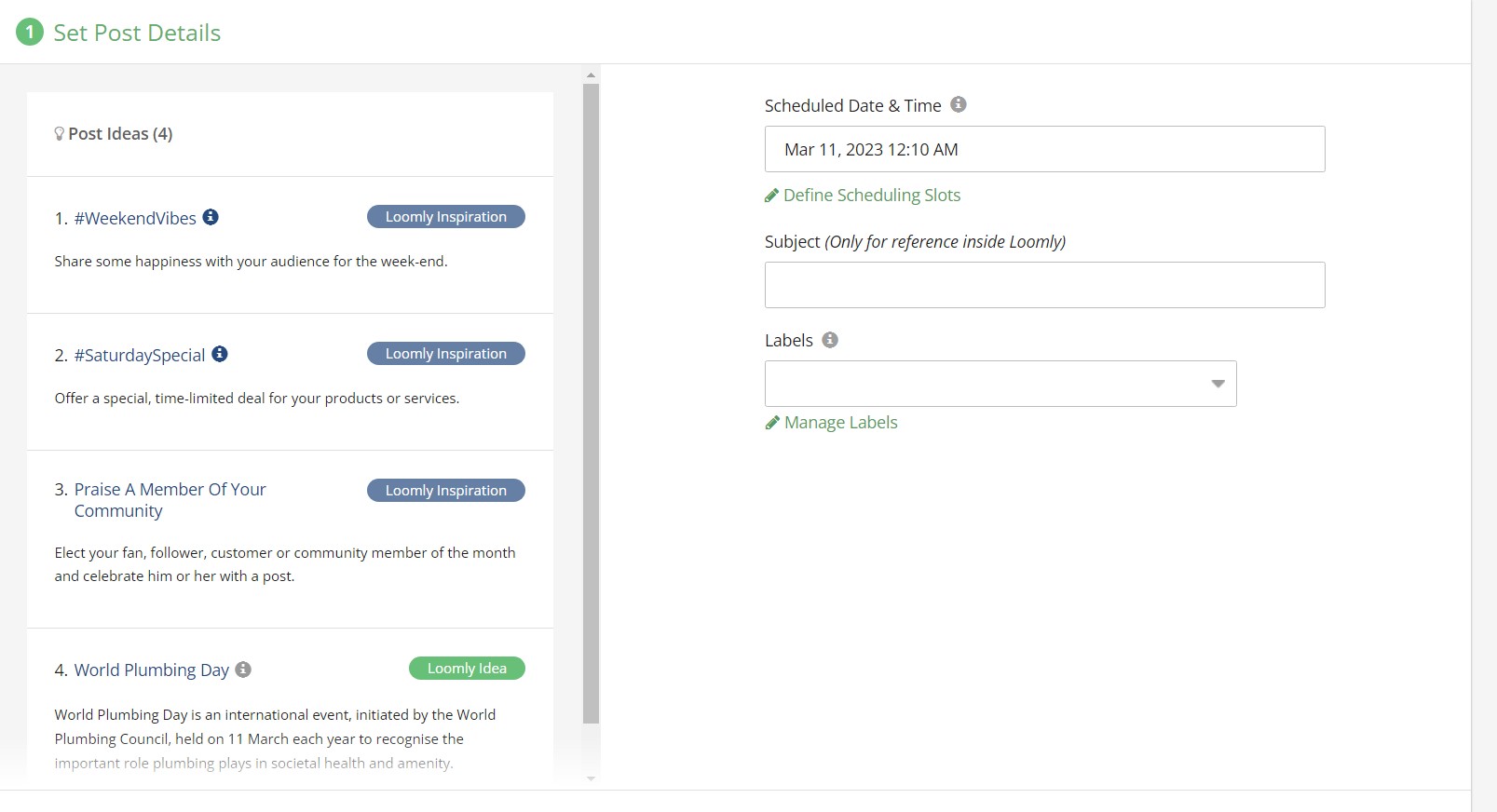 Creating posts is easier on Loomly than some other tools we've used, but the features also seem slightly more limited.
Cons
One of the biggest cons of using Loomly is that it doesn't look as modern and sleek as other tools here.
Instead of using easy-to-navigate toolbars, Loomly uses a bit of a clunky interface that may take some getting used to.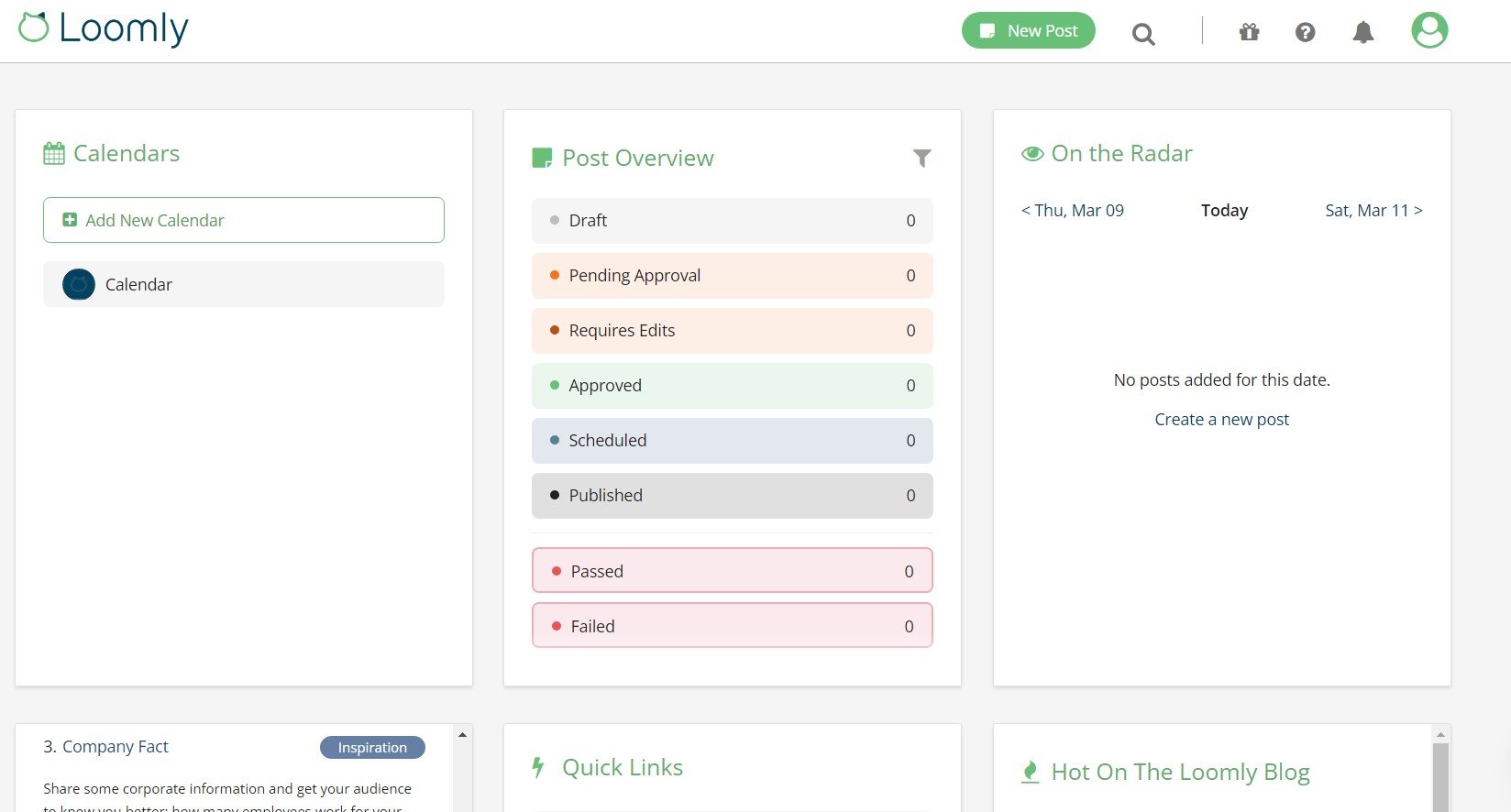 Additionally, the simplicity and focus — could be a drawback if you want a tool that's focused on different features than Loomly.
Finally, the only content discovery Loomly offers is through RSS feeds, which can be difficult for newer users to navigate.
Key Features
One of the most unique and helpful features Loomly offers is feedback on your posting technique.
For example, I made a test post on Facebook that just said "Test." This is what Loomly told me about it: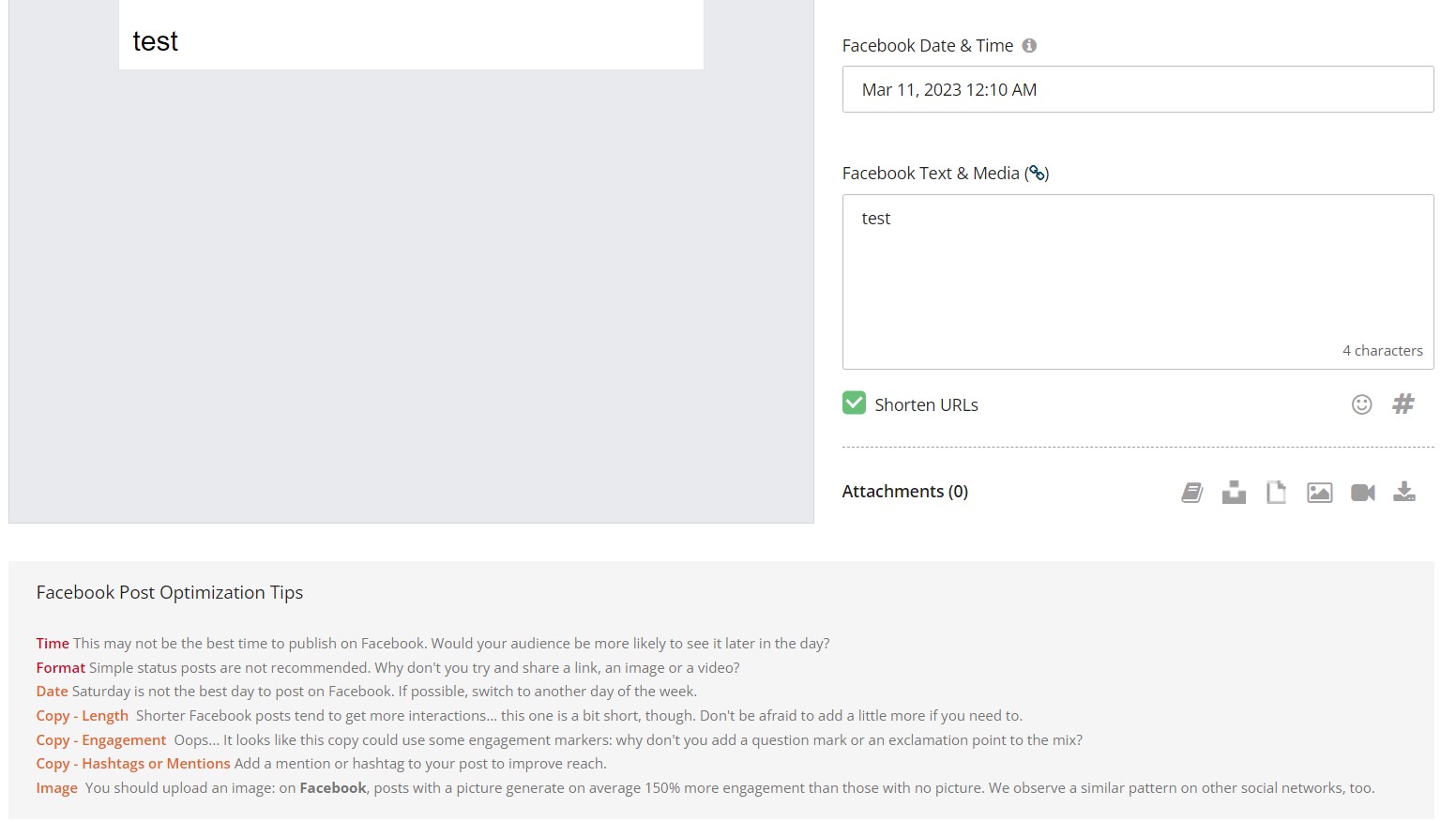 I got 7 warnings about this post!
Not the right time

Not a suitable format (simple status)

Saturday isn't the best day

Too short

Not very engaging

No hashtags or mentions

No image
Loomly gave me actionable suggestions that would quickly help me improve my posting to get more engagement!
In addition to this feature, Loomly offers scheduling tools with their calendars, which cover all the basics of scheduling posts in advance.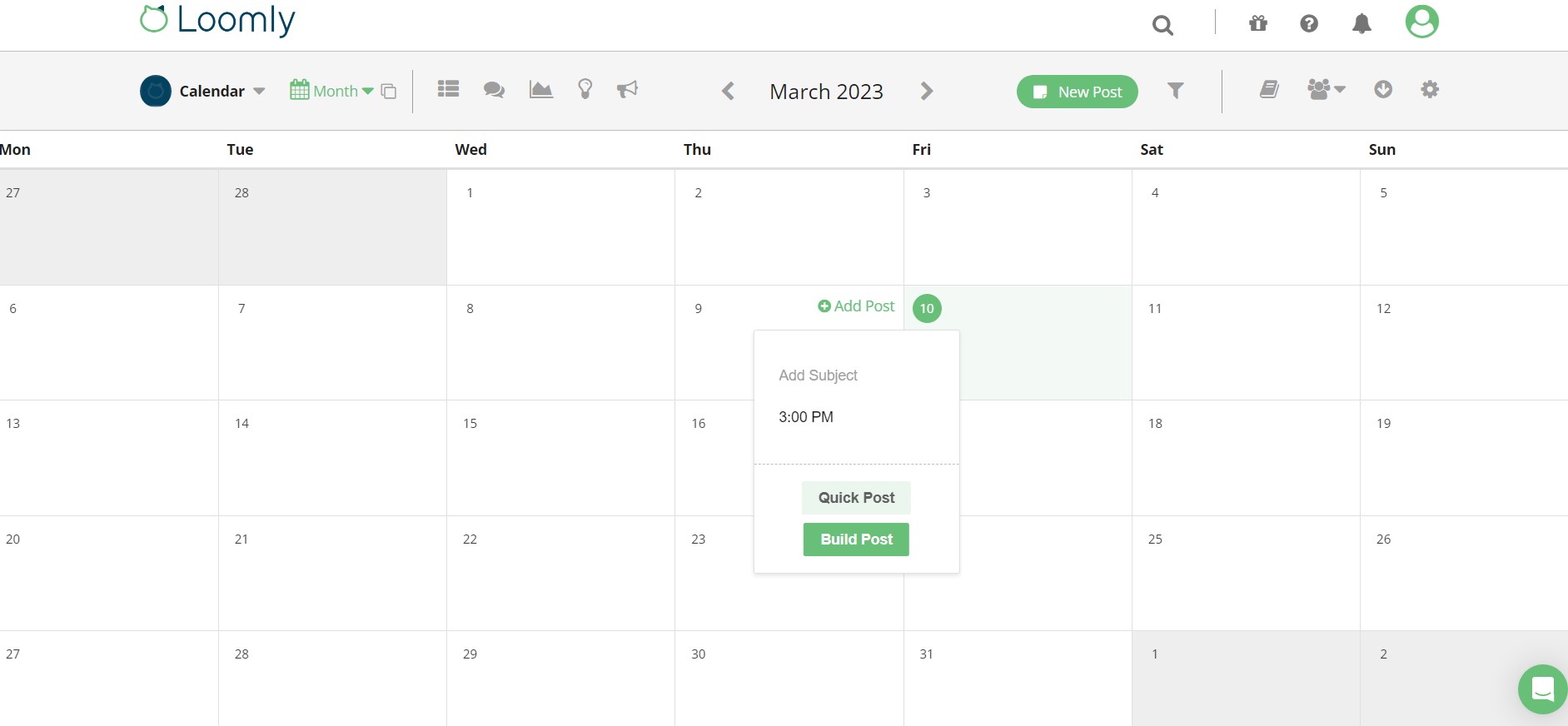 Pricing
Loomly's most popular plan is $59/mo, but it starts as cheap as $26/mo. This isn't the most affordable tool on this list, but it's reasonably priced.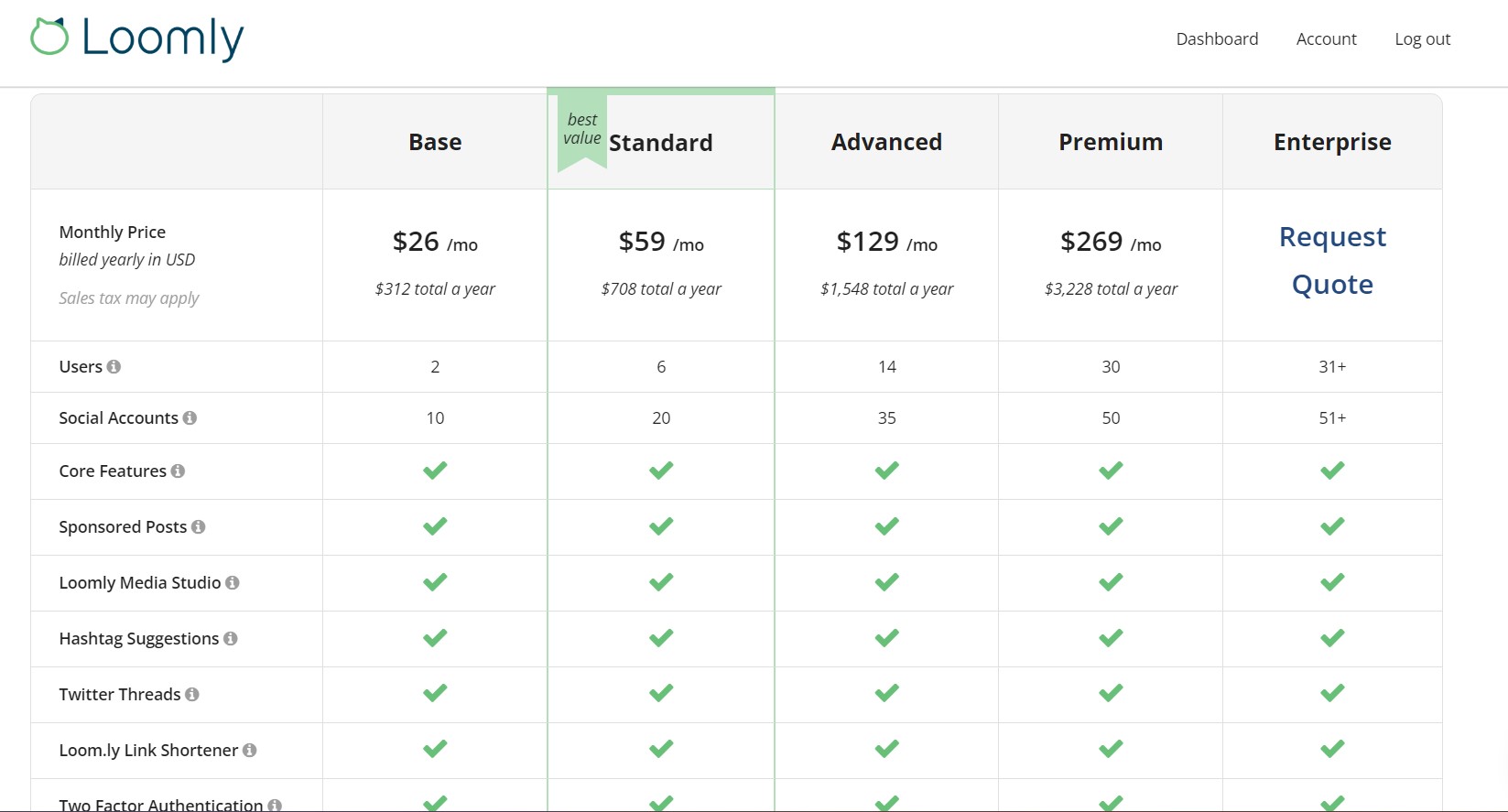 The good news is that the smallest plan still gets access to 10 social media accounts and all the tool's core functionality.
Reviews
Loomly gets consistently positive reviews, with many customers noting the ease with which they can post to multiple social media channels simultaneously.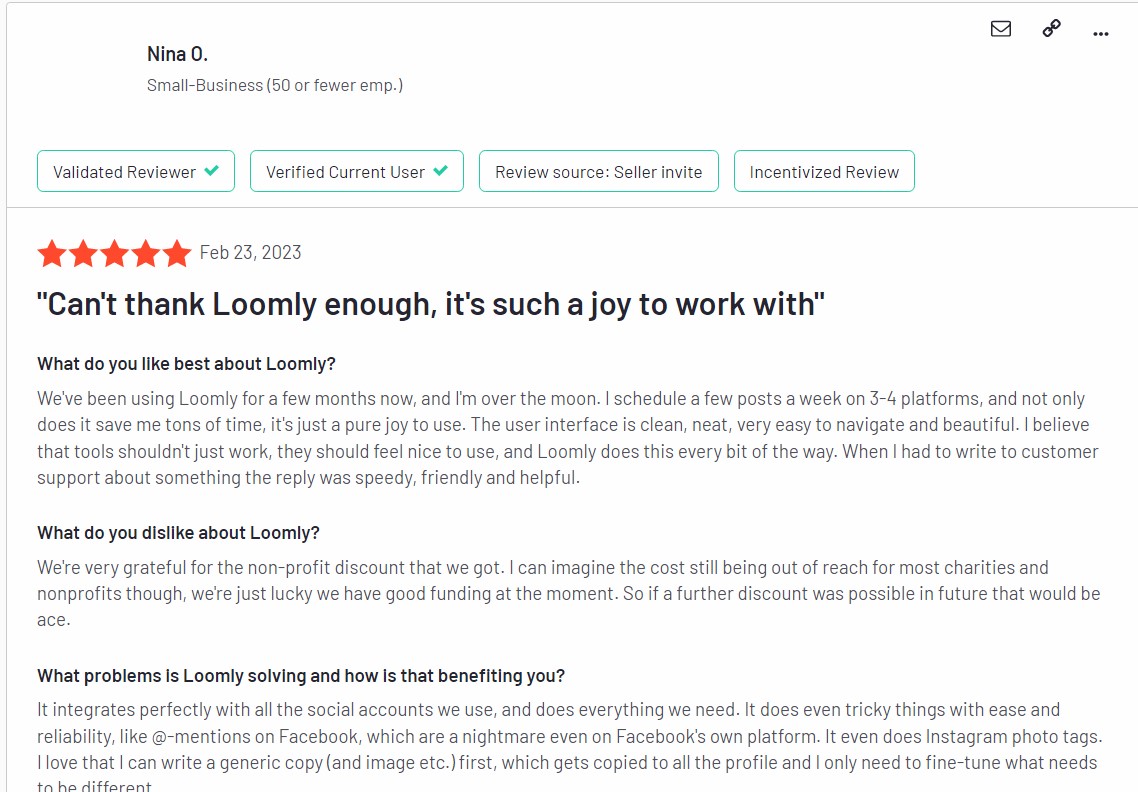 However, other users noted that the UI is still outdated as I mentioned above. The most common user complaints were about missing features.
For example, some said a missing social channel or the inability to post a certain type of content to a particular channel.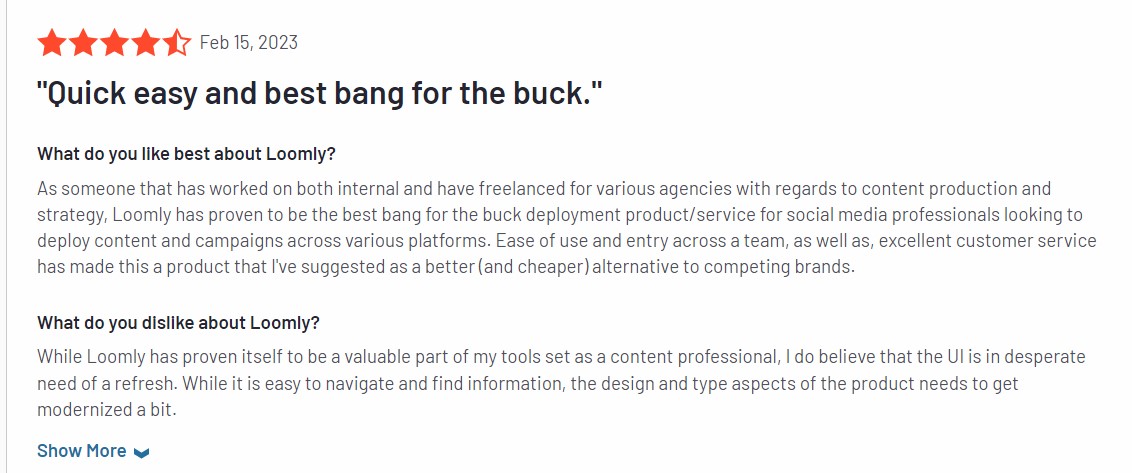 Simplified
Simplified is an all-in-one marketing tool with valuable social media planning tools.
In addition to social media planning, Simplified also includes:
Graphic design

Video editing and animations

AI content writing
We'll focus specifically on the social media planning tools to see how they compare to other tools on this list.
Pros
The biggest pro of Simplified compared to the other tools on this list is the availability of a free plan for individual users. The free Simplified plan is an excellent option if you only need to manage 3 social channels and schedule 10 posts at a time.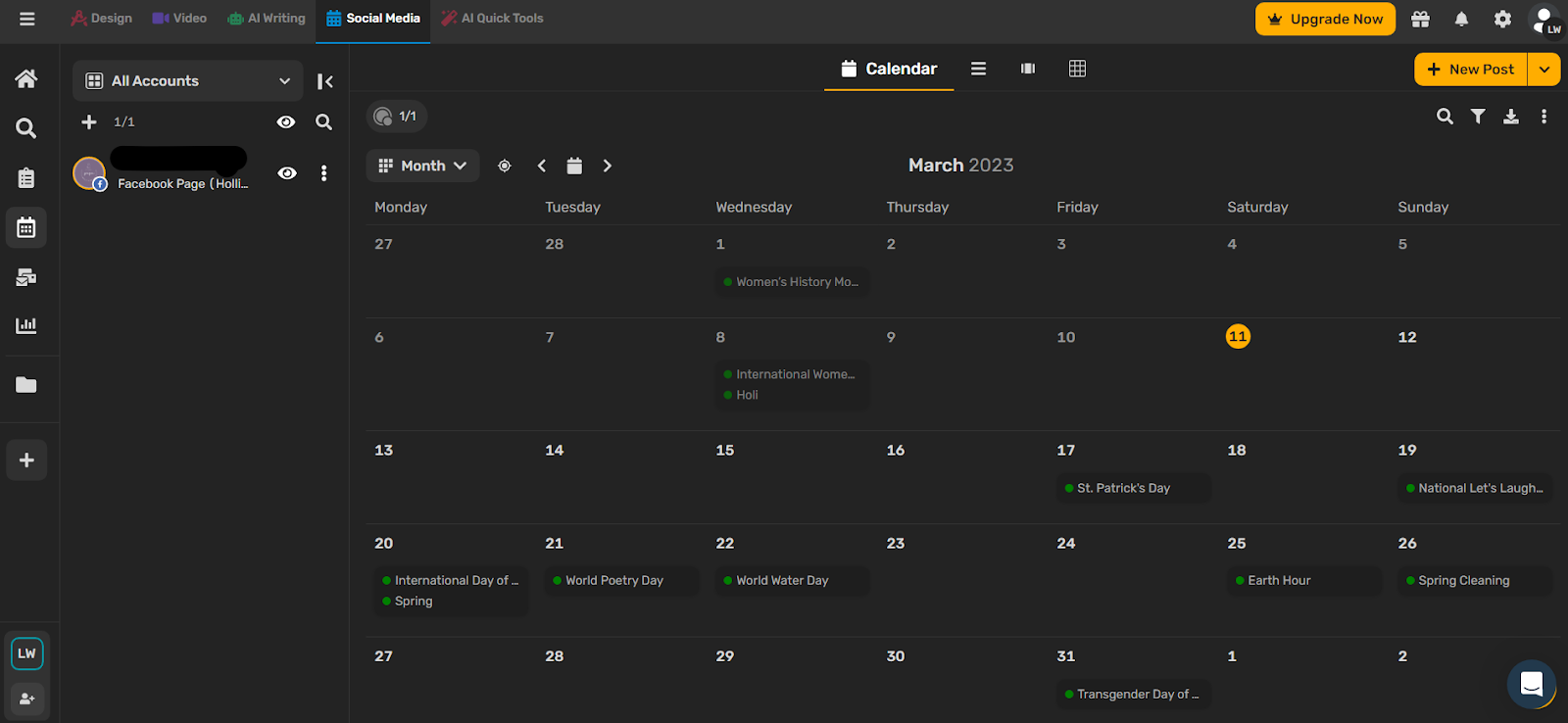 The Simplified interface is also straightforward, meaning you won't have to spend much time learning how to use it.
Cons
As with any tool, Simplified has its drawbacks.

The biggest flaw I discovered was the lack of content discovery tools or assistance when developing content. Post Planner has content discovery, Loomly has content suggestions, but Simplified doesn't have either one.
That being said, Simplified offers templates to help you design excellent posts, but not much else for finding curated content for your followers.
Key Features
The unique part of Simplified is that it offers a variety of marketing tools in addition to social media scheduling features.
While most of the other tools on this list have been focused on content scheduling, Simplified is a jack of all trades.
It can assist your business through:
Writing blog posts with AI

Designing beautiful content for your website and social channels

Creating video content

Scheduling and publishing social media posts

Analyzing social media engagement
One of my favorite features of Simplified is that it offers easily-accessible video tutorials right on the front page. These will make it easier to get the most out of the tool.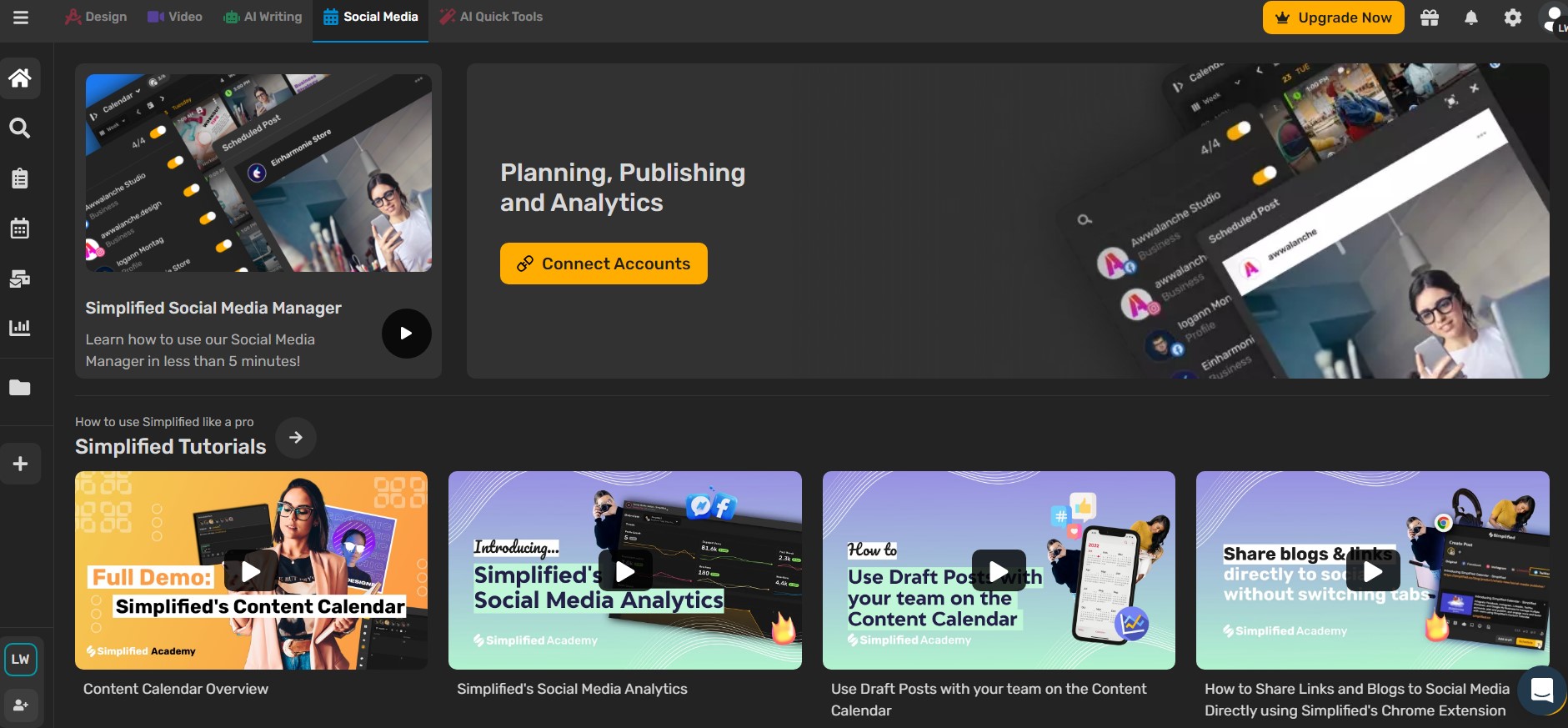 Pricing
Simplified is about average when it comes to pricing. Every plan includes all 4 of Simplified's primary tools.
The smallest plan (after the free one) allows you to manage 7 social media channels and schedule up to 500 posts at a time. If you need more than that, you can expect to pay $35/mo or $85/mo if you pay yearly.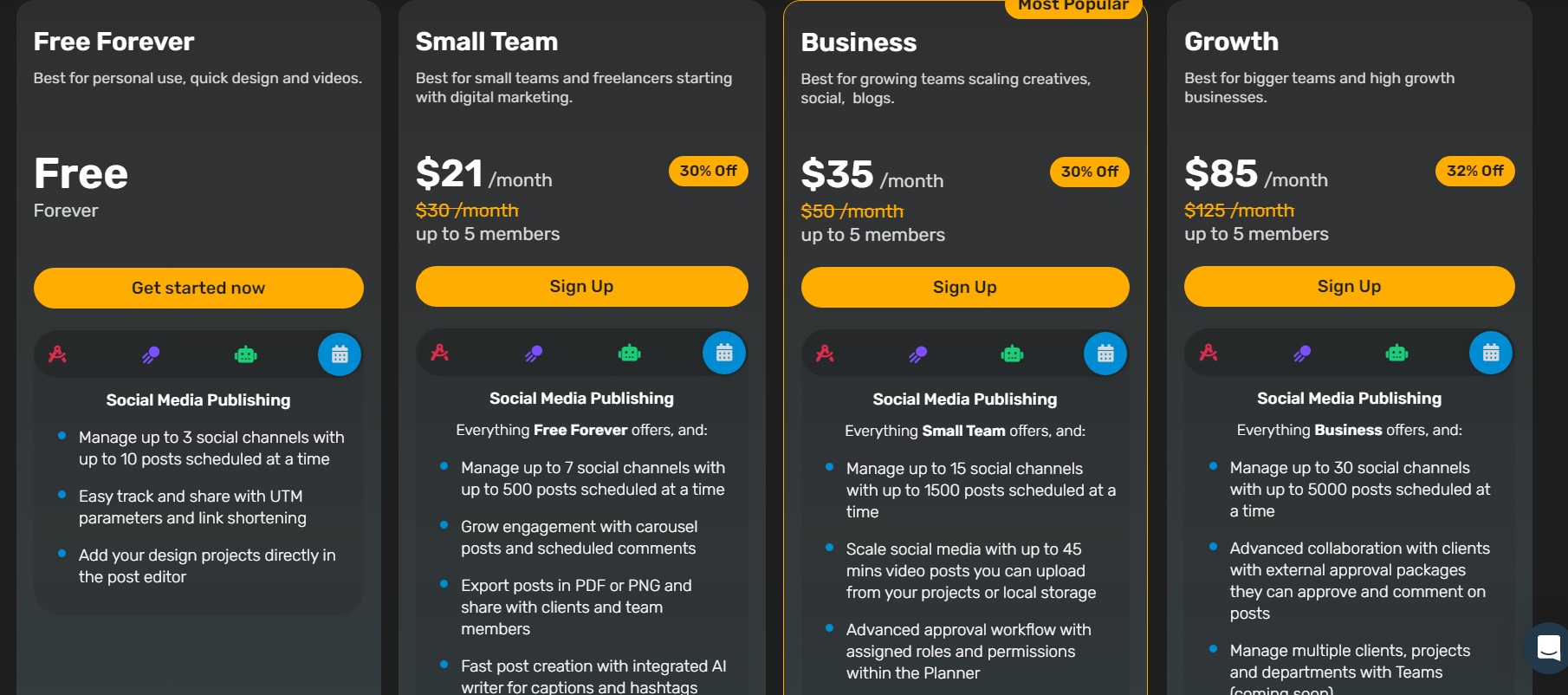 These numbers might be out of reach for newer businesses. If you still like Simplified, try their free plan until your budget can accommodate the larger plans.
Reviews
Simplified gets consistently high ratings from users. The most common positive comment from users was that Simplified helps them save time on scheduling posts and other marketing tasks.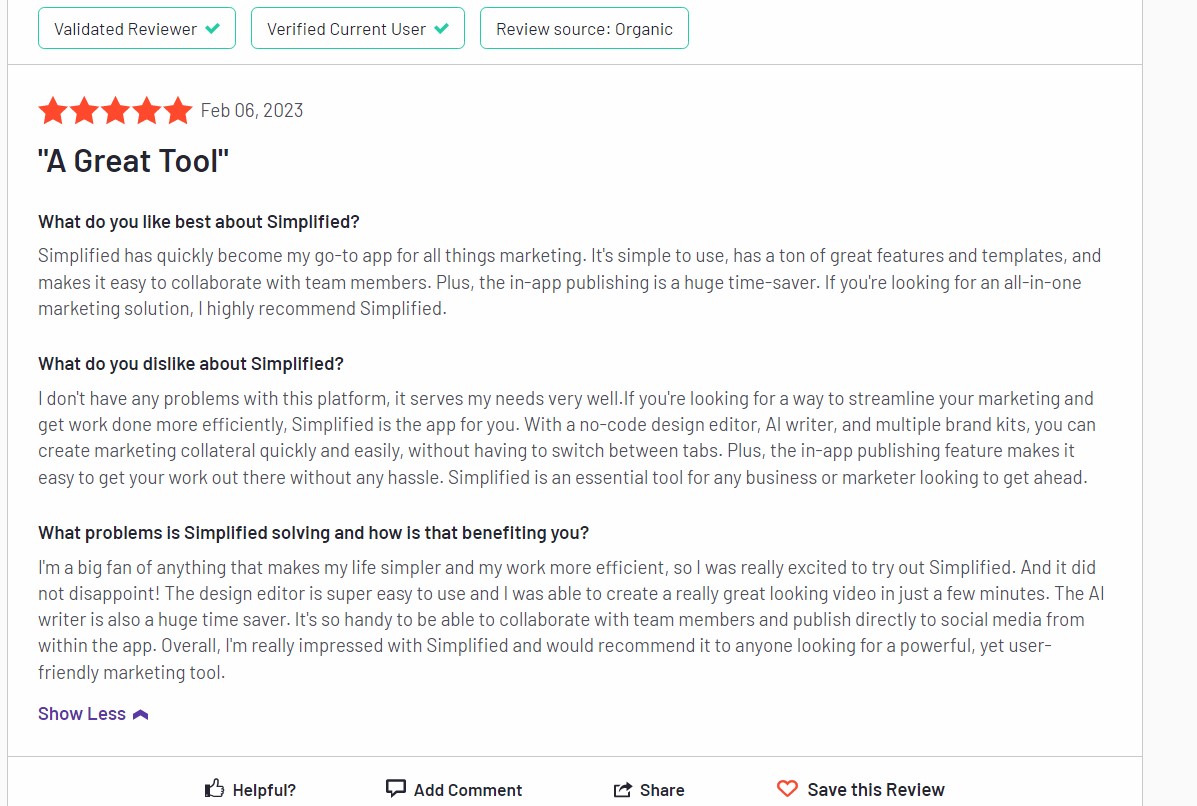 The most consistent negative comments were about the functionality of the AI tools and the UI. Some users felt like the user interface was poorly designed or in need of customization, which is currently unavailable.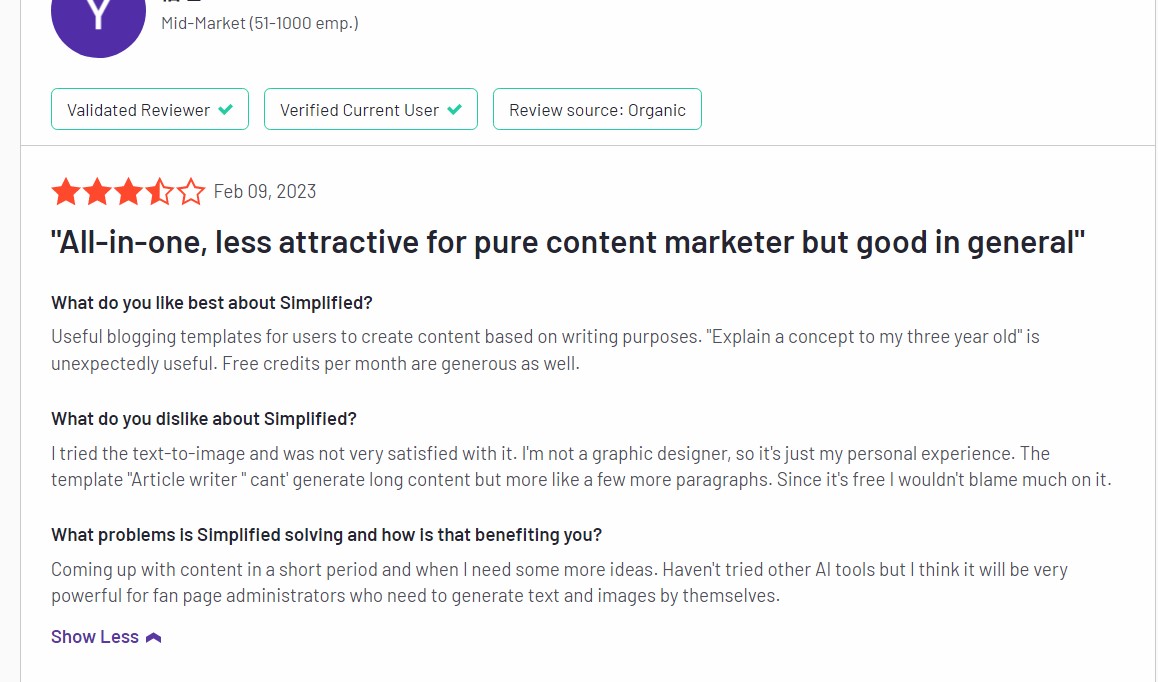 Hootsuite
Hootsuite is a social media planning tool focused on helping you develop and schedule great content for all your channels.
Hootsuite is also more similar to Post Planner than any other tools on this list.
The main difference is that Post Planner focuses on saving time through content discovery, whereas Hootsuite focuses on developing content through inspiration.
Pros
The main advantage of using Hootsuite is the ability to integrate more than 100 different apps.
Hoosuite offers integrations with most of the major apps that many companies are already using, allowing you to combine the power of multiple apps in the same platform.
For example, Hootsuite integrates with:
Mailchimp

Google Drive apps

Shopify

Canva

Hubspot

Adobe Creative Cloud

Many other tools
In the planner tool, Hootsuite offers suggested posting times, which can be an excellent way for businesses to optimize their posts. If you aren't familiar with when you should post your content, that tool can be a huge help.
Cons
For most users, the biggest drawback of Hootsuite is the lack of a content discovery tool.
While the inspiration tool is designed to help you create good content, it's a massive time saver to be able to find pre-made content that'll still generate engagement.
Another common concern with reviewers (which we'll discuss in a moment) is the higher price point for small businesses. Many small businesses find their social media budget extremely limited, which puts Hootsuite out of reach.
Key features
The content inspiration tool is one of the primary features of Hootsuite for planning new content for your pages.
Just click on any post you like, and Hootsuite will show you how to turn it into an engaging post for your followers.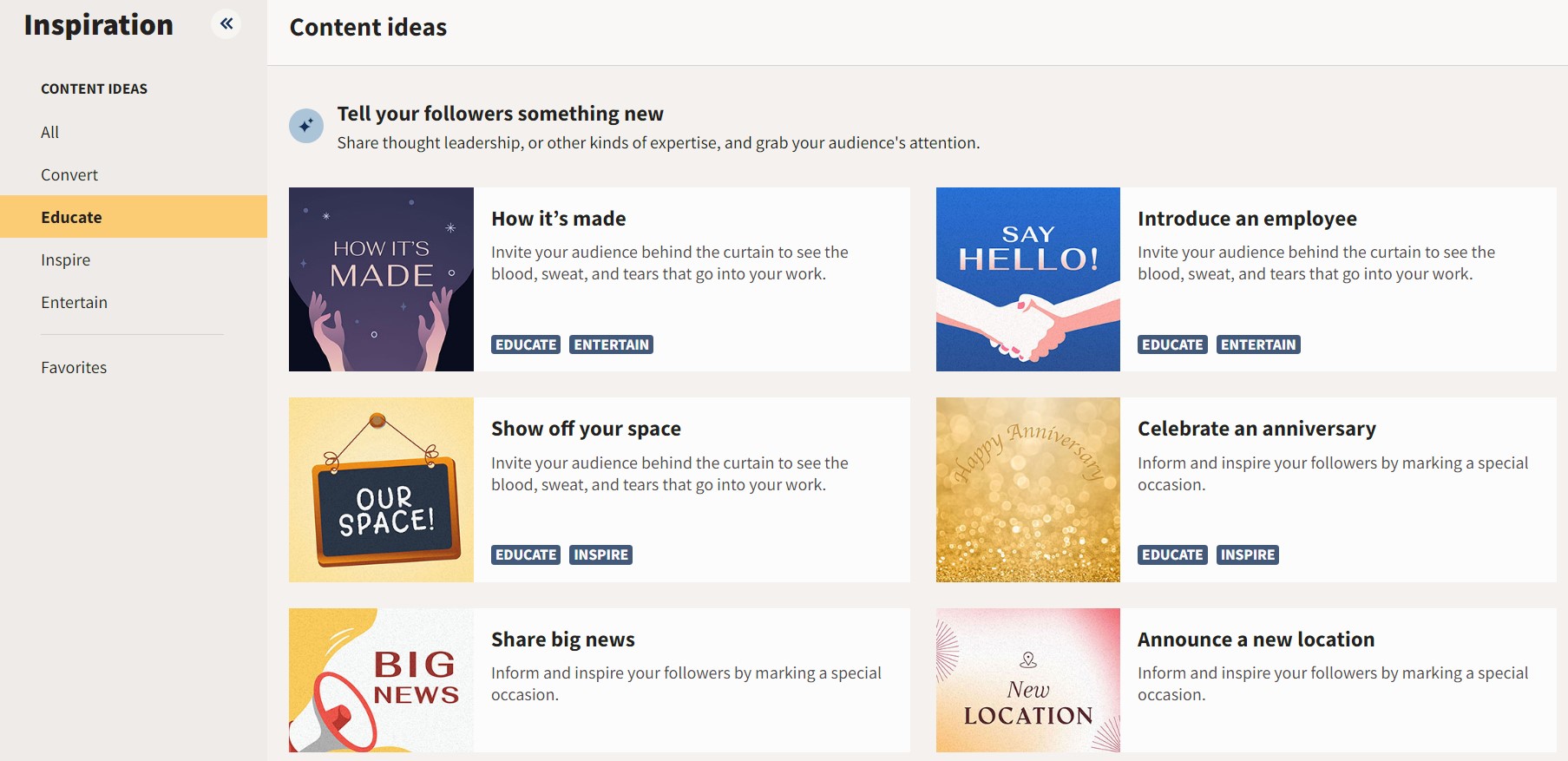 Hootsuite's calendar will show you the recommended times to post your brand-new content. Following those guidelines makes choosing the right times easy.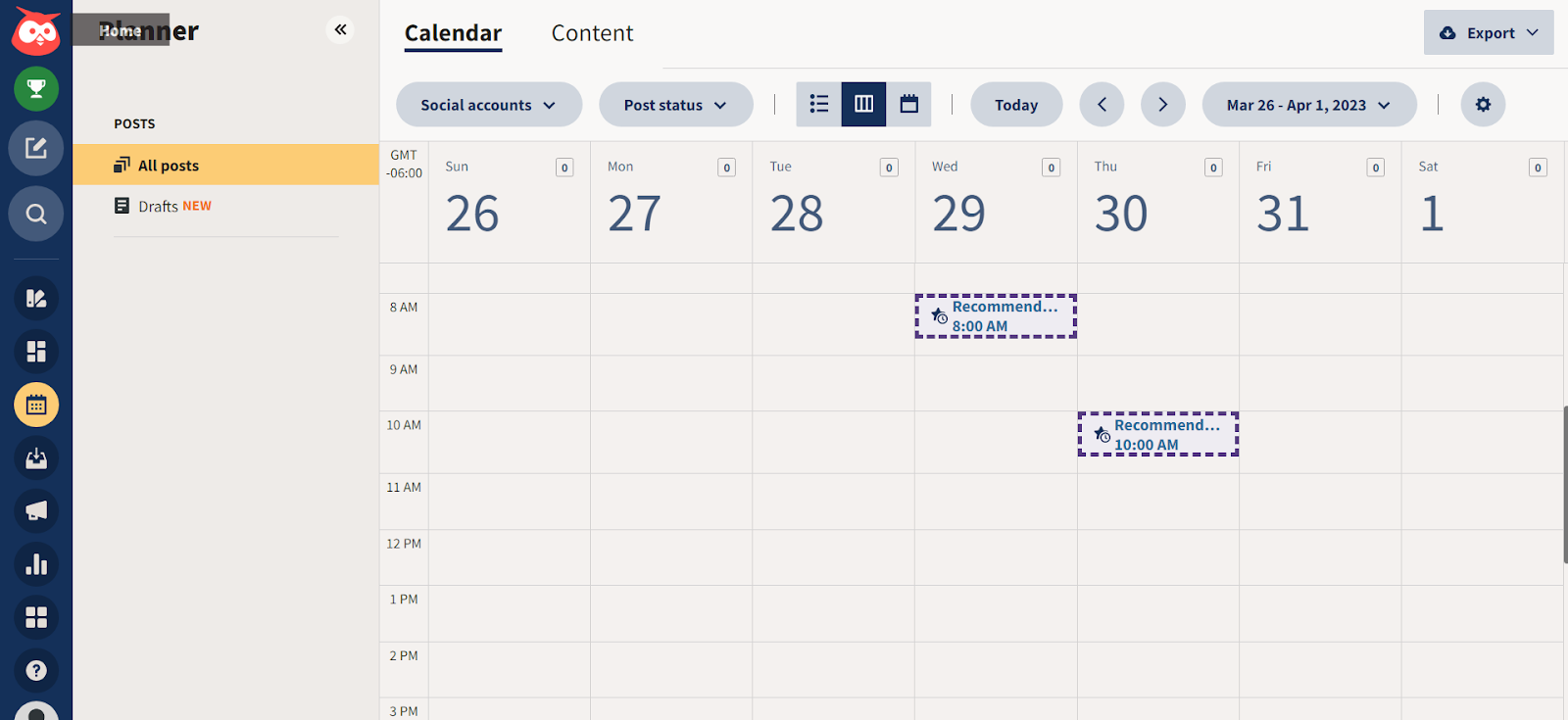 One of my favorite features is the Streams page, where Hootsuite shows you a breakdown of your social media strategy in one place. You can:
See recent posts

See upcoming post

Interact with comments (without needing to open Facebook!)

Schedule posts

Boost your Facebook posts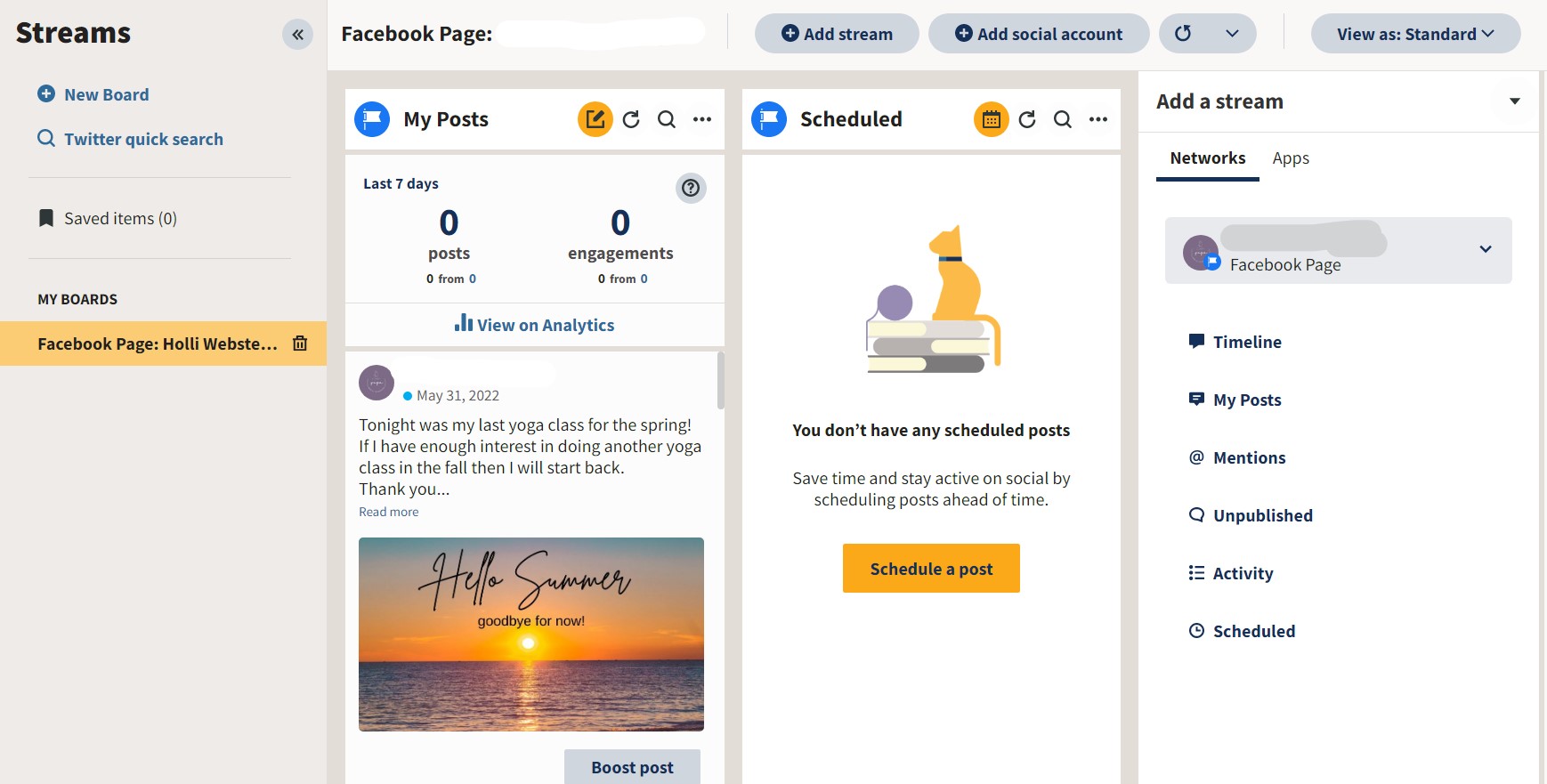 This page is like a one-stop shop for understanding and adjusting your strategy.
Pricing
Hootsuite is the most expensive tool on this list. If you're running a smaller business, it might be too much for your budget.
The smallest plan comes in at $99/month (paid annually), and the next smallest is more than double at $249/month.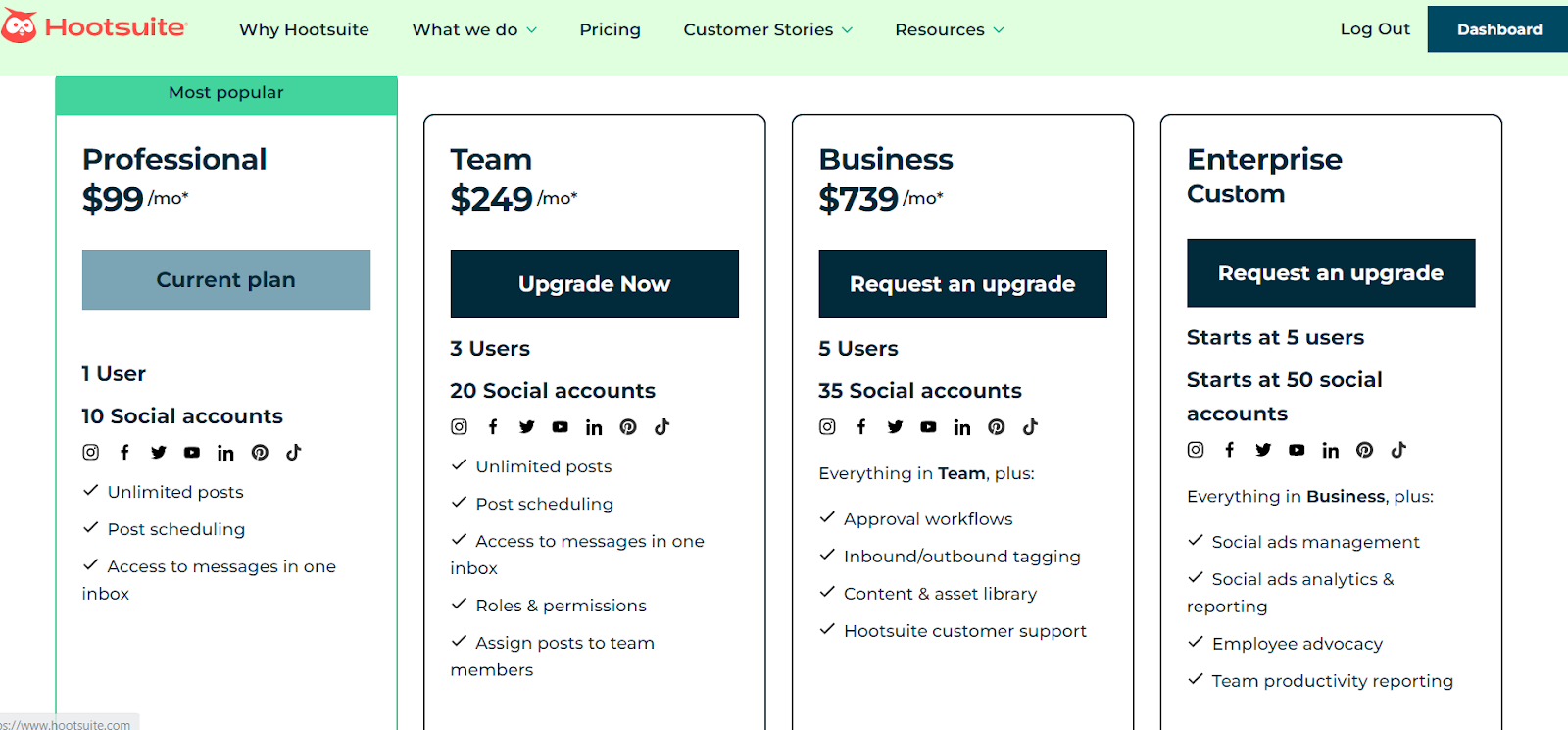 If Hootsuite is too expensive for you, these other GREAT alternatives will save you money.
Reviews
As with most of the tools on our list, Hootsuite's most common positive review mentions how much time it saves its customers.
Customers save time by being able to manage multiple social media channels and collaborate with their teams from the same platform.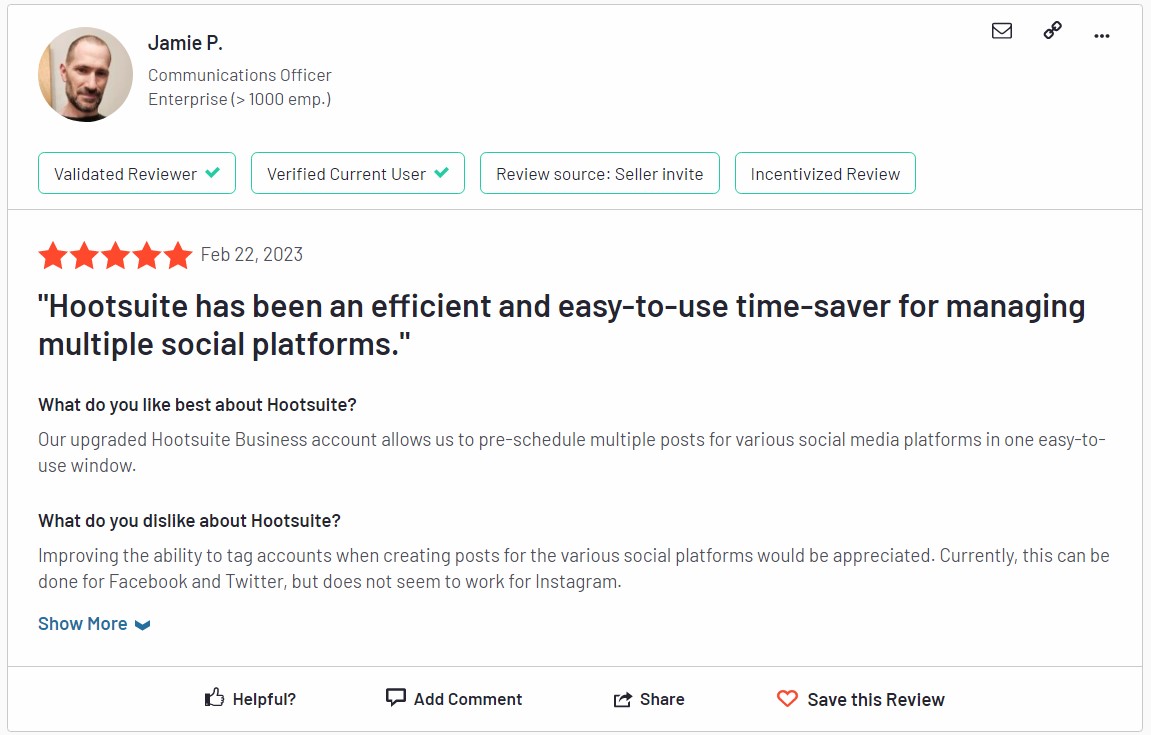 The most common complaint among reviewers is the price. People commented that the tool is excellent, but the price is hard for smaller businesses to manage.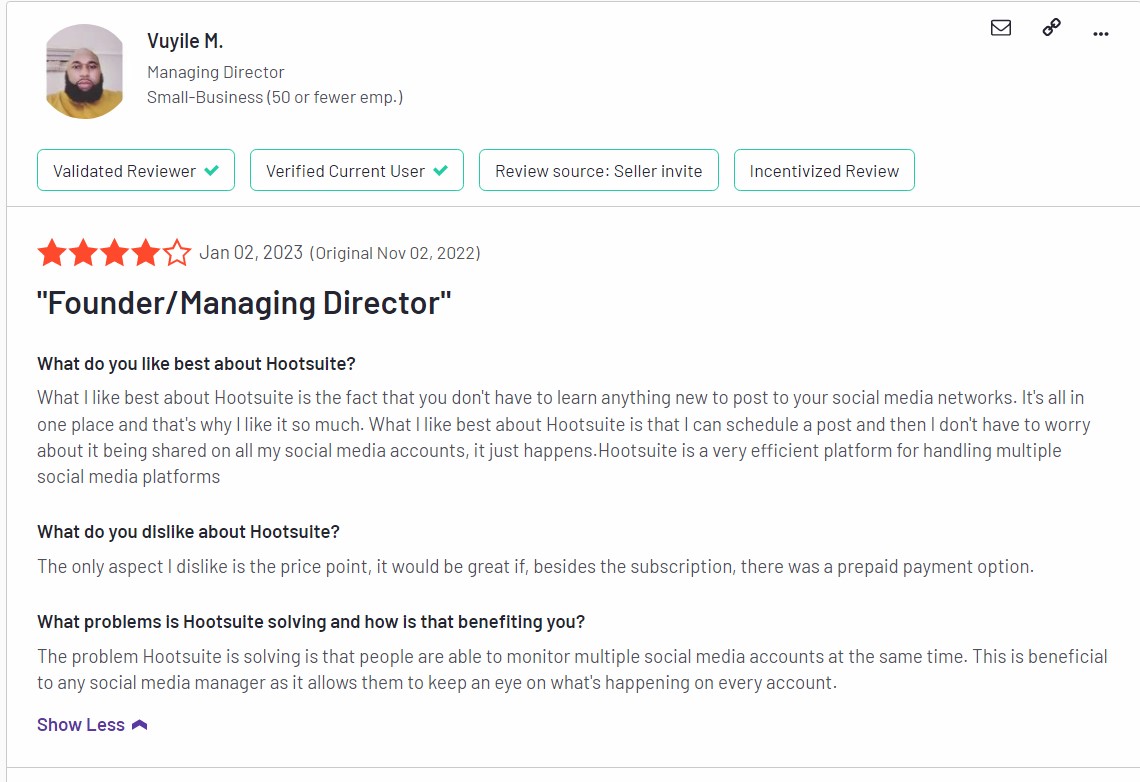 Frequently asked questions
What is the best app for scheduling Facebook posts?
The quick answer is:
It depends!
You should use the app that works best for your business.
Looking at our recommendations above is a great place to start. We highly recommend starting with Post Planner, which fits most businesses' needs at a great price.
What happened to the schedule button on Facebook?
Facebook used to have a button next to the posting box that said "Schedule." They moved it to the Publishing Tools section under the "Scheduling Options" button.
Can you schedule Facebook posts for free?
Yes! You can use the free version of a scheduling tool or schedule posts directly within Facebook following the guideline in the FAQ above.
Ready to start scheduling Facebook posts?
The 5 tools listed above are a great starting point to help you find the right tool for your business.
We highly recommend signing up for free trials and giving them each a try until you find something you like.
What other ways do you save time on your Facebook content strategy?
Let us know in the comments below!