Ever feel guilty spending hours on Facebook watching videos?
You're not alone. According to one study, users consume as many as 100 million hours of video content each day on Facebook.
This makes Facebook video marketing a great opportunity for your brand to get in front of, engage, and grow an audience.
But while you may see the benefit, knowing how use it to solidify your brand in the mind of your viewer can seem daunting.
In this article, I'm offering a few kick-ass tips to help you grow your audience and build your brand with Facebook video marketing!
Are you ready for Facebook video? Without a doubt, it's where your business needs to be. Here's the best Facebook video marketing tips you need to know.

How to Grow Your Audience With Facebook Video Marketing
Your Facebook video strategy is classified into two categories:
Live stream video
Recorded video
Facebook Live is perhaps the most effective branding strategy available today. This is because you capture viewers' attention completely for the time you're online.
Also, since this is real-time, viewers get a chance to interact with you and influence the direction of your content.
This is great for user-engagement.
The strategy you use with recorded videos is slightly different. Both are highly effective and can be used in tandem to drum up engagement and explode your organic reach!
How to Use Live Streaming Video on Facebook
Livestreams are fantastic because they don't need you to hire expensive video equipment. Facebook's mobile app makes it possible for anyone with a smartphone to start live streaming.
Here are a few strategies to rev up your live video marketing engine!
1. Host Q&As
Want to build a brand? What better way to do this than by demonstrating your authority on the subject!
Host a monthly Q&A session with your viewers. Users ask questions in the comments and you can answer them in real-time.
It also helps in building a personal relationship with your prospective buyers.
Ben Coomber, popular nutritionist and podcaster from the UK regularly hosts Q&A's with his followers on Facebook. This helps him establish authority in his subject as well as build a personal relationship with his audience.
2. Conduct Interviews
This is a slightly modified version of Q&As. Instead of answering questions yourself, you may also look at interviewing other experts in your field.
From a user's perspective, this is similar to Q&As in that they get to interact with your business directly and thus build a personal relationship.
But as a business, this is much better because the person you are interviewing may have their own followers. Your livestream could encourage those followers to also visit your Facebook page for the livestream event.
In other words, this attracts more eyeballs to your brand.
Another way to do this is by offering to be interviewed live on other industry Facebook pages. In doing this, you get to demonstrate your credibility in front of an audience who may not know you already.
When Adam Grant published his best-selling book Originals, he organized a Facebook live interview with Amy Cuddy, a best-selling author herself and a professor at Harvard.
This event gave the followers of both these writers with lots of interesting insights from the other.
3. Organize Events
Are you attending a trade show? Is there a new product you're launching? Or do you simply want to engage with your audience?
Organize live events on all such occasions. Users love to watch non-scripted events. It's also a great way to build credibility and trustworthiness among your followers.
Martha Stewart frequently organizes live events. She also invites other experts on her show to make it more interesting and informative for her viewers.
How to Make Sure Your Live Videos are Successful
Although Facebook live streaming videos can be extremely effective in building your brand, the success of it depends on the execution.
Here's a few tips to ensure yours help yours take off!
1. Start Promotions in Advance
Successful branding relies on how many people you can reach with your campaign. Promoting your live streaming session in advance is key to building a good viewer base.
If you have a strong following, promote your event well in advance. You can ask people to subscribe to your page so that they receive a notification when you go live.
Did you know that you could advertise on live streams? One strategy that works very well is to advertise on other live streams an hour or so before you go live.
Telling your target viewers that you are going live in a short while is a great way to bring new followers in.
2. Build Anticipation
You can build anticipation by promising to deliver something exciting during the live stream.
For example, BuzzFeed once made their viewers wait for over 45 minutes to learn how many rubber bands it takes to explode a watermelon.
The video continued to rack up millions of views even after the event was over.
But keep in mind, this is a strategy that can backfire if it's not executed properly so be careful.
3. Be Genuine
It can be intimidating to go live in front of an audience not knowing how the session is going to go.
But part of the lure with live streaming is that they're not scripted.
Being yourself is a good way to encourage more personal engagement with your followers and build a brand that they resonate with.
Tips to Using Recorded Videos on Facebook
Pre-recorded videos can be more expensive to make. Everything from the filming to the editing can rack up the bucks.
Not to mention, your viewers expect these videos to be professional.
If you're going to use recorded videos, use the right type. Here are a few different types of video content you can produce to build a better brand.
1. Product Reviews
Your customers expect you to be an authority in your industry. What better way to do this than by demonstrating this through exhaustive product reviews.
Retailers like Best Buy and WalMart are good examples of businesses that can make use of product review videos on Facebook.
Here is Best Buy Canada reviewing the LG 4K TV:
This especially works if you are an online store or marketplace selling third party products.
2. How-To Videos
Users love how-to videos because they visually demonstrate how to get things done with a product.
Maintaining a routine for your videos gets more people to subscribe to your page so that they could follow your upcoming videos.
Etsy does a great job with their 'how to' videos. Here is an example from a few weeks back:
While both these strategies are fantastic to build credibility as a brand, they are not particularly useful in maximizing Facebook's power of networking.
3. Viral Videos
Get creative and publish videos that users love to share on their timeline. The objective with these campaigns is to not establish authority, but to build better brand recall.
Here's some examples:
A soccer community or app could publish interesting soccer videos that make people like and share their posts.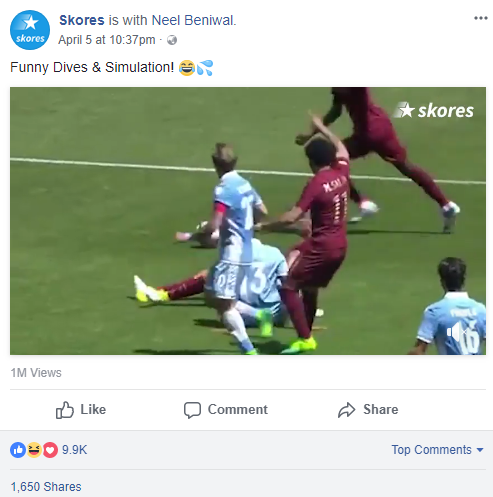 A business selling auto parts could publish videos of car crash videos.
You can surf YouTube to identify the kind of content (from your industry) that viewers like and publish such content to your Facebook timeline.
Like always, the key to success is in the execution.
Here are a few tips to improve your branding efforts.
How to Improve Your Brand With Facebook Video
1. Offer Captions
Not all viewers enjoy your videos from the comfort of their homes. Some watch it at work.
By providing a caption, your viewers can watch videos with their speakers off.
In fact, most viewers like to watch muted videos even when they don't have to. So, captions are always great.
2. Showcase Your Logo
Have you ever invested so much of your time and money in creating a video only for someone to steal it and claim it as theirs?
There are dozens of online tools that let a user download a Facebook video.
Embed your logo on your videos to protect your intellectual property. More importantly, it also establishes better branding for your business through videos.
3. Advertise Your Videos
Facebook places a lot of emphasis on fresh content. If your post fails to get sufficient traction in the first few hours, then chances are that it will get buried very soon.
Not only this, recent Facebook algorithm changes also point towards greater emphasis towards content posted by personal connections (and less on businesses).
Advertising your submissions soon after they get published is a great way to trigger engagement among followers.
Even a small spend of $5 to $10 can be enough to set the ball rolling on gaining exposure.
Conclusion
Facebook video can seem tricky to anyone just getting started. But the branding opportunities that exist with live streaming and recorded videos is too good to be missed.

Successful branding doesn't happen overnight. Focus on creating authentic, interesting and helpful content for your audience.

Measure the success of your efforts, gather insights and put your new lessons into play with your next campaign.

Like it is with every other marketing strategy, perseverance and tracking is key to success with Facebook videos.

Have you ever tried building a brand with Facebook videos? Share your thoughts in the comments