It's essential to promote your brand online to grow it.
And one of the best channels for this is social media.
Combined, social media platforms have almost 4 billion users which is more than 50% of the world's population.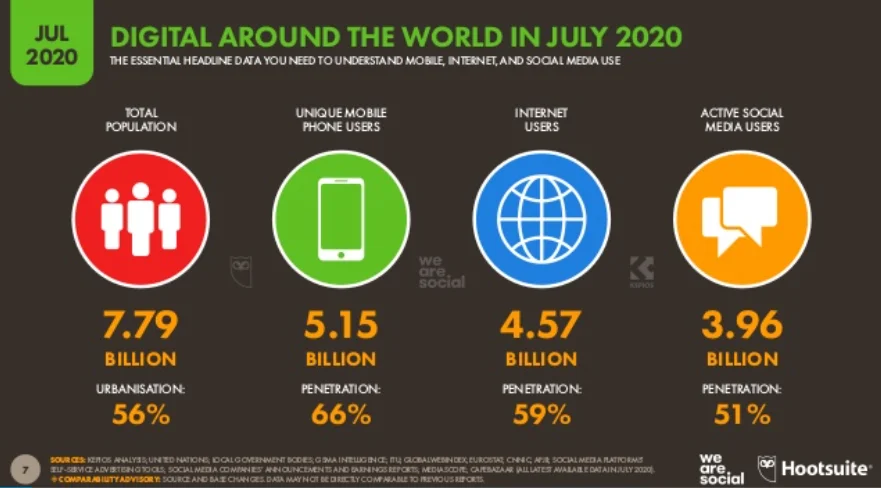 Image via We Are Social
With such a massive part of the world's population using these platforms, you can easily reach your target audience by establishing a solid presence there.
And how can you achieve that?
You need to consistently share content on social channels where your audience is the most active. When you do so, they'll notice your brand and start following it.
But that's not all.
It's important to employ different strategies to attract your audience and to get them to engage with your content.
To help you out, we've put together numerous ways through which you can achieve this.
Let's dive right in...
9 Ways to Increase Social Media Engagement: Posts, Tips and Examples
Here are the different ways in which you can engage your audience on social media platforms:
1. Use Branded Hashtags
A great way to generate social media engagement is through social media hashtags. These hashtags help users discover new content and brands can use them to increase their reach too.
However, you should take hashtags one step forward.
Instead of sticking to regular hashtags, you should consider creating a branded hashtag for your brand using hashtag generators.
Then use your branded hashtag in your posts and encourage your followers to use it as well. When more people start using your hashtag, all content related to your brand will be visible under this one hashtag.
This can improve content discovery and engagement.
For instance, Daniel Wellington has a branded hashtag #danielwellington which now has over 2.3 million posts.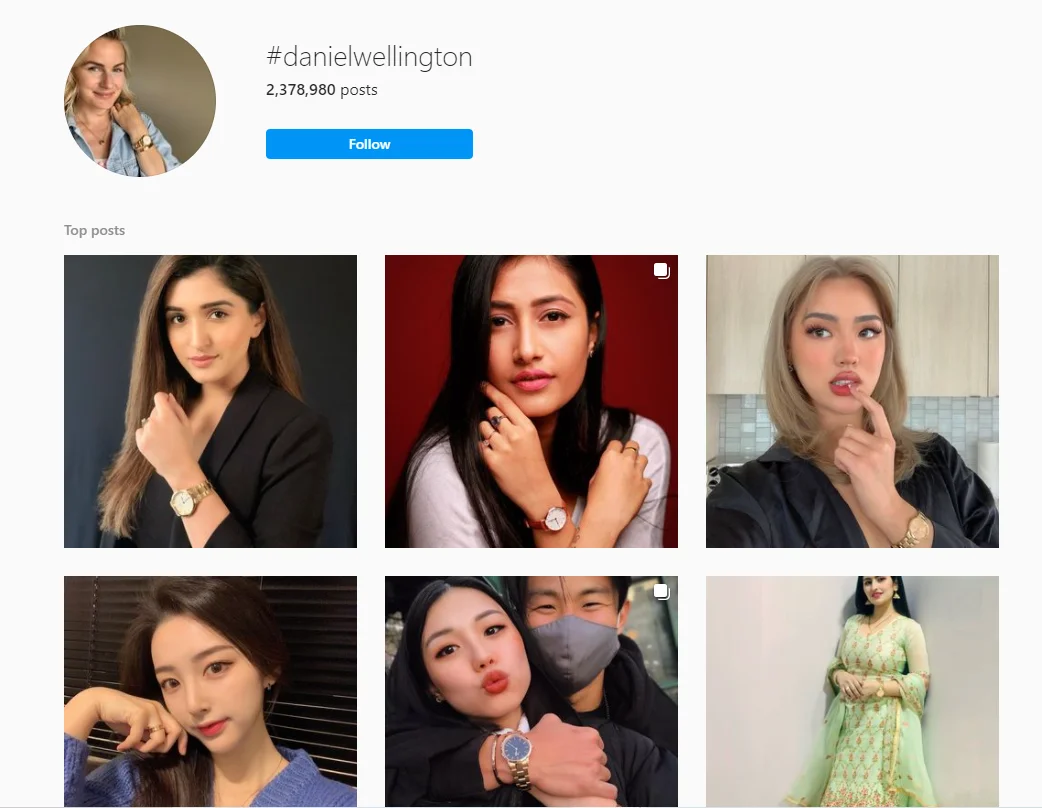 Image via Instagram
2. Use Videos
Videos are hugely popular on social media. Case in point — over 500 hours of videos are uploaded every minute on YouTube.
Consumers have greater access to faster internet and cheap smartphones which has led to the popularity of videos skyrocketing on social media.
Existing social media platforms have created dedicated sections for videos such as Facebook Watch, IGTV, and Reels. Additionally, video-only platforms like TikTok have gained popularity too.
So, if you want to engage your audience on social media, your silver bullet has to be videos.
However, creating high-quality videos is easier said than done. You need to have some level of technical knowledge for editing them.
But to make things simple, you can leverage platforms like Boosted. This tool lets you create videos using its drag-and-drop editor without any technical expertise.
With a single click, you can resize the same video for different social platforms. This way, you can seamlessly get videos for your brand and engage your audience.
Image via Boosted
3. Leverage Live Videos
While other forms of content give your audience the opportunity to engage with your brand passively, live videos allow them to interact with you in real time.
When you start a live video, your audience can join in and ask questions to you in real time. The popularity of these live videos has shot up in recent years with internet users watching over 1.1 billion hours of live videos in 2019 alone.
And the best part?
You have a lot of flexibility when it comes to live videos. It's possible to create a variety of live videos such as behind the scenes, Q&A sessions, interview sessions, and more.
It's also possible to retain these live videos as regular videos on your social profiles after the live session is done. This allows them to gain further engagement from your audience.
For example, note how Cosmopolitan held a Q&A session with Lauren Conrad on their Facebook account. This video has got over 2.7k comments and 4.2k reactions over time.
Image via Facebook
4. Highlight Your Employees
A great way of generating social media engagement is through content that revolves around your employees. Such social posts are not only employee morale boosters but also serve as a way to show the human side of your brand.
Doing so can help foster brand trust even more.
You can expect these posts to generate engagement on social media as well, especially because your employees will likely share them among their circles too. This helps you tap into your employees' networks, allowing you to reach people who might also be a part of your target audience.
Microsoft, for example, does this extremely well. They regularly share content related to their employees on social networks.
Image via Instagram
5. Share Other People's Content
Yet another way to engage your followers is by sharing great content created by others. While you may be creating stellar content for your audience, it always helps to curate other high-quality content.
When you share interesting and informational content with your audience, they'll start seeing you as an authority in your niche.
This, in turn, will mean that their trust in your brand will increase.
And that's not all.
It can be challenging to come up with new and unique content all the time. In such a situation, it always helps to curate valuable content that's created by others.
This not only lets you remain in the eyes of your audience but also helps generate engagement.
6. Collaborate with Influencers
One of the best ways of increasing your audience engagement on social media is through influencer marketing.
Influencers are seen as authority figures in their respective niches and typically have highly engaged audiences.
As a result, when you partner with an influencer, you'll be able to get access to a dual audience comprised of both the influencer's and your audience.
What's more?
As the content will include the influencer, the chances of your audience engaging with it will increase too.
For example, note how Fiji Water has reposted a post created by an influencer they've partnered with.
Image via Instagram
7. Post at the Right Time
Posting high-quality content is one thing. However, to ensure that it gets the maximum engagement possible, you also need to post your content at the right time.
But why?
Because your audience may not be active all day long. And this also means that, for maximum engagement, you need to post your content when most of your audience is active.
For this reason, you should know the best time to post for your brand.
A great way of finding this time is by going through your social media analytics using social media tools.
These tools can help you identify the times and days when your audience is likely to be most active.
After finding this, you can start using social scheduling tools like Buffer and Hootsuite to schedule your social media posts in advance. This will ensure that your posts are published at the right times for maximum engagement.
8. Leverage Recent Trends
One great way through which you can boost your social media engagement is by keeping up with the latest trends.
Every now and then, various trends go viral on the internet and everyone starts talking about them.
And you should be the first to strike. You should consider creating content around these trending topics as it's highly likely that your audience will engage with it.
And the best part?
You won't have to brainstorm much as the topic is already ready. All you have to do is give it your own spin and create content about it.
9. Use Memes Well
Users come to social media to be entertained. So, you shouldn't stick to industry-related content or marketing materials all the time.
Every once in a while, it can help to leverage memes to engage your audience.
Not only are memes easy to create but they can also get the attention of your audience with ease.
A word of caution though...
Create memes only based on your brand voice. You shouldn't stray away from it as that could alienate your audience.
Final Thoughts
Social media is a great place to engage with your audience directly. You can generate social media engagement by posting high-quality content such as videos regularly. It's also helpful to leverage live videos to engage with them in real-time.
What's more?
You should also create and use branded hashtags and encourage your followers to use them too.
It also helps to create content around your employees to generate further engagement. Apart from creating original content, you should also curate quality content from other brands.
Collaborating with influencers is yet another powerful engagement strategy that you can implement.
Also, avoid sticking to regular posts all the time. Instead, use memes and take advantage of recent trends to generate even more engagement.
Finally, post at the right times when your followers are most active to get the most out of your content.
If you have any questions related to these methods mentioned above, let me know in the comments.