There are over 300 million people using Twitter every day. And they're tweeting a TON - it amounts to 6,000 tweets per second.
While there's no doubt that Twitter can be an effective platform for your business to reach your target audience, breaking through all of that noise is quite the challenge...
...A challenge that can only be overcome by tweeting exceptional content. But how can you find great content to share on Twitter?
We all know businesses and Twitter power users that seem to have it all figured out.
They seem to know exactly how to find great content to share on Twitter.
Some of us tweet, and we're lucky to get a couple of people to like it. But when the pros tweet, their posts seem to explode with likes, retweets and replies.
Why is that? Well we'll tell you in this post!

We're going to explore what makes a great Twitter presence great...
And then outline some specific, actionable recommendations for you to find content to share on Twitter.
FREE DOWNLOAD: Build momentum on Twitter with the right mix of content. Learn the 11 types of content you need to share today.
How To Find Great Content To Share On Twitter (And Get More Followers)
What Makes A Great Twitter Profile
Before you jazz up your tweets, it's important to make sure that your profile itself is optimized.
A large part of a successful Twitter strategy is doing things to attract more followers.
Many of whom will review your profile before determining whether they want to follow you.
Here are the basics:
Have a great-looking Profile Image - It doesn't have to be a professionally-produced headshot, but it does need to be a real, recent picture of you.

Use a unique cover photo that tells a story - no, not a literal, written story, but an image that says something about you and, ideally, something that reinforces your professionalism.

Mine, for instance, is an image I created in Canva that merges my love for Star Wars and LEGO with some information about what I do.

Write a great Bio that tells visitors who you are what you do - in 140 characters or less. ;)
Off of your profile, it's a good idea to make Twitter your focus if you really want to grow your presence.
Include links to your Twitter profile in your email signature, a follow button on your website, and in your blog post author bio's.
If you have opportunities to create content for other websites and publications, particularly mainstream media, that's fantastic.
It's a great technique for getting exposure and generating more followers who are specifically interested in reading more from you.
What Makes Great Twitter Content
Now that your profile looks fantastic (good work!), it's time to think about what you're tweeting.
While it's easy to just say, "share great, engaging content" - that's probably not very helpful.
So, let's go over some basics and then dig into what "great" means here.
First, like every other social platform, Twitter and Twitter users love visuals.
That is why you need to make sure that you're regularly sharing video and images, including GIFs, if appropriate to your niche.
Second, discoverability and engagement are very dependant on your use of hashtags.
Remember earlier when we said there are 6,000 tweets every second?
Hashtags are how savvy Twitter users tune out the noise and focus on the tweets that might be interesting to them.
10 Steps to Creating a Winning #SocialMedia Strategy https://t.co/OTusNVjSZE via @RebekahRadice pic.twitter.com/CbM7AoK5Jy

— Peg Fitzpatrick ✨ (@PegFitzpatrick) December 7, 2016
Now, whether you're sharing text or images, links or video, you have to make sure that your audience is interested in your tweet...
Wait. Interested isn't a strong enough word. Your audience needs to love your tweets.
Make sure your tweets look good and can be found among related tweets.

Click to Tweet
They should look forward to reading what you have to say next, and be eager to like, retweet and reply to your updates.
They should be excited to engage with you.
That's the ideal, so let's talk about how you get there.
1. Tweet Regularly
Twitter, like other social networks, can't be someplace that you just happen to share to when you think of it.
If someone looks at your profile and sees that you haven't tweeted in months, they'll be less interested in following you.
And, the more often you tweet and those tweets get seen due to hashtags or retweets, the more opportunities you'll have to attract new audience members.
So tweet regularly. If you're just starting, that might be 1 - 3 tweets per day as you slowly ramp up.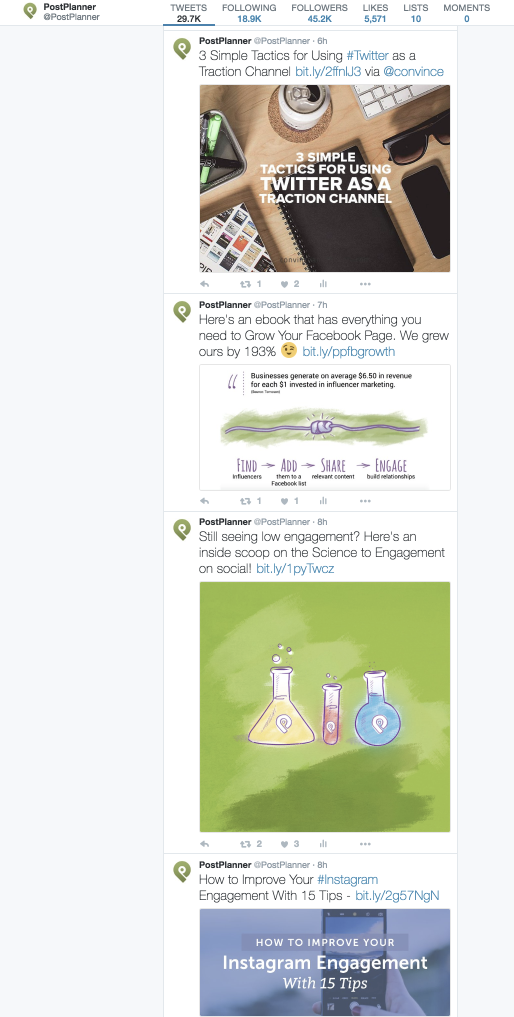 Power Twitter users might tweet 25 - 50 times per day. But it's important to note that they didn't start by tweeting that much.
It's as important to share quality content as it is to be careful not to tweet too much too fast.
Your audience and tweet schedule has to grow organically over time.
2. Labor Over Your Tweets
Be careful not to quickly rip off a tweet or settle for hitting the tweet button on an article and simply share whatever the default is.
Are you packing as much meaning and interest as you can into 140 characters?
Have you included a provocative image? Hashtags? Are you missing an opportunity to @mention another Twitter user?
Want to find the best #hashtags for your social media content? @Hashtagify is my go-to! Search by keyword & see the top 10 related hashtags. pic.twitter.com/Ke4KbdkEPS

— Rebekah Radice (@RebekahRadice) December 4, 2016
Like anything else you put in writing and share publicly, take a step back and try to read what you're saying objectively.
Does it really make sense? Is it truly relevant to your audience?
3. Ask Questions
It's also important to remember that Twitter is a social network, not an advertising medium.
It's understandable that most bloggers and businesses will use Twitter to broadcast their content. However that can't be the only thing that you do or users will quickly tune you out like a bad commercial.
One way to do that is to ask questions that cater to your audience and get them interested in engaging with you. Of course, you need to make sure that you're paying attention and respond to the answers you get.
Funny? Questionable... The lesson though is always ask #questions to get to the bottom of what the statistics actually mean. #Truth pic.twitter.com/3NSUSR3KWY

— Harry Deacon (@Harry_Deacon) November 27, 2016
When you're ready to take this technique to the next level, participate in and host your own Twitter Chat.
4. Retweet Others
So that we don't appear to be only interested in ourselves and our own content, it's a great idea to retweet other users.
When you share other people's content, you accomplish the following:
Distribute helpful content to your audience that you didn't have to write.

Associate yourself with other influencers, improving your image.

Make a positive impact on other influencers.
The caveat here is that, in order to do all three of those things, you might need to avoid mainstream publications.
I could tweet CNN articles all day long and CNN would hardly take notice.
Plus, it's content that everyone else can easily find so it's probably not too impressive to my audience.
However, when I tweet content from peers and colleagues, it's content that a good portion of my audience likely hasn't seen yet.
...And those influencers surely see that. It's appreciated at every level.
5. Respond to Tweets
Finally, do make sure that you respond to your audience!
This is as true on Twitter as any other network, though it's challenging to scale.
If you're creating great content, over time, the number of people who are tweeting your latest articles may rise to the level where it's impossible for you to reply to and thank every one...
...Particularly if you're using tools like Triberr or JustRetweet to spread awareness.
Personally, I reply to every Direct Message and Mention that's a question or comment requiring a response.
And for those who are sharing my articles, I tend to look for those that shared it manually and thank them.
@Jon_Ferrara Thank you!

— Mike Allton (@mike_allton) December 6, 2016
That way, I still spend some time every day tweeting Thank you! over and over. But it's worth it.
Now, notice that I haven't specifically told you to share quotes or cat memes or tips… or any other details about what you should be actually saying.
I'm afraid that's up to you.
Every business and audience is different, so it is imperative that you test for yourself and find the right mix for you.
Where To Find Great Twitter Content
Beyond what to share though, we can talk about where to find great content to share on Twitter.
First, look no further than your own backyard. What articles and blog posts have you published that are still applicable today?
We call that "evergreen" content and they make for great tweets to be shared over and over again.
Personally, I've set up my queues so that I can tweet a link to an article I've previously written 8 - 10 times per day and go a whole month before I repeat myself.
For everything else, there's Post Planner.
Post Planner has an incredible feature called FIND that is specifically designed to surface not just content for Twitter or Facebook, but proven content...
...Posts and articles and images that have already shown to be popular.
This is an important point that I want to stress.
Without Post Planner, businesses and marketers use RSS Feeds and email subscriptions and other means to try to keep their social channels fueled with fresh content...
...And those methods are OK, except for that major difference - the content isn't rated.
When I see an article in my RSS feed or on another website, I have only my own intuition to gauge whether or not my audience might actually be interested in that piece of content.
Post Planner gives each discovered piece of content a 5-star rating so that you easily know how it's performed so far.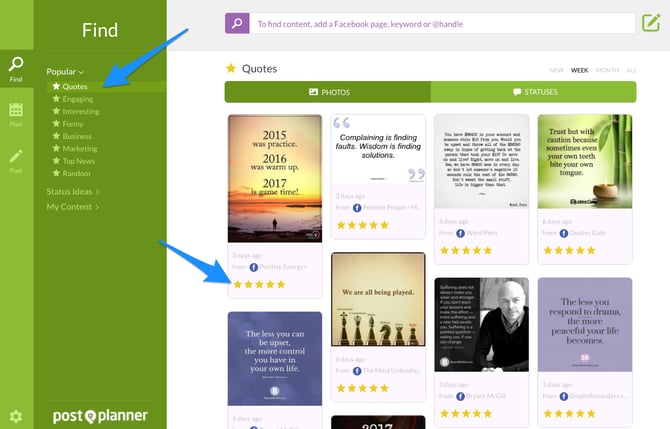 Within Find you can choose to look at Quotes, Engaging content, Interesting content, Funny content, Business content, Marketing content, Top News or Random content.
Within each you'll find tabs for Photos, Articles and/or Statuses, depending on the type of content and what's available.
So, suppose I wanted to begin setting up tweets of great quotes. I'd go to Find, click on Quotes, and start looking through the great image quotes that Post Planner found.
If I wanted to share text only, I'd click on Statuses. And I could choose to change the default date range from the past week to New or Month.
Post Planner shows you where each piece of content was discovered, and if you hover over the star rating you can see what the actual response was.
Each time I see a great quote image, queuing it up is as easy as hovering over the image and clicking Share.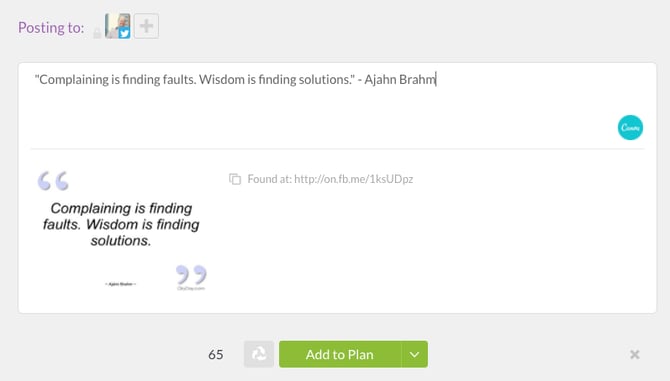 I can share the image as-is, or type in the quote text, or say whatever I want.
I have already set up a sharing schedule for my profiles that includes specific timeslots for images.
So, I'd simply click Add to Plan and this post will be queued up to share at a later date.
This is an easy, and effective, way to find content to share to Twitter, including quotes and questions you might ask your audience.
Plus, by using Post Planner, you can decide in advance how you want to schedule and space out your posts and types of posts.
For instance, maybe you want to share one quote or question a day, two images, and three linked articles. Your Post Planner Plan will help you arrange that.
How To Create Great Twitter Content
Even top-performing surfaced content may need some massaging to be optimized for Twitter.
So. let's run through what makes for high performing tweets.
First, length is a factor.
You want to deliver as much information as you can...
...But you also want to make sure that when and if someone wants to retweet you, they can without making a mess of things.
Now that images and links no longer count against your 140-character limit, you have a little more room to maneuver.
Most of the studies available today were done before that change, so just try to leave 15-20 characters available.
Second, understand the hierarchy of post types. Generally speaking, plain text tweets will perform poorer than tweets with an attached link preview...
...And link preview tweets will perform poorer than tweets with an attached image or GIF.
And attached video will likely perform the best.
This is something that, again, you'll need to test for yourself, as every audience and every piece of content is different.
But once you've determined that, say, Images and Videos perform best, then it's up to you to make sure that most of your tweets, if not all, use that format.
Third, the use of hashtags, is something we mentioned earlier and it bears repeating. Most of your tweets should include 1 - 3 hashtags.
You can experiment with including them within the main text of the tweet versus adding them at the end - that may or may not matter to your audience.
But you don't have to make it a guessing game as to which hashtags to use.
Do some research in advance and determine which hashtags are relevant to your industry and are being used and followed by your target audience.
Then make a point to focus on using those hashtags whenever appropriate.
Finally, @mentions, particularly of influencers in your niche, is a powerful technique that you should employ regularly and appropriately.
We don't want to @mention someone just to get their attention, but rather, when it makes sense to do so.
Talking about a brand or influencer within a blog post and then mentioning them in the tweet is a great example of not only a great tweet, but great influencer marketing.
Many influencers are happy to retweet such tweets.
You can also quote influencers or share their content, always making sure to @mention them on the posts.
Above all else, you need to pay attention to how your tweets perform and learn from them, as well as watch how others in your niche leverage Twitter.
Twitter's analytics can help you identify the best performing tweets.
They can also show you how your profile is doing overall in comparison to previous months.
If you want to easily compare two or more tweets, simply add them to a Twitter Moment so you can see them side-by-side and gauge engagement.
Those tweaks and improvements will help your tweets stand out.
And if you're regularly sharing great, high performing content that tools like Post Planner have identified for you, you'll see the results in how your audience responds.