How many ways do potential customers have of finding your business online?
Probably more than you think:
Website

Google business profile

Social media

Yelp or other review sites

Facebook and other social media
Many people have all of the above plus additional online listings.
What's your strategy for local listing management?
Do you have one?
If not, your customers could be encountering incorrect information about your business.
Even worse, they might not be able to find your business at all!
This article will discuss how to use a listing management tool to ensure that you're always putting your best foot forward for potential customers.
We'll cover:
5 Best Listings Management Tools for your Local Business Listing
Before we can jump into our top 5 list of listing management tools, we need to cover some local business listing management basics.
Most new or young businesses don't have an excellent system to monitor their business's online listings.
And some older businesses still have A LOT of room for improvement.
So if you operate one of THOSE businesses, this article will help you fix that!
Let's get started!
What does listings management mean?
If you aren't currently managing your online listings, you might be curious what it even looks like.
At its core, listings management is a system you use to ensure that your business's online information is correct and up to date.
For example, updating your hours of operation during a seasonal change is a part of listings management.
Likewise, responding to reviews is also listings management.
We'll be talking about managing your online listings with business listing software, but some people also choose to do it manually.
It generally just takes more work, so we RECOMMEND a tool.
The more listings you have, the more complex management becomes, but we'll talk about that more in a minute.
Why is listings management important?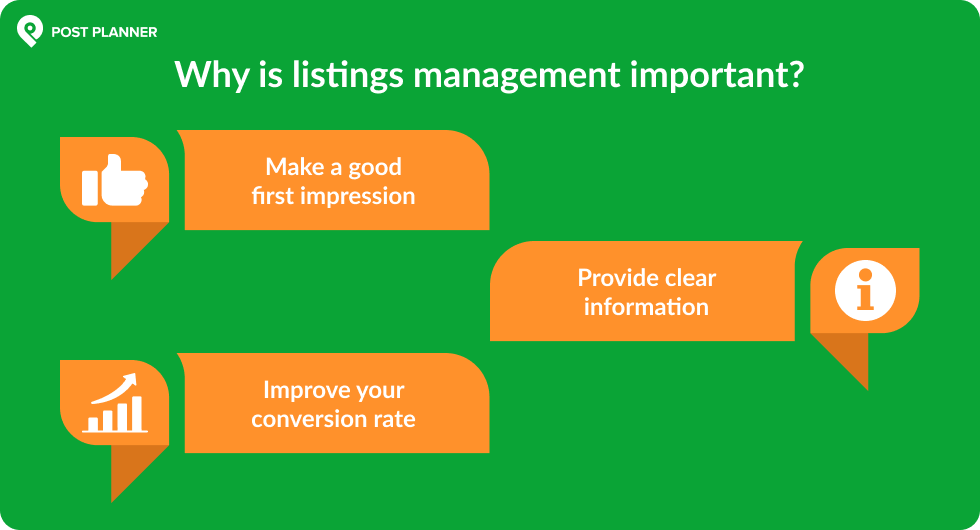 Tons of great businesses survive without any online listings management at all.
For example, small-town companies often don't have any online presence, much less a page for Yelp reviews.
If so many businesses survive without managing their listings, is it that important?
YES!
Let's look at 3 reasons why online listing management is CRUCIAL for the growth of your business.
Improve your first impressions
If your business is online, you probably spent a lot of time making sure that the landing page on your website looks great.
If your business is brick-and-mortar, you probably ensure that your storefront is clean and welcoming.
Why?
Because first impressions are essential!
Now imagine that your online listings are old and the information is out of date.
For example, Google says your store opens at 8:00, but it opens at 9:00.
How bad does your business look if a customer shows up at 8:00 only to find out that you're still closed?
Like your storefront and website, your local listings contribute to your customers' first impressions of your business.
The better your listings look — the better the chance is that you can make a sale!
Provide clear information
Have you ever searched for information about a business online, but you couldn't find it anywhere?
For example, maybe you've looked for a restaurant's menu or a coffee shop's hours of operation.
Managing your online listings makes it easy for your customers to quickly get precise information about your business.
They'll be able to quickly find:
Hours

Contact information

Menu/offerings

Website details

Promotions

Social media links
Online listing management ensures your customers can access this vital information and more!
Increase your conversion rate
It doesn't matter how many people see your Google profile.
What matters is how many of those people choose to click on it.
Even more important than that is the number of people who choose to purchase from you.
A well-managed online listing will act as a referral source for new customers.
If they can quickly identify the most critical information about your business (and see your reviews), they'll be more likely to purchase.
How do you manage a listing?
Now that we've discussed the goals of online business listings, let's go into HOW to accomplish them.
Later, we'll talk about how business listing software can help you execute these jobs faster.
But, for now, we're just going to focus on the basics of listings management.
Remember:
The core goal of your online business listing is to act as a referral source for your business.
These management tips will make your online listings the most effective referral source possible.
1. Update information
One of the essential functions your online listings perform is providing accurate information to potential customers.
However, you have to ensure the information is constantly updated for it to fulfill this purpose!
In other words, your information isn't going to update itself.
Therefore, you have to constantly check to guarantee that there are no discrepancies on your online business listings.
The first critical step to managing a listing is to update, update, update!
Business hours

Seasonal changes

Posts

Specials

Deals

ANYTHING else that changes
Ensure that your customers can ALWAYS find accurate info on your online business profiles.
2. Manage reviews
Your online reviews are INCREDIBLY important.
4 out of 5 online customers reconsider purchasing after reading negative reviews.
What does that mean for your business?
It means you need to be managing all your reviews across all your online listings.
You should be thanking customers for positive reviews AND responding to negative reviews.
Don't respond in an accusingly way or try to get back at them.
Instead, kindly thank them for the review, apologize, and offer to make it right.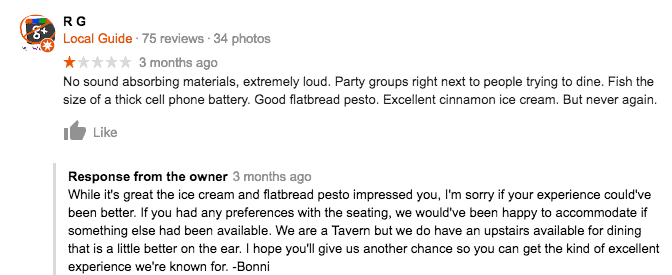 You'll find that a positive response can make a negative review turn into a testimonial for your business!
But you have to put in the time to respond to reviews first!
3. Respond to customers
When you start using online listing sites like Google and Yelp, reviews are the first thing that comes to mind.
But there's another way for customers to get in touch with you through these listings.
In most cases, they can also choose to direct message you!
An essential part of managing your online listings is responding quickly and courteously to these direct messages.
Remember that you want these online listings to be a referral source for your business.
Making customers feel appreciated and valued by responding to their direct messages can make a HUGE difference for your business!
What makes a good listing management tool?
Most people wonder if they need a listing management tool.
They think:
"Is it worth the extra money to pay for a tool to help me do something I can do manually?"
For most people, a listing management tool will be extraordinarily beneficial for their business.
In most cases, we highly recommend using a tool to help you keep your listings updated and accurate.
In this section, we'll look at 3 things you should be looking for when deciding on what listing management tool to use for your business.
The ability to manage multiple types of listings
First, you probably shouldn't consider any tool that doesn't allow you to manage listings from multiple different sites.
For example, your business probably has online listings on Google, Facebook, and Yelp.
It'd be a waste of time and money if you had to use 3 different tools to manage those listings.
Instead, you want a tool to manage ALL your primary online listings without breaking a sweat.
Using fewer tools saves you money and makes the process much more straightforward.
A review management feature
Secondly, we highly recommend looking for built-in tools that help you monitor and respond to reviews.
It can be difficult and time-consuming to log in to EVERY account every day.
If your online listings management tool allows you to manage listings AND read and respond to reviews, you'll be much better off.
When looking for a listing management tool, prioritize review management features to save yourself the headaches of reviews on multiple sites later on.
Ease of use
Finally, you should ensure that the tool you settle on is easy for you to use.
If it's so complex that you can't figure it out, you won't use it.
And if you don't use it, it's not doing you any good.
One of the best ways to get familiar with a tool's user interface is to sign up for a free trial.
However, some tools don't offer a trial.
Instead, they'll allow you to get a demo from a representative.
At the very least, make sure you know you have the technical know-how to use the tool well before paying for anything!
The best 5 local listing management tools
If you list your business on multiple review sites, you may quickly lose control of all the information about your business online.
That's where your local listing management tool will come into play.
We've compiled a list of our top 5 listing management tools that'll save you time and help you take advantage of your online listings.
Every business has different needs, so use this list to guide your research.
Post Planner
Post Planner offers local SEO tools to manage your listings online AND social media scheduling tools.
The Listings Manager tool gives you direct access to ALL your local listings in one place.
In addition, you can quickly update and sync your online listings with the click of a button.
In addition to helping you keep your online profiles updated, Post Planner also enables you to improve them.
It provides suggestions on how to improve your online listings to get more views.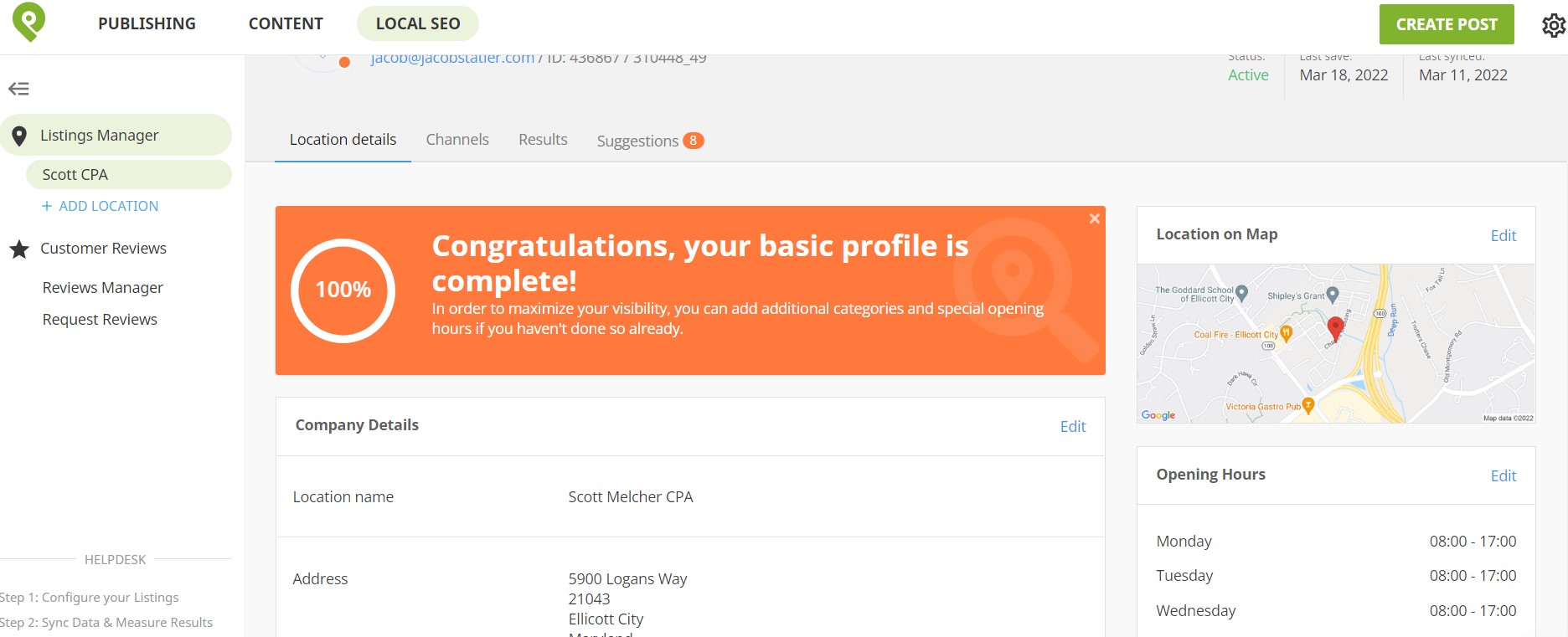 Post Planner offers review management tools that help you analyze and respond to reviews on Google, Facebook, and other review sites.
You can even create custom surveys to get more feedback from recent customers quickly.

Post Planner is a great choice for both small and large businesses that want more insight into their local listings and reviews.
It saves time and improves the quality of your online listings–a win-win!
SEMrush
SEMrush offers a range of tools related to SEM, content, and advertising. One of those tools is brand monitoring, which can help you manage your local listings.
SEMrush's brand monitoring tool enables you to keep up with reviews and tracks your business's mentions from around the web on:
Social media

Review websites

Comments

Blog posts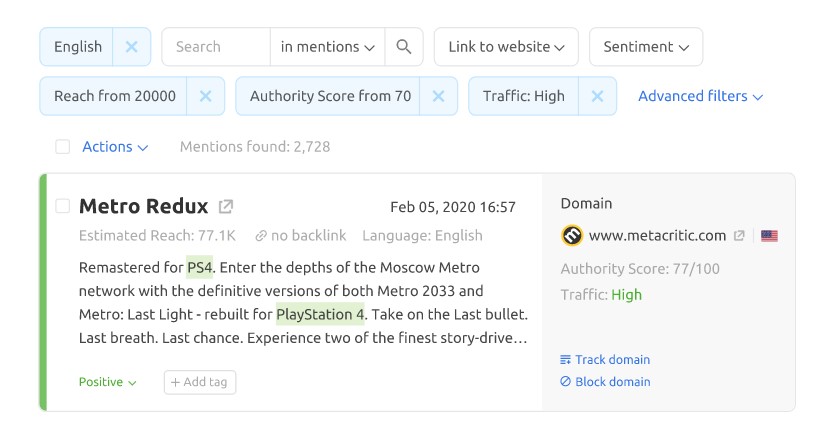 When you get a more detailed look at how people talk about your business online, you can adjust your listings to maximize your impact.
SEMrush also offers listing management tools to help you quickly monitor and update all your local listings and reviews.
Bright
BrightLocal's reputation management tools are designed to help you:
Get more reviews

Monitor reviews

Analyze customer opinions of your business

Respond to reviews quickly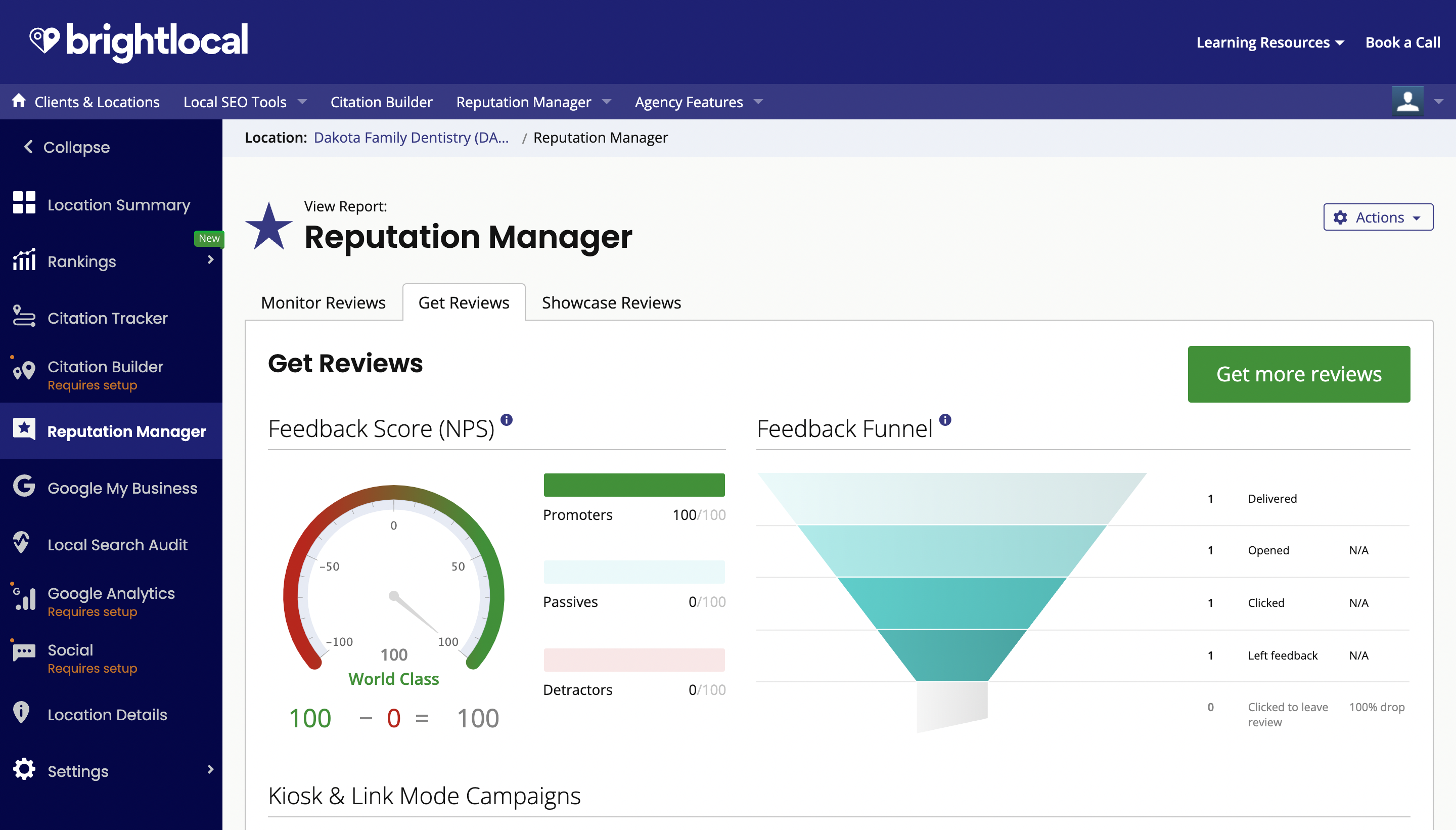 However, BrightLocal doesn't offer a tool that allows you to edit all your local listings at the same time.
It monitors reviews from many websites but doesn't allow you to edit your profiles (except GMB) from the BrightLocal platform.
If your main focus is review management, BrightLocal is an excellent option for you.
Local Marketing 360
Marketing 360 offers listing and reputation management tools that help you understand and respond to your reviews online.
They also make it easy to update multiple listings with ease.
You can easily list your business on more than 50 review sites online using their listing management tool.
It's also straightforward to add multiple locations for managing with Marketing 360's tools.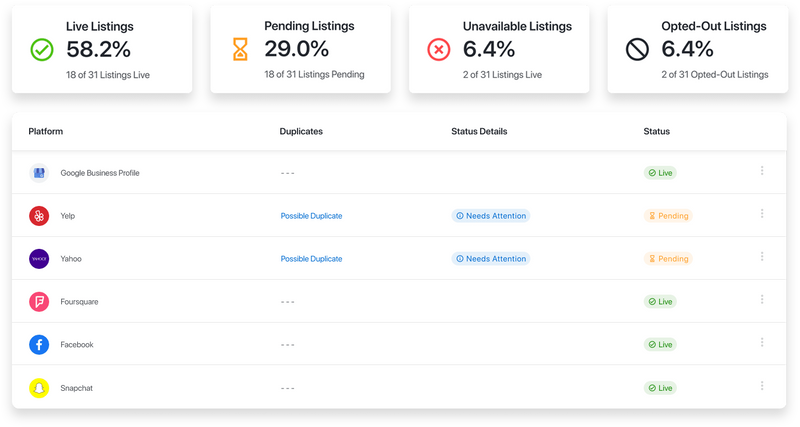 A downside to the tool is the lack of serious review analytics.
The other tools on this list provide helpful insight into your reviews, but the analytics on Marketing 360 are a little less impressive.
Whitespark
Whitespark's listing service works very differently from the other programs we've listed here.
Instead of paying a subscription fee, you pay a one-time payment to list your business across multiple sites.

The one-time fee includes a comprehensive listing cleanup across all your business's online listings.
If you ever need to update all your listings again, you can pay a small fee to have Whitespark update them.
If you don't want to pay a monthly service fee, Whitespark could be an excellent option.
Even though you'll still have to manage the listing independently, you could save hours of work getting all your listings created or up-to-date.
Conclusion
Managing your online listings takes a lot of effort, but it's essential for the success of your business.
Fortunately, these tools and strategies can make it much easier to maintain your reputation online.
Signing up for Post Planner is a great place to get started and see how much a local listing management tool can help your business.
Good luck!