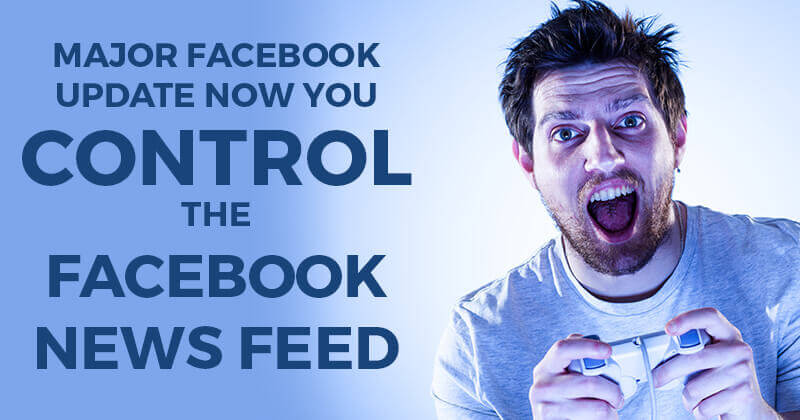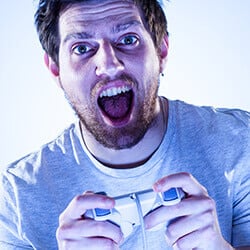 For years, Facebook users everywhere have been screaming for more ways to take control of the News Feed.
Many are critical of the Facebook algorithm, saying it forces you to only see what Facebook THINKS you want to see.
Although (and no throwing tomatoes here) I personally think the algorithm is needed -- since it provides a better experience for users.
But none of that matters.
Facebook just made a HUGE announcement that changes the game. Finally, users will have more control over what they see on their News Feed!
That means YOU get more control over your Facebook content (and so do your friends and fans).
Let's take a look at the basics of the change -- and how (or whether) it will affect your Facebook business Page.
>> Click to Tweet <<
Major Facebook Update -- Now YOU Control the Facebook News Feed
Facebook made this announcement on July 9, 2015:
Today we are announcing even better tools for you to actively shape and improve the experience. We've redesigned and expanded Facebook's News Feed preferences to give you more control.
So what are these changes?
Watch this short video...
Choose the friends and Pages you most want to see
With this update you can select the friends and Pages you see at the top of your News Feed.
While you're on the News Feed preferences tap on a friend's profile pic to see their posts first. The stars indicate that you have chosen to push this Page or post to the top of your News Feed.
Now that you've done this, you'll see any new story these people or Pages shared since your last visit to Facebook float to the top of your News Feed.
Do you see how this is a major change?
After viewing starred posts, you can then scroll down to see your normal News Feed.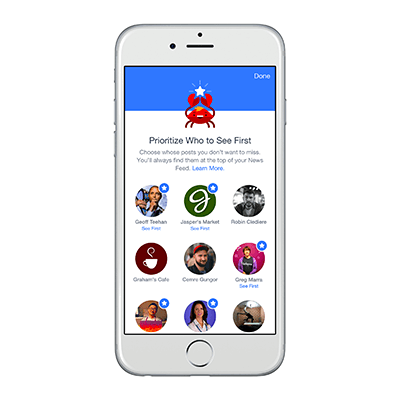 Discover new Pages to follow
Another cool featured added with this update is the ability to find more Pages to connect with and follow.
Facebook said:
Helping you find new Pages to follow can help you connect with publishers, artists and businesses you might be interested in. Based on the types of Pages you've liked in the past, you can discover new Pages in order to get more of the stories you care about.
Facebook has been making suggestions of Pages you may want to like for some time, but this change is a quicker way to find Pages based on your interests. The change will be especially useful on mobile devices.
>> Click to Tweet <<

Choose Which Friends and Pages to follow or unfollow
Out of all the changes, this one might have the greatest impact on Pages.
You'll now be presented with a list of the main people, groups and Pages that populate your News Feed -- and you'll have the option to UNFOLLOW any of them.

Any time Facebook lets users quickly unfollow Pages like this -- I get a bit scared! But I'm sure it's a fear that's unwarranted. On the bright side, you'll also see those you've unfollowed previously... and be able to change your mind on the spot.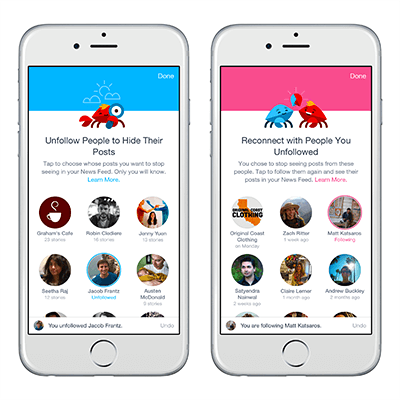 What the Facebook News Feed change means to YOUR business
Before you get crazy excited or start screaming that Facebook ruined your life due to yet another change to the News Feed... I urge you to calm down... :P
The reality of this change is that most businesses shouldn't notice any real difference. If anything, it will encourage pro marketers to raise the bar on their Pages.
Sure you could beg your followers to add you to their "See First" list, but begging isn't the best marketing tactic ever devised. Rather, make your content so valuable they will WANT to see your stuff on top.
Facebook is about people first -- and that's a good thing as a business owner.
The more people come back to Facebook and engage with their friends and the platform, the more chances they'll see your posts (or ads) and the more you can sell your product or service.
You should still be taking care of the basics:
Post quality content only
Post consistently every day
Monitor and reply to comments on your Page
Answer messages as quickly as possible
Boost posts to get more exposure
Run targeted Page Like ads
If you're doing those things you'll have a successful Page -- regardless of any News Feed changes. It brings to mind the old saying, "Where there's a will, there's a way." And the way to succeed on Facebook is to weather the storms by holding on tight to the fundamentals.
*FYI: This update is rolling out now to iOS users. It will soon be on Android devices and on desktop. To access simply tap "More" in the bottom right hand corner of your mobile app. News Feed Preferences will be under Settings.