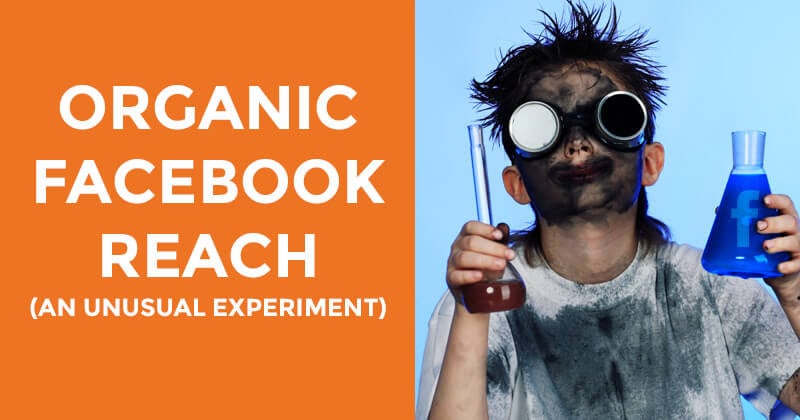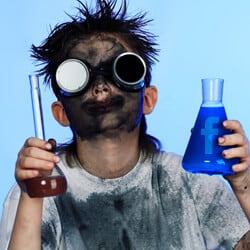 Have you ever wondered whether you really need both a Facebook profile and a Facebook Page for your personal branding?
I created my Page back when I couldn't add any more friends on my personal account. Facebook didn't have the 'follow feature' yet.
Once Facebook did begin letting people follow someone without having to add that person as a friend, though, I found myself posting less frequently on my Page.
I know what you're thinking!
There are many benefits to using a Page for your business -- even for a solopreneur business.
I was beginning to doubt that for myself.
If Facebook founder, Mark Zuckerberg, doesn't use a Facebook Page, then why do I need one for my personal brand?
And why do you?
That was my thinking.
So, I came up with an experiment... but it went a bit sideways on me.
Allow me to explain...
>> Click to Tweet <<
Organic Facebook Reach (An Unusual Experiment)
After the 'follow feature' was launched, I started using my personal profile more and my Page less. I felt more connected with people on my profile. It was simply more personal.
After awhile, I realized I was posting only about 4 times a month on the Page (usually once a week).
Then it hit me: What if I don't post on my Page AT ALL for a few months?
What will happen if I disappear -- concentrate on my Facebook profile -- then reconsider the Page?
Would it shake things up?
Would I end up switching to my profile altogether?
The experiment begins!
Prior to my experiment, the majority of my posts had a reach of about 200-300.
For example, check the reach on this "Weekend!" post: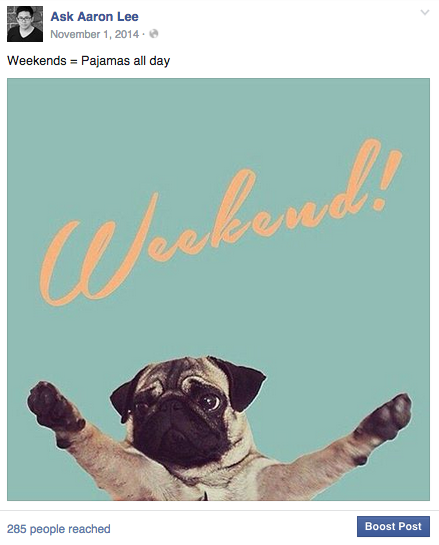 I was consistently hitting that 200-300 figure in reach -- despite posting just once each week.
That amounted to about 5% of my total fan count... a figure I had come to accept as "average."
Not bad, maybe. But not really good either. Those were my thoughts at the time.
After 3 months of not posting
After doing nothing on my Page for OVER 3 months! I posted again and compared results.
Reach was down like crazy!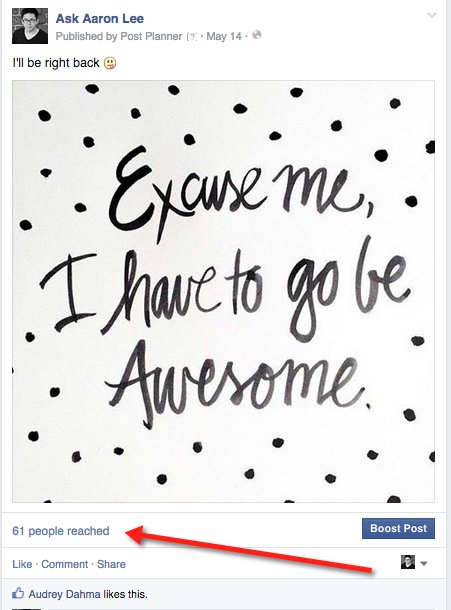 It fell so hard that each post barely made an impact.
I was getting 30-40 reach for most posts. The best I had was 75!
No way!
A few posts dropped to a reach of 15-20. I deleted them in disgust. It was that bad! My reach was now down to 0.5% - 1%!
Of course, I was getting no engagement either.
That meant:
No likes
No shares
No comments
Those few people who were seeing my posts just scrolled right past them.
Could I revive my Facebook Page?
Here's the thing: I LOVE a good challenge.
The whole Page versus profile issue was sidelined.
Now, I was determined to see if I could regain reach (but without depending on ads).
How could I do that?
I considered the possibilities, then decided to make this a double experiment: I would put Post Planner to the test.
Let me show you what I did and how it turned out.
1. I set up Post Planner to schedule a daily post to my Page
I scheduled daily posts a week in advance. I primarily used the content Post Planner recommended inside the tool. I tried it for 2 weeks to see whether proven content, posted daily, would increase my reach... and It did.
I got my reach up from 60+ to about 120-140+.
"Double your numbers" looks good on paper, but that depends on the numbers you're doubling!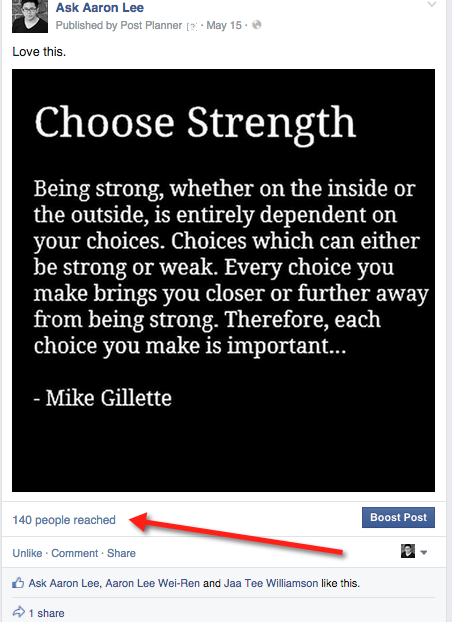 2. I began using visual posts
Since visual posts tend to stand out, I decided to add in quotes. I thought it would be a good way to use visual content to get better engagement.
The results were encouraging, and quote posts are really easy to find and schedule with Post Planner.
The most reach came from this visual that I posted on the 9th of June. It pulled a reach of 2000+.
Another thing I noticed: After this win, I saw a dramatic increase in reach for other posts.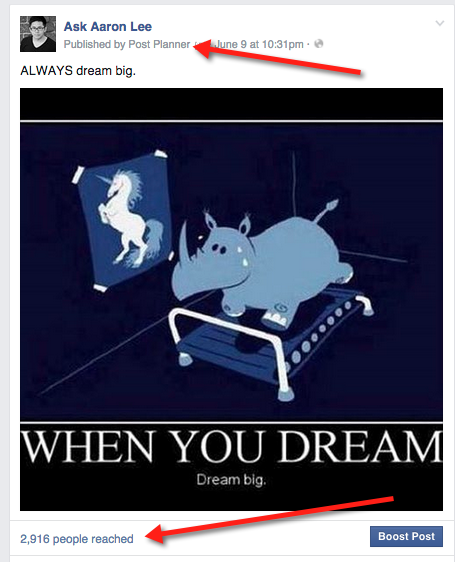 Let's call it the "9th of June" effect!
Here's an example of what happened after the 9th: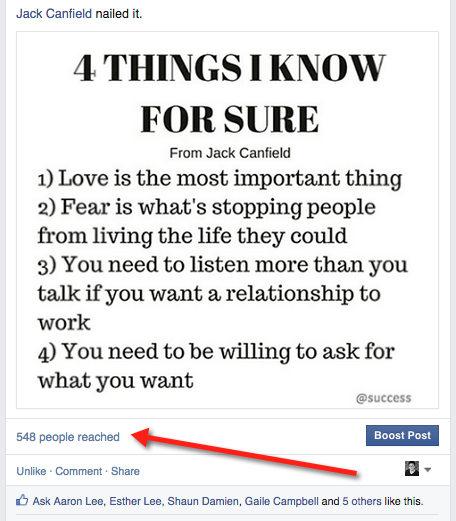 3. I began to use link posts
Analytics told me link posts were received quite well on my Page. My very first pulled a reach of about 380+ .
It was a link to my article about how to use hashtags.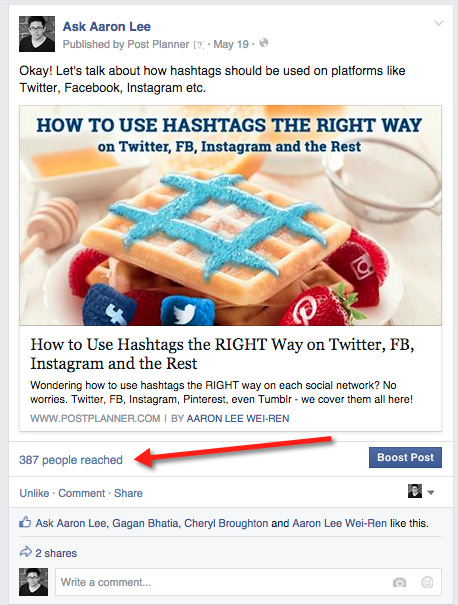 4. I began sharing my own posts in my profile
I simply shared my own posts to my Facebook profile.
Since my profile was active, it helped.
In fact, this (and the other 3 steps I had taken) prompted my reach to grow to about 400!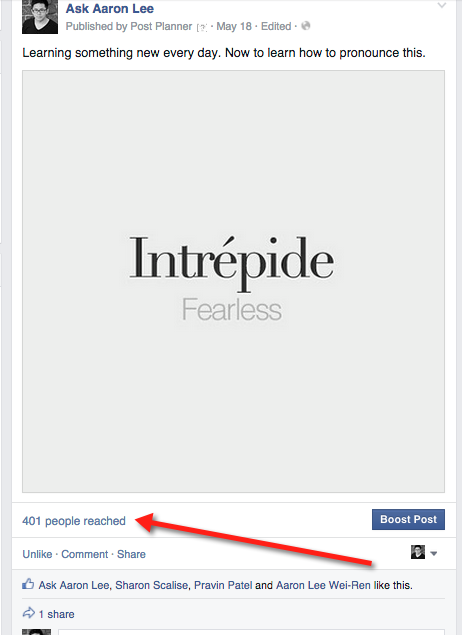 5. I included personal posts
The first thing I noticed about personal posts is that they drew more comments -- and comments help build reach.
A few weeks later, after the 9th of June effect , a photo of a coffee cup and drink drew a reach of 360+.
Are you wondering how I used Post Planner to schedule personal posts?
Simple.
Here's a brief video of Scott Ayres showing you how to enter your own post (versus a post you're sharing from elsewhere) into Post Planner: How to Schedule a Post in Post Planner.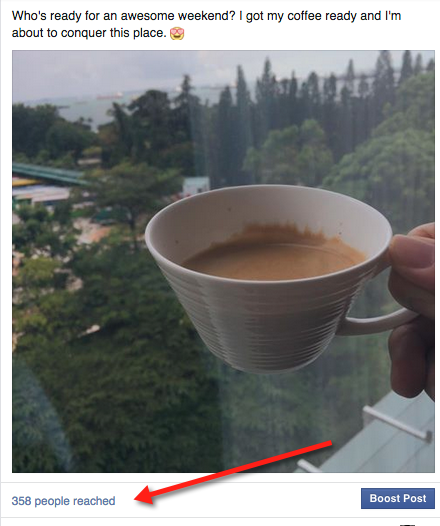 6. I added on an occasional status update
I didn't see a huge jump in reach with status updates -- but I did notice they tended to draw more likes than other post types!
That's an important point about Facebook.
Always monitor your Page for effect. The results I get may not be the same as the results you will get.
Status updates could grow reach on your Page, but I've not seen that on mine (but the increase in likes is evident).
7. I surveyed the lessons learned from my experiment
My experiment was interesting (and unusual), but valuable. The biggest takeaway was that I really DON'T WANT to do away with my Page.
Here is my reasoning:
I'm not Mark Zuckerberg :)




Businesses need reach

Businesses aren't allowed to use profiles on Facebook

My profile posts increase the chance of my content getting seen and that increases my exposure

When I have both a profile and a Page, I double my opportunity to be seen and gain fans
During my experiment-within-an-experiment, I gained even more respect for the Post Planner platform.
I already knew it was good, but watching Post Planner (the only tool I used -- no ads or other promo help) salvage the train wreck and quickly bump a reach of 60 up to a reach of 500 or more made me a bonafide believer.
I really did "eat the dog food."
I quit micro-managing my Page and saved HUGE on time investment
I became extremely comfortable with selecting posts in advance (scheduling)
I chose top content already vetted by Post Planner
I used the Post Planner tool for every post -- including status updates
I took advantage of Post Planner Insights to monitor progress
Then came my first post with a reach of over 1,000. To say I was excited would be an understatement! I thought I understood how Facebook works before, but now I felt a whole lot more capable and in control.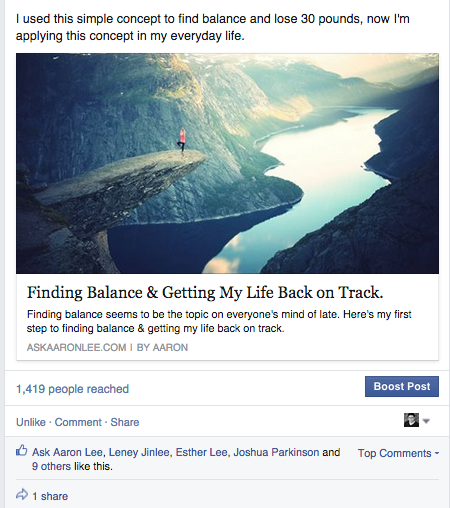 Organic Facebook Reach (An Unusual Experiment) -- Wrapping it Up
Some will say I was foolish to let my Page go for months without a post.
It's certainly not something I would advise anyone else to do.
I'm glad I did it though.
The process allowed me to watch Post Planner in action -- to see what it can do even if the starting point is a neglected Page.
So when someone asks me why I'm so enthusiastic about Post Planner, I can tell them -- from my own experience -- exactly why.
Then, I can give them the link to this blog!
How about you?
Have you ever tried something as crazy as this before?
How did it turn out for you?
What lessons did you learn?
Let's talk about it...
*** Whatever you do, don't miss this special presentation ***