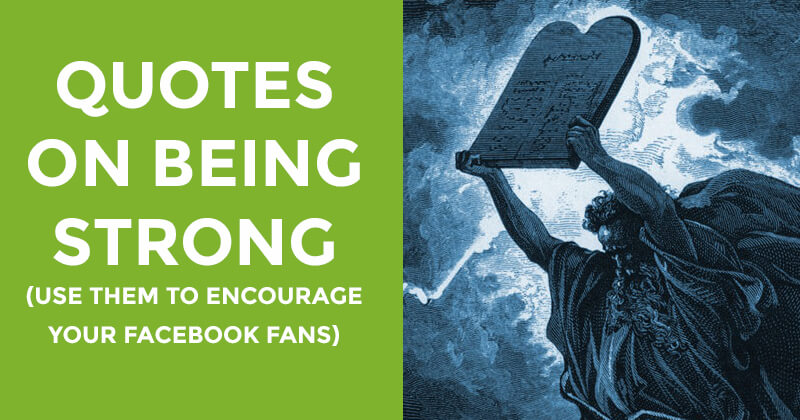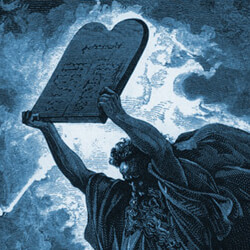 Newsflash!
People aren't logging onto Facebook to see posts from your business page!
For most users, Facebook is a place they go to relax:
Keep up with their high school or college classmates
See what their 3rd cousin's kid is doing
Post pics of their own vacation
Gossip about how Bill is losing all his hair!
Get into political or religious arguments that don't solve anything...
etc...
When you're running a business page, it's tough to interject your "marketing" posts in-between pics of the grand kids and what Johnny ate for dinner.
Most businesses I talk to have a really hard time deviating from posting anything non-business related.
But if all you post about is your product or service, you're going to bore people. I"m not saying you might bore them -- but that you WILL bore them!
So what should you do?
>> Click to Tweet <<
Quotes on Being Strong (Use Them to Encourage Your Facebook Fans)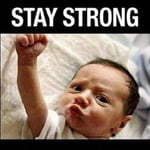 Stick with me here. I'm going to let you in on something of real value.
I've found over and over again that pages using a mix of "business" posts along with (what I call) "fluff" posts get the best engagement.
Don't take "fluff" in a negative way, though. I'm simply talking about posts not specifically related to your business.
And that's ok.
On the Post Planner page, we get much more ORGANIC Reach and engagement when we post photo quotes. And the best ones are posts about being strong or similar statements that somehow encourage our fans.
Why?
Because people like sharing stuff that makes them feel good. It stops the scroll and causes them to engage with our posts.
And that's why we post 4-5 photo quotes per day.
The Facebook algorithm rewards engagement -- so our whole goal is to get plenty of likes, comments and shares. That primes our next post for maximum organic reach, and THAT post is ALWAYS a link post driving traffic over to our site.
That sequence works time and time again.
>> Click to Tweet <<
4 examples of quotes on being strong
This post boasts over 290K shares and 14K likes!
Their post about being strong received over 55K shares and 33K likes!
Kim always crushes it on her page!
This post about being strong is no exception to that with nearly 10K shares and 3,600 likes. (It's also a very funny photo quote!)
>> Shout out to Kim Garst <<
You gotta check this post out. It has 1.2M shares and 115K likes! Wow.
It's one of the most shared posts in Facebook history -- I believe that's the definition of "Going viral."
>> Shout out to Bryant <<
And just to show you that we believe in using quotes about being strong, check out this photo on the Post Planner page. It has over 684K shares and 26K likes!
Here's where to find quotes about being strong

Hopefully, you can see from these 5 examples that people love to see positive photo quotes about being strong -- especially if there's some humor added into it.
But how do you find these photos that have proven engagement on Facebook?
You could try searching via Facebook's Graph Search, but good luck with that!
Can you find these on Google? You might be able to find the image but you won't be able to see if they've performed well on social media.
What about finding these types of proven posts on HootSuite, Buffer, Edgar, AgoraPulse, PostChron, etc?
Nope. Not gonna happen!
The ONLY place to find PROVEN VIRAL PHOTOS such as these is in the Post Planner app.
The Viral Photos tool comes pre-loaded with photo quotes from some of the top sources on Facebook that are getting crazy levels of engagement.
Here's a quick video on how to access and use the Viral Photos tool in Post Planner:
As you see in the video, by default we give you folders containing Facebook pages based on the different folder types.
Now the Post Planner app also allows you to search Instagram by hashtags (keywords) or @usernames!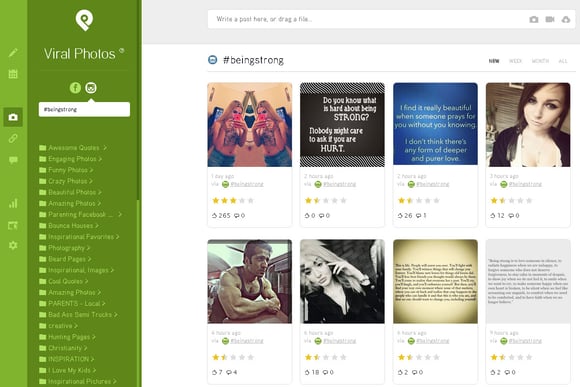 Quotes on Being Strong (Use Them to Encourage Your Facebook Fans) -- Conclusion
With the power of Instagram search built into the app (right there at your fingertips) there's no limit to the number of photos you can find to share to your social media accounts!
You no longer have the excuse that you can't find content for your niche -- we've solved that problem for you!
You can easily add more of your own sources -- or simply use the "Awesome Quotes" folder we supply.
Your choice.
Are you up to the challenge?
For more info on how to CRUSH visual content marketing, don't miss this SPECIAL presentat