Are you using LinkedIn to improve your online presence?
If not, you should be!
LinkedIn has 900+ million users and 300+ million active monthly users. That's a TON of engagement potential!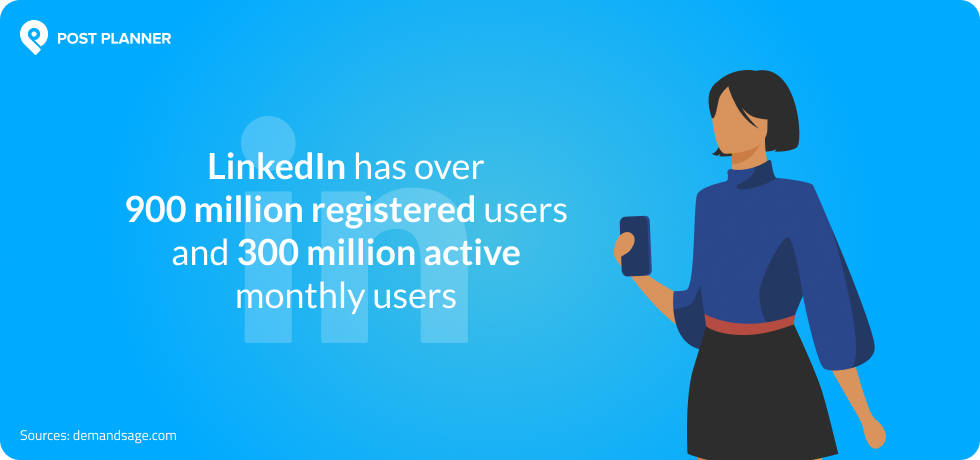 The problem is that most people focus on Facebook and Instagram — and forget LinkedIn's power.
In this article, we'll show you how to increase your LinkedIn engagement so you can grow your following and business.
Note: We purposely placed the most important tips later in this article to increase your ENGAGEMENT with this blog post. So don't leave until you've read every tip! 😉
Let's get started!
We'll cover:
What types of content succeed on LinkedIn?
If your followers won't settle for a boring feed, neither should you!
Your content needs to be creative and exciting to stand out on LinkedIn.
But that's easier said than done.
For many people, their "content strategy" is simply posting whatever comes to mind or anything cool they saw recently. So in this section, we'll show you how to ensure your content resonates with your audience so you get more likes, comments, and shares.
Informative & inspiring
LinkedIn is a serious platform, but that doesn't mean your content has to be boring.
In fact, posting informative and inspiring content is one of the most effective ways to catch your audience's attention.
People on LinkedIn are hungry for insights and industry trends, so focus on sharing your expertise and providing value to your network.
Your content should be relevant, insightful, and offer a unique perspective or fresh take on current events.
Consider creating content that highlights industry best practices, offers tips and advice, or shares success stories that inspire others.
Visual
If you're only using text-based content on LinkedIn, you're missing out on a lot of the engagement the platform has to offer.
Visual content such as short video clips, images, infographics, and carousels are among LinkedIn's most shared and engaging types of content.
Leveraging these formats can help you stand out in your audience's crowded feeds and grab their attention.
Visual content also helps break up the monotony of endless text-based updates, making your content more accessible, understandable, and memorable.
For example, you could share a carousel post about the state of your industry with data and insights that relate to your target audience.
Readable & consumable
Now that LinkedIn has become a platform where users spend more time engaging with content, it's essential to produce content that people actively enjoy reading.
The ideal post is relatable, presented interestingly, and provides insight or value. However, it also needs to be readable and easily digestible.
People are normally in a hurry, so short-form content such as top tips, how-to posts, and carousels should be concise and to the point. No one likes a post that's the length of a novel, so get the key message across quickly to hold your readers' attention.
In other words, save your complex info for long-form content and keep your LinkedIn posts skimmable and easily understandable.
27 LinkedIn engagement tips to Grow Your Account
LinkedIn engagement is critical to the success of your content.
The more people engage with your content, the more it'll be shown to other users by LinkedIn.
Getting more engagement helps you:
Reach your target audience.

Promote your offer.

Achieve your business goals.
For the past year, I've analyzed the top LinkedIn influencers and grown my account from 0 to 1500 followers.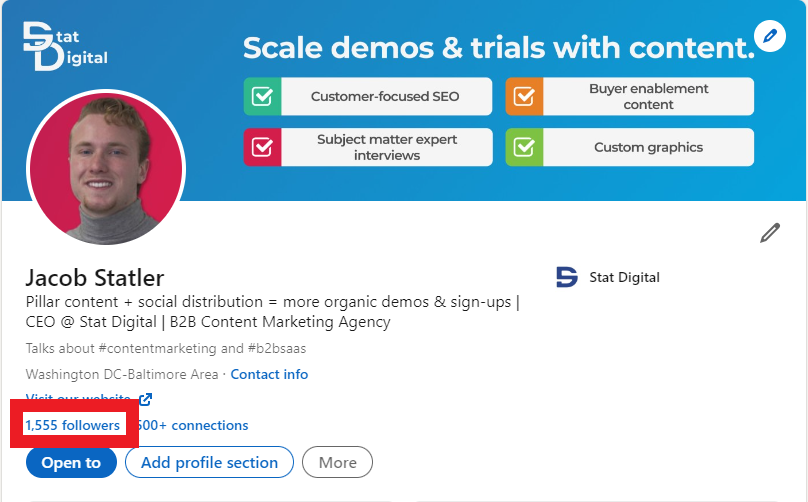 These are the lessons I've learned.
1. Talk about your company's views and values
LinkedIn is a professional network, so it's no wonder most users want to learn more about your company when they check out your business profile.
One great way to let people get to know your company and drive engagement is to tell them about your company's views and values.
It helps promote your company, deliver the right message to your target audience, and attract clients who share your views.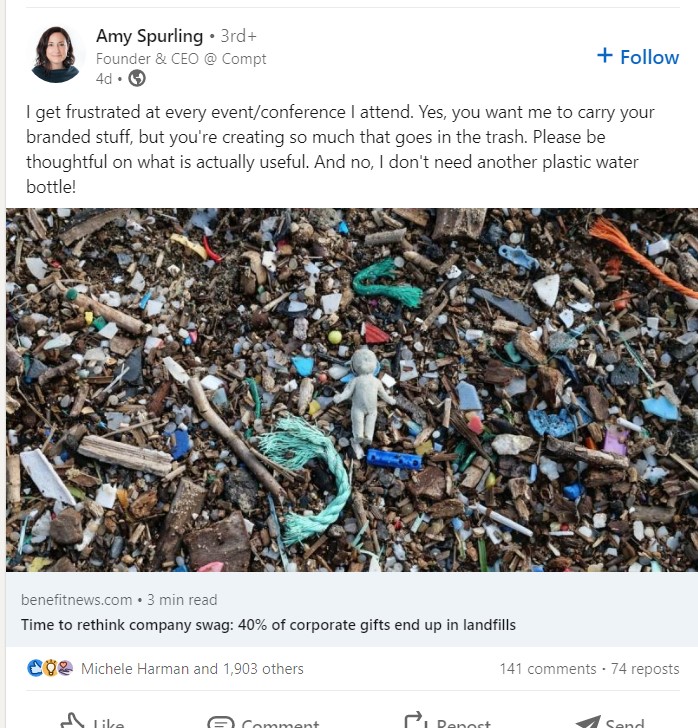 To kill 2 birds with 1 stone, you can feature a video with your top employees talking about issues that your brand cares about, as it brings authenticity while telling more about your business.
2. Take your audience behind the scenes
Brand authenticity matters! People always choose brands they trust.
One of the best and easiest ways to show your brand authenticity is to take your audience behind the scenes.
This helps to create an emotional bond with your customers AND increase brand loyalty and trust.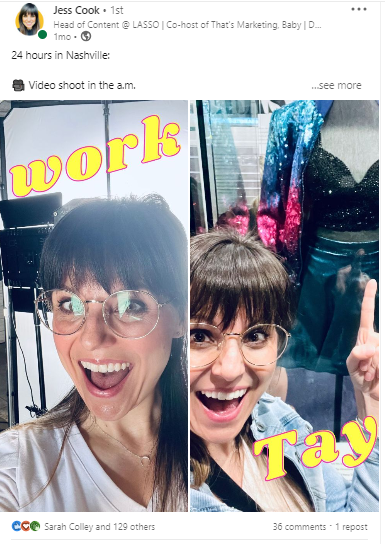 Whether you want to show your office time, post greetings from your CEO, or introduce your team members, this content shows your business culture, management, staff, and everyday processes.
3. Use videos to explain how your service works
Having a LinkedIn presence is a great way to tell your audience more about your business, show off your products or services, and find potential customers.
The only problem is that people don't like to READ about your stuff.
The solution? Video content!
72% of people prefer watching a video to reading a text to learn about products or services, and viewers retain 95% of a message when watching a video.
An easy way to implement this is to repurpose longer videos into short clips for LinkedIn. For example, you could take a video that's 5+ minutes long that you made and turn it into a minute-long clip.
When you make videos, try the following tips to keep them engaging:
Short videos (a minute or shorter) perform better.

Add subtitles since many people want to watch with the sound turned off.

Pace your videos so they don't get dull or slow.

Hook the viewer in the first couple of seconds by talking about a pain they have
Here's an example of a video post from my own LinkedIn, which I turned into a short video based on a longer YouTube video I published previously: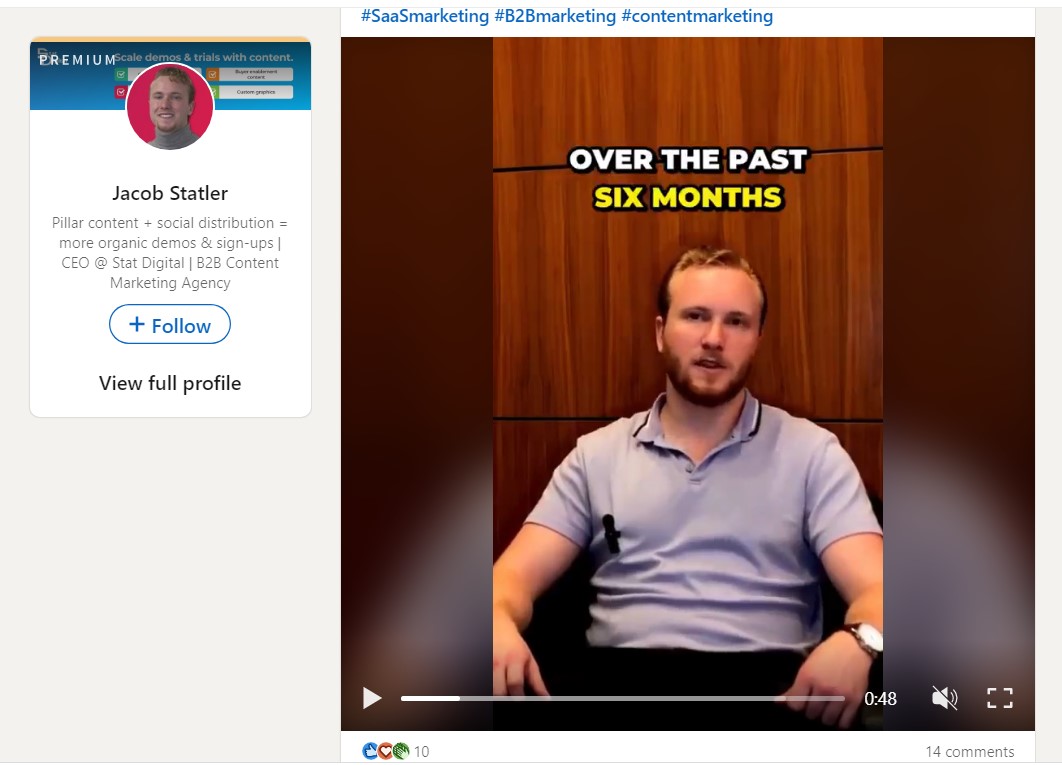 4. Talk about your company's milestones and achievements
A sense of belonging and brand trust are a few reasons people want to buy from successful brands.
To mark your company's development and growth, post about your company's milestone achievements.
Consider the following achievements:

Reaching a new milestone of followers

New product launches

Publications/high-profile reviews

Your company's anniversary

Case studies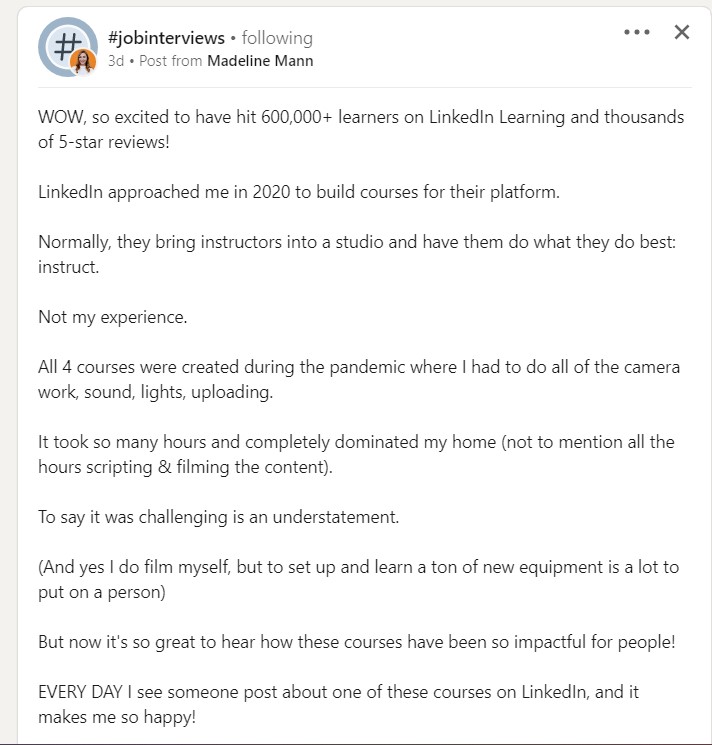 For example, if you get brand mentions in popular publications, it's a good idea to share the link on your LinkedIn profile.
It drives more website traffic to the article and therefore promotes your business.
But it also increases brand loyalty and trust.
People are more likely to share good news with their friends, so this type of content has more chances to get more likes, comments, and shares.
5. Create and share a podcast
Podcasts are becoming an increasingly popular source of information and self-development.
As a niche expert, creating a podcast to share knowledge is a great way to reach a wider audience.
Then, you can use LinkedIn's social media platform to promote your podcast.
Pro tip: record your podcast in video format like in the example below, so you can share it in short clips on LinkedIn. LinkedIn doesn't rank posts with external links as highly, so you should only share a link to your full episode in the comments of your post.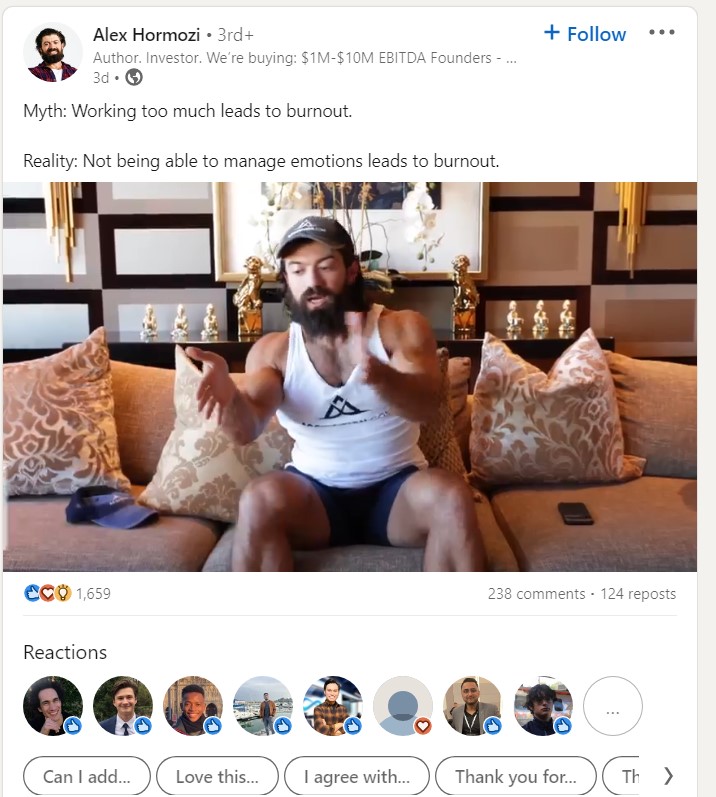 Or, you can even use LinkedIn as a podcast hosting platform. In the example below Hala Taha releases her podcasts on LinkedIn Live (LinkedIn's livestreaming feature) to natively distribute her podcast on LinkedIn.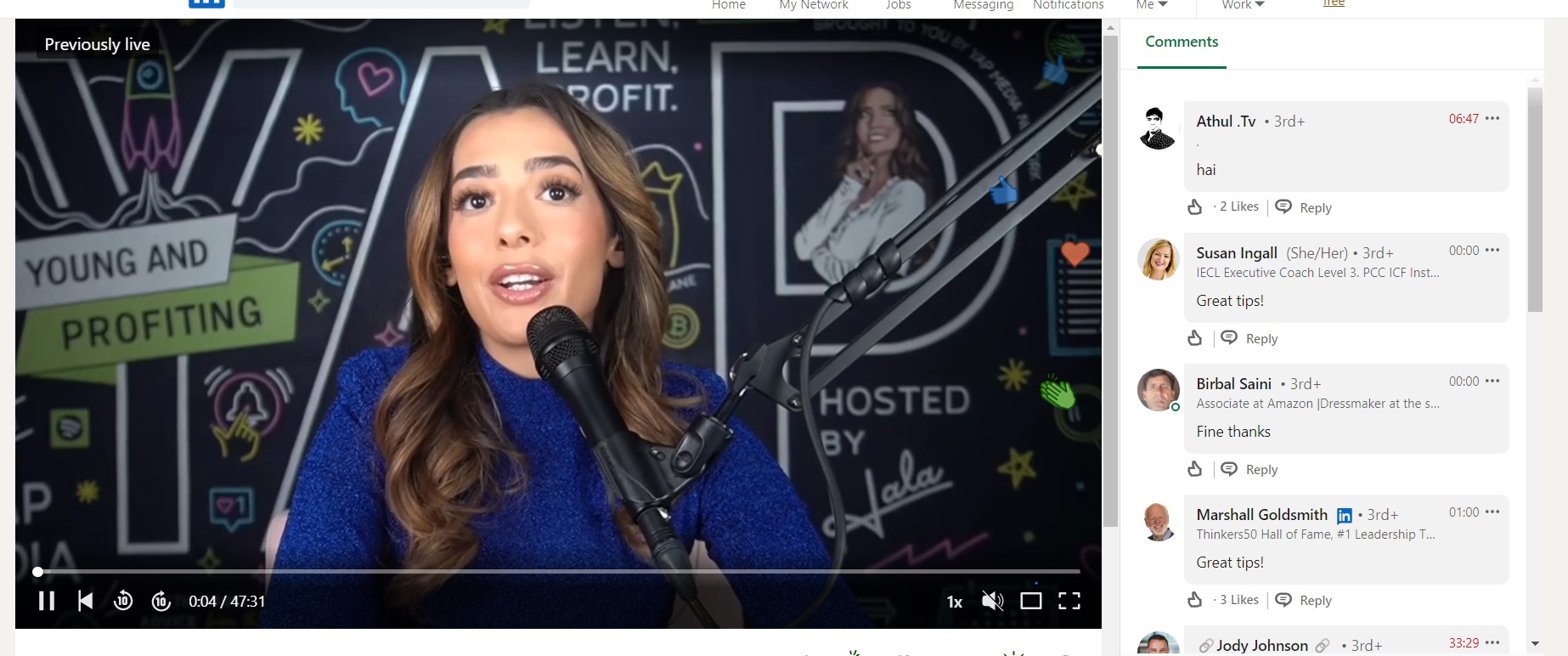 6. Post niche reports and statistics
For most business professionals, keeping up with industry trends is essential.
LinkedIn users LOVE reports and statistics that show what's trendy on the market.
Do you have a niche report or a list of statistics on your blog? Great! It's time to share your research with your fans. The CEO of Databox frequently does this.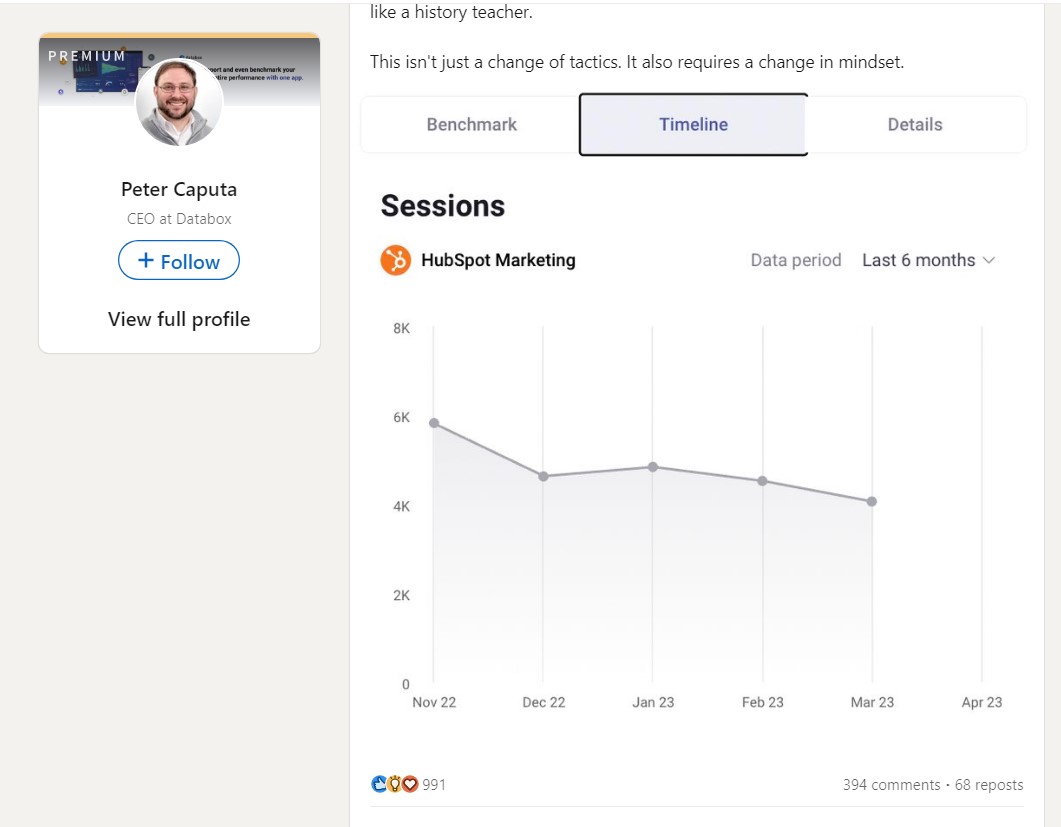 You're probably already spending time preparing these statistics. So you might as well make the most out of it so you can share valuable content with your followers.
7. Include a call-to-action in the caption
Engaged LinkedIn users matter a lot.
When your connections are happy to join a conversation, you can expect to get more likes, comments, and shares.
So, wouldn't it be great to start a conversation with your LinkedIn connections and get more comments?
With the right calls to action in your post, you can convince your connections to engage with your content.
You can ask people to share their thoughts in the comment section to drive more engagement.
Or you can take it a step further and offer a free resource in exchange for a comment on your post.
This could be a playbook, template, or ebook.
In the example below, Pedro received 700+ comments for his "landing page formula."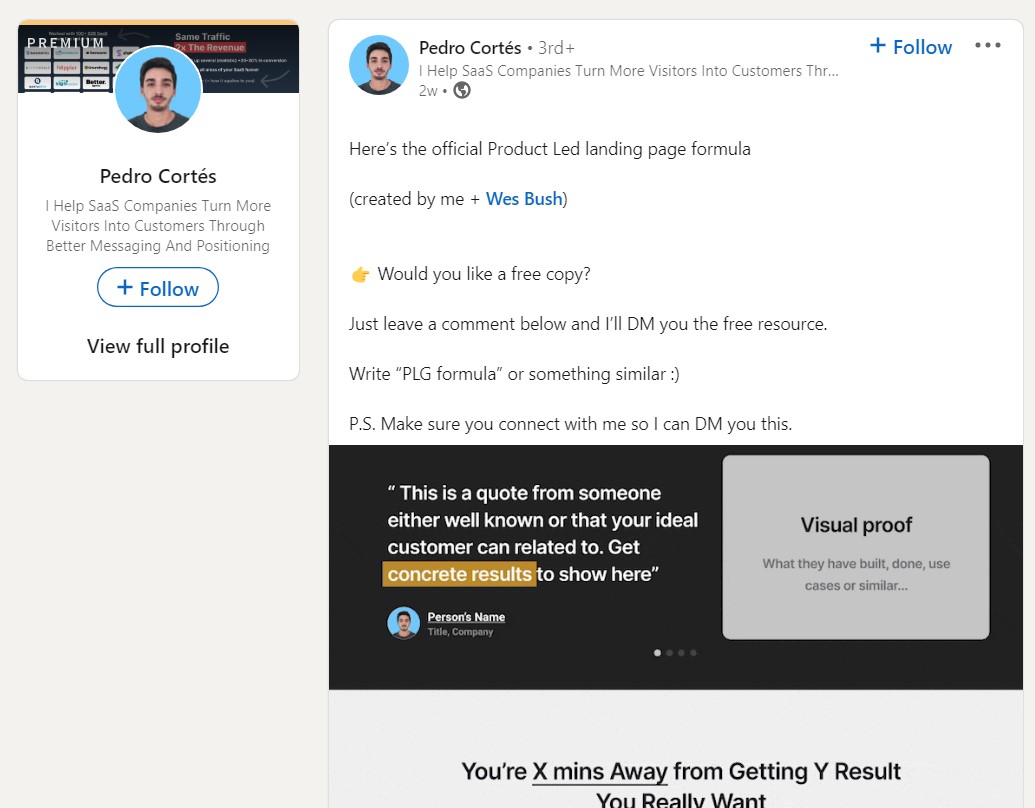 (Remember that LinkedIn doesn't promote CTAs that encourage followers to purchase something.)
8. Announce a new product
If you've recently launched a new product or service, post it on LinkedIn! It's an excellent way to create buzz and get people talking about what you have to offer.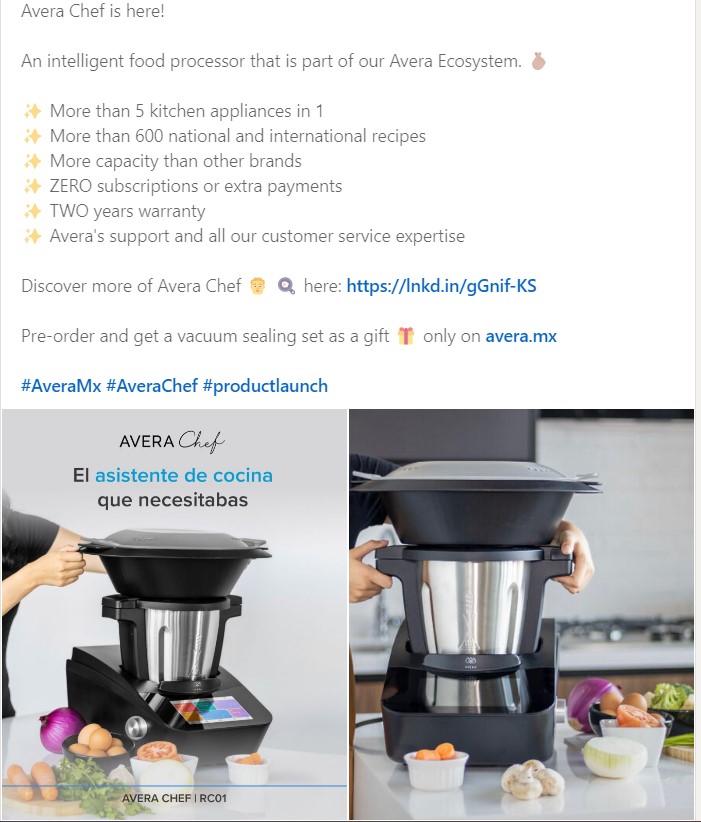 Make sure to include high-quality images, videos, and product descriptions to make your posts stand out.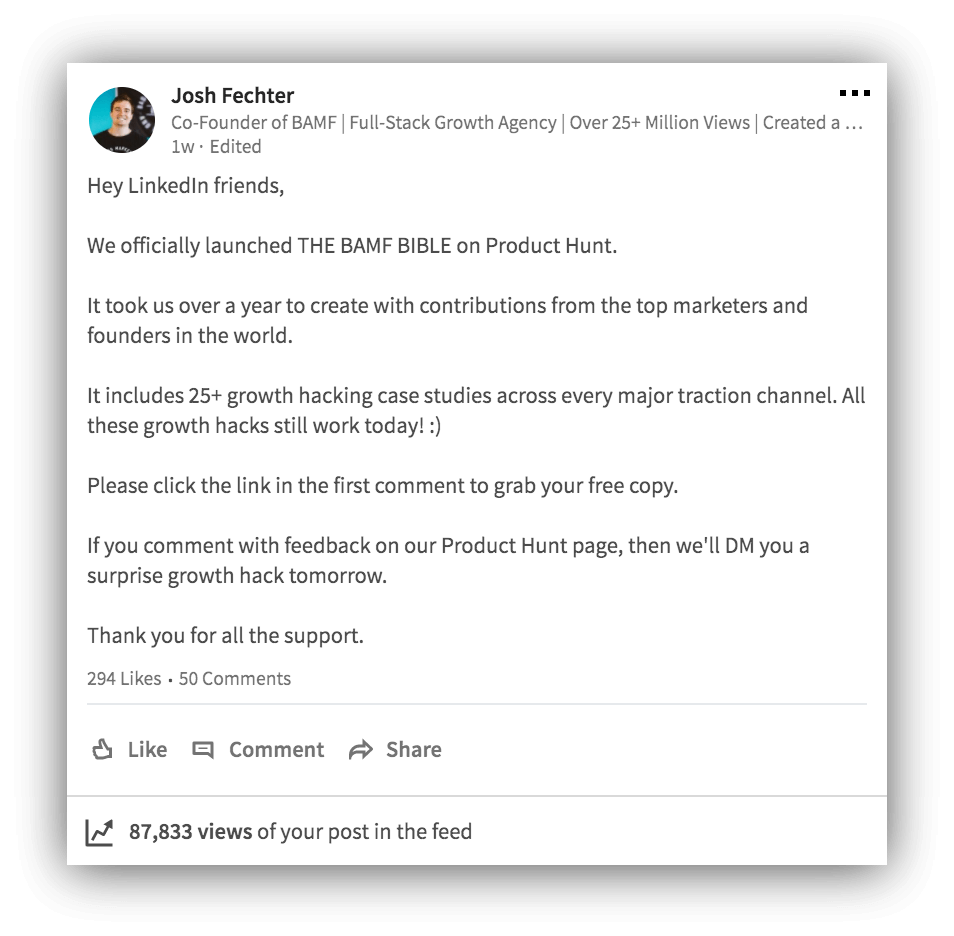 Shortly after a product launch, post user-generated content showing your customers using your product. This includes reviews, pictures from real customers, and testimonials.
Showing your audience your products and your happy customers generates engagement and sales — it's a win-win!
9. Recognize your hard-working employees
With a focus on professional networking and career development, LinkedIn is the best place to recognize your hard-working employees.
Not only does it create an emotional bond with your workers, but it also helps to put a human face on your brand.
Showing photos or videos of your employees builds trust, improves recognition, and makes your brand more authentic.
As a result, both employees and clients are happy to spread the word about your stuff.
Here are several ways to recognize your employees on LinkedIn:
Introduce your team

Brag about employees' achievements

Post short interviews with team members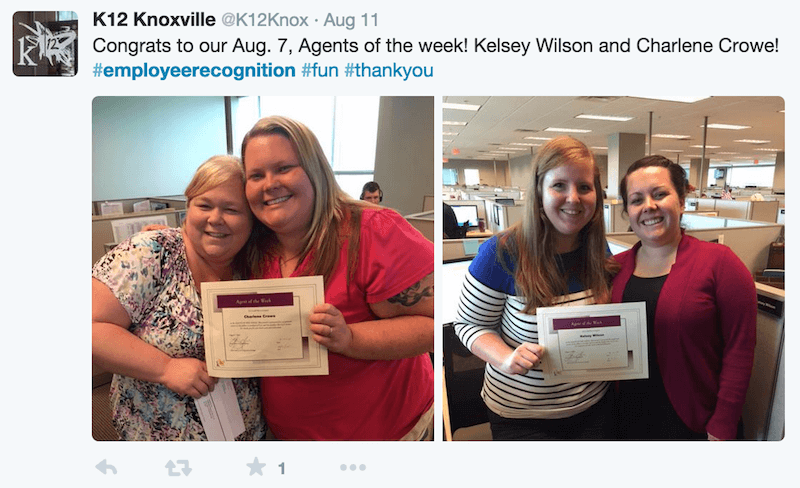 To reach a wider audience and drive engagement, tag featured people as a way to increase organic reach.
(But make sure you only tag people that'll most likely engage because LinkedIn has been known to suppress posts that tag people who don't respond because it comes off as spam.)
After all, word-of-mouth marketing is one of the most effective marketing channels, so it's a good idea to give your fans a solid reason to spread the word about your company.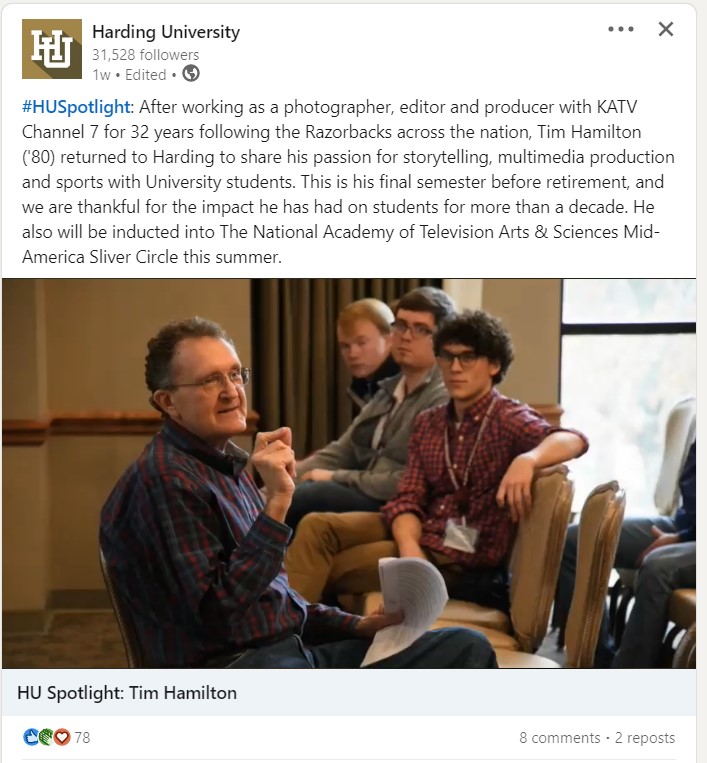 10. Use LinkedIn Live sessions
Going live on LinkedIn is a great way to publish longer video content and encourage engagement from your followers.
You can organize a Q&A session, interview, or show your products in action.
Live sessions help to deliver informative content while keeping your audience engaged.
Here's an example of a recent LinkedIn Live post: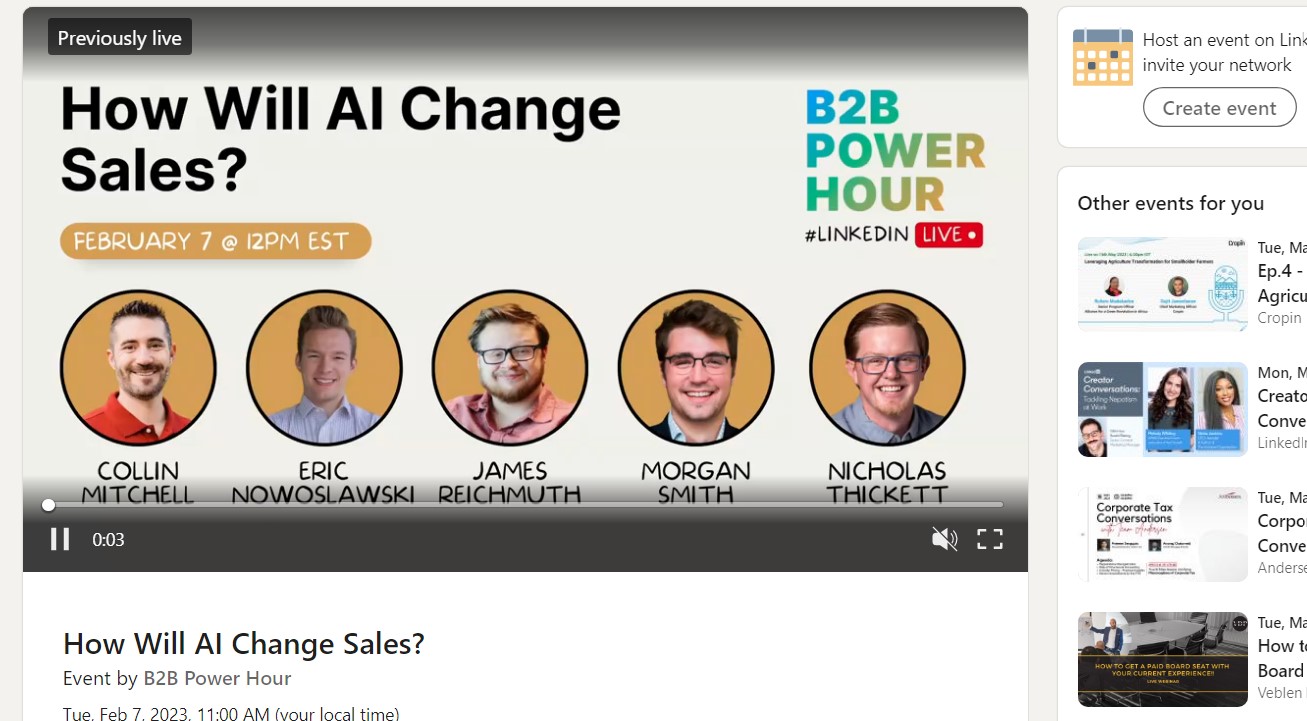 Whenever you do a live event on LinkedIn, publicize it beforehand and collect registration information for future marketing.
Also, make sure you send invites to anyone you think might be interested to increase your viewership and engagement during your Live.
11. Organize a LinkedIn Event for your community
LinkedIn events are another feature that helps to reach a broader audience on the platform.
Since more and more people are interested in online workshops and professional meetups, LinkedIn users search for relevant events that can bring them value.
Thus, it's a good idea to organize a LinkedIn event. This feature allows organizers to tell attendees everything about the event (online or offline), so it's easy for interested users to sign up for it.
Beast Club is an excellent example of setting up fun and beneficial community events on LinkedIn.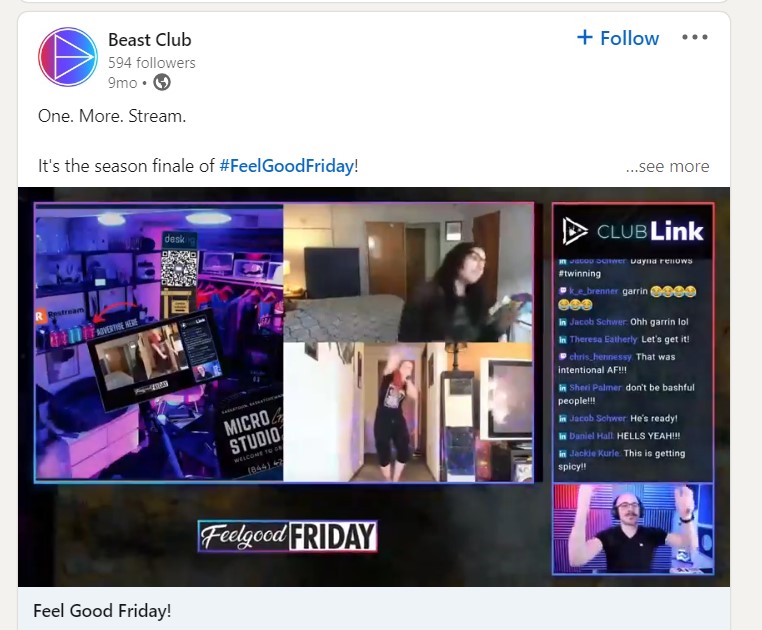 To attract more attendees, it's a good idea to DM your connections to raise awareness for your event.
LinkedIn also allows you to invite your followers directly on the platform to significantly increase the number of attendees.
12. Upload helpful resources
Sharing useful content that solves users' problems is a great way to drive engagement.
LinkedIn allows users to share documents on their profiles, so this means an opportunity for businesses to repurpose their insightful content, such as company policies, insights & trends, handy guides, and free resources.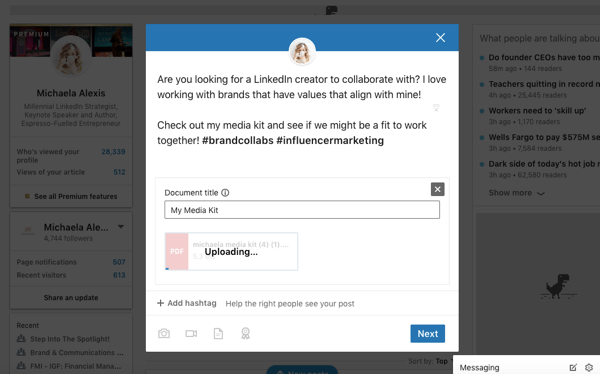 If you made something useful that your industry could use, share it with them!
Note: Posts that share the document directly on LinkedIn will rank much higher in the algorithm than those with external links to a web page.
13. Use visual content
Most people are visual learners, meaning consuming visual content is easier than reading plain texts. Plus, LinkedIn posts with images get TWICE as many comments.
To grab the attention of your audience and spark interest in your content, include visual elements in your posts.
This means:
Pictures

Infographics

Charts/graphs with valuable info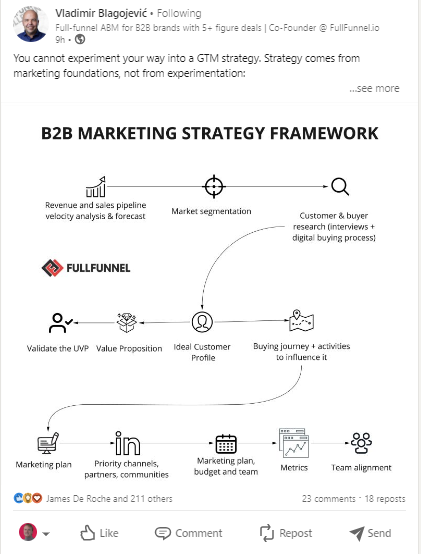 Moreover, you can use visual content to explain how your business works. The more people understand your business, the more customers you can acquire.
14. Run ad campaigns
No matter how well-written your LinkedIn post is, it means nothing unless you have an audience who is interested in reading it.
Whether you have a small following on LinkedIn or you want to reach a wider audience, you can boost your content with ad campaigns.

With LinkedIn advertising, you can promote essential posts, reach more people, and drive engagement.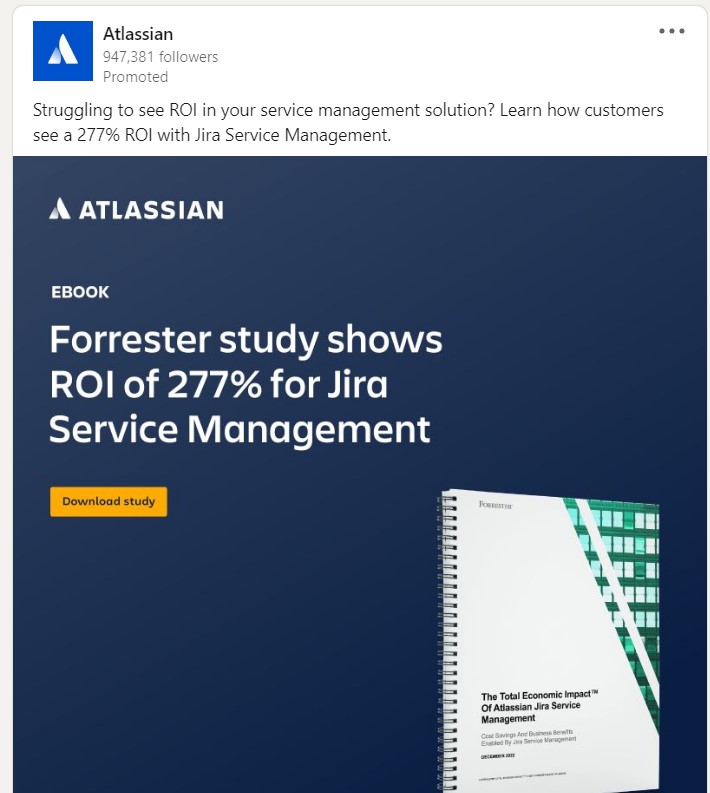 To create effective LinkedIn ad campaigns for your business, spy on your competitors and analyze what works best for them. It can help you create ads your audience will love.
15. Write a LinkedIn article
People love educational content. When you help LinkedIn users learn something valuable from you, they're more likely to interact with your post.
Do you have professional insights to share on LinkedIn? Write a LinkedIn article and help your LinkedIn connections understand your knowledge better.
Since it becomes part of your professional profile, this content is valuable for all users who want to share their knowledge, tips, and tricks with their network.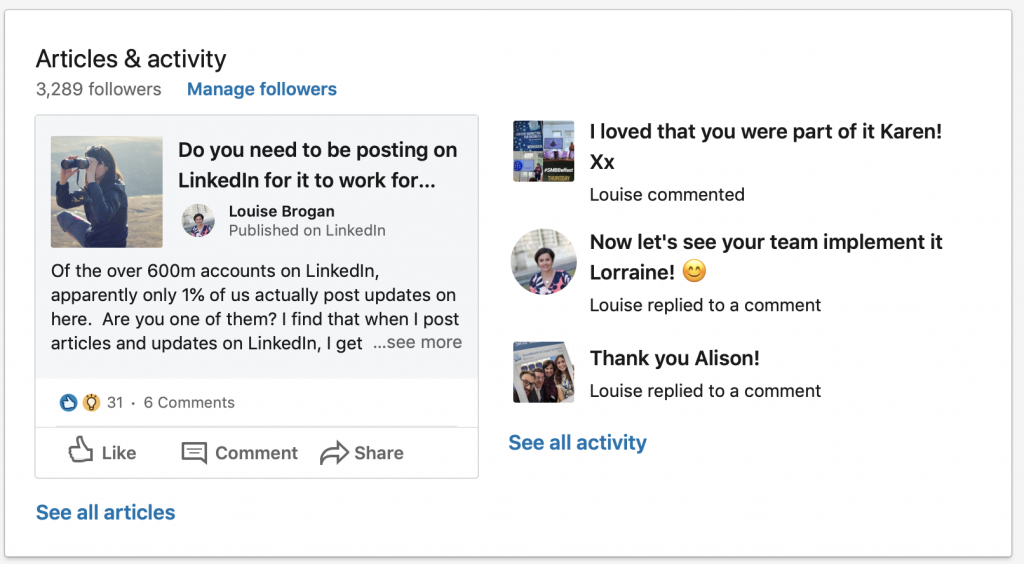 Posting a LinkedIn article, not only can you prove your niche expertise, but you can also drive engagement as users crave handy content. Plus, it also encourages users to share your expertise with their followers!
16. Create various community hashtags for posts
Over the last decade, LinkedIn marketers have used hashtags to improve content discovery and engagement.
From regular to unique branded hashtags, there are many ways to use the pound sign to structure your content.
But if you want to promote your content and ensure your audience can easily find relevant posts, it's a great idea to create community hashtags.
A community hashtag is something that your community uses as a way to keep all their posts together on LinkedIn. They can be something like your business name, tagline, or something more generic like the example below of #jobinterviews.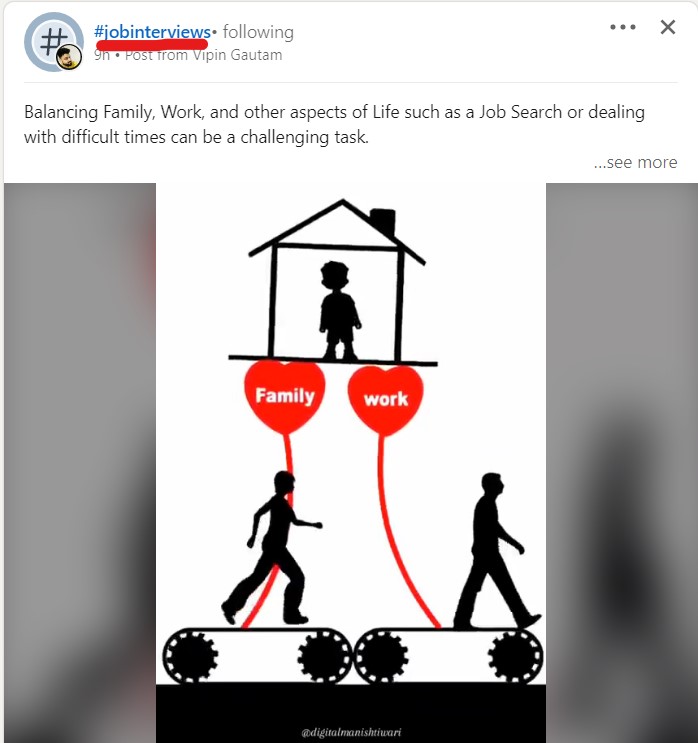 Community hashtags make your content extremely searchable and help you track what is being said about your business online.
17. Inform your community about job openings
LinkedIn is the largest business and employment-oriented social media platform, so it's no wonder that both employees and HR recruiters use it to find job opportunities and candidates.
Posting about job openings in your company and industry-adjacent companies can help increase the authority of your page AND improve the quality of your business.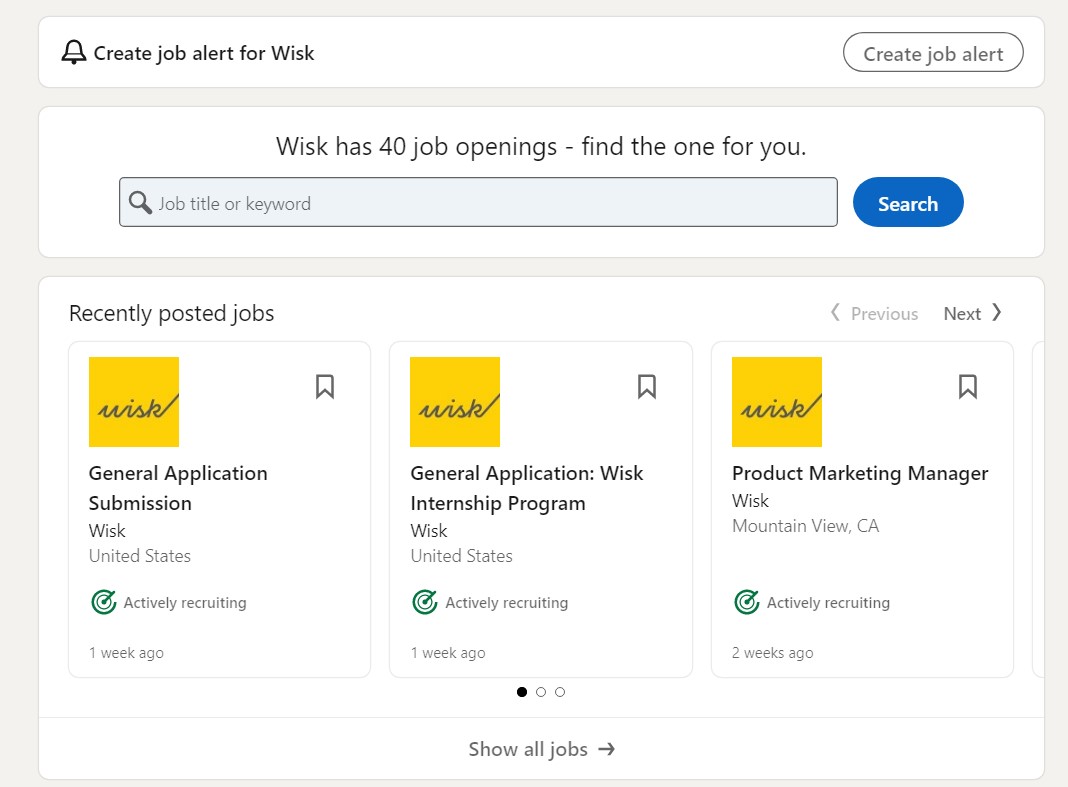 Followers often share job announcements with their own audience, meaning your reach can also expand.
18. Review your year in one post
Most business professionals claim that writing an annual plan helps to provide direction.
Beyond that, people love to sum up the year and see what has been done.
To join the trend and share your achievements, try reviewing your year in one post.
Writing an annual summary is a great way to tell about your accomplishments, recognize your employees, and thank your community for being with you.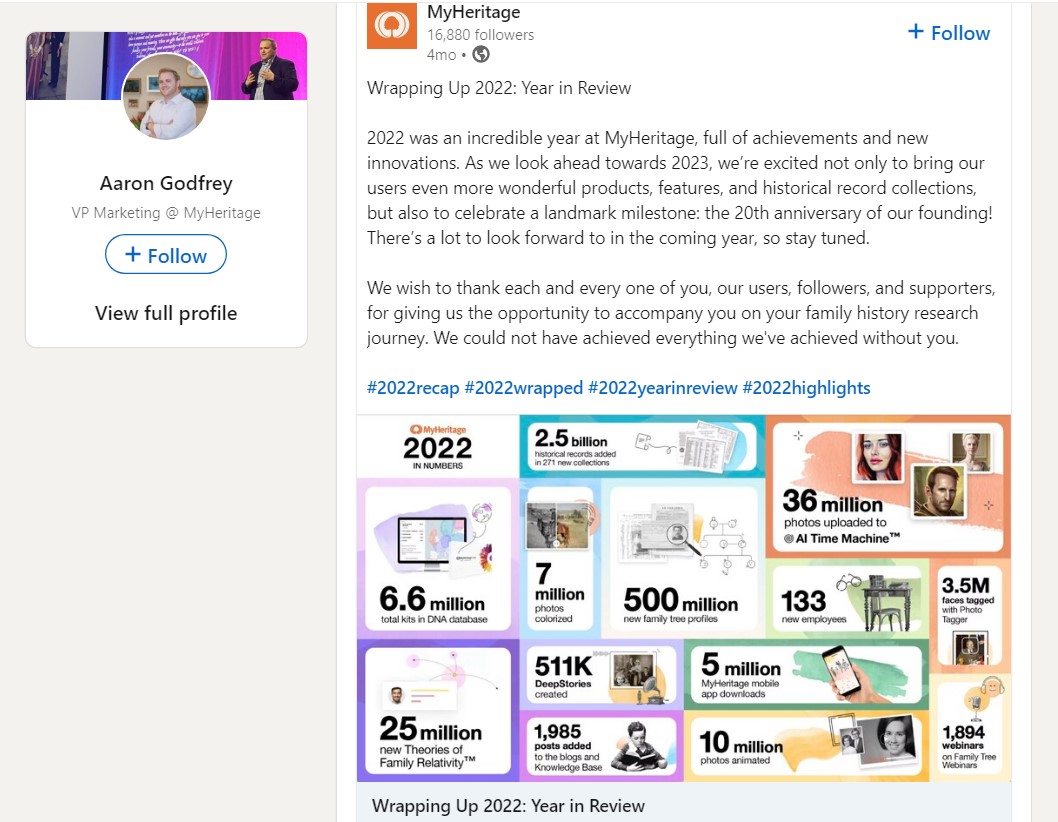 Infographics like the one shown above are one of the best ways to make this type of content exciting and engaging
19. Run a competition
Everyone loves a good competition, especially if there's a chance to win something valuable.
Running a LinkedIn competition can be a great way to boost likes and engagement.
Be creative with your prizes, but make them worthwhile!
In other words, nobody wants to sign up for your contest if the prize is a sticker. Make it something that encourages participation and provides the winner with real value.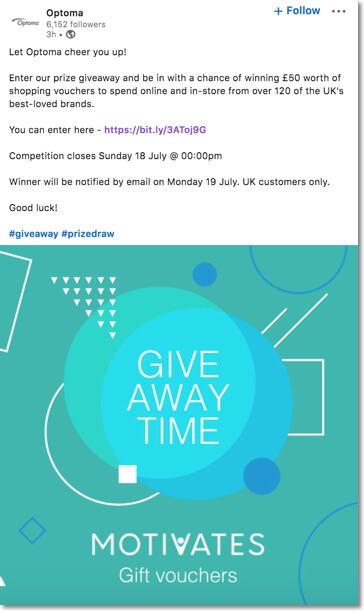 Competitions are a great way to collect emails, get referrals, and boost engagement, so give them a try!
20. Repurpose old content
Don't let your content go to waste! Repurpose it into new formats like infographics, videos, or text posts. This will help you reach a new audience and can be a great way to refresh old content with value.
There are 2 great ways to do this:
Repurpose content from other social media platforms

Turn long-form blogs and videos into short-form content for LinkedIn
Take a look at how Patrick Cambell repurposed this Tweet thread for a highly engaging LinkedIn post:



21. Engage with your followers
People follow you on LinkedIn because they value your opinion and authority. Don't waste that trust by NEVER engaging with your followers!
Engaging with your audience is one of the best ways to build relationships on LinkedIn.
Respond to comments and messages promptly, ask open-ended questions, and be genuinely interested in your followers' thoughts and opinions.
In other words, don't expect your audience to engage with you if you don't do anything in return. Look at the comments of the post I just shared above and see how active Patrick was with the commenters: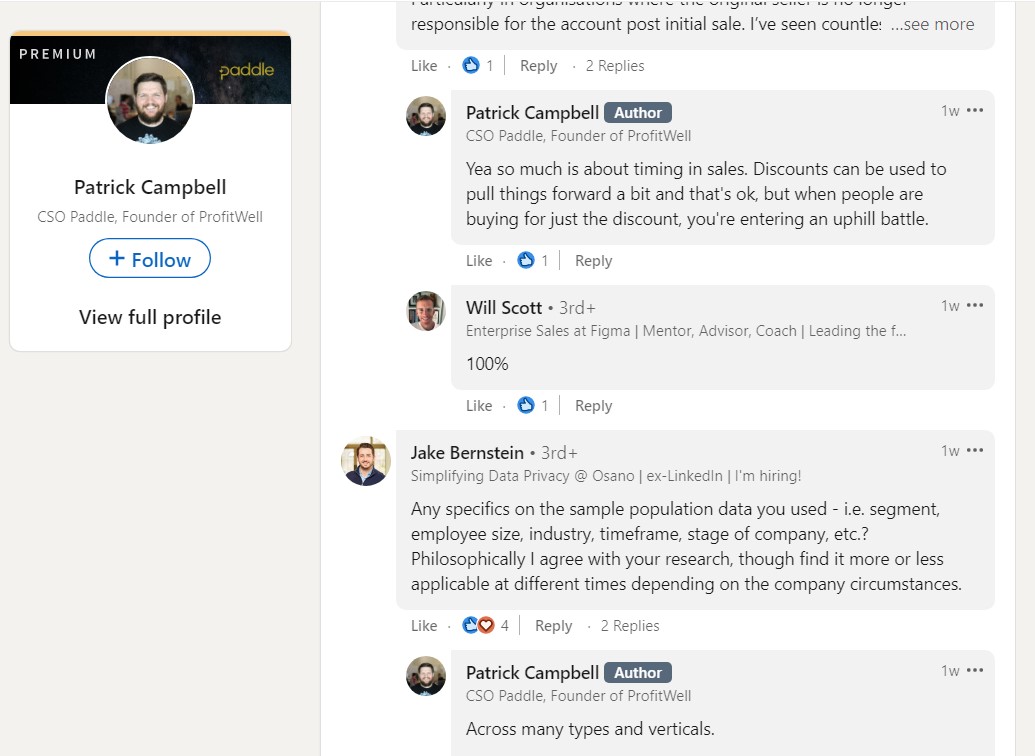 22. Engage with influencerslu
DO NOT NEGLECT THIS TIP!!
Building relationships with influencers on LinkedIn can be a great way to reach a larger audience.
To do this, create a list of influencers in your industry, then engage with them by:
Commenting on their posts

Sharing their content

Tagging them in your own posts
Engage with them every day in the comments.
I try to aim for 5-10 comments per day.
This will help you gain support from these influencers who can help grow your engagement when they engage with you.
This also helps you "steal" their audience. In other words, people will start to recognize your name, which drives more viewers to your page.
Check out how frequently this LinkedIn user is commenting on other influencer's posts: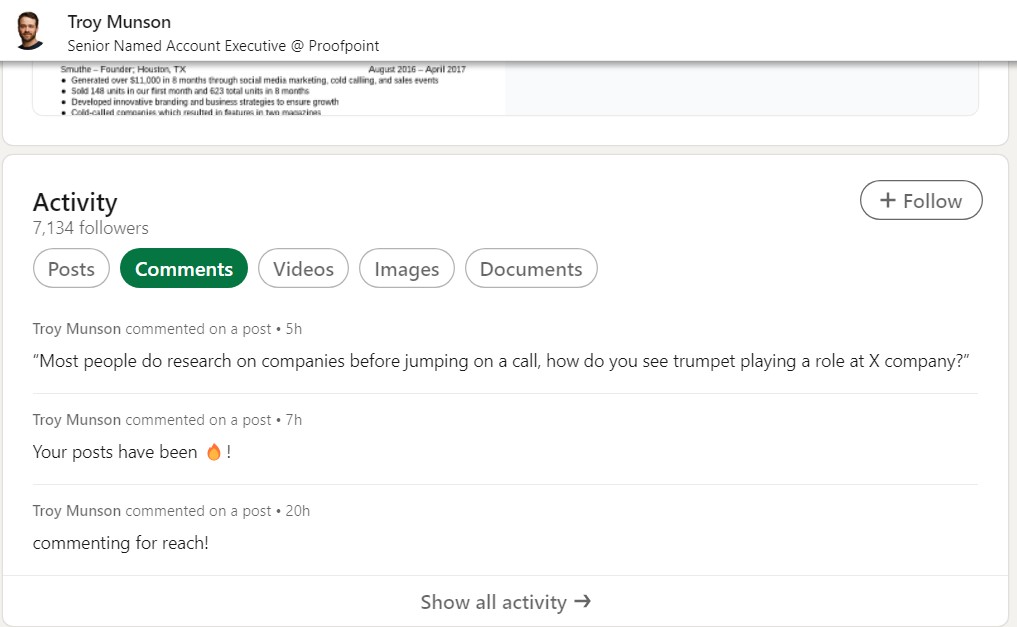 23. Post LinkedIn carousels
LinkedIn Carousels give you the ability to put multiple images in a single post.
They're a great way to deliver information to your audience in a more engaging and visually-appealing way.
For example, you can use Carousels to:
Show a tutorial

Showcase a product line

Share team photos

Highlight customer reviews

Post a Tweet thread (like we saw above)

Show multiple graphs/charts of data
You can also post ads in Carousel format, allowing you to give your target audience more info about whatever you're advertising.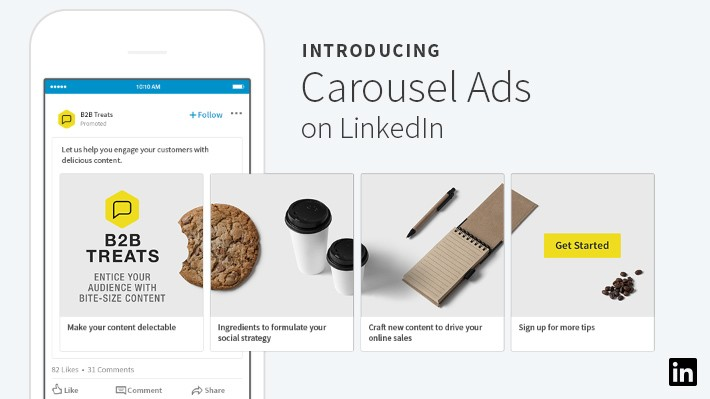 Already have a bunch of blog posts?
You can also repurpose those into LinkedIn Carousels!
24. Recycle your best content
If you have a piece of content that performed well in the past, reuse it!
Just because your audience saw it 8 months ago, doesn't mean most of them saw it (or remember it).
You can repost your old content with a new angle, or you can post it exactly like it was (sure it's still relevant).
If you use Post Planner, you can easily recycle your content just by selecting the recycle icon. In the posts history tab, find a post that performed well and select the recycle icon to instantly add it back into your posting calendar.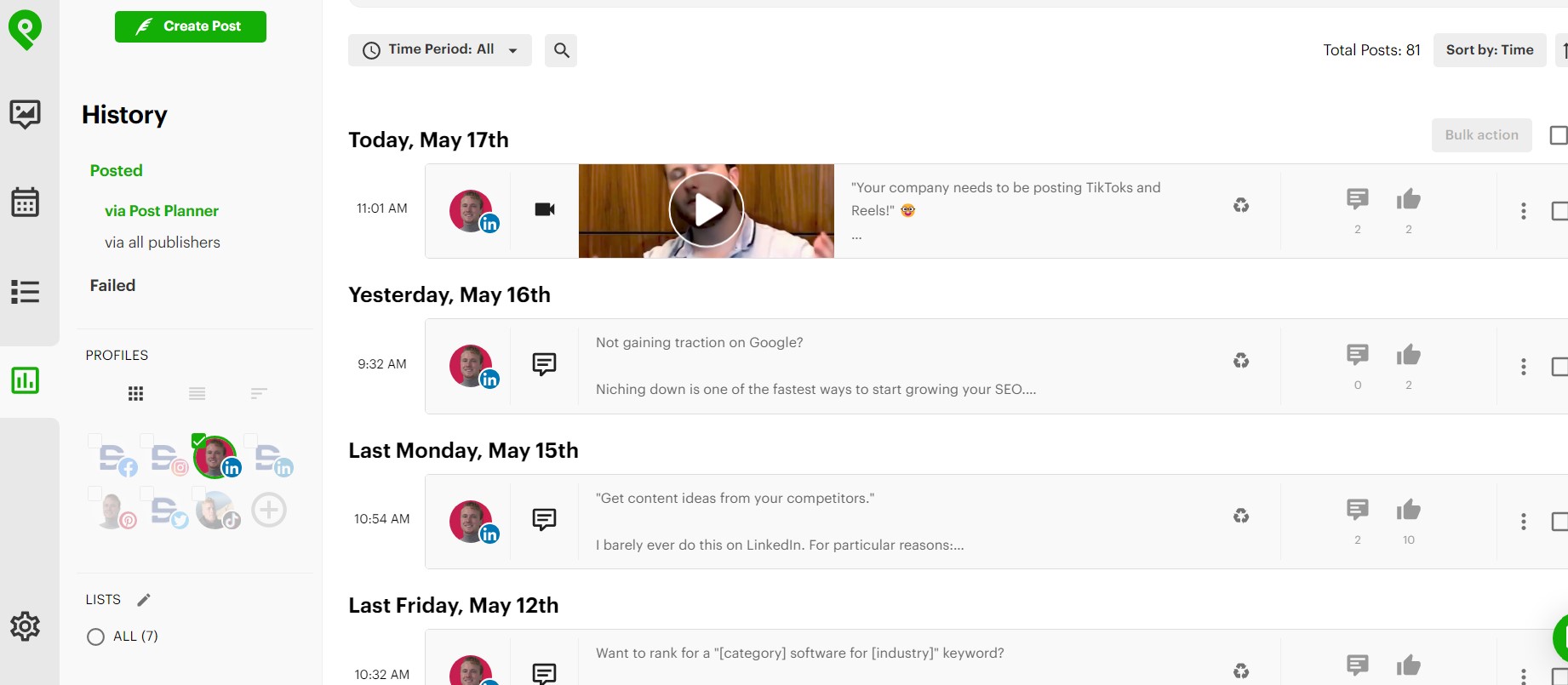 25. Create a community
Building a community around your brand on LinkedIn can be an excellent way to engage with your audience.
This could be on LinkedIn, Slack, Telegram, or whatever platform you choose!
Use groups to connect with like-minded professionals, share valuable information, and build your brand's reputation as an authority in your industry.
Already have a newsletter?
Consider sharing your recent LinkedIn posts in your newsletter.
LinkedIn engagement pods are another community-based strategy that many LinkedIn influencers use.
These pods are an agreement between other users to interact with one another's posts.
And although not as authentic, the engagement you get from other users in your pod can help your post be boosted to more LinkedIn users!
While engagement pods aren't explicitly allowed by LinkedIn's policies, most big LinkedIn influencers use them, so they're generally considered productive and safe.
26. Increase posting consistency
LinkedIn's goal is the same as your business's goal: to make money.
They only make money if people are USING their platform, which means they want you to post content CONSISTENTLY.
This includes COMMENTS!
When you post consistently on LinkedIn, you signal to their algorithm that your page is actively encouraging people to stay on the platform longer.
That means your content will get promoted more.
How consistent do you need to be? Ideally, you should post 5 days a week.
If that sounds like a lot of posting, you should check out Post Planner. Its tools allow you to curate high-quality content from around the web and schedule it to post to your social media channels automatically.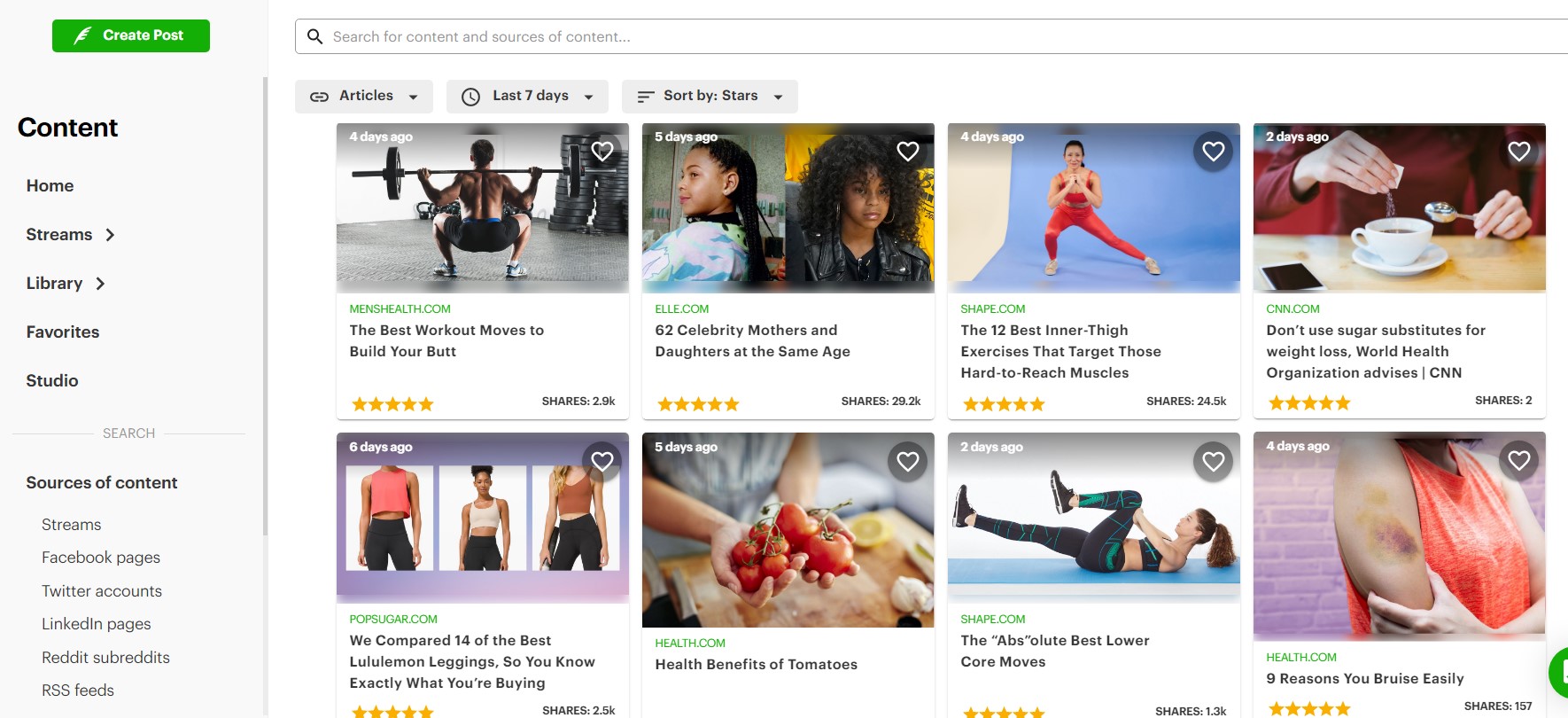 Post Planner users regularly save hours every week while also improving their content and posting more consistently (which means more likes and engagement).
27. Master your hooks
One form of engagement that's easy to forget about is when users click "...see more." on your posts.
It's important to get users to click on this because it's seen as a form of engagement with the LinkedIn algorithms.
Your hooks should be 5 lines long for text posts.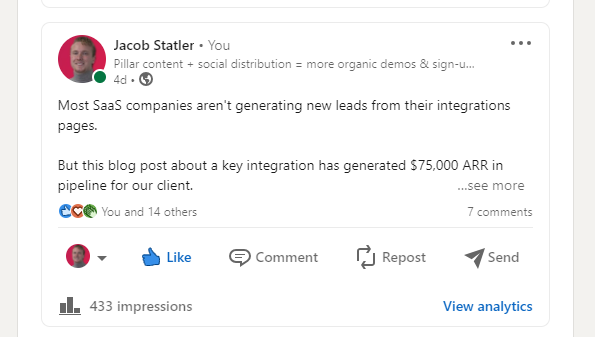 And 3 lines long for visual posts.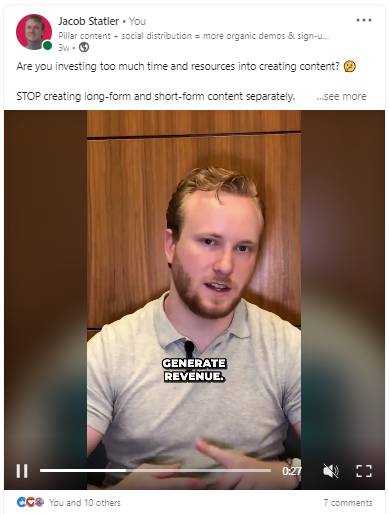 It's important to get creative as you write your hooks.
(Nobody wants to read another boring post.)
But you should also consider touching on a pain and teasing a solution.
This will entice readers to click "...see more."
Frequently Asked Questions:
What does engagement mean on LinkedIn?
Engagement on LinkedIn (and any other social media channel) means any type of interaction between your followers and your content. The following are all examples of engagement:
How do you generate engagement on LinkedIn?
The best way to generate engagement is to CONSISTENTLY post HIGH-QUALITY content. If you keep your content quality high, LinkedIn's algorithm will reward you with more exposure.
Why is LinkedIn engagement so low?
If your LinkedIn engagement is low, it can normally be traced back to a few different causes:
You aren't posting frequently enough

Your content isn't providing your followers with value

You aren't engaging with your followers to make it worth their while to comment on your posts
Start fixing these issues by working your way through the tips above. You should start seeing increased engagement in no time!
Conclusion
These 28 tips for LinkedIn content that boost likes and engagement can help you build relationships with your audience and reach a wider audience.
Whether it's posting product launches, repurposing old content, or running competitions, be creative and experiment with different strategies to find what works best for your brand. I highly recommend signing up for Post Planner's free trial to see how much using a LinkedIn tool can benefit your social media content strategy.
Remember to engage with your followers and influencers, post high-quality content, and increase posting consistency to see the best results.
Happy posting!