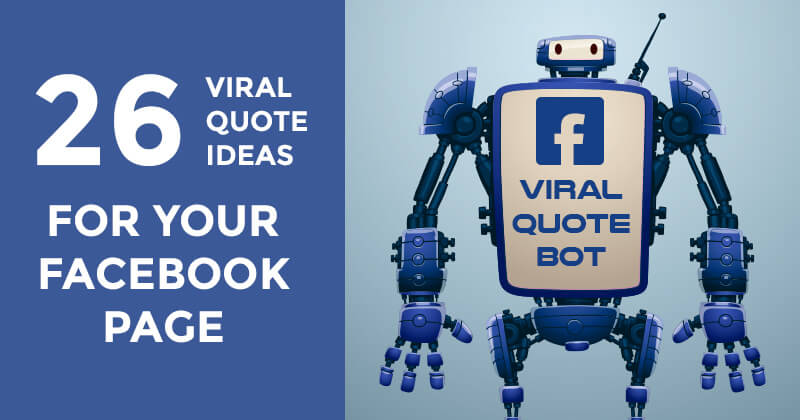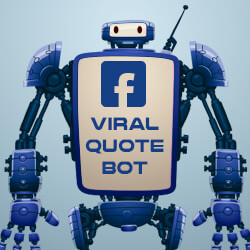 Want more Facebook engagement?
Read on...
The biggest challenge page owners and managers face is discovering proven content to post. They need content that will get the important jobs done:
Stop the scroll
Gain new fans for the page
Get people to like, share and comment
This is extremely difficult to achieve, unless you have a proven system that discovers the content for you!
Which is exactly what Post Planner's Viral Photos tool does.
Allow me to explain...
> Click to Tweet <
26 Viral Quote Ideas for Your Facebook Page
Love them or hate them, photo quote posts consistently crush it on Facebook (regardless of the type of page you're running).
They do that by catching the user's attention and stopping the scroll -- which then (hopefully) gets the fan to engage with the post.

First, let me show you the top 26 most "viral" photo quotes in Post Planner's "Awesome Quotes" folder right now.
Then I'll show you how you can quickly find and schedule high-level content on your own.
1.
2.
3.
4.
5.
6.
7.
8.
9.
10.
11.
12.
13.
14.
15.
16.
17.
18.
19.
20.
21.
22.
23.
24.
25.
26.
Before you lynch mob me and leave a nasty comment, let me point out a few things about these posts.

They are not the most "viral" photos ever shared on Facebook -- they are the most viral photos in our Awesome Quotes folder
Many are from the same page -- that's because they are crushing it, some even use our app to do so
Some posts with more shares are ranked lower than others -- this is due to the algorithm we use to rank photos
Finding Viral Photo Quotes
Our Viral Photos tool was originally created because I was spending 20+ hours per week looking for photos to go on the Post Planner page (which was a complete time waste).
So Josh and the team created the tool to see if it could help us recapture that time.
And boy did it!
Today I can login to the app and within 15 minutes schedule out 3 photos per day to our page for a full week!
Here's how it's done:
Once you're logged into the app, click on the photo icon on the left sidebar...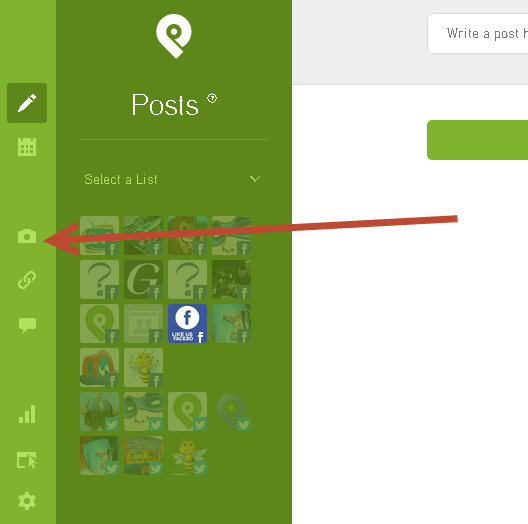 Once you do this you're automatically shown the "Awesome Quotes" folder and image results within that folder...

By default all users are given these 5 folders to get started:
Awesome Quotes
Engaging Photos
Funny Photos
Crazy Photos
Beautiful Photos
Each folder contains a wide variety of Facebook pages -- each of them is a page that posts great content and get lots of engagement.
Awesome Quotes is my favorite folder!
You can choose to sort the results by New, Week, Month or All. The "All" selection tends to stay in the same order (unless an image goes insanely viral in the folder and unseats one of the posts).
Because I schedule posts to my pages once each week, I choose the "Week" selection so that I'm shown photos from the last 7 days. That lets me know I haven't posted those photos before.
We rank images in Viral Photos based on a a star rating system that takes into account:
# of Likes of the Page
# of Likes on the post
# of Comments on the post
# of Shares of the post
Time it's been on Facebook
You can see this circled in the image below: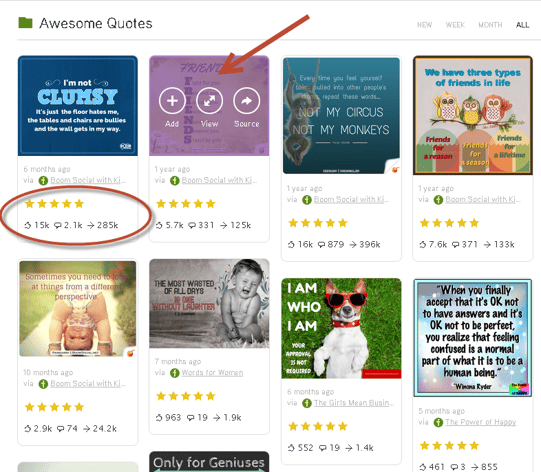 Based on our research and use of the app, photos with 3-5 stars have out-performed photos with a lower rating.
That's not to say a photo with a 1-star rating is bad or can't do well -- it happens -- but the trend we find is that 3 and above do better.
Once you've found the photo you want to share to your page, simply hover over it (as shown in the screenshot) and click the "Add" circle to add it to the composer, "View" to see a larger version of it or "Source" to see the photo as it originally appeared on Facebook.
After clicking "Add" simply add any text you'd like, select the appropriate page to post it to and then hit "Queue."
Boom! You've now scheduled a proven viral photo to your page!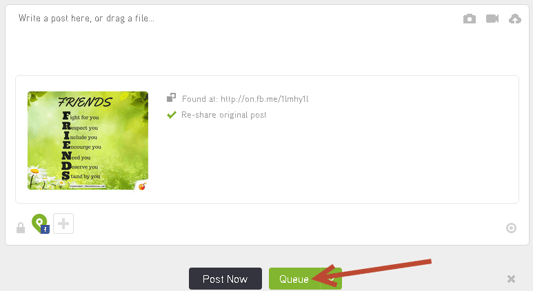 Now you can go on to the next photo and schedule it accordingly.
Keep in mind that you don't have to use the default folders we've given you. You can always add in your favorite Facebook pages by pasting in the full URL in the box (see the screenshot) and hitting Enter: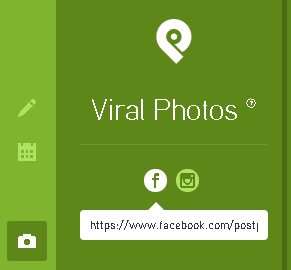 One thing I do want to mention here is that our Viral Photos tool now allows you to search Instagram photos by hashtags and usernames!
Simply enter a keyword or @username and click "Enter" and the app will pull in related photos.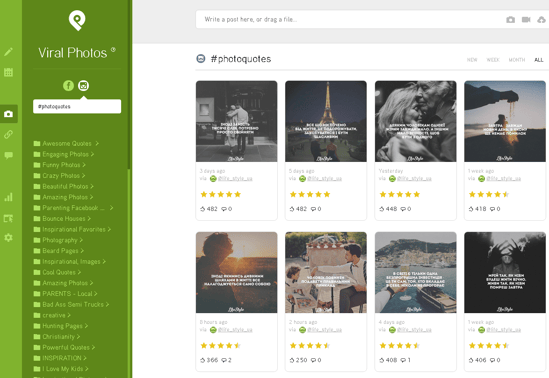 The results from this search are absolutely stunning! The great thing is that you can schedule photos like this the same as you do your Facebook photos (described above).
It's super simple.
>> Click to Tweet <<
26 Viral Quote Ideas for Your Facebook Page -- Wrapping It Up
As you can see, the ability to find viral photo quotes is a breeze inside the Viral Photos tool.
All you need is a few minutes to get used to the dashboard functions, and you'll be like me -- saving HUGE hours each week (and getting better content to boot).
The only thing you need to do now is start using it!
Any questions, just ask me in the comments.
Let's roll!