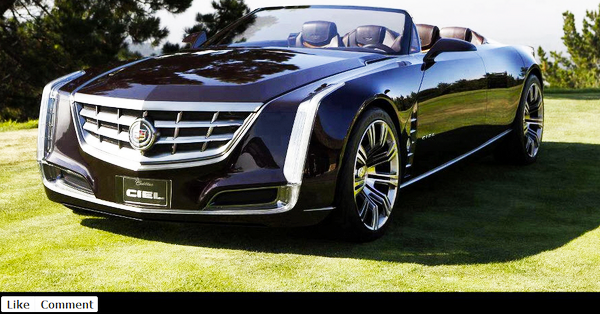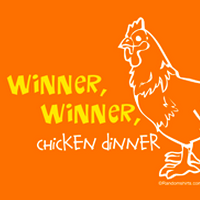 *** UPDATE: This blog post was written in February 2013. As of 2014 the rules for contests have changed.
That means some of the rules listed here are no longer valid. To learn more, check out our post with reactions from 18 Top Facebook Experts on the changes.
>>> FREE timeline Contests HERE <<<
Facebook Contests Rules
I think it's an innate feature in our brains that we want to win contests.
We just love to win free stuff!
I personally am a contest addict! No joke... I enter tons of radio and internet contests on a daily basis.
Most of the time I don't win a thing -- but I have actually won a few times.
One contest I won was a radio contest that you had to call in to qualify for. It was back in 2001 and I won a 50 inch Toshiba rear projector (a massive TV!), an entertainment system and a chair.
(I no longer have any of these items -- but for 10+ years I enjoyed them big time!)
Then about a 2 years ago I entered a contest on Nick Unsworth's site and won a 55 inch Samsung HDTV!
This TV is gorgeous -- and makes watching my Dallas Cowboys lose on Sundays much more bearable. :)
Guidelines for Contests on Facebook
Contests have become very prevalent on Facebook over the last couple years -- and are a great way to gain new fans and excite your existing fans.
But... if you run a contest, there are A LOT of rules & guidelines you MUST follow.
And yes, if you don't follow them, you run a high risk of Facebook punishing your page -- even deleting it.
(Facebook has been known to remove fan pages that violate their guidelines.)
The Problem
Donna Hamer of Fan Page Competitions recently shared this with me:
People don't understand the Guidelines. So if they see "someone else is running it on their wall" they figure its ok for them to do it too.

Many Page administrations think the Guidelines are a joke -- as they don't see Facebook taking action often enough. So they're willing to run the risk of not use a third-party app aka contest app.

Pages are being shut down every single day. It's just that people don't go around "yelling from their roof top" that their Page was shut down, for fear of being seen as an idiot.
There is obviously a problem here. And I want to help.
What I'd like to do in this post is show you a few bad examples of contests first -- and then give youadvice and resources on how to run a contest correctly.
But first I need to list out the Facebook guidelines for contests:
Promotions

If you use Facebook to communicate about or administer a promotion (such as a contest or sweepstakes), you are responsible for the lawful operation of that promotion, including the official rules, offer terms and eligibility requirements (e.g., age and residency restrictions), and compliance with regulations governing the promotion and all prizes offered in connection with the promotion (e.g., registration and obtaining necessary regulatory approvals). Please note that compliance with these guidelines does not constitute the lawfulness of a promotion. Promotions are subject to many regulations and if you are not certain that your promotion complies with applicable law, please consult with an expert.

i. Promotions on Facebook must be administered within

Apps on Facebook.com

, either on a Canvas Page or a Page App.

ii. Promotions on Facebook must include the following:

a. A complete release of Facebook by each entrant or participant.

b. Acknowledgment that the promotion is in no way sponsored, endorsed or administered by, or associated with, Facebook.

c. Disclosure that the participant is providing information to [disclose recipient(s) of information] and not to Facebook.

iii. You must not condition registration or entry upon the user taking any action using any Facebook features or functionality other than liking a Page, checking in to a Place, or connecting to your app. For example, you must not condition registration or entry upon the user liking a Wall post, or commenting or uploading a photo on a Wall.

iv. You must not use Facebook features or functionality as a promotion's registration or entry mechanism. For example, the act of liking a Page or checking in to a Place cannot automatically register or enter a promotion participant.

v. You must not use Facebook features or functionality, such as the Like button, as a voting mechanism for a promotion.

vi. You must not notify winners through Facebook, such as through Facebook messages, chat, or posts on profiles (timelines) or Pages.

vii. Definitions:

a. By "administration" we mean the operation of any element of the promotion, such as collecting entries, conducting a drawing, judging entries, or notifying winners.

b. By "communication" we mean promoting, advertising or referencing a promotion in any way on Facebook, e.g., in ads, on a Page, or in a Wall post.
Clear as mud, right?
Let me show you a few examples of contests that are definitely IN VIOLATION of Facebook's Guidelines -- and then tell you why they're in violation.
Example #1: Wacoboard.com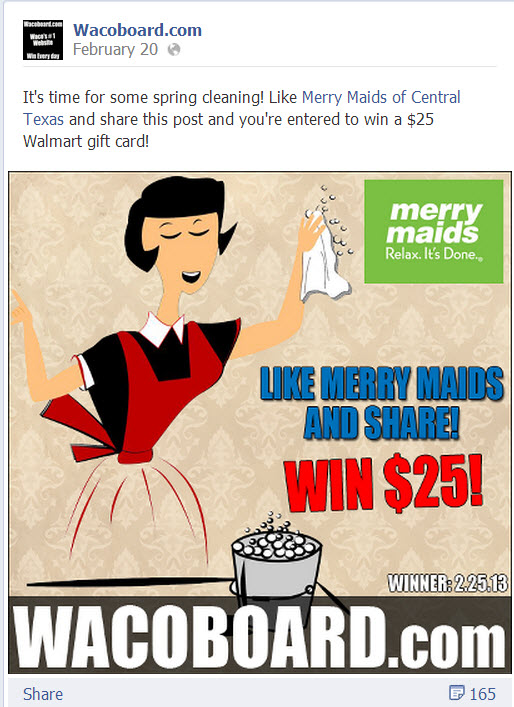 What is wrong with this contest?
Lots of things!
People have to Like the page to enter the contest. This is a big no-no. While Facebook does allow you to fan-gate the information of a contest inside an app -- which forces people to Like the page to continue -- you cannot require any Facebook actions (Likes, Shares, etc.) as part of entry to the contest.

People have to Share the image to enter the contest. This again is in direct violation of the Facebook guidelines above. You cannot require that people do any sort of Facebook function to enter a contest. Funny thing is I see this page posting these image contests every day -- and you can see they already had 165 shares when I snagged this image.
The Page doesn't say how they'll actually pick the contest winner -- which means the page admin could just pick his buddy or a fake person to win every time.
The Page will have to notify the winner via a Facebook post, which is also against the guidelines.
The contest is purely an image. FB guidelines require all contests to be run on 3rd party apps.
Example #2: Lori Greiner (from QVC & Shark Tank)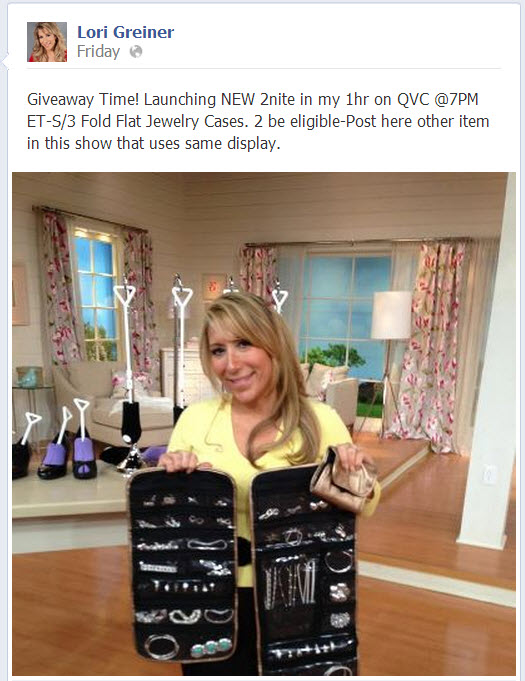 What is wrong with this contest?
People have to Comment on the image to enter the contest. Clearly against Facebook guidelines.
The contest is presented and administered via a Facebook photo -- which is against the rules. As mentioned above, all contests on Facebook MUST take place on a 3rd party app.
Because she's using a Facebook photo to run this contest, Lori has no way to notify the winner other than posting it on her page and asking the winner to message the page. Not only is this against the guidelines, it's also a pretty bad way to let someone know they won. What if they don't see the post about winning?
Example #3: Even Kanye can't get it right!!!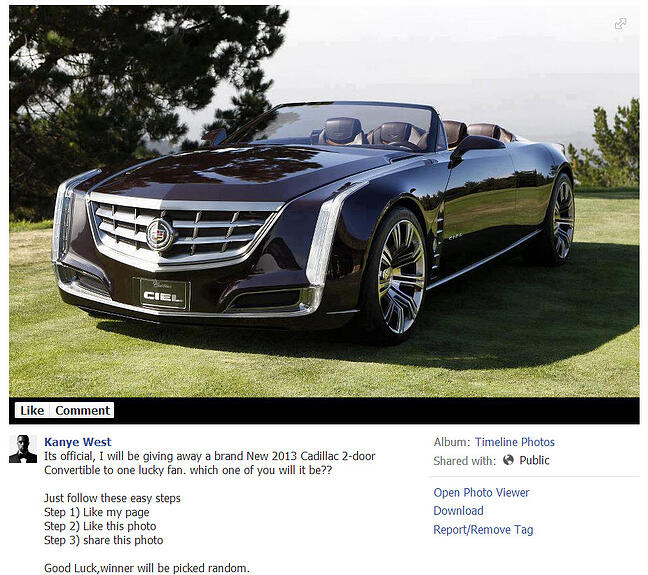 I feel like Taylor Swift should come interrupt his "contest". :)
What's wrong with this contest?
Lots of the same things as the first 2 examples.
People have to Like the page to enter. Again, if this contest were on a 3rd party app, you could fan-gate (hide) the contest information and require people to Like the page first before seeing the contest. This is the right way to do it.

People have to Like the photo to enter. This is a clear violation of the Facebook guidelines: "You must not use Facebook features or functionality as a promotion's registration or entry mechanism. For example, the act of liking a Page or checking in to a Place cannot automatically register or enter a promotion participant".
People have to "Share" the photo to enter. Another big no-no.
The contest is not being held via a 3rd party app.
In order to notify the winner, the page will have to use a Facebook Message or a post, which is a clear violation.
Don't risk it
Ok, so I showed you these 3 examples because they're the most common practices I see when it comes to running a contest the wrong way on Facebook.
It seems harmless, and perhaps it is -- but it is against the Facebook TOS and guidelines.
By running a contest in this manner, each of these pages is seriously risking the loss of their page.
Donna also shared with me a note she has created on her page listing articles to pages that have recently been shut down due to violating the Facebook Promotion Guidelines. It's definitely worth checking out.
Gaming the system
To me, it seems like most people are running these illegal contests to try to game Edgerank.
Contests tend to get higher engagement anyway -- but by breaking FB's rules (and requiring Likes & Shares, for example), a page can gain lots of traction and show up more in the News Feed -- especially since the illegal contests tend to use photos.
And as you may know, photos get higher weight in Edgerank.
With so much competition for eyes in the News Feed, I can't say I blame pages for running illegal contests. But the risk is not worth the short term reward.
What if you had built a page to 20,000 fans and lost it because of a bad contest? You'd be pretty unhappy I'm sure.
The Solution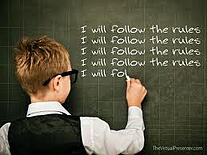 To me it's pretty simple...
You need to Follow the Rules!
It's not rocket science. You just need to take a few steps to run a legit contest -- and ensure it doesn't cause you to lose your page.
Facebook has made it much easier now to find their contest guidelines -- and short of emailing them to every page admin, I don't know what else they can do.
In any case, here's my advice on how to do it:
Step #1 Use a 3rd Party App to Run Your Contest
Facebook makes it very clear that all contests and promotions MUST be run on a 3rd party app.
This means you need to either (1) have a developer code an app for your page and then install it on Facebook and your page, or (2) use a 3rd party app provider.
I personally recommend #2 -- using 3rd party apps -- because it makes it 10 times faster to get a contest created and published.
Andrea Vahl recently posted an article about growing an email list using contests on Jon Loomer's blog and mentioned the following app resources for contests:
Each of these apps functions in different ways -- and some have free plans and others don't.
I'm not endorsing a particular one here. But I wanted you to know there are lots of choices out there.
Almost all of these apps will have you design and setup a contest on their site and then connect it to your page in a few steps.
But remember -- Facebook requires you let your entrants know (1) how they can enter, and (2) how they will be notified of the winner.
And you MUST display wording releasing Facebook from the contest. (Almost everyone fails at this.)
Step #2 Give away relevant prizes.
Give away something valuable -- but also something that offers relevant value to your fans.
Don't feel like you have to give away an iPad or TV with every contest. All you'll end up getting is a bunch of new Likes that are interested more in free stuff than your product or service.
Instead, give away something related to your brand. Let's say you are a tire shop, for example, and want to run a contest. Instead of giving away an iPad, give away a free tire rotation -- or free brake checks -- or perhaps even a free tire or set of tires.
The goal is to give away something that brings in new fans who are potential customers down the road.
Step #3 Promote Your Contest
This seems like a no brainer, but most people don't want to pay to promote their contest.
The reality is you'll need to run ads (targeted ads) that send people to your 3rd party contest app on your page.
Sure, some people may share the contest organically -- or you might be able to simply post an announcement and get some entrants. But they will likely only be current fans.
By running FB ads targeted to potential customers interested in your product, you will greatly increase your number of entrants. Which in turn should increase your email list.
But you also need to make sure you don't use verbage that violates Facebook's guidelines when promoting.
You should also promote the contest via all of your social channels, blog and current email list.
Step #4 Give Away your Prize and Follow Up
You've gathered 500 entrants and emails with your contest and the time frame to enter is over.
Now what?
Now you make a big deal about giving away the prize. Perhaps you take a video of you drawing the name out of a hat (btw, inside most 3rd party contest apps you can randomly select the winner with their software).
Instead of just choosing a winner and announcing it, why not do a live broadcast sharing your screen as you select the winner.
This not only causes more excitement but also shows that you didn't cheat and give away the prize to your grandma!
Once the contest is over and you've given away the award, be sure to get a video testimonial from the winner as they receive their prize -- and then celebrate that with your fans.
You should remind them how awesome the contest was to keep them engaging with you and to get them ready and waiting for your next contest!
Wrapping It Up
Facebook contests are great -- and when you do them correctly, you can really send engagement through the roof, increasing your Edgerank and your exposure in the News Feed.
But do the contest wrong and you could be starting your page from scratch again.
If you want to learn more about running a good contest, Andrea Vahl has a free webinar you can go check out called Running a Successful Facebook Contest. Probably worth checking out.
Have you run a contest? Was it a success or a failure? Have you seen any pages getting deleted for running an improper contest?