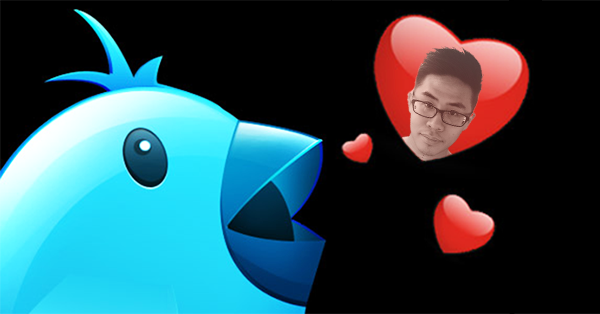 I'm gonna say it.
I LOVE TWITTER!
There... I said it.
Why do I love it? Because it puts the world at my fingertips.
I've found so many great friends & opportunities on Twitter. No other social network even comes close.
Twitter has led me to meaningful conversations with people from all walks of life -- and helped me land a sweet job before I even graduated from college. In fact, I wouldn't be writing this blog post if it weren't for Twitter.
And what's the best thing about Twitter? Definitely its openness.
You can easily join conversations and get to know people without any boundaries. Today I want to show you how I do this -- and how it leads to more followers for my account.
Whether you're an expert or a Twitter newbie, let me show you some of my favorite ways to join new conversations and get Twitter followers fast -- methods that helped me build my following to almost 500k.
4 Ways to Get Twitter Followers Fast by Joining REAL Conversations
1. Search Twitter
Using the Twitter search feature is a great way to find conversations relevant to your business or industry.
>> Click to Tweet <<
And there are 2 ways I do this:
Method #1
The first method is adding a "-http" when I search.
The "-http" tells Twitter to only return search results that don't contain links. That makes it so I only see tweets & conversations from REAL people.
You could search:
Keywords -http

Username -http

Your brand -http
That's how I searched for people who were reading a book by Gary Vaynerchuk. I found a guy I was already following who was talking about the book, which led us to speak more about Gary & how the book positively influenced our lives.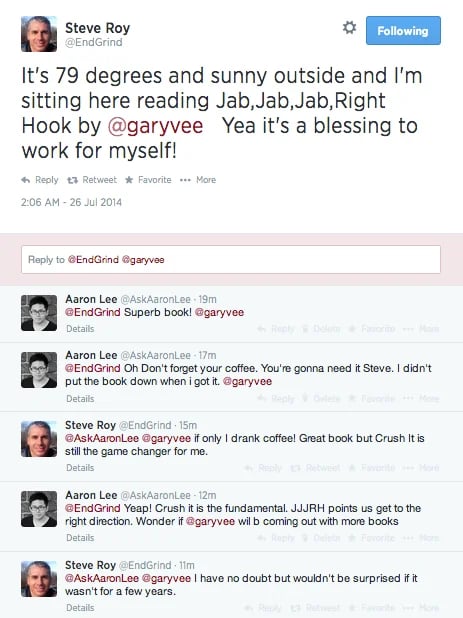 Method #2
The second trick is to search Twitter using only a blog post URL. This shows you what people are sharing & talking about. Then you can join the conversation.
Don't worry, people want to hear your ideas!
I've used these two search methods for years.
2. Participate in Twitter Chats
Have you ever participated in a Twitter chat? If not, you're missing out.
>> Click to Tweet <<
Twitter chats are usually scheduled in advance & occur at regular times. Chats often have specific topics or special guests.
It's like a face-to-face conversation with many people all at once. You can add your opinions & agree or disagree with other chat participants.
Remember, Twitter is one of the best places on the planet to follow & engage with bigwigs in your industry.
3. Subscribe to Twitter Lists
One of the best ways to find awesome conversations on Twitter is to subscribe to relevant Twitter lists.
>> Click to Tweet <<
Twitter lists are awesome because I simply subscribe to see tweets from every person on the list. I don't need to follow the members of the list or the person who created the list to subscribe. But people will follow me.
And I've got you covered if you're looking for some of the best Twitter lists on the web:
4. Say Thank You
My last tip is probably the easiest, but may also be the most effective.
Just say thank you.
Thank the person who retweets one of your tweets or shares your latest blog post.
>> Click to Tweet <<
A simple thank you will sometimes spark a dynamic conversation with who-knows-who on Twitter.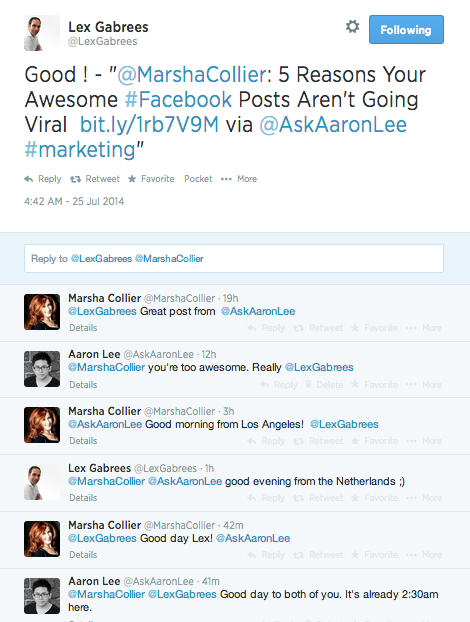 It's an awesome way to build strong relationships with your followers.
Summary
So there you have it!
Those are 4 awesome ways to join conversations on Twitter -- which will inevitably lead to more followers for you.
Remember, Twitter is like most other social media websites in that it's all about building relationships with others.
What's your best advice to get Twitter followers fast? Post your best tip in the comment section below.