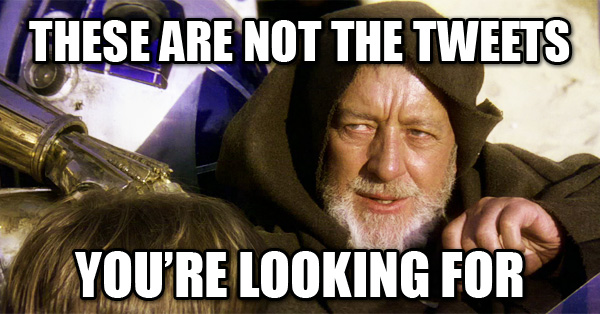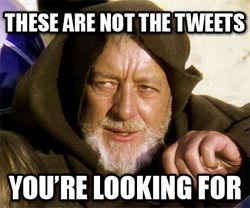 People send more than 500 million tweets every single day.
That's a lot!
Luckily, Twitter makes it easy to navigate those tweets & find the info that's most valuable to you.
Today, I want to introduce you to Twitter search.
If you're new to Twitter, this post will open your eyes to the hidden power of Twitter's search bar.
For more experienced marketers, these Twitter search tricks will help you grow & nurture the follower base you already have.
4 Twitter Search Tricks That Will Get Your Business More Followers
Remember: it's not WHAT you search for on Twitter, it's HOW you search!
Here's how the pros do it. ;)
1. Search for Your Company
Most experts recommend starting by searching for your own company on Twitter.
And that can get messy depending on how you conduct the search.
Here I searched Twitter for the term "Post Planner". See how search results show EVERYTHING with the word "post" or "planner" -- including those pesky links?
This makes it difficult to find relevant discussions about your company & industry.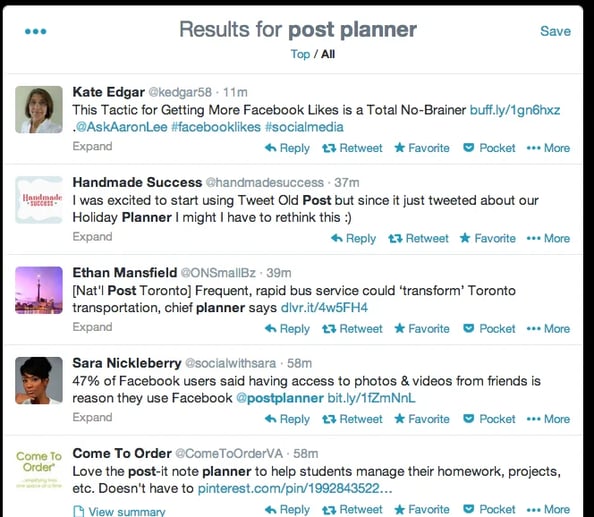 You can fix this by adding "-http" to your keyword phrase to make search results more specific.
Twitter will filter out tweets with links & show only actual conversations occurring on the website.
Check out the search results for "post planner -http", when we're only seeing the tweets without links: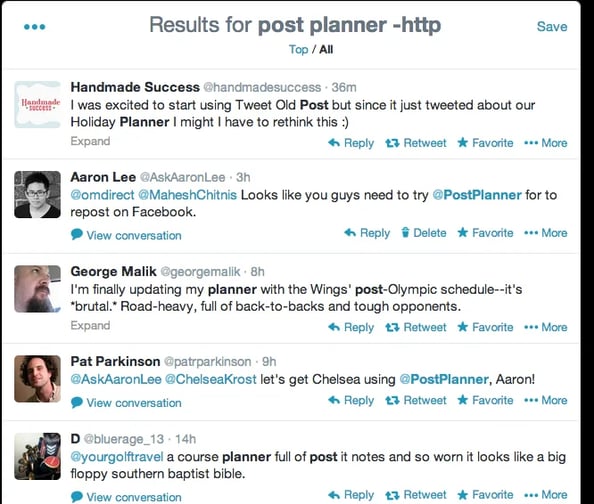 If the name of your business has more than 1 word, like Post Planner does, add quotation marks ("post planner") to your search.
For example: "post planner" -http
The quotation marks direct Twitter to search for that exact keyword phrase -- and ignore tweets where the words "post" and "planner" appear separately.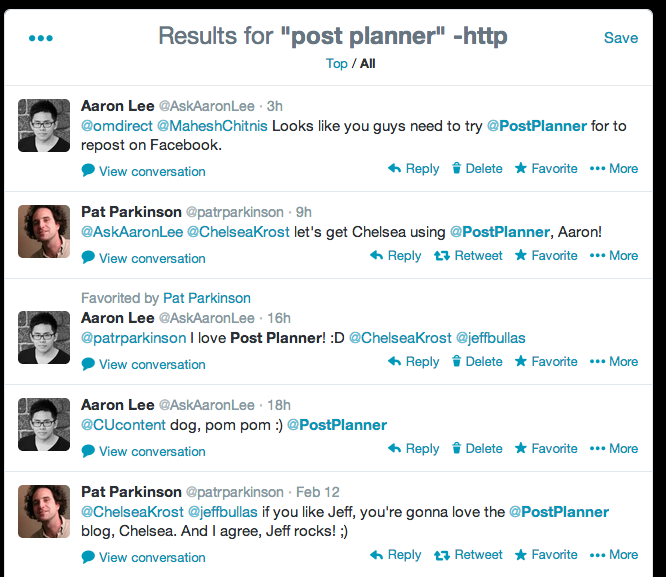 The above results are far more relevant, which will help you find targeted leads for your company.
2. Search for Those Tweeting (and Retweeting) Your Content
Another neat trick you can do on Twitter is find all the people who are sharing your content.
Just search for the exact URL of your blog post, infographic or YouTube video.
Not everyone includes your Twitter handle when they share your content, so this search tactic helps you find the tweets that don't show up in your Interactions.
You can also use this technique to see who's sharing your competitors' material on Twitter. Just search the URLs & surprise the competition by infiltrating those online communities.
Here I used 1 of Post Planner blogger Pat Parkinson's articles to conduct such a search: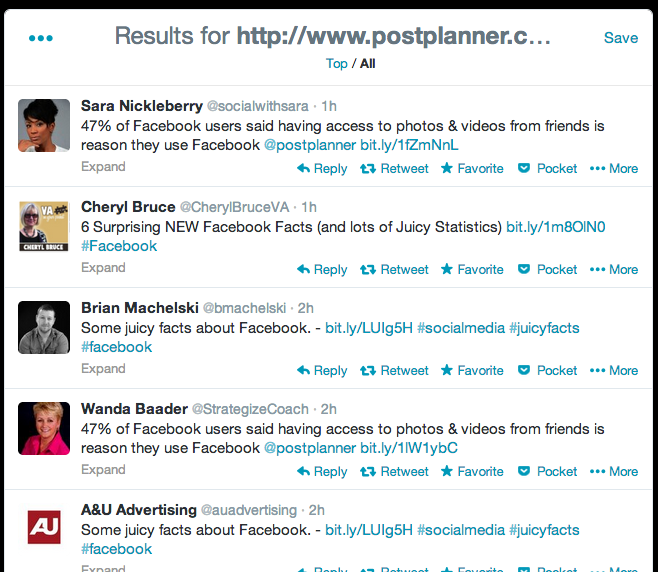 With these search results I can:
Follow audiences of my competitors

-- most users are probably good targets since your competitors go after the same customers as you

Thank people who share my content

-- show your appreciation by individually thanking Twitter users who share your articles

Add potential customers to a Twitter list

-- these are valuable leads with whom you may want to engage in the future -- and adding them to a Twitter list will help you keep track
3. Search Topics Your Followers Talk About
This tip uses the "-http" function we discussed earlier.
Sometimes I like to jump into my followers' conversations.
And I use Twitter search to find out what they're talking about.
I search a keyword & add "-http". Adding "-http" shows search results with more authentic conversations since tweets with links are filtered out.
Here I used the "twitter -http" search term to search for people who were talking about Twitter: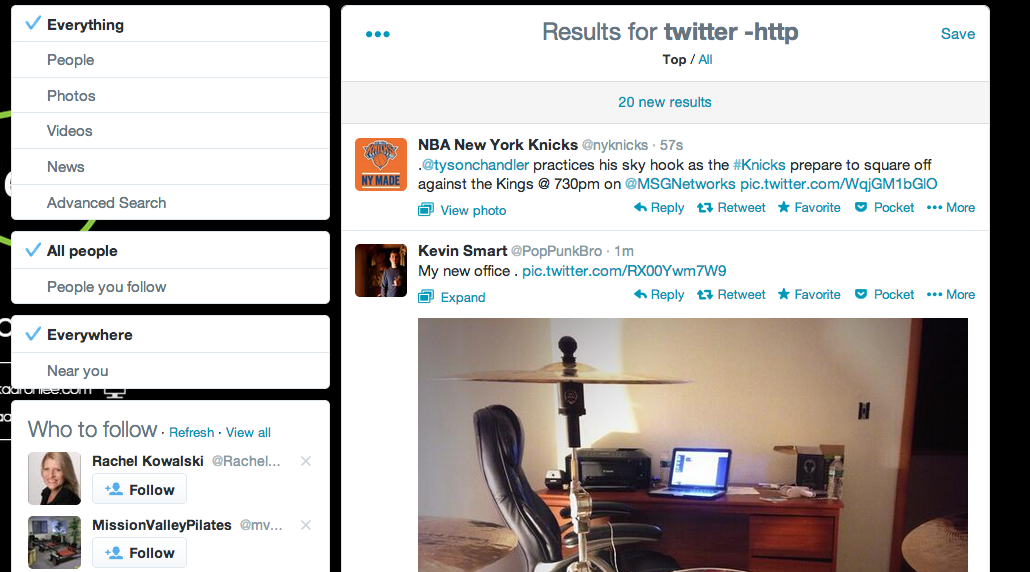 The first result is a mess -- so I just click "People you follow" on the left sidebar.
Then I'm able to see tweets from only people I follow.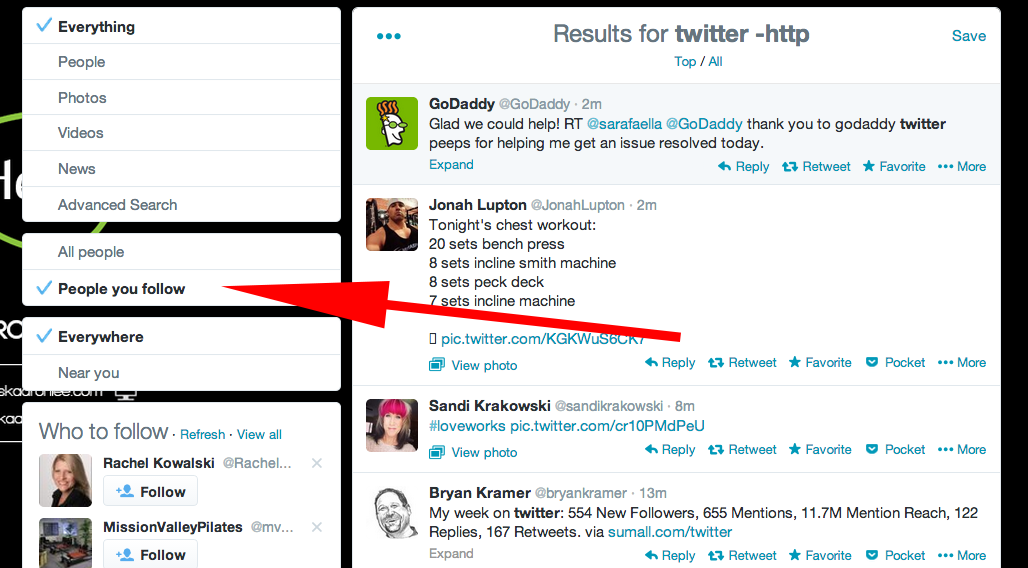 This helps you follow whoever you want on Twitter -- while still keeping track of all those discussions that are so important to your business & industry.
4. Search for Conversations Happening Near You
You can also search Twitter for conversations about topics happening near you.
This works great for local businesses & others looking to engage with potential customers in a specific area.
Maybe you're a bar owner trying to stay abreast of local sporting events. Using a relevant keyword phrase to search Twitter then clicking "Near You", lets you monitor conversations happening in your area.
But don't forget to include "-http", as discussed above.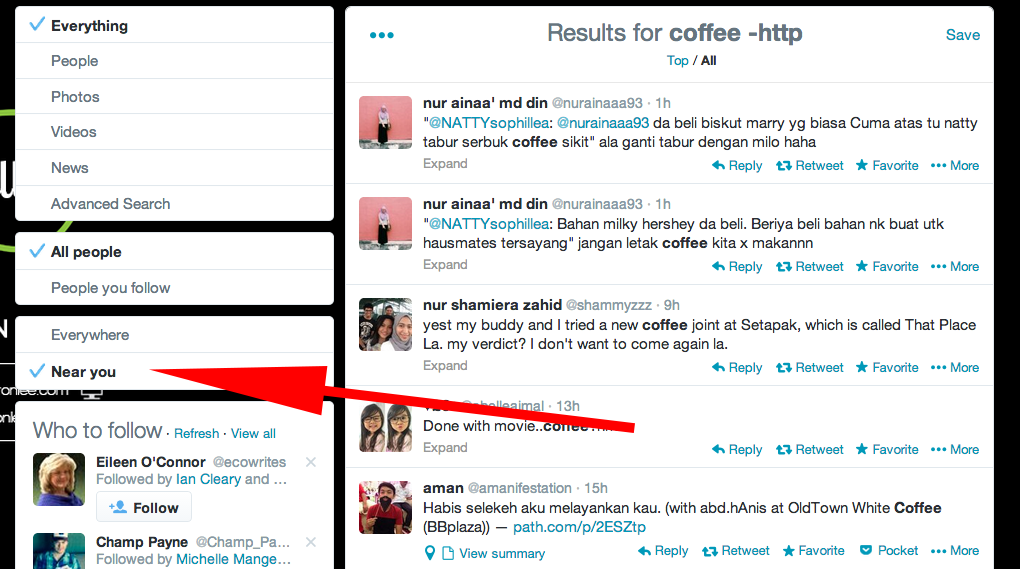 Bonus Tip
Here's 1 last tip for using Twitter search.
Click "All" when you want to see more results. The first batch of search results on Twitter are often only the "Top" results -- clicking "All" reveals everything.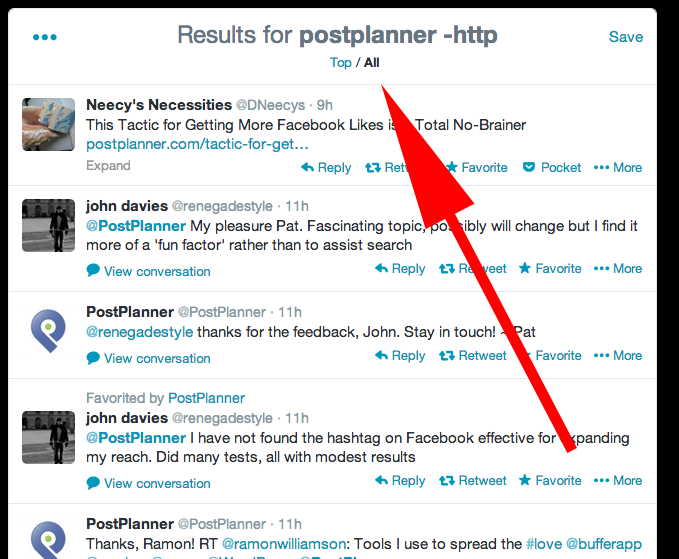 What'd I Miss?
Now that you're a master of Twitter search, with this info comes great responsibility. :)
Use your knowledge for good. Don't spam your followers with endless promotions.
Now it's your turn.
How have you used Twitter search in the past?
Please add your tips or questions to the comments below.