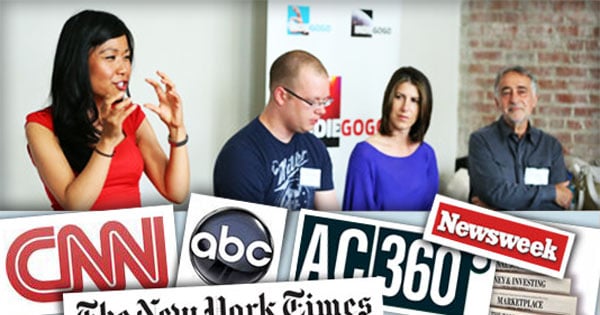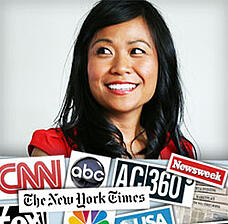 Have you ever emailed journalists & asked them to write about your business?
We all have. And very few of us ever get decent coverage.
Social media & the Internet make it more difficult than ever for businesses to get attention from reporters.
But catching the eye of a writer at places like TechCrunch, San Francisco Chronicle & your local television station is not impossible. You just need to know how to answer these questions:
In this post, I asked 4 popular Bay Area tech journalists these same questions. Their answers will help you get press coverage whether you're pitching a blog like TechCrunch, a major newspaper, or a big TV station.
Reporters offering today's tips include:
They talk about the worst PR mistakes you can make, how to pitch reporters, and some of the most memorable new businesses they've learned about recently.
(Photos courtesy of Michael O'Donnell)
How to Avoid the Worst PR Mistakes & Get Major Press Coverage for Your Business
Let's start with the fun stuff: how to mess things up!
Here's the question:
What are the worst PR mistakes people make when trying to convince a journalist to cover their company?
Alex Wilhelm, TechCrunch
Wilhelm got straight to the point:
When you're f***ing boring… that's the worst thing.
>> Click to Tweet <<
Too often PR people have nothing exciting to say.
"Some people just do boring things & then they're like, 'hey, hey, hey, hey,'" Wilhelm said. "Just do awesome things & you will get in front of us."
May Chow, KSBW
Try to send your story idea to somebody who actually covers the topic -- whether business, tech, education, lifestyle or some other news beat.
Also, make sure to spell the reporter's name & the name of the media outlet correctly.
"I always get 'Mary,'" Chow said.
Those communicating with journalists on behalf of your company should know your business "inside & out," she stressed.
"I had a PR woman tell me to 'Google it' when I asked a question," Chow said, shaking her head.
Andrew Ross, San Francisco Chronicle
Ross said he often gets story pitches from people who've obviously never read the newspaper. They don't know what he's interested in or what he covers on his beat.
Ross called this RTFP (read the fu----- paper).
"Do your homework," he advised.
"Know who we are & what we're interested in!"
Kym McNicholas, KRON 4
You shouldn't rely on media to get customers & generate leads.
"If you are relying on the media to bring in your customers, then you better be changing your business," McNicholas said.
Many companies also make the mistake of not building relationships with journalists until just before a big event.
>> Click to Tweet <<
Reporters will take notice of buzz as your building your community, McNicholas said.
But how do journalists decide what to cover when they receive hundreds of pitches each week?
How to Pitch Your Boring Company to a Journalist
Each of these reporters explained some of what they look for when perusing their in-boxes.
Kym McNicholas, KRON 4
McNicholas said she often ignores traditional press releases. Instead, she likes it when story ideas reach her in a more personal way -- in a email or on Twitter.
"I wait for those personal notes," she said.
Keep a daily or weekly journal of key milestones at your company. This journal will become the material you pitch to reporters.
>> Click to Tweet <<
"From day one, everyone has conversations that are making a difference -- having an impact," McNicholas said. "Over time these stories are going to start building & building & building."
As someone who pitches journalists on behalf of organizations she works for, McNicholas learned an important lesson about storytelling from Steve Jobs:
You'll notice that [Steve Jobs] never really talked about the product. he talked around the product.

He discovered problems that you didn't even know you had. It was never the product, it was always the story, it was always the customer.
May Chow, KSBW
Television reporters in your local market usually need you to provide a compelling story or local angle that connects your product or service with their community.
Remember, many of those watching television news are your potential users.
"Personalize your parking app," Chow said. "That gets my attention. ... Make me want to Google your product."
There is a reason why you want to pitch to local TV, because we feed to CNN, MSNBC, Yahoo.
And don't always run straight to the busy technology & business beats.
You might have a better chance pitching a reporter who covers style, education or local news -- but you'll need a relevant, timely, newsworthy angle.
>> Click to Tweet <<
Andrew Ross, San Francisco Chronicle
Ross said he looks for unique angles.
"I look for a way to tell someone's story a little differently," he said.
But don't give him a bunch of fluff in a press release.
"Tell me in reasonably plain English what you're doing," Ross said.
Most any business can come up with a newsy angle related to tech.
Tech & business are simply indivisible. … Every business is a tech business these days.
Alex Wilhelm, TechCrunch
Like McNicholas, Wilhelm ignores most of the press releases he receives.
"Media is incredibly diverse so you can't approach it with any single one strategy," he explained.
He's more likely to look into your company if someone he knows recommends he cover the story.
How to Communicate with Journalists
Each journalist prefers to communicate in different ways. Some are easiest to reach on Twitter. Others prefer email.
There are even reporters who still pick up the desk phone whenever it rings.
Andrew Ross, San Francisco Chronicle
The best way to reach Ross is to send him an email. He usually doesn't pick up the telephone unless he recognizes the number.
May Chow, KSBW
"It's not one size fits all, you need to engage," Chow said.
Build relationships with relevant journalists by following them on Twitter, replying to their tweets & retweeting their stories.
"When you're pitching to print, it's different [than] when you're pitching to Forbes, TechCrunch or when you're pitching to local TV," Chow said.
Kym McNicholas, KRON 4
Often you can get the attention of editors & reporters by "hijacking" the online comments section on a different story.
Start a discussion about your company in a relevant thread then steer the conversation toward a big announcement at your business.
The comments often end up more interesting than the original story.
Businesses You Covered Recently That You Found Most Interesting
Here are the businesses these journalists recently covered that they found most interesting:
Alex Wilhelm, TechCrunch
Lesson.ly.
Wilhelm said he covered this startup because Lesson.ly CEO Max Yoder was such an impressive guy.
Kym McNicholas, KRON 4
McNicholas said she was recently pitched to by the CEO of Tynker.
Because he was so "passionate" about his product & emailed her after they met, McNicholas remembered the source several months later when she covered a topic relevant to his company.
Andrew Ross, San Francisco Chronicle
Ross cited 2 companies:
He became interested in Instacart when he began exploring the world of deliveries -- groceries & other such items.
Since he's always looking for trends, Lending Club, a peer-to-peer lending company, also caught his eye.
Like most business & tech reporters, Ross said he's interested in strong startups that are taking on the big guys.
Key Takeaways
That's great advice from REAL reporters who receive hundreds of press releases each week.
And though there's lots of noise, reaching these reporters is possible if they & their audience can connect with your news angles & story ideas.
Keep these nuggets of wisdom in mind next time you send an email to a journalist:
Don't be boring
Spell their names correctly
Know about the media outlet you're pitching to
Personalize your email
Make your pitch relevant & timely
Pitch journalists who cover the topic
Follow & interact with journalists on Twitter
Know how journalists prefer to communicate
Pitch a timely, interesting story about your business
Start building relationships with journalists before a major announcement
Have you tried to get a journalist to cover your business? Were you successful?
What's that most difficult part?