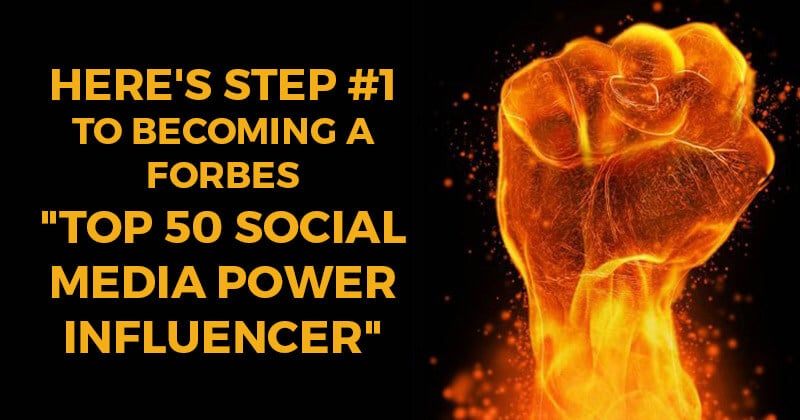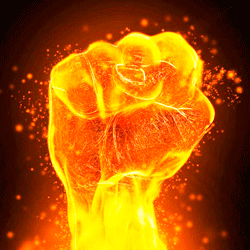 Forbes recently announced the "Top 50 Social Media Power Influencers of 2013"
I don't fully agree with the list -- but it's definitely a great group of people.
The author of the list, Haydn Shaughnessy, used data from Peek Analytics to decide who qualified as a "power influencer" -- the main factor being a metric called Pull.
According to the Forbes article, a person has a Pull of 10x if:
The audience the individual can reach is at least ten times greater than what the average social media user can reach.
I checked my Pull and it's 30x -- which means I should have been on the list, right? :P
Maybe next year.
What's Missing in the Forbes Article
Forbes does a great job of providing each Influencer's:
blog/website

Twitter handle
But strangely, it doesn't provide Facebook links for the Influencers... which I found interesting -- seeing as I put more weight on Facebook influence than Twitter.
For that reason, I wanted to create a quick way to follow these Influencers -- their blogs, Twitter AND Facebook accounts -- in order to
see how their influencing others

monitor the types of content they're sharing
share their content with my followers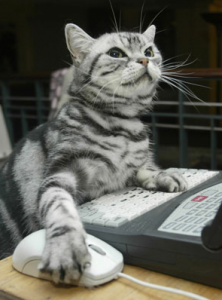 If you try to find all the Facebook pages of these 50 people yourself, I can assure you, you're in for a long day.
How do I know?
Because I just spent the day doing it. ;)
Yep, I've just created & curated a List for all the Facebook pages, blogs & Twitter accounts of Forbes' Top 50 Influencers.
You're Very Welcome! :)
Here's how to tap into my awesome List:
How to Easily Follow & Share the Content of Forbes' Top 50 Social Media Power Influencers
To follow my tutorial below, you MUST be connected to the Post Planner app.
You can get started for FREE here.
Step 1: Go to your Post Planner App
Once you've connected to the app, you'll see a bookmark in the left column of your Facebook Home under "Apps".
(I've added my app bookmark to my "Favorites" section -- so I can access it quickly)
Step 2: Click "Content"
Once you're in the app, click the "Content" bubble in the right column.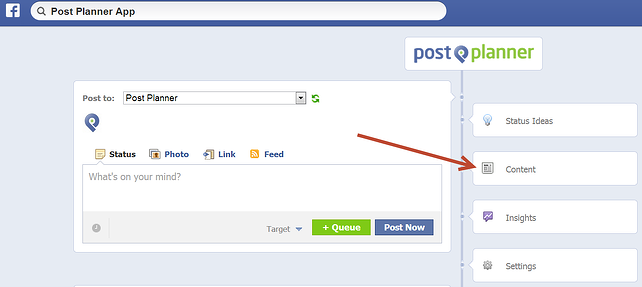 Step 3: Open Global Content Library
Once you click "Content" you'll see the following 3 sections, top to bottom:
Trending Content

Content Library
Global Content Library
We're going to use #3 -- the Global Content Library.
So click the "Open Global Content Library" button, like this:

Step 4: Find "Forbes Top 50" Folder
Once you open the Global Content Library, a huge list of folders will load.
These are all the Content folders that have been created by other Post Planner users -- including Josh & myself.
Scroll down the list & find the folder "Forbes Top 50 Social Media Power Influencers":

Step 5: Add to My Library
Click "Add to My Library" as shown above.
You'll then see the folder pop up in your personal Content Library in the right column.
Step 6: Open Folder
Once you find the folder in your personal Content Library, just click the arrow next to the folder.
This will open the folder & reveal all the goodness inside. :)
You'll see all of the sources I found from the Top 50 Social Media Power Influencers -- blogs, fan pages & Twitter accounts.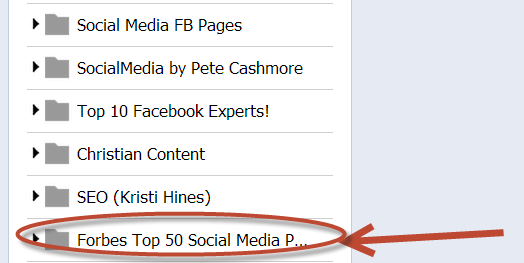 I can't even show you a full screenshot of this folder's content -- because it contains literally 150 content sources for you to chew on!!
Step 7: Select a Source
Just click on any of the sources to choose an influencer -- one who shares awesome content preferably.
You'll then see a list (in the left column) of all the recent articles they've shared.
(Note: you can also just click the folder itself to see ALL the content from ALL 150 sources)
Here's Darren Rowse's FB page feed:

Step 8: Choose an Article
Find an article that looks interesting & then click the article's title.
I'm choosing "5 Keys to Writing Excellent Blog Posts" as it's an article I could really use -- as could my followers.
Notice that the article expands so I can read it right inside the Post Planner app: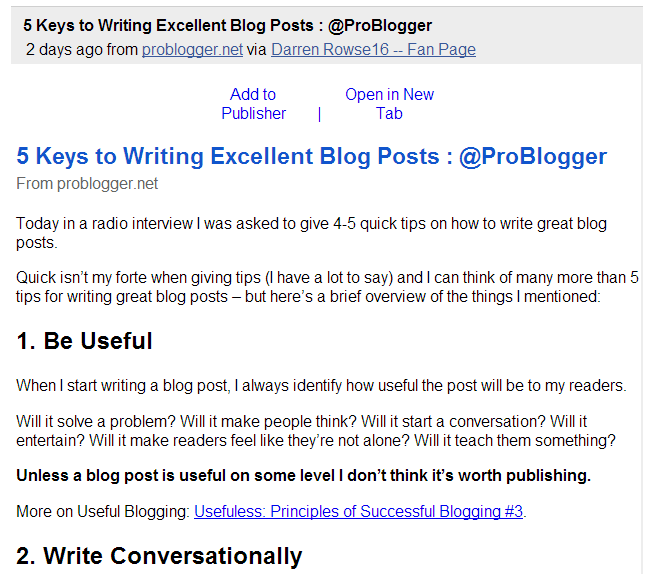 This is especially helpful as it lets you read the article before sharing it -- plus it's a great way to replace Google Reader.
And if you'd rather read the article on its original blog, you can always click "Open in a New Tab".
Step 9: Add to Publisher
I've read over the article from Darren Rowse & now I want to share it on my Facebook profile, page or group.
All I have to do is click "Add to Publisher" and the article will be sent to the Post Planner publisher for posting.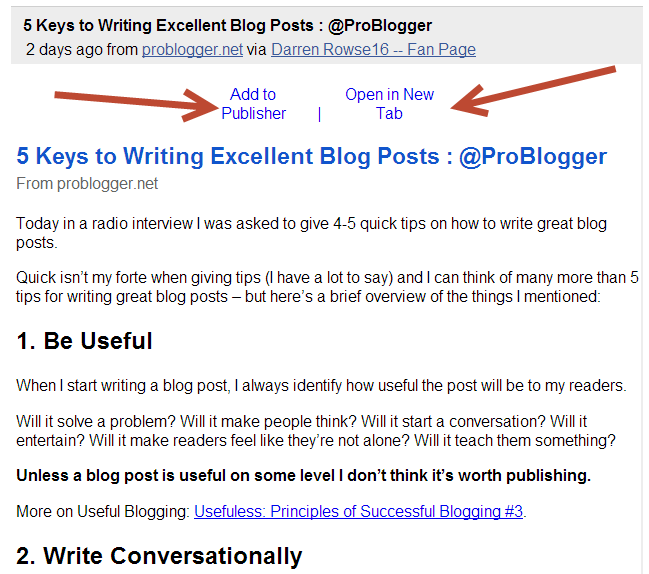 Step 10: Plan Your Post
Once you add the article to the publisher, you can:
Choose a page, group or list to post it to

Add a text update
Target the post by location, language, age, etc.
Schedule it, Queue it or Post it immediately
*Note: You can also edit the Title & Description and choose an image thumbnail, just like in Facebook.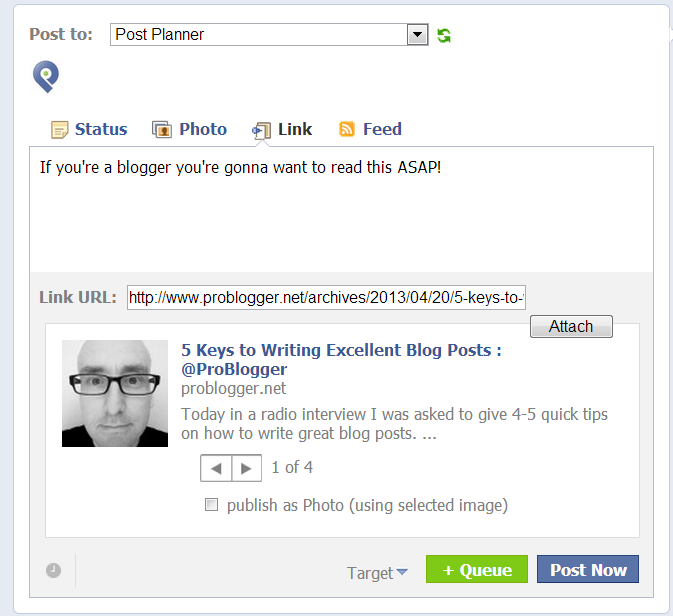 That's it!
Keep in mind that the Content Library will only show the LINKS a Fan Page has shared -- not the statuses, photos or vids.
Btw, if you're a diehard Twitter user and want to retweet posts from the Forbes Top 50 list and maybe become a Power Influencer for 2014 -- I've also created a Twitter List for you to follow called Top 50 Social Influencers.
Influence By Sharing!
It's worth noting here that one way these 50 have become "Power Influencers" is by sharing the content of others.
Remember: people who only share their own content are more Broadcasters than Influencers.
So use the features I've described here to find & share the same awesome content the Power Influencers are sharing! Then you will have completed Step #1 to becoming a power influencer yourself.
One Final Step
And with that in mind, make sure to Tweet this post to your followers & share it on Facebook. :)
One of the best ways to influence other is to acknowledge & share the work of others, right?