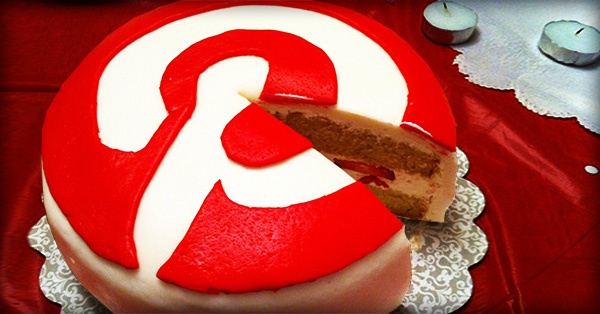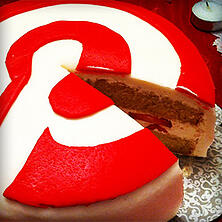 Want to get more followers on Pinterest?
Want to get discovered by the thousands of people who search Pinterest for new things to buy and share EVERY DAY?
If you said YES -- this article is for you.
You're reading this because you're ready to take your Pinterest marketing to the next level, right?
Well, these 8 tips get back to basics to show you just how easy it is to build up your Pinterest presence fast.
8 Piece-of-Cake Ways to Get More Pinterest Followers
1. Post Original Content (Pins)
Did you know that 80% of the posts on Pinterest are repins?
This means posting original content is a great way to stand out. For example, you can post:
Original images

Content you find online

Quotes

Funny photos
In my experience, infographics stand out the most.
An infographic I posted on my Pinterest page was repinned more than 1,200 times. My other posts have had between 200 and 700 repins.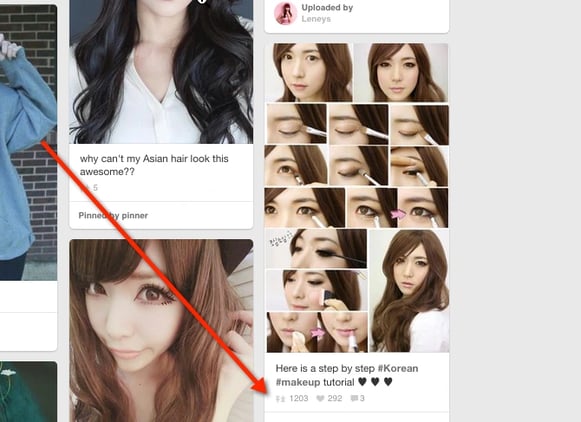 2. Repin Content from Others
It's tough to find enough posts if you only pin your own content.
Repinning material from others should be a big part of your Pinterest marketing strategy as well.
>> Click to Tweet <<
This is also a great way to get noticed by the original source of the content and get them to follow your page.
And don't forget to edit the descriptions on your posts -- add your own keywords and unique takes on the material.
Did you know you can find top Pinterest content to pin (content that has already been proven to be successful on social media) right inside Post Planner?
Yep, and you can pin it from right inside the app.
This video will show you how!
3. Follow People
It's simple: you'll get more followers on Pinterest if you follow other people.
>> Click to Tweet <<
Following 5 to 10 people a day can make a huge difference compared to waiting for people to follow you.
Use this feature to find users who might be interested in following you on Pinterest:
Replace "Your Domain" with your website URL, blog domain or the domains of your competitors.
Here are some people who repinned Post Planner content on Pinterest: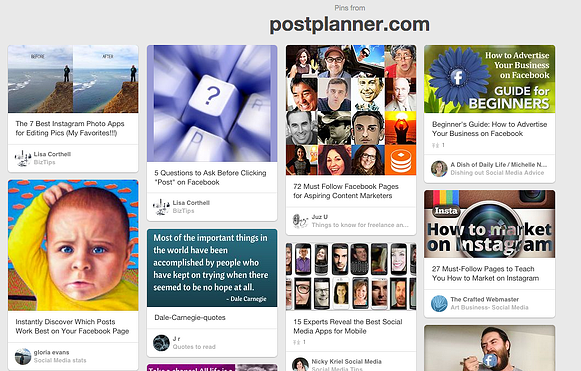 4. Use Keywords in Descriptions
How you pin images is just as important as what you pin. So use relevant search terms in your descriptions.
I use the Pinterest search bar to look for images, so I can get an idea for keywords to use in my Pinterest descriptions.
Remember: your keywords should be terms people search for on Pinterest.
5. Run a Pinterest Contest
Contests should be a key component of your Pinterest marketing strategy.
>> Click to Tweet <<
Study these Pinterest guidelines and suggestions before you begin:
Do:

Remember that Pinterest is all about people discovering things that can inspire them.

Reward quality over quantity.

Make it easy to get involved with clear and simple instructions.

Read our anti-spam measures to keep your contest fun and useful.

Check out our branding guidelines if you're going to indicate your reference in Pinterest in any way.

Don't

Suggest that Pinterest sponsors or endorses you, or the contest.

Require people to add Pins from a selection—let them add what they like.

Make people Pin your contest rules. You will become notorious by doing it.

Run a sweepstakes where each Pin, board, like or follow represents an entry.

Encourage spammy behavior such as asking participants to comment.

Ask people to vote with Pins, boards, or likes.

Overdo it: contests can get old fast.

Require a minimum number of Pins. One is plenty enough.

Call your contest a "Pin it to win it" contest.
Get inspired by searching Pinterest for contests relevant to your business!
6. Be There!
Social media will only work for your business if you dedicate time and money to your social marketing campaigns.
Pinterest influencer Bridgette Salvon-Berndt (who has 1.4 million Pinterest followers) made it clear: she was only able to achieve that influence by spending tons of time on the website.
7. Link Pinterest to Your Other Social Websites
Linking from Pinterest to websites like Facebook, Twitter and Google+ will help you get more exposure on Pinterest to friends, family and your followers in other places.
You can also use other social media websites to promote your Pinterest boards.
>> Click to Tweet <<
8. Make Your Website Pinterest-Friendly
One more way to get Pinterest followers is by adding Pinterest follow and share buttons to your website.
That way when people like your content, they can easily follow you and repin your stuff.
We used the Flare WordPress plugin to add Pinterest to the Post Planner blog. It's a cinch!
Conclusion
If your business isn't on Pinterest, you should definitely try it out! Some companies say it's their most heavily trafficked social media website.
So what's next? Are you ready to create some stunning pins that will break the internet?
We can help you with that!
Grab your copy of our free visual marketing ebook below. You'll be glad you did!