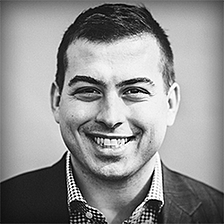 I'm always on the lookout for new ways to increase fan engagement on my Facebook page.
That's why an email from Derek Halpern of Social Triggers recently caught my eye.
Derek's a good storyteller & a great marketer. I always read his stuff!
In his email, Derek chose not to end with a typical summary or question. Instead, he ended with this simple sentence:
Have you struggled with finding your voice and owning it? Would love to hear your personal experience in the comment section right here.
Guess where he linked to? His blog?
Nope!
Here's a Quick Tip on How to Increase Facebook Likes on Your Page
Derek linked to a post on his Facebook page -- where he shared an article containing the same question he'd asked in his newsletter.
Here it is:
Brilliant!
This was a smart move because:
It gave people on his list a reason to Like his Facebook page

It encouraged his readers to answer the question by leaving a comment on his post
Which both increased Derek's Facebook reach.
The tactic got more people to engage with Derek's Facebook post & Like his page!
>> Click to Tweet <<
Remember: your Facebook posts are great for discussion because people can comment without providing a bunch of details like their name, email, website, etc. -- which they might have to provide to leave comments on a blog.
But sending traffic to a post on your Facebook page is genius!
It's a super clever way to get more Likes, comments & shares.
Summary
Pretty much everyone has a Facebook account these days. So driving people to your FB posts from your emails, newsletters & articles is a super easy way to increase Facebook Likes on your page.
>> Click to Tweet <<
And I have a feeling Derek isn't the only person using this strategy.
Do you know anyone who is using newsletters, marketing emails and blog articles to drive traffic to their Facebook posts?
I'd love to see their techniques. Please post examples in the comment section below.
Thanks!