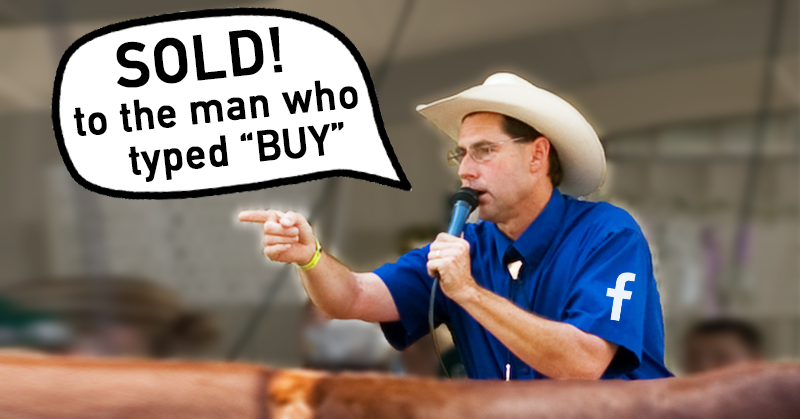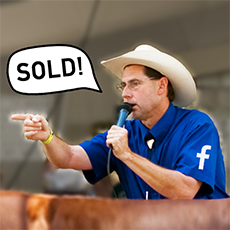 Want to make money selling ebooks?
If so, you will LOVE this news:
1995 Amazon eBook sales = $10 million
2014 Amazon eBook sales = $1.6 BILLION
That's a whole lot of opportunity!
But the problem is Amazon has a death grip on eBook publishing.
In fact, their tendency to BULLY has their biggest authors running to find NEW ways to distribute their books.
And these authors are definitely finding new ways!
In the US, authors are now selling more books on their own (via social, websites, etc.) than through Amazon. And Post Planner and other social apps are playing a big part in this.
So how do you go beyond Amazon and sell more eBooks than you ever thought possible?
Read on, my friend... read on!
>> Click to Tweet <<
How to Sell Ebooks on Facebook (and Make it RAIN Cash) Using 2 Simple Tools
There's a revolutionary movement going on in the world of eBook writing and publishing.
Social marketing leaders like Andrea Vahl, Brian Carter, and Kim Garst are using a 2-step process to increase sales dramatically.
They are:
Using Post Planner to attract and engage their Facebook fans
Using a new tool (Heyo Cart) to sell digital content on social channels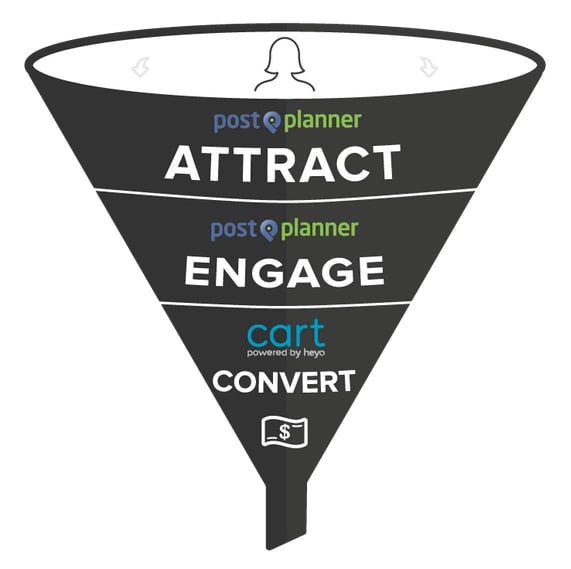 Attract, Engage, Convert
Here's how it works:
STEP ONE: Post Planner makes it easy for you to find and post super engaging content.
This drives up engagement and reach on your Facebook page -- so your posts get shared by more people and seen by more eyeballs.
STEP TWO: Heyo Cart helps your fans purchase your ebook by entering "Buy" in the comments.
(Did you catch that?) All they need to do is type one sweet word: BUY!
>> Click to Tweet <<
Here's what Kim Garst did to BOOST her eBook sales
Kim Garst discovered how well Heyo Cart worked to sell her recent best-selling book:
Click Here to see the results.
And those big results are leading to even bigger results!
My publisher just notified me that my new book is going to go AUDIO! EXCITED is an understatement! I want to celebrate... (Kim Garst)
>> Click to Tweet <<
Seems like Post Planner and Heyo Cart are a match made in heaven!
You see, Heyo Cart presents the BUY offer while readers are ALREADY ENGAGED with the author -- engagement that Post Planner revs up with its amazing viral content!
After combining Post Planner and Heyo Cart, Kim quickly made over a $1,000 in sales that might not have happened if she'd depended on Amazon alone.
Here's how Heyo Cart works (you can do this too, it's free)
Once you're there, just click "Try for Free".
2. Create your pitch
Select the Fan Page you want to sell on. Then type your status update, upload a strong image of the eBook, add a product title, set the price, and click the orange "Next" button.
3. Upload the digital file
Heyo Cart takes care of product delivery for you! So you just need to tell Heyo Cart how you want to be paid for sales (either a debit card or your bank account). Click "Next".
4. Publish your pitch
Take a moment to preview of your post -- and then once it's ready, click "Publish" to publish now or to schedule it for later.
5. Make sales!
Once your post is live, fans can comment "Buy" to purchase and Heyo Cart will automatically respond to them, telling them how to finish the purchase: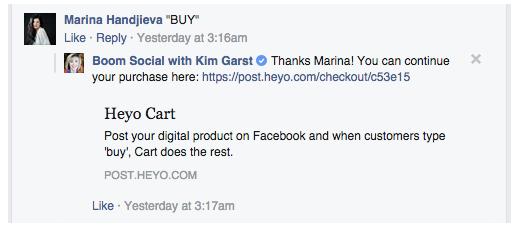 A great thing about Heyo Cart is that, once fans buy once from you, they never have to put their information in again (they don't have to click any links!). They simply type "Buy" ... and Boom! You've got a new sale:

6. Get paid
Once your fans have paid, Heyo Cart then takes them to the product page where they can download your book: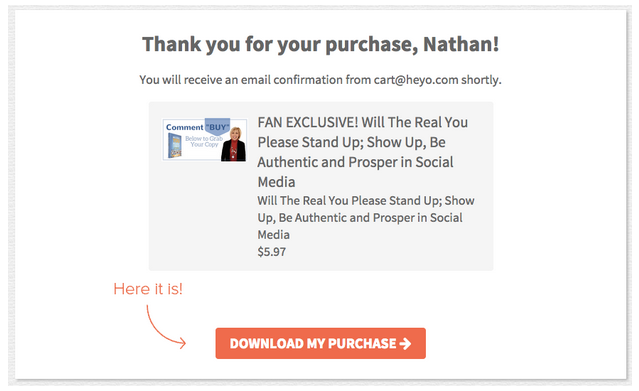 7. Build your list
As sales come in, use the Heyo Cart back end to see who's buying. You'll get first name, last name, AND EMAIL (many people say buyers lists are the most valuable - so segment this list in your email marketing or CRM tool for future upsells and product launches).
>> Click to Tweet <<
3 Tips to Sell More Using Heyo Cart
TIP 1: Price your product between $5-20 dollars
Anything more expensive becomes too big a decision for Facebook buyers.
TIP 2: Put the "Comment Buy" call to action on the image
Great example of Kim Garst doing this here.
TIP 3: Tell your fans to "Comment BUY to purchase"
You should do this within the first 3 sentences of your post. During the rest of the post, you should tell them more about the book.
Influencers, authors, and experts are making money with Heyo Cart
In a recent A/B test conducted by author and info-marketer, Sue Zimmerman, Amazon and Heyo Cart were both put to the test.
Sue listed her latest eBook for sale on both Amazon and her Facebook page (using Heyo Cart) to see which would drive more sales.
Here are the results:
Amazon

: Sue sold 15 copies, earning $106.76 in first 10 days

HeyoCart

: Sue sold 95 copies, earning $591.05 in first 10 days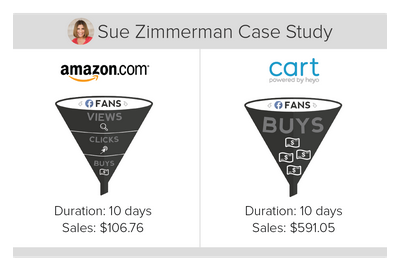 Here's what Sue Zimmerman had to say after the study:
An additional benefit we gained from using Heyocart.com was that it gave us the ability to collect the email addresses and names of our buyers. That made it easy to enter them in our CRM ... for future upselling and content marketing. Amazon doesn't do that.
>> Click to Tweet <<
As Heyo Cart CEO, I expect that trend to continue in 2015. There's an enormous opportunity for experts and influencers to sell digital products to their consumers right from Facebook.
When you combine smart social selling with tools like Post Planner, you'll give your fans the perfect place to interact and to BUY.
Conclusion: Let's Get Selling!
Remember: the best price point for ebooks and other digital content on Facebook is $9 -- that beats the tar out of Amazon's 99 cents strategy.
And if you're still not convinced, consider that the total transaction volume on social media networks, for both mobile and desktop, is anticipated to surpass $40 billion by 2025
Growing engagement with Post Planner and taking advantage of Heyo Cart's ability to turn sales NOW can get you a piece of the action.
What is your strategy to keep up with the times?
Click Here and you can try Heyo Cart for FREE.
____________________
RECOMMENDED ARTICLES: