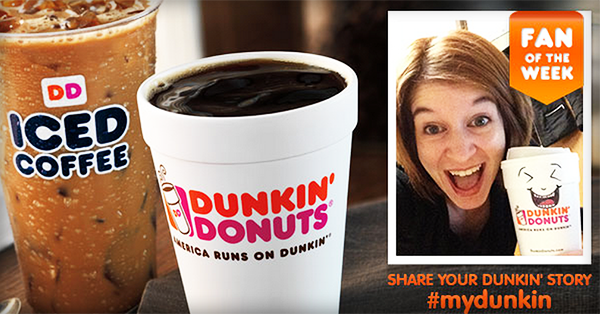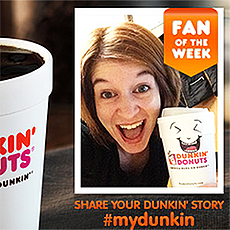 No matter how you feel about selfies, they're here to stay.
Powerhouse brands like KLM & Dunkin' Donuts use selfies for Facebook marketing and get tons of engagement from fans.
But you don't have to be a household name to use selfies effectively on your business page.
In this article, I'll show you several examples from smaller companies that use selfies from fans to knock it out of the park.
As you view these posts, think about ways you could use selfies to get more fans to engage with your Facebook page. The possibilities are endless.
And let's face it -- selfies are just fun!
6 Pages Using Selfies for Social Media Marketing
A recent KLM campaign had lots of people showing off their cities. I loved this contest because of how well it fit with the airline's image.
>> Click to Tweet <<
Oh, and KLM gave the winner 2 tickets to fly around the world -- which doesn't suck!
Many fans submitted selfies to Dunkin' Donuts for a chance to have their photo featured on the company's Facebook page & digital billboard in Times Square.
>> Click to Tweet <<
Who wouldn't want that?! I know I would!
Here's an easy-to-run selfie Facebook contest from The Bumble Collection:
Simply post a self-portrait with your little ones.
It doesn't get much easier than that!
Have you ever seen a company run a Facebook contest for the whole summer?
Summer fun is key to this contest from Bulldog Tours, which ends Aug. 1.
Take a selfie in Charleston, South Carolina, and post it to the Bulldog Tours Facebook page. The photo with the most Likes wins a Charleston vacation!
>> Click to Tweet <<
Want fans to visit your store?
Mally Beauty encouraged people to shoot selfies at their locations & upload the photos to Facebook: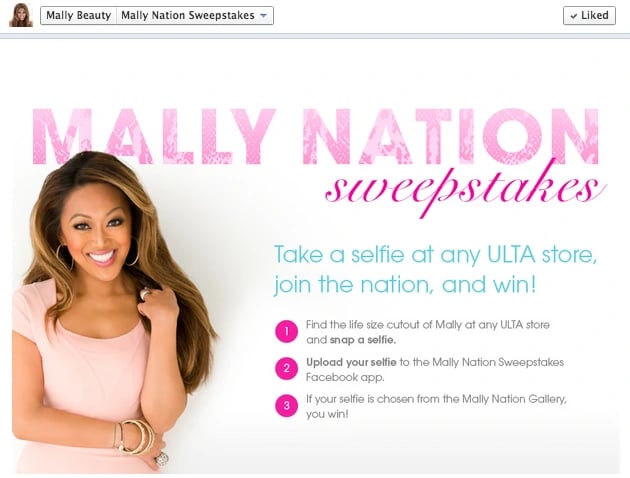 If you share a special moment by uploading a selfie from a Mövenpick hotel, you might win a 5-night stay in a location of your choice.
>> Click to Tweet <<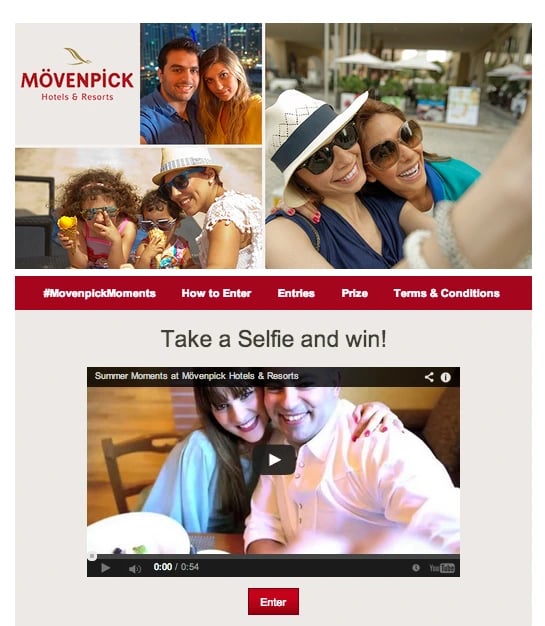 Key Takeaways
I've shown you some interesting ways businesses have used selfies for social media marketing -- ideas you could easily use for your company to get more Facebook engagement.
Let's review key takeaways:
Campaign should relate to your products or services

Make it easy for fans to shoot a selfie

Use one social media platform to organize the contest

Give away a prize that is relevant to your Facebook page & fans
Have you seen companies encourage their fans to submit selfies?