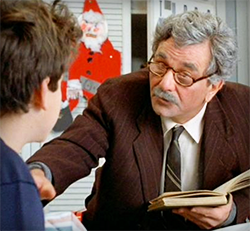 People relate to other people -- not businesses.
And today, one of the best ways to connect with your customers is through stories.
Who doesn't love a good yarn?
We're social creatures & we all love stories -- whether we know it or not. Here's a great line from Madeleine L'Engle:
Stories make us more alive, more human, more courageous, more loving.
Humans have exchanged stories since the days of cave drawings. But today Facebook walls, not rock walls, are the medium of choice.
So you should be telling stories when you're marketing on Facebook.
We're lucky to live in a time of social media when we can take storytelling to a whole new level. I'm hooked on stories from Facebook pages like Humans of New York -- pages that show us that stories can leave a lasting impression.
And Facebook isn't limited to 140 characters, like Twitter. That's why Facebook is one of the best social media platforms for telling stories.
Jason, a friend of mine who owns an online store, asked me recently for some story ideas he could use on his Facebook page.
I suggested these 5 topics:
5 Stories Your Business Should Tell When Marketing on Facebook
1. Your Own Story
Build relationships with your fans by telling them about yourself.
>> Click to Tweet <<
Tell them stories about:
What you do when you're not working

Where you've been recently

Your future plans

Your interests

Your values

Your passions

Something you've learned
Try using selfies when telling these stories on Facebook.
Check out this inspiring story from Sandi Krakowski:
2. Your Company's Story
Tell the world what you do & why you love doing it.
Share stories about:
Why you started your company

What keeps you going day to day

Accomplishments

Failures

Those who inspire you

What goes on behind the scenes
3. Your Customers' Stories
These are stories about your customers that show your community how important they are to your business.
And why not? Customers should be at the center of any marketing strategy.
>> Click to Tweet <<
Tell stories about:
Before & after using your product or services

How your business helped them

Testimonials from customers

Random stories about fans
4. Stories About Your Vision
Your fans love to hear about your vision for the future. When told correctly, these stories help convince fans that your company is worthy of their support.
Share stories about:
What your company would like to change or improve
What makes your company special
How your vision is in line with the values of your fans
5. Stories About What Inspires You
Many of the stories that inspire you are likely a combination of these 4 topics.
And these stories might also inspire your fans. Telling inspiring stories on Facebook is a powerful skill you can master to connect with your fans & build relationships & trust.
Key Takeaways
Above all, when telling stories in social media, you must be authentic & real.
Use stories to humanize your company!
>> Click to Tweet <<
Just pretend you are talking to a friend.
Most importantly, don't ever be afraid to tell a story.