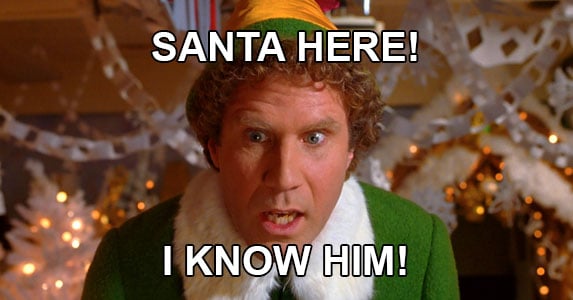 If you haven't posted any holiday posts on your Facebook page yet, you're WAY BEHIND!
But that doesn't mean you can't start now!
Today I'm going to show you 5 holiday Facebook post ideas you can use for the rest of the year... starting TODAY!
So quit procrastinating and take advantage of this festive time of year! Use it to bless your Facebook fans with good vibes and irresistible last-minute holiday giveaways.
If you're stumped on what to post during these last few weeks -- these 5 awesome holiday Facebook post ideas are the gift you've been waiting for all along. :)
5 Holiday Facebook Post Ideas to Get You Through the End of the Year
1. Give back posts
This one's simple. Go out and help some people who need it!
Then document the story and encourage others to do the same.
Not only will it help your local community and make your team feel the holiday spirit -- it will also add some love to your Facebook page!
There are so many options here, but I'll list a couple examples that could be done in the next 24 hours:
>> Volunteer at a soup kitchen
Grab some co-workers and head down to a local shelter. Document the occasion with photos and share them -- tagging all the associated organizations to thank them for the opportunity.
>> Adopt a family
Go out and shop for a family in need in your community. Wrap the presents -- take short videos and share them. It will not only make the family's holiday a joyous one, but it will also be a great bonding experience for your team.
2. Crowdsource holiday-themed posts from your team
This can be as simple as asking your employees to share their favorite holiday recipes, taking a quick pic of the employee, and then captioning the post:
This is John from customer service and his family holiday cranberry bread recipe.
Add a link to a blog post with the recipe -- or if it's simple, list the preparation steps in the caption.
Richter7 posted this about their office decorating contest to get employees involved in their holiday Facebook posts:
3. Celebrate Kwanzaa and New Year's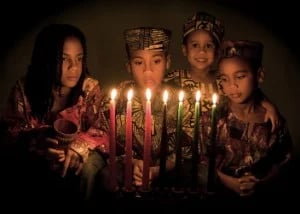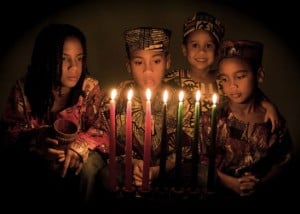 Because not everyone celebrates Christmas, post about other year-end holidays to spread the love!
Try posting facts, interesting photos and good wishes about Kwanzaa and New Year's.
Or something simple like:
Did you know Kwanzaa is celebrated with red, black and green? These three colors were important symbols in ancient Africa.
Include a powerful photo of Kwanzaa celebrations and target your content to reach sections of existing or potential audiences that may get overlooked this time of year.
Meanwhile, as folks ring in the New Year, hit 'em with a seasonal status update that provokes a quick, knee-jerk response.
Luckily, Post Planner's Status Ideas Engine has thousands of these ideas! For example, try using these ones to boost your Facebook engagement in the next 10 days:
What will you be doing differently in 2016?
The one word that best describes January is _______.
Q: What are the top future headlines or stories (imagined, desired) of 2016?

What are you most looking forward to this year? Any big events coming up?

Fill in the blank: I'm most looking forward to ____________ this winter.

Hope everyone had a wonderful holiday! Now on to the next one... Don't forget to include a [YOUR PRODUCT]!

Click LIKE if you're ready to take down the decorations already!

[YOUR BRAND] loves to warm up by the fireplace. What's your favorite thing to do over the winter holiday?

Every year we make a resolution list and every year we break at least one within the first 30 days. (insert a hearty sigh here.) So, what's on your list?

It's hard to believe that 2016 is almost here! What are your top 3 favorite moments of 2015?
The Status Ideas Engine also has tons of well-crafted Christmas-themed posts as well:
Do you plan to stay out of the kitchen this holiday or do you prefer to chip in and help?
When Santa comes on Christmas Eve, do you leave him cookies or [YOUR PRODUCT]?

By a show of LIKES, how many people still believe in Santa?

My parents' hiding place for the presents was __________.

So far, I've bought __________ gifts.

Buying presents: last-minute shopper or well in advance?

Click LIKE if you like driving around and checking out other people's Christmas lights.

The one Christmas carol I can never get out of my head is __________.
TRUE or FALSE: consumer marketing during Christmas has gone a bit too far.
All time best Christmas movie ever = __________.
I'll probably drink a total of _____ cups of eggnog this holiday season.
Christmas lights: tasteful and simple or all-out neighbor-shaming extravaganza?
4. Run holiday giveaways and contests!
'Tis the season of generosity and giving back! So of course giving things away to fans is a wonderful way to increase engagement and get people talking about your brand.
Simple contests such as posting photos of prizes and asking for likes/comments work well.
You can get even more into the holiday spirit by hosting a last-minute giveaway for fans who submit:
the ugliest Christmas sweater photo
the most extravagant Christmas tree photo
the most awkward or creative family photo
the tastiest holiday recipe
the cutest letter to Santa Claus
5. Make awesome gift suggestions
If you run a Page that doesn't sell products suitable for holiday gifting, feel free to suggest gift ideas to fans based on your industry.
Give them last minute ideas about what to buy their friends and family members. Trust me, they'll appreciate it!
For example, a business coach could suggest the best business books, coolest tablet, or the best Bluetooth model for the executive in the family.
According to Mashable, 67% of shoppers purchased a gift they found on social media.
So if you suggest an awesome gift idea -- you might just gain a fan for life!
Deck the Halls with Posts of Jolly!
Ok, get out there and make joy happen, my friends!
And since we're in the holidays homestretch, here are a few more resources to help you craft some kick-ass, last-minute holiday Facebook posts:
What's next? Ready to up your visual game on Facebook over the holidays?
You'll be glad you did. Grab your copy of our free ebook below!