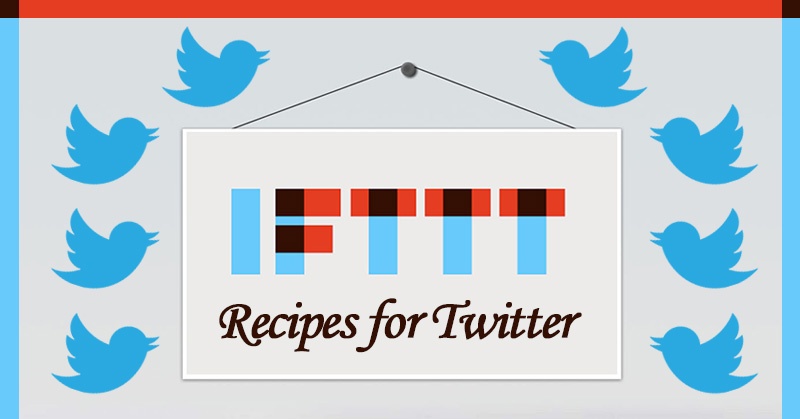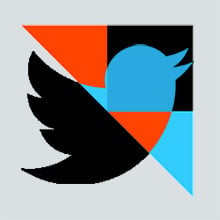 Need to automate small tasks to save time on Twitter?
Then IFTTT recipes are for you!
IFTTT stands for "If This Then That". It's an app that lets you create powerful automations (called "recipes") between different apps & services.
Why is this cool?
Well, why do things yourself when you can have your personal secretary -- IFTTT -- do it for you?
Each IFTTT recipe is unique -- containing (1) a trigger (the "if this" part) and (2) an action (the "then that" part).
The action is triggered by the, yes, trigger.
For example, let's say you want your Twitter profile pic to change when you change your profile photo on Facebook. No problem! Just set up an IFTTT recipe & it's done.
(I'll show you how set up this very recipe below!)
And I'm sure you'll see that IFTTTs are a great way to create Twitter hacks, Facebook hacks, and all kinds of others hacks. The possibilities are endless!
But here are 9 recipes to start you out. And once you start using them, you'll wonder how you ever did without them.
>> Click to Tweet <<
WARNING: These 9 Awesome IFTTT Recipes for Twitter Are Dangerously Efficient
You can use an IFTTT recipe to automatically add somebody to a Twitter list when they mention you on Twitter.
I used this shortcut to add 380 people to this list.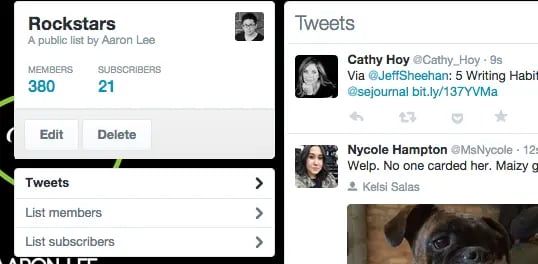 This IFTTT recipe lets you easily archive tweets to Evernote -- so you can search & access them via the powerful search functionality of Evernote.
Here you can set up an IFTTT recipe that adds somebody to a Twitter list when you "favorite" their tweet.
Here, I favorited Ross Quintana's tweet: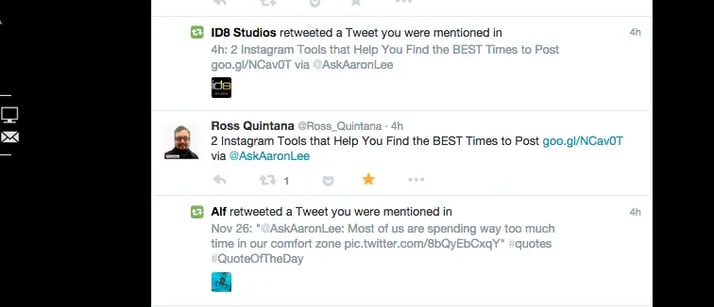 And BOOM!
Ross was added to my Twitter list.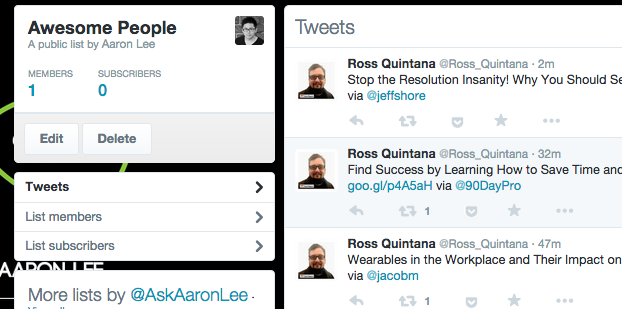 When you change your profile pic on Facebook, this IFTTT recipe changes your Twitter pic at the same time.
This way your branding stays consistent on both social platforms!
This IFTTT recipe is useful for archiving your tweets on a Google Spreadsheet.
This spreadsheet has served me well: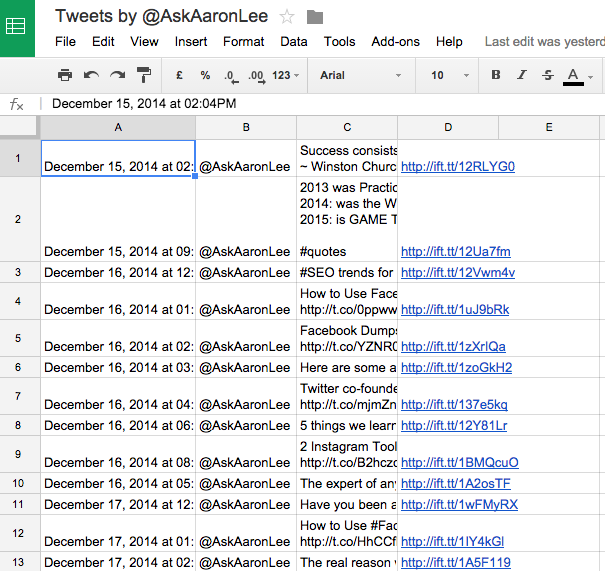 I use this recipe to post my Instagram photos on Twitter.
If you use Pocket, this IFTTT recipe is for you!
IFTTT helps eye your favorite tweets & add the articles to Pocket for you to read later.
Love it!
Whenever you publish a new blog post, this IFTTT recipe will post a link on Twitter.
I use it all the time!
Another spreadsheet recipe!
This one adds the tweets you "favorite" to a Google spreadsheet.
Conclusion
It might take you a while to get used to using IFTTT.
But once you get the hang of it, it'll change your life!
Let's review the IFTTT recipes I showed you in this article:
Automatically Add Those Who Mention You to Twitter List
Automatically Archive Tweets to Evernote
Add "Favorite" Tweets to a Twitter List
Change Facebook and Twitter Profile Pics Simultaneously
Add Tweets to Google Spreadsheet
Post Instagram Photos on Twitter
Add Favorite Tweets to Pocket
Tweet Your Blog Posts
List Favorite Tweets on Google Spreadsheet
Please share your favorite IFTTT recipes in the comments below.