In spite of having some healthy competition, Facebook remains the premier place for brands to engage with people.
Even if you decide to create a presence elsewhere, it only makes sense to have an active and engaging Facebook page.
Not only that, Facebook is reaching out to business owners now more than ever. For example, if you create a presence on Facebook, you can engage with your audience through messenger using a Chatbot.
You can also market and sell your goods and services through Facebook Marketplace for business.
Check out these Facebook engagement statistics:
At first, the task of creating an effective Facebook presence may seem daunting. In truth, it's easier than you think. Here are 4 easy steps to creating a successful Facebook page.
Want to create a super successful Facebook page for your business? No problem. Just implement these 4 easy steps and you'll be up and running in no time!

Click to Tweet

4 Easy Steps to Creating a Successful Facebook Page for Your Business
1. Create Your Profile And Page
If you want to create a Facebook page for a business, online community, brand, or public figure start here. This is where you'll take the first steps of filling out the information required to create your page.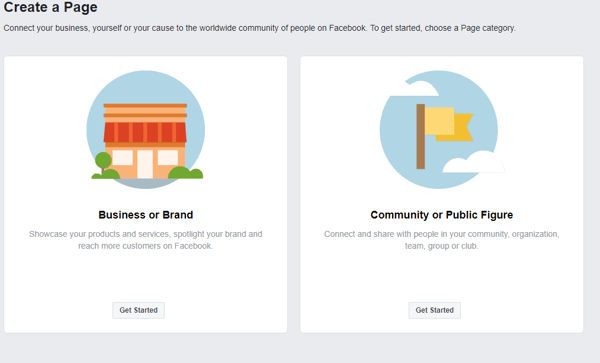 Pick one of the options available. If you have tried to create a Facebook page in the past, you may have noticed some additional choices.
For example, there was an option to set up a page as a band or musician. Today, these options have been streamlined to the two you see above.
Next, fill in the name of your page and a description. Obviously, the name you choose should reflect your business name, or what you use in marketing your description.
To choose a business description, begin typing what you think will fit best. A drop-down menu will open for you. You may choose the best option.
For example, if you plan on selling various products online, you might select 'ecommerce business'. This will open up several more fields for you to complete.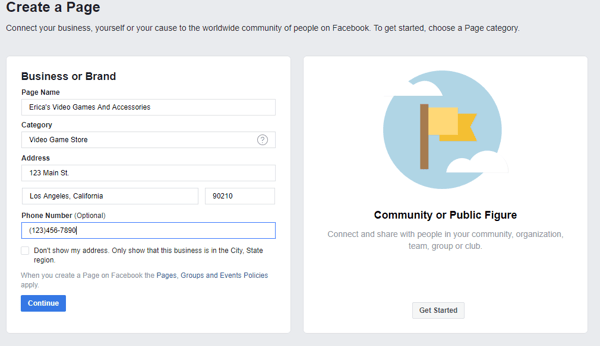 Remember that your profile information is searchable. Fill out completely, and make sure it's accurate. If anything changes, don't forget to come back and adjust your profile.
Also, if you want to change your category in the future, you can do that. The idea is to optimize your new page both for Facebook search and for external search engines like Google.
At this point, there's only a couple of steps to take until your page is completed. Two of these steps are really important.
You need to upload a profile picture and a background photo. These will become the visual branding elements of your business on Facebook. Choose carefully.
Facebook will assign your page a random URL. If you want, you can change that so that it is more memorable, and reflects your brand.
You can check out these instructions to get this done. Keep in mind that a branded URL is significantly easier for people to remember.
2. Cover Photo & Profile Picture
Now back to the pictures. Kendra Williams, a social media specialist at Rated by Students, has this to say about your best profile picture options,
"Your profile picture should either be your logo, or a very nicely done portrait. Choose the one that best represents your company. If your presence is more 'behind the scenes', then you should probably go with a company logo. If you are the 'face' of your business, then use a picture."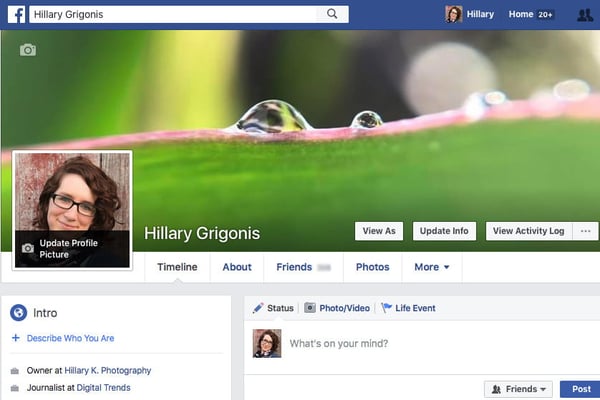 Keep in mind that being memorable is important. So is consistency. Don't change your profile picture on a whim.
Unless you are undergoing a logo change or some other form of rebranding, this image should be pretty static. Remember that you want repeat visitors to recognize your page immediately.
You can be a little more creative with your cover photo image. In fact, there are tools like Canva which you can use to build a creative and attention-grabbing background image. I
If you aren't comfortable using a tool to create your own cover photo, you might consider hiring a professional graphic designer.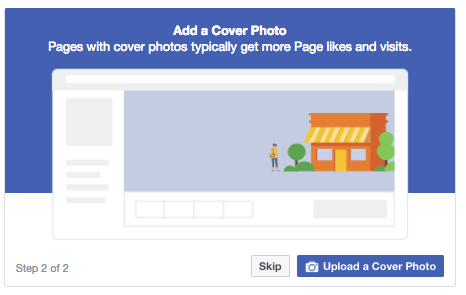 The cover photo is going to be one of the first things people see when they find your page on Facebook. It might be worthwhile to invest in professional services. It's a small but important element.
Right now, the size of your cover photo is going to be 182 x 312. Just remember that this can change, and you might need to adjust it in the future. Here are a few tips to create a great cover photo:
Use the same color scheme that you've chosen for your brand.
The text is okay, but it should be mostly visual.
Use your cover photo to showcase your products.
Consider using pictures of your customers
Unlike your profile picture, you can and should consider changing out your cover photo sometimes. For example, you can change it out to reflect seasonal offers or special events.
3. Select Your Collaborators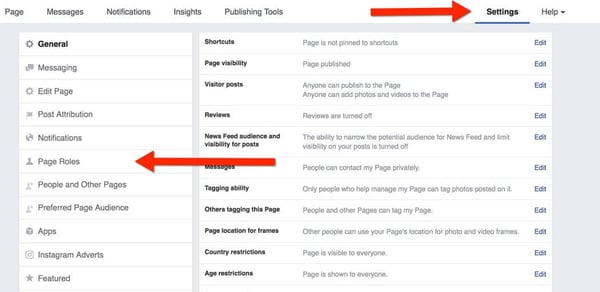 Facebook has created five official roles. You can assign these to members of your team, or do everything yourself. The first role is the admin. That's you.
You can make any changes to your page that you want. You can give other people admin privileges as well. Other rules include:
Moderator - Respond to and delete comments on the page. Create ads. View which admin posted a specific post. View Facebook insights. Create posts on the page.
Editor - Send messages as the page. Make changes to the page.
Analyst - View insights, and determine which admin made a post.
Advertiser - Determine which admin made a post. Create ads. View Facebook insights.
To add people to roles, go into settings. There you will see a 'Page Roles' option. Choose team members for roles carefully.
It takes a special personality to be able to engage customers successfully.
4. Creating Your First Posts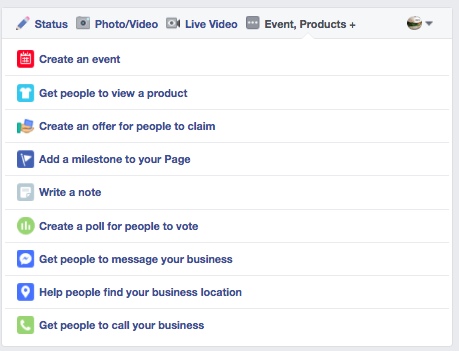 Now that your page is set up, and you've got the right people to help, it's time to get active. That means posting and engaging with your audience.
The quality of your posts will really determine how successful your page is. Don't just jump in. Put some thought into your initial posts. They're essentially your introduction to the Facebook world.
Jared, a blogger for IS Accurate says, "Your first posts should really set the right tone. They should inform people about your business, and really reflect your branding. If you have something important that you want everyone to see when they visit your page, consider creating a pinned post. This will be at the top of your page"
It's a good idea to treat Facebook like any other content marketing platform. 80% of your posts should be informative, relevant, even entertaining.
This includes tips for using your products, advice, even general interest content. Know your audience, and what interests them. The remaining 20% can be promotional. These would be posts about sales, product announcements, posts linking to landing pages, and other similar content.
Consider doing some competitive analysis as well. Identify which businesses in your niche are really creating successful engagement on Facebook. Then, take a look at what they are doing in terms of engaging with their audience, content they are sharing, whether or not they are using Facebook live, etc.
Facebook is also a great platform for promoting your on-site content, and driving traffic to your web pages. Any time you publish a blog post or other content, that should always be followed by promotional posts on Facebook.
To do this successfully, you'll need two things. The first is content that's worth sharing. The second is the ability to write promotional posts that encourage people to take action. The good news is that there are plenty of tools and resources to help with both.
Conclusion
The process of creating in Facebook page for your business can seem intimidating at first. in truth it really isn't that difficult.
Break things down into these four simple steps and follow them to create your page, and begin engaging with your audience, then be prepared to remain active on the platform to get the best results.
What are your experiences with using Facebook for your business? Have you run into any problems that would be worth others noting?
Even better do you have any tips or best practices? Which brands do you think do the best job when it comes to creating Facebook engagement.