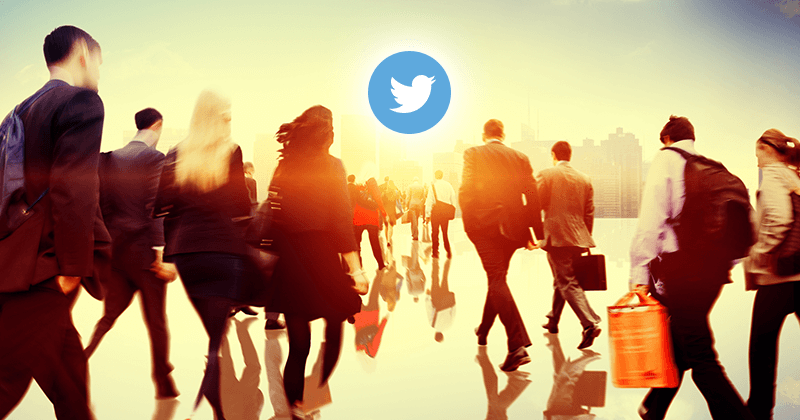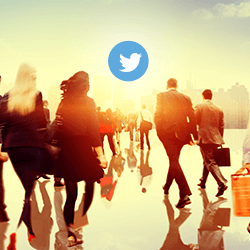 Building a strong, loyal Twitter following can be tough!
This might sound familiar...
You've spent hours and hours sending thoughtful tweets, retweeting, and commenting on content in your network.
But all of a sudden -- your growth flatlines. Your engagement starts dwindling.
No matter what you do, you can't seem to move the needle on your follower count.
Your followers seem lost in the Twitter noise -- and you're not seeing any traction.
I promise you're not alone.
With over 300 million active Twitter users, standing out in the crowd isn't easy -- especially if you're just repeating the same Twitter patterns day in and day out.
Now for the GOOD news!
The team here at Post Planner put their collective brainpower together to come up with 6 awesomesauce ways to grow your Twitter following.
These are things you can start doing immediately so you'll see progress TODAY!
No more spinning your wheels and feeling frustrated at your lack of momentum.
Are you ready for some relief? Read on!
6 Best Ways to Get More Twitter Followers for Your Business
6 Best Ways to Get More #Twitter Followers for Your Business - bit.ly/20q4xNU (by @MarketingLMC on @PostPlanner)

Click to Tweet
1. Get More Twitter Followers by Crafting an IRRESISTIBLE Bio
In addition to your avatar and background image -- the first thing people notice when they look at your profile is your bio.
It needs to stand out and help people really understand at a glance who you are. You want them to immediately WANT to connect with you.
Remember -- your bio allows for 160 characters. You have a lot of space there, so use it and use it right!
Here are 7 helpful tips for writing a great bio:
Use keywords to attract your desired audience.
Embrace the space -- the bio is your 160-character elevator speech!
Tell us what you do or believe in -- vanilla is popular only in ice cream.
Include the name of your company (and link the website).
Avoid meaningless buzzwords -- I mean, what's a "lean entrepreneur" anyway?
Add social proof -- don't be afraid to mention honors, positions and achievements
Use humor (if you don't have any, borrow some).
Also, be sure to include the hashtags you want to be associated with in your bio – they will show up in Twitter search.
But beware of the spam trap (aka don't look spammy!) -- don't overuse hashtags in your bio. Just choose a few relevant ones that align with your brand.
A few helpful questions to ask yourself when choosing the hashtags for your bio:
What's my niche?
What are the hashtags I want people to associate with me? (do some hashtag research)
What are the people I want to connect with going to search for on Twitter?
Some of my favorite bios are from my colleagues here at Post Planner!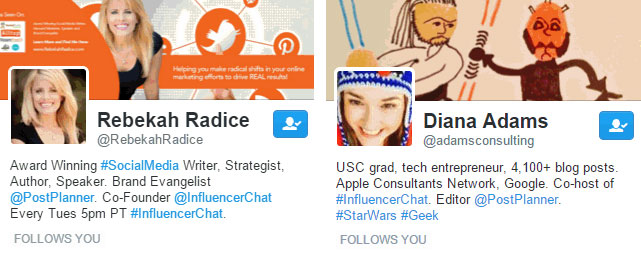 2. Get More Twitter Followers by Telling Your Story!
Great social media storytelling has become an art form.
Storytelling is a genius way to attract people by sharing details about your business that they might not find out if they didn't follow your tweets.
It's a way to connect with people on a deeper level by humanizing your business.
Want to learn more about how you can become a better social media storyteller?
Ahna Hendrix talked about this in a #ViralChat recently. Read more at How to Use Storytelling to BIG UP Your Brand on Social Media.
So many people have asked, "How can you fit anything meaningful in a 140 characters?"
Well, anyone who's a Twitter addict will probably roll their eyes, say, "What are you talking about? How can you not fit something meaningful in 140 characters?"
The key is to be personal -- let people see the real you.
Don't worry about being super stiff and "Oh, I have to be all business" or "Am I going to say the wrong thing?"
Just be honest!
Pretend you're talking to people who are coming over to your house for a dinner party. Let your Twitter followers see that side of your personality.
And over time as you tell your story -- people will remember it and relate to it.
That's where the meaningful relationships come from on Twitter.
Of course, it's up to you how much you want to share -- everyone has a different comfort level.
Just think to yourself, "What are those wonderful little things about me that people will automatically be drawn to -- that they'll want to engage in a conversation with me about?"
3. Get More Twitter Followers by Strategically Using Twitter Lists
I think this is one of the most underused features on Twitter -- a lot of people don't realize how to use them.
Twitter lists are where you can manage all of those relationships you're building. They help you keep track of the important conversations.
And there are tons of creative ways to use them! Our friends at Buffer came up with some great ideas. Check them out at 23 Seldom-Used Ideas for How to Use Twitter Lists.
One of the most common ways to use Twitter lists is to filter tweets.
For example, if you're following 5,000 people but there are only 300 of those people that you want to make sure you don't miss their tweets -- you can set that up on a list.
Another great use is to organize and categorize Twitter accounts you follow -- put them in a list! For example, a special group in your community: "Favorite Bloggers" or "Digital Influencers."
Twitter lists are a great way to get laser-focused on those people that you really want to go deeper with -- those people you want to build a relationship with. Begin this process by keeping up-to-date with their tweets and their relevant conversations surrounding your niche.
Post Planner CMO, Rebekah Radice, suggested another great use for Twitter lists. She uses them to keep up with all her new contacts from conferences and events.
You can take that one-on-one, in-person networking you did at an event to a new level by extending the conversation beyond that day. -Rebekah Radice
You can see the lists that Rebekah has created over the years (and the ones she subscribes to) by going to @RebekahRadice.
Pro Tip - Don't forget to add yourself to your Twitter Lists. If someone subscribes to one of your lists -- you want to be included on that list!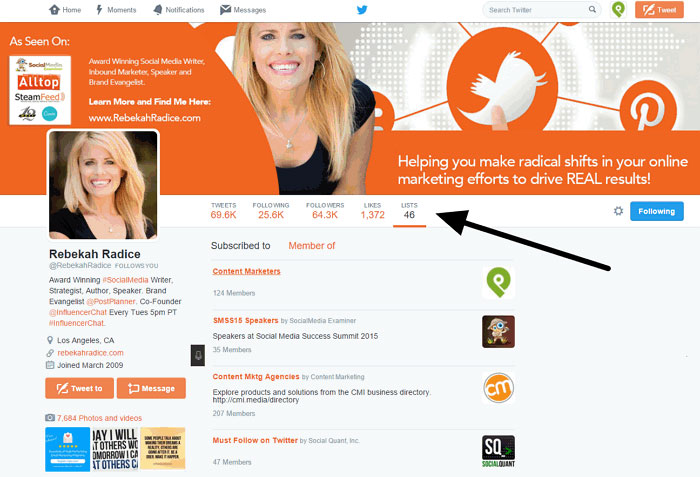 4. Get More Twitter Followers by Being More Visible... TWEET MORE!
That's right.
Whatever you're doing now, step it up.
People always ask, "How much and how often should I be tweeting?"
The answer to that depends on your Twitter goals.
Why are you on Twitter in the first place?
What are your strategies?
What are you there to accomplish?
How many followers do you have? How many followers do you want?
There are lots of things to consider.
The quantity of your tweets matters -- but quality always trumps quantity.
We recommend that you tweet as often as you can while still being able to send out high quality info and engage with your followers (to build those important relationships).
You want to build a community -- not just set your account on auto-pilot.
If you spend an hour or 2 curating content to post throughout the week and then schedule it, that leaves you more time to engage with your followers on a daily basis.
Don't forget to plan time for that engagement each day. Make a commitment. Put it in your calendar.
If you're using Twitter as a marketing tool, I would say 15 minutes in the morning and 15 minutes at the end of your day (maybe more -- depending on how large your following is).
Just get in there and interact… acknowledge people and the fact that maybe they've shared something of yours or they've responded to something of yours.
Check your Twitter analytics. Where do your followers live? If they're global -- be sure you're tweeting in more than just your own time zone.
Scheduling your tweets is the key to tweeting more... which brings us to our next point.
5. Get More Twitter Followers by Scheduling Your Tweets (Do this PRONTO!)
It's important to note that scheduling and automating tweets are 2 completely different things.
Automation is when you just put everything on autopilot, whereas scheduling and queuing up your content is strategic.
For example, you're going out and you're finding content that is relevant to your followers, and you are scheduling that content.
When you schedule your tweets -- you're consistent across Twitter, regardless of what time of the day it is. You free yourself up so you're not constantly on the hunt for great content.
You can come onto Twitter and engage for a few minutes instead of feeling like you've got to be sitting on Twitter 24//7.
On the other hand, if you automate everything and never check in -- you're just signing up to have someone's feed post to your Twitter account.
You don't know what kind of content you're putting out there. Remember -- it's your brand! Everything you put out there is you.
Post Planner Editor Extraordinaire, Diana Adams, recommends scheduling all of your posts for the entire week on Sunday night.
Then you don't have to stress about it during the week. Just pop into Twitter throughout the day and engage. It's makes it all very simple. -Diana Adams
Post Planner adds to that simplicity because it allows you to schedule content based on your custom posting plan.
You select which times you want posts to go out -- and even decide which type of content (links, photos or status ideas) you want at which time.
This allows you to be hyper-strategic about how you're planning your content. You can read more about that at How to Plan Your Posts to Get More Engagement.
Here at Post Planner we have a global fan base, which means we need to have content tweeting 24 hours a day.
As a result, this is what our posting schedule looks like (we schedule 14 posts per day):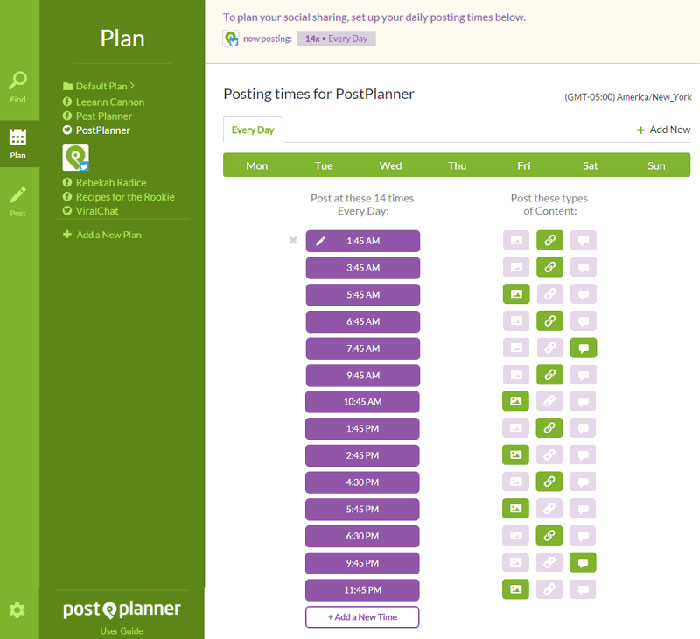 The reason we post our content at :45 past the hour is in hopes of catching people when they're browsing Facebook and Twitter while waiting for their next meeting or appointment at the top of each hour!
Of course there are times we tweet more. For example -- if there's a live event (blab, webinar) coming up or a new infographic or ebook we want to promote.
But regardless of that added content, we have peace of mind knowing there's always carefully chosen content for our audience being shared every day.
6. Get More Twitter Followers by Connecting with NEW & Interesting People
One of the best ways to find new followers is to participate in Twitter chats.
It allows you to build credibility in your community and find people with similar interests.
Not sure HOW to participate in a Twitter chat? I've got a cheat sheet for you:
The most basic way is to follow the hashtag on search.twitter.com
Or use a tool like TweetChat or Tweetdeck
Twitter chats are Q and A format
The host will ask Q1) and you answer A1)
Always include the chat hashtag with your answers so it shows up in the chat's feed.
You can reply to the person who sent the question -- or introduce all your followers to the chat and encourage their participation. In that case, you would begin the tweet with A1) instead of typing the tweet as a reply.
If you're about to join a Twitter chat and plan on a large number of tweets/retweets, it's always polite to post to your following beforehand and say something like, "Please excuse me while I power tweet for one hour during XYZ chat." (Here's an example)
Be positive, be helpful, offer helpful advice and insight
You don't have to stay for the entire chat (no guilt)
Storify is great for a quick recap for people who might have missed it (and for a review)
Next step: Make a Twitter list of everyone you want to connect with in the chat and start engaging with them.
And if you haven't been to Post Planner's #ViralChat, you should come! You're officially invited. We're pretty awesome and love making new connections. (It's on Thursdays at 6 pm PT / 9 pm ET)
Here's an example from last week's #ViralChat using TweetDeck to manage the conversation: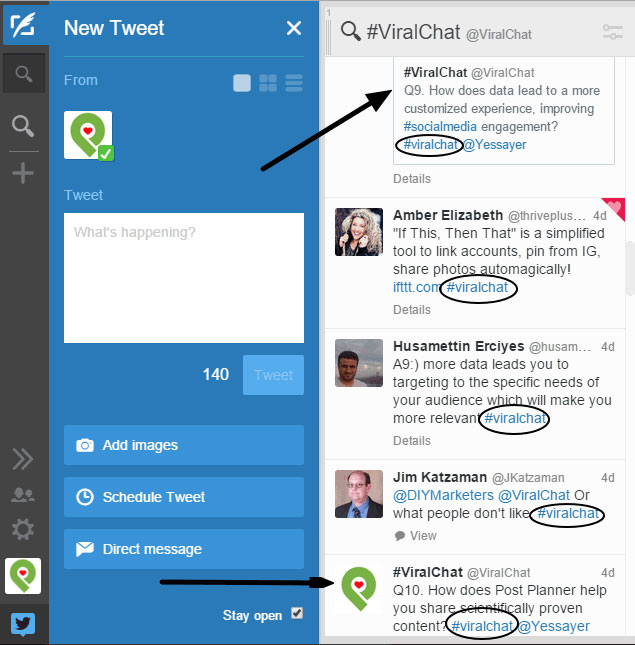 Final Thoughts
To grow your Twitter following, it's all about finding that sweet spot of content for those people you're looking to connect with.
Be consistent. Get yourself into the conversation.
Set yourself up for success by completing your bio, and letting people get a strong sense of who you are and what you're about.
Don't forget to use Twitter lists and a scheduling app to make managing your conversations and content SO MUCH EASIER!
Most importantly, have fun with it!
By implementing these 6 strategies today, you'll be sure to take your Twitter following to the next level!