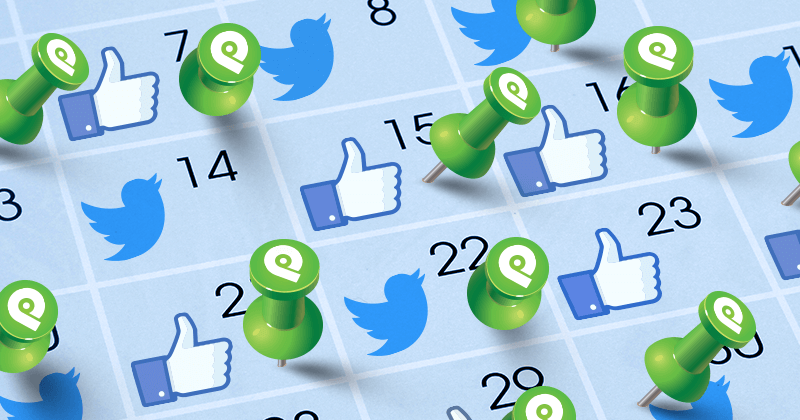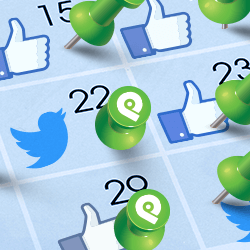 Are you struggling to plan your social media posts?
Ever wonder what type of content gets the most likes, clicks and shares?
Sure, it's easy to schedule an interesting post every once in a while, but what if you could hit the mark every time?
And not just that, but what if you had the exact formula for the perfect mix of social media content?
My guess is that you'd want to change how, what and when you post, and you'd want to do it right now.
That's where our most recent Post Planner Bootcamp training comes in. During week 3, I took the ideas shared in week 2 (Didn't watch it? Check it out here.) and expanded on the idea that you can not only make smarter decisions, but more accurate ones as well.
How do you do this? Easy.
Use other people's proven content and then add that to a variety of other types of media. That could be photos, videos, links, status updates -- the key is to mix it up.
But more than that, it's creating a consistent plan to share that content.
Want to learn how?
If you're ready to earn more clicks, likes, comments and retweets, read through this roundup up of our latest training and watch the video (you'll find it at the end) to rev up your social media engagement!
How to Plan Your #SocialMedia Posts to Get More Engagement - bit.ly/1nnIC8O (by @Yessayer on @PostPlanner)

Click to Tweet
How to Plan Your Social Media Posts to Get More Engagement
The best way to explain how to strategically distribute your social media content is to use my fishing analogy.
Not familiar with it? Let me boil it down for you.
To improve social media engagement, you need to attract and catch the fish. (your audience)
To kickass on social media and get your fans and followers interested, you're going to need 2 types of content - chum and baited hooks.
I'll show you how to put your social media fishing on an AUTOMATED Plan so you know you're sending out a nice balance of chum and baited hooks. We're also going to talk about how to AUTOMATE variety.
First, let's talk about the actual distribution of the chum and baited hooks content.
We Eat the Dog Food
As the example for everything we talk about today, I'm going to use our own Facebook page and Twitter account.
Yes, Post Planner's very own.
Why?
Because we eat the dog food!
On our About page, you'll read that:
We use the tools we build. We follow the advice we give. We demonstrate and prove the value we offer.
So when you hear me giving you advice in the video below, please know that I'm not just recommending what I THINK might be good.
I'm recommending what we actually DO. And get HUGE results doing.
I'm going to show you how we at Post Planner use our own app on our own social accounts to:
Strategically plan our posts
Automate our variety
Recycle our best posts
Let's go back to our fishing analogy
What's the first thing you're going to do to catch some fish? You're going to chum the waters!
To kickass on social media as a business, in any industry, you need to chum the waters.
Your chum content is engaging visual content that gets a lot of engagement and clicks.
You want to throw the chum out there to attract the fish to the boat. They get chomping and biting... and it's a feeding frenzy.
Your chum content can be a viral photo or a funny meme -- anything that drives engagement.
Each time someone engages with that chum content, Facebook is notified that the person wants to see more of your content -- and Facebook will start showing your content to more people.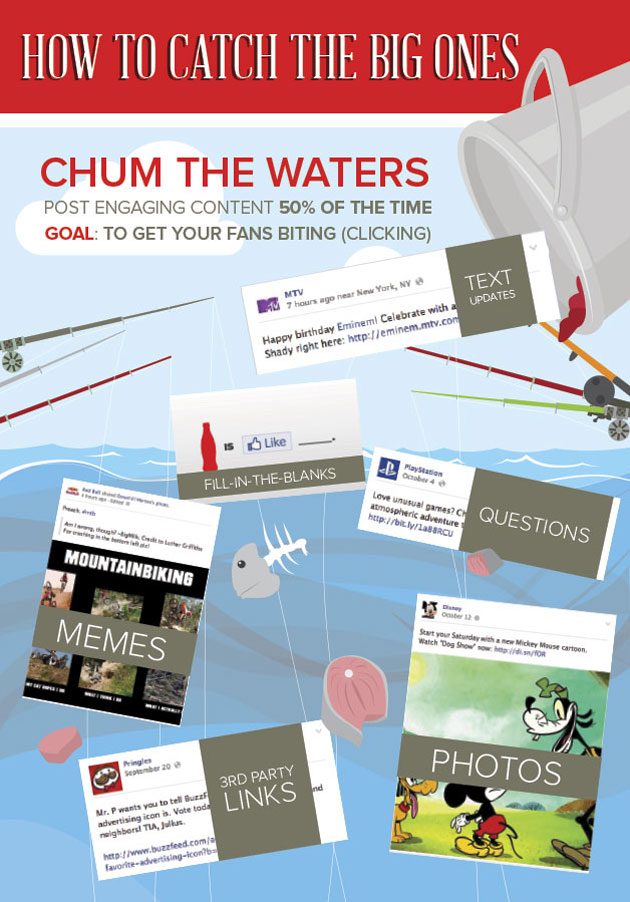 Your baited hooks content links back to your blog, landing pages and/or website.
Examples of these would be your blog posts, infographics, ebooks, tutorials, videos, etc.
Once you've chummed the waters, you want to throw in your baited hook.
They'll bite on that too!
Those baited hooks are what turns people into customers, which drives your business forward!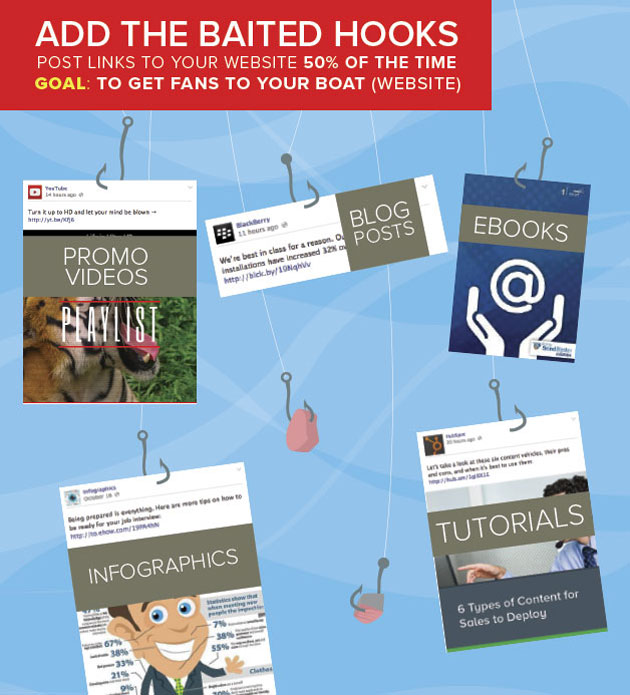 Those fish you catch will go into your sales funnel.
Eventually, you'll get some money from that fish, which will help you survive and thrive as a business!
You need a variety of chum and baited hooks.
It's important to mix it up!
This principle drives our social media, and it could be a best practice for you also
Look at the Post Planner Facebook page and Post Planner Twitter page.
You'll see a nice variety of chum and baited hooks.
How do you think we made this variety happen?
Did we do it manually?
Did we create a baited hook post with one of our blog posts, schedule it, then create a chum post, schedule it, etc etc?
NO!
We automated it all with Post Planner.
Automate your post variety so you aren't doing it manually!

In Post Planner, that's easy. Yep, we've automated variety into the Post Planner app!
In this image, you can see that we chose which types of content (chum and baited hooks) will post in which time slots we have selected.
You can do the same thing.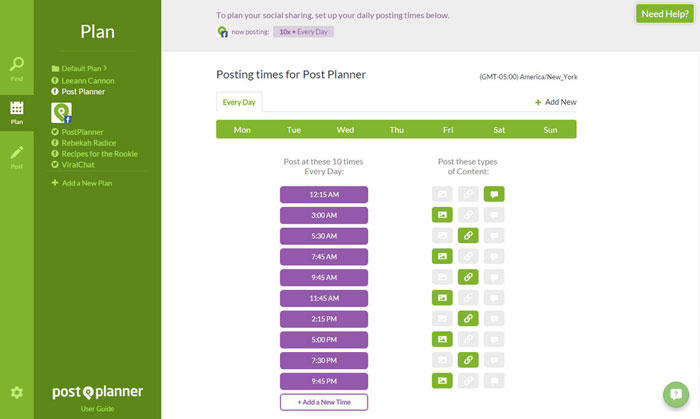 When you automate the variety in your posts -- you'll get the benefits of bigger reach/engagement on chum causing bigger reach (and CLICKS) on your baited hooks!
These are benefits on the results side -- the outputs side.
But what about benefits on the inputs side? On the side where the work is done?
Biggest benefit for time savings?
BATCHING!!
After you've planned a batch of your baited hook posts (your evergreen content) -- spend an hour finding a batch of chum content, and then plan those posts.
Use the recycle feature on Post Planner to continuously send out those baited hooks.
That's right, RECYCLE!
We have our baited hooks on total automation. We add them once, then forget about them -- they're on AUTOPILOT. We continuously feed them back into the social ecosystem.
Again, this makes the batching of our chum creation a totally separate and enjoyable, stress-free task.
I can rest assured, knowing I always have baited hooks going out, every day, multiple times per day.
Then I can go in once a week or once every couple days (if I really want to find the newest, hottest content) -- and batch plan a bunch of chum posts.
Conclusion

The full training replay video below explains all of this in more detail. Be sure to watch it so you can plan your social media posts to get more engagement starting today.
Here are the 4 takeaways:
1. You need chum and baited hooks
You need the chum (engaging visual content) to drive up your engagement.
Facebook notices who likes, comments and shares your content -- and will show your content to more people based on the engagement on your chum content.
You need baited hooks to drive people back to your blog, landing pages and/or website. This is how you are going to turn those people into customers!
Here's an example of chum on the Post Planner Page: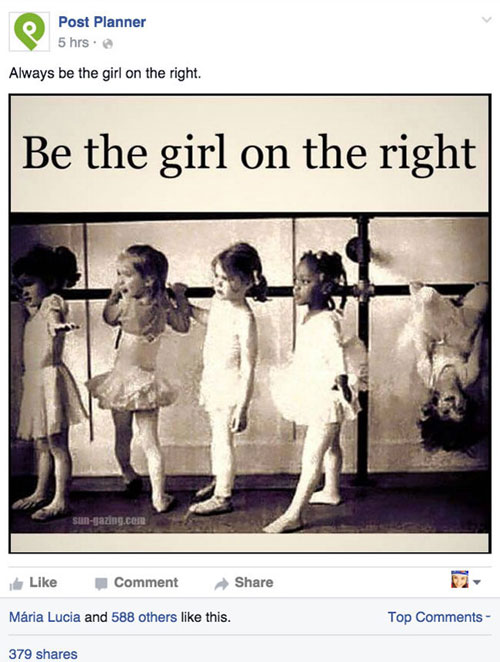 And here's a baited hook, which followed the chum 2 hours later: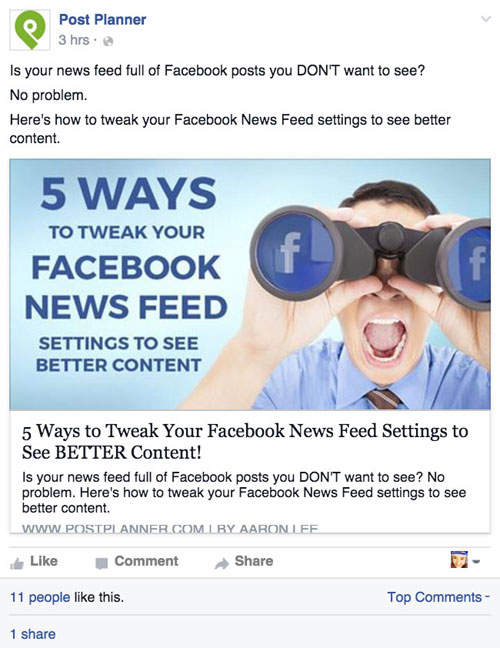 2. You don't need to plan these posts manually
Automate that with the PLAN feature in Post Planner.
With just a few clicks, you'll be able to choose which time slots you'll post chum and which ones you'll post baited hooks.
After that -- plan your posts in batches.
You can relax knowing that the right type of content will go out at the right time, automatically!
3. You should be batching your post creation
You'll save a ton of time by batching your post creation!
Instead of planning one chum post, then planning one baited hook post, etc. -- plan them in batches.
Spend an hour every week planning the best chum you can find -- and spend an hour every week creating and planning your baited hooks.
Don't let it be a pain in the ass -- batch it!
You'll get more insight and be much more efficient.
4. You should be recycling your evergreen content
Your evergreen content is timeless -- and it will continue to drive traffic back to your website over and over if you recycle it.
The recycle feature in Post Planner will allow you to plan your evergreen content once -- and then you never have to think about it again.
It will continuously be doing its job by driving that traffic back to your blog, landing pages or website.
Put that content on autopilot so you don't have to think about it.
Just know it's going out consistently -- and driving people back to your website every day.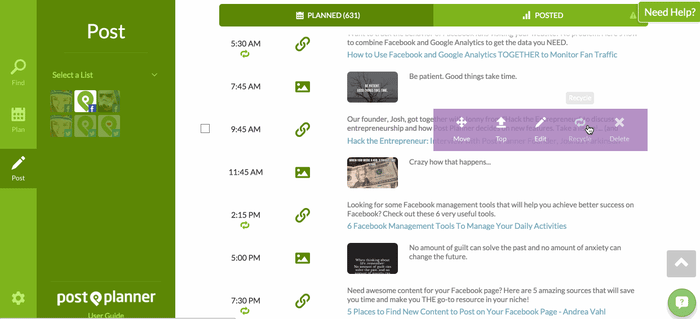 Want to learn even more about how to manage your social media posts? Join us on our next live training on January 27th at 11 am PT | 2 pm ET.
Watch the Full Training Replay