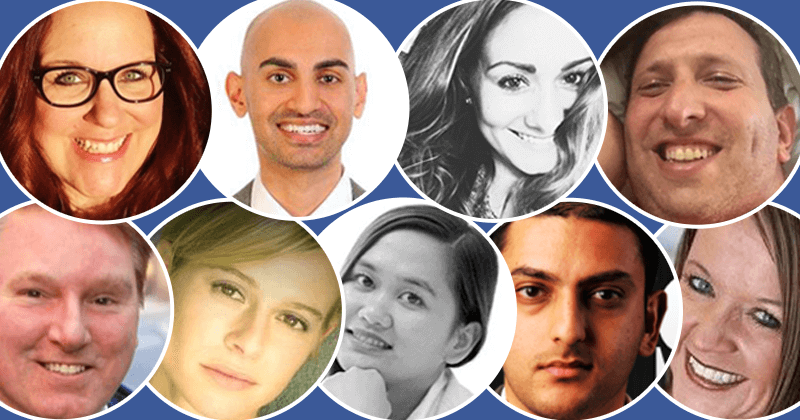 Having trouble finding great Facebook content to post on your page?
Tired of Googling for content only to find the same old boring stuff?
We can help!
I confess, I used to use Google to search for images to post on my Facebook page.
I would search for keyword phrases like "motivational quotes" or "motivational quotes for Facebook."
It's an easy way to go about it. After all, you only have to wait a few seconds and then voila... Google does the work and shows you what to post.
Here's the problem...
It's time consuming to come up with new phrases to type in -- and worse yet -- the content is repetitive.
Pretty soon, the same old stuff keeps coming up. Plus, since that content is SEO optimized, other people will be searching and posting the same exact thing.
My desktop got very MESSY when I was doing this. At one point, I had over 20 different images I had saved to post.
Finally, I realized there had to be a better way. All that was too much work!
Does any of this sound familiar? I bet some of you have gone through the same thing too.
These days, Facebook is putting more weight on quality content.
Will your posts pass the Facebook quality content test? Ask yourself these 5 questions:
Is it timely and relevant content?

Does it come from a trustworthy source

Would you share it with friends or recommend it to others?

Would you call this a low quality post or meme?

Would you complain about seeing this content in your news feed?
Facebook also has an algorithm that determines:
The time people spend reading an article
The time people spend looking at a Facebook post
There are just so many factors to consider when choosing what to post on Facebook.
Today, I thought it would be fun to find out how the experts find great Facebook content to post.
These experts share amazing Facebook content on a daily basis. It would be fantastic to learn from them as they share the tips and tricks up their sleeves.
This post includes tips from:
Peg Fitzpatrick
Neil Patel
Dave Kerpen
Ahna Hendrix
Glen Gilmore
Lucy Rendler-Kaplan
Ravi Shukle
Pam Moore
This is going to be great! Let's get started.
9 Expert-Endorsed Tactics to Find Great Facebook Content
9 Expert-Endorsed Tactics to Find Great #Facebook Content - bit.ly/1QxnHtb (by @AskAaronLee on @PostPlanner)

Click to Tweet
Post Planner is one of my go-to tools for my Facebook content curation. The key is to customize Post Planner and pull in all the content that you love so it's ready to share when you're ready to curate.
One of the tricks I've created to feed the content monster is to pull in my favorite Pinterest boards as an RSS feed so I can share my favorites on Facebook and Twitter.
Did I blow your mind a bit there? I'm using pins that are getting repins and likes to share to Facebook. It's pre-liked and popular content that pulls in the image from Pinterest. Great, right?
Here's an example of a post from Post Planner to Facebook from this week pulled from my RSS feed on Pinterest.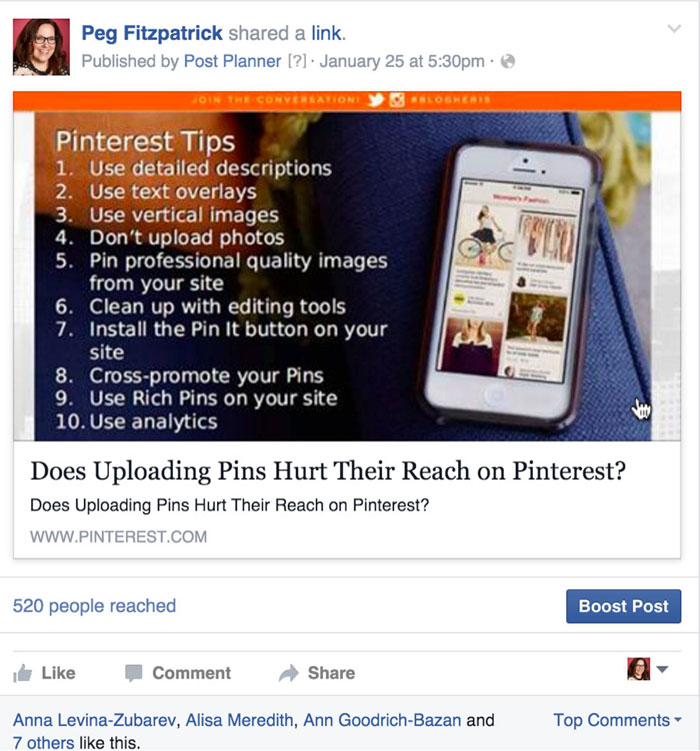 How to add an RSS feed to Post Planner:
Find the RSS feed you want to share.
For Pinterest add .rss after the Pinterest Board URL.
It will look like this:
https://www.pinterest.com/pegfitzpatrick/a-little-love-for-linkedin.rss
Go to the "My Content" section of Post Planner and add the RSS feed in the top box next to the search magnifying glass.
Add the RSS feed, and it will populate. Hit save.
Voila -- it's ready and waiting to share now or next time you log into Post Planner.
You can pull in RSS feeds for your favorite blogs and websites and create folders based on topics.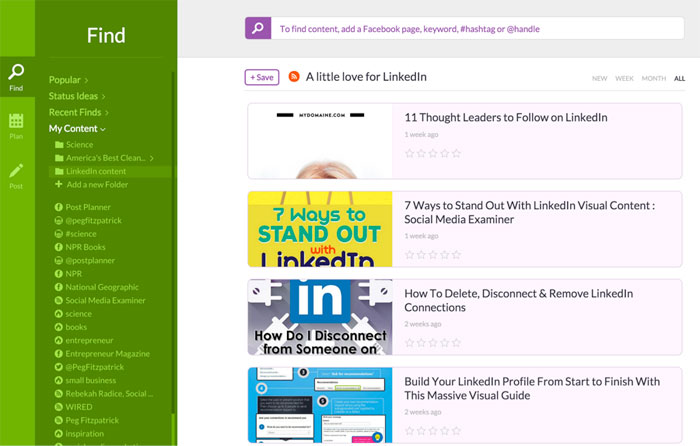 Thinking outside of the box allows me to truly get the most from the structure that Post Planner created. Consider ways that you can bring in your favorite content to grab, plan, and share in your content curation plan. Give my Pinterest board RSS feed trick a try!
I subscribe to popular blogs that interest me via email. Every day I skim through those posts and share the ones that seem interesting.
When doing this, I make sure that I wait a few hours after the post has gone live before I share it, as it gives me a good sense if people are liking the content and if it will perform well on the social web.
The most important part of using Feedly effectively is to add high quality sites to your feed. If you start mixing in lower quality sites, you'll have to dig around through the bad content to find good content to share.
As you can see -- only adding high quality sites gives you a lot of great content to choose from!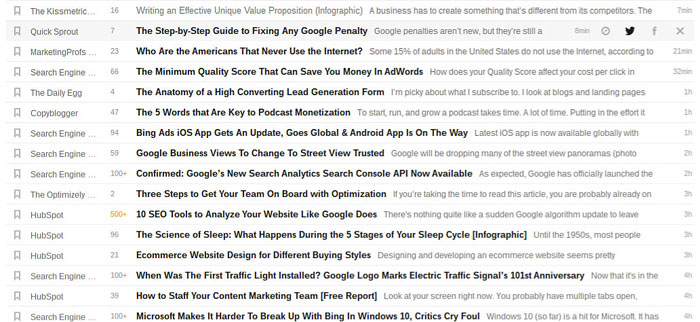 I use Likeable Hub (and my LinkedIn and Twitter feeds) to find shareable content for Facebook.
The visual content and stimulating questions work great, as well as articles and videos.
Likeable Hub's platform is easy to use. All you have to do is go through their library of thousands useful content ideas and trending news articles to post.
What I also enjoy is Likeable Hub recommends posts for upcoming holidays. This ensures you don't miss them.
You don't need to hunt for content anymore. The hard work has been done for you!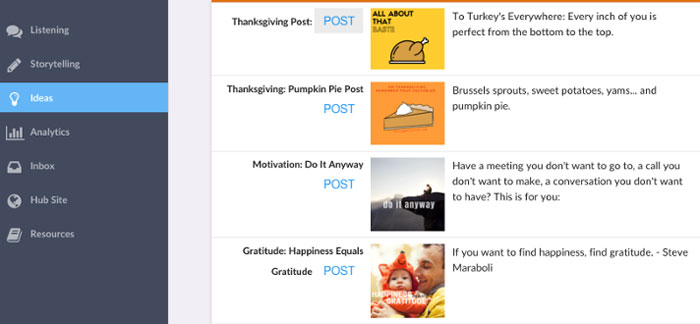 My process for discovering content to curate on Facebook changes constantly, depending on what type of content I'm looking for and when.
My best tip is to build an exciting Home feed for your Facebook page full of competitors, industry-relevant brands, humor, and local businesses.
I'm very conscious about which big brands I chose and keep it minimal, so that unique content populates from smaller personal/biz brands that fans won't find all over the place.
Then I'm able to simultaneously engage with other brands for the page and find delicious content for the fans. Win win.
5. Johnny Nine,
Co-Founder of Techmemo
By subscribing to various publications and blogs within my niche (e.g marketing, tech), I know the trending and most shared articles on a daily basis through Feedly.
I also use social curation sites:
That way, I can immediately see the patterns for which types of headlines get the most likes/shares.
6. Glen Gilmore, Forbes Top 20 Social Media Influencer, Author, Attorney, Instructor of Digital Marketing at Rutgers
Sharing content that travels far and fast is all about tapping into your community. Make the story about your community. Your community is where you'll find your most compelling and viral stories.
Listen and learn what inspires your community most.
Strive to share community-generated content.
Mix up the media.
Engage with those engaging with your brand!
Identify your brand enthusiasts and subject influencers and connect with them so they're given opportunities and encouragement to create and share brand/community-relevant content. Inspire their passions!
At least twice each week, I look at the profiles of all the new people that "like" my clients' Facebook pages. I will see what topics are important to them, then search for interesting articles to support their interests on those topics.
For the majority of my content finding, I use: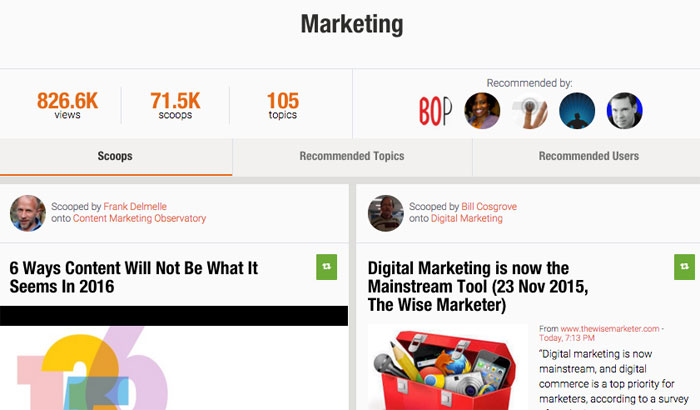 It can often be challenging to find content online that people actually want to share. That is why I use Buzzsumo.
Buzzsumo allows you to type in any keyword or topic and then populates the search with the highest shared posts around the keyword.
This saves hours of searching online and takes the guesswork out of deciding whether the content is popular or newsworthy.
The best part is you're able to search within a particular time frame allowing you to ensure you're always sharing the most recent and relevant content every time.
We use many different tools to find top content that's being shared. We also know our audience after years of research and analysis.
However, for the small business owner and even some larger organizations, they may not have such knowledge or be ready to invest in tools.
My recommendation to those new to social media is to simply utilize the native social network search engines.
Do a search on some of the top hashtags in your industry and see what content is rising to the top.
A quick 30-second search on Twitter or Facebook every morning will easily highlight for you what content is being shared by the larger ecosystem.
This is cost effective for newbies -- and a simple sanity check daily for even the seasoned and experienced digital marketer.
Aaron's Tips
My mind is blown! Those were some fantastic tips! Still don't know what to do?
Let me summarize these expert tips into an actionable plan you can start today.
Subscribe and Build Your Own Feeds
This was a common tip shared by the experts. Remember, on Facebook you can't be overly-promotional. One way to mix it up is by sharing other people's content.
The key is making sure you have a variety of content as Ahna Hendrix pointed out. She has a feed full of:
Competitors

Industry-relevant brands

Humor

Local businesses
This gives her a mix of content that she can use to keep her feed exciting.
Neil Patel shared an excellent idea -- wait a few hours to get a good sense of what people think about the topic before sharing it. Using audience-tested content will increase the likelihood of the post getting shared and liked on your own page.
To do this, you can easily subscribe to blogs using platforms like Feedly -- and monitor news on your phone. You can also use RebelMouse and Scoop.it.

To monitor Facebook pages, all you have to do is create your own interest lists and watch them right there on Facebook.
It's easy to create an interest list on Facebook:
Just go here - https://www.facebook.com/bookmarks/interests.
Click on 'Create List' and follow these steps.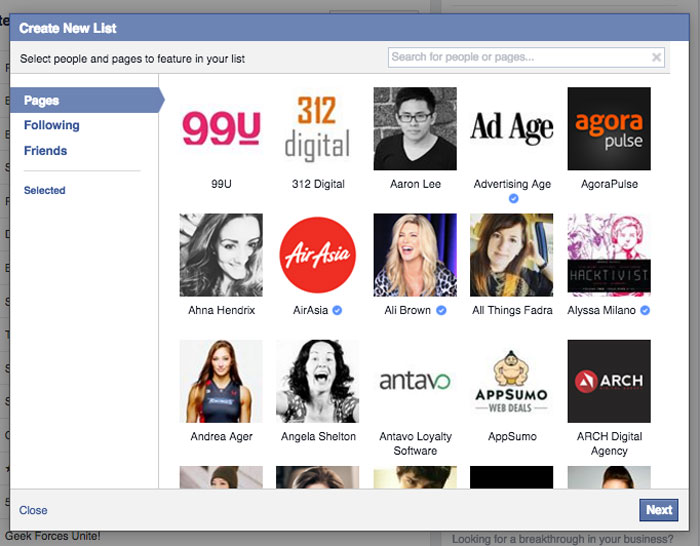 I have another trick I do too... Instead of building a feed, I follow multiple Facebook groups.
This gives me an idea of what people are sharing and discussing in those groups. The more discussion in the group means the more people will be likely to engage on my post if I share it on Facebook.
Use Tools
There are many tools available (some free, some paid) that you can use to find great Facebook content for your page. The tools recommended by our experts are:
The tools above can help you search content that you can easily use to get more engagement. I've personally tried all the tools above, and they work like a charm.
Listen to Your Audience
One very effective method for getting more engagement is to listen to your audience.
Lucy Rendler-Kaplan, Glen Gilmore and Pam Moore all shared great tips to help you pay attention to your fans.
Lucy's approach is to look at the people who like her clients' Facebook pages. This gives her an idea about the type of people who are fans of her clients' pages.
Pam's tip was to spend 30 seconds early in the morning to do a quick hashtag search on Twitter or Facebook. This is a fast and easy way to see what people are talking about.
Glen's idea was similar. He suggested identifying topics that connect with your community.
For even more info about your community -- you can do a search for interests your audience might have.
Just go to your Facebook search bar and type this:
Pages liked by people who like _________
For example, for Post Planner, it would be "Pages liked by people who like Post Planner."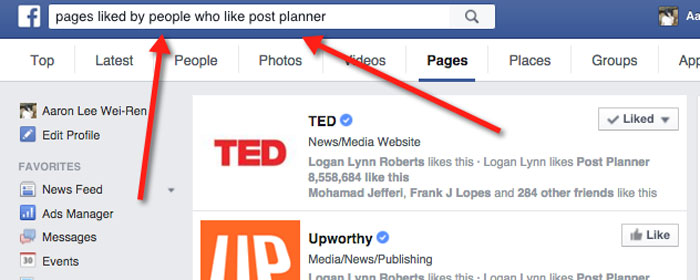 Following are examples of pages that poped up.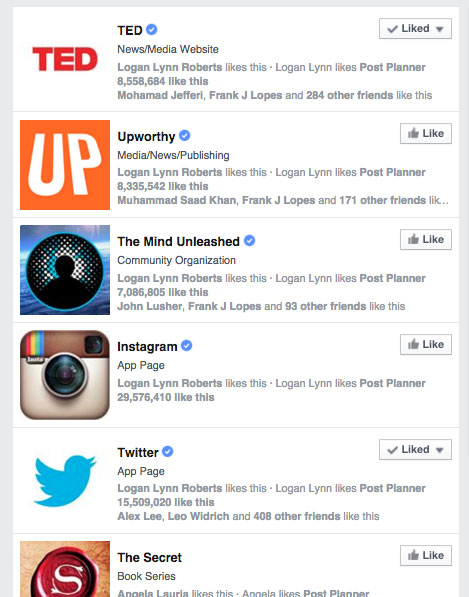 The list was much longer of course. From it, I got an idea of the type of content we can post on Post Planner's Facebook page.
Our fans definitely like quotes since we can see they're fans of:
The Secret
The Mind Unleashed
Nick Vujicic
Dalai Lama
And many other inspirational pages
This type of content works really well on our Facebook page too.
Mix It Up
The experts also talked about mixing it up. You can mix up your content by posting:
Links
Visuals
Quotes
Questions
Humor
Deep Thoughts
Tips and Tricks
Video
Etc.
These types of posts can help you get more engagement since your content doesn't look repetitive or overly promotional. The key here is to follow the 3Ps of Facebook Marketing which are:
Personal
Purpose
Promotional
I recommend you read the post lined above to get an overall idea about what this means. To sum it up, the 3Ps will give you a range of content to post -- which will keep your fans from getting bored with your page.
Conclusion
As you can see, there are many different methods to find great Facebook content.
The tactics recommended above by our experts are useful if you want to increase shares, increase reach and ultimately get more engagement.
I recommend you choose one and give it a go today. Try Peg Fitzpatrick's recommendation, which is to pull your favorite content sources into Post Planner!

The ideas in this post won't work if you don't take action on them. Pick one and run with it. That is the KEY to moving forward. Remember to measure your progress in your Insights to see how you're doing.
Now that you know how to find great content -- are you ready to take it up a notch?
Grab your copy of our free infographic below and learn 12 very useful Facebook features for marketers.
You'll be glad you did!