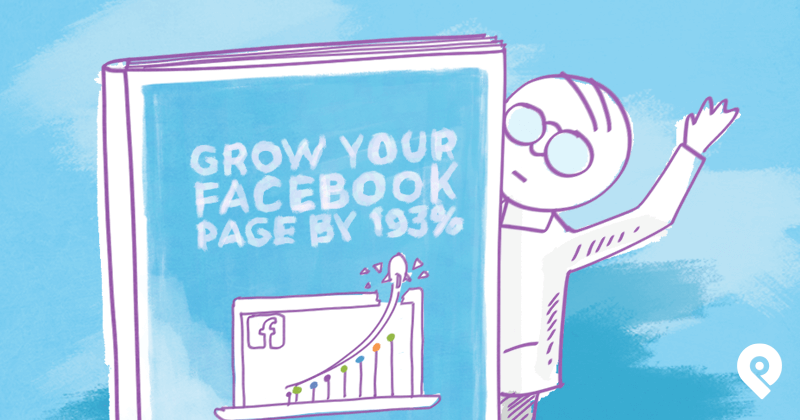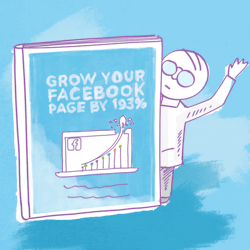 Tired of low Facebook engagement? Trying to grow your Facebook page, but unhappy with the results?
If you've attempted to ramp up Facebook marketing, but can't seem to gain momentum, I have good news for you.
Organic reach might not be what it once was, but it's far from dead.
How do I know?
Because we've seen crazy awesome growth on the Post Planner Facebook page over the last year.
In fact, from January 1, 2015 - December 31, 2015, we grew our audience by 193%.
Say, what? 193% growth in 12 months? That's right, and get this. We did it almost 100% without ads.
I know what you're thinking... that's impossible. Especially given what we know about Facebook organic reach these days.
But it's all true and the best part? You don't have to take my word for it.
Simply Measured, the most respected data analysis tool on the market, analyzed our mind-blowing growth.
Know what they found? That there's a method to the Facebook madness.
That taking deliberate steps on a daily basis can (and will) lead to exponential growth.
Here's a snapshot of our Facebook activity from 1/1/2015 - 12/31/2015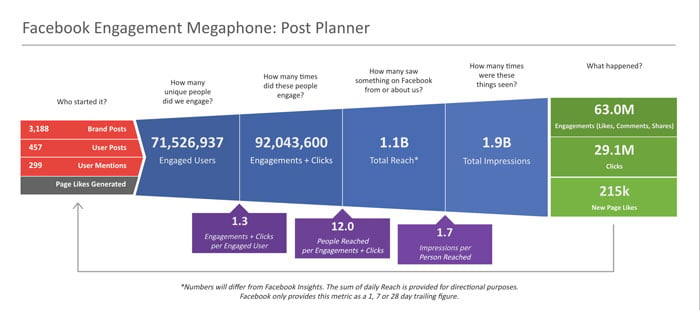 (source: Facebook Fan Page Report)
And now for the best part. We're taking the data Simply Measured compiled and sharing that insight with you.
Because sure, the days of throwing up a Facebook post and watching engagement soar are long gone.
But we're celebrating that fact. And you should too.
Rather than pranks to beat the algorithm, Facebook is asking that you step up your game.
This requires that you know what tactics work, and which ones don't. To do that, you need knowledge and a willingness to test, track and measure results.
Just like we did. Repeatedly and without fail.
So, while the Facebook landscape has changed, don't let that deter you. In fact, let it empower you.
Ready to do the same with your page?
Below is a sneak peek into the data-backed tips we share in our latest ebook.
Each one will have you raking in Facebook's long-term benefits in no time.
Case Study: How to Grow Your Facebook Page by 193% [Ebook]
Case Study: How to Grow Your #Facebook Page by 193% #Ebook - http://bit.ly/21fmhbB (by @RebekahRadice on @PostPlanner)

Click to Tweet
Find What Type of Content Your Audience Wants (and give it to them daily!)
If you're looking to increase engagement and Facebook organic reach, you need to do one thing.
Get to know what type of content your fans like, enjoy and want to share.
Unfortunately, for many Facebook page managers, that's easier said than done.
It can be tough to pinpoint that type of content. And if you don't know what kind of content they're looking for, you'll find it impossible to grow.
We share our two part strategy to finding and sharing content that captures attention.
But more than that, it gives your fans a reason to come back for more.
Know Your Audience and Their Habits
There's been a lot of controversy about the best times to post on Facebook.
You can follow the times that many popular studies have said are best -- but often there is a discrepancy about time zones in those reports.
Plus, they may be based on pages around the world that may or may not be relevant to where your fans are.
Then there is the theory that it's better to post at off peak times because there is less competition in the news feed during those hours.
We recommend starting with the data in your Insights and then following our method for scheduling content your fans love to consume.
It worked for us -- and we know it will work for you. Take a look inside our ebook to find out how you can use audience habits to drive engagement.
Increase Posting Frequency
During the first 9 months of 2015, Post Planner averaged 247 posts / month. During their explosive growth period (October - December), Post Planner averaged 319 posts / month, a 15% increase. - Jade Furubayashi, Simply Measured
How often are you posting to Facebook? Can you increase your posting schedule without sacrificing the quality of your content?
If so, consider posting more. We did exactly that and tested it over time.
During the last 3 months of 2015, we began adding extra posts to our Plan. Every time we added more content, our audience screamed for even more.
Learn how to take your content and turn it into massive organic growth. We'll show you how to test, test, test your posting frequency.
Write and Share Evergreen Content
How does writing and sharing evergreen content help increase Facebook engagement?
You can recycle these timeless posts on your Facebook page. This ensures you have valuable content to post -- non stop.
You get your content in front of a whole new audience. Each time you share that content, you're educating a previously untapped market.
We'll show you how we used evergreen content to drive our page growth.
And how you can do the same by creating a library of high quality content.
Use a Compelling Call to Action
Are you using a call to action in your Facebook posts? If not, you should be.
Never leave that next step your fans take to chance. Be clear and specific.
The majority of engagement on Post Planner's Facebook page in 2015 was due to shares. It's because we aren't shy about asking our fans to take action.
"Post Planner encourages fans to share their content. Photos are Post Planner's most popular content type and shares are the most popular form of engagement on these posts. Out of Post Planner's 7,390,122 engagements in 2015, 76% were shares. This type of behavior gives Post Planner the opportunity to get more eyes on their content, and thus more potential page fans." - Jade Furubayashi, Simply Measured
Struggling to come up with your own call to action? Let us show you how to craft the perfect CTA - every time.
Maximize Growth With Visual Marketing
It's no secret. Visual marketing is a terrific engagement and traffic driving tool.
And we proved that hands down.
Only 38% of our Facebook content was photos.
And yet, that 38% got more engagement than the other types of content combined.
Holy wow, right? We'll show you how to share (and create) visually appealing content that knocks the socks off your Facebook fans.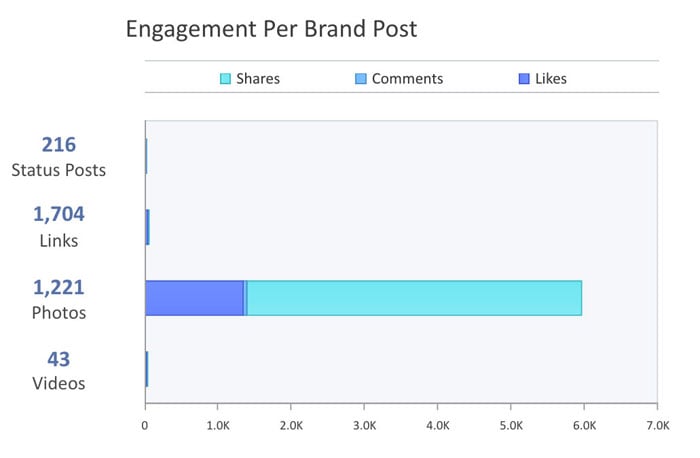 Final Thoughts
No matter how you look at it, the status quo isn't producing results. Neither is an average Facebook presence.
You have to be savvy and agile to get seen in the Facebook news feed and noticed by your audience.
So, how about it? You ready to break the cycle of decreasing organic Facebook reach once and for all?
We did it with our Facebook page, and now we're sharing the details with you... every step.
Grab your copy of our FREE ebook where we share exactly what we did at Post Planner to grow our page by 193% in 12 months.